Light, fluffy and full of gooey, melty cheese, these perfect cheese scones are the ultimate tea time treat! You won't be able to resist them!
I've loved cheese scones since I was a little girl.  In my opinion, eating a still warm, generously buttered cheesy scone is one of the most divine simple pleasures in the world. 


The best cheese scones I've ever eaten locally is from a lovely place called Brodie CountryFare.
They have a lovely family restaurant where they serve all kinds of delicious food and their home baking is pretty amazing.
They also have a huge selection of gorgeous cakes, traybakes and very tempting looking desserts which are pretty hard to resist.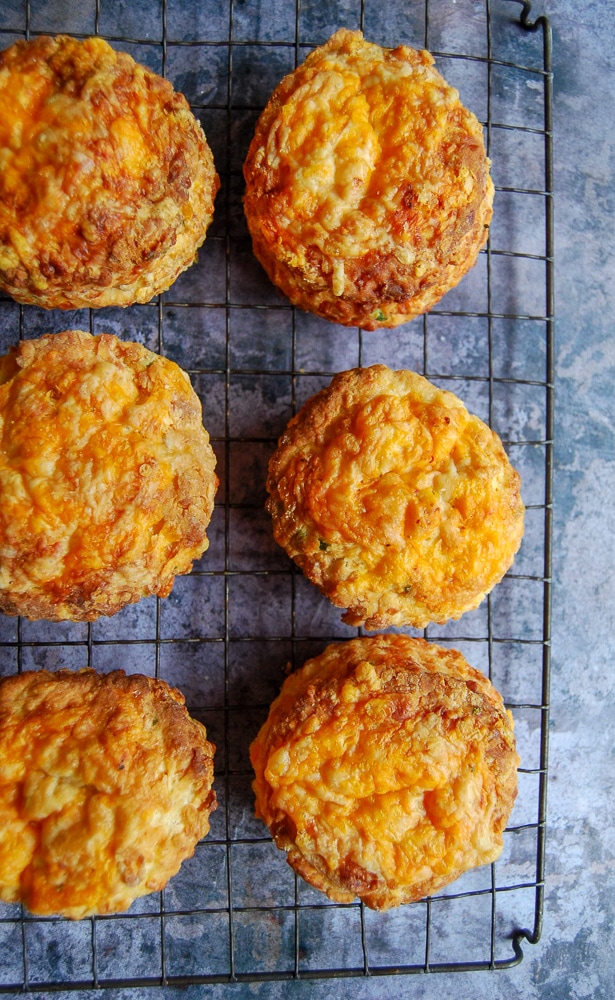 I've been trying to replicate their cheese scone recipe for a very long time, and I think I've finally cracked it. I played around with two of my favourite scone recipes by Paul Hollywood and Felicity Cloake and came up with these beauties.
They really are pretty close to the scones they sell at Brodie. I'm pretty delighted with them and I don't think they can be beaten!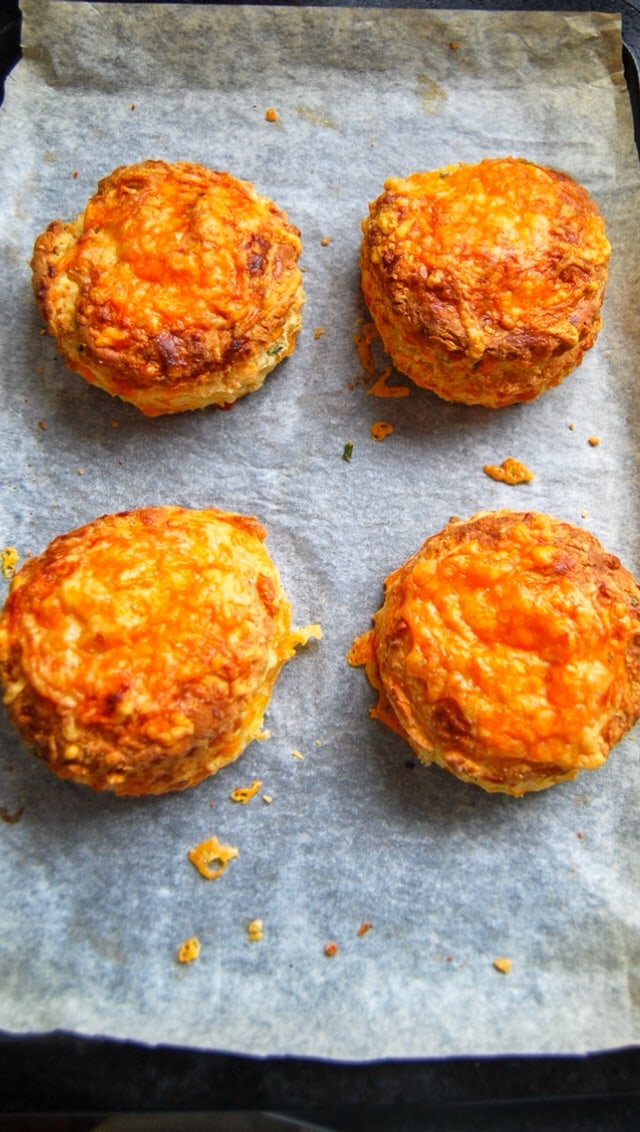 It really is the best cheese scone recipe I've made at home – and I've tried lots of recipes.
I add my own little twist to the classic scone recipe by adding freshly snipped chives. I love the mild onion flavour, but you can leave them out if you wish.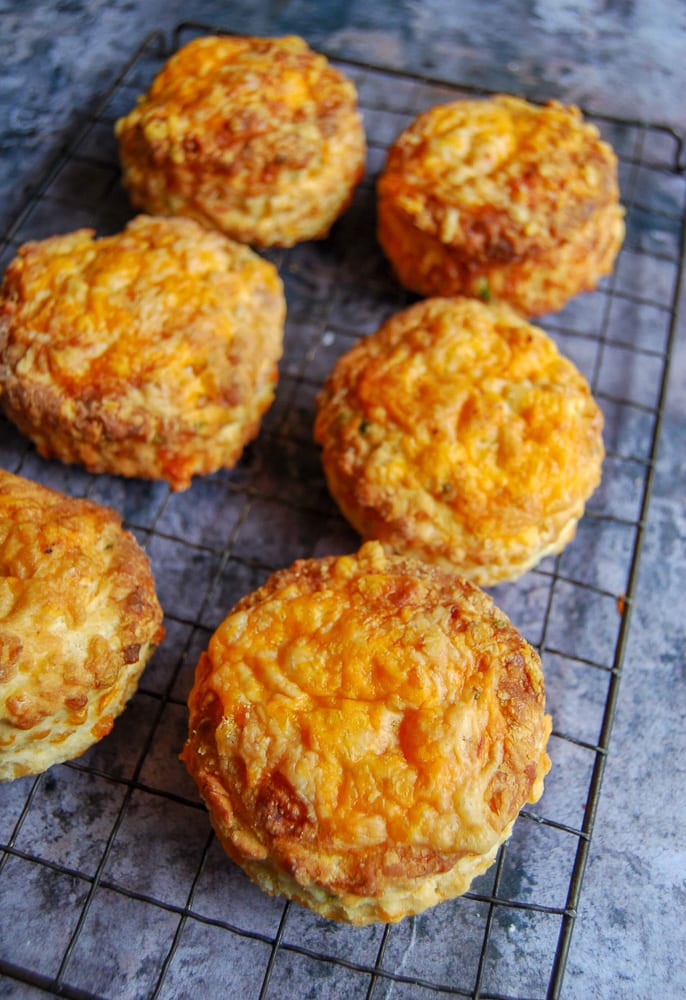 ingredient list
strong white flour. I've long been a fan of Paul Hollywood's fluffy scone recipe which uses bread flour. I'm not too sure of the technical reasons why Paul uses bread flour in his recipe, but it definitely seems to make a more substantial scone. But fear not, if you don't have bread flour you can use plain instead.

baking powder. Please don't be alarmed by the amount of baking powder in this recipe. I know six teaspoons seems like a lot, but you need it to get the scones to rise properly. Make sure the baking powder is as fresh as possible – if it's been lurking in your cupboard for a long time and has gone stale, it will affect the rise of the scones.
Some people can really detect the taste of baking powder in baking, so If you really can't bring yourself to use that much, you can get away with using four or five. The scones don't rise quite as much but it doesn't affect the taste at all.
mustard powder. Don't be alarmed, your scones won't taste of mustard! The powder just gives the scones a lovely golden colour and also enhances the cheese flavour. If you've ever added mustard to a cheese sauce, you'll know what I mean!
Salt. As always, I use fine salt in baking. You don't need any fancy sea salt flakes here, good old cheap table salt will do the job.
Cheese. of course! I like my cheese scones with lots of cheese. The more cheese the better! I use a mixture of mature cheddar cheese and a red cheese such as red leicester. The red cheese adds a great colour to the scones.
Milk brings the dough together. Full fat or semi skimmed will be fine.
Butter or baking margarine. Don't worry if you don't have block butter – I often use margarine for scones and you wouldn't know the difference.
an egg yolk to glaze the top of the scones. You could use a little milk instead, but the egg yolk gives the scones a really tempting golden, burnished look.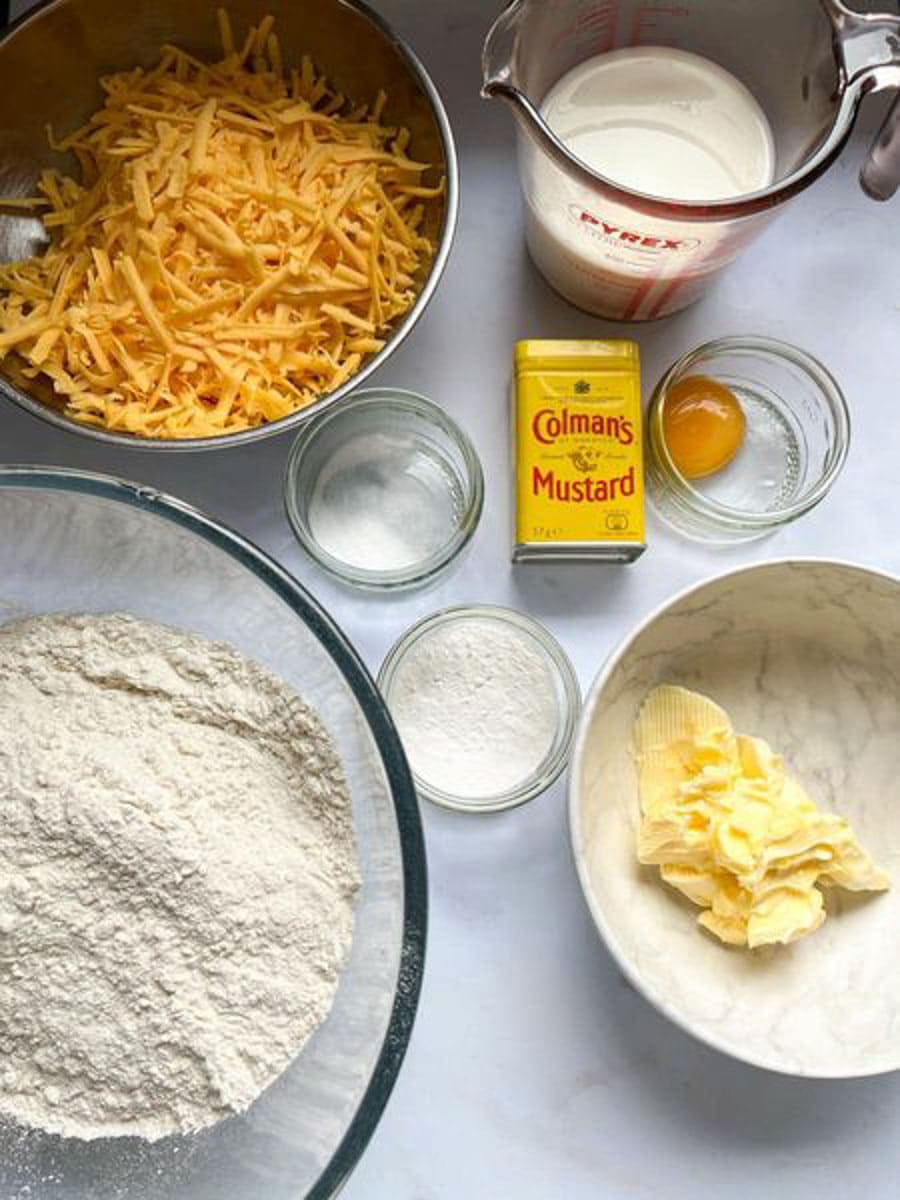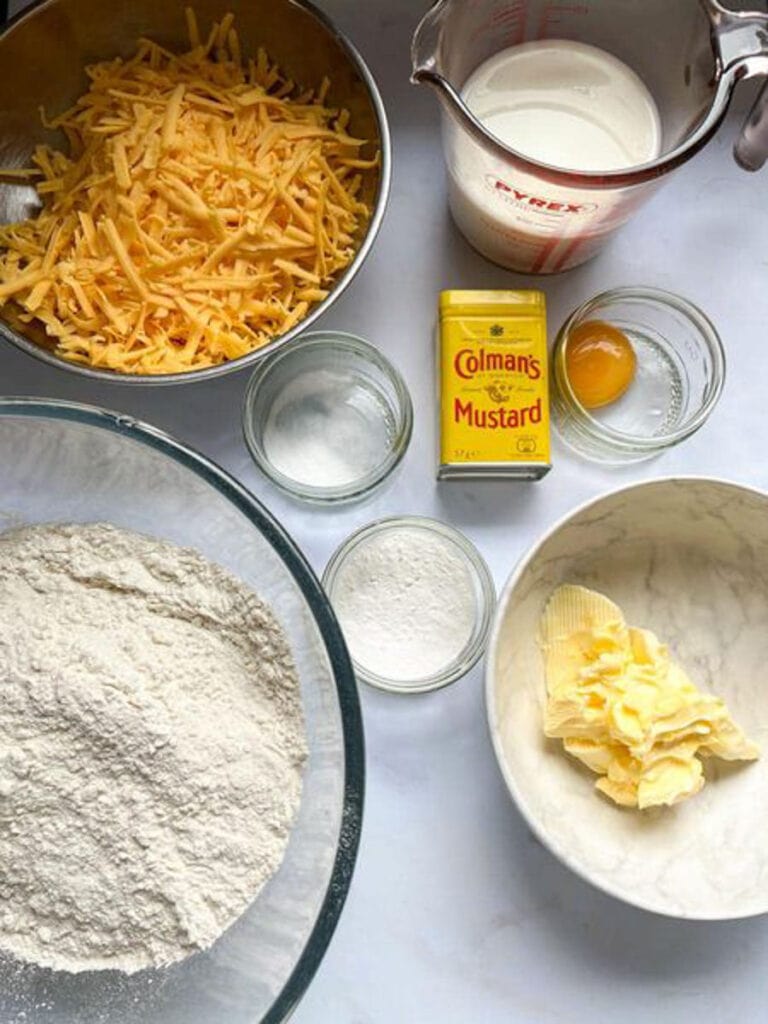 how to make perfect cheese scones
(keep scrolling to the bottom of the post to find printable recipe card with ingredient amounts and detailed instructions)
make the scone dough
place all of the dry ingredients in a large mixing bowl and stir to combine.
rub the butter into the flour mixture until you reach a breadcrumb like consistency.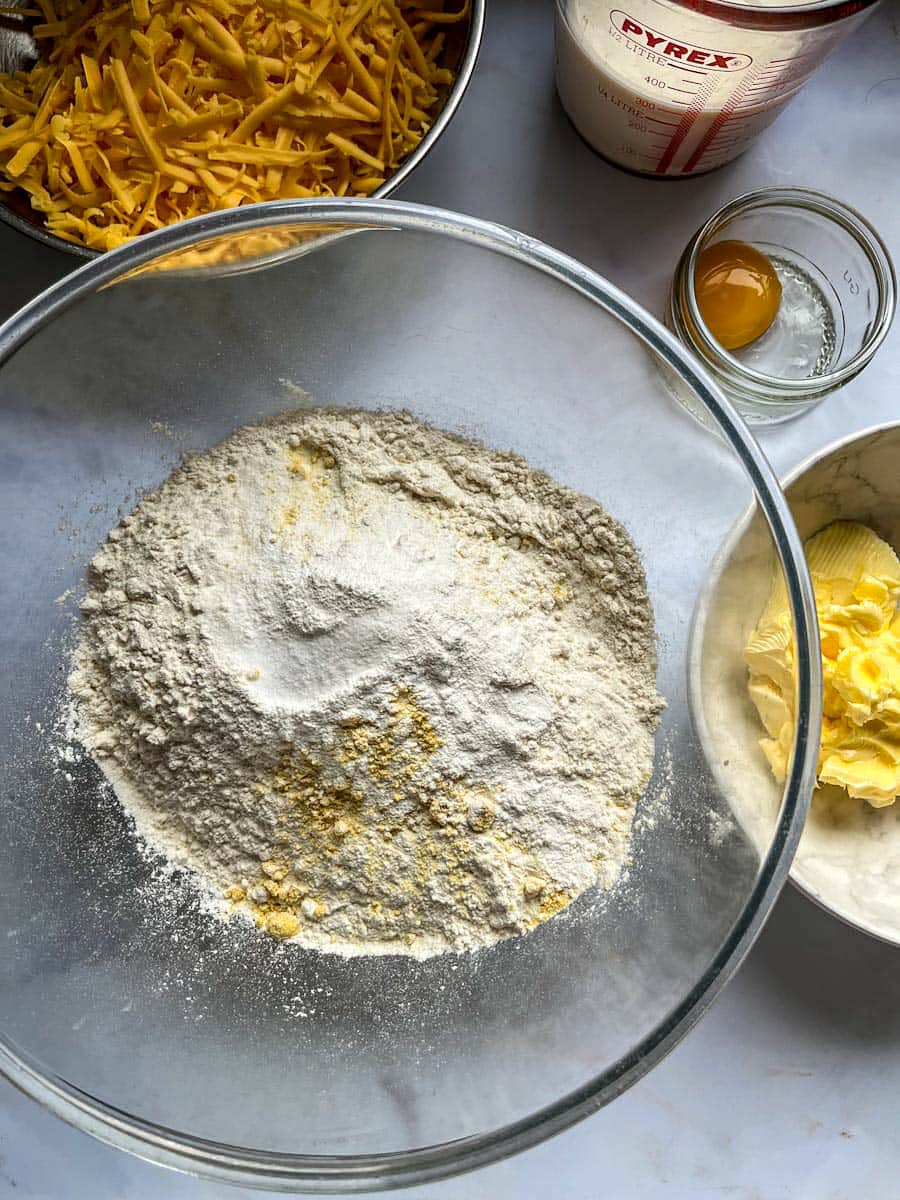 Stir in the grated cheese and chopped chives, if using.
pour in the milk – you might not need all of it so hold about 25ml back. You might actually need a tablespoon or so more than 250ml – it all depends on the flour you're using.
baker's tip
A scone dough shouldn't be dry – for best results, it should be quite wet and sticky to the touch. Don't overdo the lquird though – it shouldn't be too sticky to handle properly.
If the dough feels a little dry and lots of crumbs are still at the bottom of the bowl, add a little milk – a teaspoon at a time until the dough sticks together.
When you have a soft, slightly wet and stick dough, turn it out onto a lightly floured work surface. Gently pat or roll out to a rough, fairly thick circle.
using a large cutter, cut the dough into rounds. Don't twist the cutter while cutting out the dough or your scones will be uneven.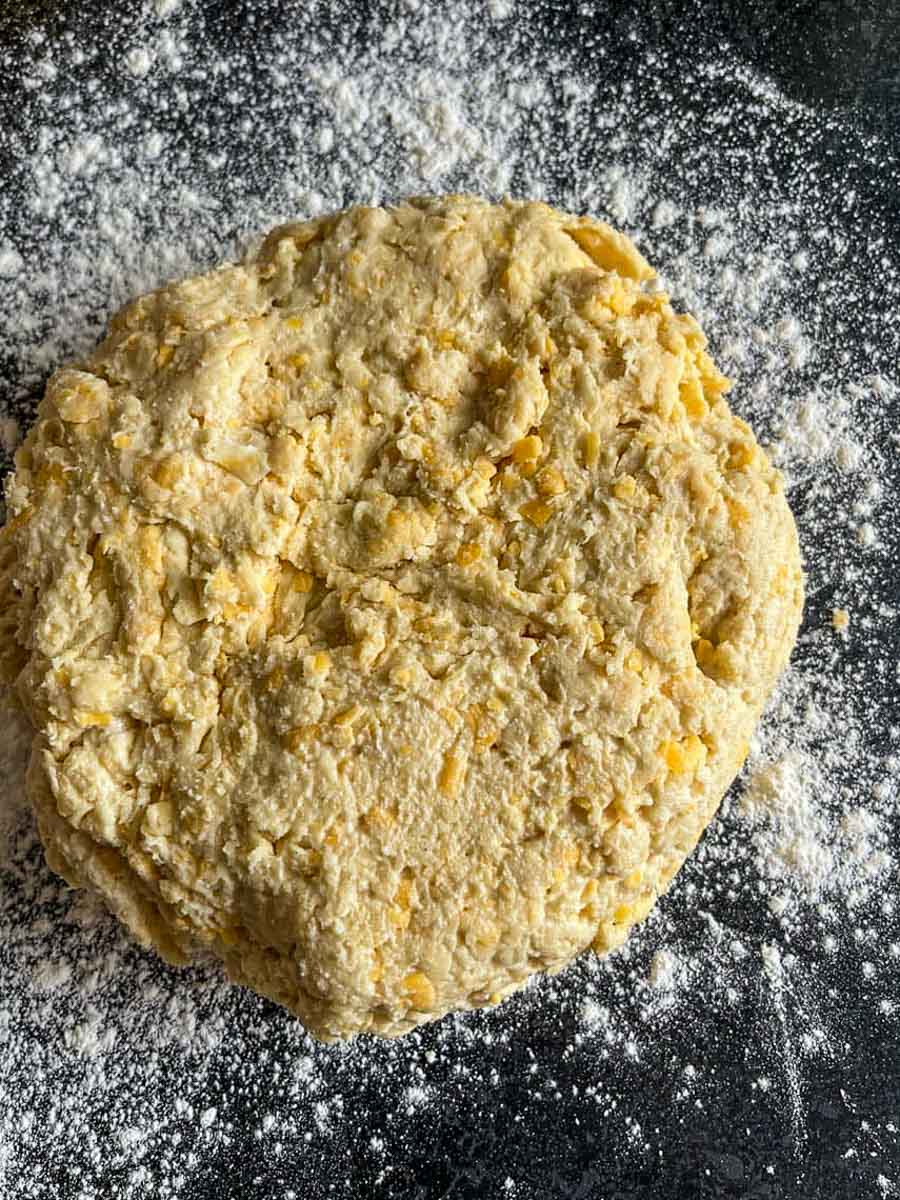 Place the rounds on a lined baking tray.
Glaze the top of each scone with beaten egg yolk and sprinkle with a little grated cheese. Don't allow the egg yolk to dribble down the sides of the scones.
baker's tip
If I have time, I like to leave the scones to rest for about 10 minutes before baking them. It allows the gluten to relax after handling the dough, resulting in a lighter scone.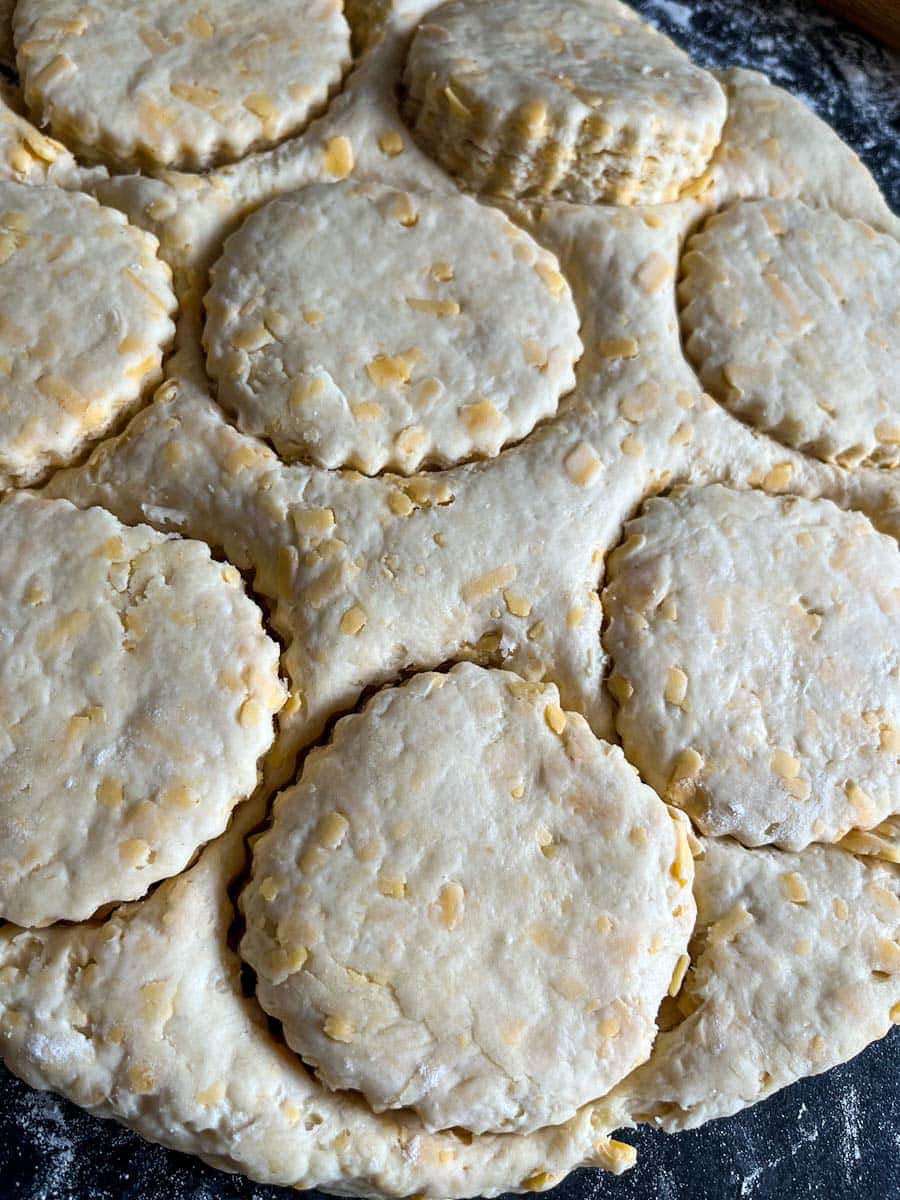 bake the scones
Bake in a preheated oven (220C/200Fan) for 12-15 minutes or until the scones are risen, golden and smelling gorgeous!
how do you know when cheese scones are cooked?
When a cheese scone is properly baked, they will pull away from the baking tray very easily and they will be well risen and golden all over.
The bottoms of the scones will also be a lovely golden colour, but the easiest way to tell if a scone is fully cooked is open one up after about five or ten minutes after you've removed them from the oven.
The scone should open easily in the middle without using a knife – just tear it open with your hands. If they look stodgy or undercooked, pop them back in the oven for about five minutes.
top tip
Another handy trick I've learned over the years is to cover the scones on the tray with a clean tea towel the minute you remove them from the oven for about ten minutes. They will continue to "bake" under their own steam. I know it sounds odd, but it's worth doing.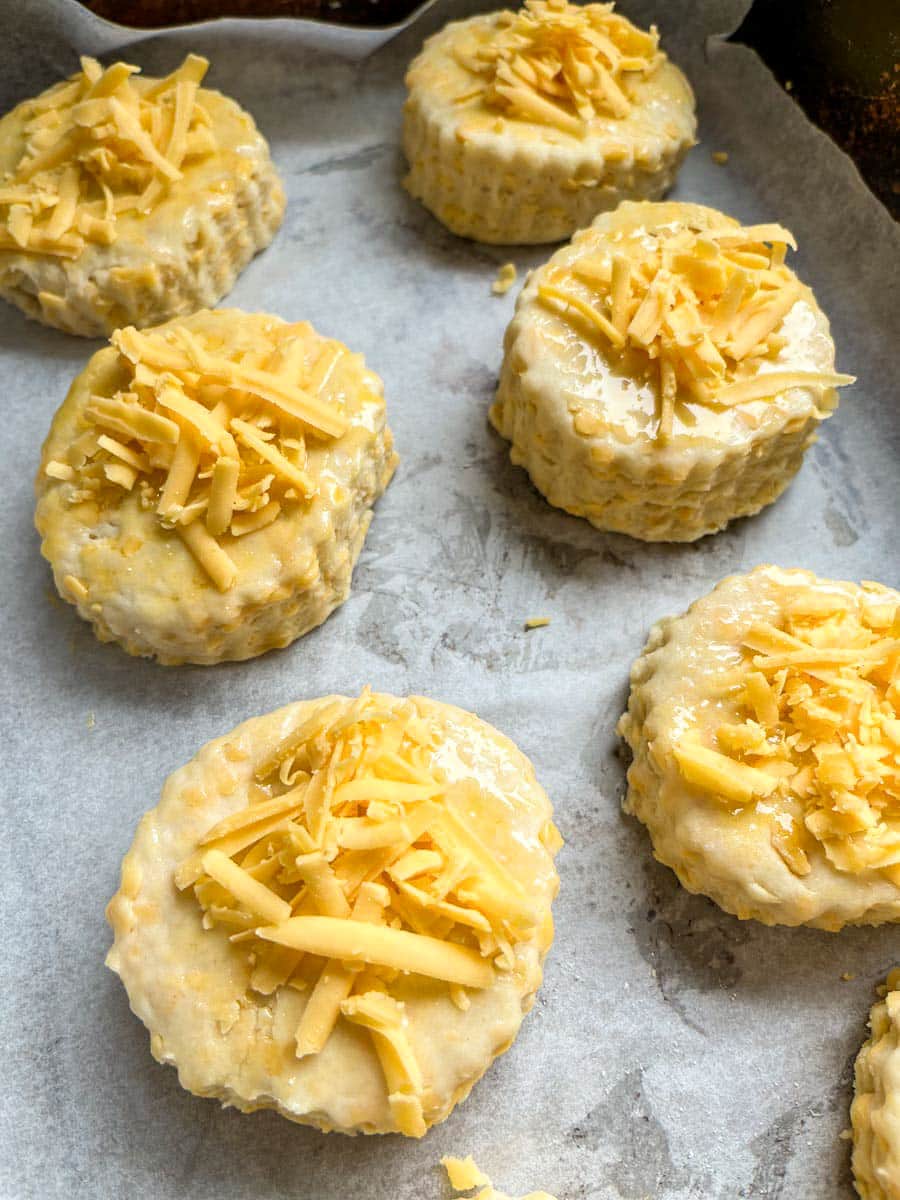 serving suggestions
I believe the best way to eat a cheese scone is with butter, spread as thickly as you dare while the scone is still warm so the butter melts all the way through to the fluffy middle of the scone. That's pretty hard to beat.
They are also delicious with onion or tomato chutney, ham or if you are a fan, marmite!
I've also recently discovered that wild garlic butter is absolutely the best with cheese scones.


how long will cheese scones keep?
All scones are best eaten on the same day of baking. However, the scones will be ok to eat a day or two after making.
They do tend to stale quite quickly though so I warm them in the microwave for 15 seconds or so before eating.
recipe notes
The number one rule for making the best scones is handle the dough with care. If you knead the dough, you'll end up with tough scones.
I've found the best way to bring the dough together is by hand. I don't roll the dough out with a rolling pin either – I just pat the dough out lightly using my hands.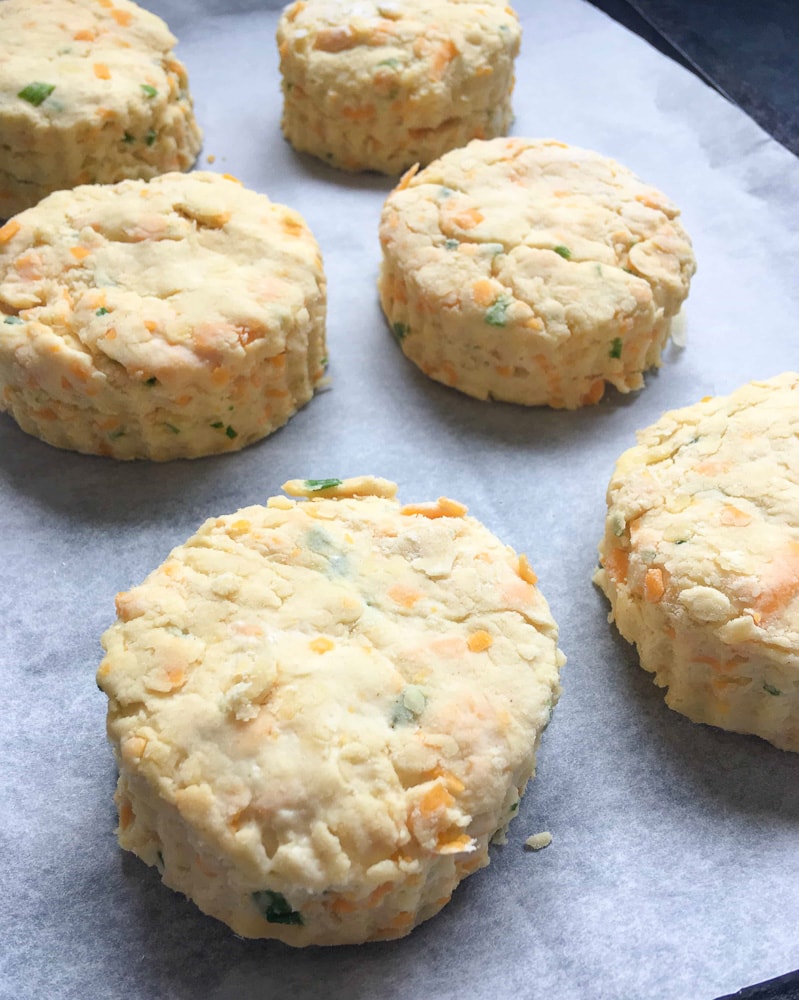 Just like this Best fluffy scone recipe, this recipe uses strong white bread flour. You can use normal plain flour, but for some reason the scones always turn out better using the bread flour.
I've tested scone recipes using bicarbonate of soda and cream of tartar, but I've found using just baking powder is the most effective way of getting that rise.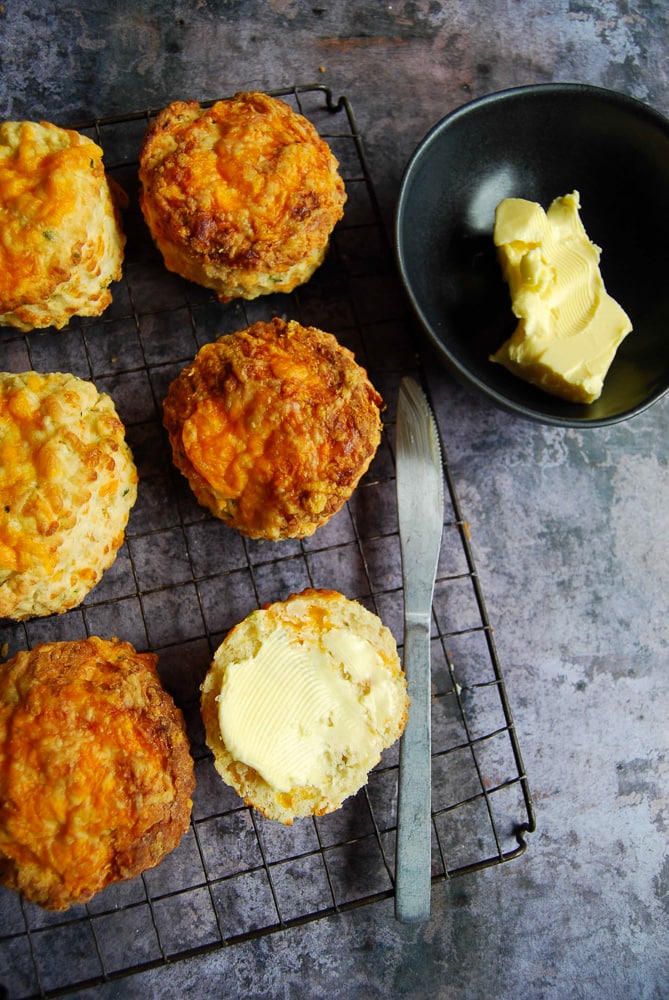 How long will cheese scones keep for?
Although all scones are best eaten on the same day they are baked, they will keep well in an airtight container for two or three days. They will become a little drier on day two, but they are lovely toasted.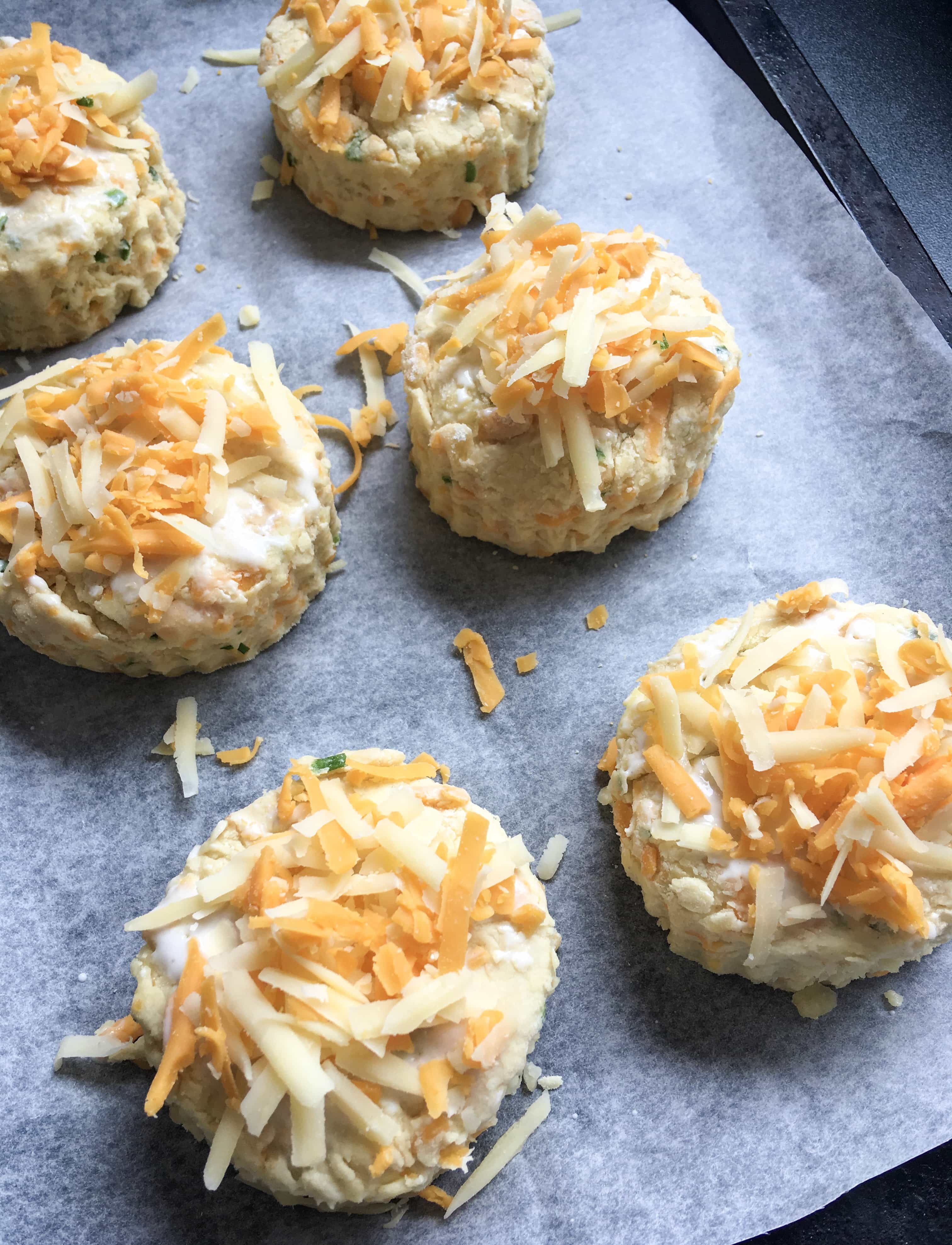 can you freeze cheese scones?
You can indeed – place the cooked, completely cooled scones in freezer bags or a freezer safe container and freeze for up to five months.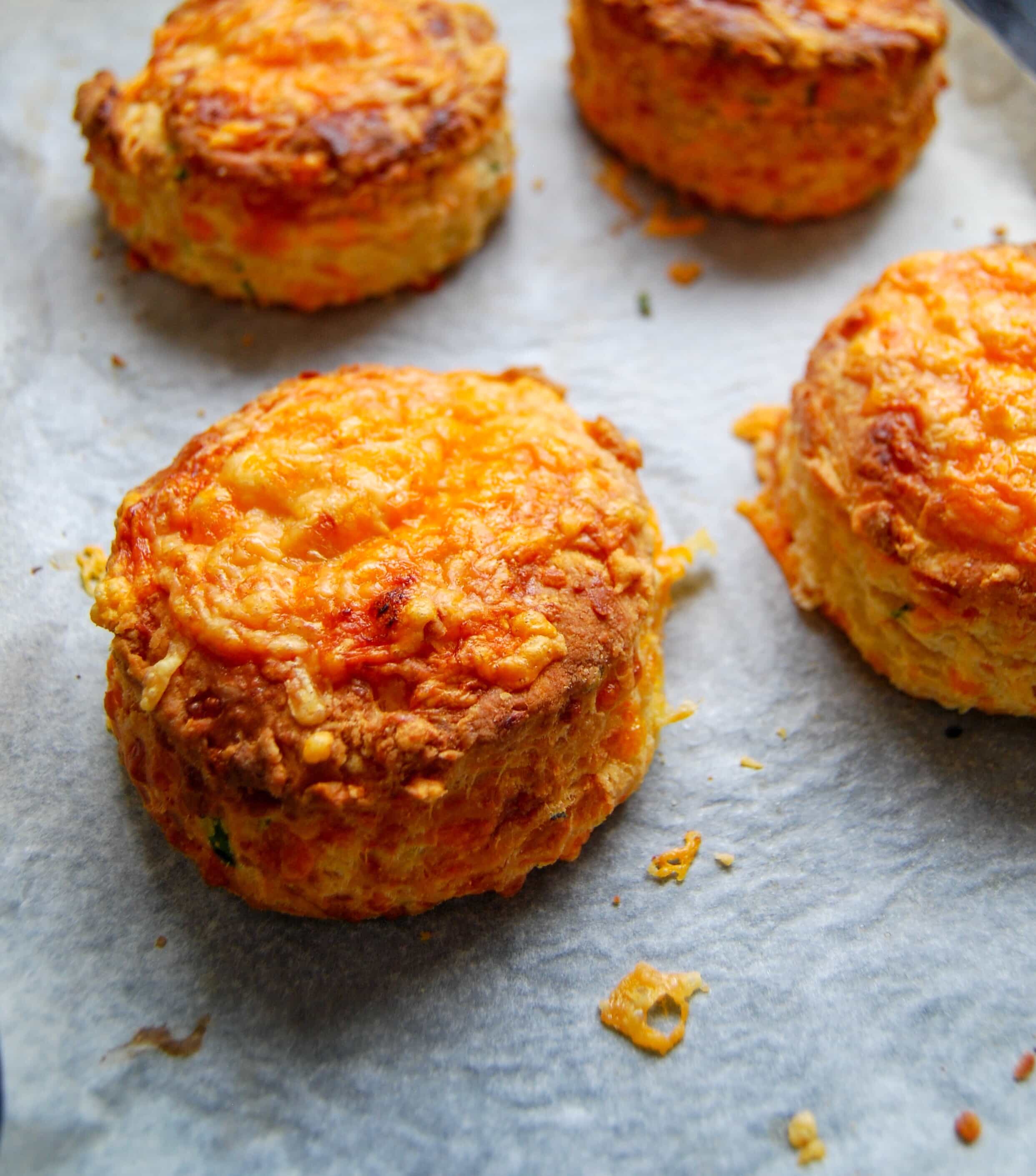 Want to see more scone recipes?
did you make this recipe?
I hope you loved it! Let me know what you thought by leaving a comment or if need any help with the recipe, don't hesitate to get in touch and I'll do my best to help.
Perfect Cheese Scones
Tall, light and fluffy cheese scones filled with lots of mature cheddar cheese.  These are quite simply the most perfect cheese scones I've ever made! 
Ingredients
500g Strong White Flour OR Plain (All-purpose) Flour
6 teaspoons baking powder (you can get away with using 4-5 if you don't want to use that much)
1 tablespoon dried English Mustard Powder
1 teaspoon fine salt
2 tablespoons fresh chives, finely chopped (optional)
80g butter, at room temperature
300ml Full Fat Milk
250g Mature Cheddar Cheese, or a mixture of a mature cheddar & red Leicester, Grated
1 Beaten Egg Yolk OR 1 Tablespoons Milk, For glazing the scones
25g Mature Cheddar Cheese, For sprinkling over the top of the scones
Instructions
Preheat the oven to 220C/200Fan/400F.
Grease and line two large baking trays.
Place the flour, baking powder, mustard powder and salt in a large bowl. Rub the butter into the dry ingredients until it resembles breadcrumbs.
Add the grated cheese and fresh chives and lightly stir with your hands to combine.
Pour in most of the milk (you might not need it all so keep about 25ml back) and using your hands, lightly mix until you have a soft, moist dough and no dry crumbs remain on the bottom of the bowl. If the dough seems a little dry, add the remaining milk.
Turn the dough out onto a lightly floured surface. Lightly pat out to a rough square, no less than 1 Inch thick. Using a large cutter, cut out rounds. Don't twist the cutter when cutting the scones or your scones will rise unevenly.
Repeat cutting out the scones until all the dough is used up. You don't need to knead the dough when re-rolling - just simply push it back together lightly with your hands. Bear in mind that the less you handle the dough, the lighter your scones will be.
Place the scones on the baking trays, brush with the beaten egg yolk or milk (try not to let the liquid run down the sides or it could affect the rise) and sprinkle over the 25g grated cheese. Immediately place in the oven and bake for 12-15 minutes or until well risen and golden on top. The smell of the scones baking will make you ravenous!
Delicious served warm with lots of butter, ham, or chutney.
Nutrition Information:
Yield:

10
Serving Size:

1
Amount Per Serving:
Calories:

468
Total Fat:

22g
Saturated Fat:

11g
Trans Fat:

1g
Unsaturated Fat:

8g
Cholesterol:

69mg
Sodium:

887mg
Carbohydrates:

53g
Fiber:

1g
Sugar:

2g
Protein:

15g
Calories and nutritional information are provided by a third party application and should be viewed as indicative figures only.