Learn how to make the perfect creamy cauliflower cheese! Classic British comfort food at its finest.

There's a pretty fine line between good cauliflower cheese and bad cauliflower cheese.
If done right, cauliflower cheese can be amazing.
However if it's done wrong, it can be a watery, flavourless disappointment.
You know the disappointment I speak of – mushy, water logged cauliflower florets in a grainy sauce that doesn't even taste remotely cheesy. Sad times.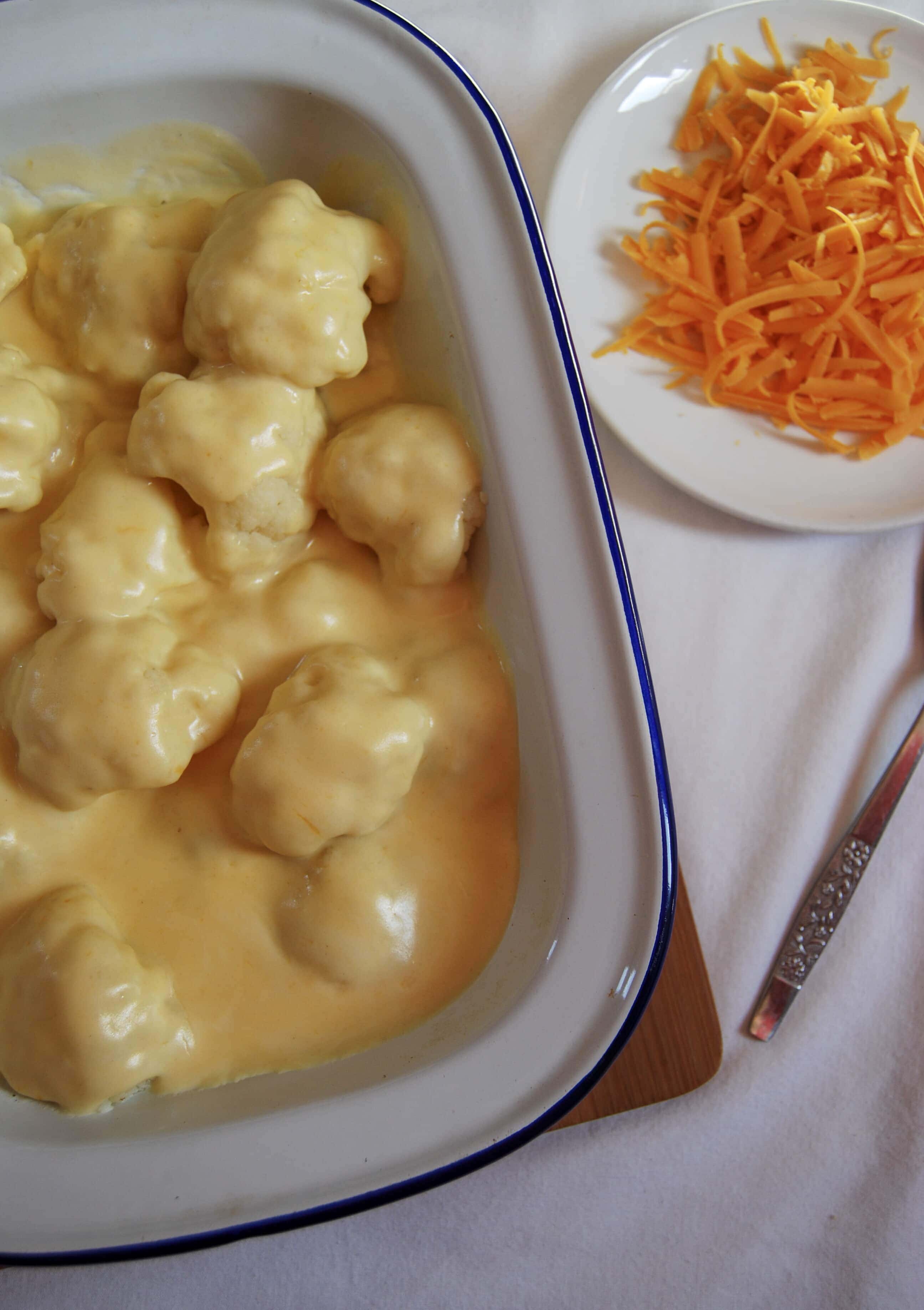 If you follow my simple recipe, I promise that you will end up with a gorgeously creamy cauliflower cheese that will be the standout accompaniment to any roast dinner.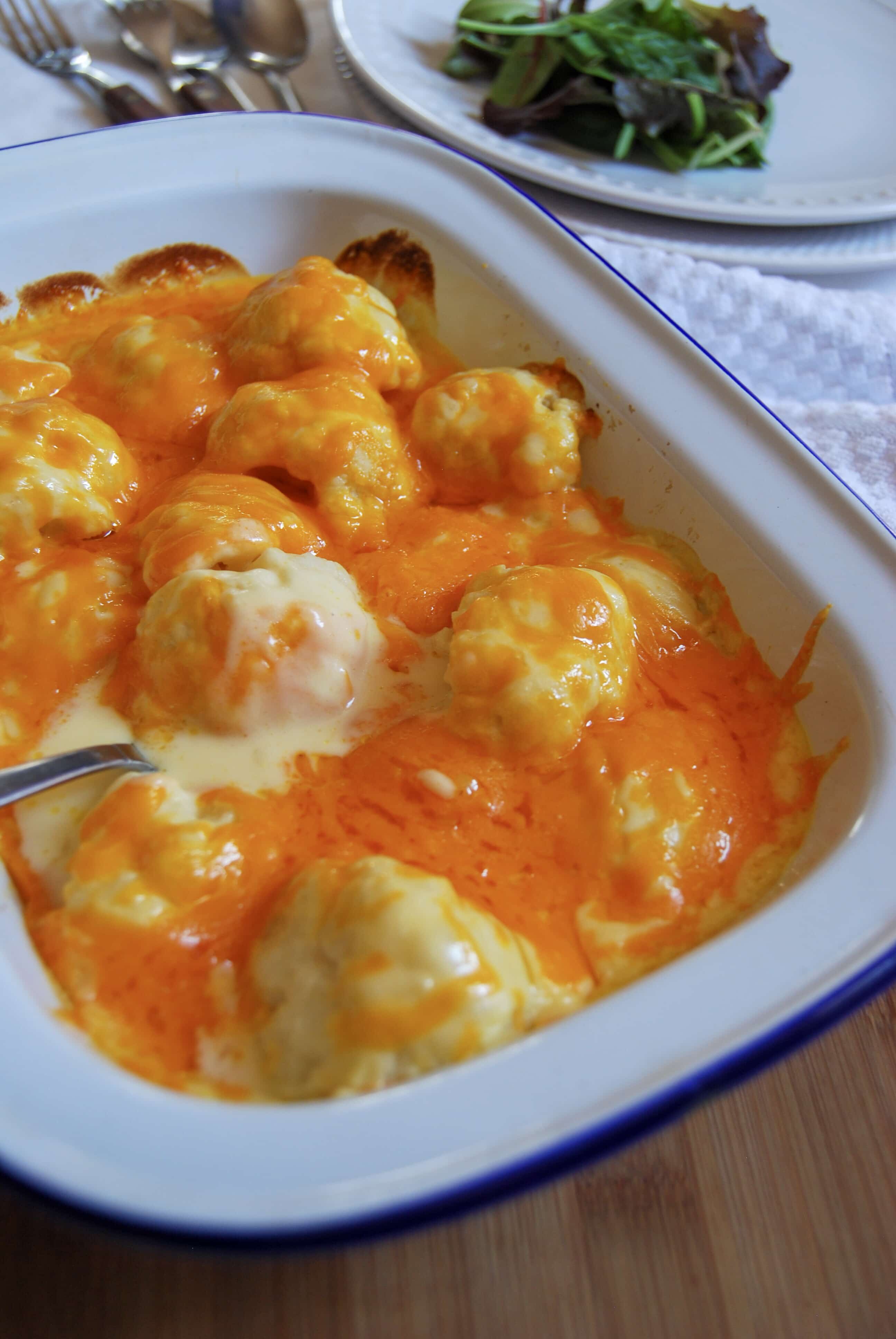 My recipe isn't fancy. It's simple and easy. You can jazz it up a little if you wanted by adding the following ingredients –
Crumble a few rashers of crispy bacon into the cauliflower cheese before cooking
Top the cauliflower with herby breadcrumbs (breadcrumbs mixed with 1 tsp dried mixed herbs or some fresh thyme) before placing in the oven
For a slightly garlicky flavour, rub the gratin dish with a cut garlic clove before assembling
Sprinkle a little Parmesan over the top before cooking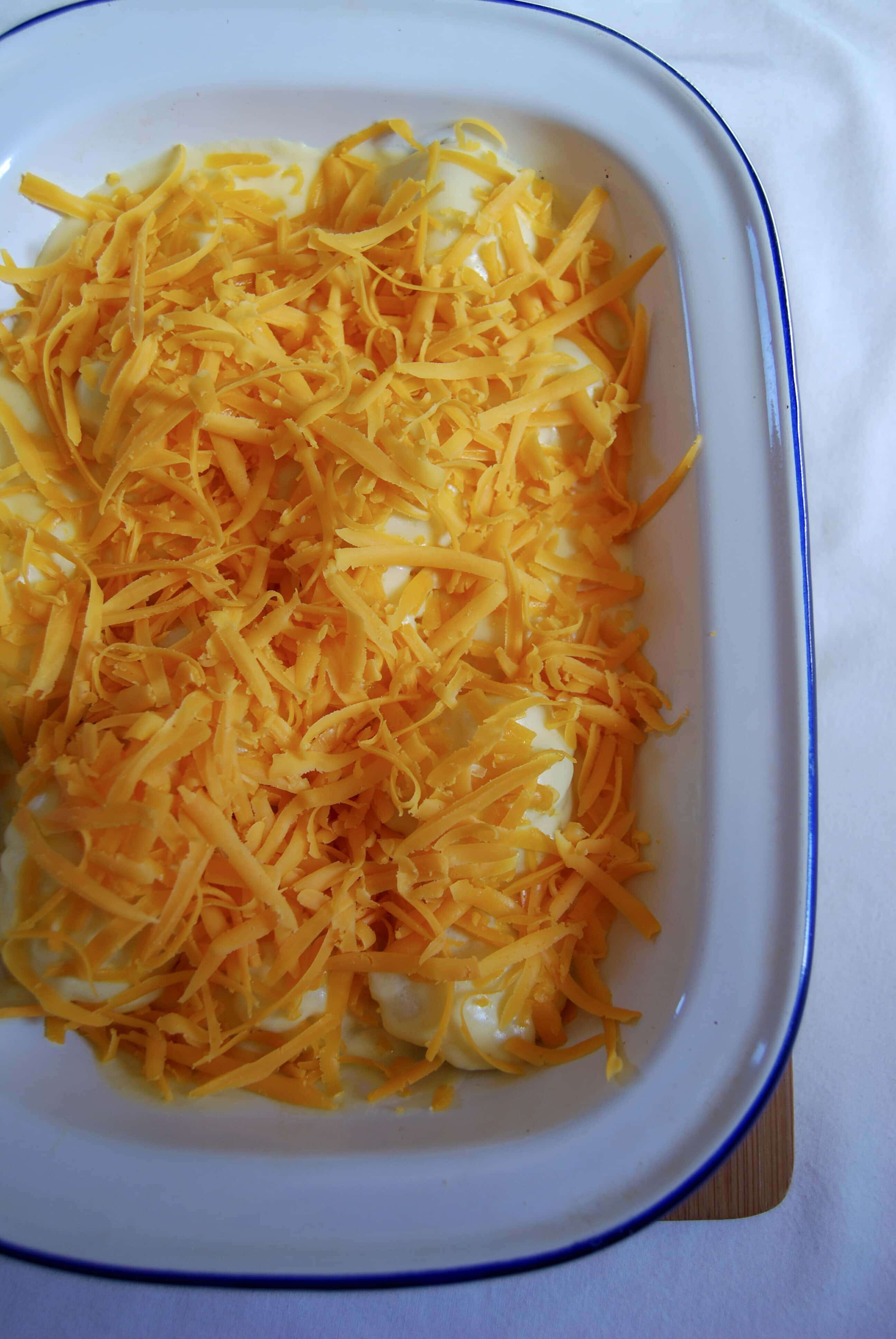 My tips for the perfect cauliflower cheese and common pitfalls…
What cheese should I use for cauliflower cheese?
Any hard cheese will work, but cheddar cheese is the classic choice and my absolute favourite.
I like to use the strongest cheddar I can get my hands on and I use a lot of it. Any cheddar cheese with a strength rating of 4 or 5 is good.
I also like to add a bit of Red Leicester cheese for that fiery colour – it's by no means essential but I love it!
Why does my cauliflower cheese go watery?
A watery cauliflower cheese can always be blamed on two things – over cooking the cauliflower and/or not draining the cooked cauliflower properly.
I prefer to steam the cauliflower – it might take a little bit longer, but it prevents the watery sauce issue so I think it's worth it.
If you prefer to cook the florets in water, make sure they are properly drained before combining them with the cheese sauce.
how can I prevent my cheese sauce from splitting?
Cooking the cauliflower cheese at too high a temperature can sometimes cause the cheese to split, resulting in a slightly oily, grainy texture.
A split sauce can also be avoided by removing the sauce from the heat before adding the cheese.
Can I make cauliflower cheese in advance?
It is best made fresh, but you can make it in advance. After cooking, let it go completely cold before placing in the fridge for up to one day.
Reheat the cauliflower at 180C for 25-30 minutes or until piping hot and bubbling.
What to serve with cauliflower cheese
Califlower cheese is delicious alongside a roast dinner such as this easy roast lamb or roast chicken, but it's also very good served on its own with a simple green salad.
It also goes very well with sausages.
Looking for more easy side dishes?
Sping Greens with lemon and mustard dressing
Honey mustard roasted parsnips and carrots
Pin this recipe for later…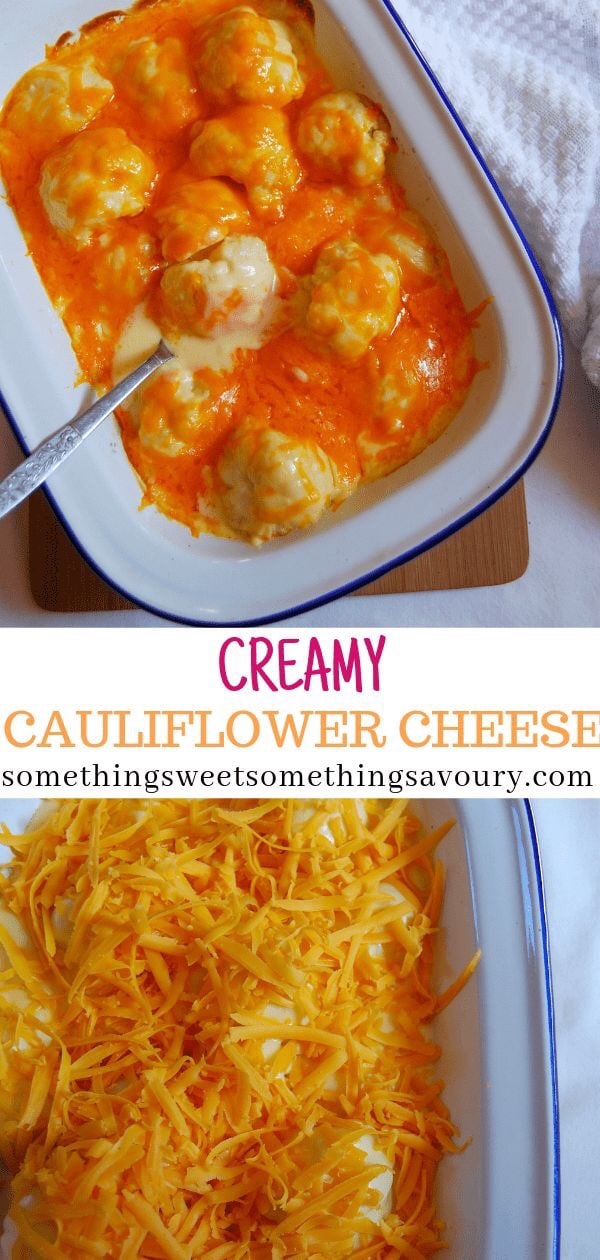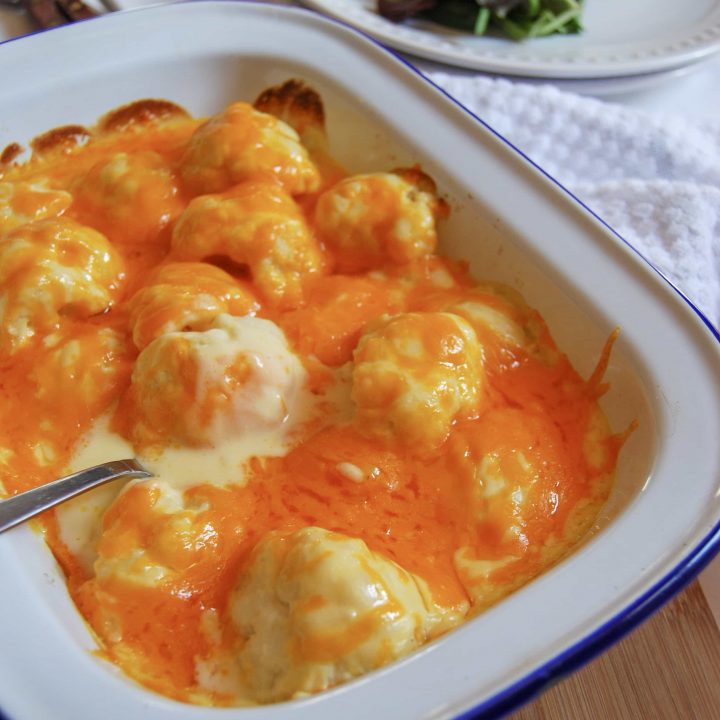 Creamy Cauliflower Cheese
This Creamy Cauliflower Cheese is a British comfort food classic! This recipe will give you perfectly cooked cauliflower with a rich, creamy thick cheese sauce that tastes divine. Serve alongside a roast dinner, sausages or even on its own -why not?
Ingredients
One large cauliflower, broken into florets
50g butter
25g plain flour
400ml whole milk
1 teaspoon English or Dijon Mustard
A small grating of fresh nutmeg, optional
Salt and pepper
120g Mature Cheddar cheese
50g Red Leicester cheese
Topping: an extra 50g Red Leicester cheese, or other cheddar cheese of your choice
Instructions
Preheat the oven to 200C/180Fan/400F.
Steam the cauliflower florets for roughly 10 minutes until only just tender. They may take a little more or less time, so keep an eye on them.
When cooked, remove from the steamer and set aside while you make the sauce.
In a medium saucepan, melt the butter, then add the flour and let it cook for a few minutes, stirring to make a roux. Remove the pan from the heat and slowly start whisking the milk in, a little at a time, constantly whisking to prevent lumps. When all the milk has been added, place the pan back on the heat and cook on a low to medium heat, stirring constantly until thickened.
Remove from the heat again and add the mustard, nutmeg if using, salt, pepper and cheese, stirring until the cheese has completely melted and the sauce is smooth.
Place the cauliflower florets in a gratin dish and pour over the sauce. Sprinkle over the remaining cheese.
Place in the preheated oven and bake for 20-25 minutes or until golden and bubbling.
I like to give the cauliflower cheese a quick blast under the grill for the last couple of minutes to burnish the top.
Nutrition Information:
Yield:

6
Serving Size:

1
Amount Per Serving:
Calories:

319
Total Fat:

24g
Saturated Fat:

14g
Trans Fat:

1g
Unsaturated Fat:

8g
Cholesterol:

66mg
Sodium:

446mg
Carbohydrates:

14g
Fiber:

3g
Sugar:

7g
Protein:

15g
Calories and nutritional information are provided by a third party application and should be viewed as indicative figures only.