Learn how to make the Perfect Roast Chicken with my easy step by step guide. The chicken is smothered in a lemon and thyme butter which gives incredible flavour, golden crispy skin and juicy, tender meat.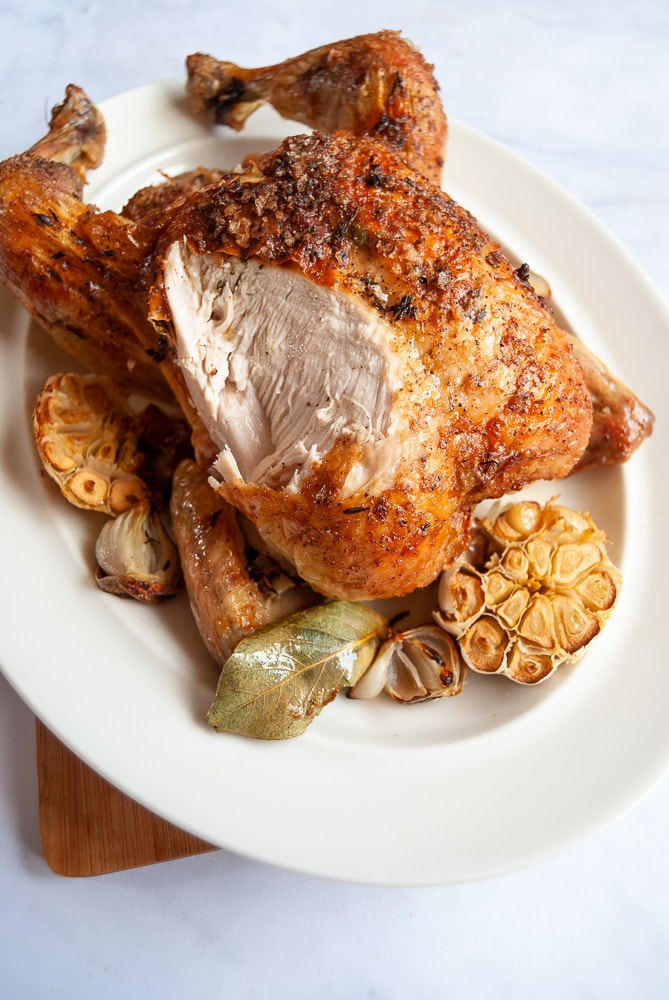 If there's one meal my children will remember me for in the future, I would be very surprised if it isn't roast chicken.
Hardly a week goes by that I don't find myself roasting a chicken and although I do like to try different ways to cook it – like Nigella's Italian roast chicken with peppers – this recipe is the one I turn to time and time again.  
Instead of merely rubbing butter on the surface of the chicken like many other recipes instruct you to do, I place it underneath the chicken skin.
If you do this, there is no need to baste the chicken and you'll end up with perfectly juicy, tender meat.
Another bonus of doing this?
There is no need to keep opening the oven door every 30 minutes to baste the chicken, since it practically bastes itself. That's a job I particularly hate doing in the Summer – it's one sure fire way to get all hot and sweaty (Yuck!!)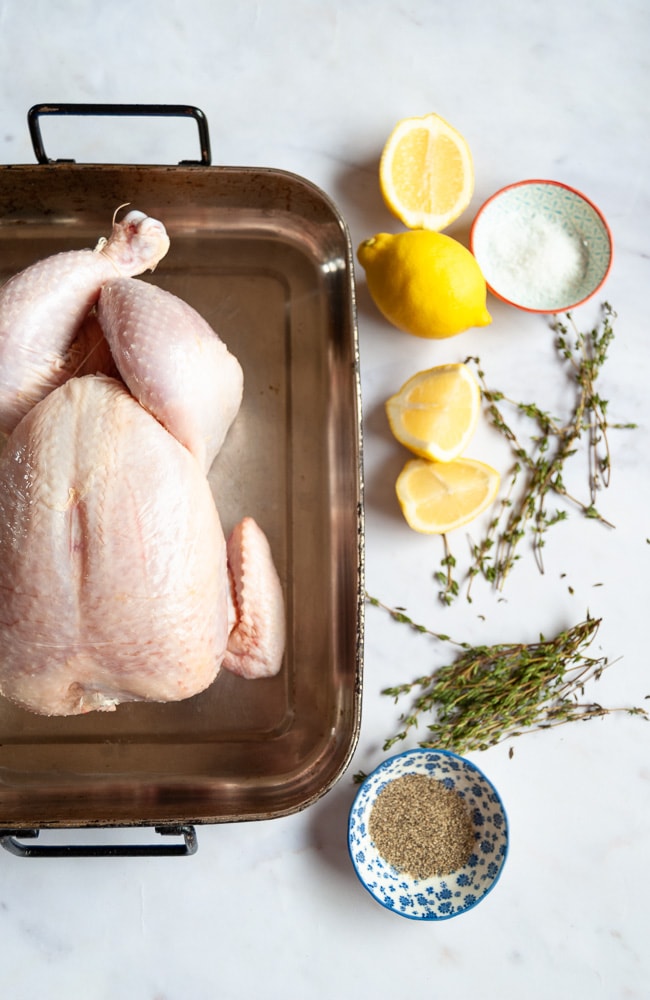 ingredients you'll need to make this recipe
You'll need a whole 1.5kg chicken. This should feed a family of four generously, depending on your family's appetite of course! You should have plenty of leftovers, which in my opinion is one of the best thing about cooking a chicken!
100g Butter
A small bunch of fresh thyme. You could also use a mixture of thyme and rosemary if you like, but I would only use 3-4 sprigs of rosemary – it's pretty powerful stuff and if you use too much, the flavour can be a little overpowering!
One large lemon – you'll need the zest for the flavoured butter. We'll also be placing the lemon in the chicken cavity. I can't roast a chicken without doing this – the lemon permeates through the whole chicken, giving incredible flavour.
Salt and Pepper – a crucial ingredient! I use sea salt flakes and freshly ground black pepper.
The following ingredients aren't essential, but I like to serve the garlic and shallots alongside the chicken – slow roasting them makes them incredibly sweet.
Shallots. You could use a leek instead, chopped into small logs.
one Garlic Bulb, cut in half across the middle.
a couple of bay leaves

cooking instructions
Preheat the oven to 220C/200Fan/450F/Gas Mark 8.
Remove the chicken from all of the packaging and place in a large roasting tin. Cut off the piece of string holding the legs together.
If the chicken feels damp, gently pat it dry with kitchen paper. If the skin is nice and dry it will crisp up beautifully!
This is a very simple recipe, but produces such great results. Place 100g soft butter in a medium bowl and mix it with fresh chopped herbs – I love chicken with fresh thyme.
Season the herb flecked butter with salt and pepper.
Gently work your fingers underneath the chicken skin to loosen it, working carefully so you don't rip the skin. Using your hands, work most of the butter underneath the skin, keeping about 25g back for the outside of the chicken.
Rub the remaining butter over the top of the chicken. Pop a few herb sprigs and the zested lemon in the cavity and cook at 220C for 10 minutes before turning the heat down to 200C and continue to cook for 70-80 minutes, or until the chicken is golden, burnished and smelling delicious.
a skewer inserted into the thickest part of the chicken the juices should run clear, with no traces of pink. If you see pink juices or blood, chuck it back in the oven! If the skin looks like it's browning too much, cover it with a layer of tin foil.
I have a meat thermometer which really takes the guess work out of wondering if the chicken is fully cooked! The temperature for a safely cooked chicken should read 75C/165F.
If you don't have one I really recommend them – they only cost a few pounds and it gives me peace of mind that I won't poison anyone (serving undercooked chicken is one of my biggest cooking fears and I'd always rather be safe than sorry!)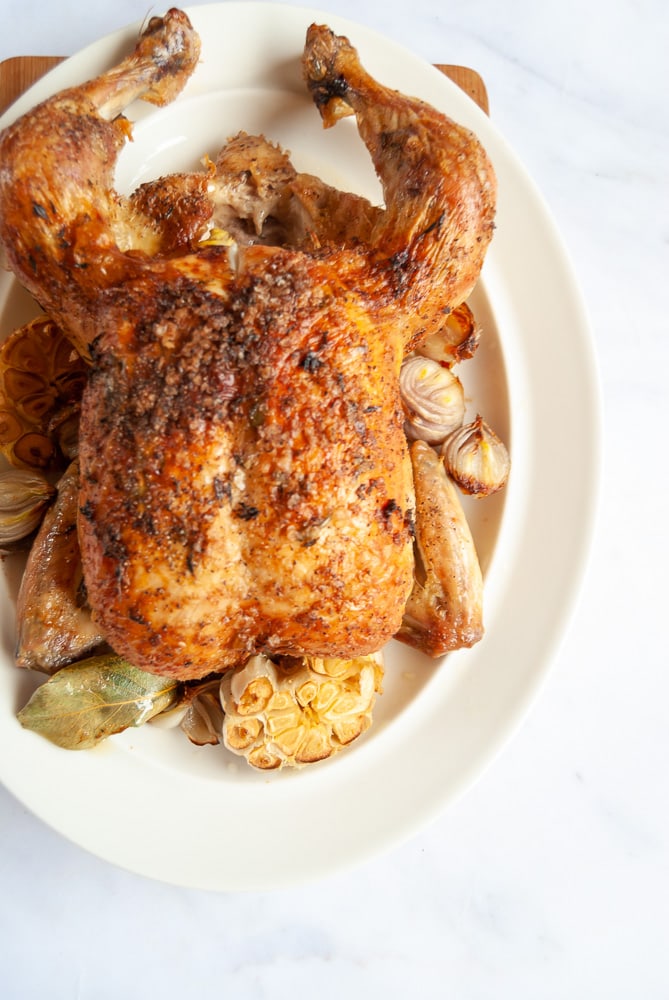 what to serve with roast chicken
I can't think of many things that wouldn't really go with a roast chicken, but my favourite things to serve alongside are creamy mashed potatoes or for a proper treat, an indulgent, creamy Potato Dauphinois, honey and mustard roasted carrots and parsnips and a green vegetable like these Spring Greens with lemon and mustard dressing.
Cauliflower cheese is also gorgeous alongside a roast chicken – it's classic comfort food!
Sometimes I make these sausagemeat stuffing balls to serve alongside the chicken. Sometimes I leave out the dried cranberries depending on my mood.
what to do with roast chicken leftovers
One of my favourite things about roasting a chicken is the prospect of having delicious leftovers!
There are countless ways to use up leftover chicken – turn it into a curry, make a chicken risotto, make my favourite chicken fried rice or add some diced chicken to this roasted pepper orzo salad. You could also make a chicken Caesar pasta salad – a huge favourite in my house!
If you're re-heating leftover chicken, remember to make sure the meat is piping hot before serving. A meat thermometer inserted into the chicken should read 165C/74F.
Any leftover chicken should be used within 3 days.
Want to see More Chicken Recipes?
Slow Cooker Chicken noodle soup
Chicken Milanese with Spaghetti
Slow Cooker Butter Chicken curry
Did you make this recipe?
I really hope you loved it! Let me know what you thought of it by leaving a comment below and rate the recipe by clicking on the stars in the recipe card below. Any questions about this recipe? Ask away!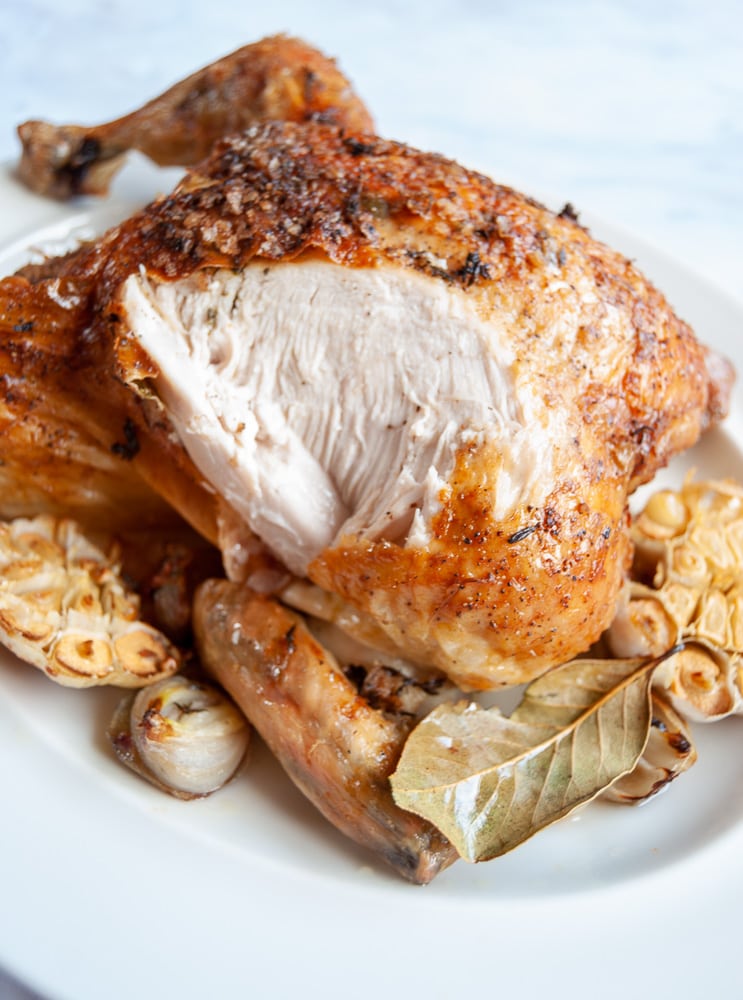 You can keep up with all my latest culinary adventures on Instagram or Facebook – feel free to send me pictures of what you've been making and I'll share them!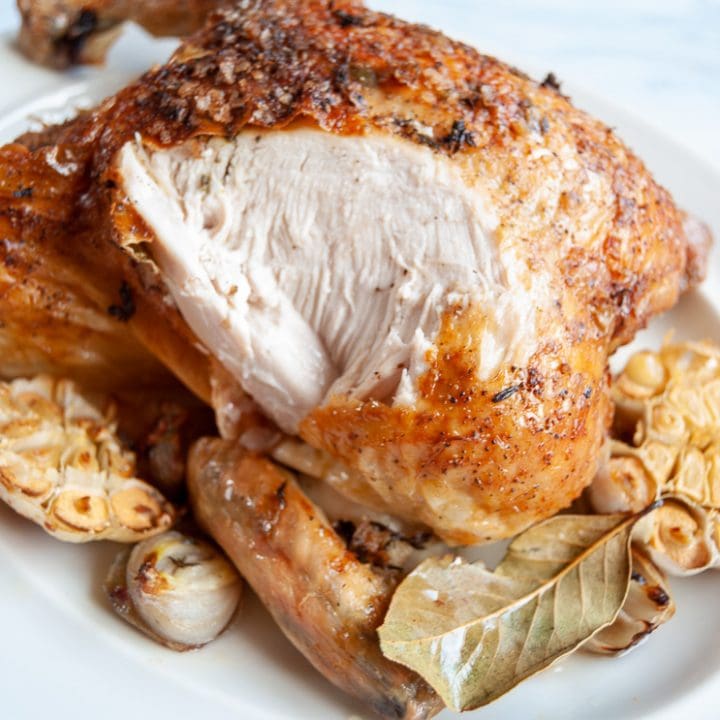 Perfect Roast Chicken
Yield:
serves 4-6 with leftovers
Cook Time:
1 hour
30 minutes
Additional Time:
20 minutes
My recipe for the perfect roast chicken. The chicken is rubbed with a lemon herb flecked butter which gives incredible flavour, golden crispy skin and juicy, tender meat.
Ingredients
1 1.5kg Chicken
100g Soft Butter
Grated Zest of One Large Lemon (keep the lemon for the chicken cavity)
small bunch of fresh Thyme
Sea Salt Flakes and Freshly Ground Black Pepper
A Couple of Bay Leaves 
8-10 shallots, peeled (left whole
One garlic bulb, cut in half across the middle
1 tablespoon Olive Oil
Instructions
Preheat the oven to 220C/200Fan/450/Gas Mark 8.
Place the chicken in a roasting tin and if the skin feels wet, pat it dry with paper towels, taking taking care not to rip the skin.
Place the butter in a medium sized bowl. Add the grated zest of a lemon and one tablespoon of fresh thyme leaves (or 2 teaspoons dried.) Mix well and add a little salt and pepper.
Using your fingers, gently tug and pull the skin around the neck of the chicken to loosen it, then working gently, push your hand all the way down to the bottom of the chicken, trying not to rip the skin. What you're trying to do is make a little space to push the flavoured butter under the skin.
Take just under half of the herby butter and push it all the way down underneath the skin. Repeat on the other side.
Rub any remaining butter all over the chicken and season well with salt and pepper.
Scatter the halved garlic bulb, shallots, bay leaves and any remaining thyme sprigs around the chicken in the tin. Drizzle the olive oil over the garlic and shallots to prevent them from burning. Take the lemon you zested for the butter, cut it in half and place inside the chicken cavity.
Place the chicken in the oven and roast for 10 minutes at 220C, then turn down the heat to 200C and continue cooking for 70-80 minutes until golden and bronzed. If you pierce the thickest part of the thigh with a skewer, the juices should run clear. A meat thermometer should read 75C/165F/.
Remove the chicken from the oven and leave to rest for 20-30 minutes.
Notes
You could use fresh rosemary leaves instead of the thyme if you wished, or a mixture of both would also be good.
If you don't have fresh herbs, you can substitute with 2 Teaspoons of dried Thyme or 1 Teaspoon of dried rosemary.
Any leftover chicken should be cooled as soon as possible and stored in an airtight container in the fridge. Leftover chicken should be used within 3 days. If re-heating leftover chicken, make sure to heat it until piping hot. A meat thermometer should read at least 74C/165F.
Nutrition Information:
Yield:

8
Serving Size:

6
Amount Per Serving:
Calories:

523
Total Fat:

32g
Saturated Fat:

12g
Trans Fat:

0g
Unsaturated Fat:

17g
Cholesterol:

196mg
Sodium:

273mg
Carbohydrates:

10g
Net Carbohydrates:

0g
Fiber:

2g
Sugar:

4g
Sugar Alcohols:

0g
Protein:

47g