This Roasted Pepper Orzo Salad is packed full of flavour – chargrilled roasted peppers,cherry tomatoes, sweetcorn, mini mozzarella pearls and fresh herbs. It's perfect for lunchboxes, picnics or a light Summer meal!
In the Summertime when we want to make the most of the sunshine and not spend hours in the kitchen, simple, easy meals like this roasted pepper orzo salad are exactly what we need.
Now if the idea of grilling your own peppers when it's 23C+ is a little bit too much to ask, you can use a jar of chargrilled peppers instead.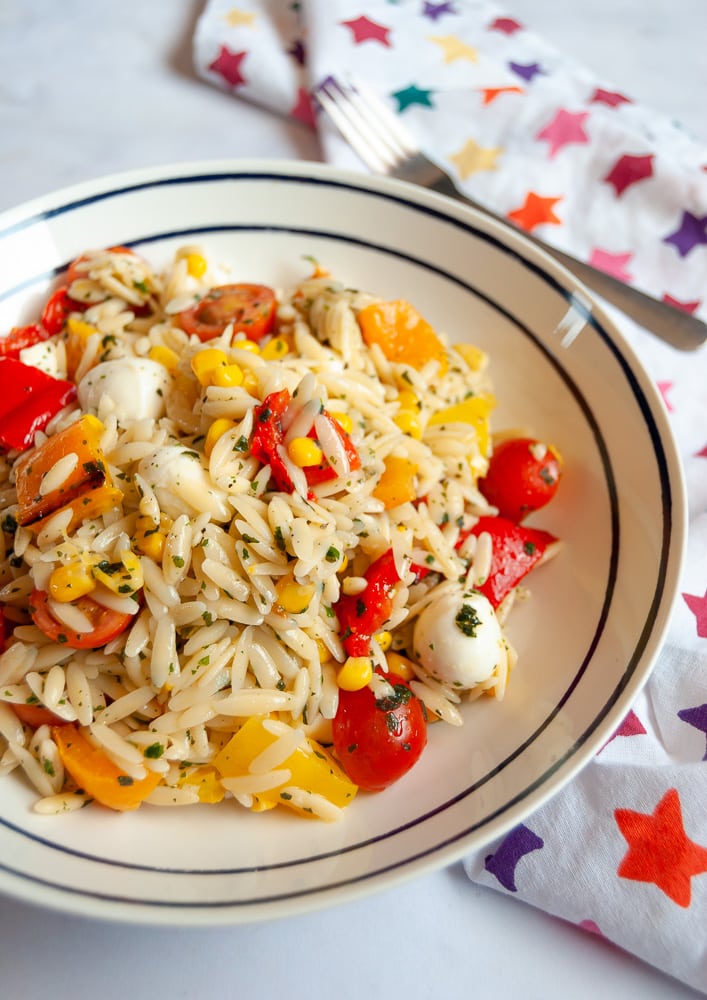 It's so useful to have a few good pasta salad recipes in your repertoire. You can make them in advance – in fact it's better if you can make pasta salad ahead of time.  This allows all the flavours to mingle together and get to know each other.
If you're a fan of Greek salad, check out this Greek orzo salad recipe!
roasted pepper orzo salad recipe
Orzo salads are great for lunchboxes.  If I make it on a Tuesday night, I know my lunch is sorted for work the next day.
Which in turns saves me from spending the best part of a fiver in that expensive sandwich shop!
Plus making my lunch the night before almost makes me feel like I'm winning at life.
Pasta salads are often super popular with children.  Yes, they might still pick out the bits they don't want to eat but on the whole, pasta is usually a winner with little people.
ingredient list
Orzo Pasta. Orzo is great for using in a pasta salad – the little grains really soak up all the different flavours.
If you can't find Orzo, you could also use Fusilli, Farfalle (pasta bows) or Conchiglie (Shells).
Peppers/Bell Peppers/Capsicum – I used a mixture of red, yellow and orange peppers. Personally I would avoid using green peppers here because they are quite bitter, but that's just my personal preference. If you don't want to grill your own peppers, you can absolutely use a jar of chargrilled peppers instead!
Cherry Tomatoes – they are a perfect size for this salad. You can also use baby plum tomatoes if you like. Those sunblush tomatoes you can find in jars of oil or in delis would also work very well here.
Sweetcorn – I used a tin of (drained) sweetcorn. You can use frozen (defrosted) sweetcorn if you like.
Mozzarella Pearls/Mini Mozzarella Balls. If you can't find these, you could use a regular ball of mozzarella and tear it into chunks.
Fresh Basil – or the frozen basil you can now find in the supermarkets would also work well. You can chop it up finely or just tear it into larger pieces.
Fresh Parsley – I love the flavour of parsley, but you aren't a fan you can leave it out.
For the simple lemon and honey dressing:
Honey – if you can't or don't eat honey, maple syrup would be a good substitute.
Sea Salt Flakes and Freshly Ground Black Pepper
how to chargrill bell peppers –
Preheat your grill to the highest setting (put on your extractor fan!)
Cut the peppers in half down the middle, drizzle with a little olive oil, scatter over a few sea salt flakes if you like.
Place under the grill for 5-10 minutes, watching them like a hawk because they can go from perfectly soft and chargrilled to burnt in a matter of seconds.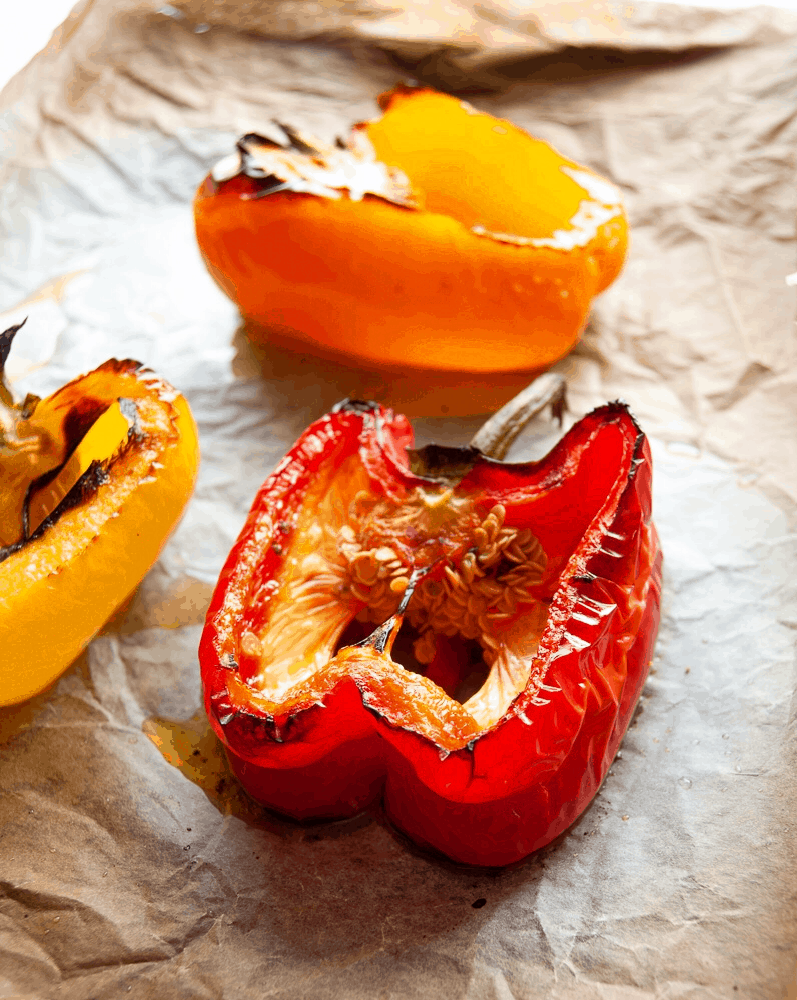 how to make roasted pepper orzo salad
(printable recipe card and detailed instructions at the bottom of the post)
Grill your peppers and cook the Orzo pasta according to the packet instructions.
The cooking time for Orzo is generally between 8-10 minutes. Drain the pasta and set aside.
Place the extra virgin olive oil, lemon juice, honey and salt and pepper in a small bowl and whisk until well combined.
Alternatively, place all the ingredients in a jam jar, screw on a secure lid and shake like mad until you have a dressing!
Pour the dressing over the pasta and add all the other ingredients. Stir to combine and add some sea salt flakes and freshly ground black pepper to taste.
Ideally, leave the salad in the fridge for a least two hours before serving – you don't have to do this, but it will improve the flavour.

Playing around…
Add some crumbled or cubes of feta instead of the mozzarella pearls.
Grilled Halloumi also works very well with this salad.
Instead of using fresh cherry tomatoes, consider adding some sun blush tomatoes (you can usually find them in jars preserved in oil)
Did you make this recipe?
I really hope you loved it! Let me know what you thought by leaving a comment below and don't forget to leave a star rating by clicking on the stars in the recipe card..
Looking for more quick and easy salads?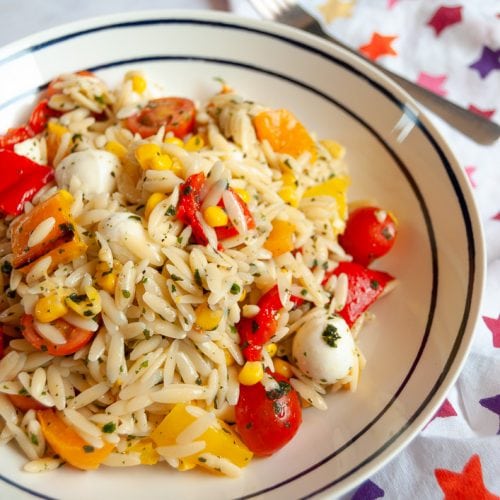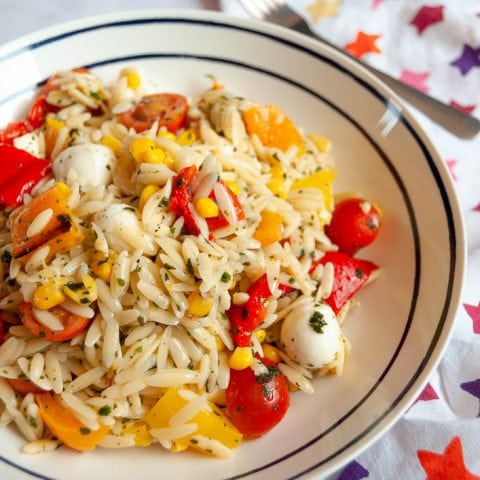 Roasted Pepper Orzo Salad
Cook Time:
20 minutes
15 seconds
Total Time:
30 minutes
15 seconds
This Roasted Pepper Orzo Salad is loaded with flavour! Chargrilled roasted peppers, cherry tomatoes, mozzarella pearls and lots of chopped fresh basil and parsley coated in a zingy lemon dressing.
Ingredients
250g Orzo Pasta
3 Peppers - I used a mixture of red, yellow and orange
100g Cherry Tomatoes, Halved
100g Mozzarella Pearls
1 small tin of sweetcorn, drained
Small bunch of fresh basil, chopped
Small bunch of fresh parsley, chopped 
Salt and Pepper
For the Dressing:
60ml Extra Virgin Olive Oil
Juice of one lemon
1/2 tbsp honey
Salt and Pepper
Instructions
Cook the orzo according to the packet instructions. Drain, transfer to a large serving bowl and cover to keep warm while you grill the peppers and make the dressing.
Cut the peppers in half down the middle. Place them on a grill rack lined with foil. Grill on a high heat for about 8-10 minutes or until charred and soft. remove from the heat.
In a small bowl, whisk together the olive oil, lemon juice, and honey. Taste and see if you want to add more lemon juice or honey, then add a little salt and pepper.
Pour the dressing over the orzo and stir, making sure all the pasta is well coated in dressing.
Chop the peppers into chunks, discarding the seeds and stalks. Add them to the pasta along with the halved cherry tomatoes, sweetcorn, mozzarella pearls, chopped basil and parsley. Season to taste.
Notes
MAKE IT VEGAN - omit the mozzarella or use a vegan variety. If you can't or don't eat honey you can use maple syrup instead in the dressing.
Nutrition Information:
Yield:

4
Serving Size:

1
Amount Per Serving:
Calories:

418
Total Fat:

21g
Saturated Fat:

5g
Trans Fat:

0g
Unsaturated Fat:

14g
Cholesterol:

20mg
Sodium:

313mg
Carbohydrates:

48g
Net Carbohydrates:

0g
Fiber:

4g
Sugar:

11g
Sugar Alcohols:

0g
Protein:

13g