This delicious chicken Cobb salad is packed with protein, making it a filling and delicious meal in itself. It's made with grilled chicken, crispy bacon, juicy tomatoes, boiled eggs and a creamy herb dressing on a bed of crunchy lettuce.
Interested in more chicken salads? Try my chicken Caesar salad and chicken Fajita salad bowl recipes!
Cobb salad is something I make often when it's hot outside – and boy has it been HOT today!
Even if I could cry at the thought of having to make dinner – and yes, despite my love of cooking I also feel this way at times – if I have a packet of chicken breasts or a pre-cooked chicken in the fridge and basic salad items, I know dinner is taken care of.
If I want to be really organised, I can cook the chicken, bacon and eggs in advance and even assemble the salad a couple of hours before dinner time.
what is a cobb salad?
A Cobb salad is a chopped salad developed by Bob Cobb in 1936 for his Brown Derby Restaurant in Los Angeles. It was an instant hit with visitors to the Restaurant and also become very popular with movie stars.
The salad starts by arranging a bed of fresh, crisp lettuce on a large serving plate, then the rest of the ingredients are arranged in a row on top of the salad. I do wonder if this popular salad was invented by doing a "fridge raid" – just like many great recipes are invented.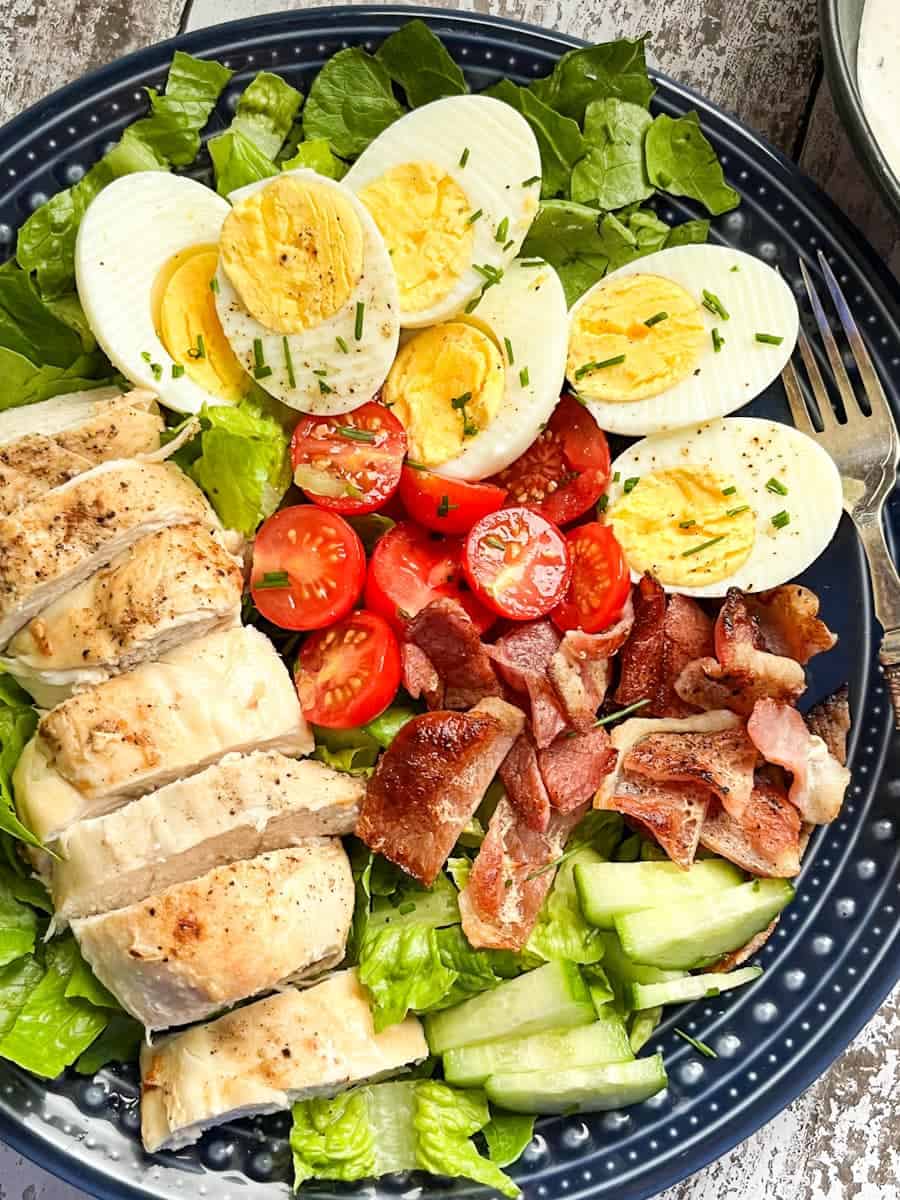 chicken cobb salad ingredients
The original Cobb salad consisted of shredded lettuce, tomatoes, cold chicken, avocado, hard boiled eggs, blue cheese, crispy bacon, chopped chives and French dressing.
The version I'm sharing with you today isn't traditional but bears a nod to the original recipe. I simply made it with the ingredients I had in my fridge.
cooked chicken. Any cold, cooked chicken works – you could use grilled chicken, Rotisserie chicken, air fried chicken or leftover roast chicken. If I'm cooking the chicken especially for this salad, I prefer using skinless boneless chicken breast fillets.
hard boiled eggs. It's best to cook the eggs first so you can soak them in cold water to cool them down.
cooked bacon. I fry back bacon in a pan for a minutes per side until crispy, then slice it into pieces.
tomatoes – the ripest, sweetest variety you can find.
cucumber. Not traditional at all, but I had two cucumbers to use up, so it went in. You can omit if you prefer.
lettuce. I used Romaine lettuce, but any crisp green lettuce could be used, such as Cos or iceberg.
the dressing
The dressing I use for this Cobb salad is very similar to Ranch dressing. It's adpated from a recipe for bacon buttermilk dressing in "The New Basics cookbook" by Julee Rosso and Sheila Lukins. Here are the ingredients you'll need to make it:
mayonnaise
plain yoghurt
minced garlic
chopped fresh chives
fresh dill
onion granules
salt and freshly ground black pepper
mild paprika (not smoked)
Tabasco sauce (optional)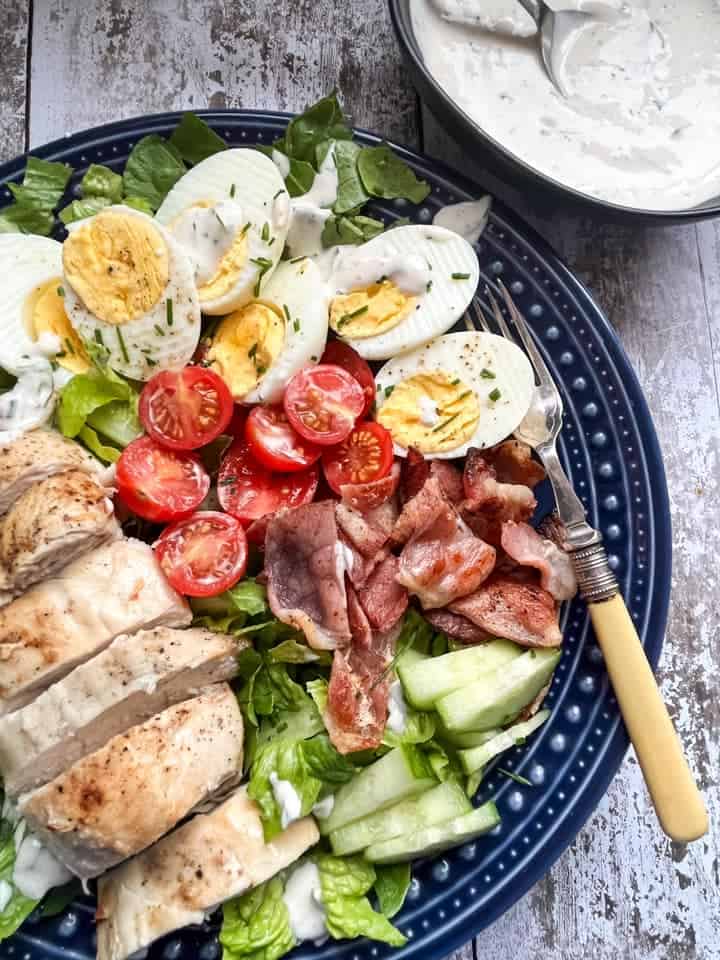 can you make chicken cobb salad in advance?
You can prepare the salad about two hours before you plan to eat it. Cover the plate with cling film/plastic wrap and store in the fridge.
If you want to really get ahead of the game, the salad dressing can be made up to two days in advance.
The bacon can be made a day or two in advance. Drain on some paper towels and keep in the fridge until you're ready to use it.
storing chicken cobb salad
Any leftover salad should be packed away in a tupperware box and chilled straightaway. It will keep in the fridge for up to two days, but it's really best eaten the day it is assembled.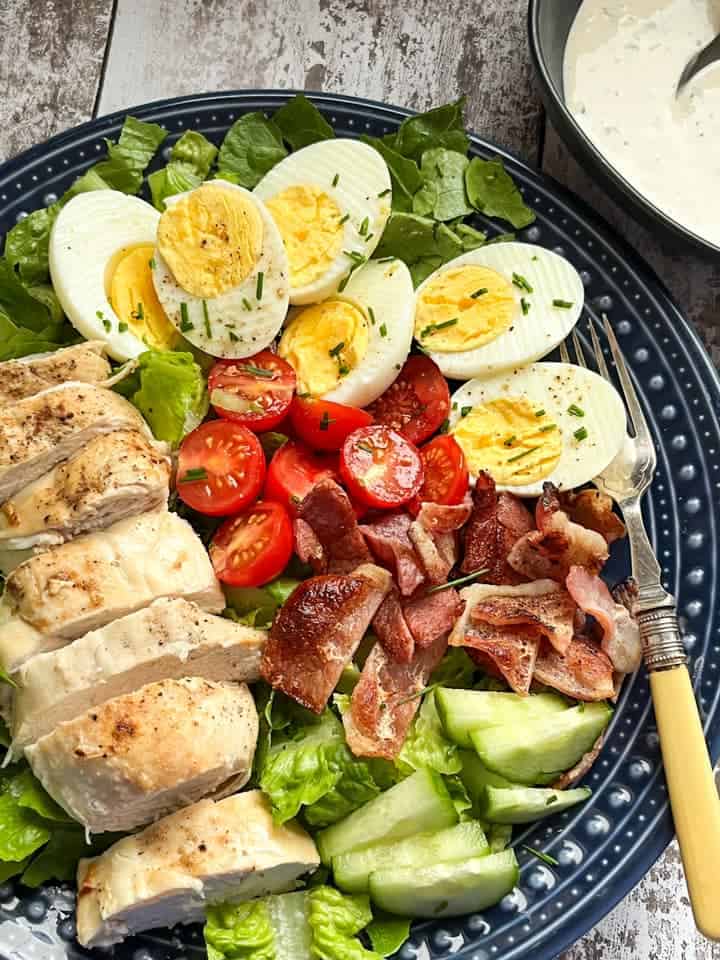 variations
Swap the cucumber for sliced avocado – or use both!
Add some crumbled blue cheese
swap the creamy herb dressing for a blue cheese dressing
make a vegetarian cobb salad
You could easily make this recipe vegetarian by swapping the chicken for Quorn fillets or a similar brand.
more delicious summer salads
did you make this recipe?
I hope you loved it! Let me know what you thought by leaving a comment below and please rate the recipe by clicking on the stars in the recipe card.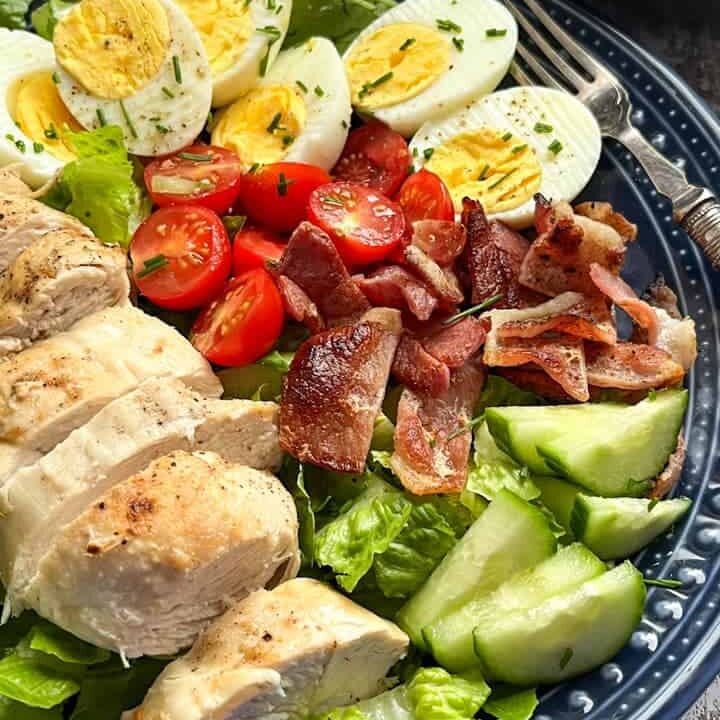 Chicken Cobb Salad
My version of the famous American Cobb salad. A tasty and filling salad packed with cooked chicken, bacon pieces, hard boiled eggs, tomatoes and a creamy herb buttermilk dressing on a bed of crispy green lettuce.
Ingredients
FOR THE HERB BUTTERMILK DRESSING
120ml (1/2 cup) mayonnaise
120ml (1/2 cup) buttermilk or natural yoghurt
1 teaspoon finely minced garlic
1/2 teaspoon onion granules
2 tablespoons freshly chopped chives
1/2 tablespoon fresh dill
1/4 teaspoon fine salt
1/2 teaspoon freshly ground black pepper
1/4 teaspoon mild paprika
dash of Tabasco sauce (optional)
FOR THE SALAD
1 large head Romaine or Cos lettuce, washed and dried
4 cooked chicken breasts, sliced
125g cooked bacon pieces, cut or crumbled into bite sized pieces
120g (1/2 cup) of cherry tomatoes, halved and seasoned with a little salt, pepper and a tiny bit of sugar
4 hard boiled eggs
100g cucumber, sliced (optional)
1 tablespoon freshly chopped chives
Instructions
MAKE THE DRESSING: Place the mayonnaise and buttermilk or plain yoghurt in a mixing bowl and stir to combine. Add the remaining ingredients and mix well to combine. Taste to check the seasoning, then refrigerate while you make the salad.
PREPARE THE SALAD: Place the lettuce leaves on a large serving plate. Slice the cooked chicken and sit on top of the lettuce. Add the cooked bacon pieces, tomatoes, hard boiled eggs and cucumber, if using.
Drizzle the dressing as sparingly or generously as you wish. Sprinkle with extra chopped chives if you like, then serve with crusty bread.