This Tabbouleh recipe is very simple, fresh and easy to prepare. Made with Bulgur wheat, tomatoes, lots of fresh herbs and a zingy lemon dressing, it's a perfect Summer dish! Serve with roast chicken, fish or just by itself with hummus and pitta bread.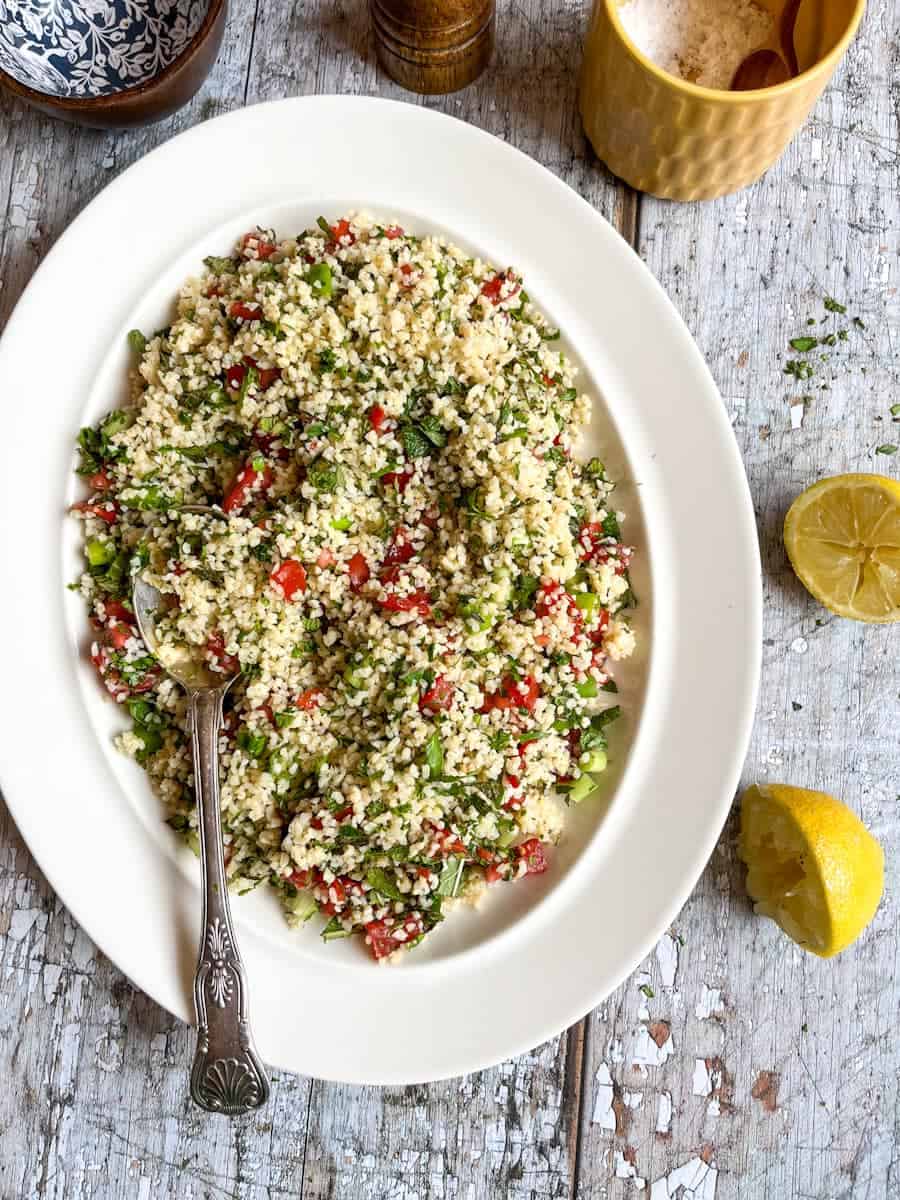 I've been making Tabbouleh salad for a long time. It's one of my to go Summer recipes – I love it. It's so easy to make and keeps well for several days in the fridge. It never lasts long in my house – I can eat huge amounts of it!
It makes a great side dish for barbecues and picnics, but it's also really good with grilled chicken, fish, roasted vegetables or just as it is with hummous and pitta bread.
For more easy Summer salad inspiration, take a look at my salad collection.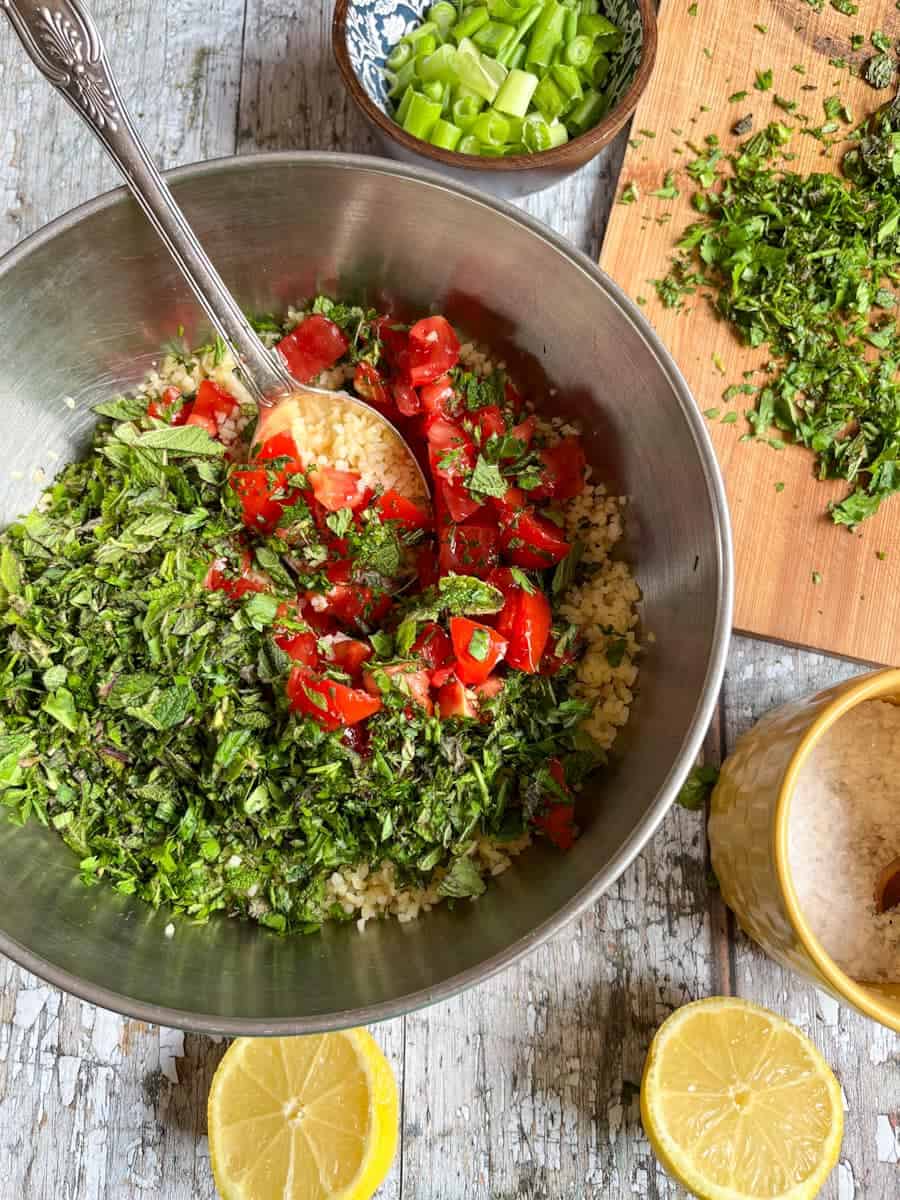 what is tabbouleh?
Tabbouleh is a traditional middle Eastern salad made with Bulgur wheat, lots of fresh parsley and mint, diced tomatoes and spring onions. It's very simply dressed with olive oil, lemon and salt and pepper.
This version of Tabbouleh isn't exactly traditional. You might think that the bulgur wheat is the main ingredient in this dish, but it's actually parsley. In the middle East, they use a LOT of parsley in this salad – more than double the amount I've used in this recipe.
should bulgur wheat be cooked or soaked?
I've tried both cooking and soaking bulgur wheat – so what's the best way? It depends! Soaking the grains in boiling water will help retain its nutty, firm texture which is meant to be ideal for Tabbouleh.
However, I actually prefer the slightly softer texture of bulgur wheat once it has been cooked. It's really down to your personal preference. It's best to try it both ways and see what you like best.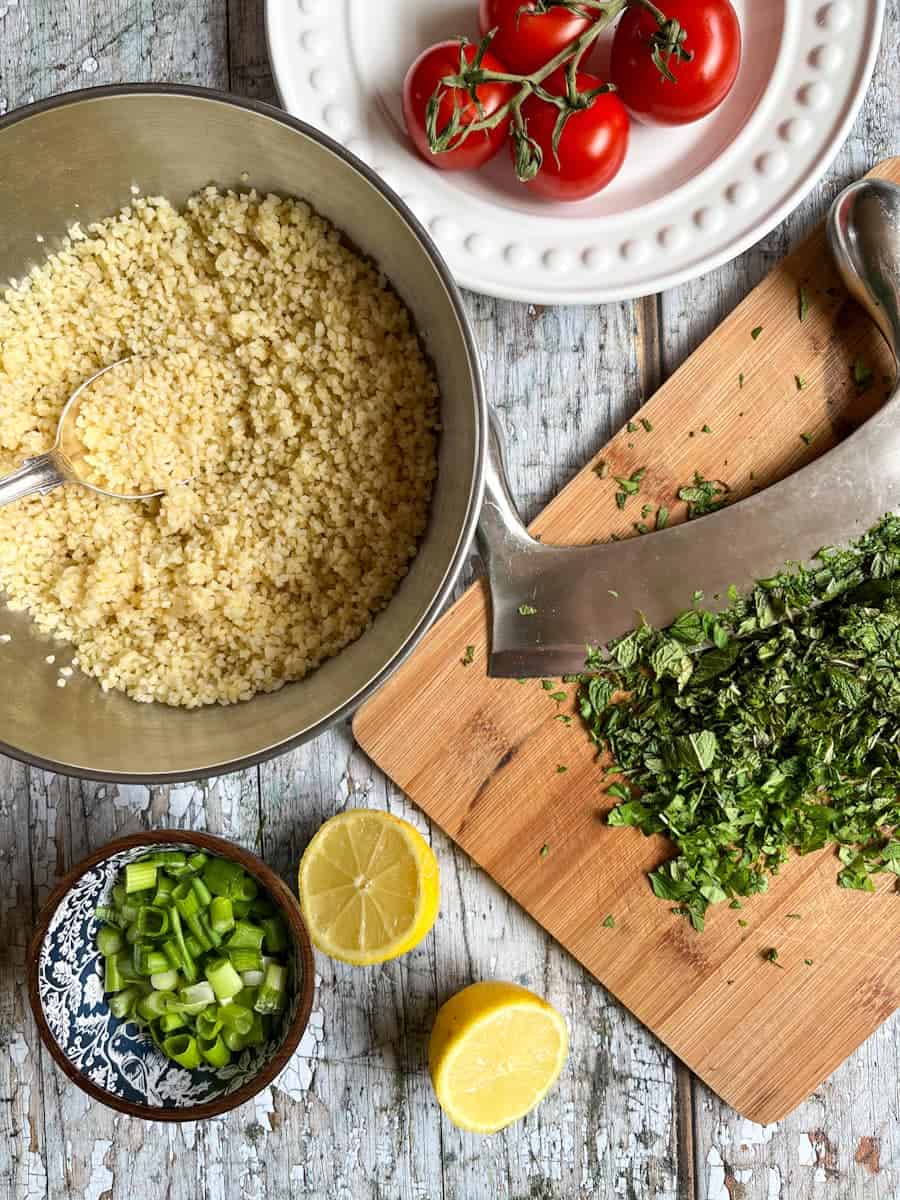 ingredients list
Bulgur Wheat.
Fresh parsley. Flat leaf parsley is my favourite, but curly parsley is also fine. It's cheaper than flat leaf too, which is always a bonus.
Fresh mint is gorgeous in salads – and of course, it's one of the key ingredients in this watermelon, feta and mint salad.
the ripest, sweetest tomatoes you can lay your hands on
spring (salad) onions
lemon juice
olive oil
salt and pepper
how to make tabbouleh
Step one – prepare the bulgur wheat by either soaking in boiling water for about 20-25 minutes or cooking on the hob for 10-12 minutes. Whether you soak or cook the grains, I recommend adding a teaspoon of Marigold vegetable bouillon to the water.
Step two – Make the dressing by stirring together the lemon juice and olive oil, then season with just a little salt and pepper.
Step three – dice the tomatoes, then drain off any excess liquid. I like to take out the seeds, but that's just my personal preference. Salting your tomatoes at this stage will intensify their flavour.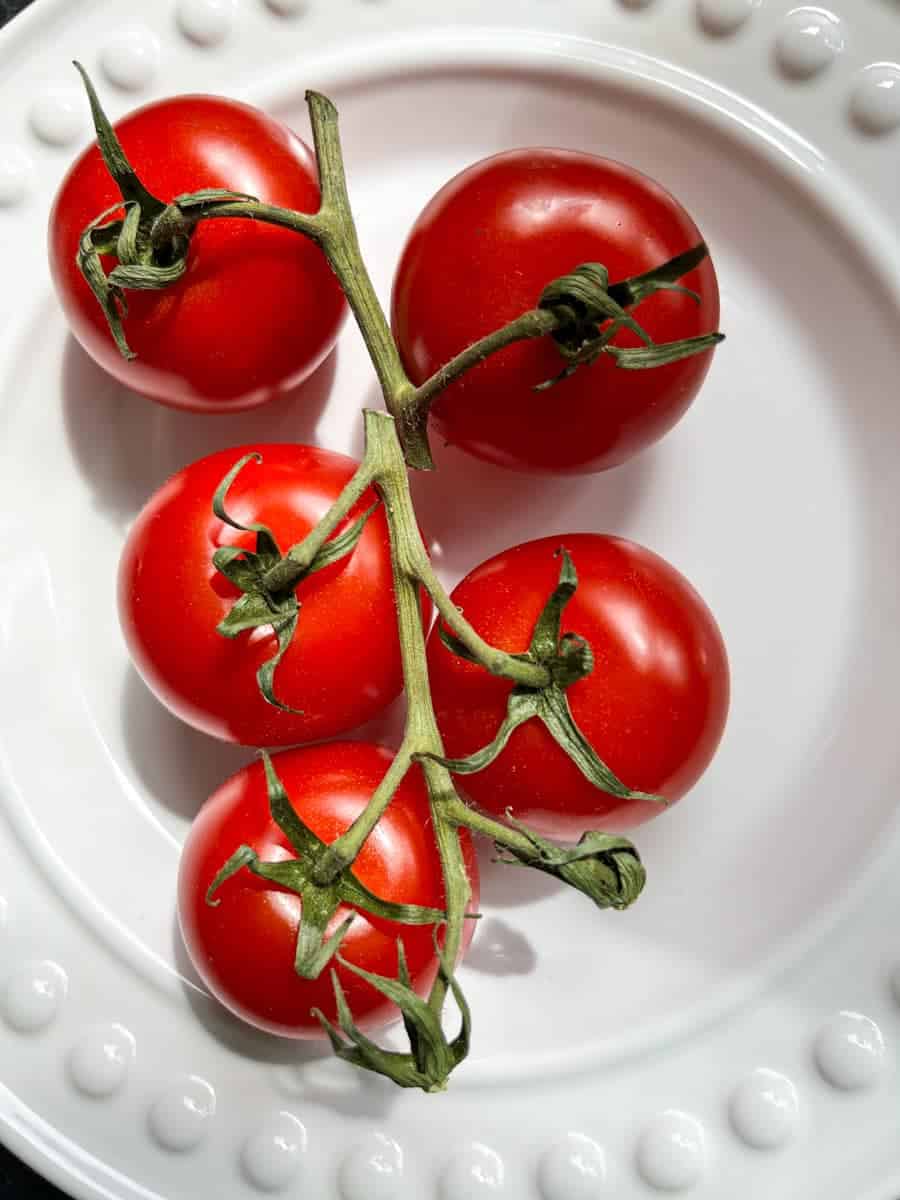 Step four – chop the herbs. You don't want them too finely chopped – remember, they're the star ingredient! Too much chopping will bruise the leaves.
Step five – Stir the drained, salted tomatoes, chopped herbs and spring onions into the bulgur wheat. Stir in the lemon dressing, then add salt and freshly ground black pepper to taste.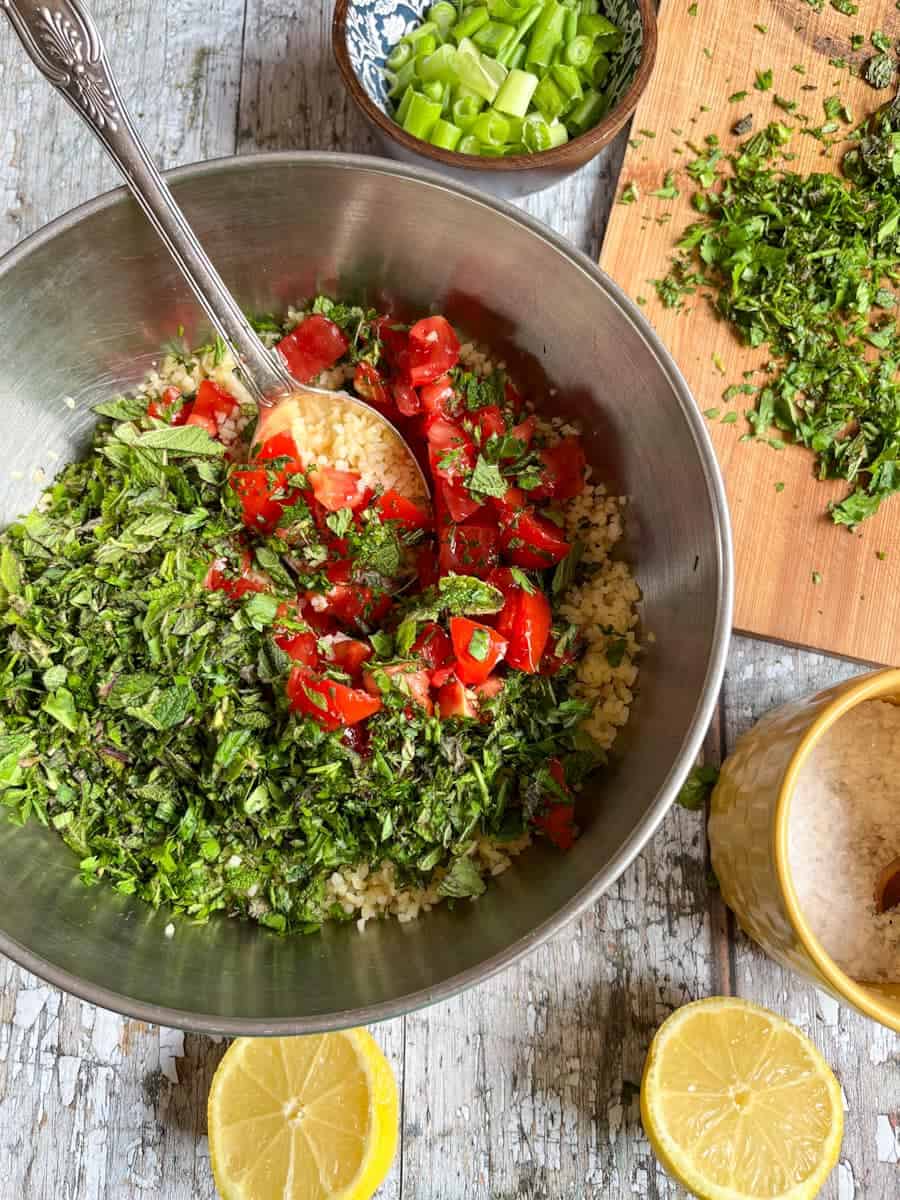 recipe notes and tips
For extra flavour, cook the bulgur wheat in vegetable stock instead of water.
You can use finely chopped shallots instead of spring onions. Some people also like to use red onion.
Some Tabbouleh recipes add diced cucumber – if you love it, feel free to add some. If you're planning to store the Tabbouleh in the fridge for longer than a day, the cucumber will make it slightly soggy.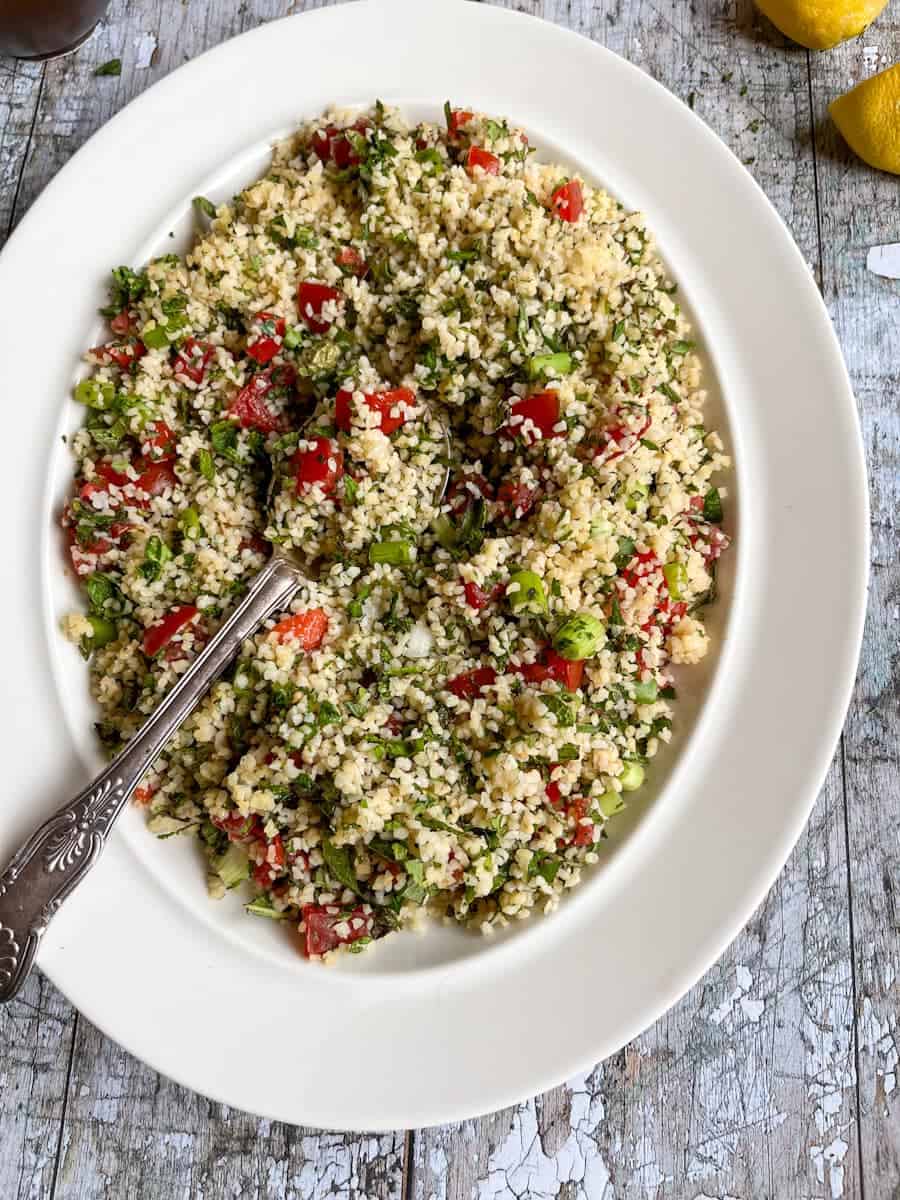 Try not to over-chop the herbs – they are the main component of the salad. I would recommend using a large, sharp knife or Mezzaluna to chop them – not a food processor.
Draining the tomatoes of any excess liquid enhances their flavour and prevents the salad from turning soggy.
The best piece of advice I can give you when eating Tabbouleh – if you happen to have a hot date or there's even a remote chance you might get to kiss someone later, check your teeth for the inevitable stuck pieces of parsley or mint. You can thank me later 😉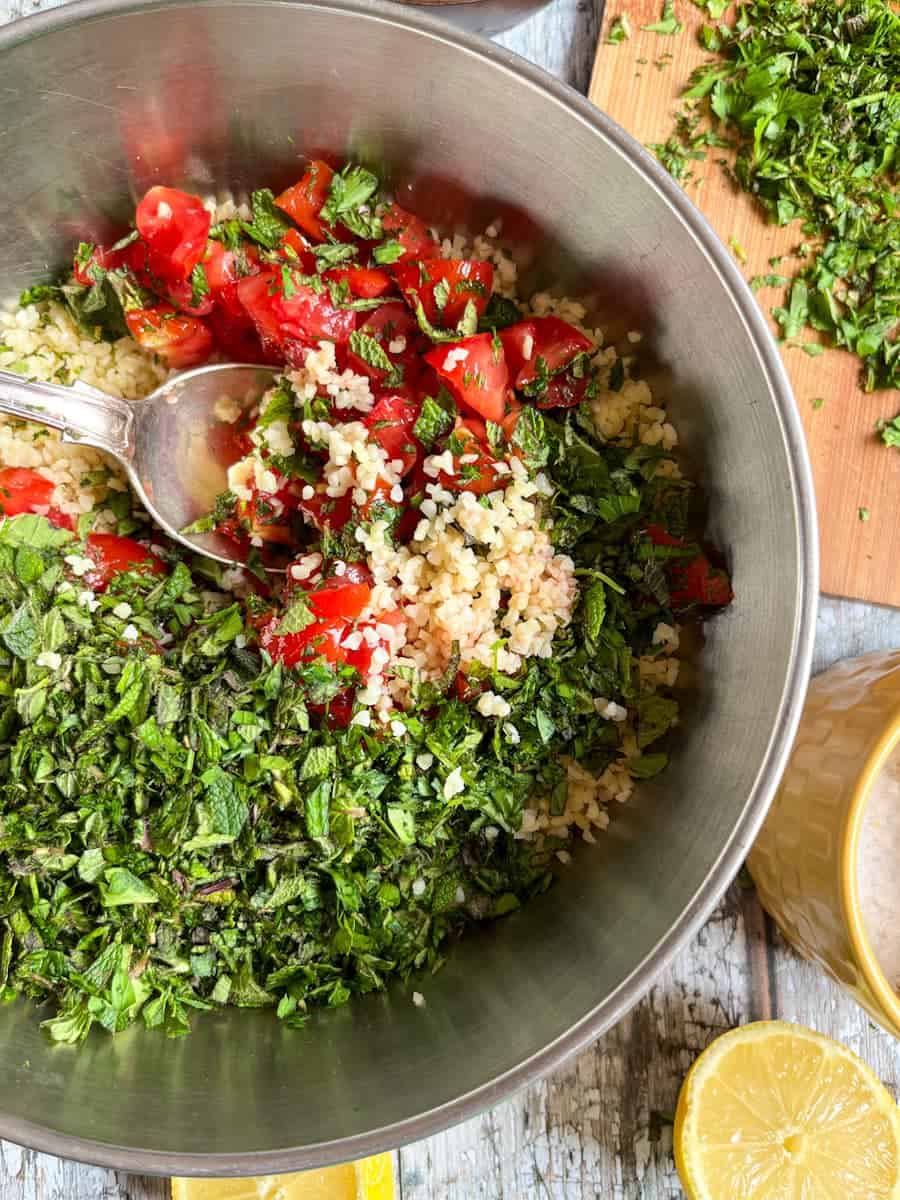 storage
Tabbouleh keeps extremely well in the fridge, which makes it ideal for making ahead of time. Make the salad, store in a tupperware box and pop in the fridge. It will be absolutely fine for up to five days.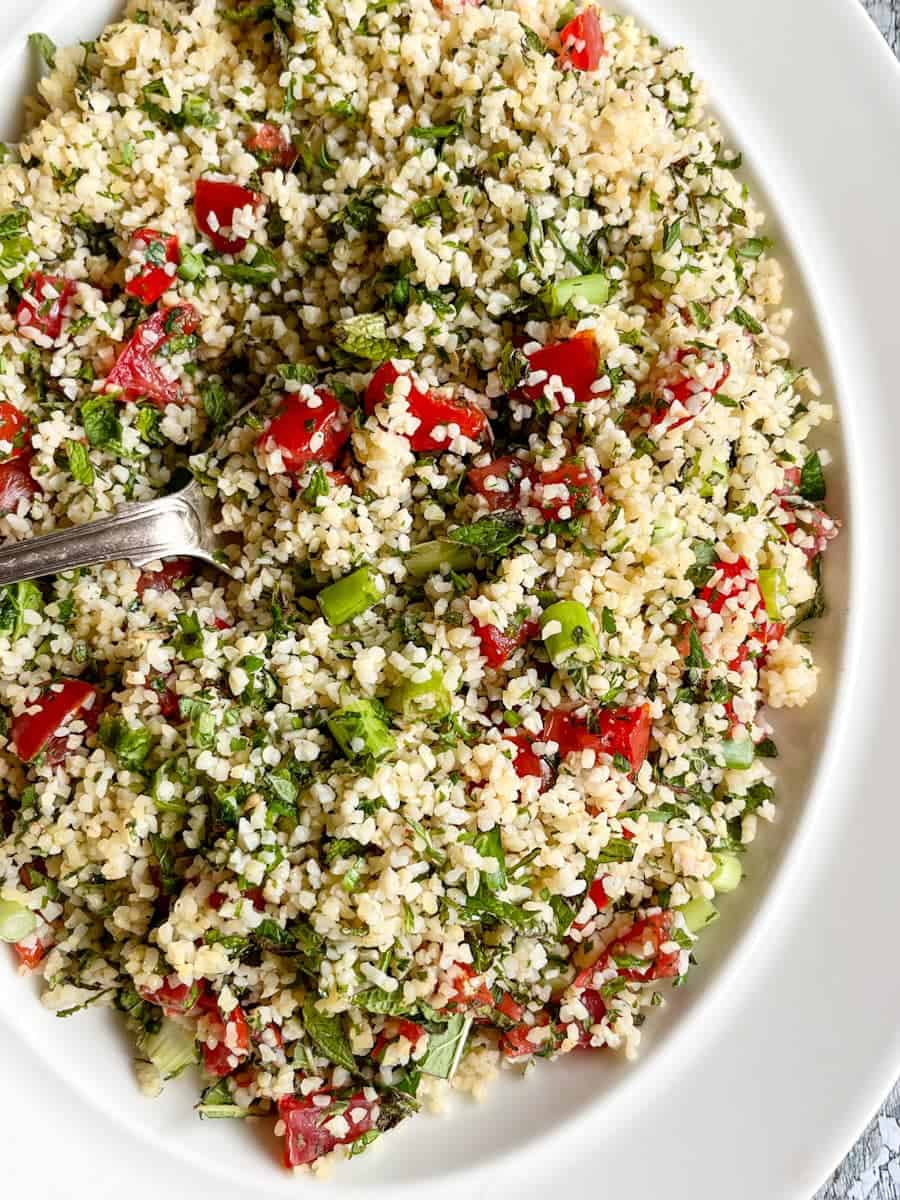 I hope you make and love this Tabbouleh recipe! Let me know what you thought by leaving a comment below and rate the recipe by clicking on the ⭐️in the recipe card. Share your food photos with me on my facebook or Instagram pages – I love to see what you've been making from the site!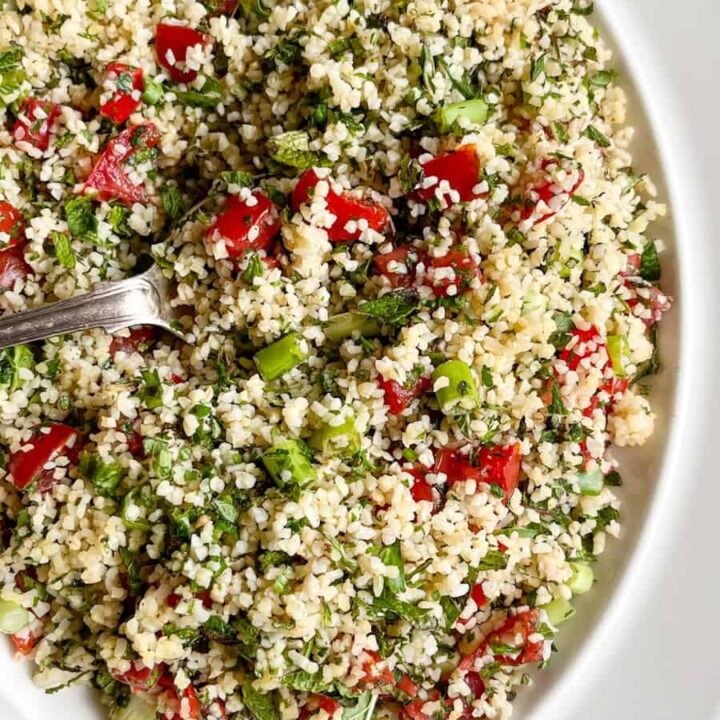 Tabbouleh Recipe
A fresh, vibrant and healthy Tabbouleh recipe that's perfect for easy Summer dining.
Ingredients
200g Bulgur Wheat
1 teaspoon vegetable stock powder (optional)
4 tablespoons olive oil
Juice of one or two lemons (enough for 3 or 4 tablespoons juice - it will solely depend on how juicy the lemons are)
5 or 6 of the ripest, sweetest tomatoes possible
50g flat leaf or curly parsley
50g fresh mint
4 spring onions
sea salt and freshly ground black pepper
extra lemon juice (only if you feel it needs it)
Instructions
Cook or soak the bulgur wheat in boiling water (with the vegetable stock powder) according to the packet instructions.
Combine the lemon juice and olive oil along with a little salt and pepper.
Finely chop the tomatoes, transfer to a bowl and season with a little salt. Leave to one side for a moment.
Drain the bulgur wheat in a sieve and set aside to cool down.
Drain off excess liquid from the tomatoes. Roughly chop the herbs and finely slice the spring onions.
Transfer the drained, cooked bulgur wheat to a large bowl. Add the tomatoes, herbs and spring onions. Pour over the lemon dressing, then season with plenty of salt and pepper. Toss well to mix everything together, then taste to see if it needs more lemon juice or salt and pepper.
Notes
Any leftover Tabbouleh will keep in the fridge for up to five days.
Tabbouleh should taste fresh and zingy, so you might need to add a little more lemon juice.
Nutrition Information:
Yield:

4
Serving Size:

1
Amount Per Serving:
Calories:

226
Total Fat:

14g
Saturated Fat:

2g
Trans Fat:

0g
Unsaturated Fat:

12g
Cholesterol:

0mg
Sodium:

132mg
Carbohydrates:

25g
Fiber:

6g
Sugar:

10g
Protein:

3g
Calories and nutritional information are provided by a third party application and should be viewed as indicative figures only.