This easy strawberry galette recipe will become your go to Summer dessert! Juicy ripe strawberries enclosed in buttery, flaky pasty, it's a rustic, fuss free treat that your guests are sure to love. Serve with vanilla ice cream or whipped cream for a taste of heaven.
Looking for a no bake strawberry dessert? Try my strawberry ice cream pie!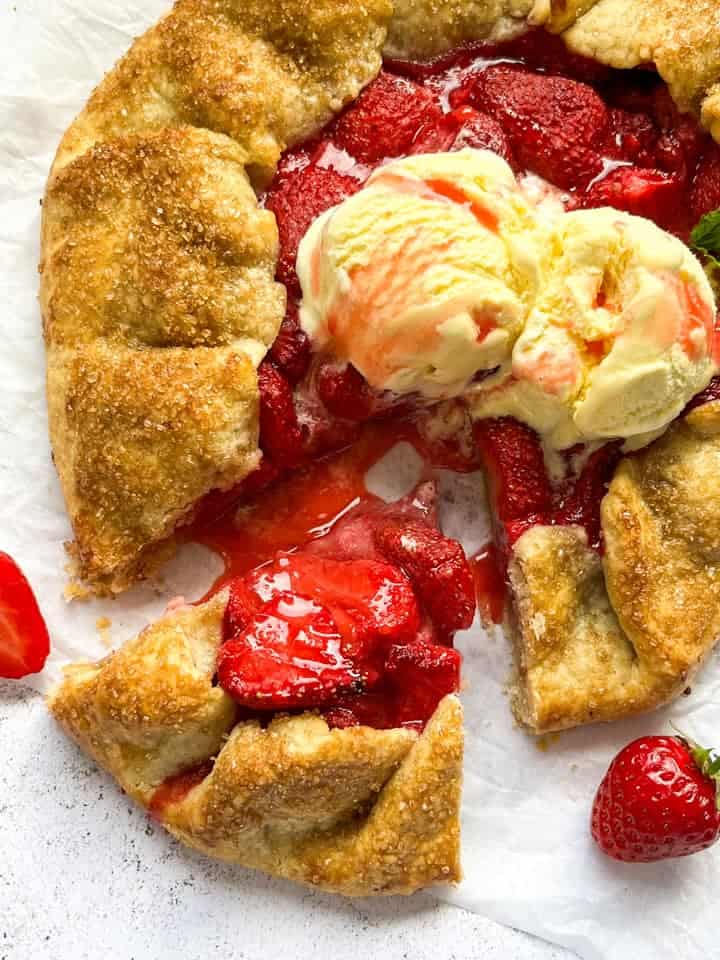 Am I the only one who is finding it hard to believe we're almost past the first week in July already? School is out for Summer in Scotland and I'm taking the first week of the holidays to just…..breathe, potter about at my own pace at home and make quick, lazy dinners.
CLASSIC STRAWBERRY GALETTE RECIPE
Whether you're at home or on holiday, I hope you're all having a good Summer so far. But without further ado, let's move on to today's recipe – a classic and simple strawberry galette.
A fruit galette is one of my favourite things to make when fresh berries are in season, but don't ask me to choose between this and a homemade strawberry cobbler – I love them both equally!
Do you love Summer strawberries too? Then you'll also love my recipes for easy no bake strawberry cheesecake and jam jar strawberry cheesecakes (perfect for a picnic!)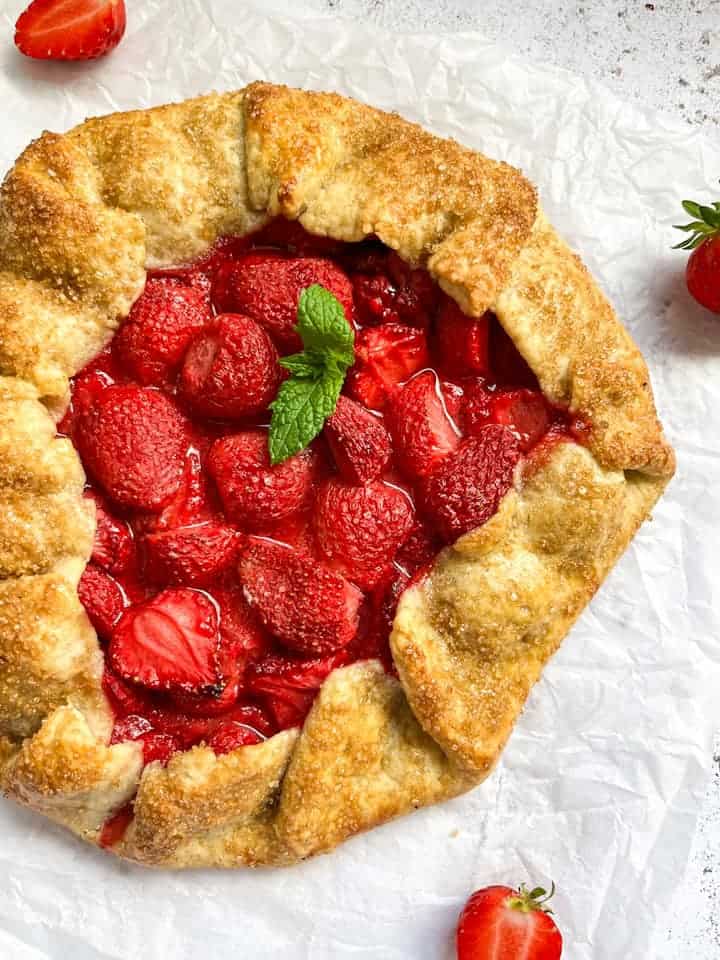 what is a galette?
That was the question my sons asked me when I made this recipe! If you've never tried a Galette before, it's basically a freeform pie. Galettes can be sweet or savoury – Smitten Kitchen has a brilliant recipe for butternut squash and caramelized onion galette – so they can be enjoyed for dinner or dessert.
The good news is, they are a lot easier to make than a traditional pie so if you're a beginner baker, please don't be nervous about making one. Galettes are very forgiving.
If you do fancy having a go at making a more traditional pie, try this easy apple pie recipe.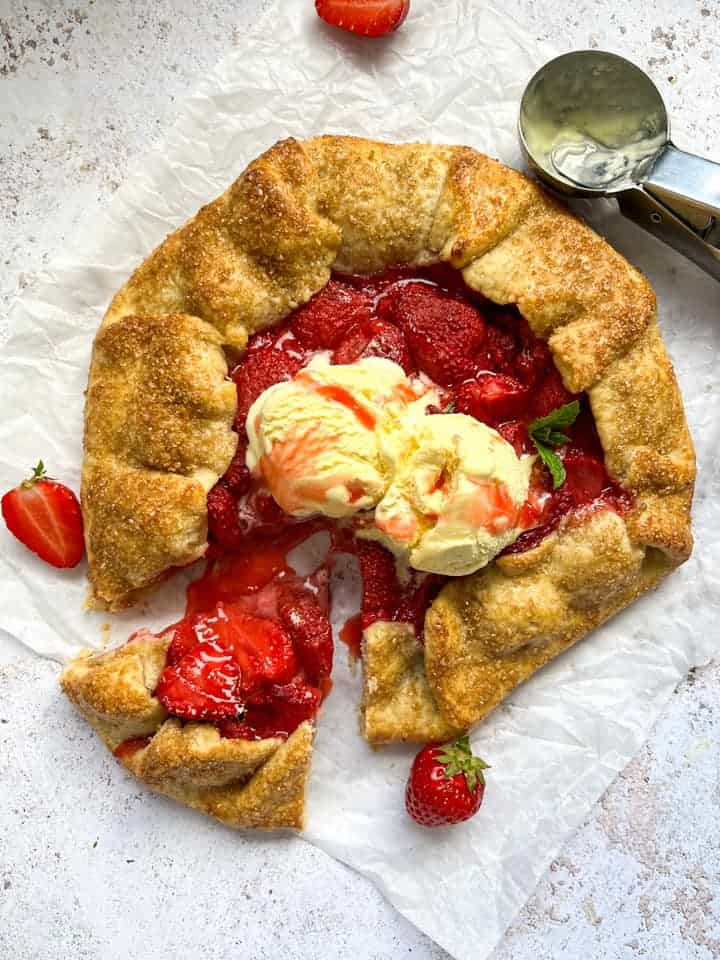 how to make a strawberry Galette
the galette dough
The dough is made with just a few basic ingredients – butter, flour, sugar and water. It can be made in a couple of minutes in a food processor. The recipe I use is Dorie Greenspan's galette dough – it's foolproof, delicious and turns out perfectly every time I make it.
No machine? Don't worry – making the galette dough by hand takes no more than five minutes. You'll find full instructions on how to make the dough without a processor in the recipe card below.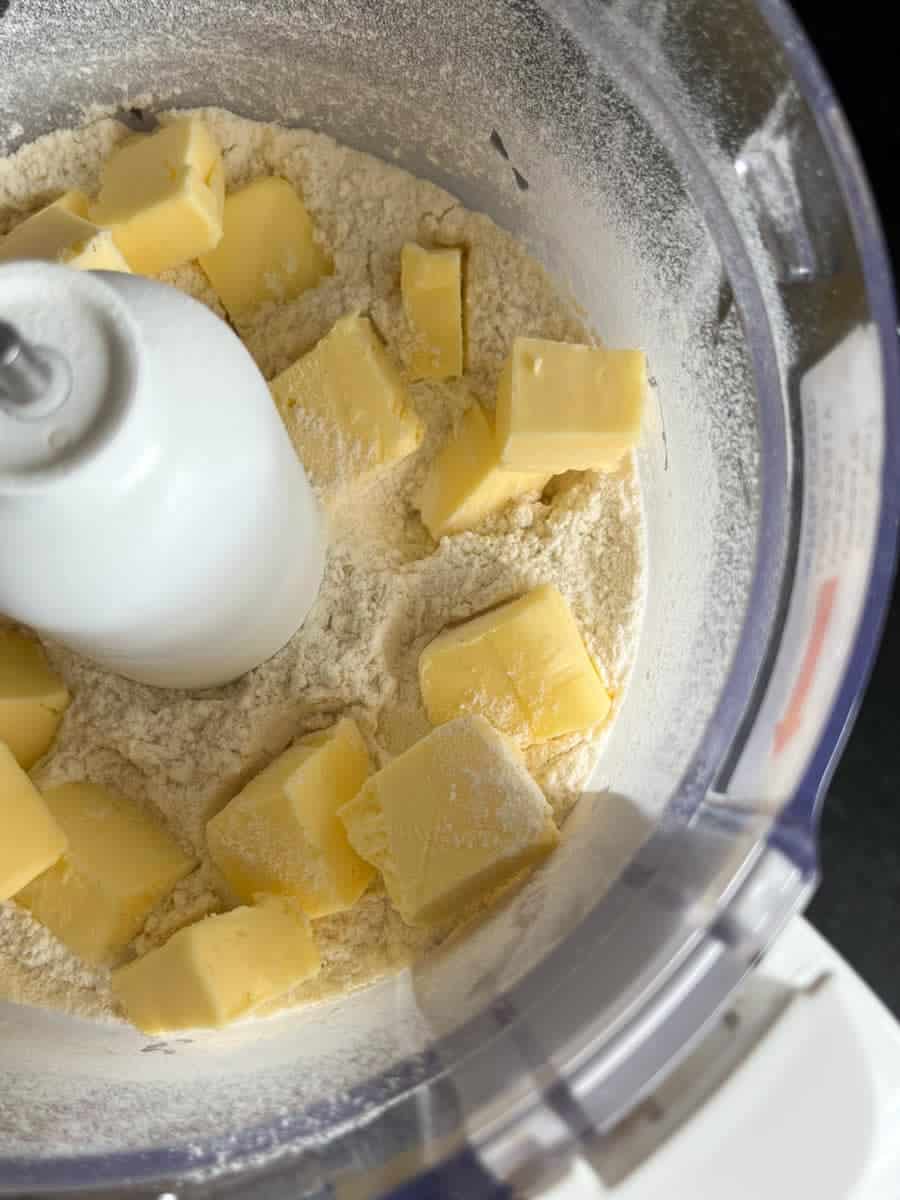 useful tips for making galette dough
Do make sure the butter is very cold and cut it into small cubes before adding it to the flour. If the butter isn't quite cold enough, you could pop it in the freezer for 10-20 minutes to firm up.
I measure out the water needed for the dough in a glass, pop an ice cube in and place in the fridge for a short while. This will keep the water nice and cool. When it comes to making pastry, it's important to keep the ingredients as cold as possible.
You'll need to chill the dough in the fridge to firm it up before rolling it out. I place the ball of dough right on the baking tray between two large sheets of baking parchment and chill it on the tray. You do need to have room in your fridge to do this, so make sure you check this before you begin.
You don't have to chill the dough straight on the baking tray, but it makes life a little bit easier since you'll be rolling the dough straight out onto it later anyway. Doing this means you won't need to worry about lifting the dough up onto the tray in one piece!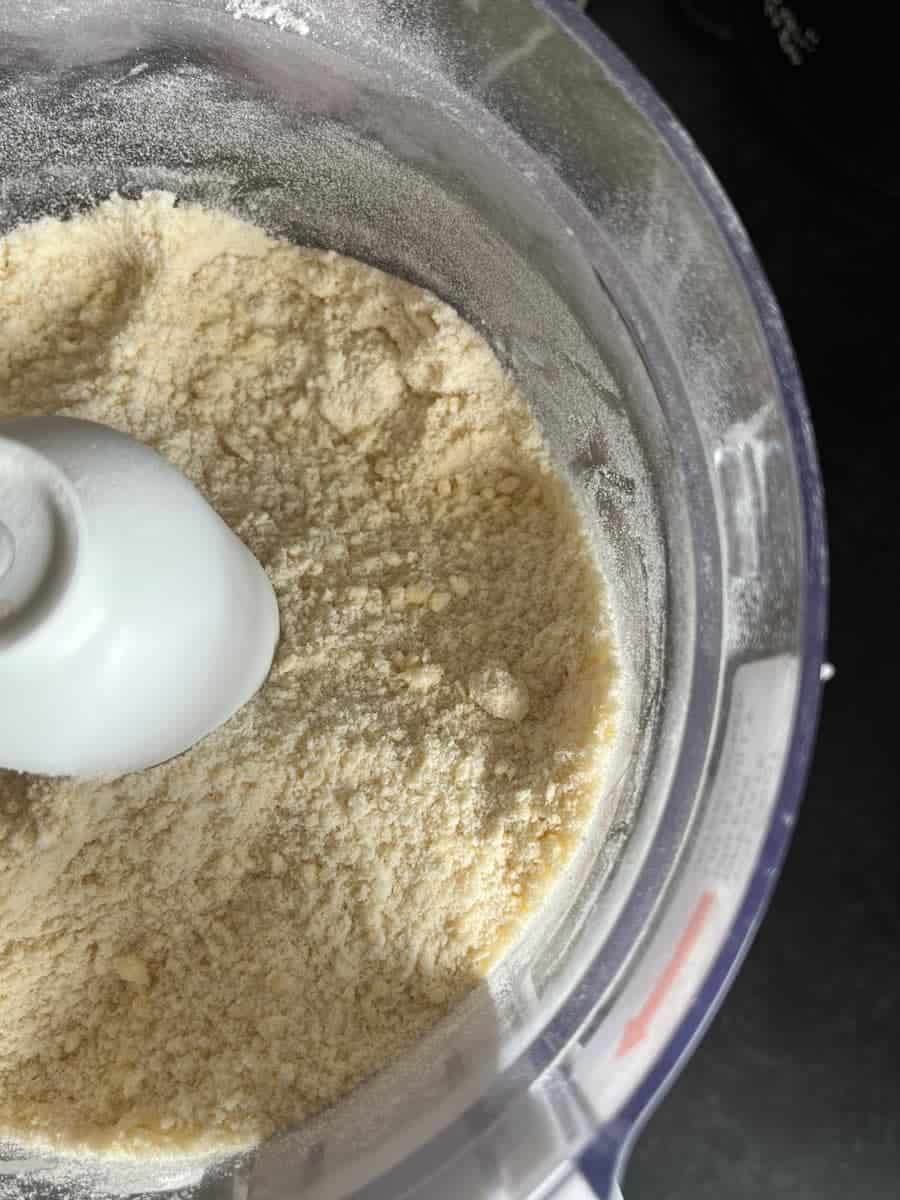 the strawberry filling
Strawberries can release a lot of juice when you bake them, so I counteract this by mixing the berries with some cornflour to thicken them up a little.
I also strain the berries in a sieve placed over a bowl to collect the juices after they've been sitting in a sugar, vanilla bean paste (or extract), lemon juice and cornflour mixture for a while. Don't throw the juices away though – they are delicious spooned over the baked galette later.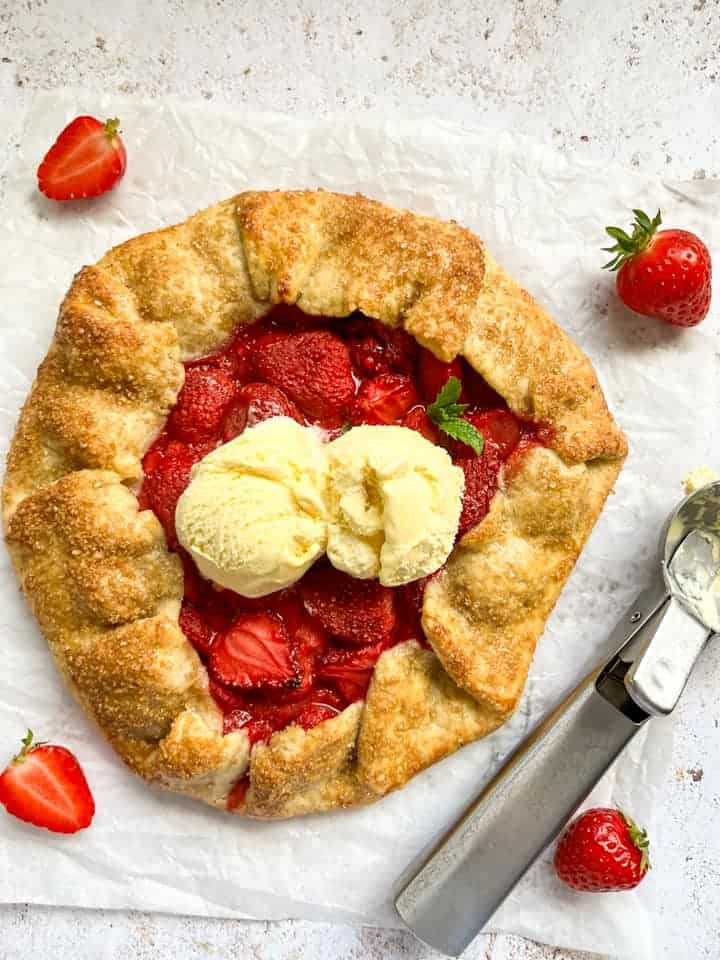 assembling the galette
Sprinkle the little ground almonds or crushed cookie crumbs in the middle of the rolled out circle of dough dough. This will help soak up any excess juices and prevent a soggy bottom…
Place the drained fruit right on top of the almonds, mounding it high and making sure you leave a border of about 2 inches. Fold the edges of the pastry up over the fruit. As you fold, the dough will pleat. Just go with the natural shape. It will look beautiful.
If the edges of the crust crack and the filling leaks out a little, it doesn't matter. It all adds to its rustic charm!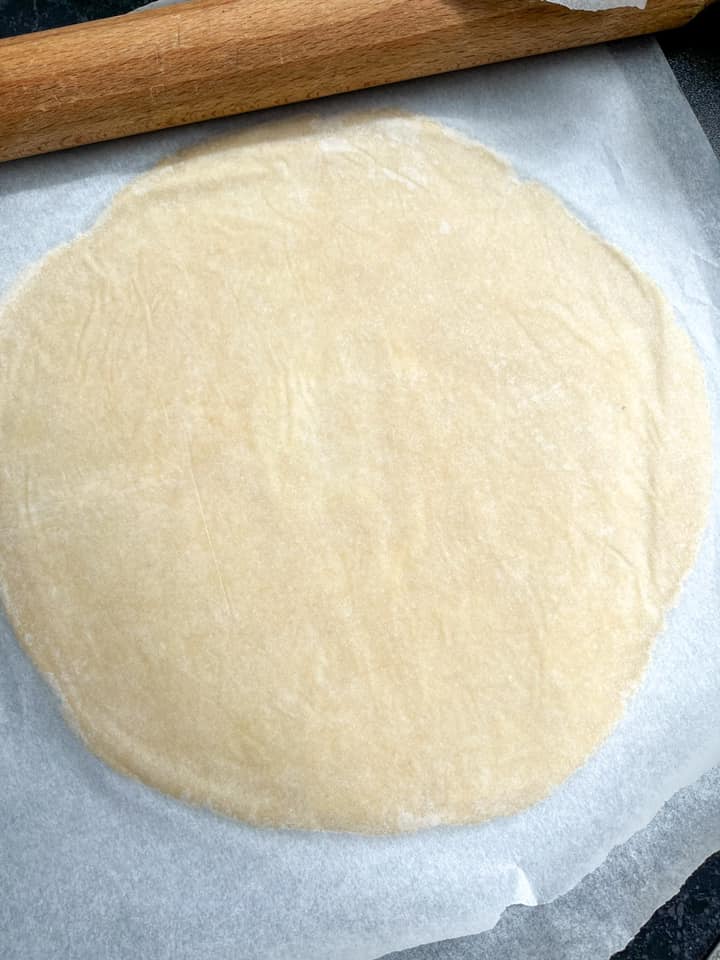 When you make a regular fruit pie, you have to trim and crimp the dough. There's no need to do any of that with this recipe. That's the beauty of a Galette. It's so simple and forgiving!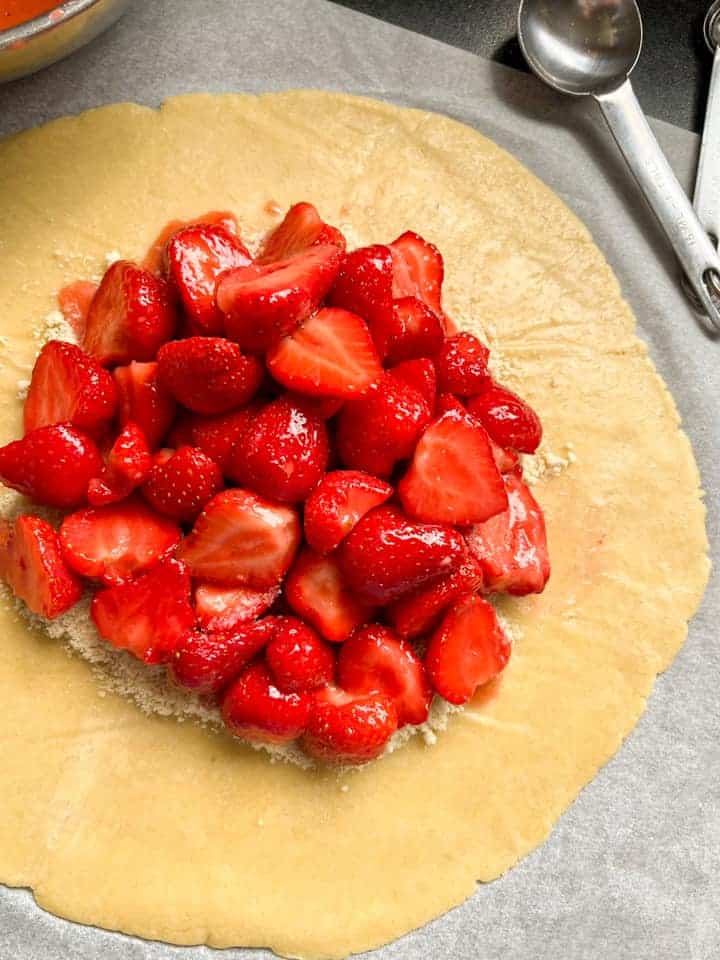 baking the strawberry galette
Brush the pastry with egg wash and sprinkle with demerara sugar for a crunchy finish. Bake the galette at 200C/180Fan/400F for 25-30 minutes or until the pastry is golden brown, crisp and the fruit filling is bubbling.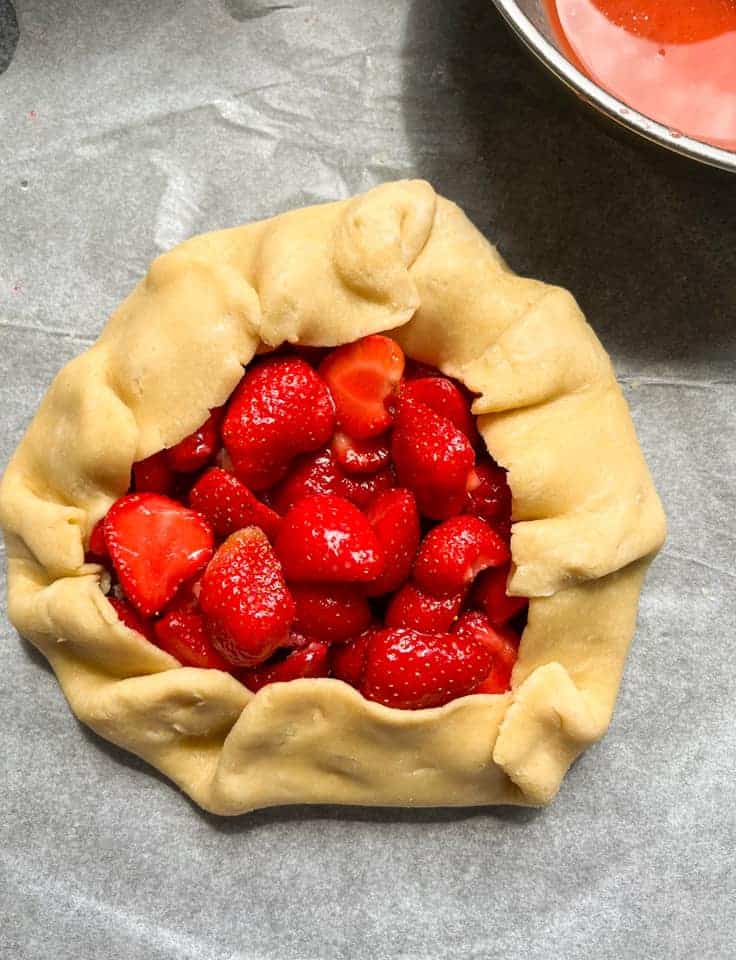 let the galette cool down slightly
It's very important to let the galette rest on the baking sheet for about 20-30 minutes to let the juices thicken up before slicing.
If you try and cut the galette while it is very hot, it will collapse. I promise you it will be worth the wait! Galettes are much nicer served slightly warm or at room temperature.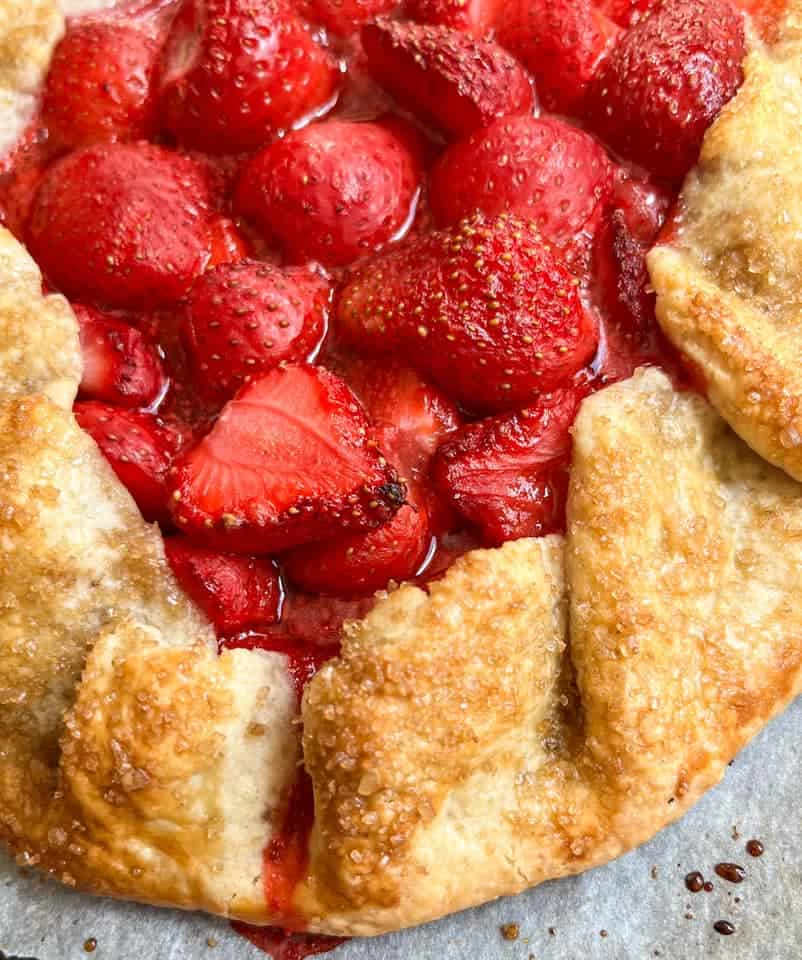 serving suggestions
Serve the strawberry galette warm (if you haven't already PLEASE read my notes above on letting the galette cool down slightly before serving!) or at room temperature with vanilla ice cream, whipped cream and the reserved strawberry juices.
The galette can sit out at room temperature for a few hours, but beyond that time they should be placed in the fridge. Fruit galettes are best eaten the day they are baked.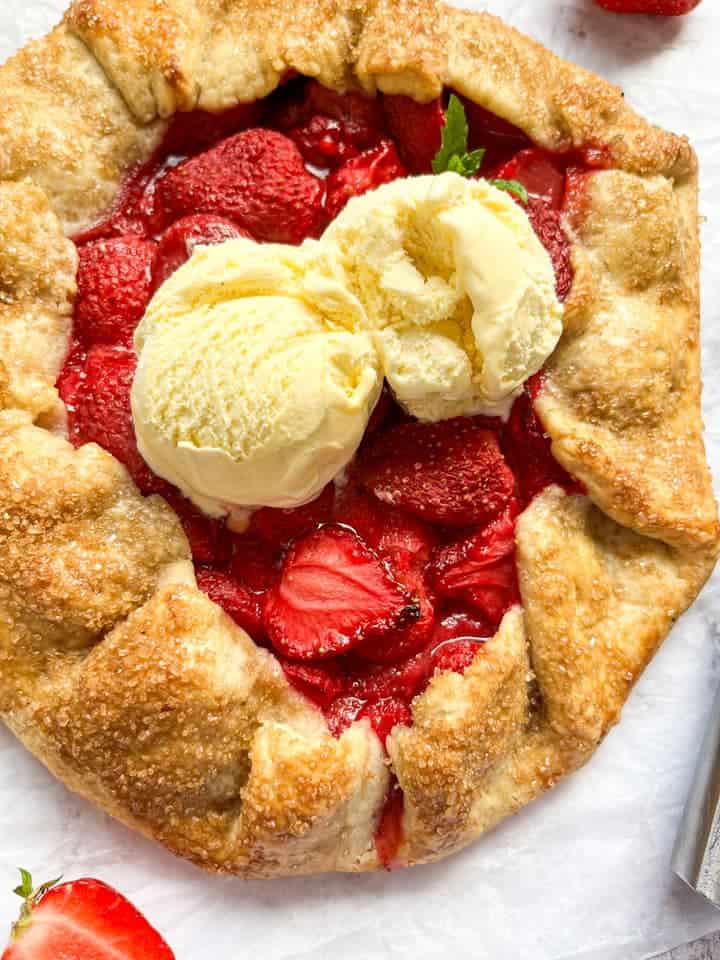 storing leftover strawberry galette
Any leftovers should be stored in the fridge and eaten within three days. Any leftover galette can be eaten cold – a slice for breakfast the next day with a cup of coffee is a very nice way to start your day.
more strawberry recipes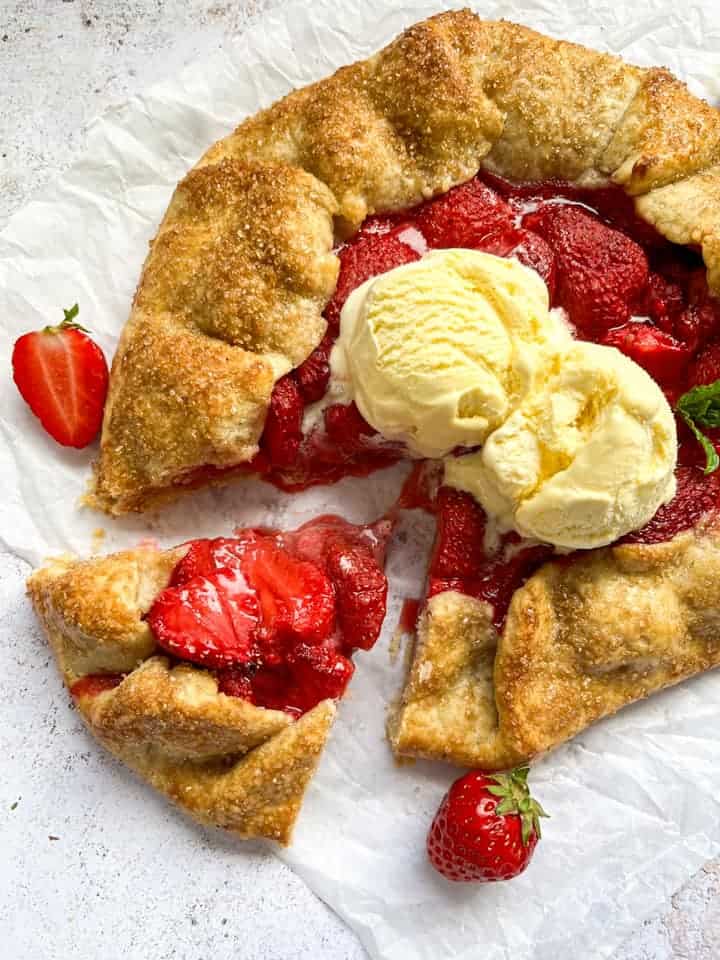 did you make this recipe?
I hope you enjoyed it as much as we did! Leave a comment below and please rate the recipe by clicking on the stars in the recipe card.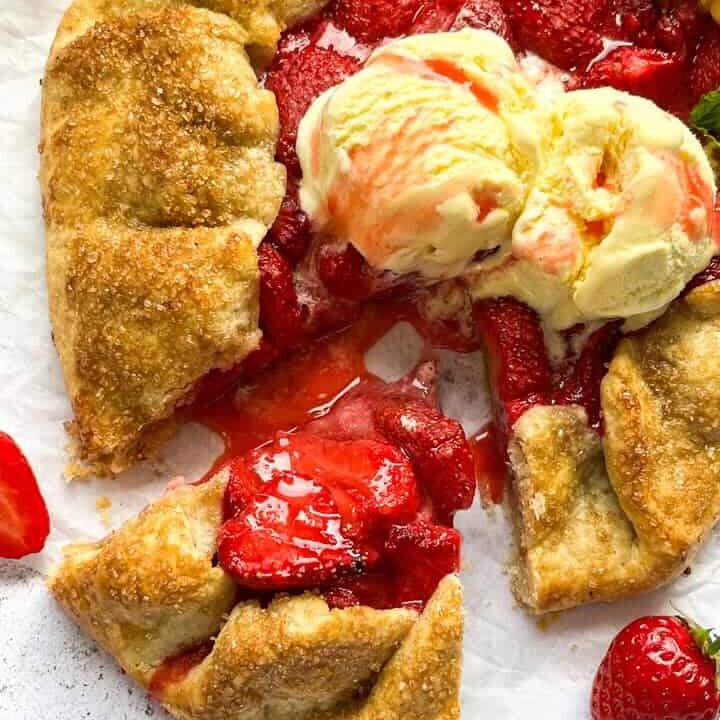 Strawberry Galette Recipe
Additional Time:
30 minutes
Total Time:
1 hour
15 minutes
You'll be making this easy strawberry Galette recipe all Summer long! Juicy, ripe strawberries enclosed in flaky, buttery pastry. It's very simple to make and tastes incredible.
Ingredients
FOR THE GALETTE DOUGH:
205g (1 1/2 cups) plain/all purpose flour
2 tablespoons white sugar
1/2 teaspoon fine sea salt
113g (1 stick/8 tablespoons/4 ounces) very cold unsalted butter, cut into small pieces
60ml /1/4 cup) ice water
FOR THE STRAWBERRY FILLING:
450g (1lb) fresh strawberries, hulled and halved (or quartered if very large)
70g (1/3 cup) white sugar
1 teaspoon vanilla bean paste
1 1/2 tablespoons fresh lemon juice
2 tablespoons cornflour (cornstarch)
2 tablespoons ground almonds or crushed cookie crumbs, such as digestives or plain butter cookies
1 egg, beaten (to glaze the dough)
1 tablespoon demerara sugar
Instructions
To make the dough: Place the flour, sugar and salt in a food processor and briefly pulse to combine. Place the cold butter cubes on top and pulse until the butter is in small pieces. It should resemble breadcrumbs.
Add some of the iced water (under half) and pulse again, then add a little more and pulse once more until the water is incorporated. You might not need all of the water. Once you have a dough that's starting to cling to the machine blade, stop mixing. Turn the dough out onto a work surface and form into a ball.
Chill the dough: place the dough on a large baking sheet lined with a piece of baking parchment. You'll be rolling the dough straight out on the sheet later, so it makes life easier to do this now. Place another large piece of baking parchment on top. Rest in the fridge for a minimum of 30 minutes. *At this stage the dough can be stored in the fridge for up to two days or frozen for up to two months, but if you do this you'll need to wrap the dough in a piece of cling film.)
Prepare the filling: Place the strawberries in a bowl and sprinkle over the sugar, vanilla bean paste, lemon juice and cornflour. Lightly stir to combine everything, then cover and set aside while you prepare the dough.
Roll out the dough: Remove the baking sheet with the dough from the fridge and let it sit on the counter for a few minutes so the dough doesn't crack when you roll it out. Roll the dough out between the two sheets of baking paper to a 12 or 13 inch circle. Preheat the oven to 200C/180C/400degrees.
Add the strawberries: Carefully drain the berries in a sieve held over a small bowl to collect the juice. You can drizzle this over the galette later, so set aside.
Shape the Galette: Scatter the ground almonds or crushed cookie crumbs over the rolled out galette dough, leaving a bare border of about two inches all around. Spoon the strawberries on top of the ground almonds, mounding it quite high. Begin to gently lift the border of the dough up and over the strawberries. As you lift the dough over the filling, it will pleat naturally - just go with it. You should still be able to see quite a lot of the strawberry fillling peeking out of the dough.
Bake: Brush the dough with the beaten egg, then sprinkle with the demerara sugar. Bake for 25-30 minutes or until the crust is golden brown and the strawberry juices are bubbling.
Rest the galette: Let the galette sit on the baking sheet for 20-30 minutes to let the juices set. Serve the warm galette with the reserved strawberry sauce, vanilla ice cream or whipped cream.
Notes
The galette can sit out at room temperature for a good few hours. It's best eaten the day it is made. Any leftovers should be stored in the fridge. A cold slice is very good for breakfast with coffee.
Slice the strawberry galette with a sharp knife and use a cake lifter or large palette knife to transfer slices to serving plates.
Nutrition Information:
Yield:

6
Serving Size:

1
Amount Per Serving:
Calories:

222
Total Fat:

7g
Saturated Fat:

3g
Trans Fat:

0g
Unsaturated Fat:

4g
Cholesterol:

42mg
Sodium:

240mg
Carbohydrates:

35g
Fiber:

2g
Sugar:

13g
Protein:

5g
Calories and nutritional information are provided by a third party application and should be viewed as indicative figures only.