Got a strawberry glut? This easy strawberry cobbler recipe with juicy, ripe strawberries and a fluffy vanilla scone topping is a wonderful way to make the most of Summer strawberries. Serve with vanilla ice cream or softly whipped cream for a perfectly dreamy end to any meal.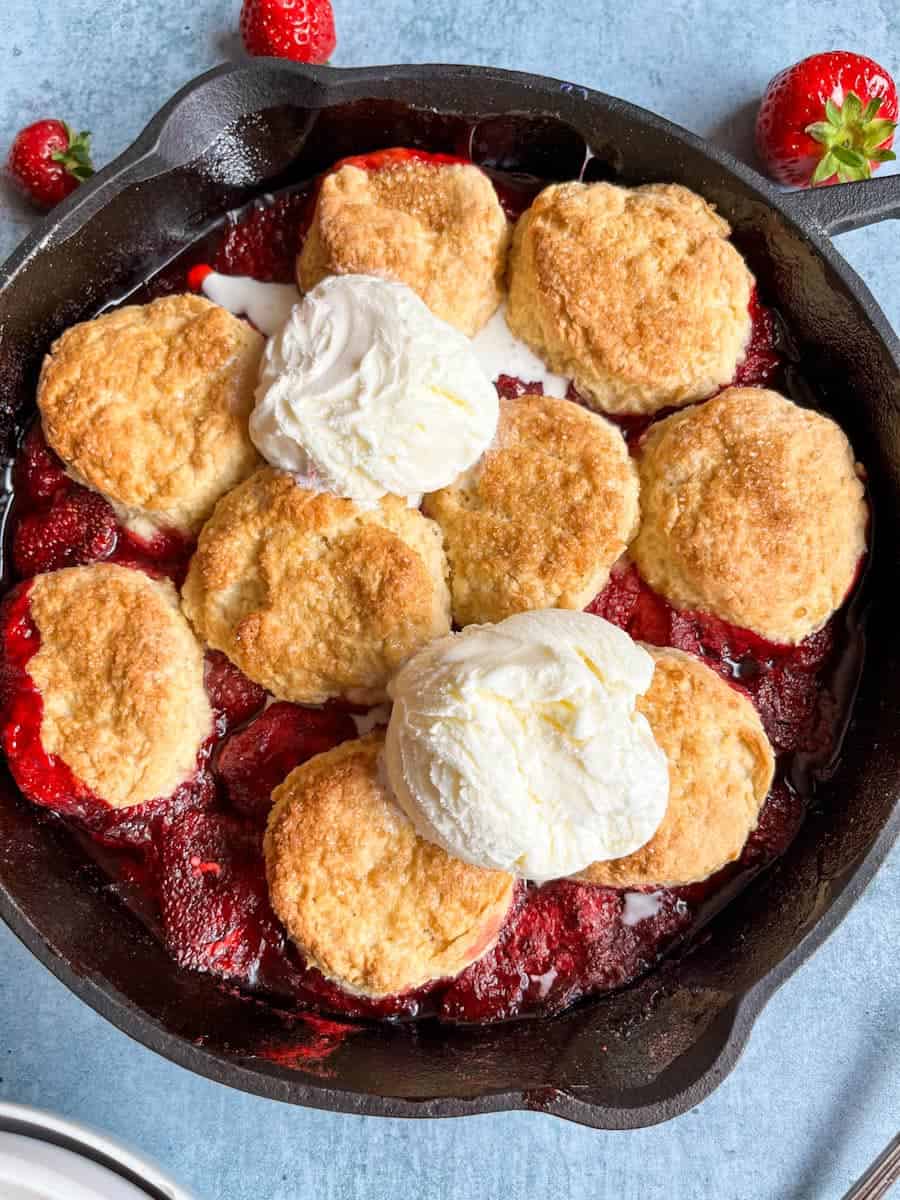 A perfectly ripe and juicy strawberry, eaten on its own is, I will admit, very difficult to beat. What more do you need? But sometimes you do want to do more than just plonk a bowl of berries and cream on the table (as wonderful as that can be).
In-season strawberries are fantastic for making a variety of stunning sweet treats. I've been in a strawberry dessert mood for a couple of weeks – so far I've made a no bake strawberry cheesecake, strawberry ice cream pie and gorgeous strawberry galette with flaky pastry.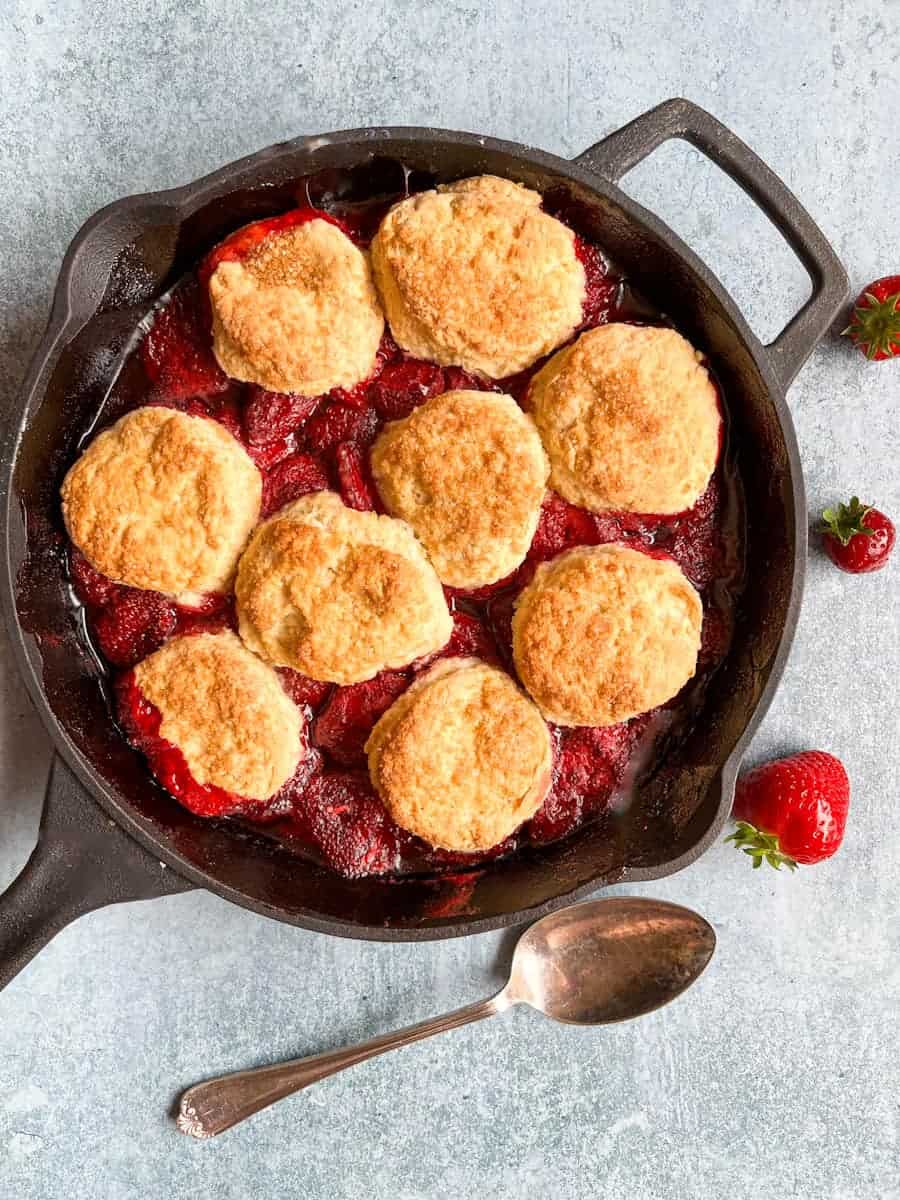 easy strawberry cobbler recipe
The recipe I'm sharing today is a classic American fruit cobbler. If you've never made a cobbler, then the first thing you should know is they are no more difficult than making a fruit crumble. The recipe below takes no more than 10 minutes to prepare and about 25 minutes to bake in the oven.
Even if you aren't an experienced home baker, you will have no trouble at all making this simple cobbler recipe. It's probably one of the simplest desserts you could ever make. So let me take you through the basic steps of creating a perfect strawberry cobbler!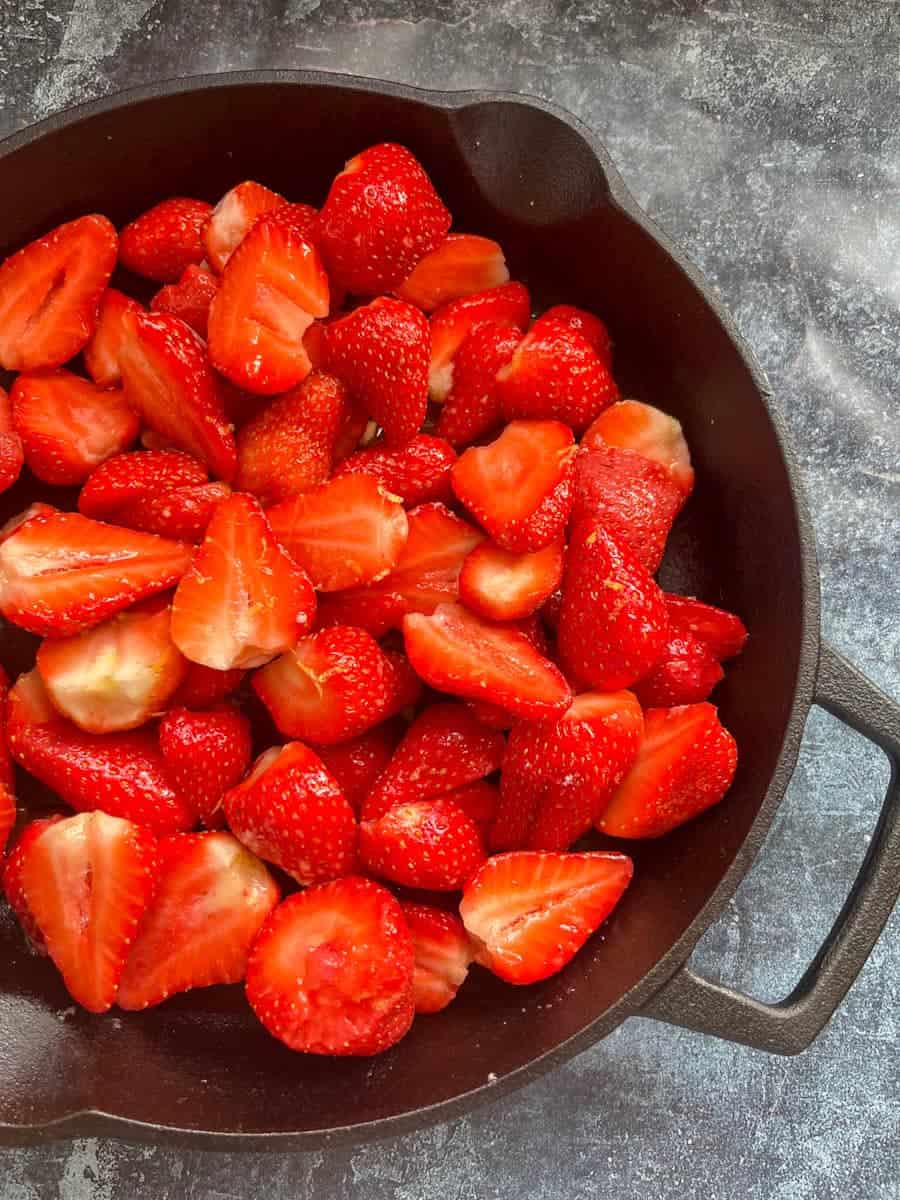 You'll find the printable recipe card at the bottom of the post with ingredient amounts and detailed instructions. Before you scroll, please read the step by step guide before making this recipe!
step one – prepare the strawberries
If your strawberries are large, you'll need to cut them in half. Place them in a medium bowl and sprinkle over cornflour/cornstarch, sugar, lime or lemon juice, and a little vanilla extract.
Carefully stir to combine without crushing the strawberries. Place in a large, shallow baking dish or cast iron skillet and set aside while you make the cobbler topping.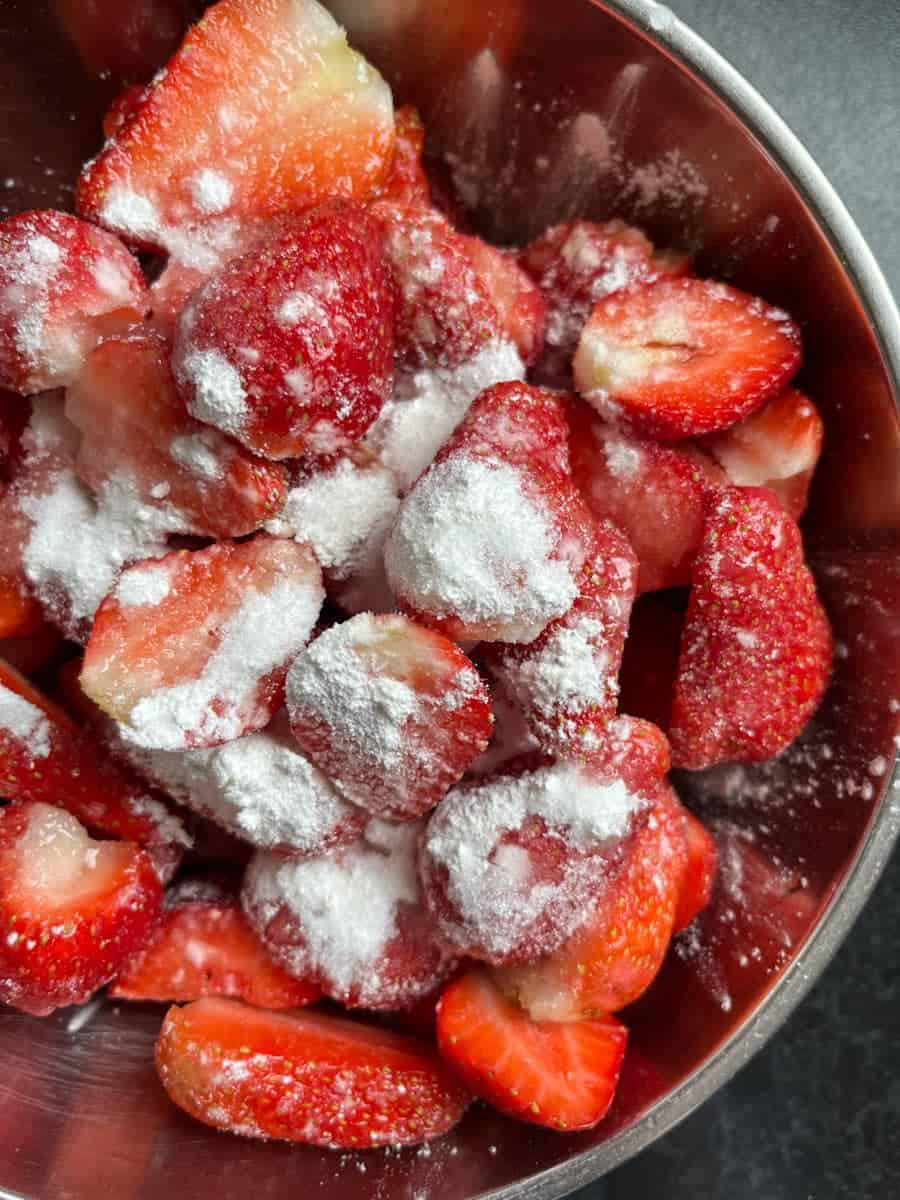 step two – make the cobbler dough
Place the plain four, baking powder, and a little salt in a large mixing bowl. Rub cold, diced butter into the flour until you have a mixture that looks like breadcrumbs.
Stir in the sugar, then pour in the milk and vanilla. Using a table knife, stir briefly to bring the mixture to a soft dough.
TIP – The dough should be soft and slightly sticky – but not so sticky it's difficult to handle.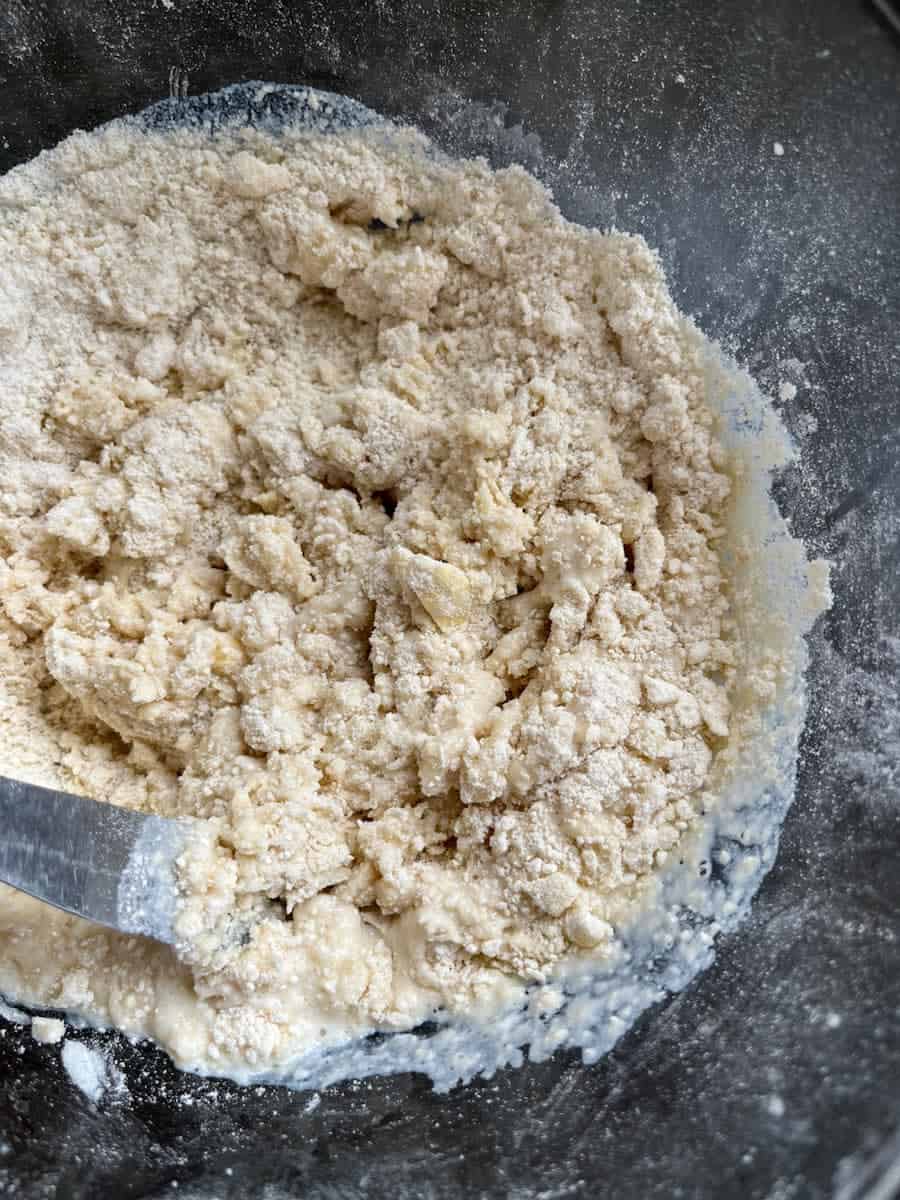 Place spoonfuls (or even just use your hands) of the dough on top of the strawberries, which should be looking nice and juicy by now with no trace of the cornflour. Don't be concerned about gaps – this is supposed to look rustic with the bubbling fruit peeking through the topping.
step three – bake the cobbler
Brush the top of the dough with a small amount of milk or cream. Sprinkle with demerara sugar for a crisp top.
Bake at 190C/170Fan/375F for about 25 minutes or until the top is puffed, golden brown and the strawberry filling has thickened. It will be VERY hot so please take care!
The juices will look very runny when you remove the cobbler from the oven – this is normal. They will thicken up as it cools. This is why it is important not to serve fruit cobbler straight from the oven – you must let it rest for a little while.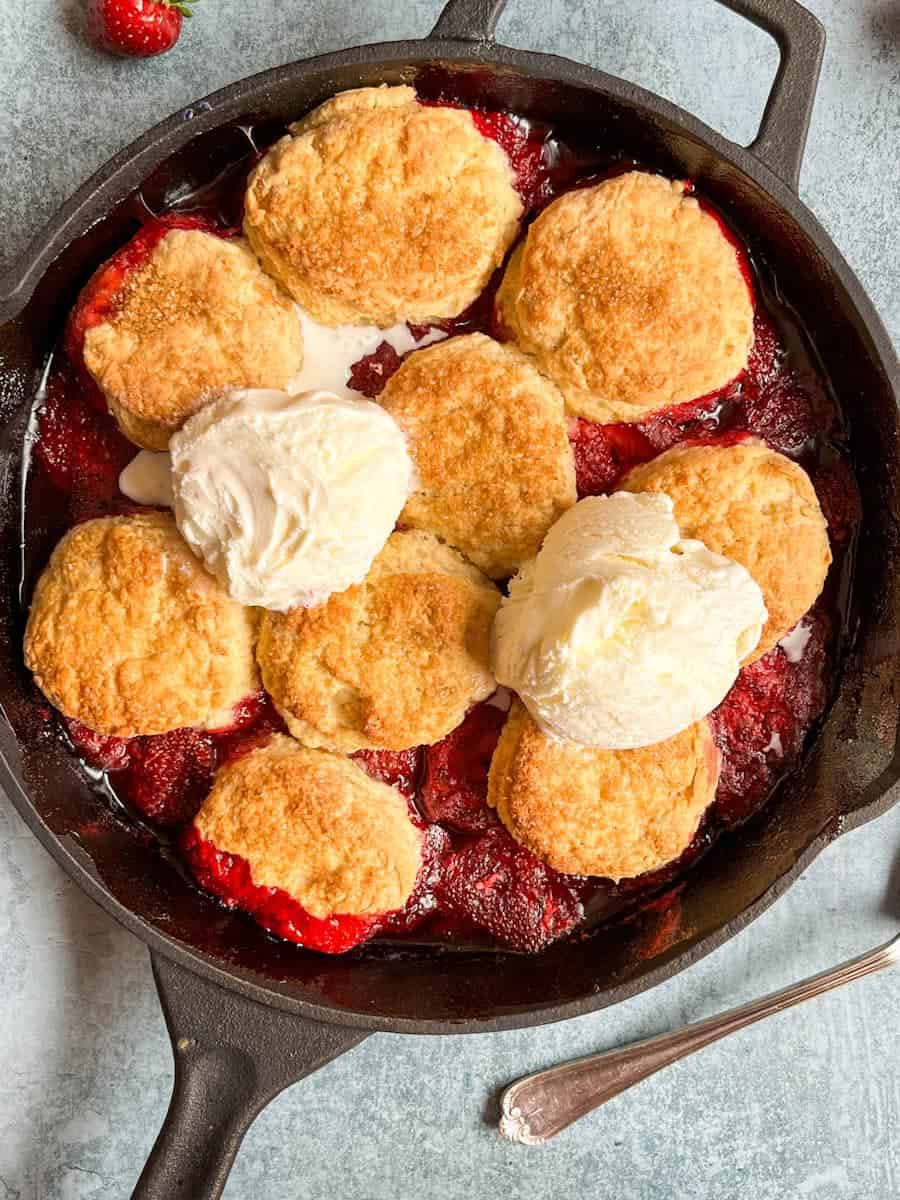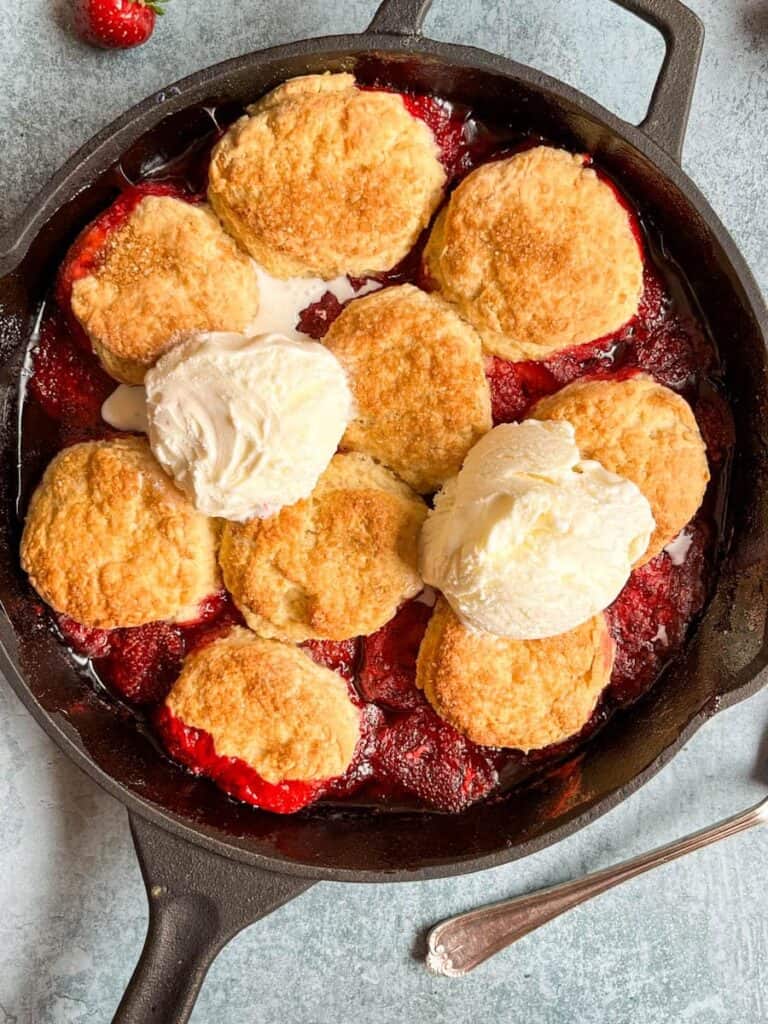 serving suggestions
Let the cobbler cool down for at least 30 minutes before serving. This will allow the juices to thicken up and prevent you from burning the roof of your mouth, which is never a pleasant experience.
The classic accompaniment to a cobbler is vanilla ice cream, but softly whipped cream is also rather lovely. Custard wouldn't be a bad option either, come to think of it…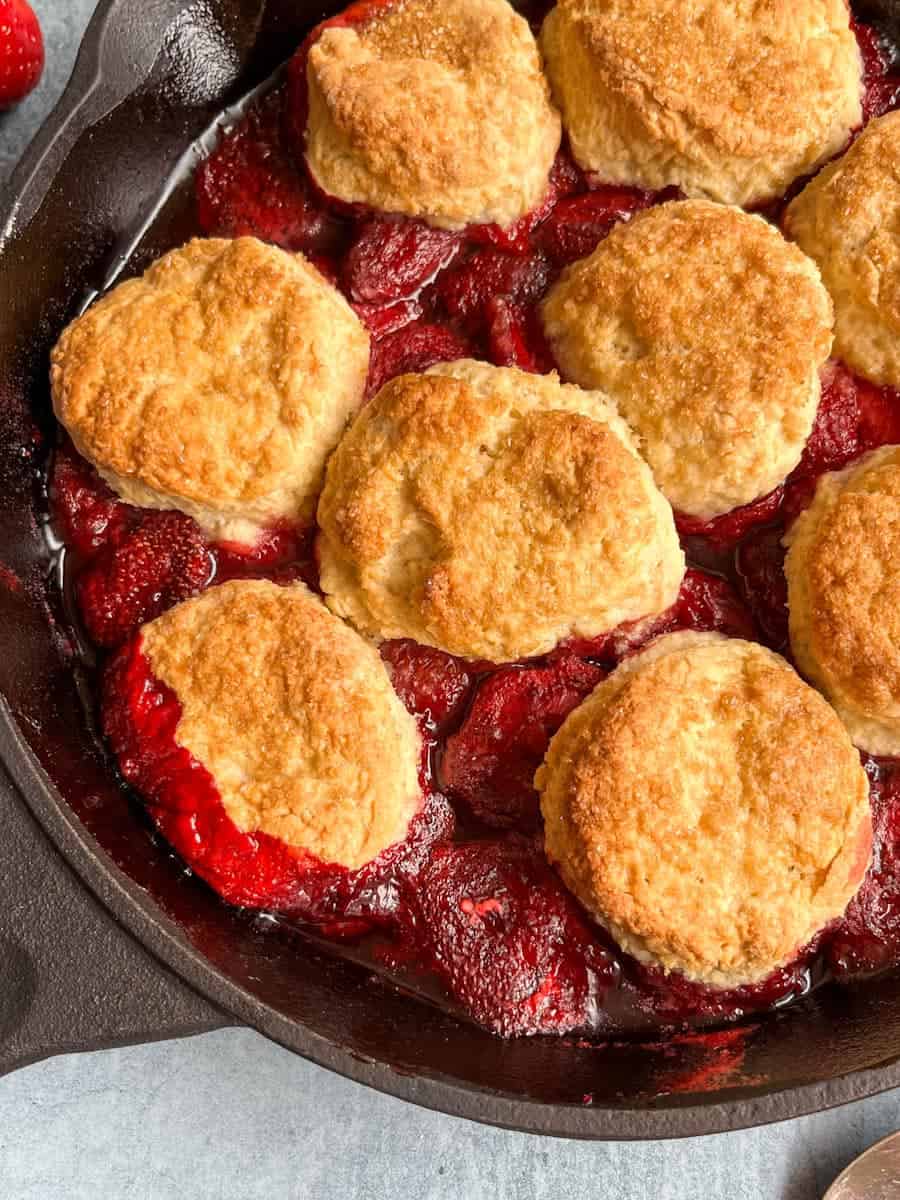 storing leftover strawberry cobbler
A fruit cobbler is best eaten fresh, but any leftovers can be stored in the fridge for a pretty delicious breakfast…..I like to eat it cold with double cream. The strawberry juices will thicken even more if you refrigerate the cobbler, but it's no less delicious to eat.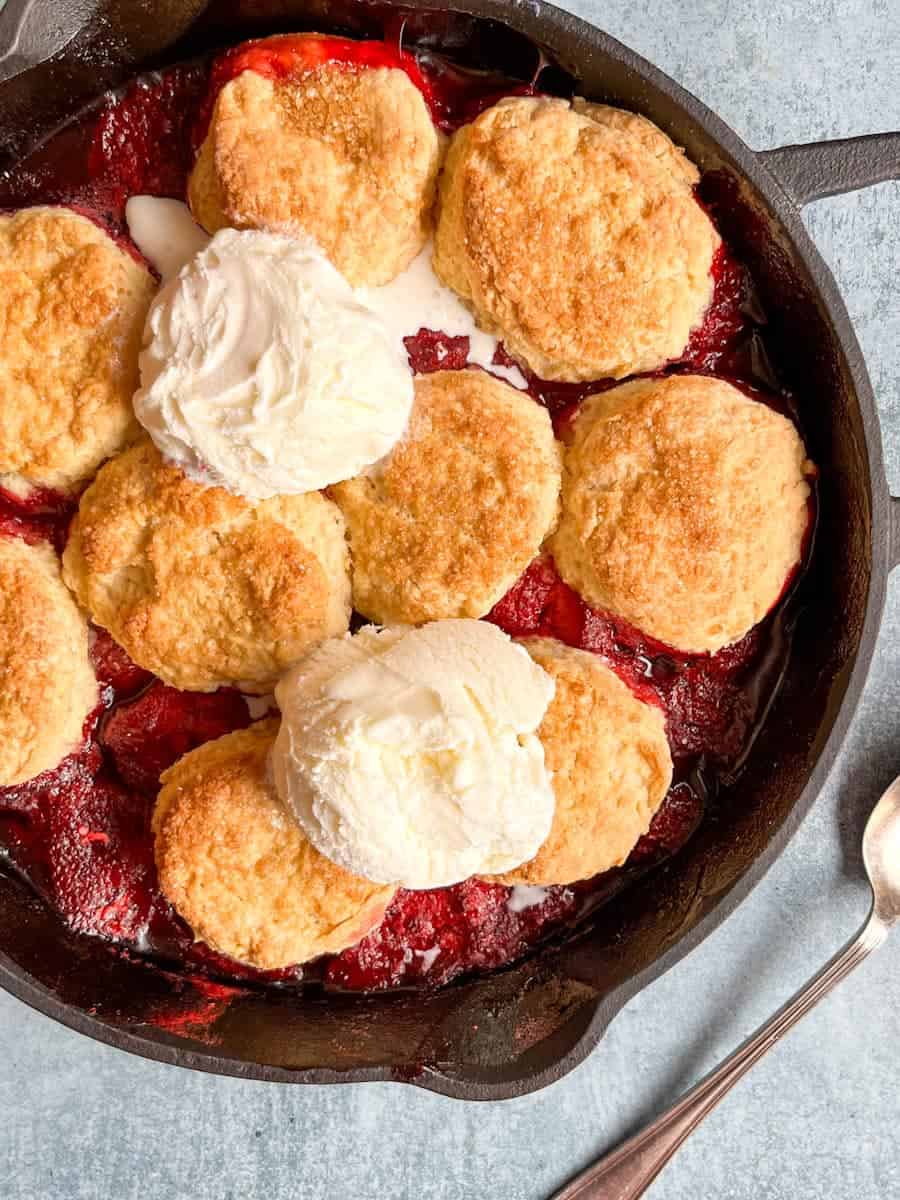 more fruit desserts to try
more strawberry recipes
did you make this recipe?
I really hope you enjoyed it! Let me know what you thought by leaving a comment below and rate the recipe by clicking on the stars in the recipe card.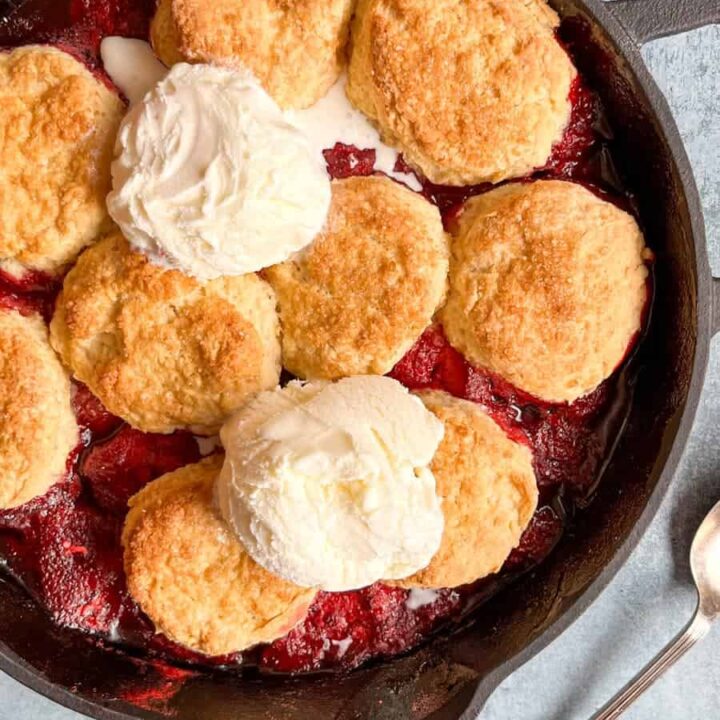 Easy Strawberry Cobbler
This easy strawberry cobbler recipe is a perfect dessert to make the most of strawberry season. Serve with vanilla ice cream or softly whipped cream for a delicious dessert that will please everyone.
Ingredients
700g fresh strawberries, cut in half or quarters if large
2 tablespoons cornflour
3 tablespoons caster sugar - you could cut it back to 2 tbsp if your strawberries are very sweet
1 teaspoon vanilla extract
1 tablespoon lime or lemon juice
FOR THE COBBLER DOUGH
225g self raising flour
1/2 teaspoon baking powder
1/8 teaspoon fine salt
50g cold butter, diced
50g caster sugar
1/2 teaspoon vanilla extract
125g milk or buttermilk, plus 1/2 tablespoon extra for brushing
1 tablespoon demerara sugar
Instructions
Place the strawberries into a mixing bowl and sprinkle over the cornflour, sugar, vanilla extract and lime juice. Gently stir, taking care not to break up the strawberries. Tip into a large shallow baking dish or 10 inch cast iron skillet.
Preheat the oven to 190C/170Fan/375F.
For the cobbler topping, place the flour, baking powder and salt in a large bowl. Rub the cold butter into the salt until the mixture looks like breadcrumbs.
Stir in the sugar, then pour in the vanilla extract and milk or buttermilk. Use a butter knife to bring the mixture to a soft dough (don't overmix). Use your hands to form into a ball. Don't worry about making it too smooth - you don't want to overwork the dough.
Place 9 or 10 spoonfuls or rounds of the dough on top of the fruit. Don't be concerned about gaps - you're meant to see the fruit peeking through.
Brush the rounds of dough with the remaining milk and scatter over the demerara sugar.
Bake for about 25 minutes or until the topping is golden and crisp and the fruit is bubbling and hot. Remove the cobbler from the oven and allow to cool for at least 30 minutes before serving.
Notes
Allowing the cobbler to rest after baking for at least 30 minutes allows the juices to thicken up.
Serve the cobbler with vanilla ice cream, softly whipped cream or even custard.
Leftovers are good eaten cold, but they can be reheated in a moderate oven for 10-15 minutes or for 2-3 minutes in a microwave.
Nutrition Information:
Yield:

6
Serving Size:

1
Amount Per Serving:
Calories:

568
Total Fat:

20g
Saturated Fat:

10g
Trans Fat:

0g
Unsaturated Fat:

9g
Cholesterol:

31mg
Sodium:

872mg
Carbohydrates:

90g
Fiber:

5g
Sugar:

36g
Protein:

9g
Calories and nutritional information are provided by a third party application and should be viewed as indicative figures only.