Make the most of plum season by making this easy plum crumble recipe. A comfort food classic! Best served with lots of vanilla custard or cold double cream.
Softly baked cinnamon scented plums topped with a crunchy oat crumble topping. If you have lots of plums to use up, this cosy pudding is the perfect way to make the most of them!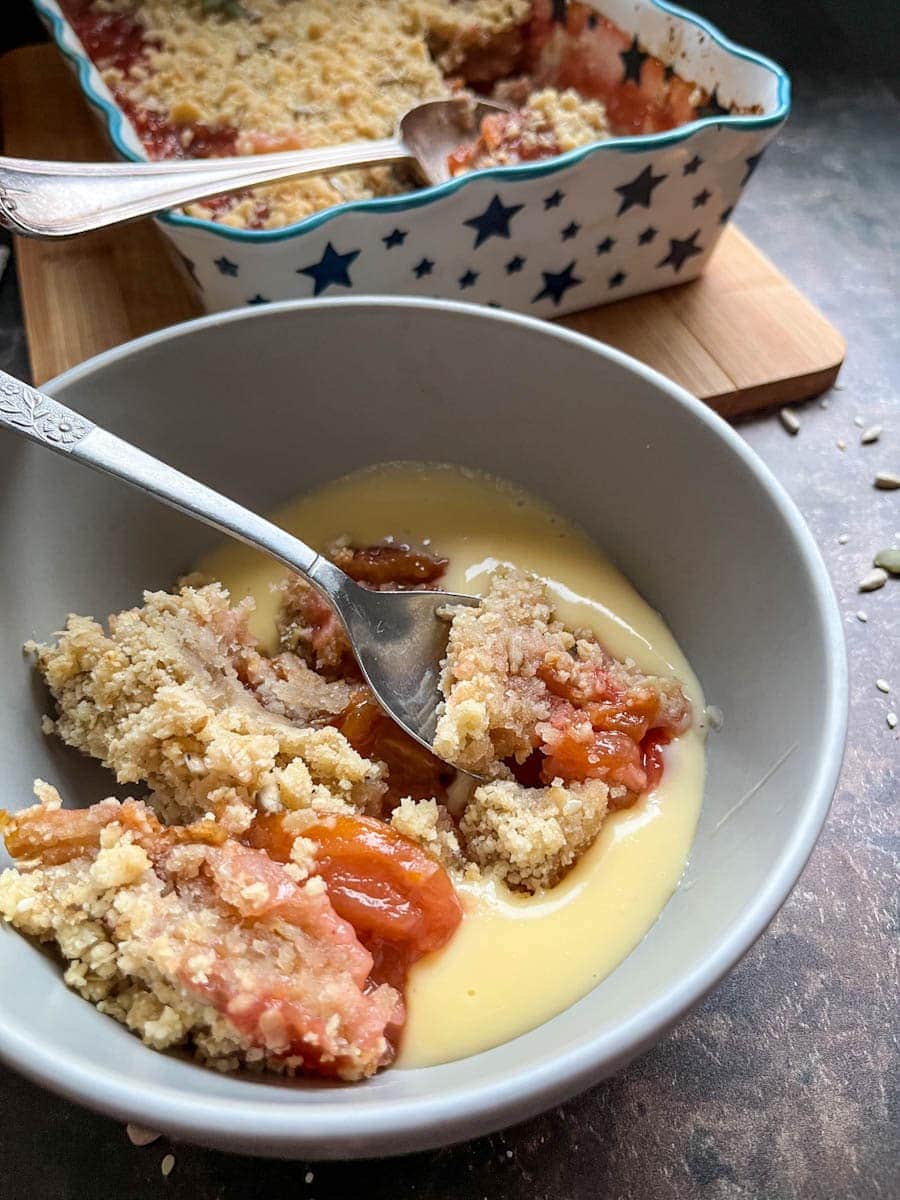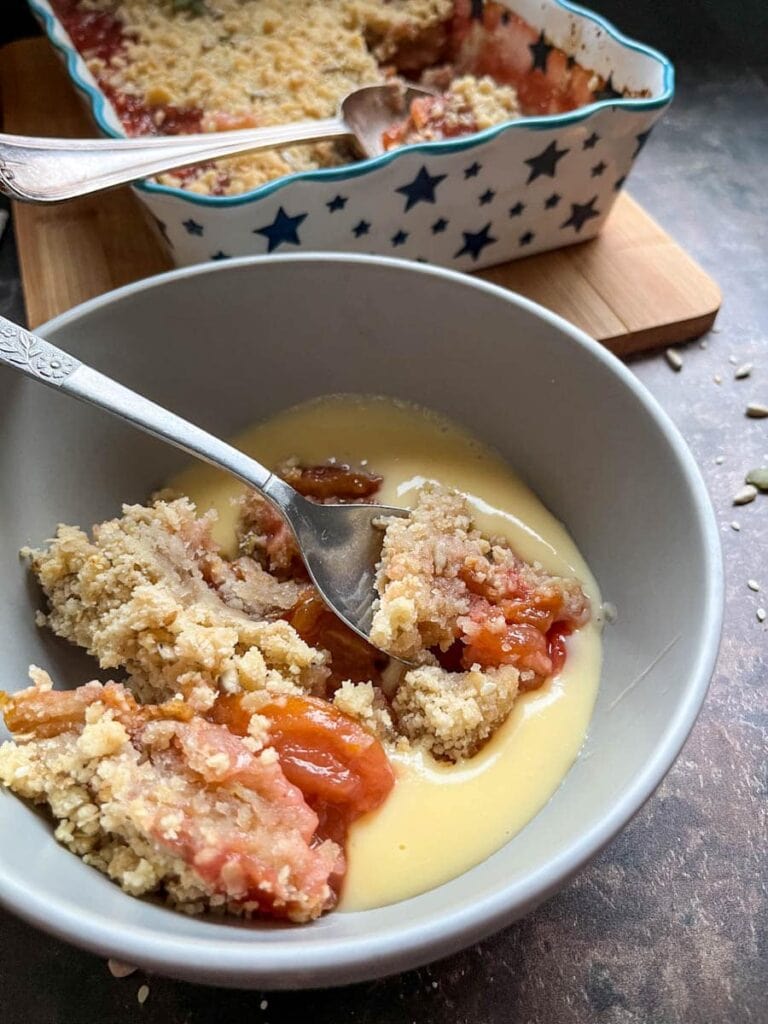 Plum crumble is one of those old fashioned, simple recipes that I adore. My grandparents had a huge plum tree in their garden and I was often given the task of picking the ripe fruit from the tree before the birds and local wildlife stripped the tree.
More often than not, more fruit ended up in my mouth instead of the tub! Thankfully there was always more than enough fruit to make plum pies and crumbles. When I got older, I discovered plums are also very good in cake – plum and almond traybake and plum crumble amaretti cake are my favourites.
ingredient list
fresh plums. You could use frozen defrosted plums instead, but just be aware that they will probably release more liquid.
orange zest and juice. The orange enhances the flavour of the plums – sounds strange, but it really does! However, you can still make the crumble without an orange – simply swap the orange juice for water.
cornflour (cornstarch) Plums tend to release quite a fair amount of liquid while cooking, so adding a little cornflour will thicken the juices.
for the crumble topping
Plain (all purpose) flour
Demerara sugar. I love the crunch and flavour of demerara, but you could also use soft light brown sugar instead.
Mixed seeds such as pumpkin seeds, sunflower seeds and linseeds. This is entirely optional – I just chuck seeds on anything I possibly can because they're good for you!
optional extras
I've added flavour and warmth to this plum crumble by adding a little ground cinnamon and preserved crystallised ginger. I also use preserved ginger in my rhubarb and ginger crumble recipe. You could swap the cinnamon for ground ginger if you like.
If you aren't a fan of ginger, it's not a problem. You can skip the preserved ginger and just add the cinnamon.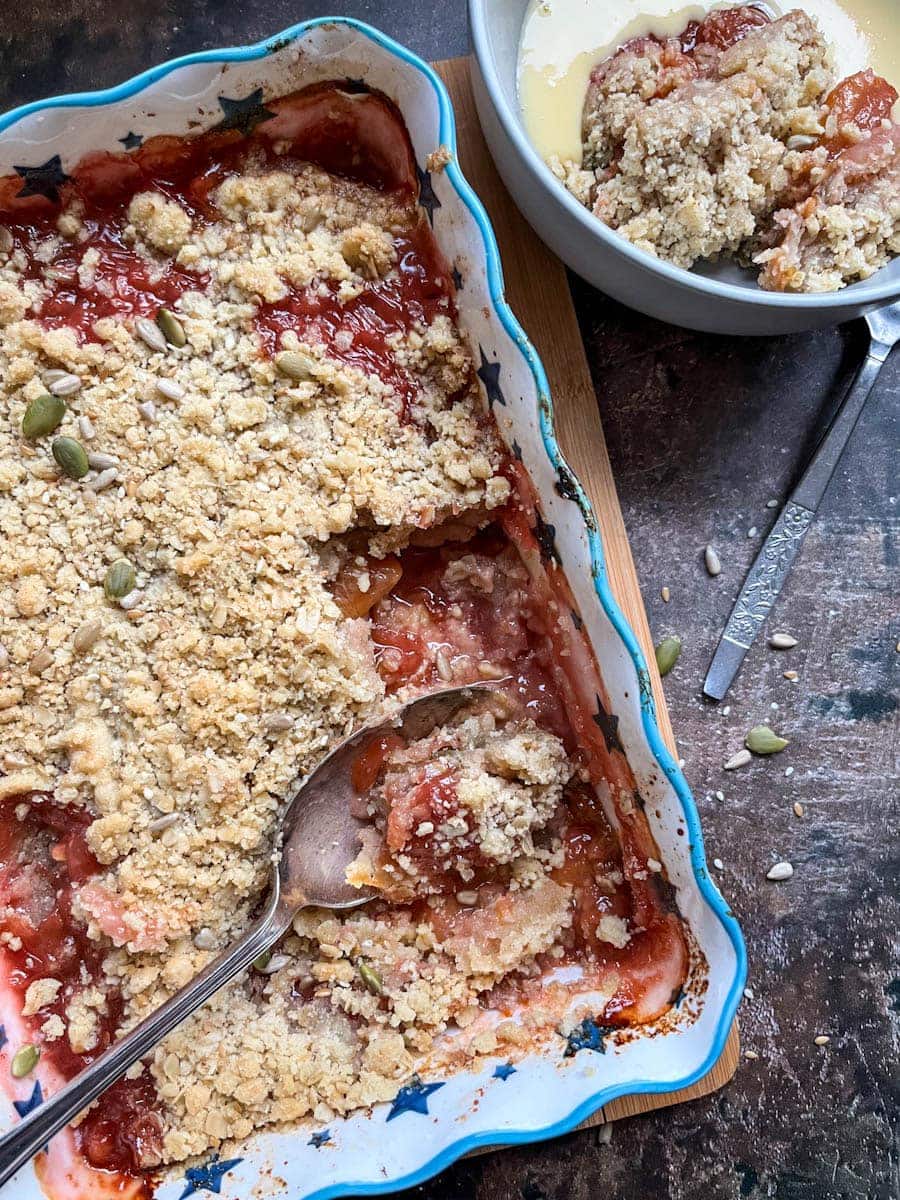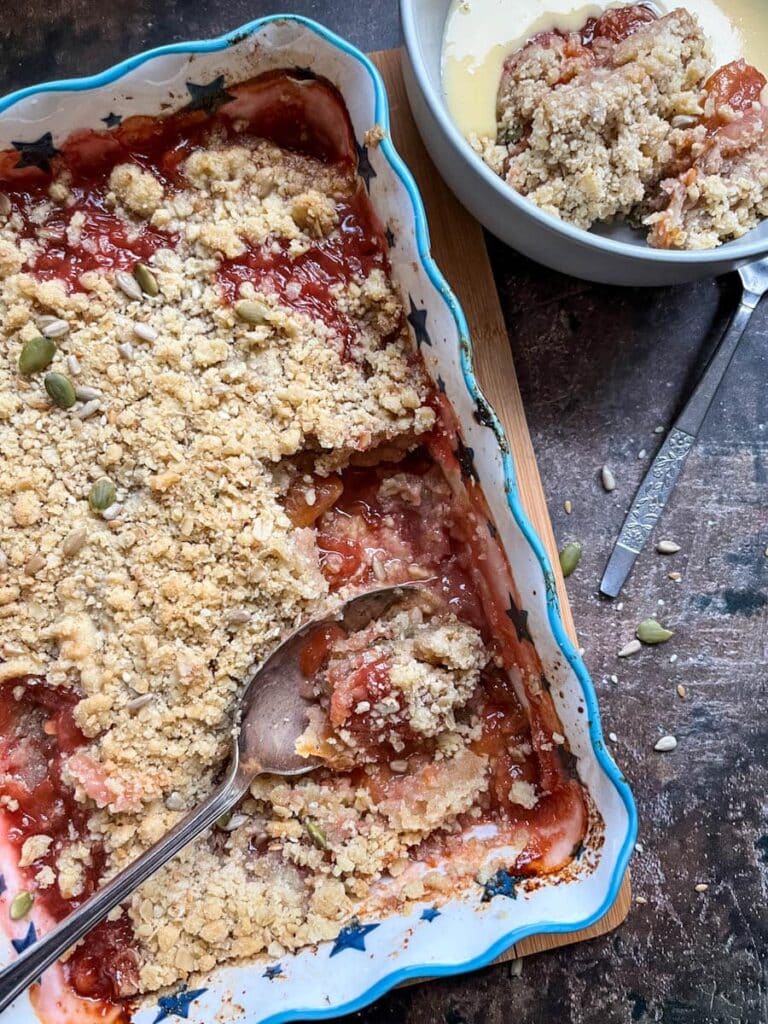 What type of plums are best for plum crumble?
Any type of plums are fine for a crumble. I used Victoria plums which tend to be quite small and sweet. Victoria plums don't hold their shape as well as other larger varieties while cooking, but for a crumble it honestly doesn't matter.
If you know you have plums that are on the sour side, you might want to increase the sugar in this recipe by a tablespoon or two.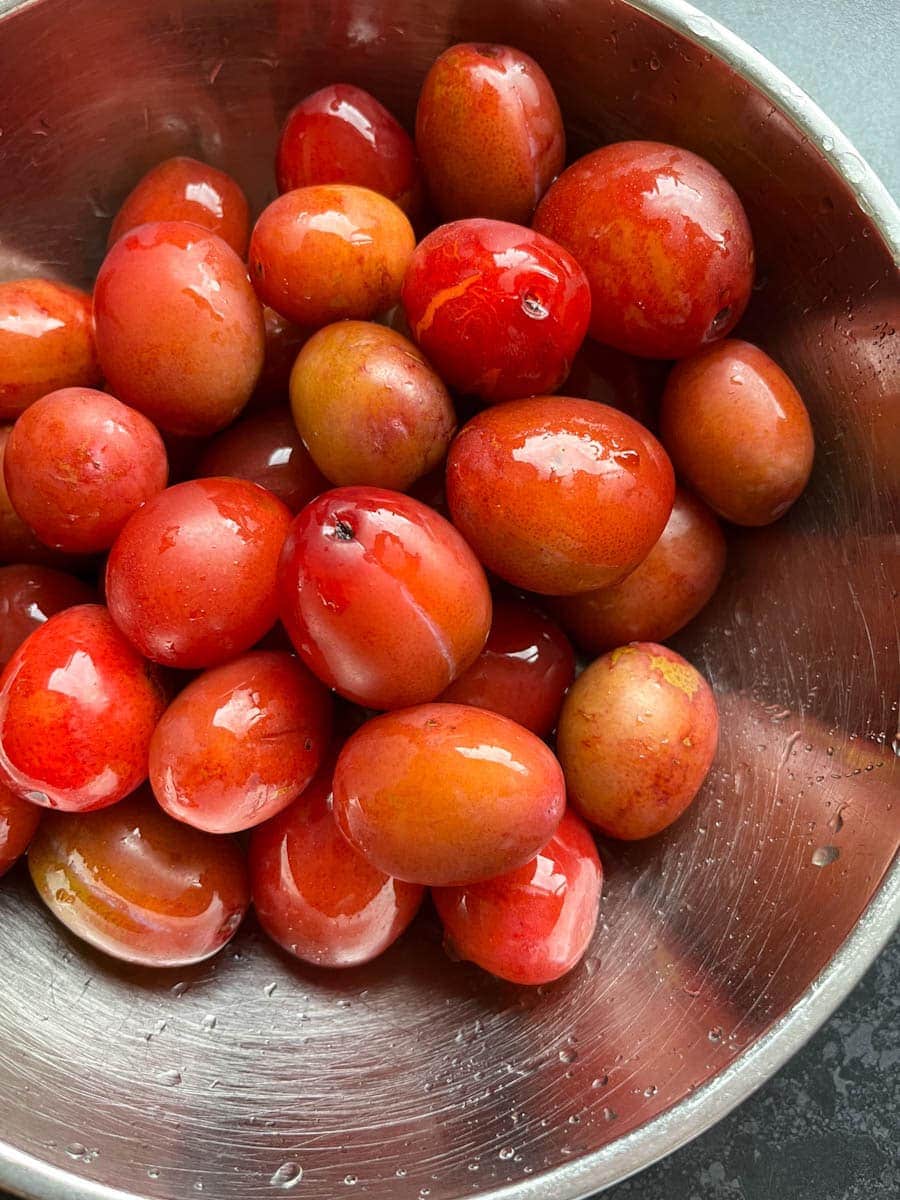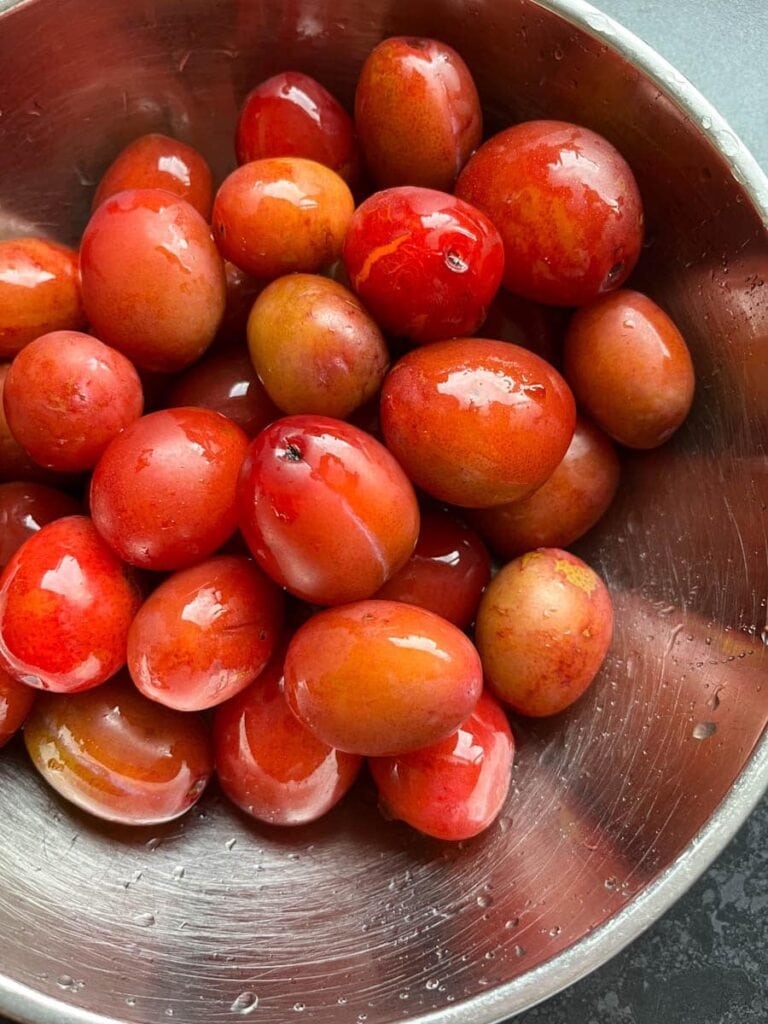 prepare the fruit filling
Place the halved and stoned plums in a baking dish with a little bit of depth – the one I use measures 10 x 7 x 4 inches.
Sprinkle over the caster sugar, orange zest and juice, cornflour, ground cinnamon and preserved ginger if using. Stir well to combine everything together.
Bake in a preheated oven (180C/160Fan) for around 20 minutes or until the plums are soft and tender.
Alternatively, you can cook them on the hob if you like. Place all the ingredients in a large saucepan over a medium high heat. When the mixture begins to bubble, turn down the heat to low, cover the pan with a lid and gently simmer for about 15 minutes or until the plums have softened.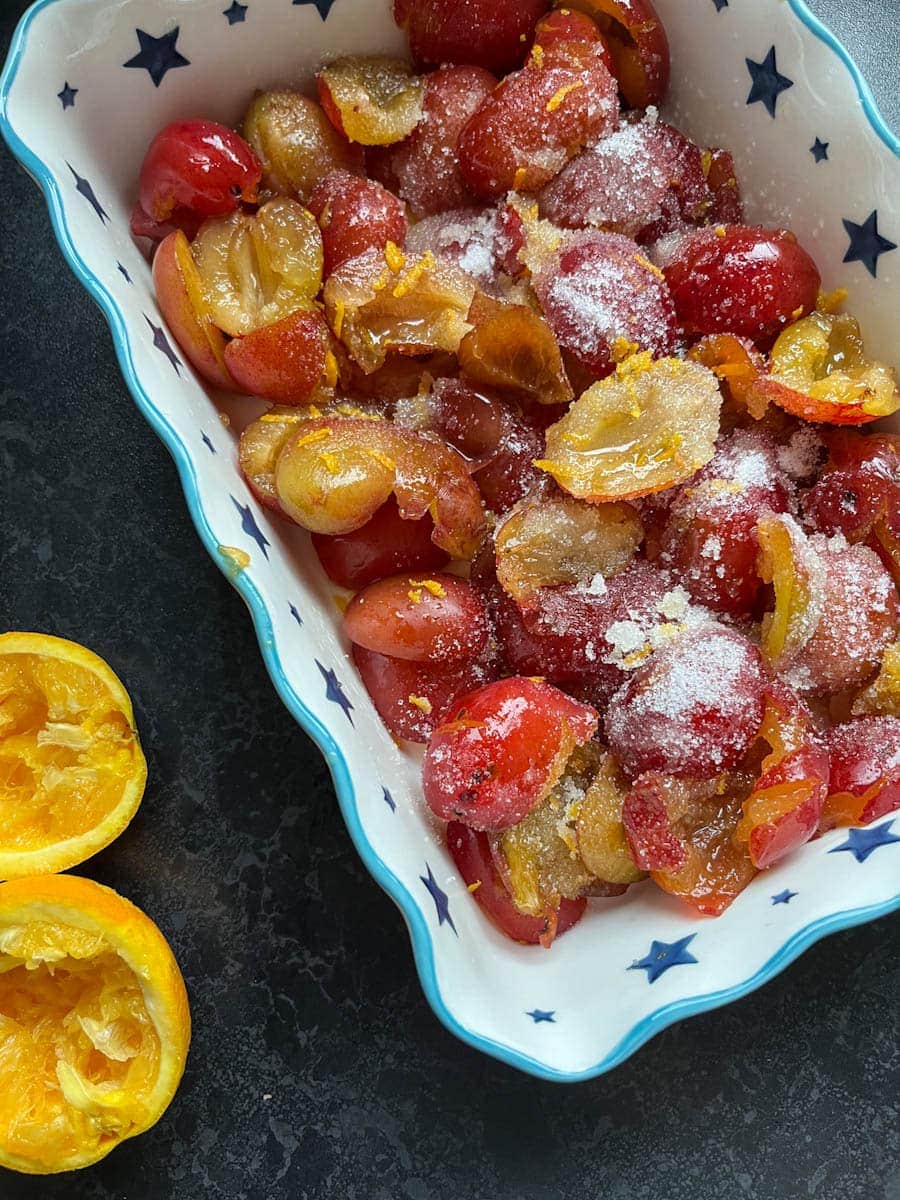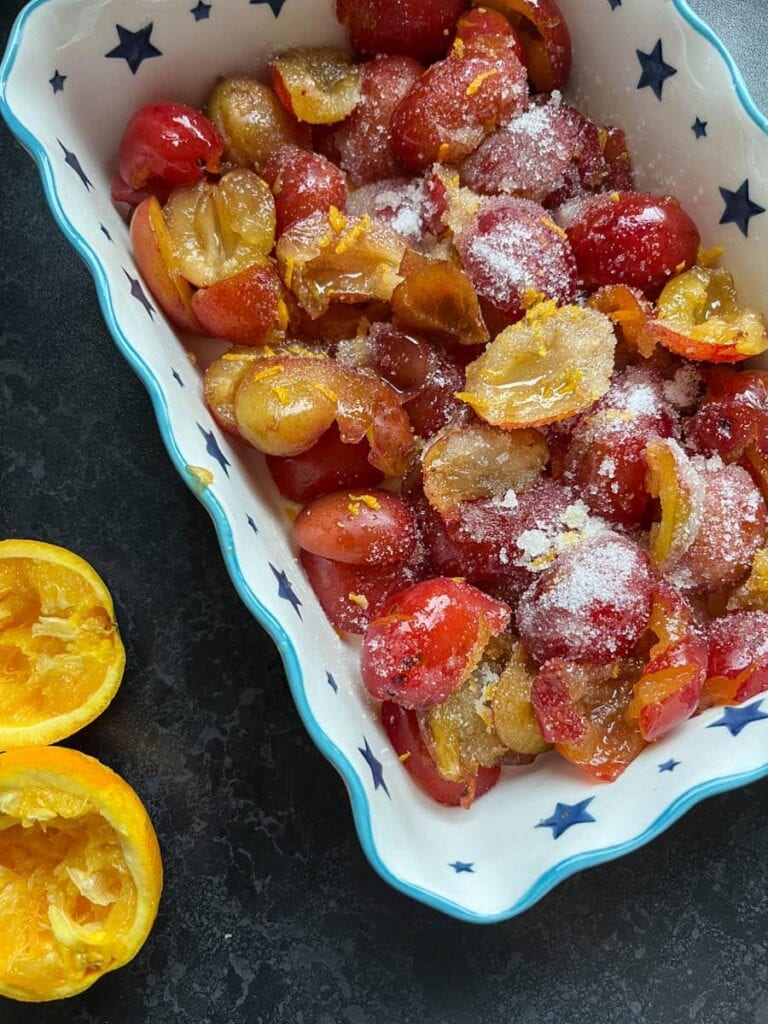 make the crumble topping
Place the flour in a bowl. Add the cold cubed butter and rub it into the flour until the mixture resembles breadcrumbs.
Stir in the sugar, oats and mixed seeds if using. If you like a very coarse crumble topping with lots of crunch (and let's be honest, who doesn't?) sprinkle a tablespoon of cold water over the finished crumble and give it a good shake. Top the fruit filling with the crumble mixture.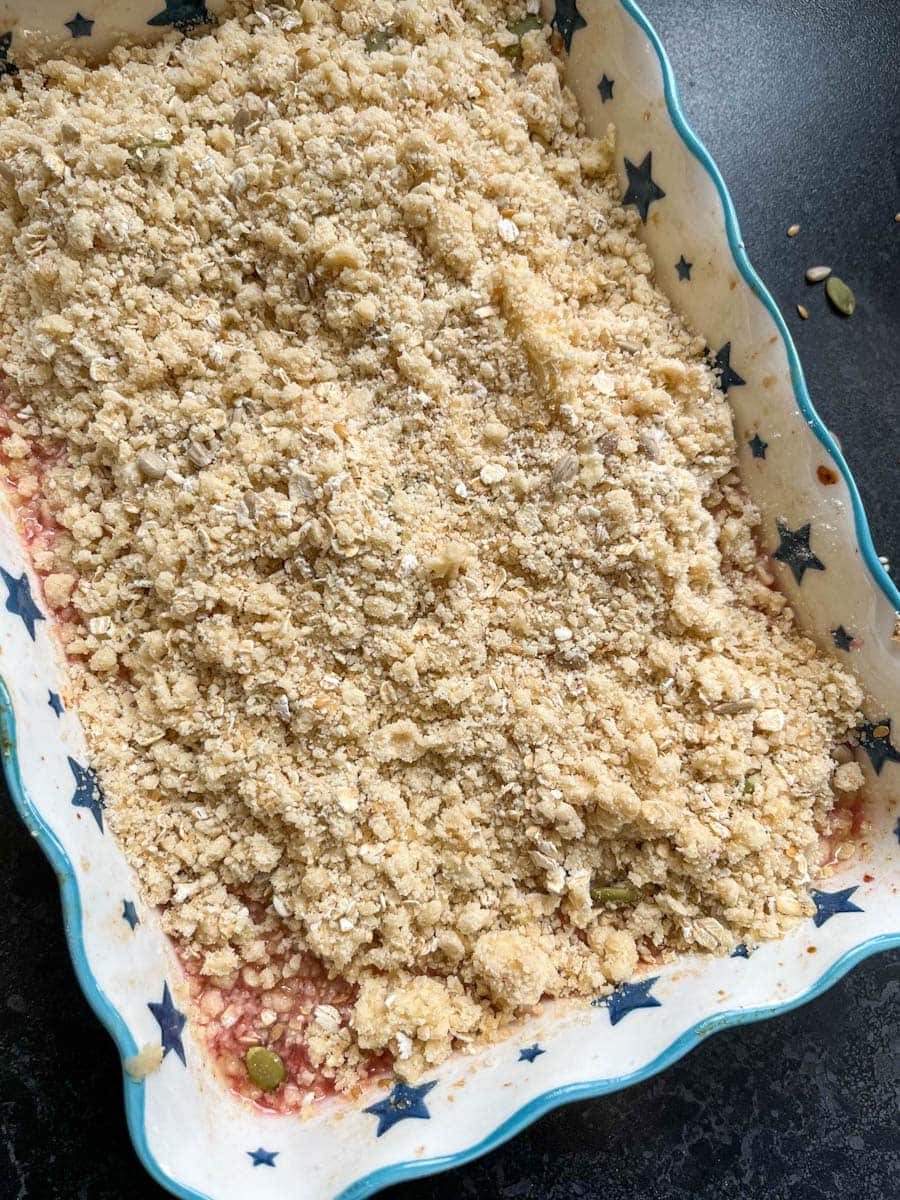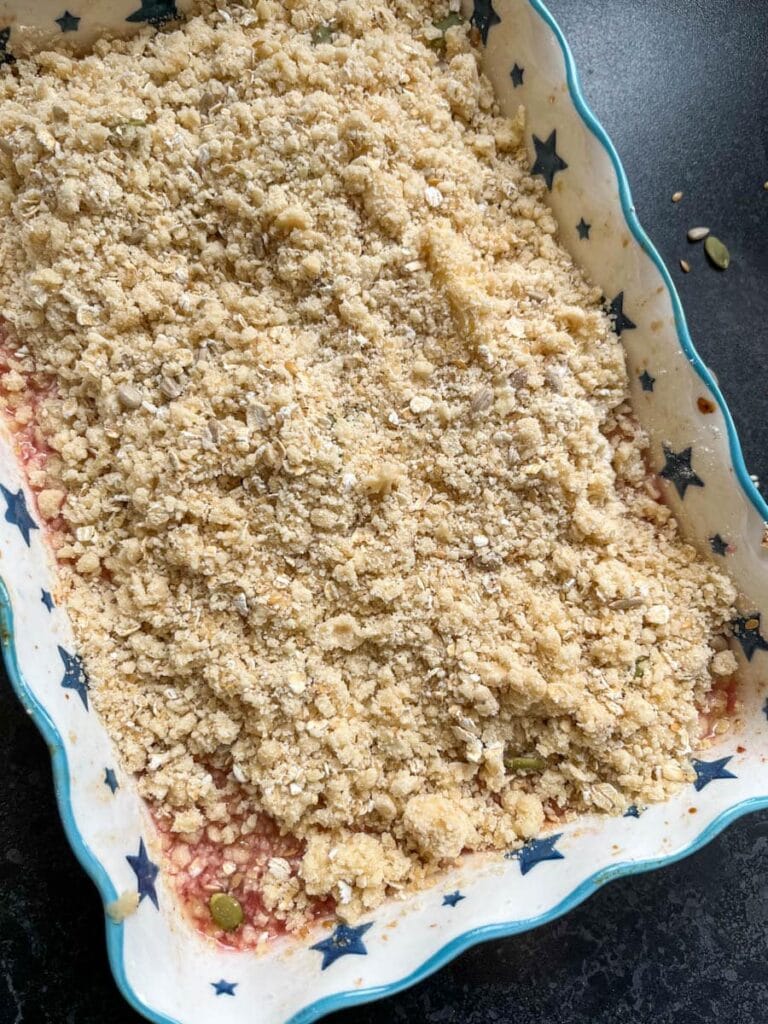 bake the crumble
Bake in a preheated oven (180C/160Fan) for around 30-35 minutes or until hot and bubbly with a golden, crunchy crumble. Allow to sit for 10-15 minutes before serving with vanilla custard, double cream or ice cream.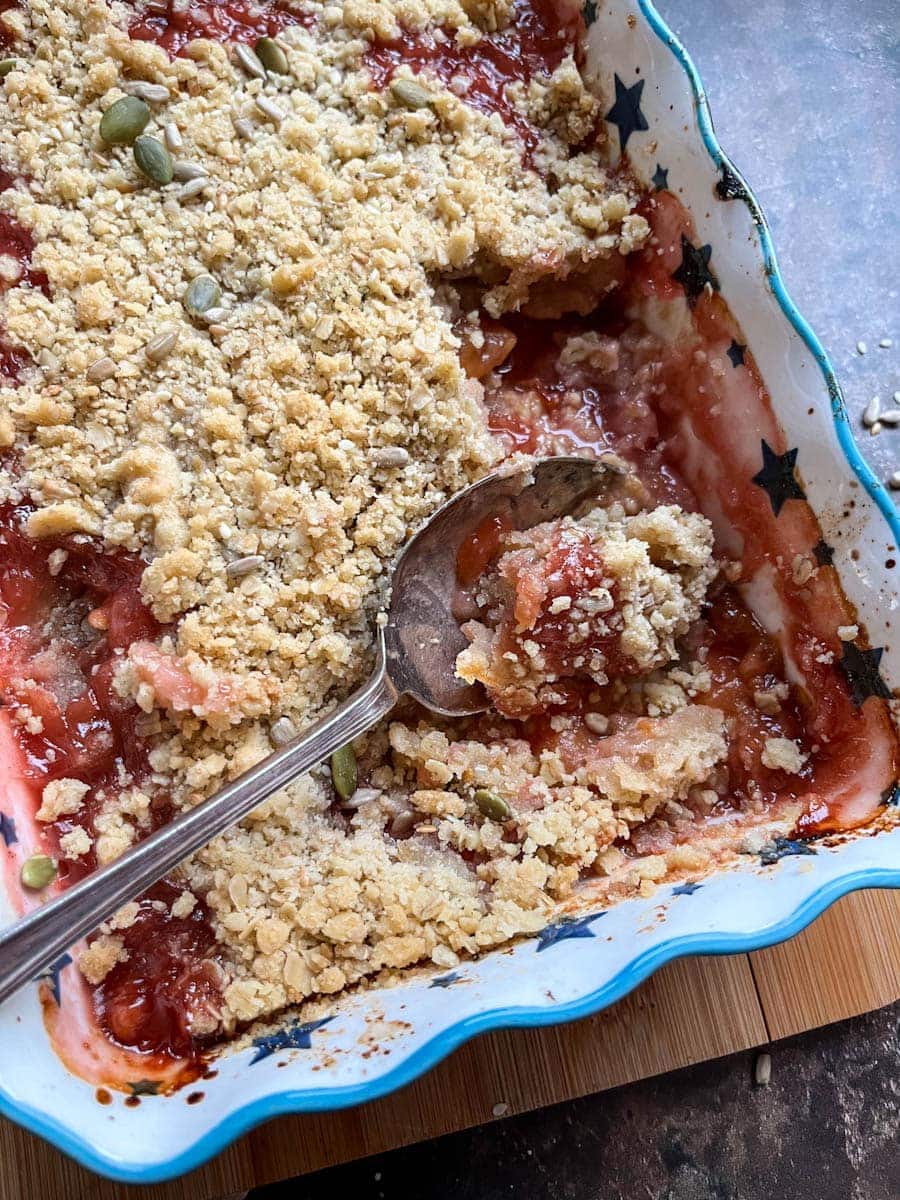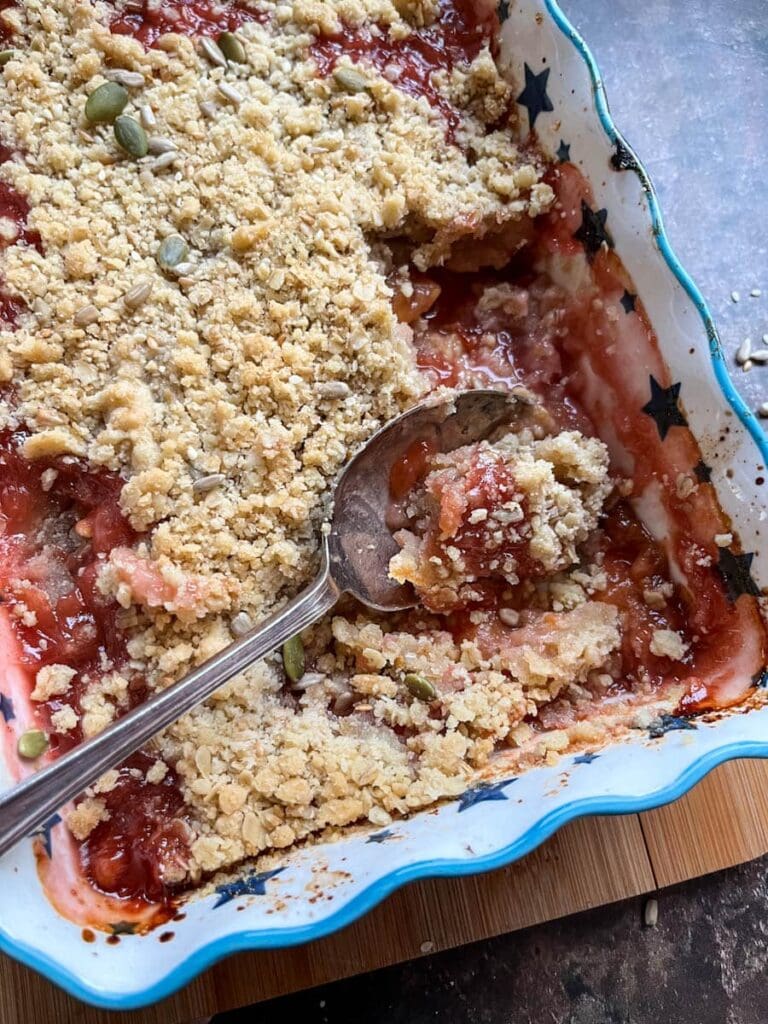 can you freeze plum crumble?
Yes! You can freeze any kind of cooked or uncooked fruit crumble. To freeze a cooked crumble, allow to cool completely, then wrap the whole thing in a few layers of cling film or use a large freezer bag. Freeze the crumble for up to four months.
how to bake a frozen plum crumble
You can bake the frozen crumble directly from the freezer. Remove the crumble from the freezer and preheat the oven to 180C/160Fan. As a general rule, frozen crumbles will take 10-15 extra in the oven. If the top is starting to brown too quickly, cover the top with a piece of tin foil.
freezing fruit crumbles in individual portions
To make things even easier, you can freeze the crumble in individual portions. Place the cooked and completely cooled plums in freezer safe individual dishes. Top with the crumble mix, cover well with plastic wrap or freezer bags and freeze for up to four months.
You can then bake the frozen crumbles whenever you're ready. Preheat the oven to 180C/160Fan/350F. Place the frozen individual crumbles on a baking tray and bake for about 30-35 minutes, or until the filling is very hot and the crumble topping is light golden brown and crunchy.
storing and reheating instructions
Any leftover crumble will keep in the fridge for up to three days. Reheat in a moderate oven (180C/160Fan) (with a sheet of tin foil over the top to protect the crumble topping from burning) for 20-25 minutes.
more fruit crumble recipes to try
more classic british puddings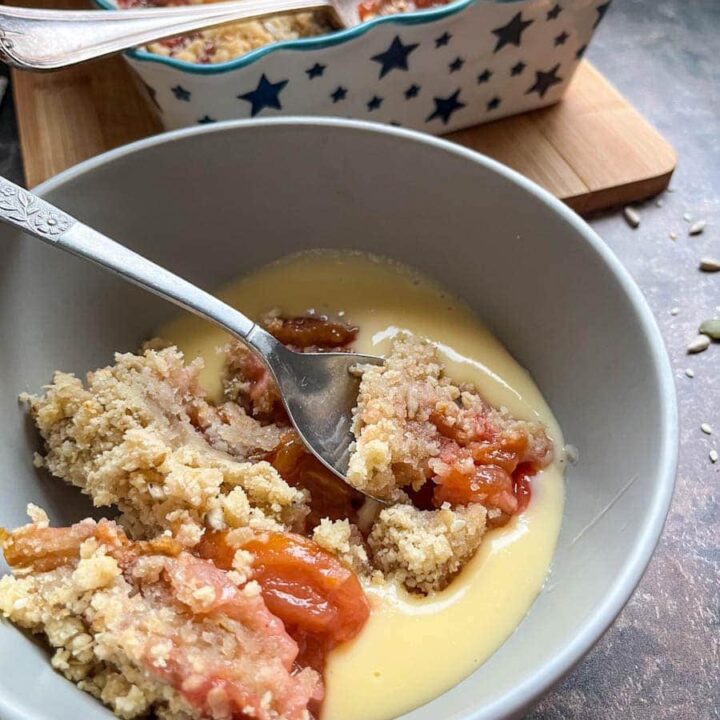 Easy Plum Crumble
This easy plum crumble recipe with a crunchy oat topping is perfect for using up a glut of plums. Serve with lots of custard for a comforting and delicious treat.
Ingredients
600g ripe plums, cut in half and stone removed
1 tablespoon cornflour
1/2 teaspoon ground cinnamon
50g caster sugar
finely grated zest of a small orange
2 tablespoons orange juice (or water)
25g preserved ginger in syrup, finely chopped (optional)
FOR THE CRUMBLE TOPPING
200g plain (all purpose) flour
100g cold butter, cubed
50g rolled oats
50g demerara sugar
1 tablespoon mixed seeds, such as a mixture of linseed, pumpkin seeds and sunflower seeds (optional)
Instructions
P reheat the oven to 180C/160Fan/350F/gas mark 4. Place the stoned and halved plums in a baking dish (about 10 x 7 inches.)
Sprinkle the cornflour, ground cinnamon and sugar over the plums. Stir in the orange juice (or water) and the preserved ginger, if using. Bake in the oven for around 20 minutes or until the plums are soft. Remove from the oven and set aside while you make the crumble. **If you prefer, you can prepare the fruit on the hob - see recipe notes**
To make the crumble topping. place the flour in a medium bowl. Rub in the cold cubed butter until you have a mixture that resembles breadcrumbs. Stir in the oats, sugar and if seeds if using.
Top the plums with the crumble mixture and bake for 30-35 minutes, or until piping hot and the topping is light golden brown. Serve with custard, double cream or ice cream.
Notes
**To prepare the fruit on the hob, place the halved plums in a large saucepan. Sprinkle over the cornflour, ground cinnamon, sugar and stir well to mix. Add the orange zest and juice (or water) and preserved ginger, if using. Place the pan on the hob on a medium high heat. Once the mixture is beginning to bubble, turn the heat down to low and cook gently for about 15 minutes, stirring occasionally until the plums are soft.**
Leftover Plum crumble will last for up to three days (stored in the fridge.) To reheat the crumble, cover the dish with tin foil and bake at 180C/160Fan for about 20 minutes or until very hot. You can also re-heat individual portions in the microwave for 3-5 minutes.
Nutrition Information:
Yield:

6
Serving Size:

1
Amount Per Serving:
Calories:

484
Total Fat:

28g
Saturated Fat:

10g
Trans Fat:

1g
Unsaturated Fat:

16g
Cholesterol:

36mg
Sodium:

1401mg
Carbohydrates:

56g
Fiber:

7g
Sugar:

35g
Protein:

9g
Calories and nutritional information are provided by a third party application and should be viewed as indicative figures only.