This old fashioned, slow baked creamy rice pudding is pure Winter comfort food. It's worlds apart from the tinned version! This classic British dessert is delicious served just as it is or with a little cream, jam or fresh fruit. 
I am all about the comforting Winter puddings right now. A sumptuous sticky toffee pudding, Eve's Pudding, Apple and blackberry Crumble, plum crumble, steamed treacle (golden syrup) pudding and an Irish cream spiked brioche pudding. I love them all!
I only recently discovered my love for an old fashioned baked rice pudding.  They must be one of the easiest desserts you can make, yet so rewarding.  I can't think of anything better on a cold Winter's night.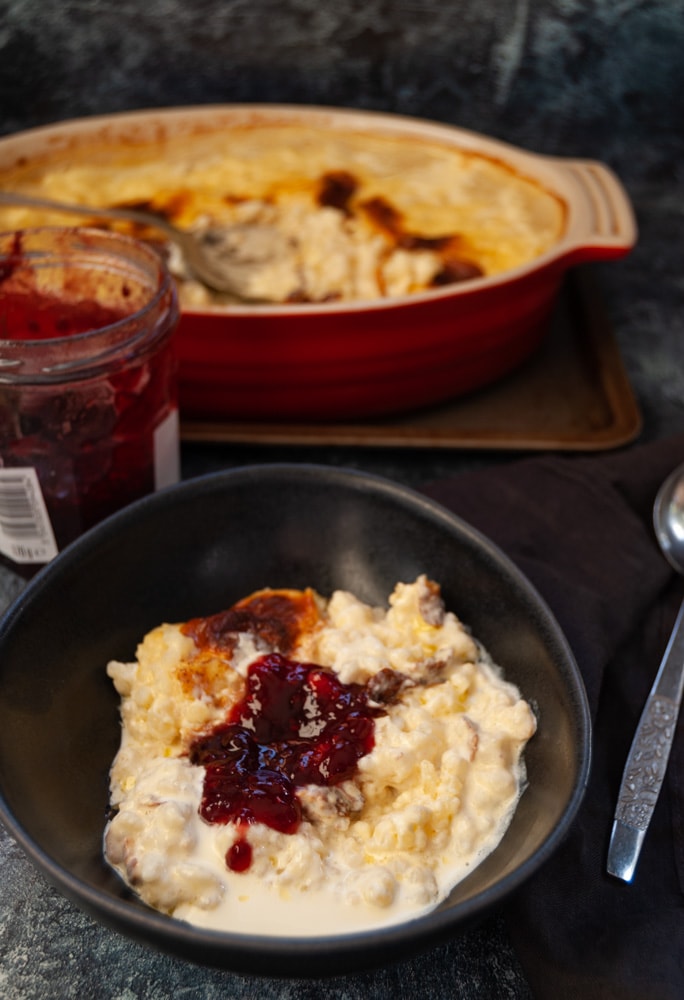 creamy baked rice pudding
It never fails to amaze me that a tiny amount of rice, a little sugar and an absurdly large amount of milk and cream can turn into a divinely rich pudding that is an absolute joy to eat.
The smell of a rice pudding with nutmeg speckled brown skin baking in the oven is one of my new favourite cooking aromas. It's so homely and comforting.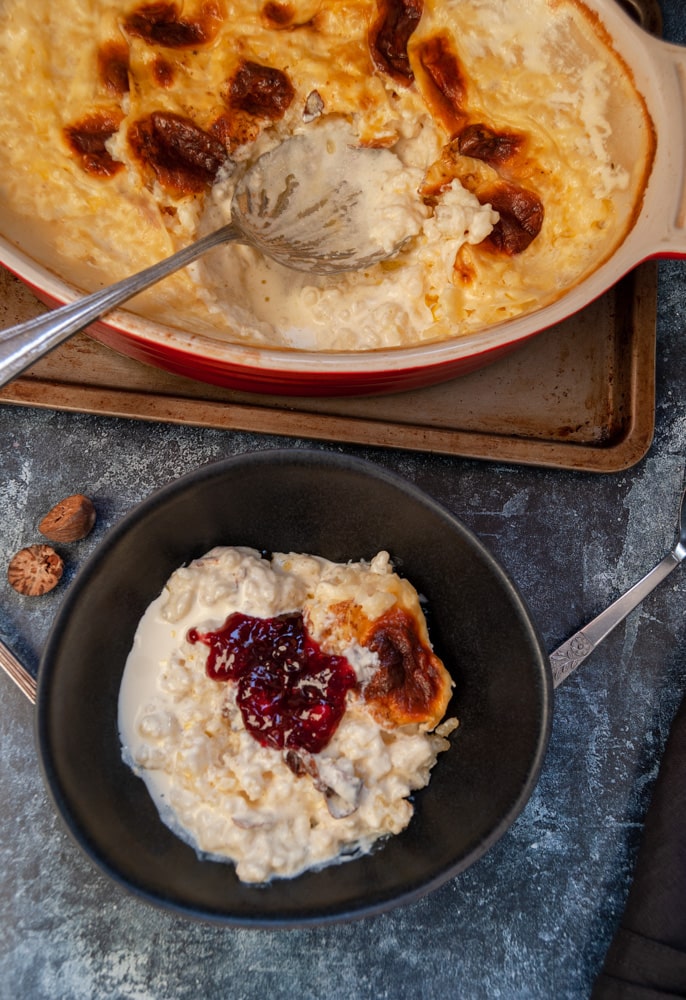 skin or no skin?
 The world is divided into two kinds of people – those who love the skin on a rice pudding and those who visibly shudder at the thought of it. I absolutely love it! But please don't ever ask me to eat skin on custard!
can you make rice pudding in a slow cooker?
If you need to save on energy bills, you certainly can make this recipe in the slow cooker. It's so easy – simply grease the inside of your slow cooker with butter, place all the ingredients inside the pot, give everything a stir and cook on low for 3-4 hours.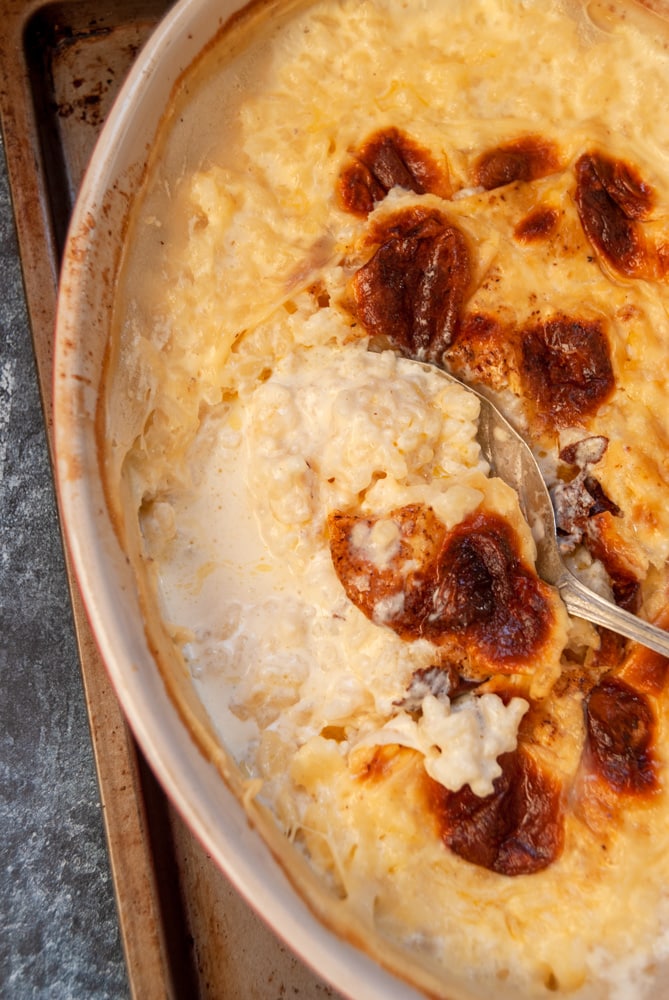 HOW TO MAKE RICE PUDDING IN THE OVEN
Baking the rice pudding in the oven on a low heat will give a rich, creamy consistency. All you need to do is butter a shallow ovenproof dish and add the rice, milk, double cream, sugar and vanilla extract if using.
Grate over some fresh nutmeg and a little sprinkling of ground cinnamon if you like and dot the top with a little more butter. Bake for 2-3 hours or until golden brown. It will smell amazing!
can YOU MAKE RICE PUDDING WITH EVAPORATED MILK?
You certainly can use evaporated milk to make rice pudding. It will give the pudding a rich, creamy texture. Simply swap the double cream for the same amount of evaporated milk. You could also use half milk and half evaporated milk.
storing leftovers
Baked rice pudding can be stored in the refrigerator for up to 3 days.  Make sure it is covered tightly with a lid to prevent it from drying out.
freezing instructions
If you find yourself with leftover rice pudding that you aren't going to eat in a few days, it can be frozen. I find it useful to freeze the pudding in individual portions in small airtight containers. They will keep in the freezer for 2-3 months. When reheating, you'll need to add a splash of milk to loosen the texture.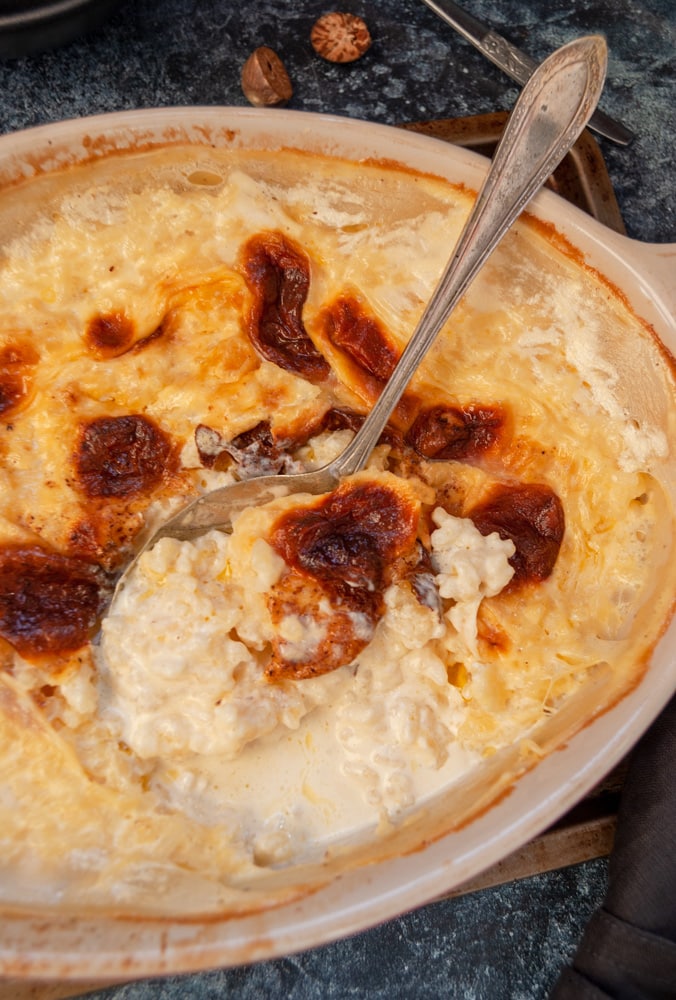 CAN you reheat homemade rice pudding?
Yes, rice pudding can be reheated without any issues.  All you need to do is stir through a little more milk and reheat in a saucepan over a low heat, stirring often. It might splatter, so do be careful.  
is rice pudding eaten hold or cold?
Rice pudding can be enjoyed both hot or cold. Some people (including myself) prefer it warm, ideally on a cold, rainy night when you're in need of something comforting at eat, while others like it chilled, especially during warmer weather.
variations on the basic recipe
I often add a handful of sultanas or raisins for a fruity rice pudding. So good! If they've been soaked in rum or whisky for a few hours, then all the better. For adults only, obviously!
Add a piece of lemon or orange rind for a bright, zesty twist.
Make cinnamon rice pudding: swap the nutmeg for ground cinnamon.
maple-pecan rice pudding: drizzle the baked pudding with maple syrup and chopped pecan nuts for a classic American twist.
coconut-cranberry rice pudding: use a can of coconut milk and add a handful of dried cranberries.
mAKE a VEGAN rice pudding
To make the pudding vegan friendly, swap the milk and cream for coconut, almond or soy milk and use a dairy free spread to grease the dish.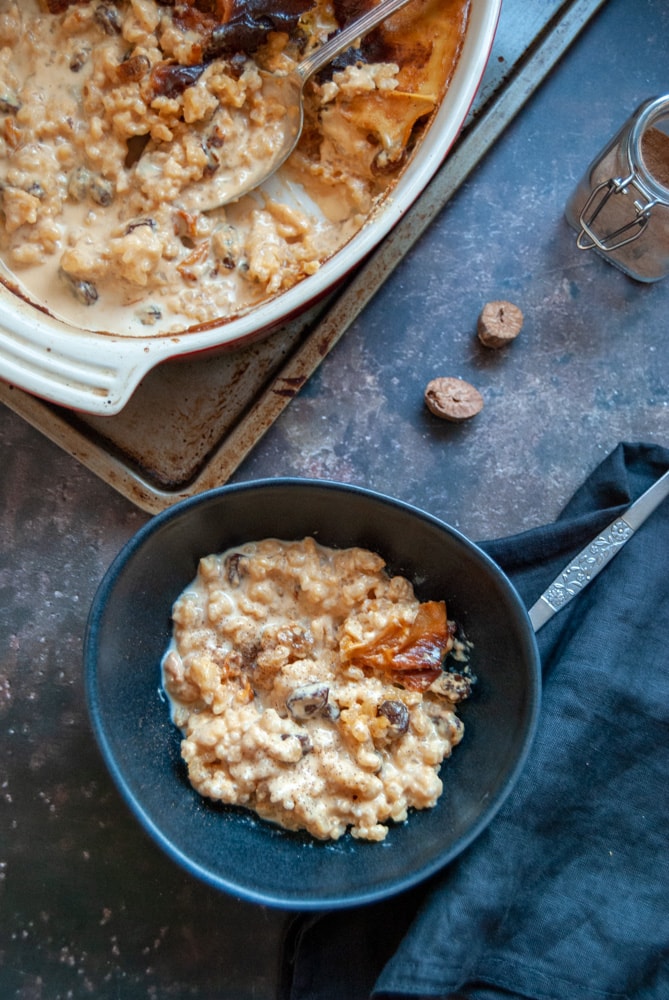 looking for more classic British puddings?
did you make this reciPe?
I hope you enjoyed it! Let me know what you thought of it by leaving a comment below and rate the recipe by clicking on the stars in the recipe card.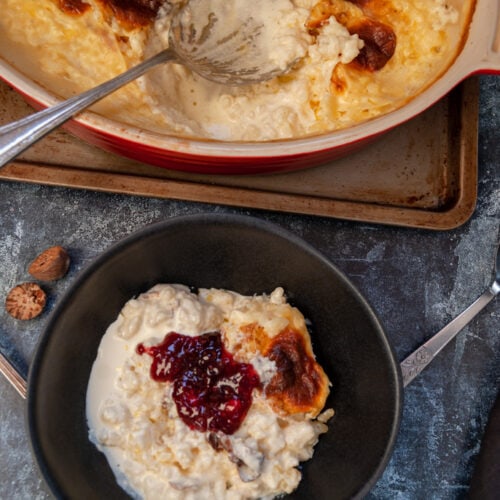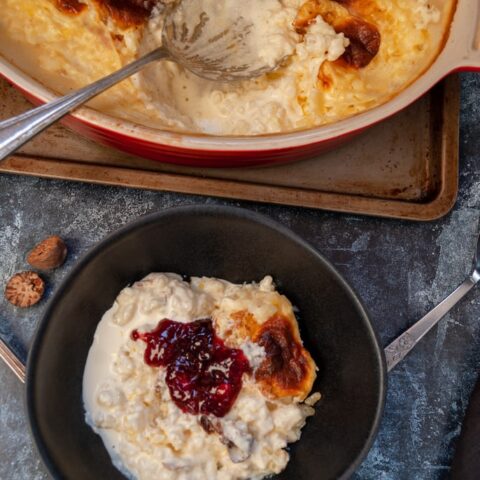 Creamy Rice Pudding
Total Time:
2 hours
5 minutes
This creamy baked rice pudding recipe is pure old fashioned comfort food. It's so much nicer than the tinned version! Delicious served with cream, jam or fresh fruit.
Ingredients
100g pudding rice
750ml whole milk
300ml Double Cream
55g caster sugar
1/2 teaspoon vanilla extract
Grating of fresh nutmeg
Sprinkling of ground cinnamon (optional)
25g butter (plus more to grease the dish)
Instructions
Preheat the oven to 150C/130Fan. Butter a 1.2 Litre shallow ovenproof dish. Place the rice, milk, double cream, caster sugar and vanilla extract in the dish and stir to combine.
Grate over as little or as much fresh nutmeg as you wish and sprinkle over the ground cinnamon if using. Bake for around 2 hours or until golden brown and a thick brown skin has formed.
Remove from the oven and allow the pudding to cool very slightly (about 20-30 minutes) before serving with extra milk, cream or jam.
Notes
To make this rice pudding in the slow cooker, grease the slow cooker pot with butter, place all of the ingredients inside and cook on low for 3-4 hours.
Nutrition Information:
Yield:

6
Serving Size:

1
Amount Per Serving:
Calories:

375
Total Fat:

27g
Saturated Fat:

16g
Trans Fat:

1g
Unsaturated Fat:

8g
Cholesterol:

79mg
Sodium:

120mg
Carbohydrates:

28g
Fiber:

0g
Sugar:

20g
Protein:

7g
Calories and nutritional information are provided by a third party application and should be viewed as indicative figures only.