You can't beat a bowl of homemade broccoli and stilton soup on a freezing cold day. It's rich, full flavoured and satisfying.
When it's chilly outside, there's nothing like a bowl of hot, creamy soup – preferably with some delicious homemade tiger bread.
Broccoli and stilton is a classic combination and let's be honest – we probably all have some stilton in the fridge from Christmas to use up!
Other classic Winter soups I love to make around this time of year are Scottish tattie soup, lentil and bacon soup, sweet potato and red pepper soup and butternut squash and sweet potato soup.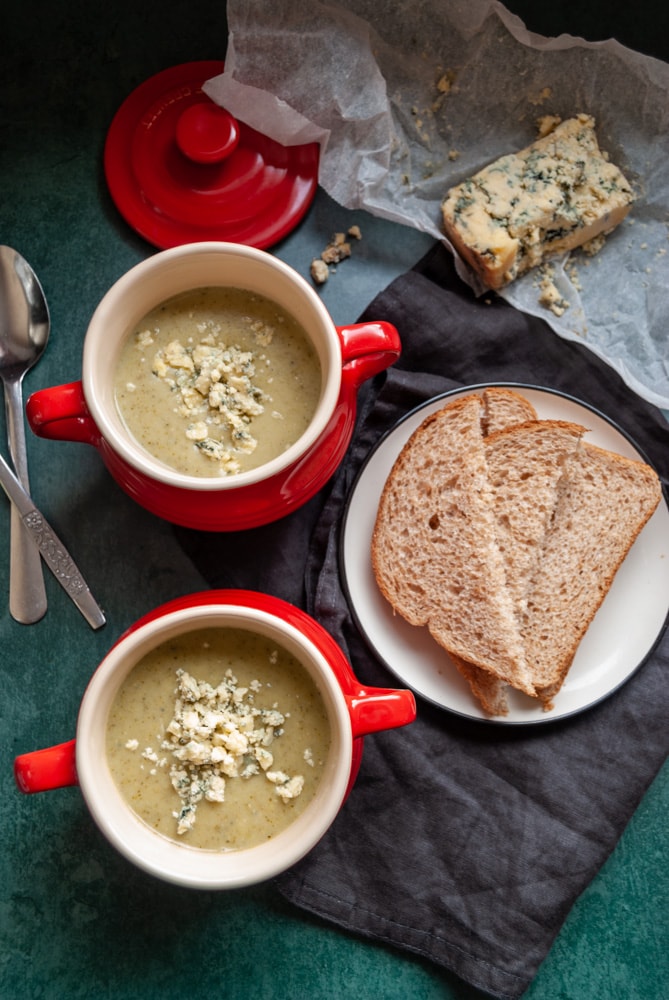 INGREDIENT LIST
Celery
Even if you aren't a fan, hear me out! Celery adds a wonderful savoury note in cooking. I haven't found a soup recipe yet that hasn't benefited from the addition of a stick of celery.
Onion
Every good soup recipe needs onions. The key is to slowly cook them on a very low heat (also known as "sweating") in a little butter and oil until they have softened.
Garlic
I like to add a couple of garlic cloves to this soup, but if you really don't like it you can leave it out. However, I find that adding garlic to a soup makes all the difference to the flavour, just like in my spicy sweet potato and lentil soup and butternut squash and sweet potato soup recipes.
Potato
Adding some diced potato the soup will thicken it up and add a little texture.
A whole head of Broccoli
To cut down on waste, I use the whole head of Broccoli – stalks and all. Chop the stalk finely before adding to the soup.
Vegetable Stock
I normally use vegetable stock pots, but a stock cube would also be fine. If you aren't making the soup for vegetarians, you could use chicken stock instead.
Freshly grated nutmeg
A pinch of nutmeg works wonders in this soup, but it isn't crucial.
Stilton cheese
If you can't find any Stilton, another blue cheese such as Roquefort or Gorgonzola would work just as well.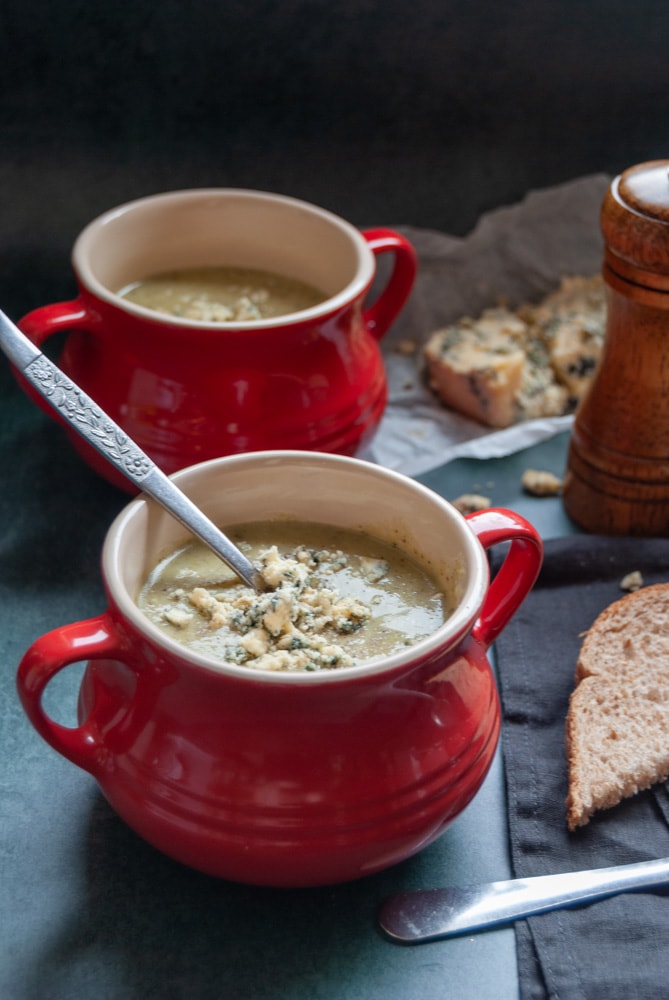 Cook's tips
If you're serving the soup to children and aren't sure if they will like the stilton flavour, you could simply give them the soup without the cheese.
I used to make cream of Broccoli soup for my kids when they were very young – they called it Grinch soup!
add A swirl of cream
For extra richness, add 100ml of double cream to the soup when you add the cheese. If you're in the mood for extra indulgence, you could add an extra swirl of cream to your bowl!
HOW LONG WILL brocolli and stilton soup KEEP IN THE FRIDGE?
Store the completely cooled soup in the fridge and use within three days. Since the soup contains cheese, it should be cooled and chilled as quickly as possible.
can you freeze this soup?
Yes it can be frozen – it may slightly affect the texture of the soup, but it will be fine once it's heated up.
Defrost the soup in the fridge overnight and use up within 24 hours.
reheating instructions
Reheat the soup in a saucepan over a gentle heat until piping hot, stirring frequently so the cheese doesn't catch on the bottom on the pan.
The soup will thicken up after cooling and chilling, so you may have to add a little extra stock or water while reheating.
More warming soup recipes to try
Leftover turkey (or chicken!) vegetable soup
slow cooker chicken noodle soup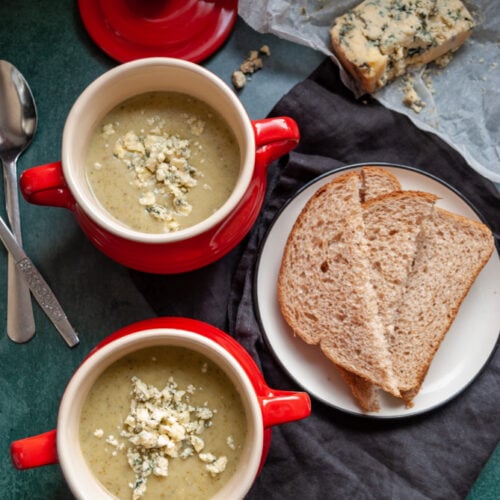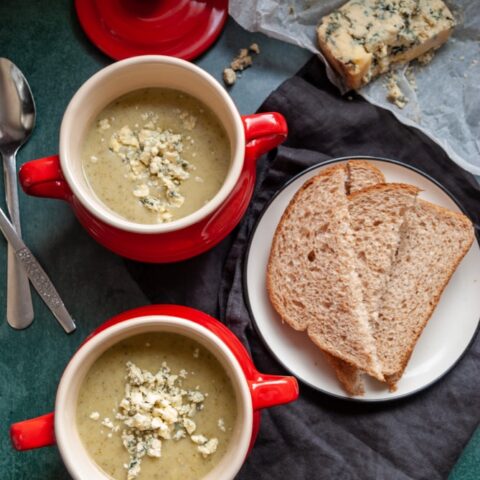 Broccoli and Stilton Soup
You can't beat a bowl of homemade broccoli and stilton soup on a freezing cold day.  It's rich, full flavoured and satisfying. 
Ingredients
1 tbsp Olive oil
1 tbsp butter
1 large onion, peeled and finely diced
1 Stick celery, finely chopped
280g (one large) potato, chopped into small dice
pinch of salt
2 garlic cloves, peeled and crushed
400g Broccoli, roughly chopped (including the stalk)
1 litre hot vegetable stock
A large pinch freshly grated nutmeg (optional)
125g Stilton cheese (add less if you would prefer a less strong taste - see notes)
Salt and freshly ground black pepper to taste
50g extra Stilton for crumbling on top, optional
Instructions
Place the oil and butter in a large pan over a low heat. Once the butter has melted, add the chopped onion, celery and potato with a pinch of salt. Keeping the heat low, gently fry the vegetables for 15 minutes or until soft and translucent, stirring occasionally.
Once the mixture has softened, add the crushed garlic and cook for a further two minutes before adding the chopped broccoli and vegetable stock.
Bring to the boil, then turn down the heat to a simmer and cook for a further 15-20 minutes or until the vegetables have softened.
Allow the soup to cool down a little before blending in batches in a food processor or blender until smooth.
Return the soup to the pan and stir in the Stilton cheese and cream, if using. Heat the soup very gently until the cheese has melted. Add freshly grated nutmeg, salt and pepper to taste.
Serve the soup with the remaining crumbled stilton or a swirl of cream.
Notes
If you're worried the cheese will make the soup too strong, start with around 75g and keep adding a little more until you're happy with the flavour.
Store the (completely cooled) soup in the fridge and use within three days. Reheat in a pan over a low heat until piping hot, adding more vegetable stock or water to thin the soup to the desired consistency.
Nutrition Information:
Yield:

4
Serving Size:

1
Amount Per Serving:
Calories:

277
Total Fat:

20g
Saturated Fat:

11g
Trans Fat:

0g
Unsaturated Fat:

8g
Cholesterol:

40mg
Sodium:

1386mg
Carbohydrates:

15g
Fiber:

4g
Sugar:

5g
Protein:

13g
Calories and nutritional information are provided by a third party application and should be viewed as indicative figures only.