Old fashioned homemade Lentil and Bacon Soup is pure comfort food in a bowl. It's cheap to make, warming and filling. This is perfect cold weather food.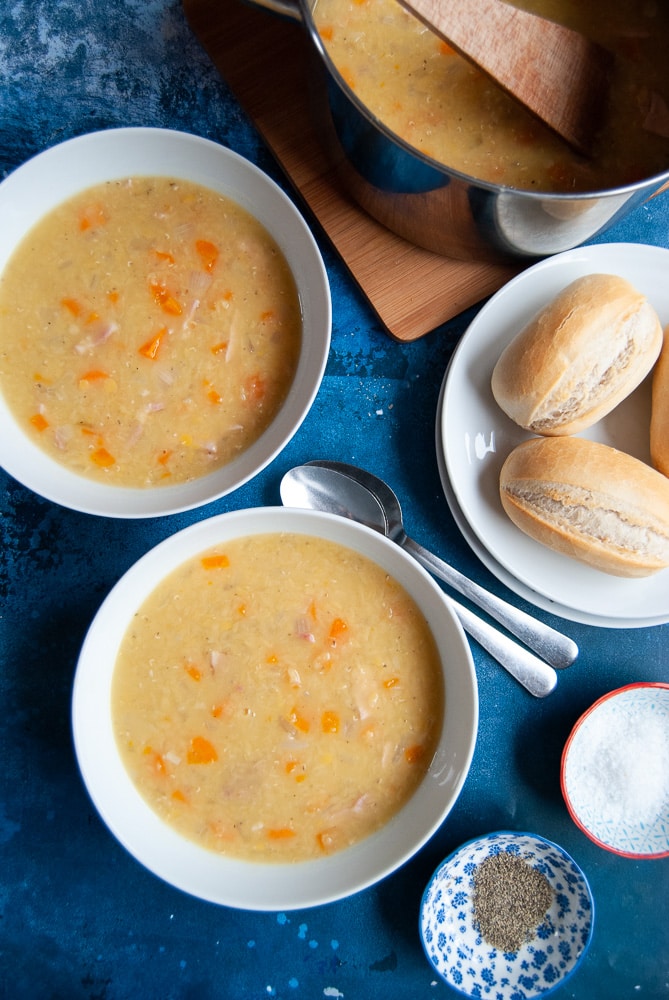 A bowl of lentil soup is pretty hard to beat.
The old fashioned, simple recipes are the best – and looking at a few of my most popular recipes on this blog – tattie soup, cheese scones and mince and tatties it seems like many of you agree with me!
I've been thinking of posting this soup recipe for a long, long time. It's something I make at home all the time – in particular when Autumn begins and we're all in need of warming up.
I do a few versions of lentil soup – like my spicy sweet potato and lentil soup – but this Scottish Lentil Soup recipe is by far the simplest.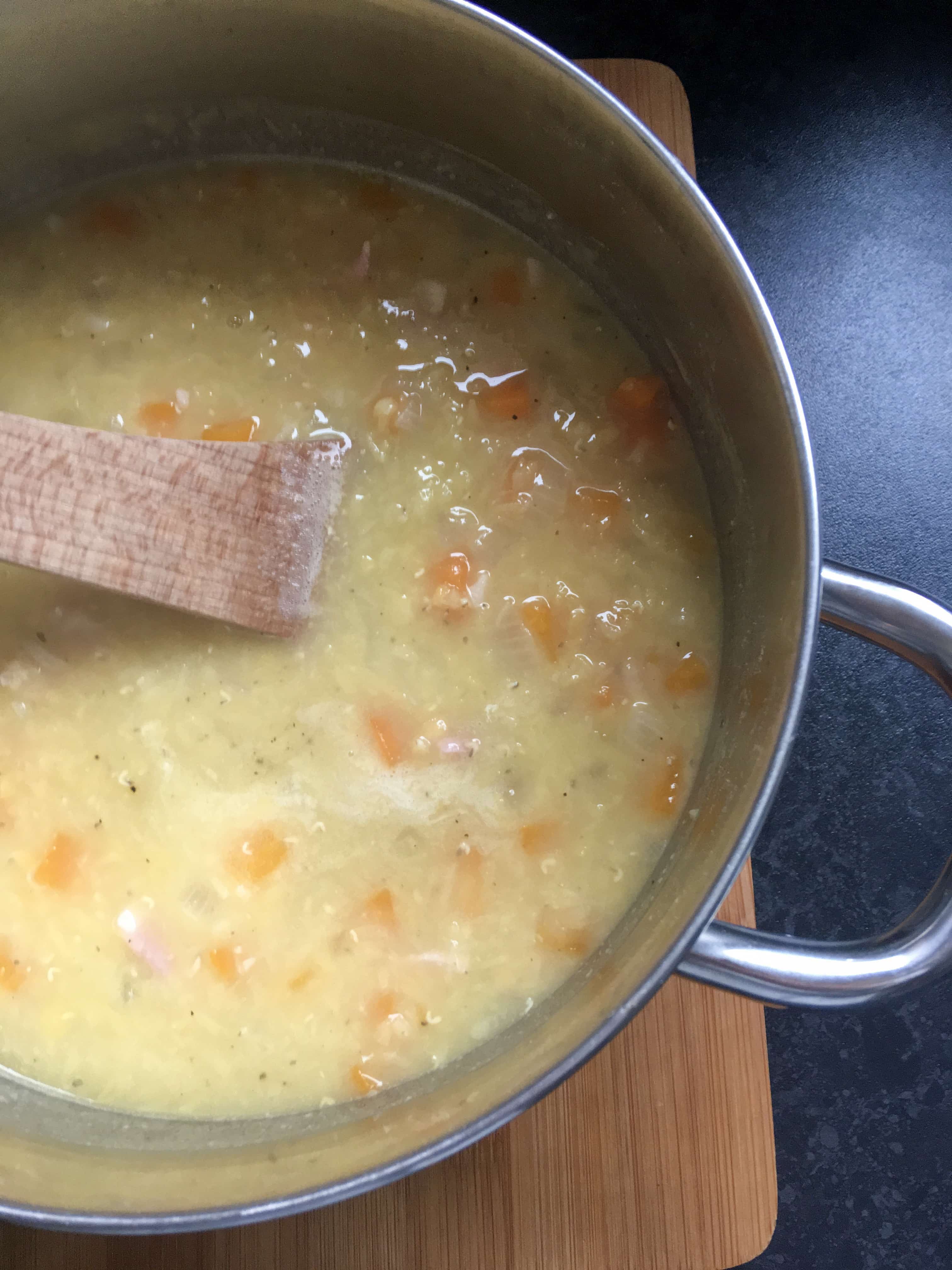 You'll find no fancy ingredients here – just onions, carrots, red lentils, stock and bacon – but you'll most certainly end up with a delicious, homely, comforting soup that will quite happily live in your fridge for a few days, ready for you to heat up whenever you fancy a bowl of hot soup.
I usually make this lentil soup with bacon because I always have a pack of bacon in the fridge.  But for the very best flavour, use a ham hock or gammon joint.  
INGREDIENTS YOU'LL NEED TO MAKE LENTIL AND BACON SOUP
(Scroll to the bottom of the post to find ingredient amounts and detailed instructions)
Back bacon, trimmed of excess fat OR for the very best flavour, a small gammon joint/Ham Hock
if you are using a gammon joint or ham hock, then you might not need to use a stock cube – the meat should flavour the soup just beautifully. You'll know when you taste it – it's just a matter of personal preference.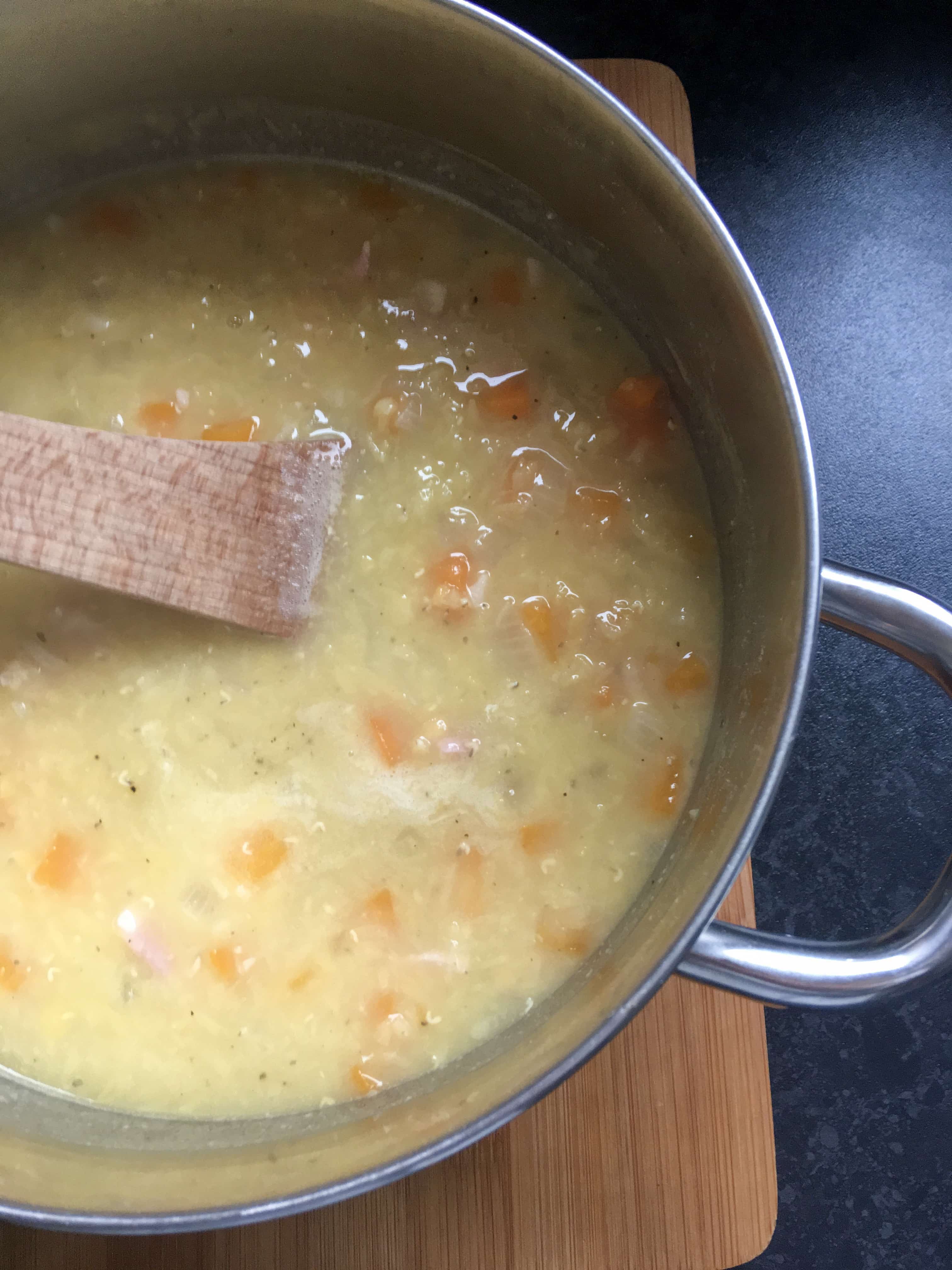 how to make lentil and bacon soup
It's very simple – all you need to do is rinse your lentils in a sieve, place them in a large saucepan along with the onions, carrots, water, and the ham hock or gammon joint if using.  If you're using bacon, you don't need to add it just yet. 
Place the pan on the hob and slowly bring to the boil, keeping an eye on it because lentils have a tendency to swell and bubble over the sides of the pan!
Turn the heat down low, (if you're using a packet of bacon now is the time to add it in) and simmer gently for around 1 1/4-1 1/12 hours. 
WHAT IS A HAM HOCK?
A ham hock is a joint cut from the bottom half of a pigs leg. It requires long, slow cooking. The meat is sweet, tender and is absolutely perfect for a lentil soup.
However, if you can't get hold of a ham hock you can use a small gammon joint instead or as I most often do, use back bacon, cut into bite sized pieces.
DO YOU NEED TO SOAK RED SPLIT LENTILS BEFORE COOKING?
Good news! There is no need to soak red split lentils before you cook them. I simply place the lentils in a sieve and give them a rinse to remove any dust or debris before adding them to the soup.
HOW LONG WILL LENTIL AND BACON SOUP KEEP FOR?
The soup will keep well in the fridge for up to 3 days in an airtight container.
When re-heating the soup you might need to add a little water or stock to loosen it up.
CAN YOU FREEZE LENTIL SOUP?
Yes. The soup can be frozen in ziplock freezer bags or an airtight container for up to 3 months. Defrost in a refrigerator before using and re-heat until piping hot.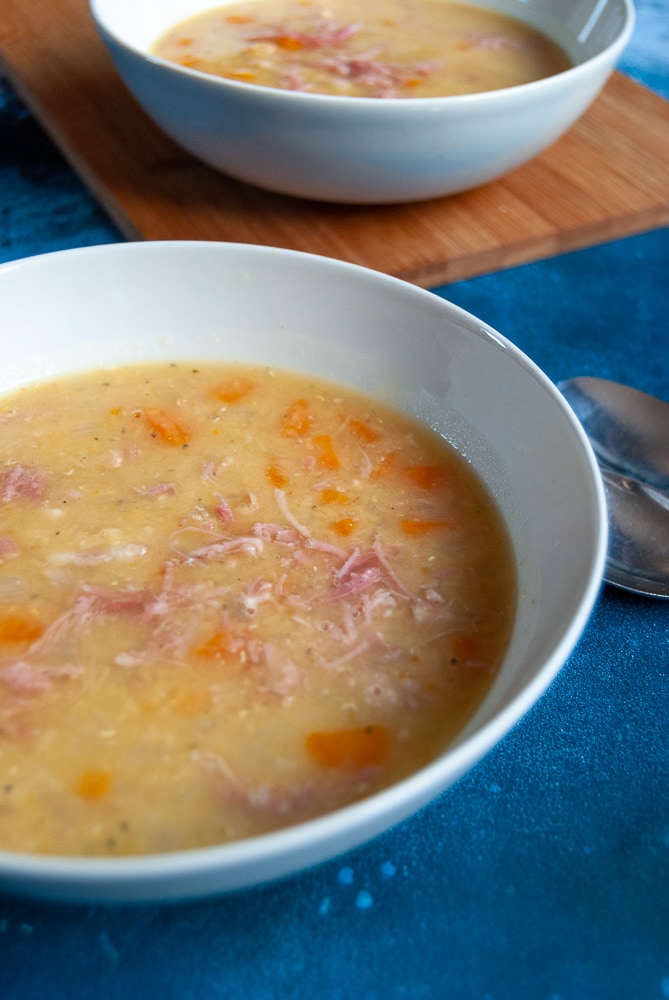 want to see MORE WARMING SOUP RECIPES?
did you make this recipe?
  Let me know what you thought of it by leaving a comment below and if you would rate the recipe out of 5 by clicking on the stars in the recipe card, I would really appreciate it.  Thank you! 
If you've taken a photo of your soup, I would love to see! Tag me on Instagram #sweetsavouryblog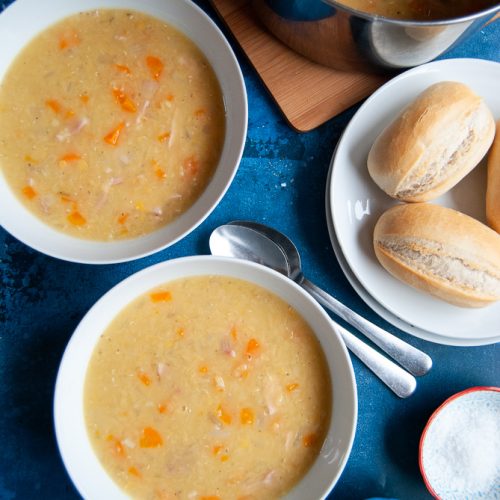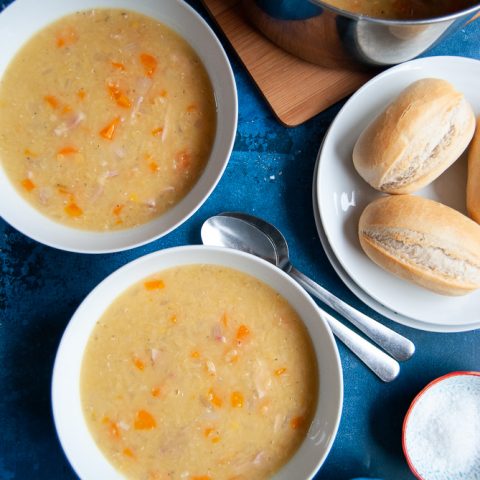 Lentil and Bacon Soup
Total Time:
2 hours
15 minutes
Lentil and Bacon Soup is old fashioned comfort food at its best. Make a big pan of this hearty soup and it will keep well in the fridge for 3 days.
Ingredients
200g Red Split Lentils, rinsed in a sieve to remove dust and debris
1 Large Onion, peeled and diced finely
3 Carrots, Peeled and cut into small dice
6 Rashers of Bacon Bacon, cut into small pieces OR 1 Small Ham hock or Gammon Joint
1.5-2 Litres of water
1 Ham Stock Cube (only if using bacon - you shouldn't need it if you are using a ham hock or gammon joint because the meat will flavour the soup beautifully)
Salt and Pepper
Instructions
Place the rinsed lentils in a large saucepan with the onions and carrots. If you're using a ham hock or gammon joint place this on top of the lentils and vegetables. If you're using bacon there's no need to add it yet.
Pour over enough cold water to cover everything completely - about 1.5-2 litres. Lentils swell as they cook so you might need to add more liquid later.
Bring to the boil, then turn down to a gentle simmer. Add the chopped bacon and ham stock cube if using, then cook on a gentle heat for 11/2-2 hours. Give the soup a stir every now and then to make sure it isn't sticking to the bottom of the pan.
If you're cooking a ham hock or gammon joint with the soup, it will defintely need a good two hours on a slow simmer. The soup is ready when the ham hock or gammon joint pulls apart easily with two forks. Carefully lift the joint from the soup and place on a chopping board.
Using two forks, shred the meat into small chunks and add to the soup. Taste the soup to see if it needs salt and pepper before serving.
Notes
If you like, you can add other vegetables - peeled and diced turnip (swede) or celery go really well with this soup.
Nutrition Information:
Yield:

8
Serving Size:

1
Amount Per Serving:
Calories:

142
Total Fat:

7g
Saturated Fat:

2g
Trans Fat:

0g
Unsaturated Fat:

4g
Cholesterol:

23mg
Sodium:

413mg
Carbohydrates:

9g
Net Carbohydrates:

0g
Fiber:

3g
Sugar:

2g
Sugar Alcohols:

0g
Protein:

11g