This Vegetable Scotch Broth is full of goodness and is perfect for keeping you warm in the cold Winter months. Serve piping hot with lots of crusty bread or oatcakes.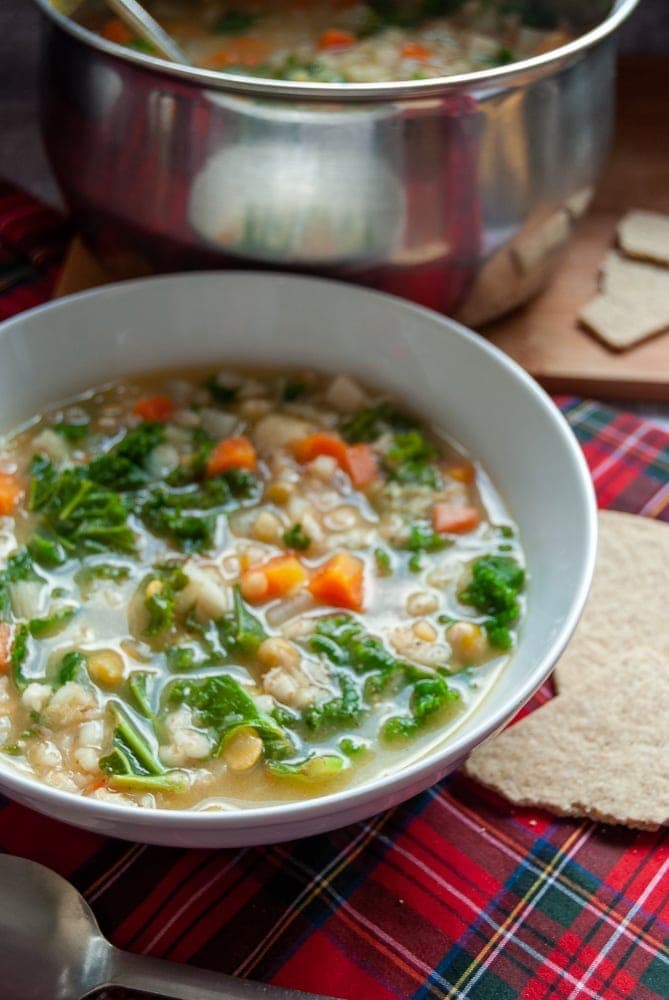 There are many variations of Scotch Broth.
It is traditionally made by simmering the vegetables and pulses with a neck of mutton, but I always remember my Gran using a piece of boiling beef – maybe because beef was readily available.
It might not have been traditional, but it was always so good.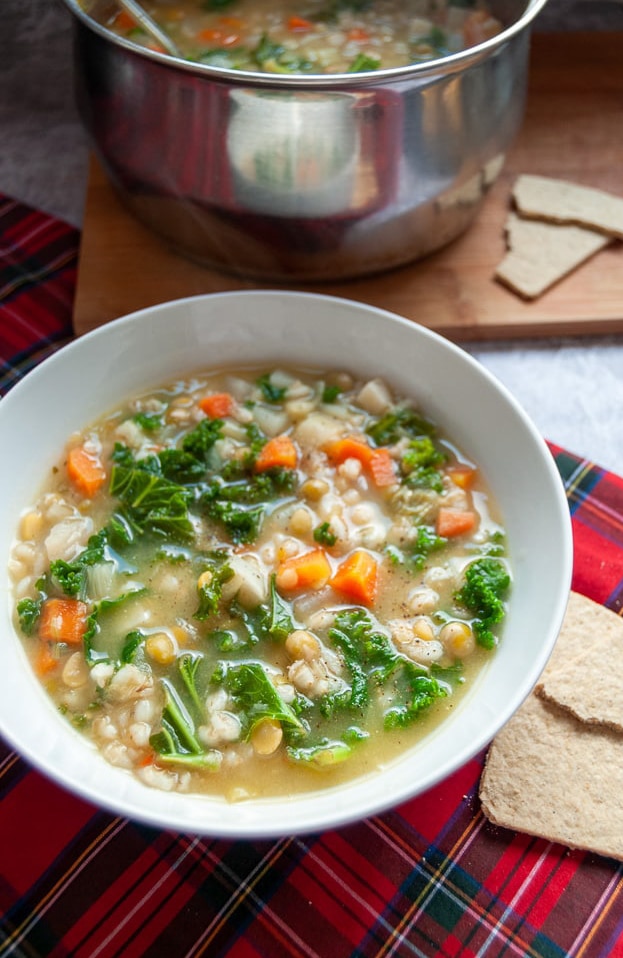 This is my version of the classic Scottish soup – just like my ever popular Tattie Soup, it's vegetarian friendly, cheap to make, comforting and sees me thorough the dark, cold Winter months.
I never make Broth in the Summer time – this is definitely cold weather comfort food.
how to make vegetable scotch broth
(ingredient amounts and detailed instructions are in the recipe card at the bottom of the post)
First of all you need to soak the broth mix for at least 8 hours. I usually do this the night before I make the soup.
I buy my broth mix from any major supermarket. It contains red split lentils, green split lentils, blue peas, pearl barley and dried vegetables.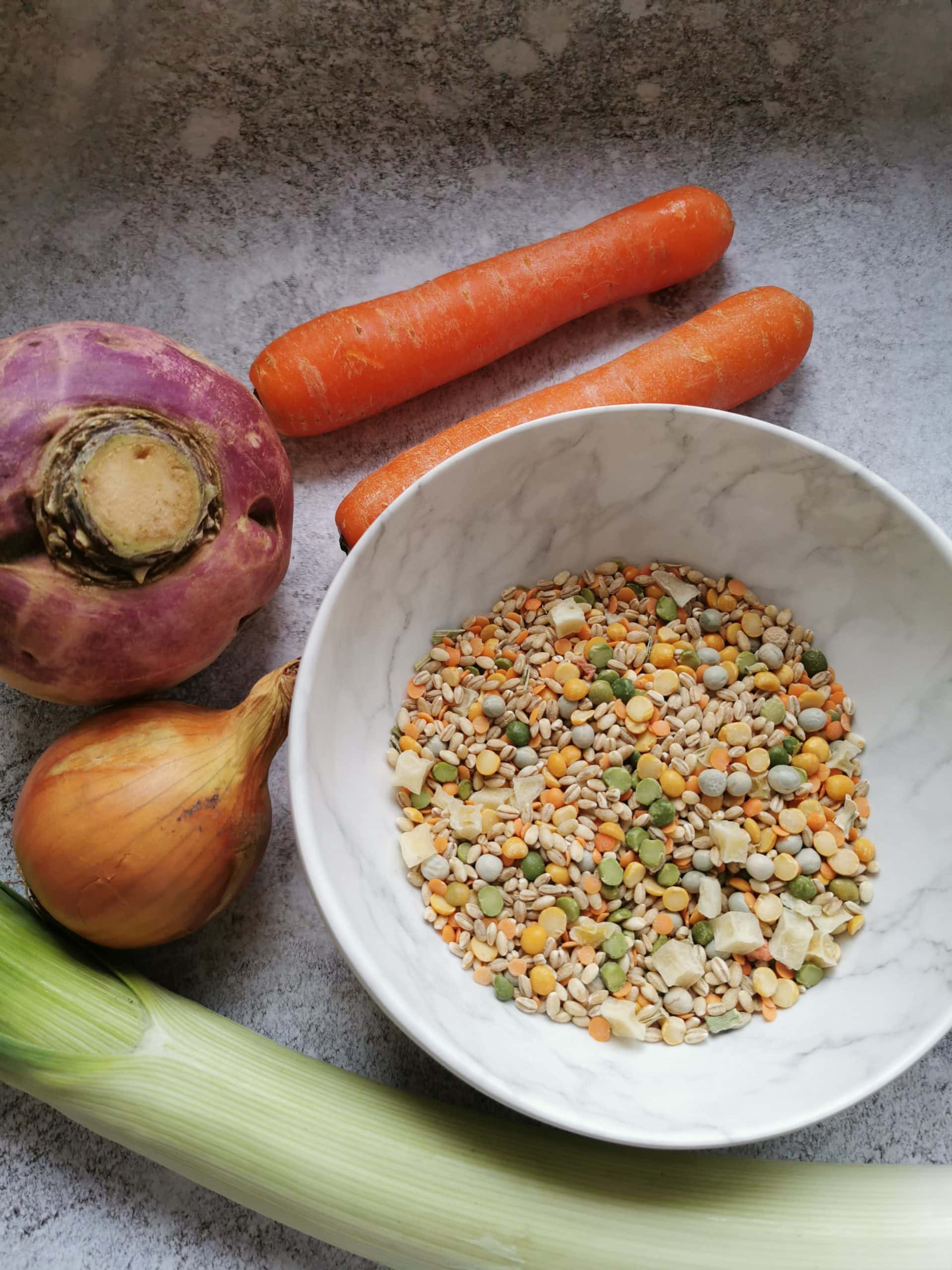 When you're ready to make the soup, drain the broth mix, give it a quick rinse and tip into large saucepan.
Add chopped Leek, onion, carrots and turnip.
Pour in hot vegetable stock and cook on a low to medium simmer for 1-1/2 hours or until the broth mix and vegetables are tender.
Five minutes before you want to serve the soup, add some kale and simmer for 4-5 minutes. The kale should have softened slightly but still have some bite.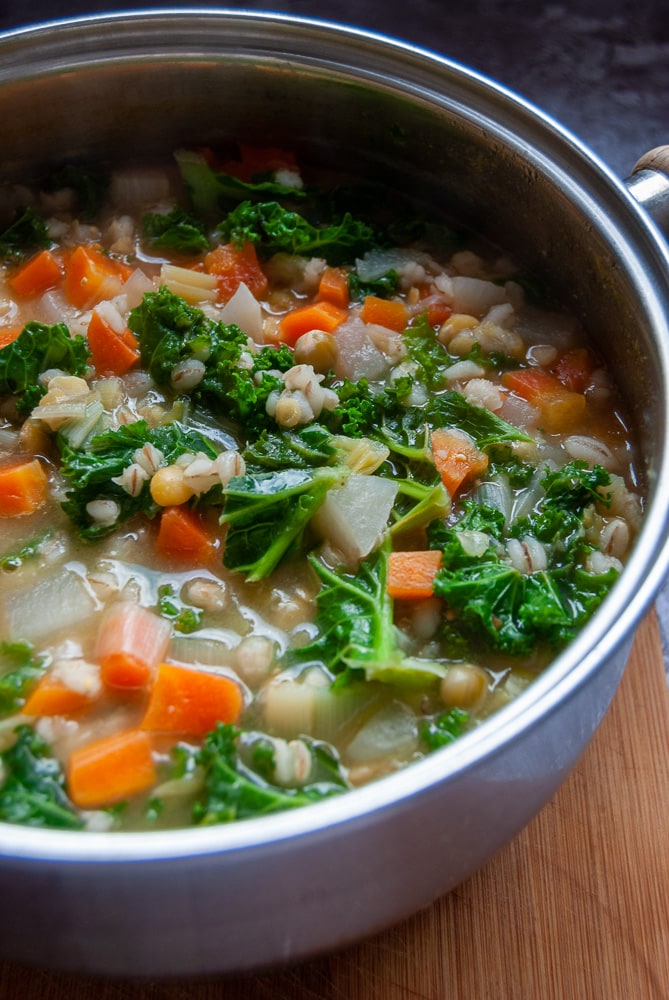 Served with crusty bread or oatcakes, this is a complete meal in itself. A bowl of Scotch broth will keep you fuelled for hours!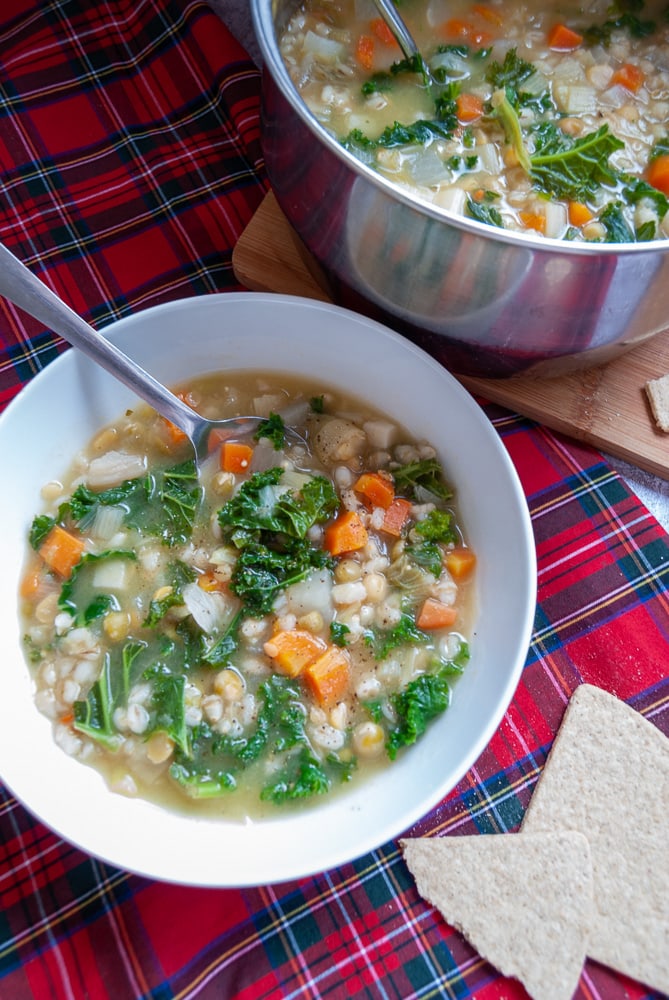 Can you freeze this soup?
Yes! Store in airtight containers or soup freezer bags and freeze for up to 3 months.
How long does scotch broth keep For?
The soup will keep in the fridge for 3 or 4 days. It will thicken up so you will have to add some more water or stock when you re-heat.
looking for more scottish recipes?
Haggis, Neeps and Tatties Cottage Pie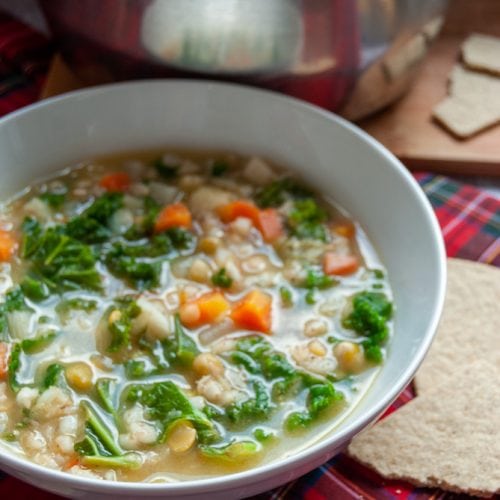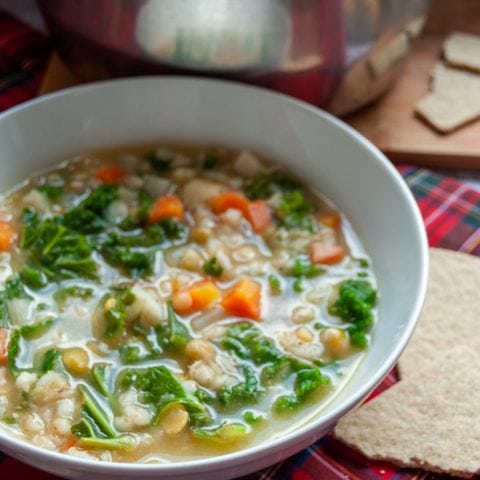 Vegetable Scotch Broth
Cook Time:
1 hour
30 minutes
Total Time:
9 hours
45 minutes
This Vegetable Scotch Broth is full of goodness and tastes delicious. It's perfect for warming you up on a cold Winters Day.
Ingredients
125G Vegetable Broth Mix (from a packet which includes Barley, Yellow Split Peas, Green Split Peas, Blue Peas and Red Lentils)
1 Onion, Peeled and diced
1 Leek, diced finely
3 Carrots, peeled and diced into small pieces
1.5-2 Litres Hot Vegetable Stock
150G Kale, stems removed
Salt and Freshly Ground Black Pepper
Instructions
Soak the Broth Mixture in 500ml cold water for 8-12 Hours. Drain, rinse and place in a large saucepan.
Add the onion, leek, carrots and hot vegetable stock. Cover the pan with a lid and bring to a gentle simmer. Simmer gently for 60-90 minutes.
When you're ready to serve the soup, add the kale and simmer for a few minutes or until the kale has softened slightly. Check the seasoning and serve.
Notes
If you are making this soup, please bear in mind that the broth mix needs soaking in cold water for a minimum of 8 hours.
If you don't need this soup to be vegetarian friendly, you could use chicken stock instead.
Nutrition Information:
Yield:

8
Serving Size:

1
Amount Per Serving:
Calories:

36
Total Fat:

0g
Saturated Fat:

0g
Trans Fat:

0g
Unsaturated Fat:

0g
Cholesterol:

0mg
Sodium:

805mg
Carbohydrates:

7g
Net Carbohydrates:

0g
Fiber:

1g
Sugar:

3g
Sugar Alcohols:

0g
Protein:

1g