Homemade traditional Scottish tablet takes time to make but it's so worth mastering – it is incredibly sweet, crumbly and melts in your mouth. Learn how to make this delicious Scottish sweet treat with my simple step by step instructions!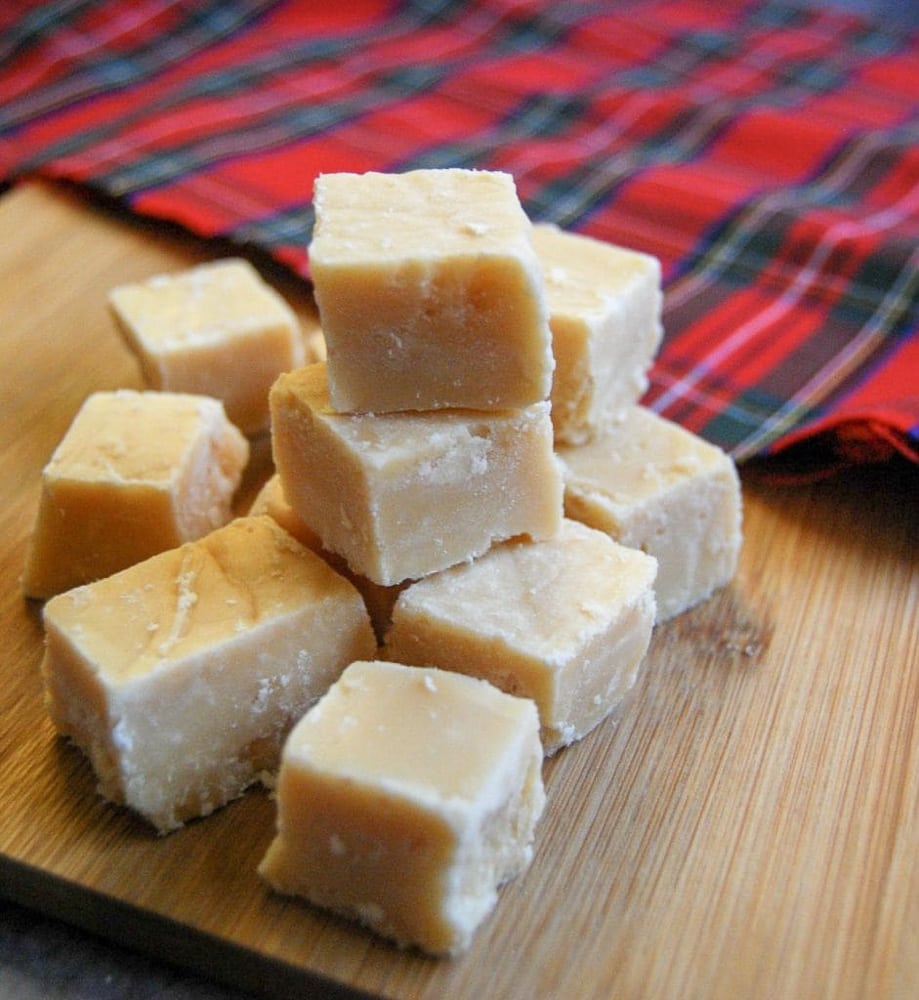 Tablet is the sweetie of my childhood – one bite and I'm instantly reminded of the "sweetie lady" – a lovely woman who used to go around houses selling her home made tablet and fudge. It was the stuff my sweet dreams were made of.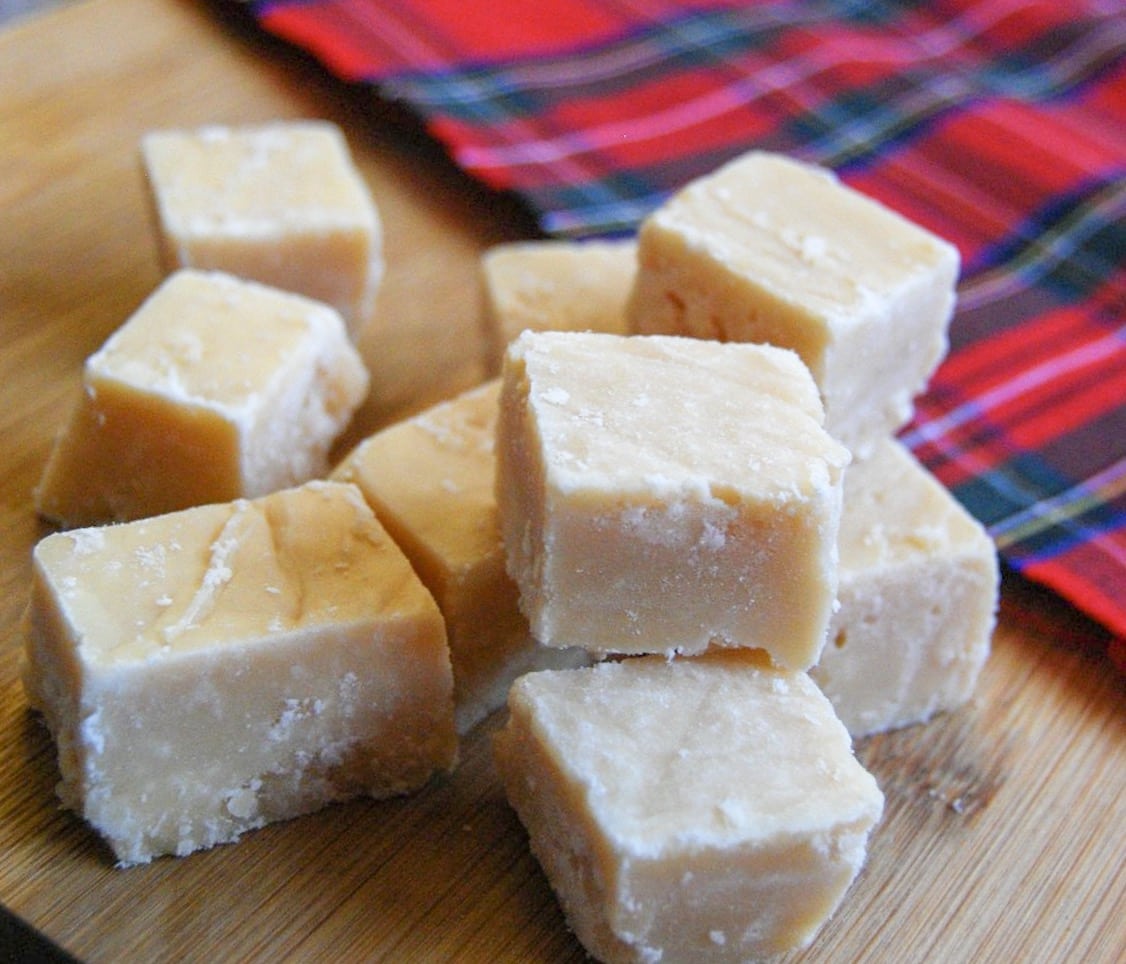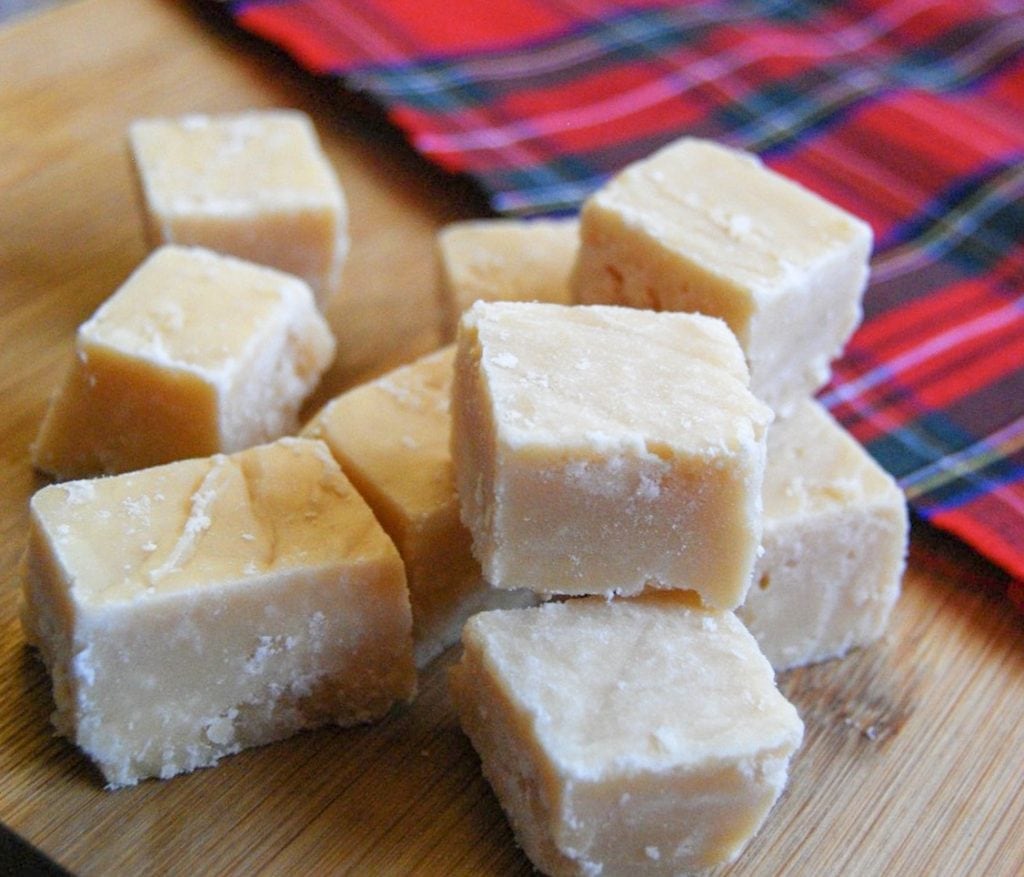 Her tablet was amazing – almost tooth achingly sweet with a slightly grainy texture but melted in your mouth. Eating just one piece was impossible.
Sadly I never got to find out the lady's name, so her identity remains a mystery.
For years I tried (in vain) to re-create the sweetie lady's tablet using various different recipes, but all I ended up with was numerous burnt pans of sugar. But I persevered and this is the result.
Want to try more Scottish recipes from my childhood? Check out my Drop Scones (Scottish Pancakes), Scottish Shortbread, Empire biscuits, Scottish Steak Pie, Dundee Cake and Treacle Scones recipes.
scottish tablet recipe
The number one thing to remember when making tablet – it needs your undivided attention.
If the phone rings, don't leave the pan on the hob to answer it, even if you think you'll only be a few seconds.
ingredient list
white sugar. You need a LOT of sugar to make tablet. Good old granulated sugar is fine, but you can also use caster sugar. Do remember that you eat tablet in tiny little squares and you certainly couldn't eat much in one sitting, so try not to let the sugar content put you off making it!
Butter. Either salted or unsalted is fine. I've used both and if I'm honest I've never noticed that much of a diference. Please, please please don't use anything other than proper, real butter.
Full fat milk is an essential ingredient in tablet.
Condensed Milk – not to be confused with evaporated milk.
Optional flavourings – You could add 1 teaspoon of pure vanilla extract or keeping with tradition, a tablespoon of whisky!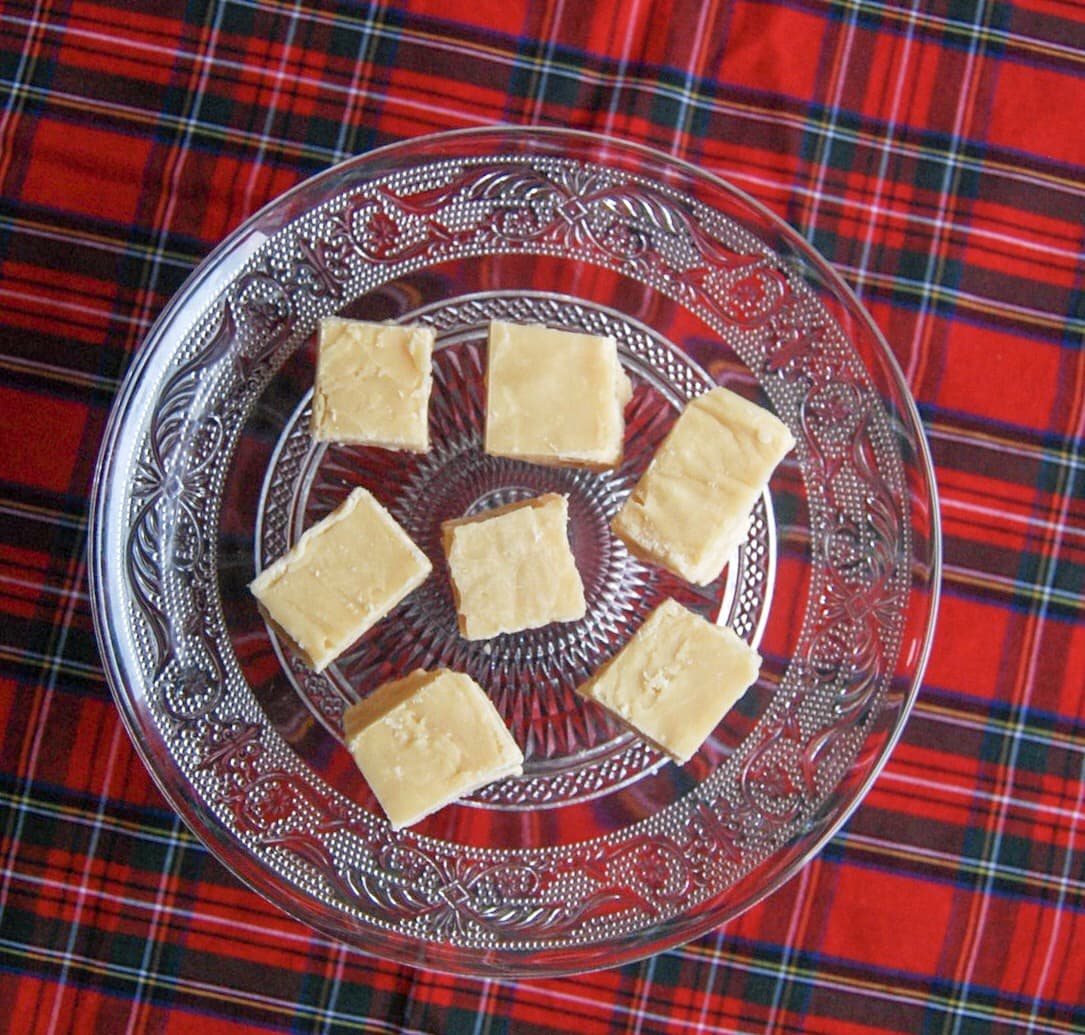 HOW TO MAKE TRADITIONAL SCOTTISH TABLET….
Melt the butter, sugar and milk over a low heat in a large, heavy bottomed saucepan.
When the mixture has completely melted and there are no grains of sugar remaining, add the condensed milk and slowly bring to the boil, stirring all the time.
The mixture will start to bubble quite furiously and that's fine, as long as you keep stirring so it doesn't catch on the bottom of the pan.
If you have a sugar thermometer, by all means use it – it takes the guess work out of when you need to take the mixture off the heat!
The setting point for tablet is 120C. If you don't have a thermometer, then you can drop a piece of the mixture in a glass of cold water – if it sticks together and forms into a ball shape, then it's ready.
Do bear in mind that it can take about 15-20 minutes for the tablet to reach the correct temperature.
This is where you're going to get a bit of a work out! That's if you don't use a stand mixer. As soon as the tablet comes off the heat, add vanilla extract, if using (or whisky if you like!) and beat it like mad for about 10 minutes until the mixture starts to thicken and turn slightly "grainy."
If you scrape down the bowl with a spatula, the mixture should be thick enough to stick to the spatula (see picture below.)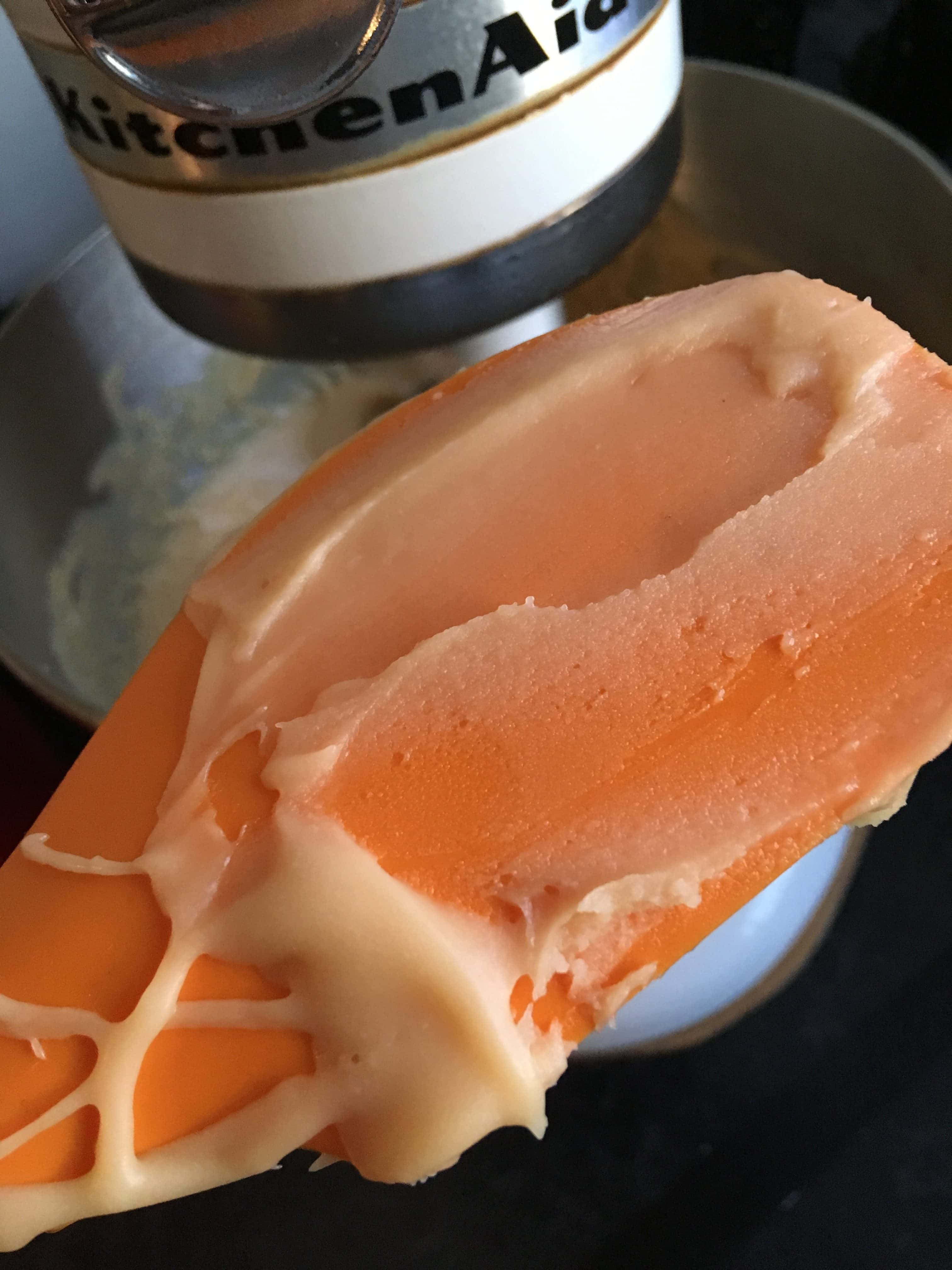 As soon as the mixture has thickened, pour it into a greased and lined tin measuring 9×11 inches. I always use a Pyrex dish.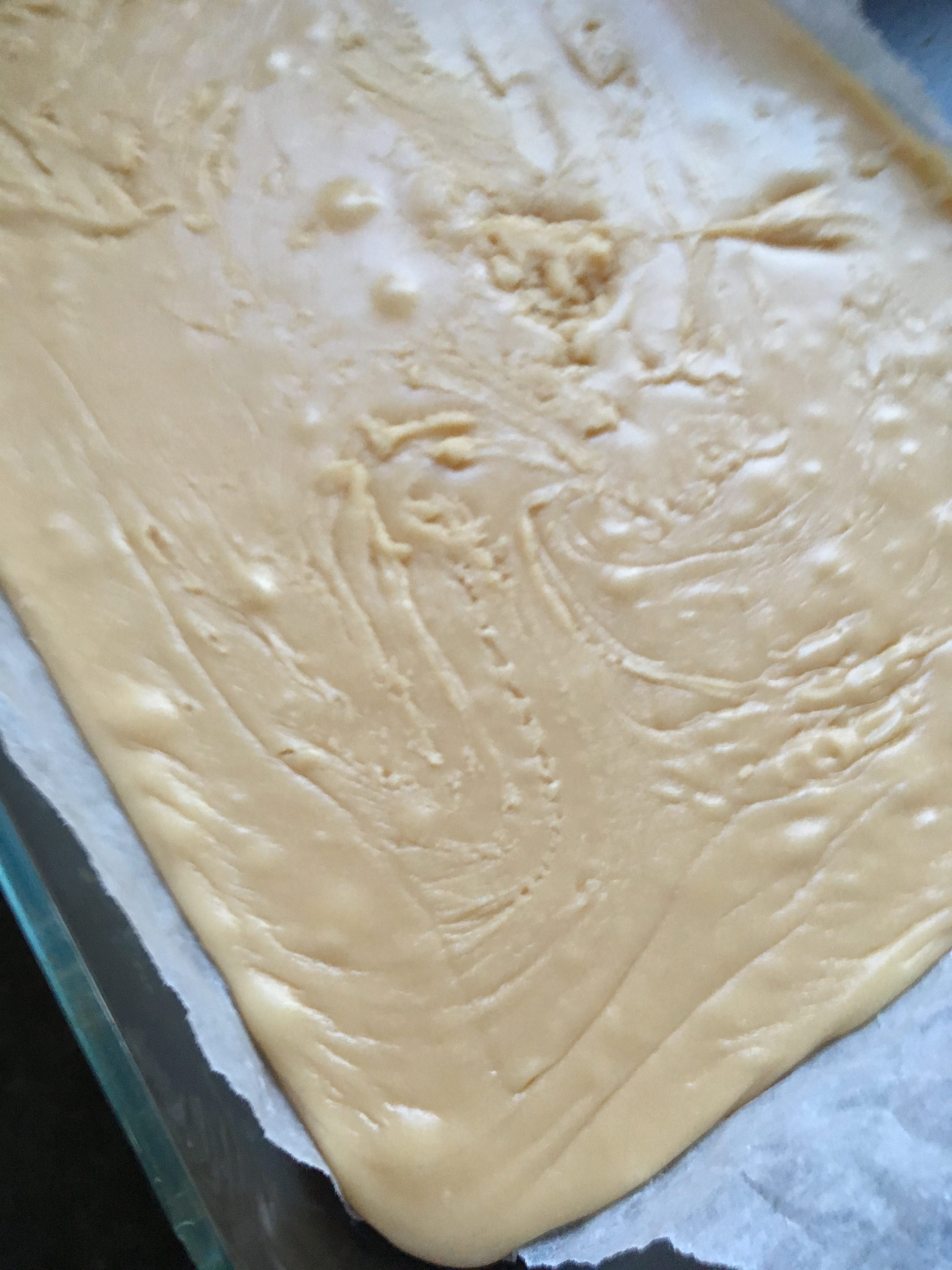 Then all you need to do is leave it to set a little (about 20-30 minutes) before scoring into squares with a sharp knife. You don't have to do this, but if you wait until the tablet sets completely until cutting the tablet will shatter and you won't get nice neat squares.
So that's how you make the perfect tablet – it's not difficult but it does demand your full attention!
However, the end result is totally worth it. Following my instructions will give you perfect tablet that your family and friends will beg you to make time and time again!
commonly asked questions
is tablet the same as fudge?
Although tablet and fudge are made in a very similar way, fudge is much softer than tablet. Tablet sets a little firmer than fudge and has a slightly grainier texture.
Why is my Scottish tablet not setting?
If your tablet hasn't set, then it probably didn't reach the correct temperature while cooking. The tablet really needs to boil for a good 15-20 minutes to reach setting point. This is why I highly recommend using a sugar thermometer – it will really help take the guess work out of wondering if your tablet will set properly.
Can i reboil tablet?
Yes. If your tablet hasn't set, scrape it into a saucepan and reboil to setting point. I've had to do this once or twice in the past – I was so glad I didn't throw the mixture away!
how long does homemade tablet last?
Since sugar is a natural preservative, tablet will last for a while! Stored in an airtight tin, it will keep well for up to two weeks.
Can you freeze Scottish tablet?
Yes you can! Store the tablet in a freezer suitable box or bags and freeze for up to 5 months. Make sure you defrost the tablet at room temperature before eating – you wouldn't want to loose a tooth!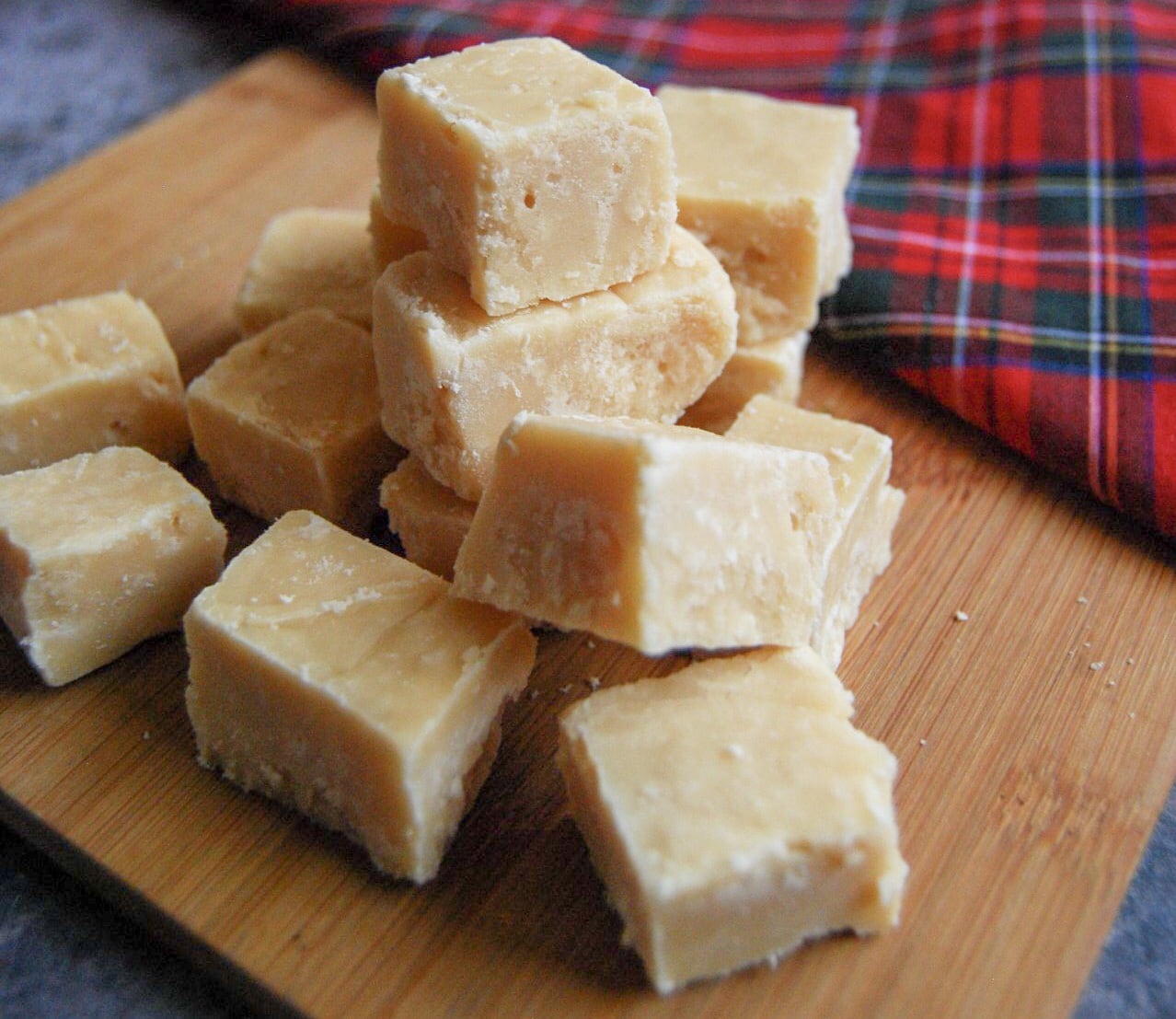 If you make my tablet recipe, I would love it if you shared a picture on my Facebook or Instagram page. Alternatively if you have any questions, please leave me a comment below!
Looking for more Scottish recipes?
Pin this recipe for later…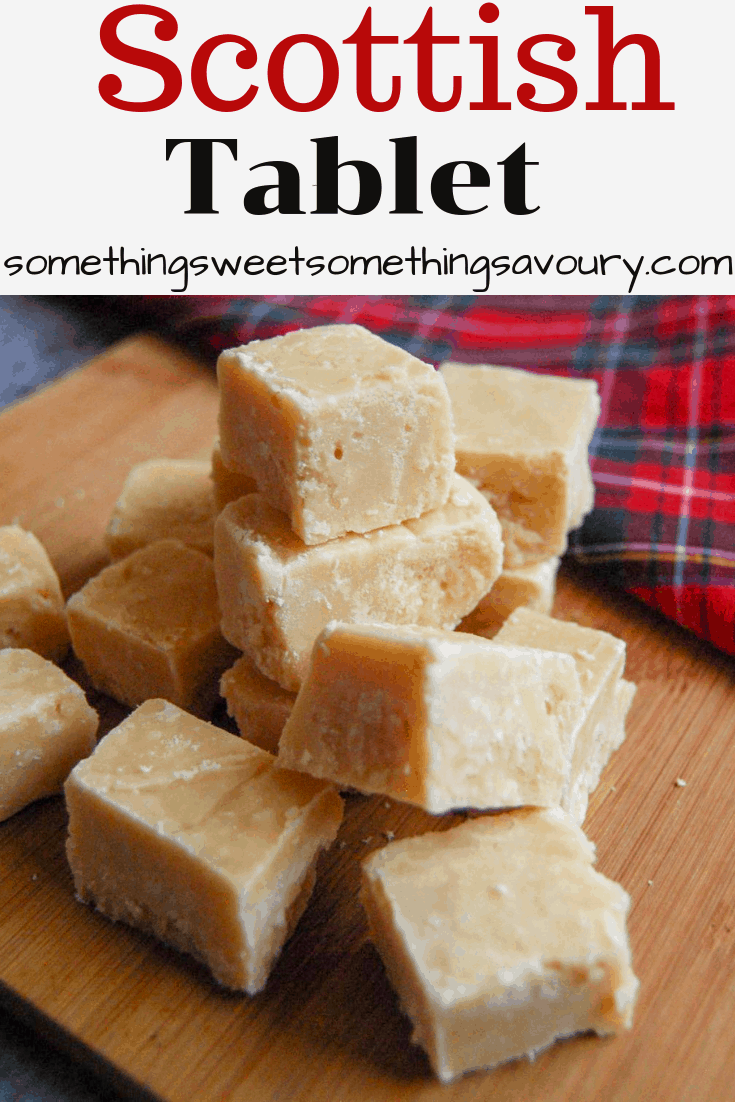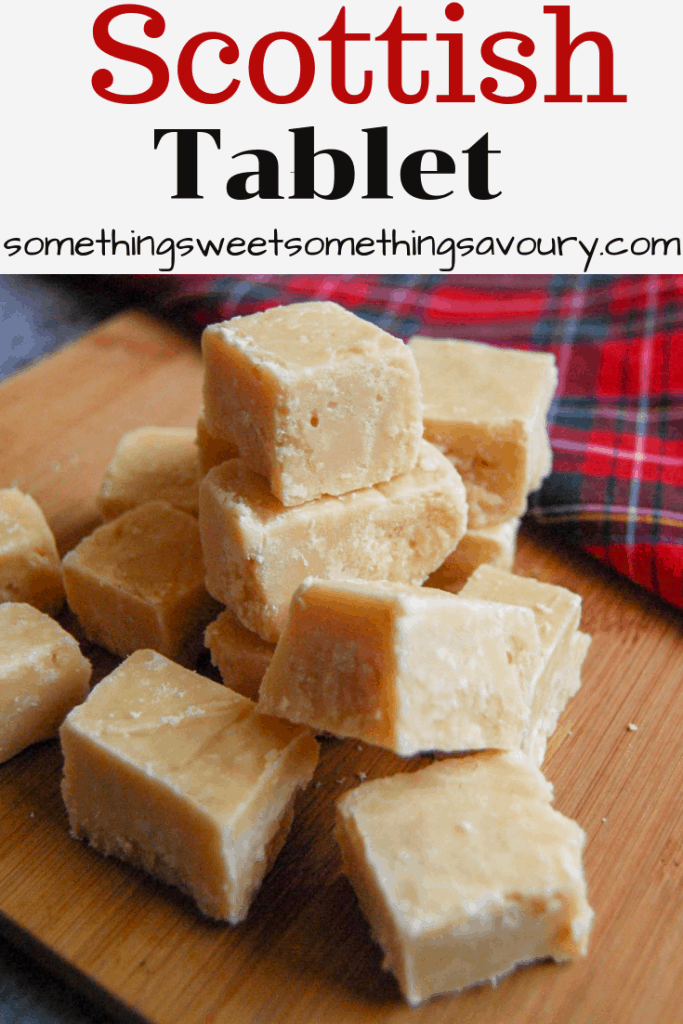 did you make this recipe?
I really hope you loved it! Let me know by leaving a comment below and rate the recipe out of five by clicking on the stars in the recipe card. Got any questions or need any help with the recipe? Please get in touch and I'll do my best to help.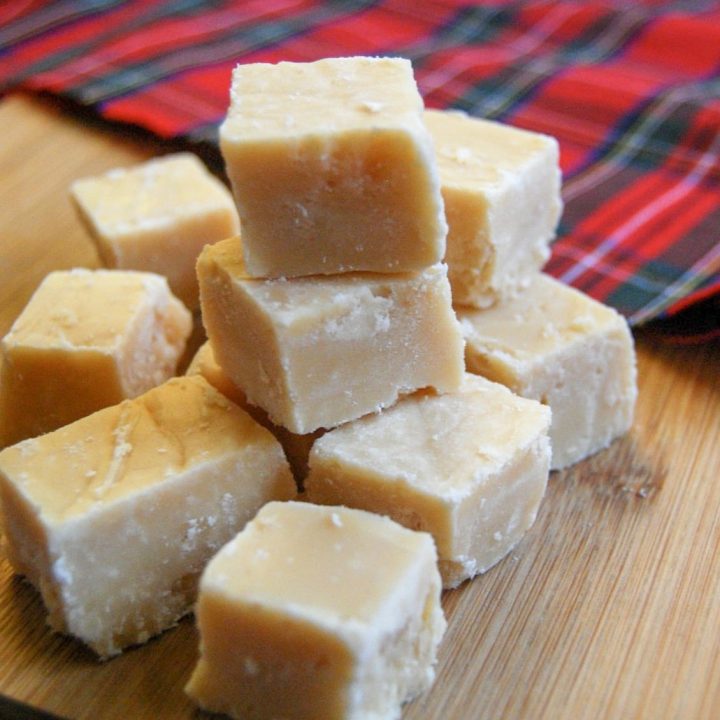 Traditional Scottish Tablet
An easy recipe for Scottish tablet - an old fashioned, crumbly sweet treat!
Ingredients
125 g salted butter
2 lb (900g) - really! granulated sugar
250 ml whole milk
One 397g tin condensed milk
1 tsp vanilla extract
Instructions
Grease a 13x9 inch tin with butter and set aside.
Melt the butter in a large, heavy based pan over a low heat. Tip in the sugar and milk and keeping the heat low, allow the sugar to dissolve, stirring occasionally. When everything has melted together and there are absolutely no grains of sugar left, add the condensed milk and slowly bring to the boil, stirring constantly.
If you have a sugar thermometer, the setting point is 120c. Otherwise, keep a cup of cold water by the side of the hob. To test the tablet, drop a small piece into the water. If it forms into a soft ball, it's ready.
Now for the part where you'll need a bitof muscle - take off the heat, stir in the vanilla extract and beat vigorously for about ten minutes, or until the tablet is thicker and slightly grainy in texture. I've heard of some people using a mixer for this step which would save you from getting sore and tired arms!
Tip the mixture into the buttered tin and smooth out as best as you can. I find a silicone spatula is best here.
Leave to set and cut into small squares.
Notes
Yes, Scottish tablet contains a LOT of sugar! But it's for a once in a while treat. Just as long as you don't eat the whole batch! 😉
Nutrition Information:
Yield:

24
Serving Size:

1 piece
Amount Per Serving:
Calories:

243
Total Fat:

6g
Saturated Fat:

4g
Trans Fat:

0g
Unsaturated Fat:

2g
Cholesterol:

18mg
Sodium:

60mg
Carbohydrates:

47g
Net Carbohydrates:

0g
Fiber:

0g
Sugar:

47g
Sugar Alcohols:

0g
Protein:

2g