Dundee Cake is a traditional light Scottish fruit cake packed full of dried fruit, almonds, orange and lemon zest and orange marmalade. It is instantly recognisable with its trademark pattern of blanched almonds on top. It's absolutely delicious and is very easy to make. Apparently Queen Elizabeth is partial to a slice!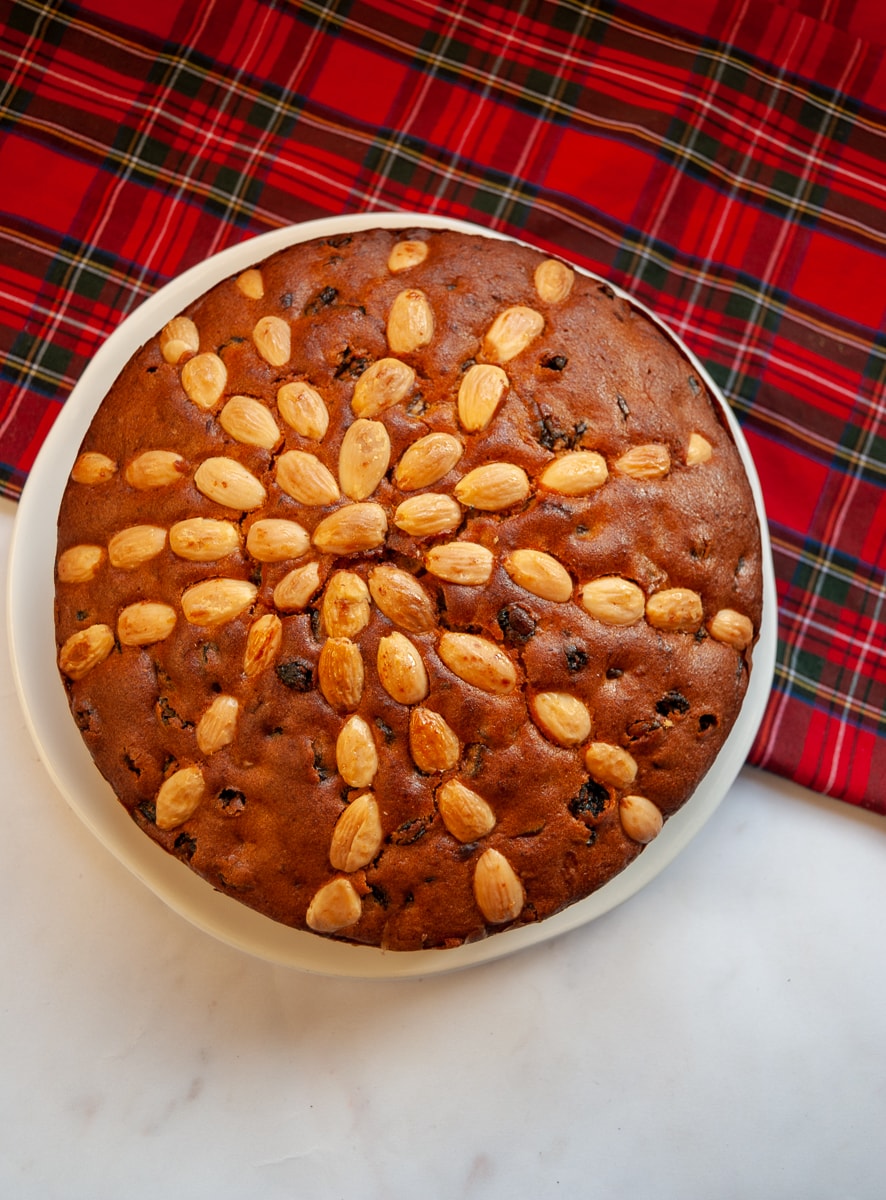 I love a good fruit cake recipe and a Scottish Dundee cake is one of the best! There are hundreds of recipes online for this traditional Scottish cake – this version is adapted from a Delia Smith recipe.
A slice of this light, crumbly fruit cake makes a delicious afternoon treat with a cup of tea. Rumour has it the Queen is a fan – and often has a slice for afternoon tea!
why is it called dundee cake?
As the story goes, this light fruit cake was created in the late 1700s by the Dundee based company Keiller, as a sideline to their very successful marmalade making business. The original recipe contained only sultanas and naturally, lots of orange peel.
I'm not a big fan of peel but I love citrus, so my version of this timeless Scottish fruit cake has orange and lemon zest and a few spoonfuls of orange marmalade. However if you wish to add some dried peel, please do. By the way, I love Mackays Seville orange marmalade. Tiptree is also very good.
The original recipe for Dundee cake didn't include cherries – apparently Mary Queen of Scots despised them so they were omitted. Peronally, I love cherries in fruit cake but they just don't seem quite right here. But if you want to add them, please feel free!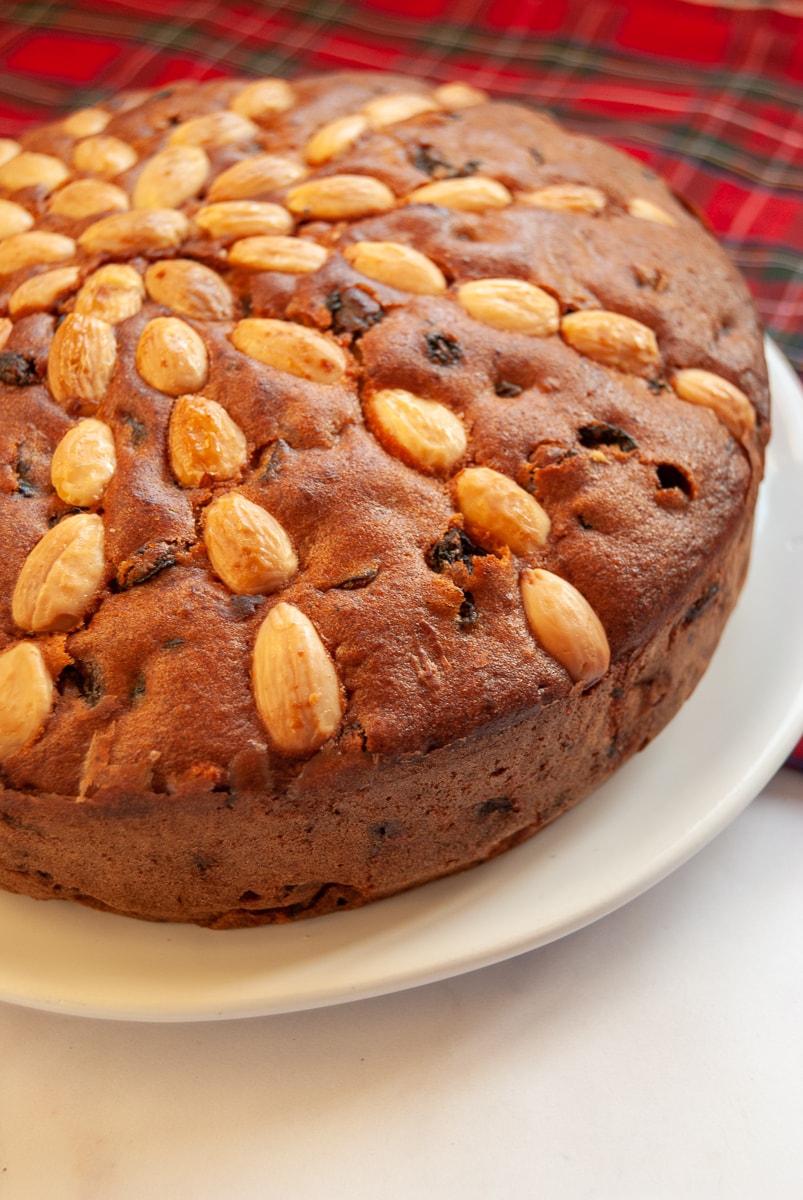 what's the difference between dundee cake and a fruit cake?
A Dundee cake isn't as rich as a Christmas fruit cake – it's a light fruit cake studded with whisky soaked dried fruits and topped with crunchy almonds. It's quite similar in texture to this mincemeat loaf cake.
the main ingredients in a traditional dundee cake
As I've mentioned above, what sets a Dundee cake apart from a regular fruit cake is the distinct zesty orange flavour from both freshly grated orange zest and orange marmalade.
You'll need sultanas and raisins to make this cake. Feel free to add some mixed peel if you like it.
If your dried fruit has been sitting in the cupboard for a while, it can tend to dry out a little. Soaking the fruit in a little alcohol or orange juice will inject some moisture back into the fruit and add a lovely flavour.
Ground almonds add moisture and lightness to the cake.
A pattern of blanched almonds placed on top of the cake add a pleasing crunch and look rather pretty.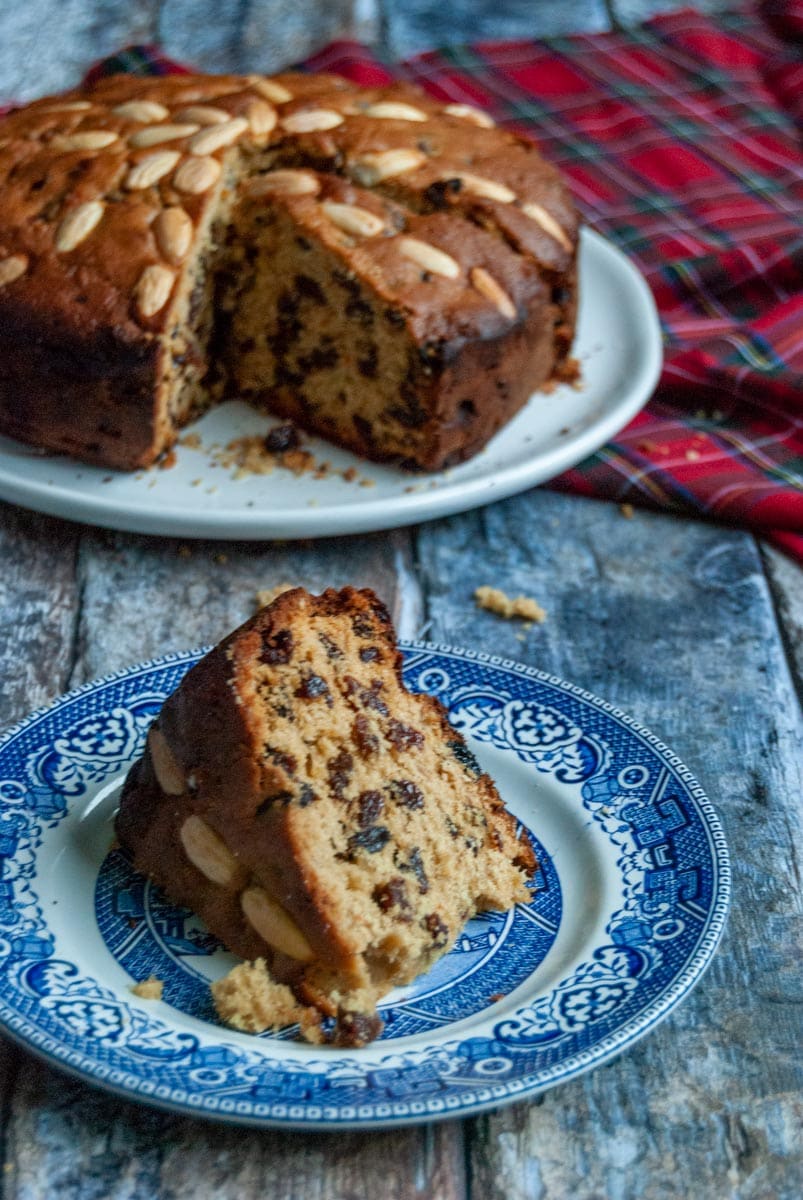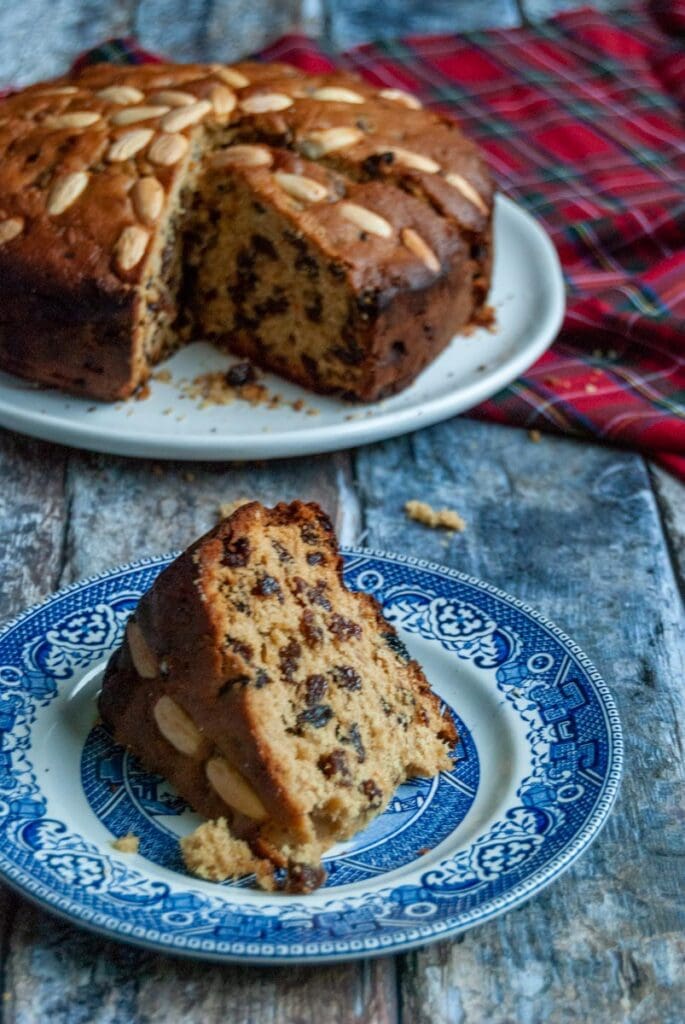 step by step instructions
(scroll to the bottom of the post to find printable recipe card – this is just a visual guide)
Place the dried fruit in a pan with some whisky (I used Drambuie) or orange juice. Bring to the boil, then turn down and simmer for about 5 minutes. Remove the pan from the heat and allow to cool down. This can be done up to a day or two in advance. You don't have to do this, but I think it's a step worth doing.
Cream the butter and sugar together until very light and fluffy. Slowly add the eggs, one at a time.
Fold in the flour/baking powder along with the ground almonds, orange and lemon zest. Finally, fold in the dried fruit.
The cake mixture will be pretty stiff which is normal for a fruit cake, so I like to add a couple of tablespoons of milk to slacken the mixture.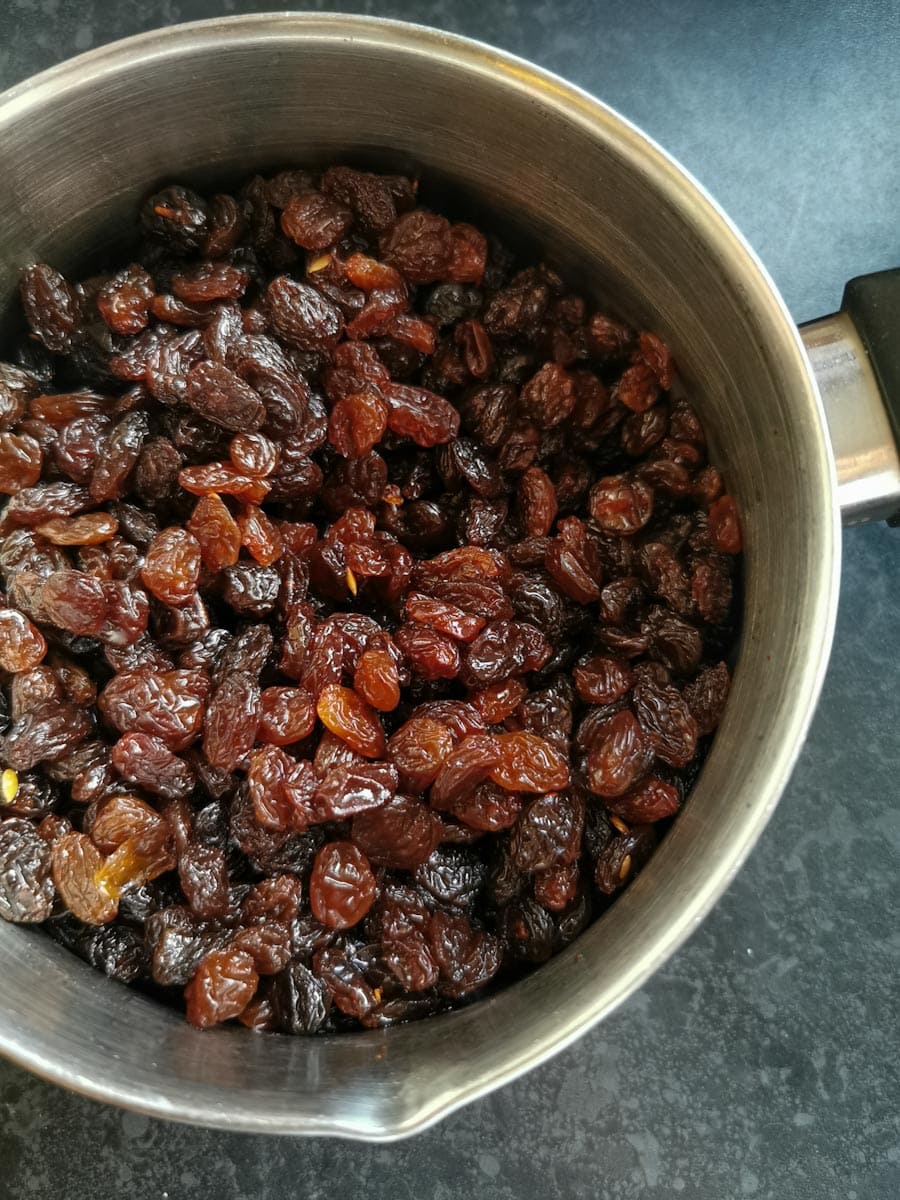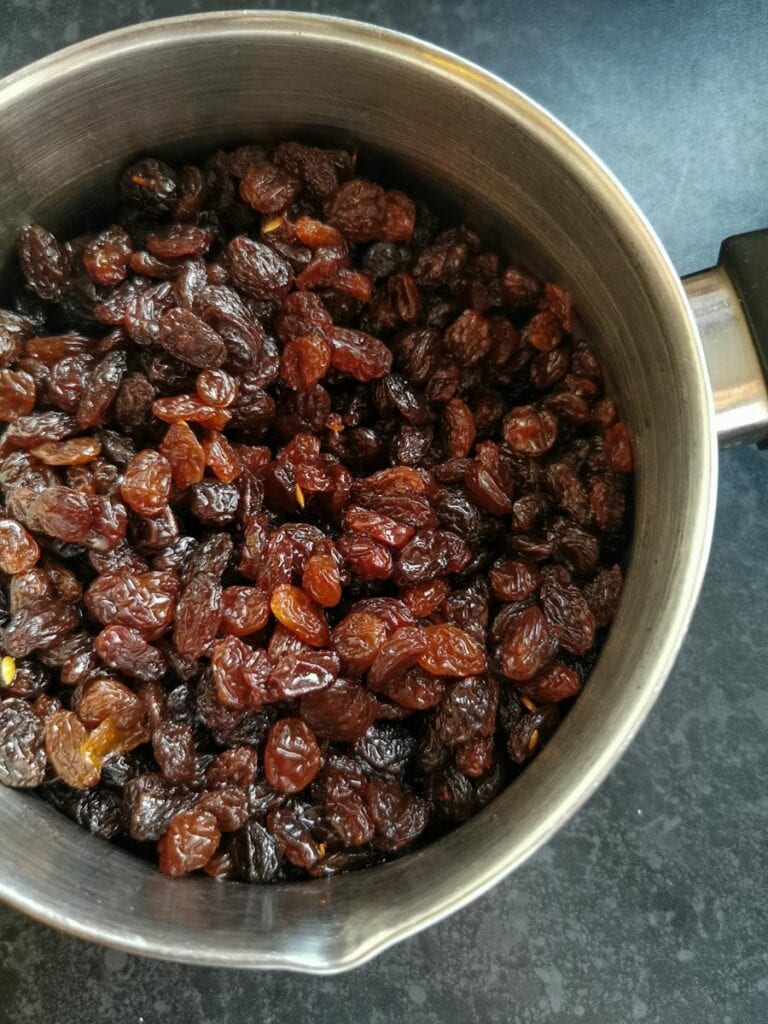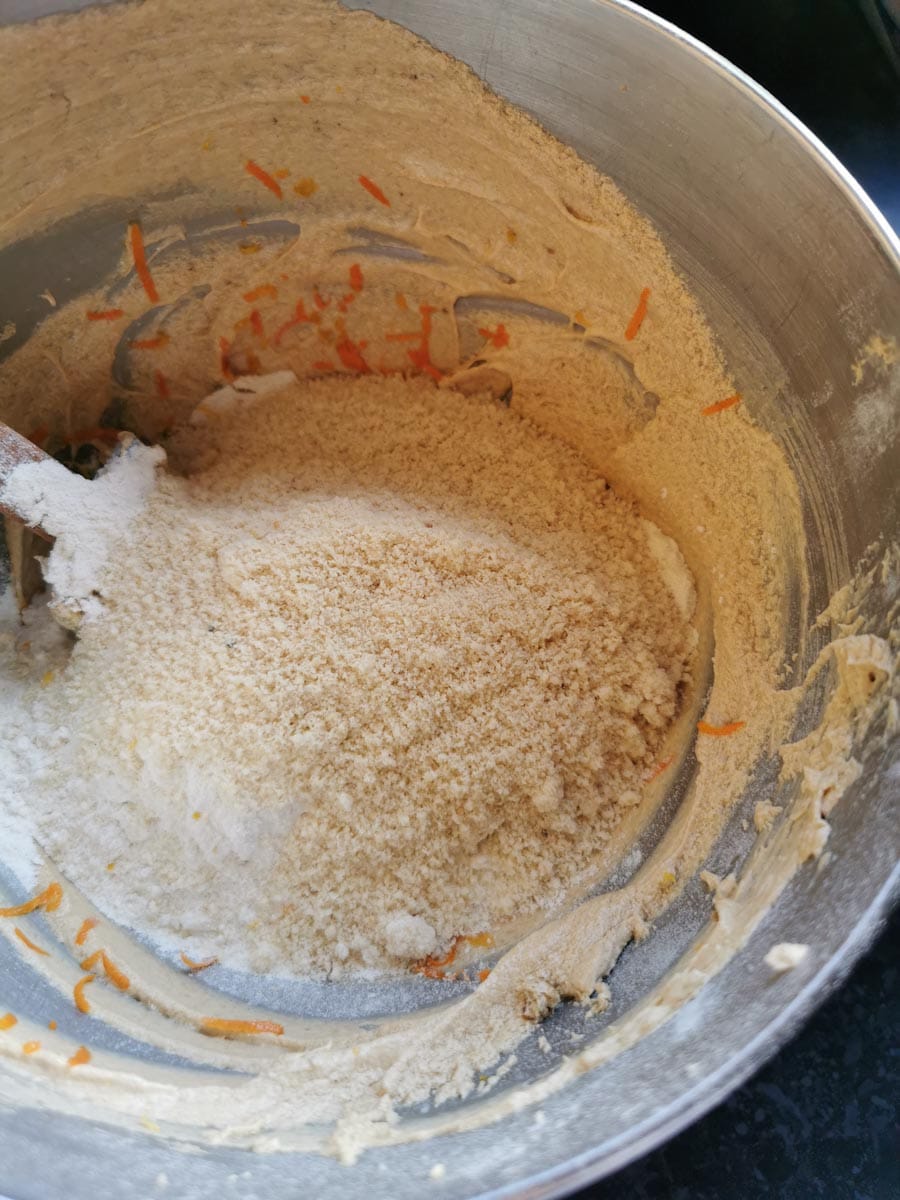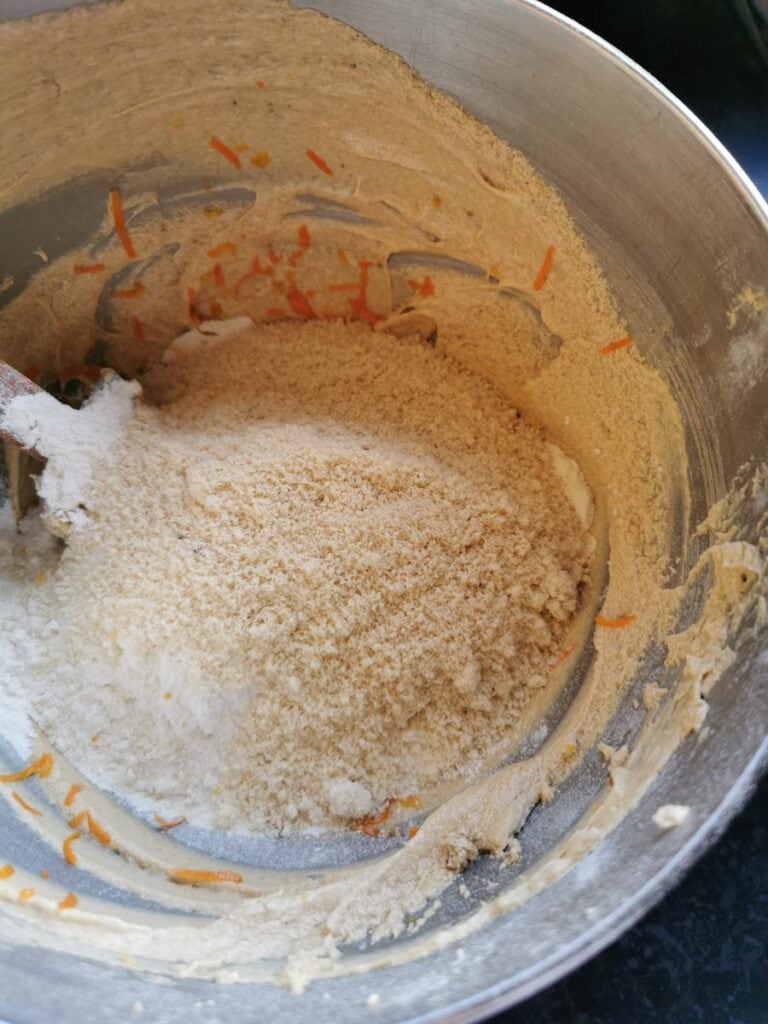 Spoon the cake mixture into a lined 20cm round cake tin. Decorate the top with blanched almonds. Bake for around 90 minutes at 150C/130Fan or until a skewer inserted in the middle of the cake emerges clean.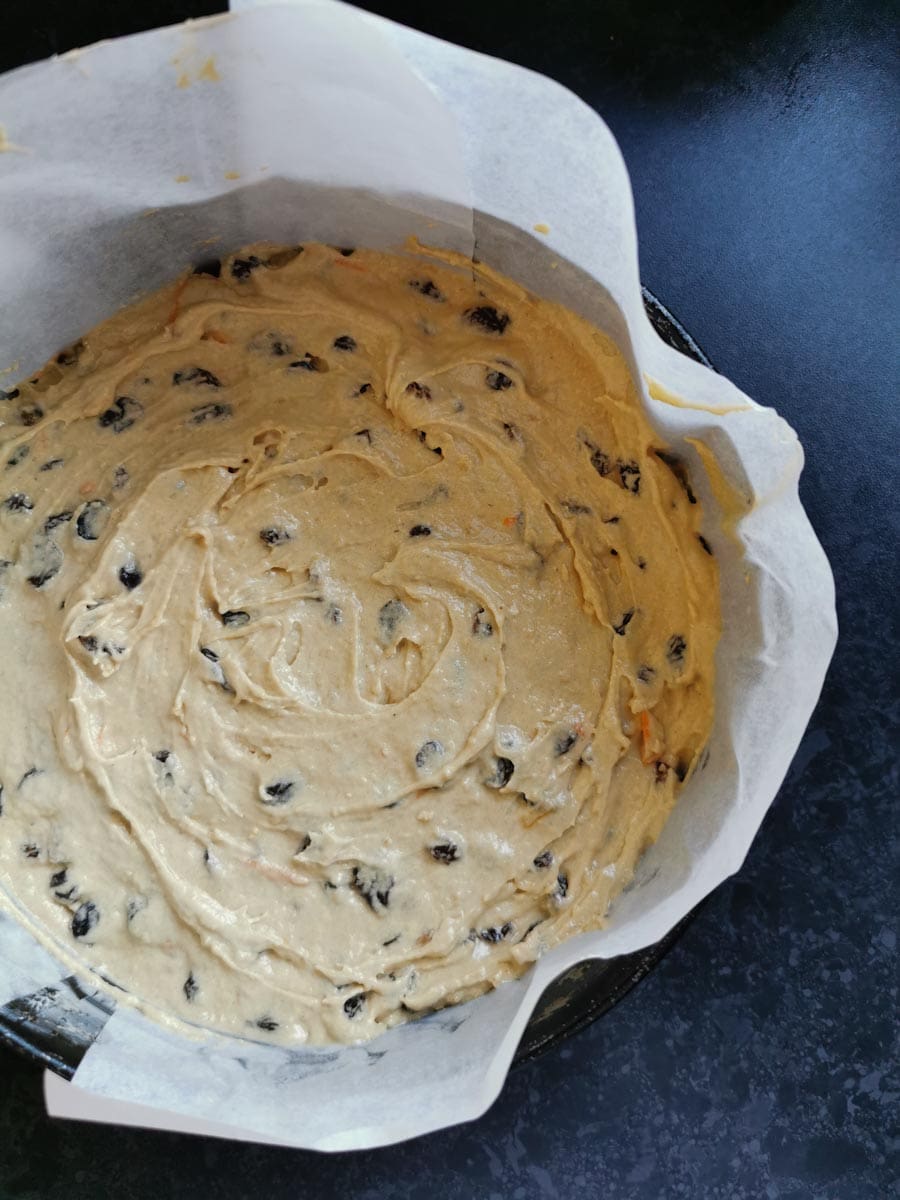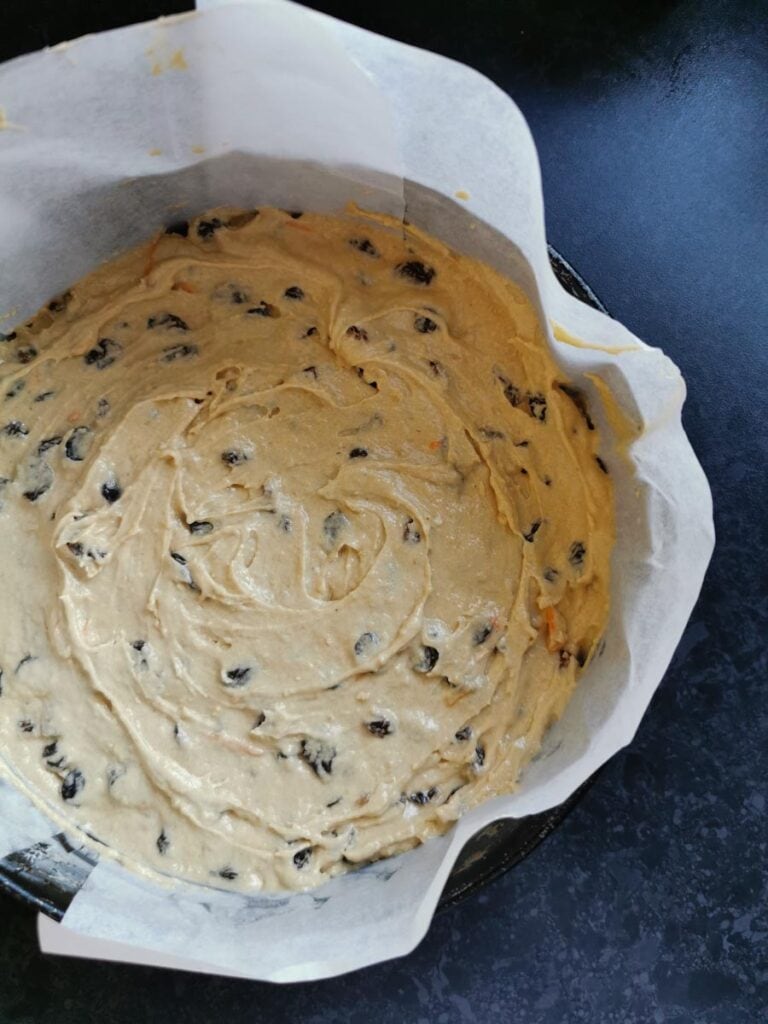 how long will a dundee cake keep for?
Wrapped in a layer of baking parchment or greaseproof paper, this fruit cake will keep for a good couple of weeks. However, it is at its best within a week of baking.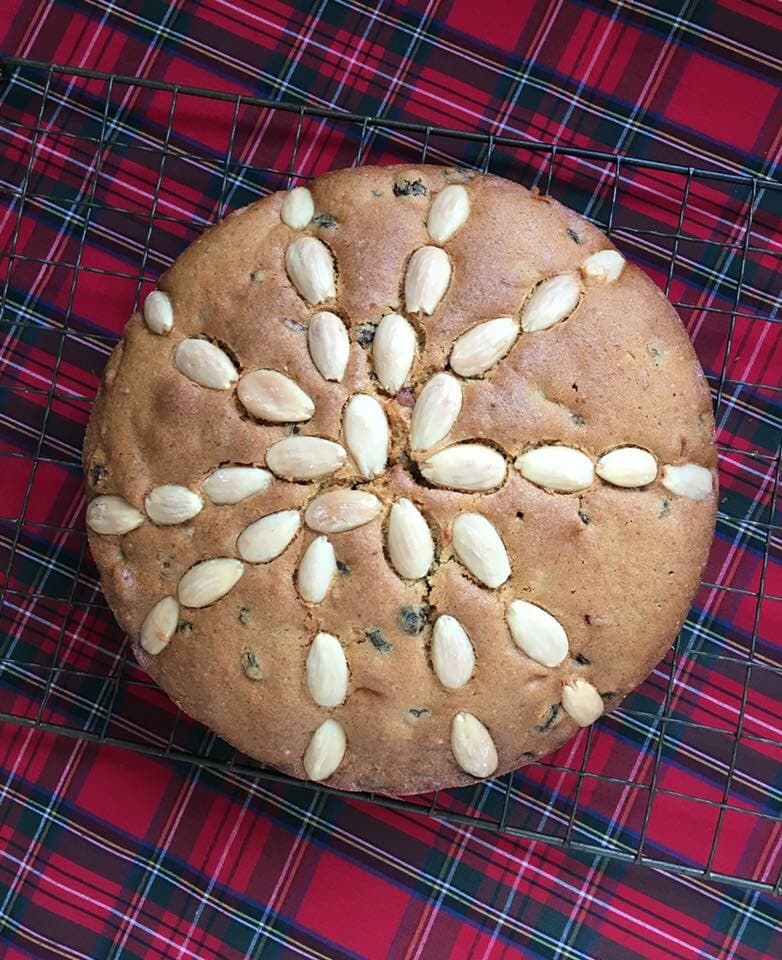 If you were planning a Scottish themed afternoon tea party, you couldn't go far wrong with this traditional Scottish Dundee cake, a plate of empire biscuits and a batch of traditional Scottish tablet.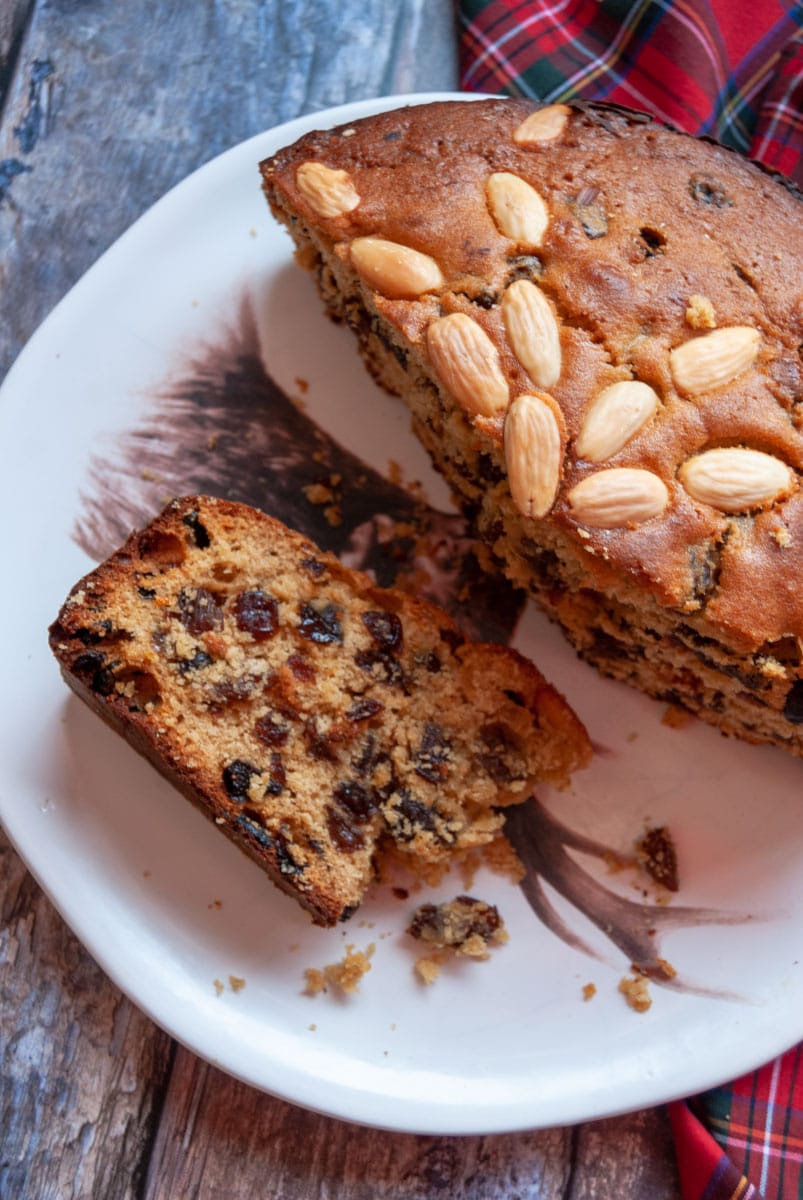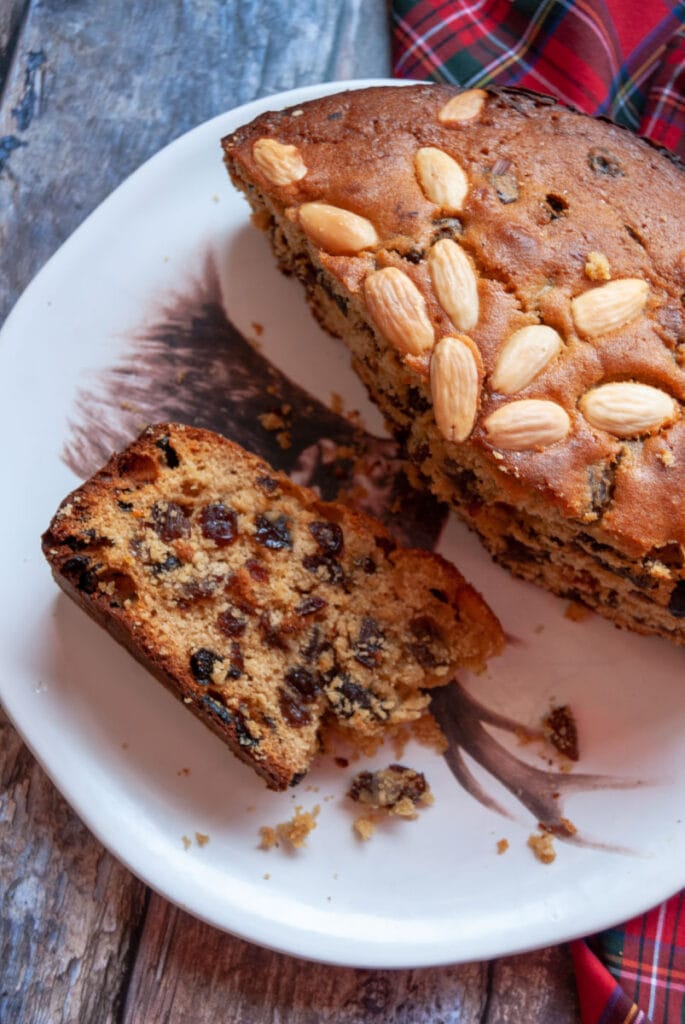 more scottish recipes to try
did you make this recipe?
I hope you loved it! Let me know what you thought of the recipe by leaving a comment below and rate the recipe out of five by clicking on the stars in the recipe card below.
Why not Pin this recipe for later?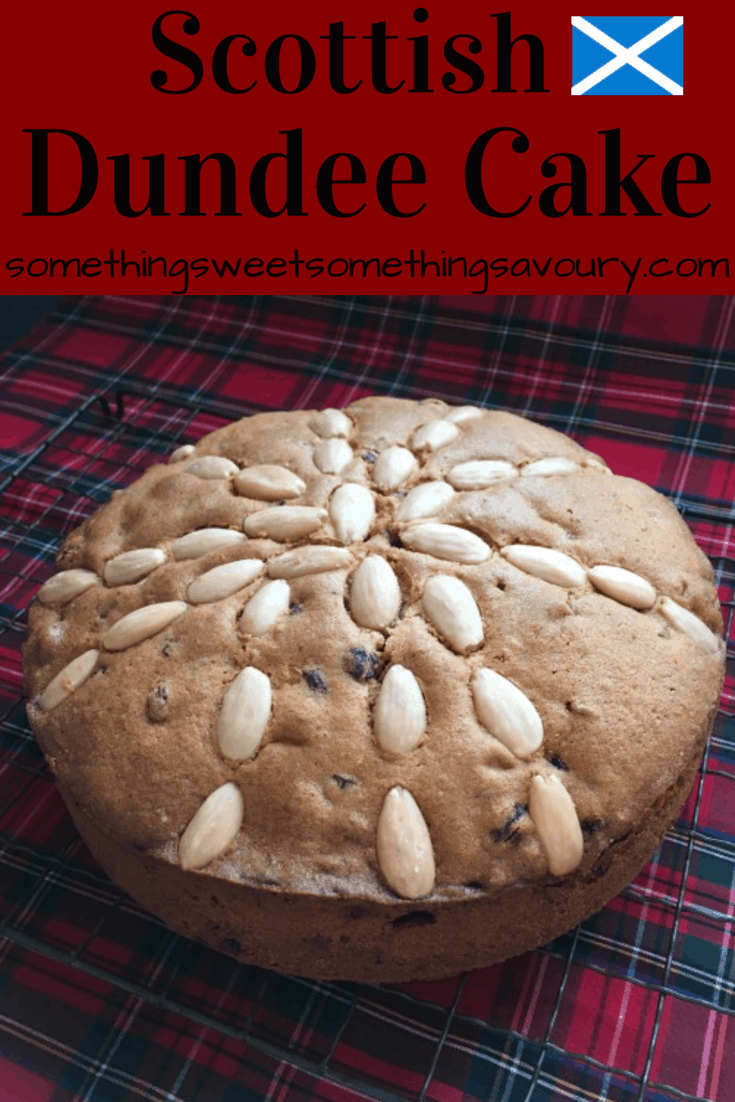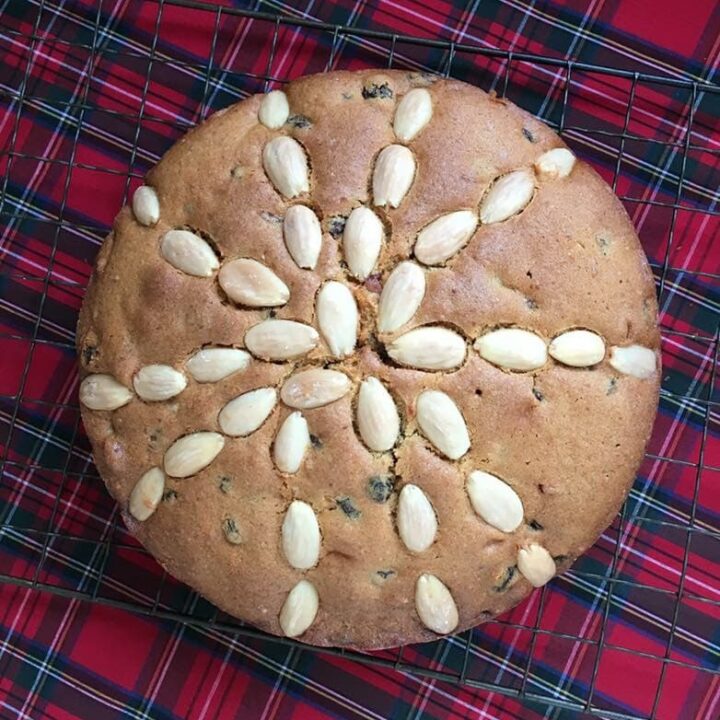 Dundee Cake
Cook Time:
1 hour
30 minutes
Total Time:
1 hour
50 minutes
Dundee Cake is a traditional Scottish fruit cake. It is instantly recognisable with a trademark pattern of blanched almonds on top. It's absolutely delicious and is easy to make.
Ingredients
Deep 20cm round cake tin, buttered and the bottom and sides lined with baking paper
For soaking the fruits: (optional, but if you feel your dried fruit isn't plump enough it's worth doing)
75 ml whisky or orange juice
200g sultanas
200g raisins
50g mixed peel (optional)
150g soft butter
150g caster sugar or soft light brown sugar
3 large eggs, beaten
250g plain flour
1 teaspoon baking powder
pinch of salt
finely grated zest of one lemon
finely grated zest of one orange
3 tablespoons orange marmalade
50g ground almonds
1 or 2 tablespoons milk
50g whole blanched almonds
Instructions
If you're soaking the fruit, place the sultanas, raisins and mixed peel if using in a medium bowl. Pour over the whisky or orange juice and stir. Cover the bowl and leave for a minimum of two hours or overnight.
Preheat the oven to 180C/150C fan. Grease and line a deep 20cm round cake tin, making sure the baking paper comes above the top of the cake tin by about 4cm.
Cream the butter and sugar together for about 5 minutes or until the mixture is very light and fluffy. Slowly add the beaten eggs, a little at a time and beating well after each addition.
Sift together the flour, baking powder and salt and fold into the creamed mixture.
Fold in the soaked dried fruits, lemon and orange zest, orange marmalade and ground almonds. Finally, fold in the milk until you have a cake mixture that falls easily from a spoon.
Spoon the mixture into your lined cake tin and decorate the top with the blanched almonds. Bake for 1 1/2 hours or until the a skewer inserted in the middle of the cake emerges clean.
Place the cake on a wire cooling rack and leave to cool completely in the tin before slicing.
Nutrition Information:
Yield:

12
Serving Size:

1
Amount Per Serving:
Calories:

431
Total Fat:

17g
Saturated Fat:

7g
Trans Fat:

0g
Unsaturated Fat:

8g
Cholesterol:

78mg
Sodium:

214mg
Carbohydrates:

64g
Fiber:

3g
Sugar:

39g
Protein:

7g
Calories and nutritional information are provided by a third party application and should be viewed as indicative figures only.