This easy Seville orange marmalade recipe is made using the "whole fruit" method – no need to strain the fruit though muslin for several hours. It will give a less clear result, but still tastes absolutely delicious.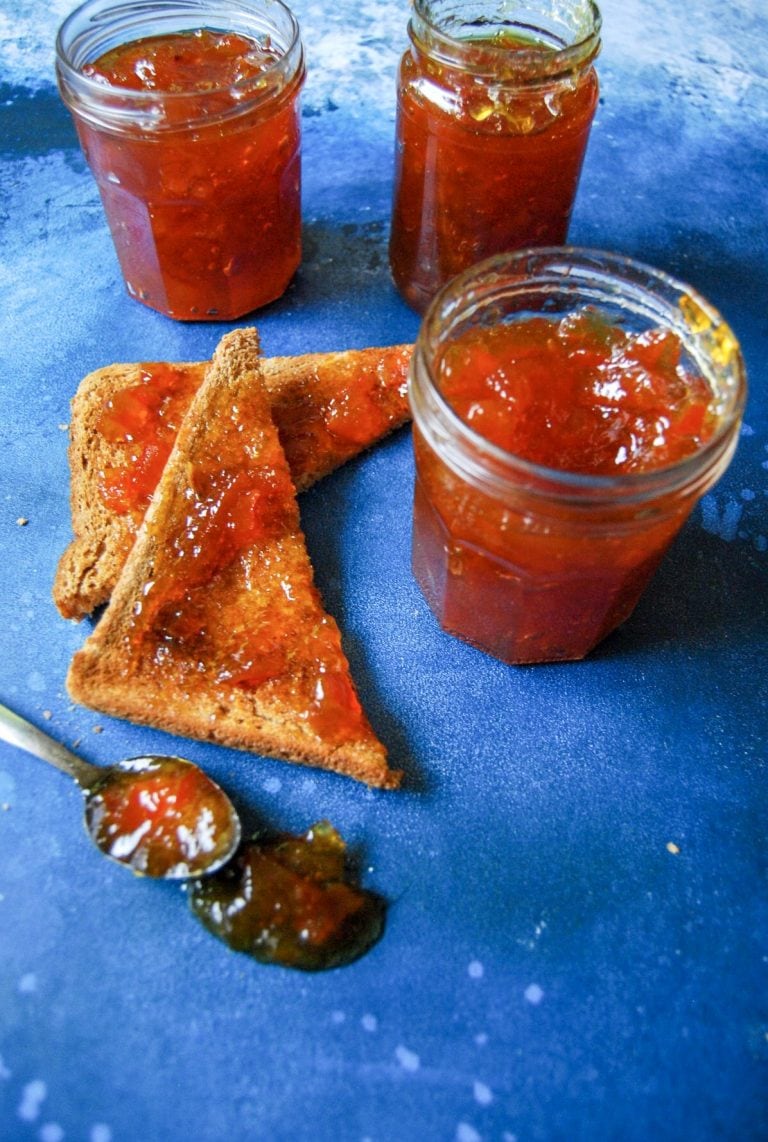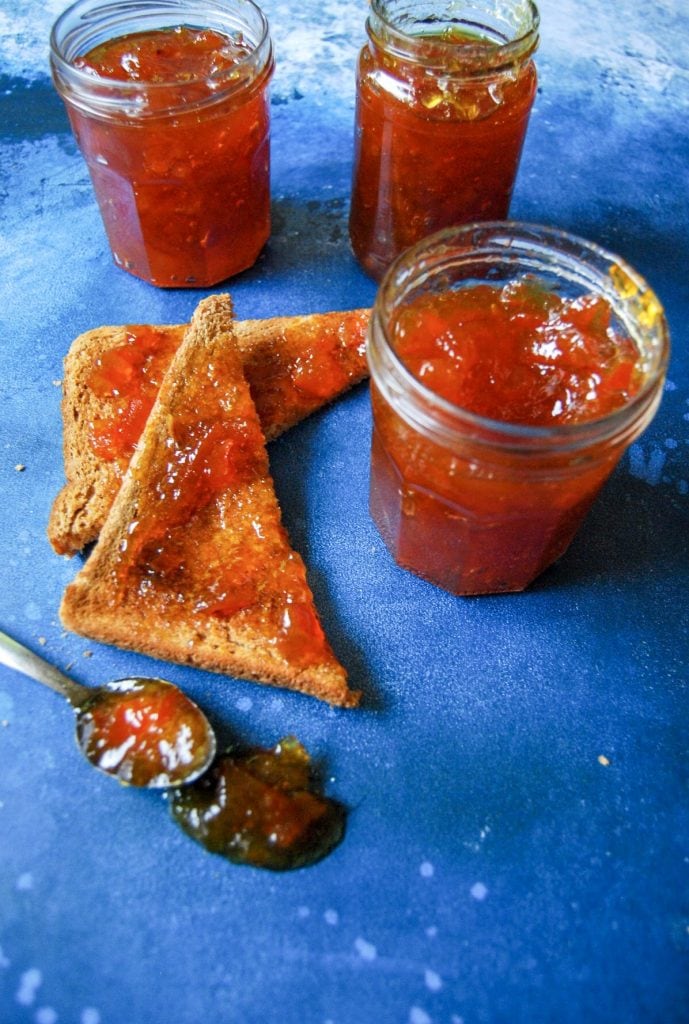 Marmalade. I love the stuff. I spread it thickly on hot buttered toast, stir spoonfuls in my porridge, spread it over joints of ham and use it to make a batch of these sticky orange marmalade flapjacks and  this gorgeous orange marmalade cake.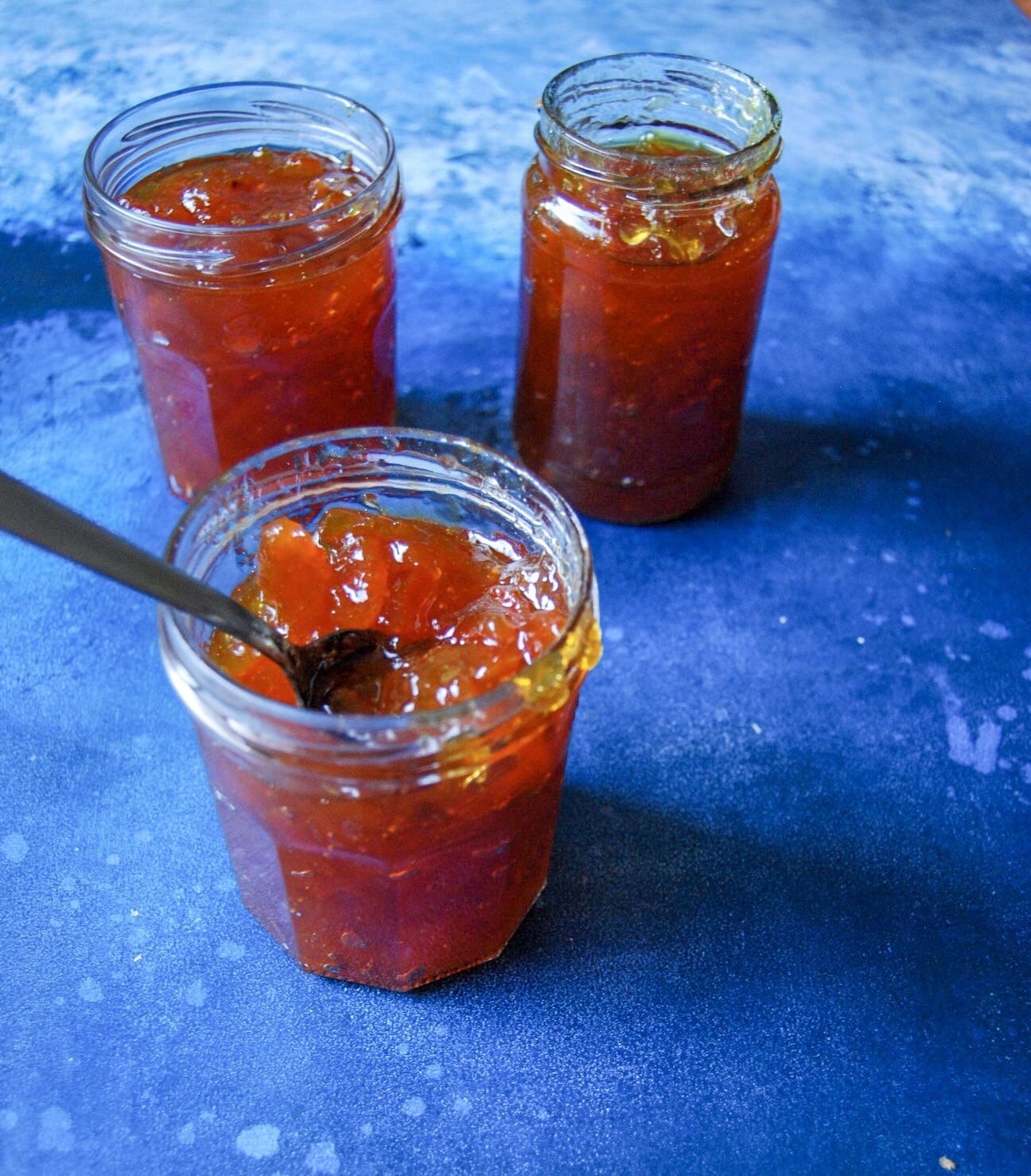 If you've always fancied making your own marmalade but you've been slightly put off by how laborious it all seems, then this is the recipe for you.
This easy Seville orange marmalade is made with the whole fruit method, which I first read about in Sarah Randell's book "Marmalade: A bittersweet cookbook." 
What is the whole fruit method for making marmalade? 
Basically the whole fruit method involves cooking the whole fruit in simmering water for the best part of a couple of hours. The fruit is then juiced, shredded and cooked with sugar.
Using this method gives a darker and less delicate result than the traditional jelly method, but it's certainly less time consuming and is a good option if you're short on time. Don't get me wrong though  – this method isn't completely hands off!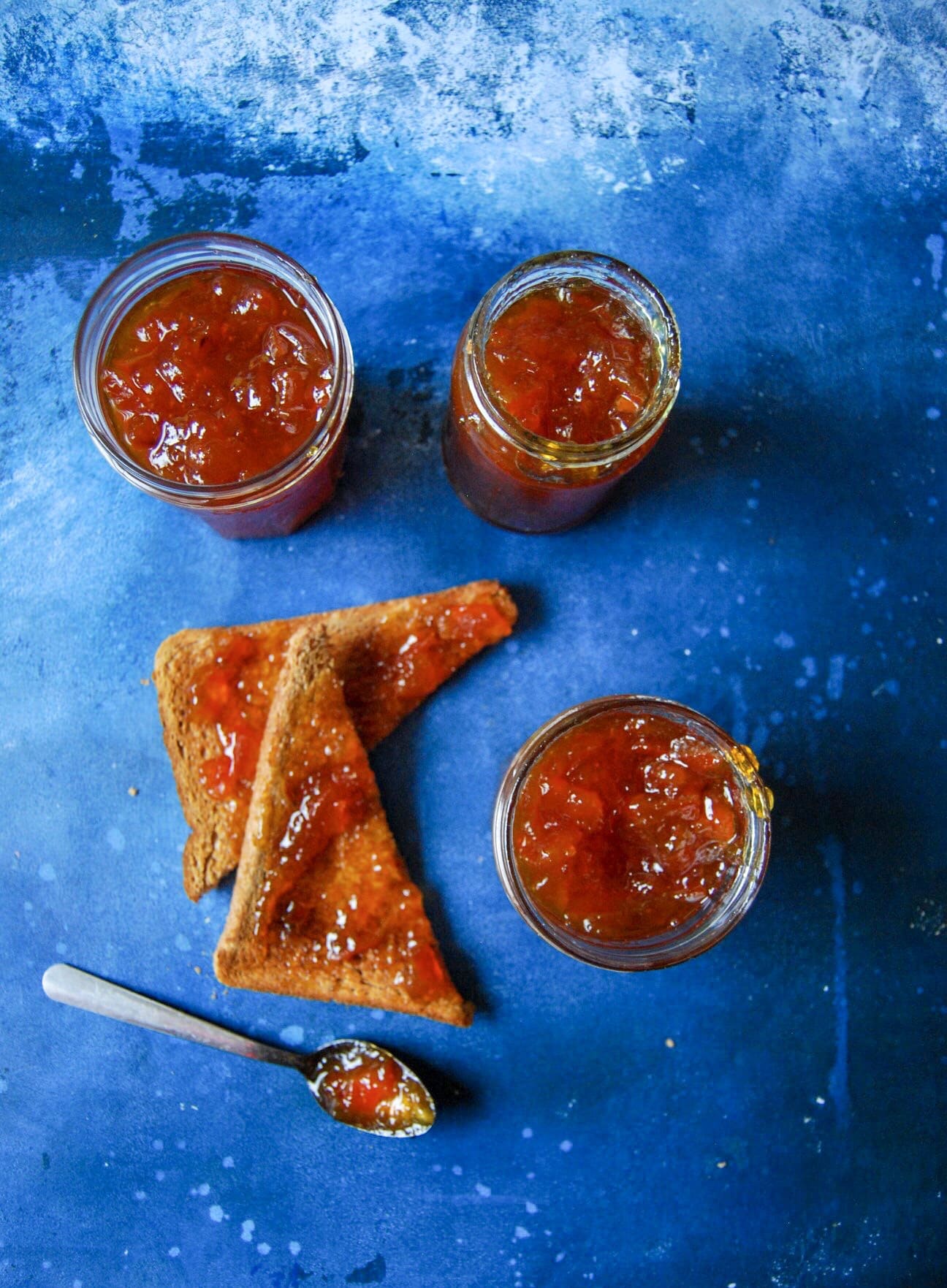 You still have to shred the orange peel which does take a while , but I find this kind of thing pretty relaxing.  I make myself a cup of tea, switch the radio on or a good podcast and get slicing.
Thick or thin peel
How thickly/thinly you slice the fruit is a matter of personal preference – some people prefer long thin shreds, while others favour short, chunky pieces. 
I personally love a chunky marmalade and don't like the shredless varieties at all, but like I say it's all a matter of personal taste.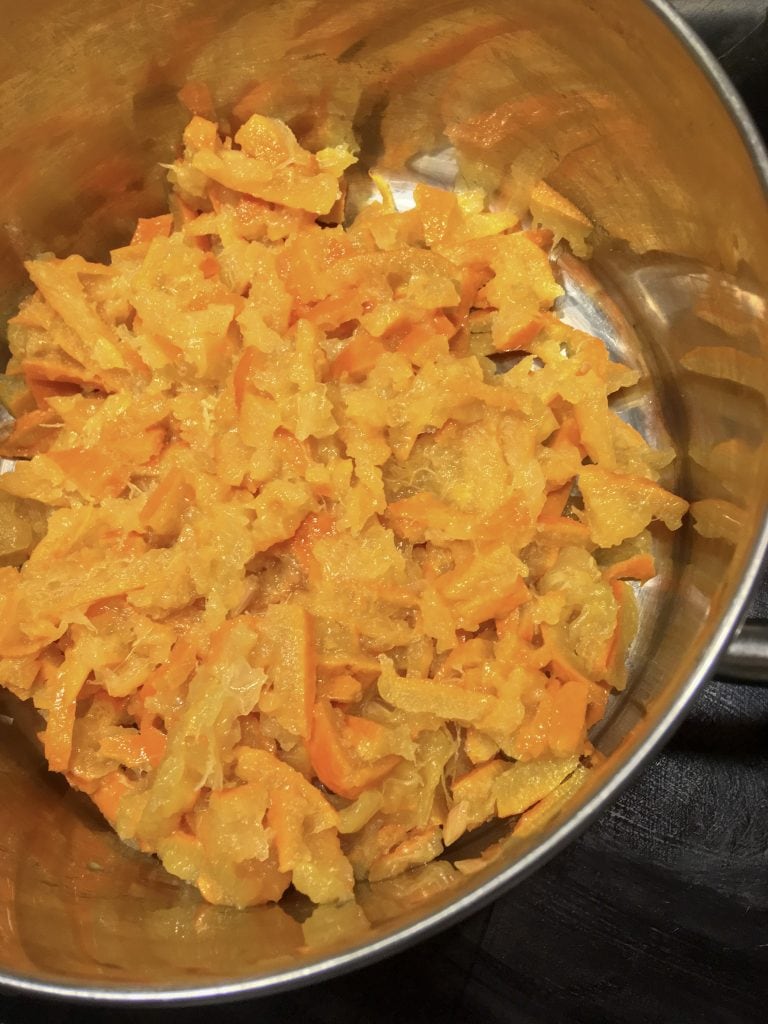 Add some alcohol 
A shot of whisky, rum or Cointreau stirred into the marmalade before spooning into the jars is a great addition but of course, entirely optional. 


What is the Setting
tempErature for marmalade?
I highly recommend using a kitchen thermometer to check if your marmalade has set. I still remember the day when my lovely pan of marmalade set like toffee. I was gutted about the waste of ingredients.  
If the thermometer reaches 104.5C, the marmalade should be set. You could also use the "wrinkle test". 
The wrinkle test 
Just before making the marmalade, pop a saucer in the freezer.  When you think the marmalade is at setting point, spoon a little bit on the cold saucer and leave for a minute.
If the marmalade is set, it will "wrinkle" when you push your finger into it. If it's still very runny, it could need another five minutes boiling. 
sterilising jars for making marmalade
Make sure you sterilise your jars before using them – if they aren't spotless, your marmalade could turn mouldy very quickly.
 You can either put them in the dishwasher (using them as soon as the dishwashing cycle ends) or you can give the jars a good scrub in very hot, soapy water before rinsing them and placing them in a very low oven at 100C for about 10 minutes or until they are dry. 
You also need to fill the jars with marmalade while they are still hot. This will kill any lingering bacteria which can also cause the marmalade to become mouldy. 
At the time of writing this post, Seville oranges were still in plentiful supply in my local greengrocers – so hopefully you'll be able to get your hands on some before they disappear! 

want to see More easy preserve recipes? 
Easy 4 minute microwave lemon curd
Pin this recipe for later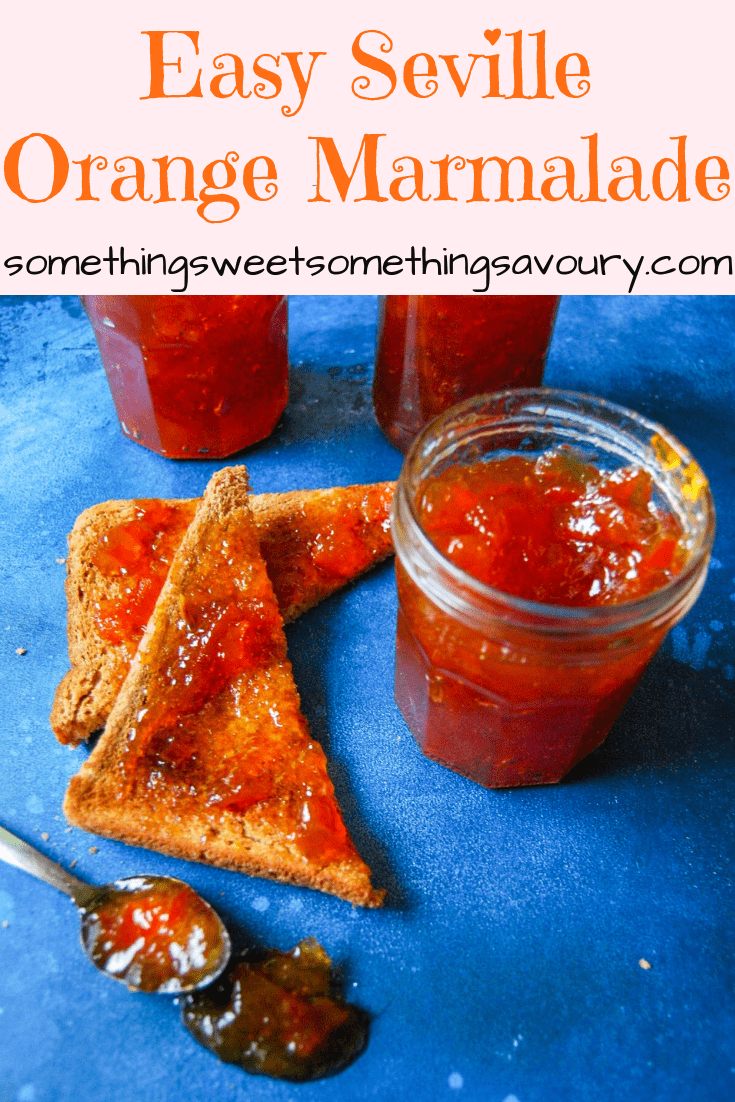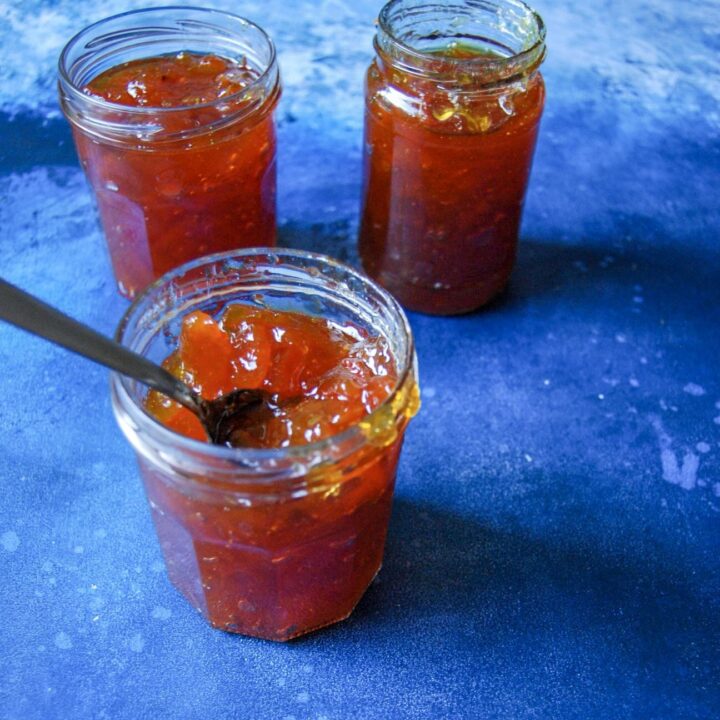 Easy Seville orange marmalade
Yield:
Makes 7 or 8 x 350ml jars
Cook Time:
2 hours
40 minutes
Total Time:
3 hours
40 minutes
This easy Seville orange marmalade recipe is made by simmering whole oranges - no straining required!  
Ingredients
1 kg Seville oranges
4 lemons
2 kg granulated sugar
50 ml spiced rum or whisky, optional
Instructions
Place the whole oranges in a large pan and cover with water. Bring to simmering point and simmer, covered, for 1 1/2 - 2 hours or until the oranges are soft.
Using tongs, remove the oranges from the pan to a bowl. Tip the cooking liquid into a measuring jug.
When the oranges are cool enough to handle, piece them and squeeze the juice into the measuring jug. Now slice the oranges, chopping the peel up to whatever thickness you desire. Discard the pips.
The liquid should be 1.5 litres, so top up with extra water if need be. Pour into the pan with the lemon juice and sugar.
Heat over a low heat, stirring to dissolve the sugar. When all the sugar has dissolved, turn up the heat to a rolling boil. Boil for 30-35 minutes or until setting point (104.5 on a sugar thermometer)
If you don't have a thermometer, a good way to test it is spoon a little marmalade onto a very cold plate (I pop one in the freezer before I begin) and leave it for a minute. Lightly push it with your finger and if it wrinkles slightly, it's ready.
Take the pan off the heat and stir in the spiced rum or whisky, if using.
Leave the marmalade to settle for 15 minutes before pouring into warm sterilised jars, filling them right to the top. Cover the top of the marmalade with a circle of waxed paper and a cellophane cover. Screw the lids on the jars and leave to cool completely.
Notes
Store the marmalade in a cool, dry place.  If you've sterilised the jars correctly, the marmalade should keep well for a couple of years.  
Nutrition Information:
Yield:

60
Serving Size:

1
Amount Per Serving:
Calories:

142
Total Fat:

0g
Saturated Fat:

0g
Trans Fat:

0g
Unsaturated Fat:

0g
Cholesterol:

0mg
Sodium:

1mg
Carbohydrates:

36g
Fiber:

1g
Sugar:

35g
Protein:

0g
Calories and nutritional information are provided by a third party application and should be viewed as indicative figures only.