Sweet, sour and delightfully warming from crystallised ginger chunks, this rhubarb and ginger jam is delicious and so versatile.
It's a perfect way to use up a glut of homegrown rhubarb. Any spare jars make a lovely gift – if you can bear to part with it!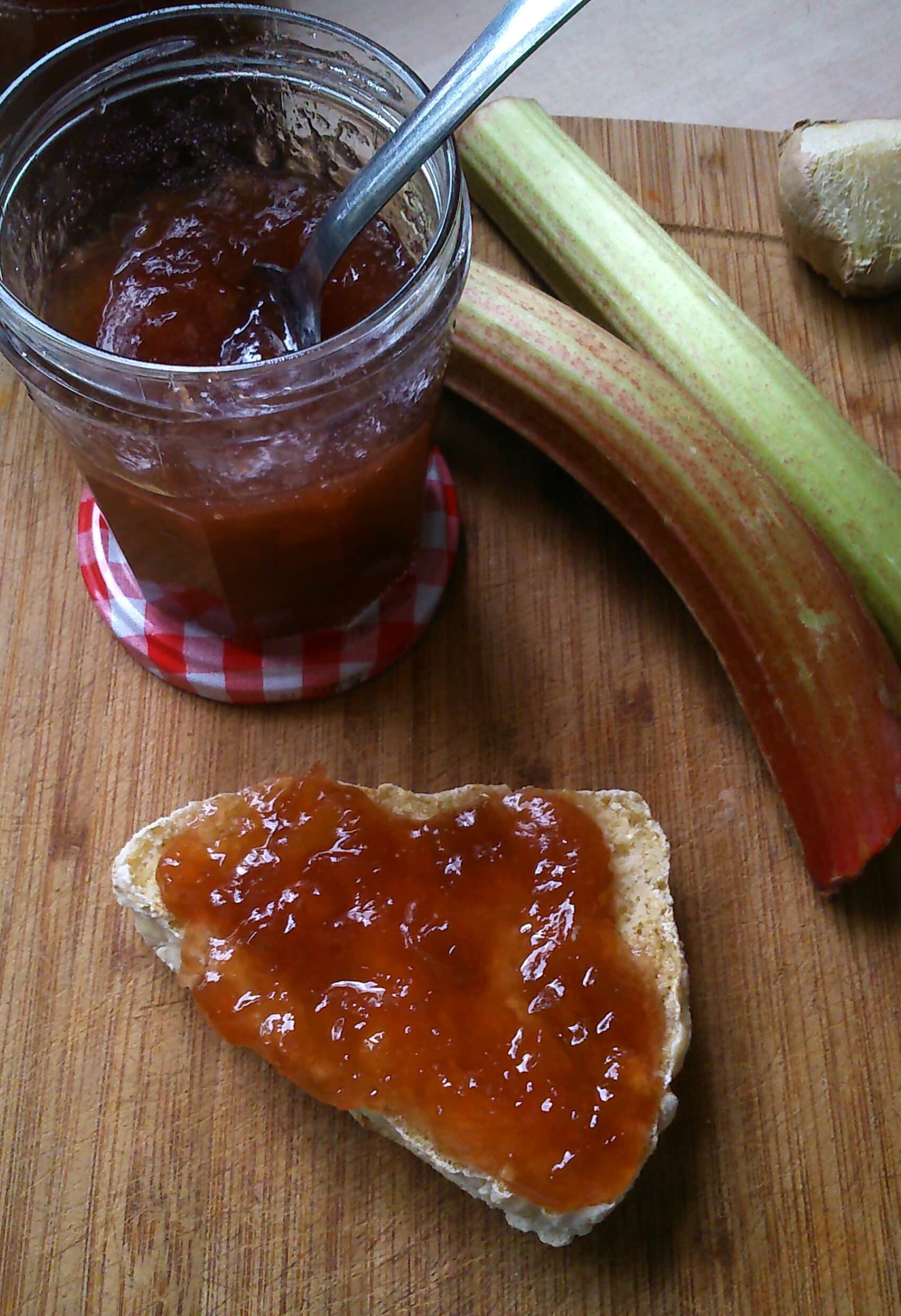 Maincrop rhubarb is in season right now and it tends to grow like wildfire. It isn't as pretty-pink as the forced rhubarb that you find in the shops earlier on in the year and it has a more intense flavour.

The rhubarb I used to make this jam came from my Mum's back garden. Thanks, Mum!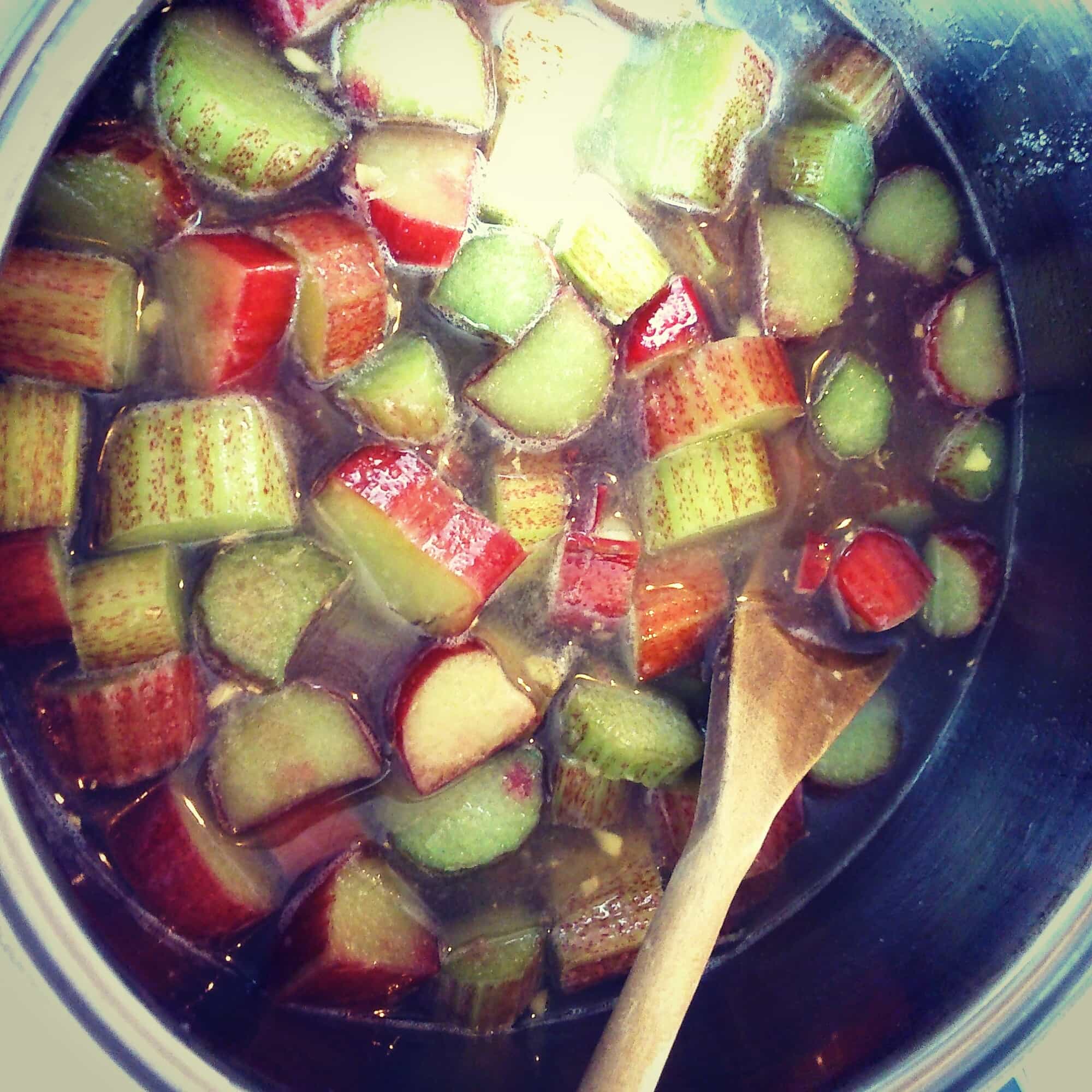 rhubarb and ginger jam
I have always considered rhubarb and ginger to be one of the most delicious combinations in the world. The spicy warmth of the ginger complements the sharp rhubarb perfectly. It's a culinary match made in heaven.
If you agree with me, you will also want to take a look at my recipes for rhubarb and ginger oat crisp and rhubarb and ginger muffins.
ideas for using rhubarb and ginger jam
This jam is so good on toast, pancakes, plain or fruit scones or oatcakes.
Fold into lightly whipped vanilla cream for one of the quickest and easiest desserts I can think of.
I like a dollop stirred into my morning porridge and it's also extremely good with Greek yoghurt – like a home made fruit corner without all the additives!
sterilising jars for jam
When making jam and preserves, it's absolutely vital to sterilise the jars. They don't have to be brand new jars, but they must be spotlessly clean to prevent bacteria from spoiling all the hard work you put into making the jam.
I give the jars a good scrub in very hot soapy water, rinse and place on a clean baking tray. Place the tray with the jars in a preheated oven (140C/120F/Gas mark 1) to dry.
To sterilise the lids, I pour freshly boiled water over them and leave for five minutes. Remove the lids using kitchen tongs and place on a clean surface or plate to dry completely. For more information, please refer to this guide on how to sterilise jars for jam.
more recipes using rhubarb
Orange Blossom roasted rhubarb with Greek Yoghurt and pistachios
how many jars will this rhubarb and ginger jam make?
This recipe will give you 4x350ml sized jars of jam.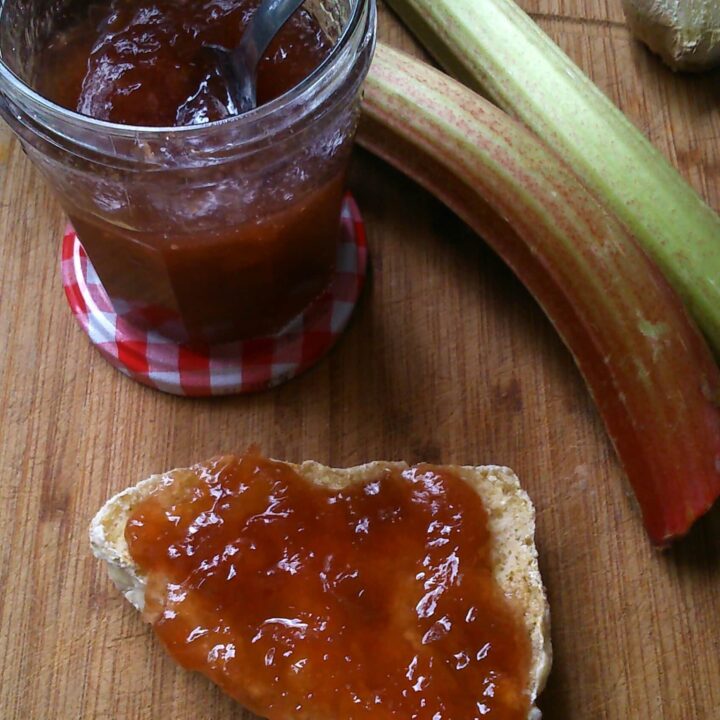 Rhubarb and Ginger Jam
Yield:
Makes 4x350ml jars of jam
Rhubarb and Ginger Jam is absolutely delicious and very easy to make. It's the best way to preserve a glut of homegrown rhubarb so you can enjoy it all year long.
Ingredients
Makes approx 4 medium sized jars
500g rhubarb, washed and sliced into approx 2-3cm pieces
500g jam/preserving sugar
300ml water
3cm chunk of fresh ginger, peeled and chopped into very small pieces or grated
Juice of one large lemon
75g crystallised ginger, chopped
One tbsp ginger syrup (optional) OR 75g stem ginger and one tbsp of the syrup from the jar
Instructions
First of all, sterilise your jars. This is very easy - all you need to do is soak them in a sink full of extremely hot water, give them a good scrub then rinse, shake off excess water and place in a low oven (140C/120F/Gas mark 1) to dry them. To sterilise the lids, I pour freshly boiled water over them and leave for 5 minutes. Remove the lids with kitchen tongs and place on a clean surface to dry. If you have a dishwasher, just pop the jars in alongside your normal wash cycle.
.Place a small saucer or dish in the freezer so you can check the setting point of the jam later.
Place all of the ingredients except the crystallised ginger and syrup in a large heavy based saucepan or preserving pan to a rolling boil. Boil for around 15 minutes, stirring all the time so the mixture doesn't catch. Don't be tempted to walk away and leave it - the last time I did I ended up with a pan of rhubarb toffee. What a mess. Not to mention a waste! A sugar thermometer is very handy here if you have one - setting point is 104C/219F.
Take the pan off the heat. Go and get the little dish from the freezer. Place a small amount of jam on the dish. Leave for about 30 seconds, then lightly push the jam with a finger - if it looks like it is forming a skin and wrinkles, it's ready. If it isn't wrinkling, pop back on the heat and try again in a few minutes.
Rhubarb is naturally low in pectin, so it might take a little longer to reach setting point. The jam sugar is supposed to help but I had to do the wrinkle test five times before this batch was finally ready! The end result is worth it, I promise you.
When the jam is ready, stir in the chopped crystallised ginger and syrup, if using. Decant into your prepared jars and seal them tightly.

Notes
If the jars have been sterilised correctly, the unopened jam will keep for up to one year at least in a cool, dark cupboard. Once opened, it will keep in the fridge for about three weeks.
Nutrition Information:
Yield:

50
Serving Size:

1
Amount Per Serving:
Calories:

51
Total Fat:

0g
Saturated Fat:

0g
Trans Fat:

0g
Unsaturated Fat:

0g
Cholesterol:

1mg
Sodium:

16mg
Carbohydrates:

12g
Fiber:

0g
Sugar:

8g
Protein:

0g
Calories and nutritional information are provided by a third party application and should be viewed as indicative figures only.