An easy, foolproof recipe for perfect fruit scones. Follow my ultimate guide on how to make light and fluffy fruit studded scones that you'll be proud of!
Whenever I'm talking about baking with people (which happens a LOT – food is always at the forefront of my mind) – one of the phrases I hear most often is "I can't bake a good scone to save my life".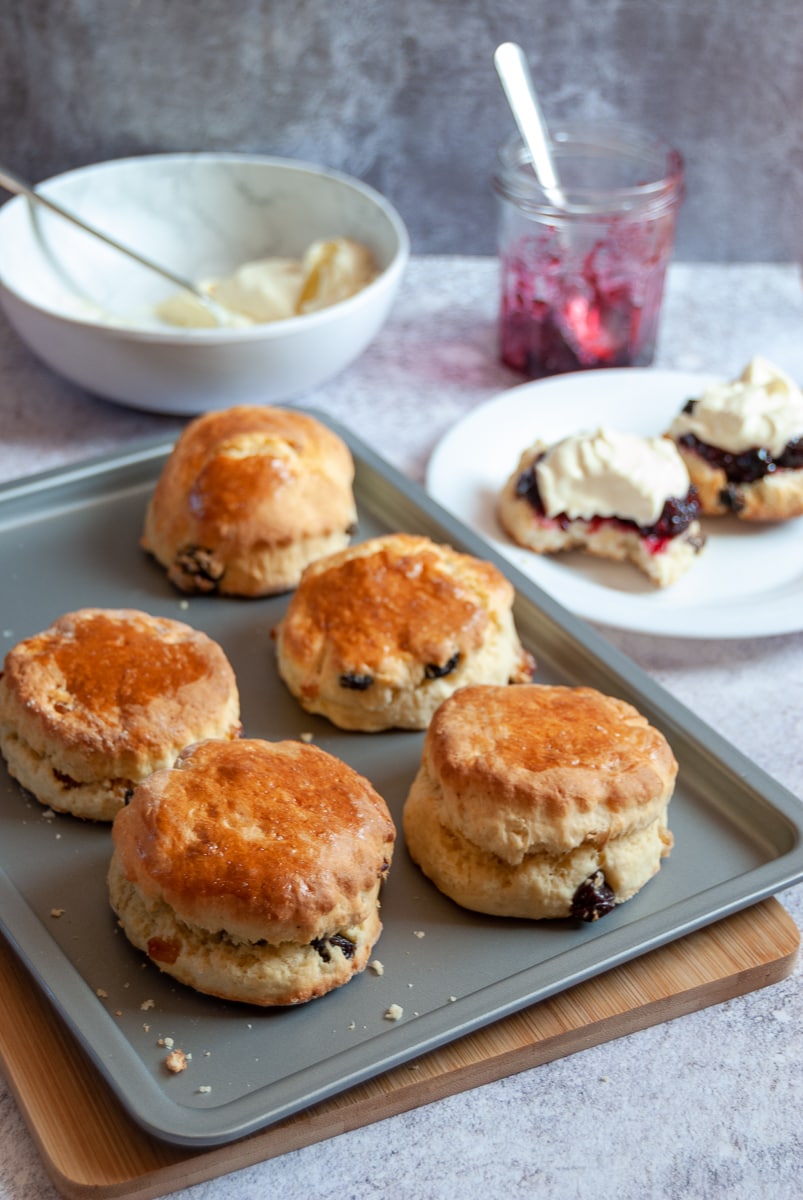 Here are just a couple of the most common complaints when making scones –
"They don't rise – they look like flat biscuits/cookies"
"They turn out tough and dry – good enough for birds, but I certainly wouldn't serve them to anyone"
If all of this sounds familar, then I urge you to give this recipe a go – as long as you follow all of my tips, you will be baking scones that wouldn't look out of place in the poshest tea room.
And believe me – I know because I have made all these mistakes in the past! When I first started baking, my scones certainly weren't the best – they are a little flat and sad looking. But I kept on practising until I finally made a scone anyone would be proud of.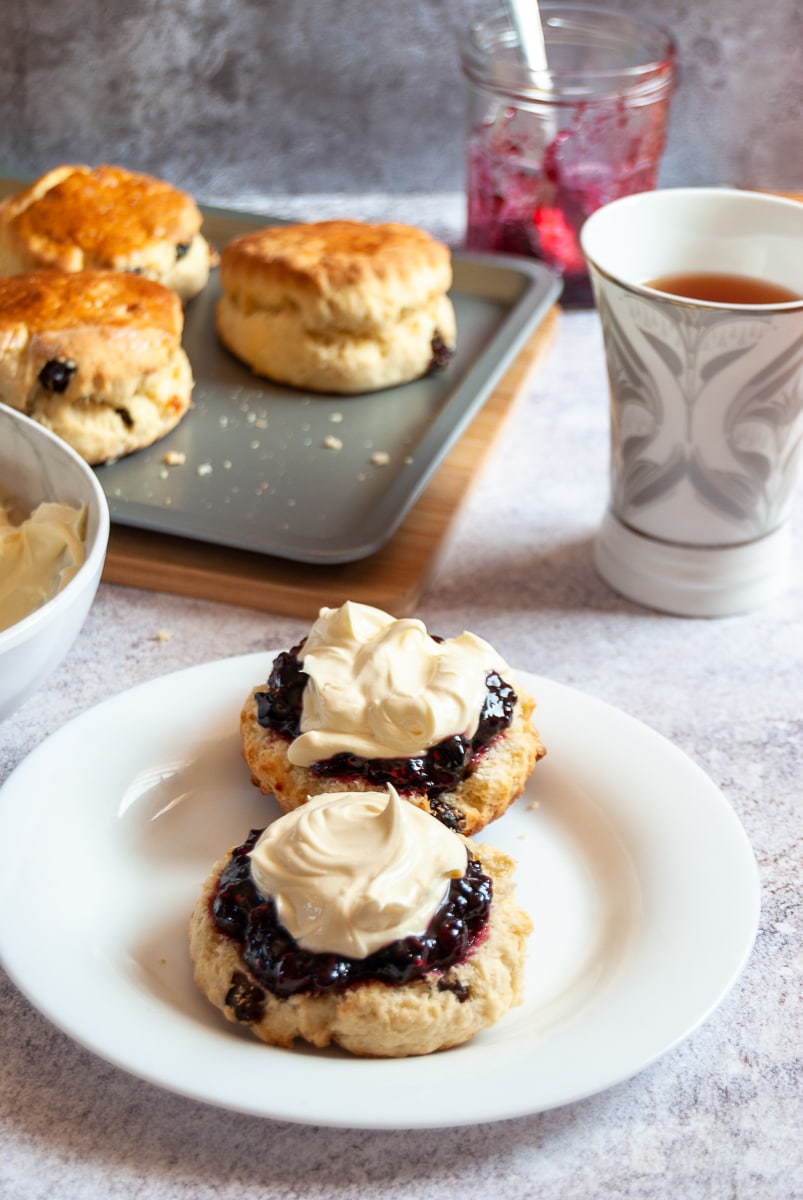 As much as I'm still a big fan of this light and fluffy scone recipe by Paul Hollywood, I wanted to come up with a slightly simpler recipe – not that it's a complicated method by any means, but Paul's recipe calls for strong bread flour.
I figured that most people have a bag of plain or self raising flour in their cupboard most of the time – if a national flour shortage isn't an issue like in these exceptional times of course!! – but unless you're a keen baker/bread maker, you won't generally tend to keep bread flour in at all times.

how to make perfect fruit scones
The most important thing to remember when making scones is make sure you handle the dough lightly.  If you don't handle the dough with care, your scones will be tough.
Sieve your dry ingredients together.  I'm not big on sieving flour, but I always do when I'm making scones.  
Another really crucial step is the freshness of your baking powder.  If it's been sitting in your cupboard for 2 years, then it's time to buy a new one! Baking powder loses its effectiveness after a few months of opening, so this could prevent your scones from rising.
For the best fruit scones, make sure your dried fruit is as fresh as possible too.  Sultanas are the best choice for a scone.  I often use a mixture of sultanas and raisins. Cranberries are also nice at Christmas time!
Make sure your butter is cold when you rub it into the dry ingredients.
When it's time to combine the dry and wet ingredients together, I use a fork to mix them together. I know many people use a butter knife, but I personally prefer to use a fork. 
As soon as all the milk has disappeared and you have what is starting to resemble a rough dough, I ditch the fork and use my hands to bring the dough together.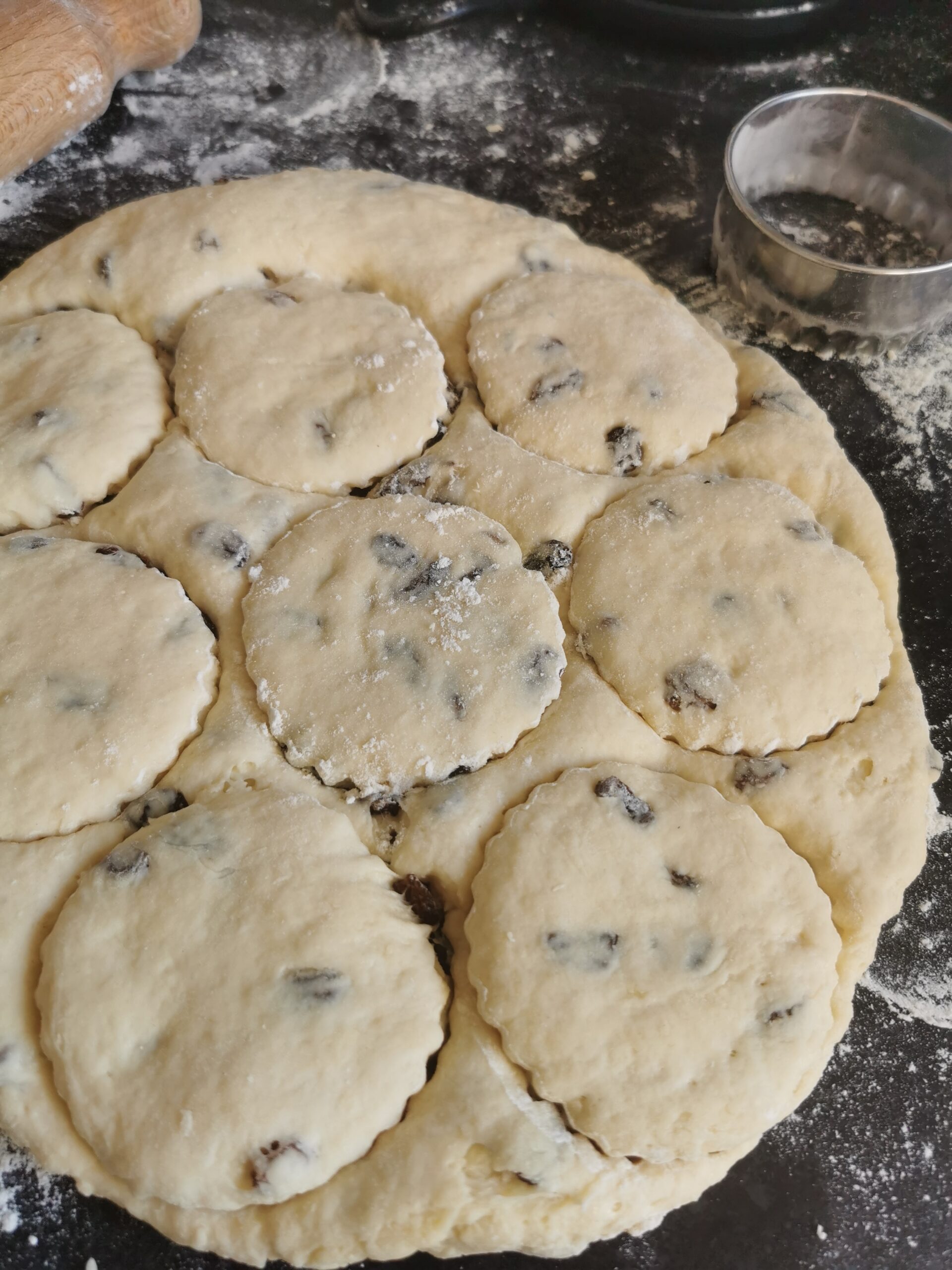 When cutting out the scones, don't twist the cutter or your scones will be lopsided.  Personally I don't mind a wonky scone at all – if it tastes good, that's all that matters!
For a shiny finish, brush the scones with egg wash.  Don't let the egg dribble down the sides of the scones – this can prevent them from rising.
This scone recipe takes exactly 12 minutes in my oven, but please bear in mind that since all ovens can vary quite dramatically, they might take a couple of minutes longer in yours.

commonly asked questions and trouble shooting
how can i get my fruit scones to rise and be fluffy?
Scones need baking at a high temperature – the baking powder will react to the sudden burst of heat and make the scones rise high and tall.
Keep the scones quite close together on the baking tray – almost touching each other. This will help them to rise evenly.
what should the dough feel like when making scones?
The dough should be slightly wet and sticky – but not too sticky it's impossible to handle. If you feelyour dough is a little too sticky, sprinkle your work surface with plenty of flour and flour your cutter when cutting out the scones.  A dry dough might be easier to handle, but you will end up with – yep you guessed it – dry, crumbly scones! 
should you let scones rest before baking?
Allowing the unbaked scones to sit for 10-15 on the tray before baking allows the gluten to relax, resulting in a more uniform looking scone. So if you have the time, it's definitely worth doing.
why did my scones not rise?
The two main culprits are usually out of date or stale baking powder or over working the dough. Remember to handle the dough as little as possible.
why are my scones dry and crumbly?
Dry, crumbly scones are usually the result of not adding enough liquid to the dough. I used to be very guilty of this! For the best scones, the dough should be slightly sticky and moist.
why are my scones dense and tough?
As above, not adding enough liquid to the dough can result in a dense, tough scone. Not adding enough baking powder can also be the culprit. For light, airy scones, make sure the butter is cold when you rub it into the dry ingredients.
are scones better with or without eggs?
This can be a controversial one! Some people believe that eggs don't belong in a scone recipe. I have made countless scone recipes over the years and my personal view is a scone is MUCH better for adding an egg to the mixture.  They tend to rise better and are less dense than egg free scones.  
Having said that, this cheese scone recipe just works perfectly without an egg. They are the BEST cheese scones I've ever tried, and I know lots of you have made them and agree with me.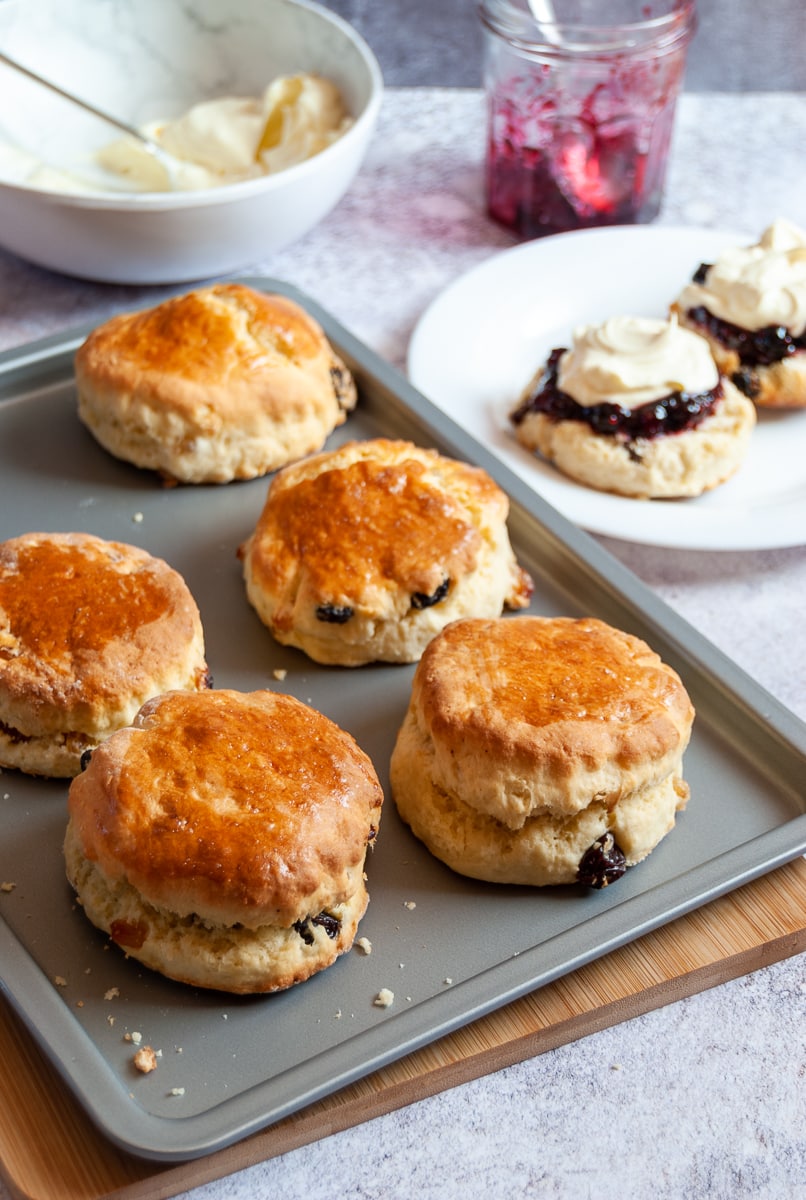 more scone recipes to try
did you make this fruit scone recipe?
Let me know what you thought of the recipe by leaving a comment below – and rate the recipe out of 5 by clicking on the stars in the recipe card.
If you would like to share a picture of your bakes on Instagram, don't forget to tag me so I can see it!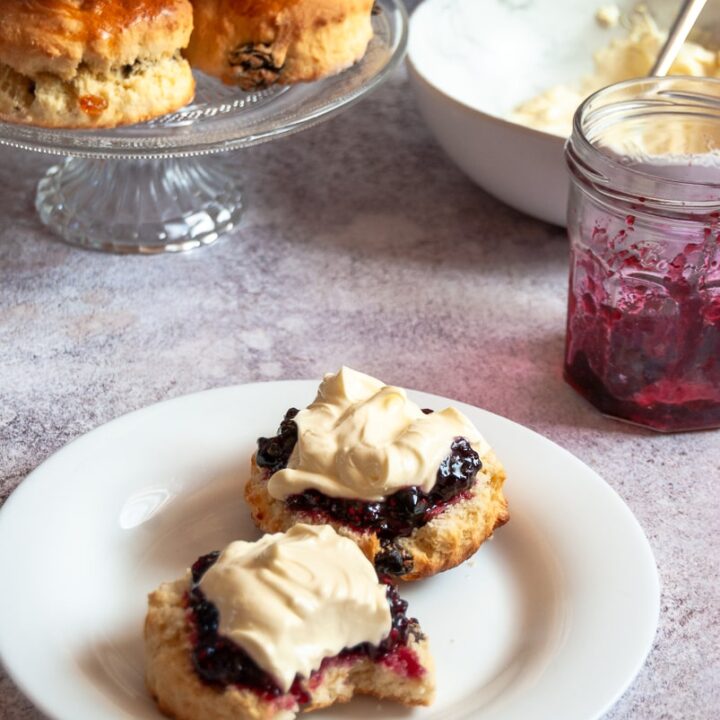 Perfect Fruit Scones
Yield:
Makes about 12 large scones
An easy, foolproof recipe for perfect Fruit Scones. Follow my tips and tricks for making light, tall and fluffy scones that you will be proud of! They are so delicious served warm from the oven with butter and jam.
Ingredients
450g Plain Flour OR Self Raising Flour
1/2 teaspoon fine salt
1 (15g) tablespoon baking powder (IMPORTANT NOTE - if using self raising flour, reduce the baking powder to 1 1/2 teaspoons!)
100g Cold Butter, diced
80g Caster Sugar
100g plump Sultanas or Raisins
1 Medium Egg
250ml Whole Milk or Buttermilk
One egg, beaten with a pinch of salt for egg wash (optional)
Instructions
Preheat the oven to 220C/200Fan/400F.
Sieve the flour, salt and baking powder into a large bowl. Lightly rub in the butter until it is well incorporated into the flour and the mixture resembles breadcrumbs.
Stir in the caster sugar and the sultanas or raisins. Crack the egg into a measuring jug and beat lightly. Pour in the milk or buttermilk up to the 200ml mark and give the mixture a stir.
Make a well in the dry ingredients and pour in the egg/milk. Using a large fork or butter knife, lightly mix the ingredients together. If the mixture seems to dry, pour in a little more milk, a little at a time. At this stage I ditch the fork/knife and use my hands to lightly mix the dough. It should be soft and slightly sticky, but not too sticky to handle.
Turn the dough out onto a lightly floured work surface. Fold the dough in half, then turn the dough 90 degrees and repeat. This method is called "chaffing". Repeat a few times until the top of the dough is as smooth as possible. Take care not to overwork the dough.
Next roll the dough out. Sprinkle the work surface with a light covering of flour. Lightly roll the dough out using a rolling pin or your hands to a 1 inch round. Using a cutter (I use an 8cm cutter for large scones) dipped in flour, cut out rounds and place quite close together on the baking tray. Don't twist the cutter when pressing down, it could make the scones uneven.
Gently bring the remaining dough scraps together, but don't knead the dough. I just "push" the scraps of dough together with my hands. Cut out rounds until all the dough is used up. These scones will be slightly tougher than the first round, but will still taste good. If you have time, let the unbaked scones sit on the baking tray for 10-15 minutes.
Brush the scones with egg wash if using, taking care not to let the egg run down the sides of the scones. Bake the scones for 12 minutes or until golden and risen. I always leave the scones on the baking tray and cover with a tea towel for about 10-15 minutes so they steam together (this will keep the scones nice and soft.)
Notes
If using self raising flour instead of plain, you will need to reduce the baking powder to 1 1/2 teaspoons.
Nutrition Information:
Yield:

10
Serving Size:

1
Amount Per Serving:
Calories:

344
Total Fat:

10g
Saturated Fat:

6g
Trans Fat:

0g
Unsaturated Fat:

3g
Cholesterol:

75mg
Sodium:

411mg
Carbohydrates:

56g
Fiber:

2g
Sugar:

19g
Protein:

9g
Calories and Nutritional information are provided by a third party application and should be used as indicative figures only.