Looking for a quick, easy bake to rustle up at the last minute? These date and walnut scones are light, fluffy and packed full of chewy dates and crunchy walnuts. They are absolutely delicious warm from the oven with butter or clotted cream and honey.
Love fruity scones? Give my best fruit scone recipe a try!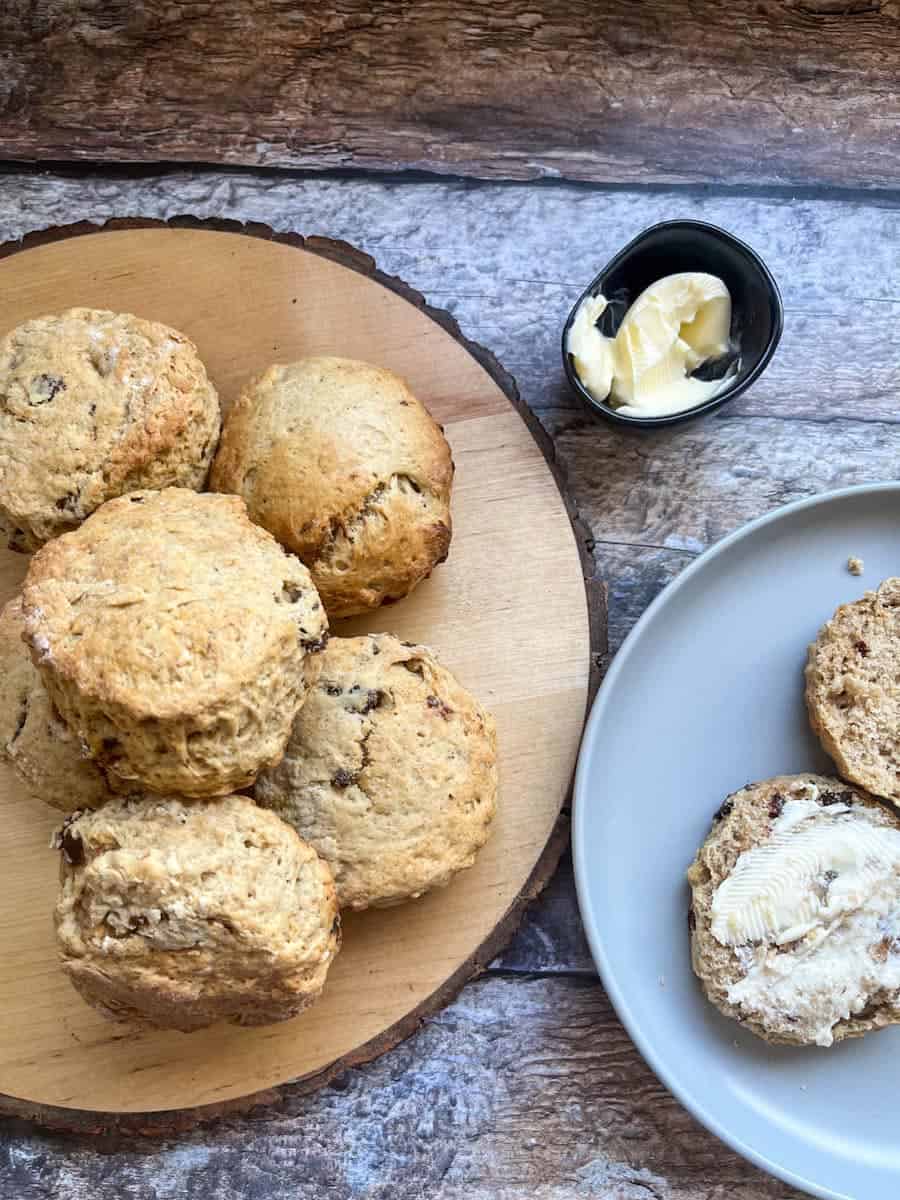 I decided to have a sort out of my baking cupboard this morning and found several half opened packets of bits and pieces including dates and walnuts. The obvious thing to make would have been a date and walnut loaf, but I was in the mood for scones.
I've always had a fondness for dates. I tend to buy lots of them over Christmas time because they remind me of my grandad. He loved them and when we went shopping he would always buy a couple of boxes of sweet, sticky dates from the greengrocers for us to share.
So I decided to try some date and walnut scones and here is the result. They turned out beautifully – the dates add a lovely toffee like chew against the crunch of the walnuts.
My favourite scone of all time is a cheese scone, but these now come in at a close second.
It takes no more than 10 minutes to make the scone dough and about 12 minutes to bake them, so they are such a quick, easy treat to rustle up.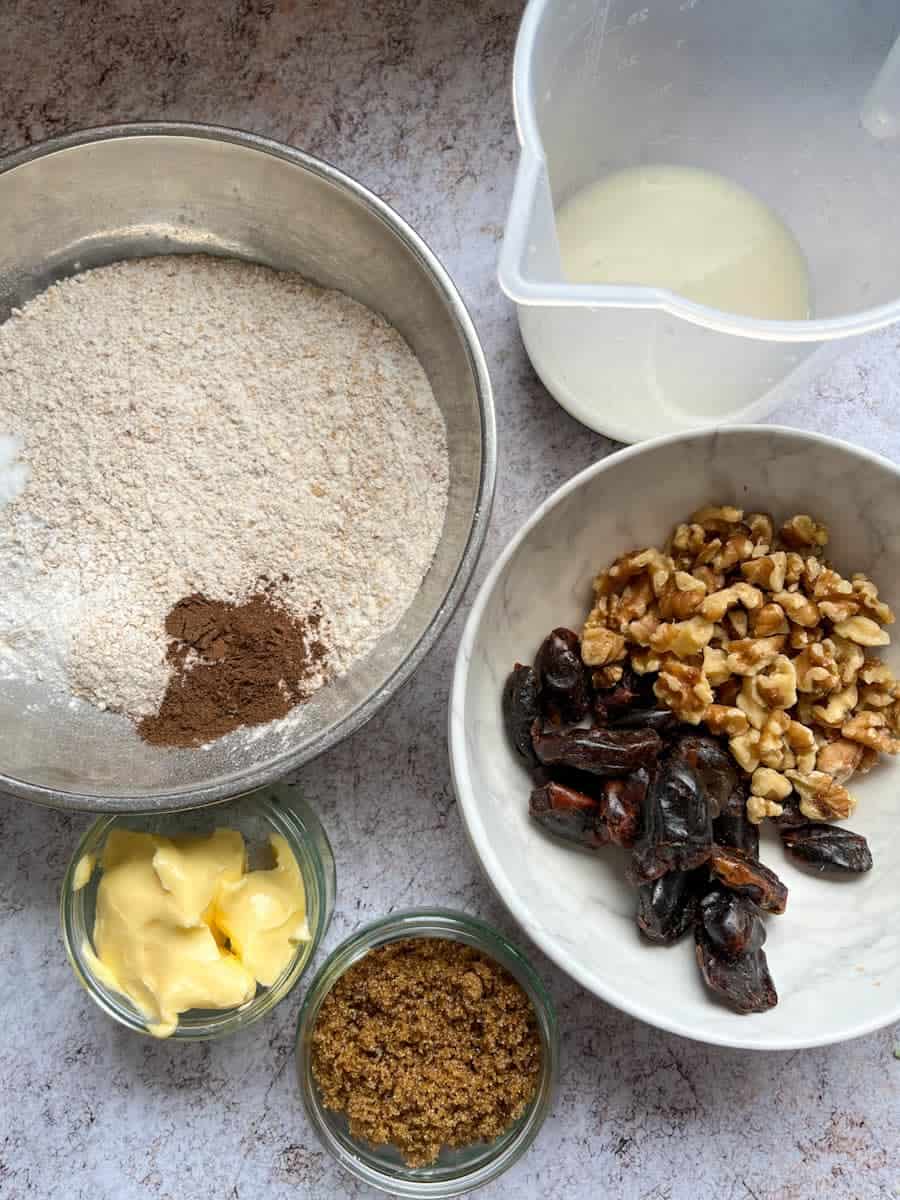 ingredient list
(scroll to the bottom of the post for ingredient amounts in recipe card)
Self raising flour and self raising wholemeal flour. If you only have self raising flour in the cupboard, then you can still make this recipe. The wholemeal flour adds a lovely flavour to the scones and makes them slightly darker.
Baking powder helps the scones to rise. There are already raising agents in self raising flour, but I find even just adding a teaspoon of baking powder makes a big difference.
a touch of ground mixed spice and ground cinnamon really lifts the flavour of the scones.
Don't forget to add a little salt to your dough. I save my flaky sea salt for sprinkling over finished dishes – good old table salt is all you need.
cold diced butter. You can use a margarine such as Stork as well.
dried dates, chopped. I use kitchen scissors to cut the dates into small pieces. I don't buy ready chopped dates coated in sugar – I prefer to use whole dates.
Walnuts, finely chopped. Just like the dates, you need the nuts in fairly small chunks.
Milk or Buttermilk. You can use either, but buttermilk makes wonderfully tender, light scones.
For the finishing touch, I glaze the top of the scones with some milk and if I have any, I sprinkle the tops with some demerara sugar for a crunchy topping.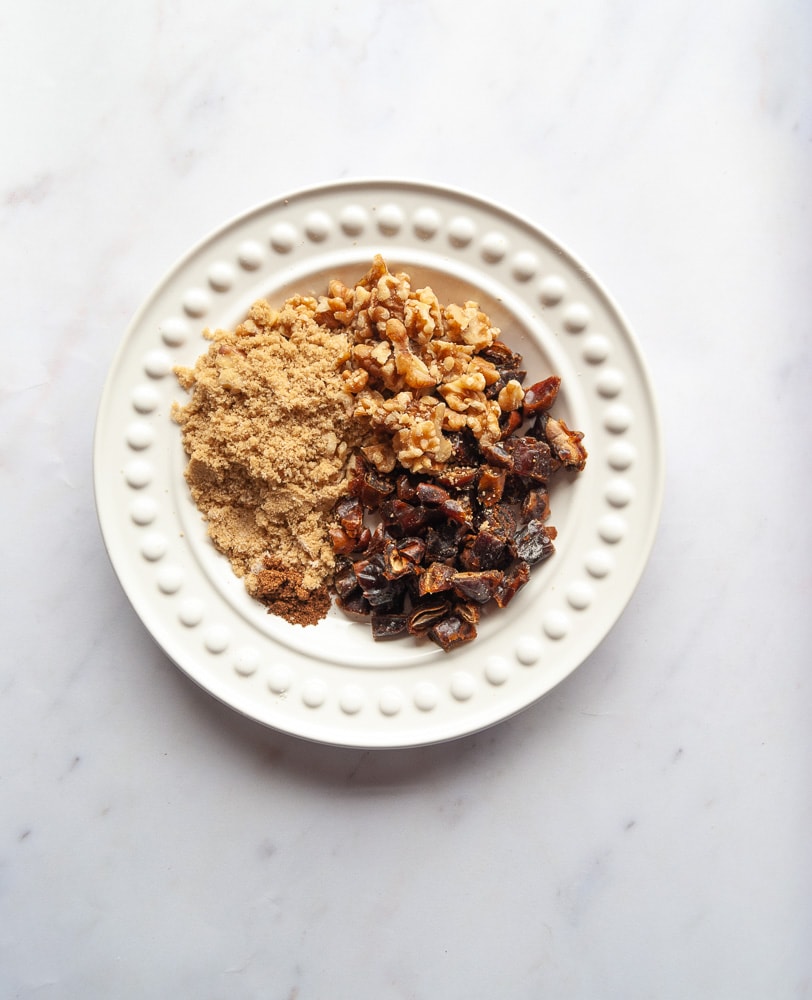 how to make date and walnut scones
(scroll to the end of the post to find printable recipe card – this is a just a quick step by step guide)
Step one – Place the flours, baking powder, mixed spice, cinnamon and salt into a large mixing bowl and stir to mix. Some might prefer to sieve the ingredients together, but I'm going to be honest – I don't bother. I loathe sieving and try and avoid it! But if you would rather do so, then please don't let me stop you.
Step two – Rub the cold butter into the dry ingredients until the mixture is like breadcrumbs.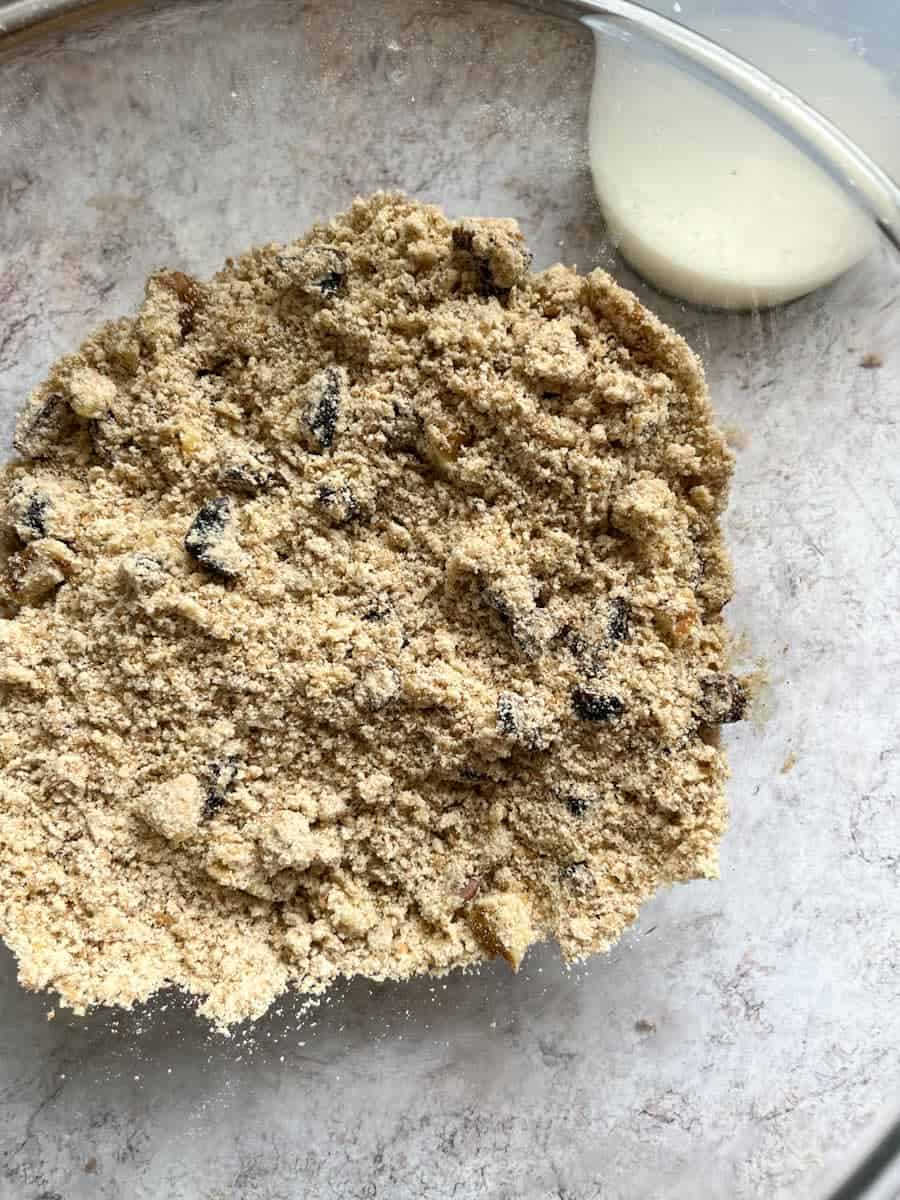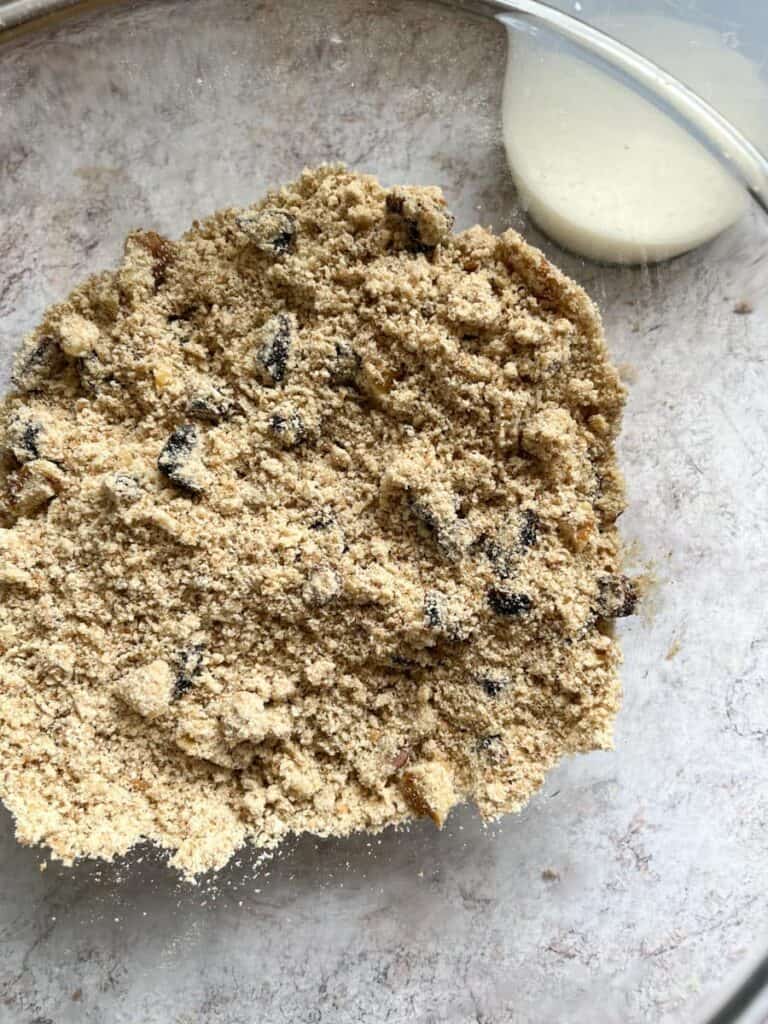 Step three – Stir in the brown sugar, making sure you break up any large lumps. Now stir in the chopped dates and walnuts.
Step four – Pour the milk into the bowl and using a butter knife or your hands, lightly stir to combine all of the ingredients together. It's very important not to overmix scone dough.
Step five – When the dough looks like the photo below left, I tip it out onto a lightly floured work surface. It should be soft and slightly sticky. Form the dough into a circle, then using a rolling pin or your hands, roll or pat out to around 1 1/2-2 inches thick.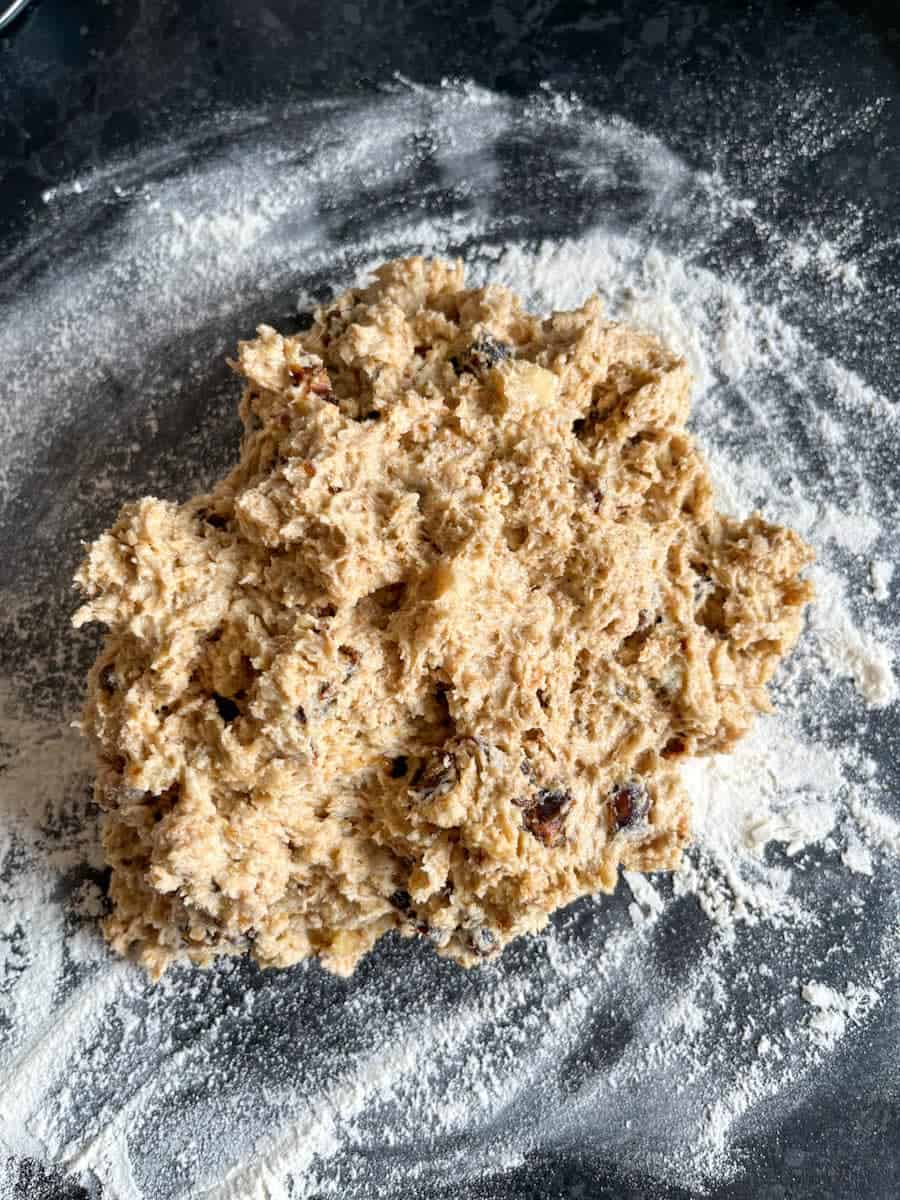 Step six – Using a scone cutter, stamp out the scones. Don't twist the cutter or your scones will end up wonky. I like large scones, so I use an 8cm cutter.
RECIPE TIP – When reforming the dough to cut out more scones, don't knead it or the scones will turn out tough. It's best to just join the pieces back together, lightly patting them until they stick to each other.
Step seven – Place the scones on a large baking tray lined with baking paper, keeping them fairly close together (I love pulling freshly baked scones apart while still warm!)
Use a pastry brush to lightly glaze the tops with milk and for a crunchy top, sprinkle with demerara sugar. Try not to let the milk fall down the sides of the scones or it could affect the rise. You don't need very much at all.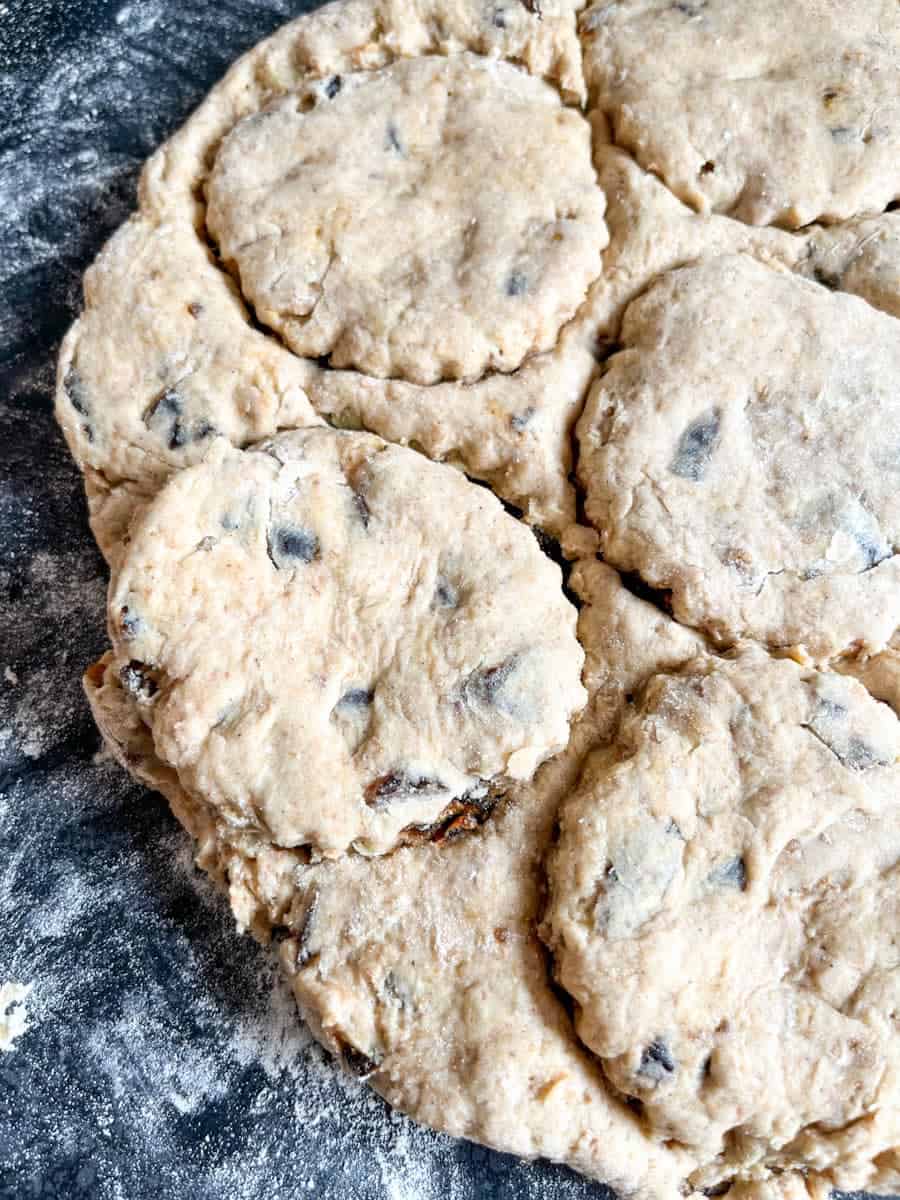 Step eight – Bake the scones in a hot oven (200C/180Fan) for 10-12 minutes or until risen and golden.
RECIPE TIP Once removing the tray of scones from the oven, I like to cover the tray with a clean tea towel for about 10 minutes before transferring the scones to a wire rack. This will make the scones extra soft!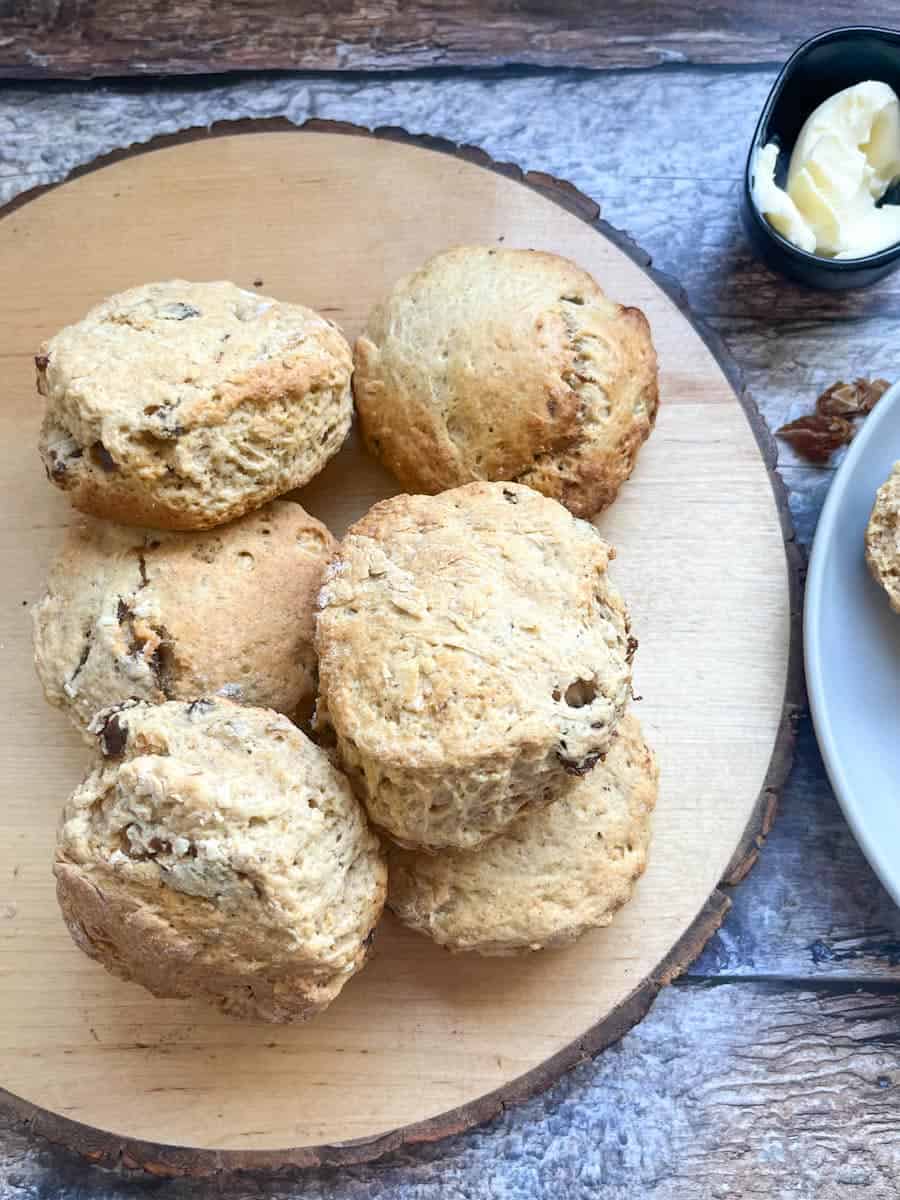 how many scones does this recipe make?
I always get 8 large scones from the dough. If you use a slightly smaller cutter, you would probably get 10 scones.
how to make buttermilk
Want to make these scones with buttermilk but don't have any? You can easily make a substitute by stirring some lemon juice into milk and leaving it for about 10-15 minutes before using.
serving suggestions
Date and walnut scones are delicious served fresh and still slightly warm from the oven with butter. Personally, I don't think jam does that much for them – I think honey is a much better pairing. If you're feeling indulgent, you can never go wrong with clotted cream!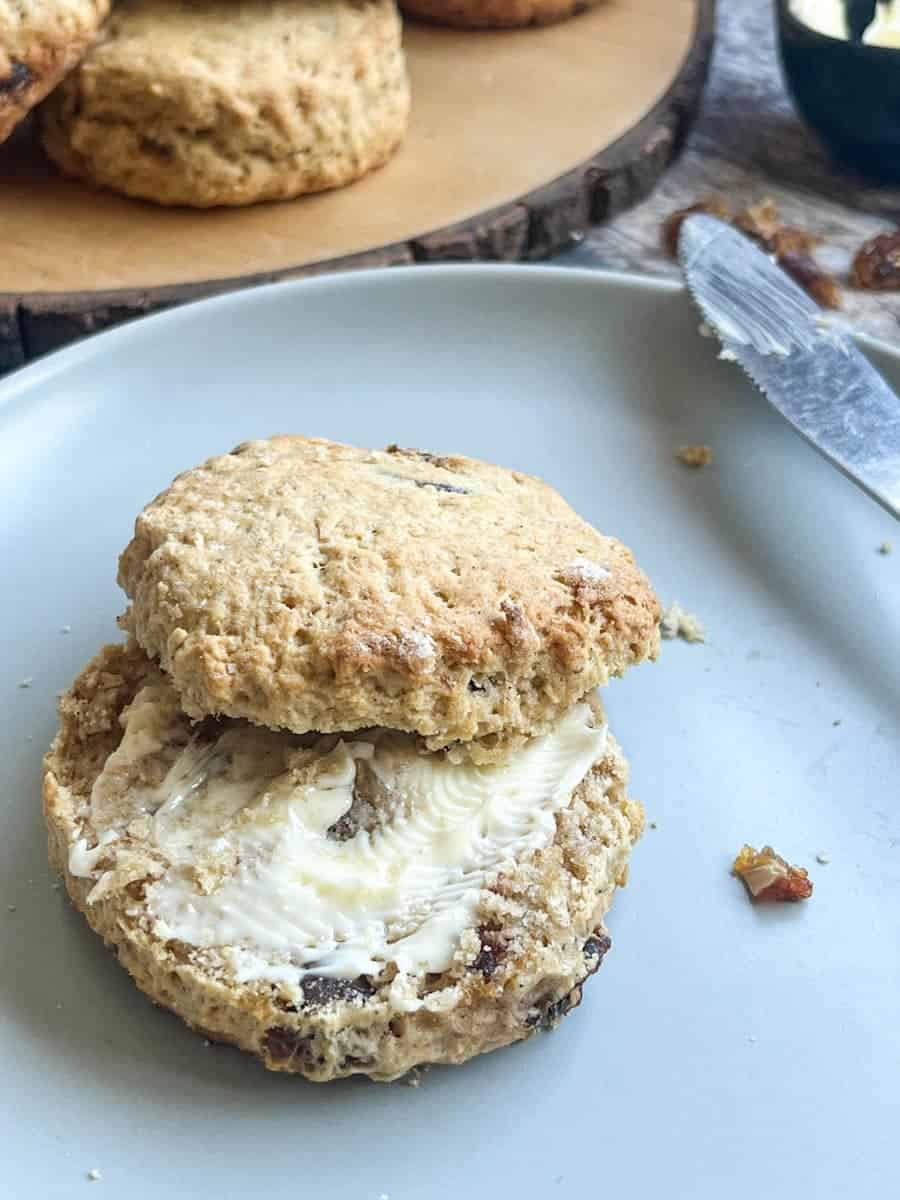 how to store homemade scones
Once the scones are cold, place them in a tupperware container so they don't dry out.

Scones are best eaten on the day they are baked. Any leftover scones are lightly toasted or warmed in the microwave.
freezing scones
Scones are perfect for freezing to enjoy at a later time. Once the scones are completely cold, place them in a large freezer bag or container. They will keep in the freezer for about three months.
Looking for More scone recipes?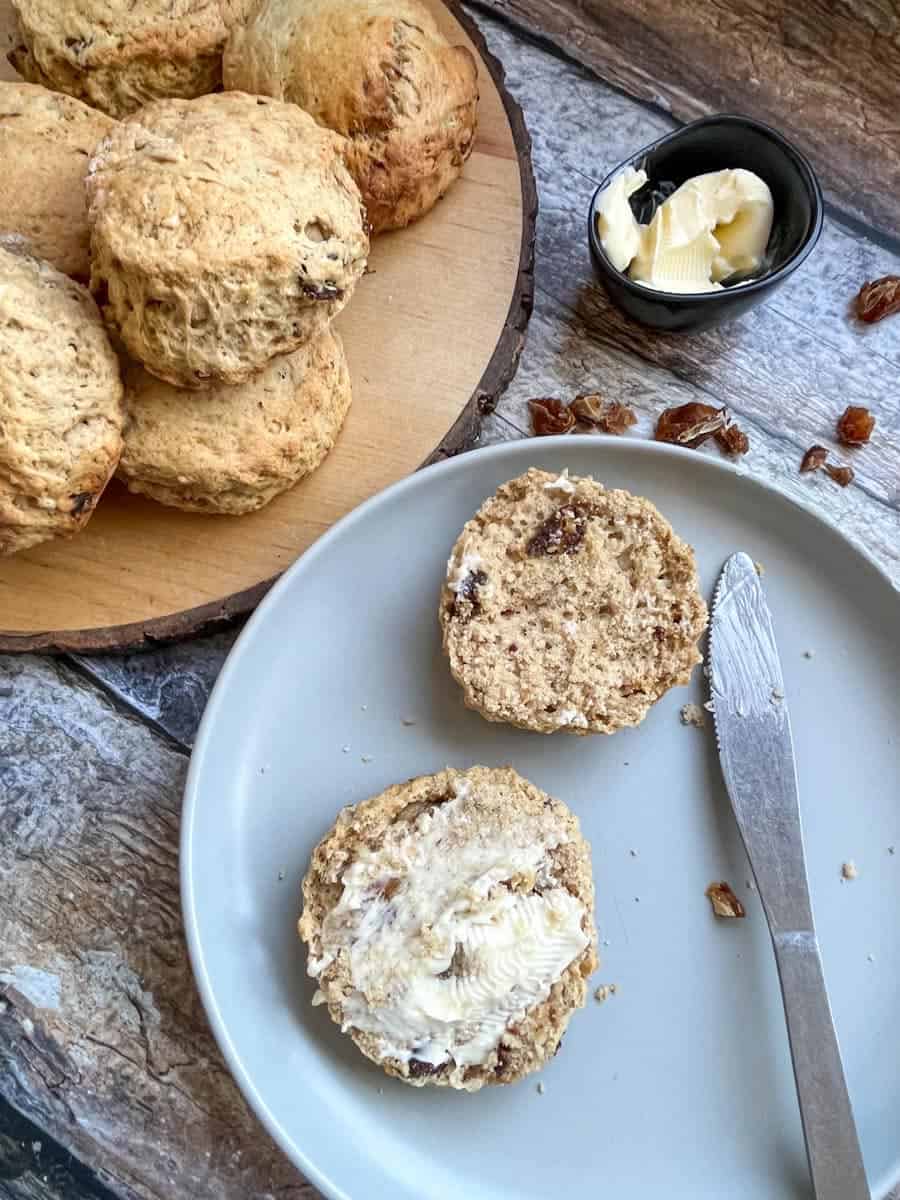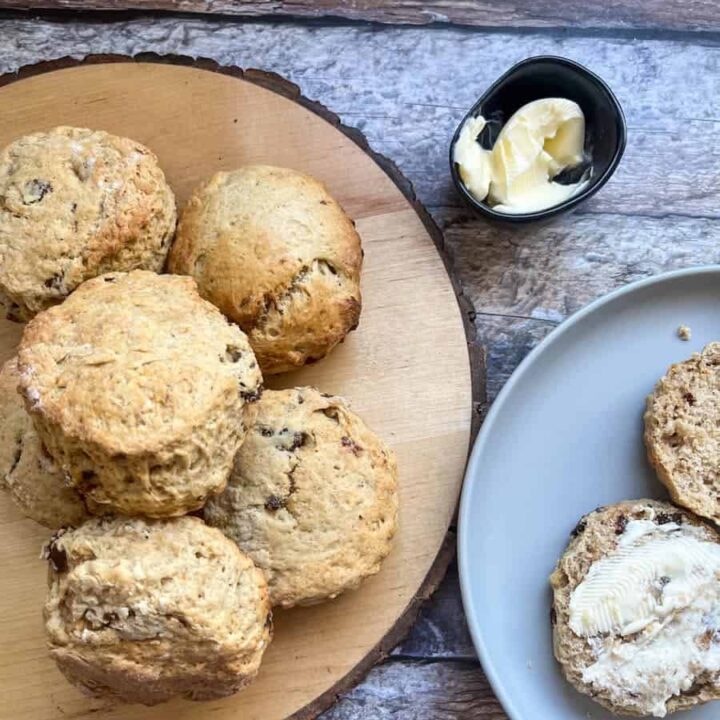 Date and Walnut Scones
These date and walnut scones are light, fluffy and packed full of chewy dates and crunchy walnuts.  They are absolutely delicious spread with butter and jam or honey! 
Ingredients
150g self raising flour
100g self raising wholemeal flour (or more self raising flour)
1/2 tsp salt
1 teaspoon ground mixed spice
1 teaspoon ground cinnamon
50g cold butter, diced
50g soft light brown sugar
50g dates, chopped into small pieces
25g walnuts, chopped fairly finely
150ml milk or buttermilk
1 tbsp milk to glaze
1 tbsp demerara sugar for the topping (optional)
Instructions
Sieve the flour and salt (if using) into a bowl. Stir in the brown sugar, mixed spice, dates and walnuts. Rub in the cold diced butter until you have a mixture that looks like breadcrumbs.
Pour in the milk and mix to a soft dough. I'm always cautious of overmixing when making scones so I use my hands and stop mixing as soon as the mixture comes together.
Tip the mixture out on to a lightly floured work surface and lightly fold the dough over on itself a few times until smooth.
Pat the dough out into a circle about 1 1 2/2 inch thick. Using your cutter, cut into rounds. Try not to twist the cutter while you are cutting out the scones or the scones will turn out wonky!
Place the rounds of dough on a baking sheet fairly close together. Brush the top of the scones with the milk and sprinkle with the sugar, if using. Bake the scones for 10-12 minutes or until risen and golden brown on the bottom. Serve warm with butter, honey, jam or syrup.
Notes
Makes around eight scones, depending on the size of your cutter
Nutrition Information:
Yield:

8
Serving Size:

1
Amount Per Serving:
Calories:

260
Total Fat:

8g
Saturated Fat:

4g
Trans Fat:

0g
Unsaturated Fat:

4g
Cholesterol:

16mg
Sodium:

480mg
Carbohydrates:

42g
Fiber:

3g
Sugar:

18g
Protein:

6g
Calories and nutritional information are provided by a third party application and should be viewed as indicative figures only.