Sticky toffee pudding is a classic British dessert that is quite simply heaven on a plate – a rich, date studded sponge cake drenched in sauce. It's divine with ice cream, clotted cream or fridge cold double cream.
When it's cold outside, I can't think of a more appropriate treat to curl up with than a rich, sticky pudding drenched in a sumptuous toffee sauce.
Yes, it's very sweet, rich and indulgent so you won't need a huge slice – but a little bit of this sweet treat goes a long way. Or if you have a massive sweet tooth, maybe not!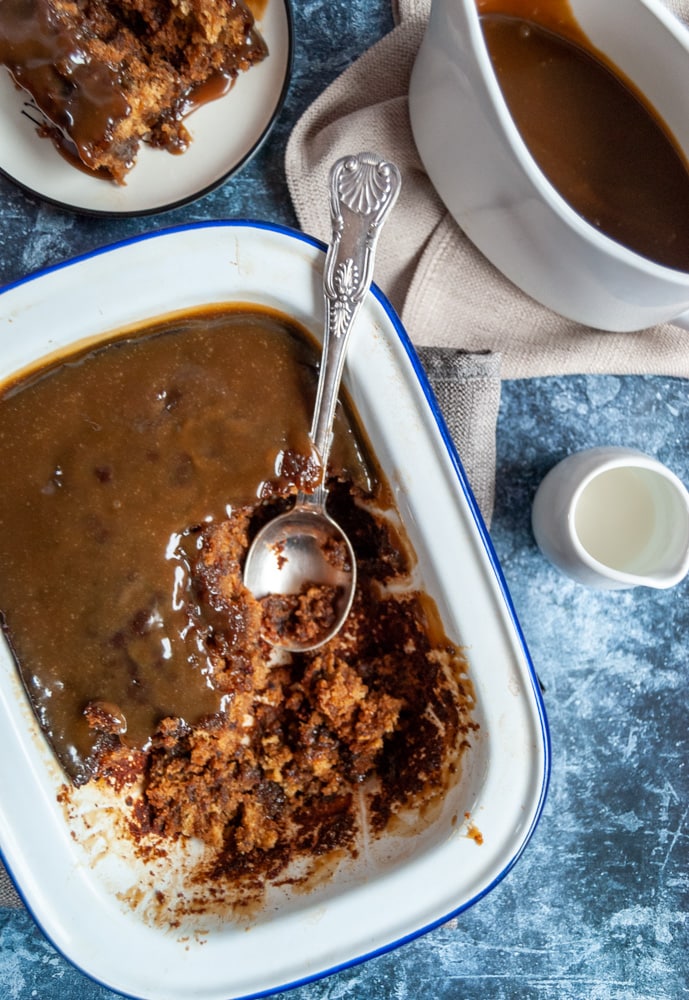 A sticky toffee pudding is a classic dessert you'll find on every pub menu in Britain. Other classic British Winter desserts (or puddings as we generally call them) are treacle (golden syrup) steamed sponge pudding, Eve's Pudding (apple sponge), apple and blackberry crumble, plum crumble, creamy baked rice pudding and a bread and butter pudding (although mine isn't quite so traditional – I use hot cross buns instead of white bread!)
This Sticky toffee pudding is adapted from a recipe by Delicious magazine. It's the best I've tried.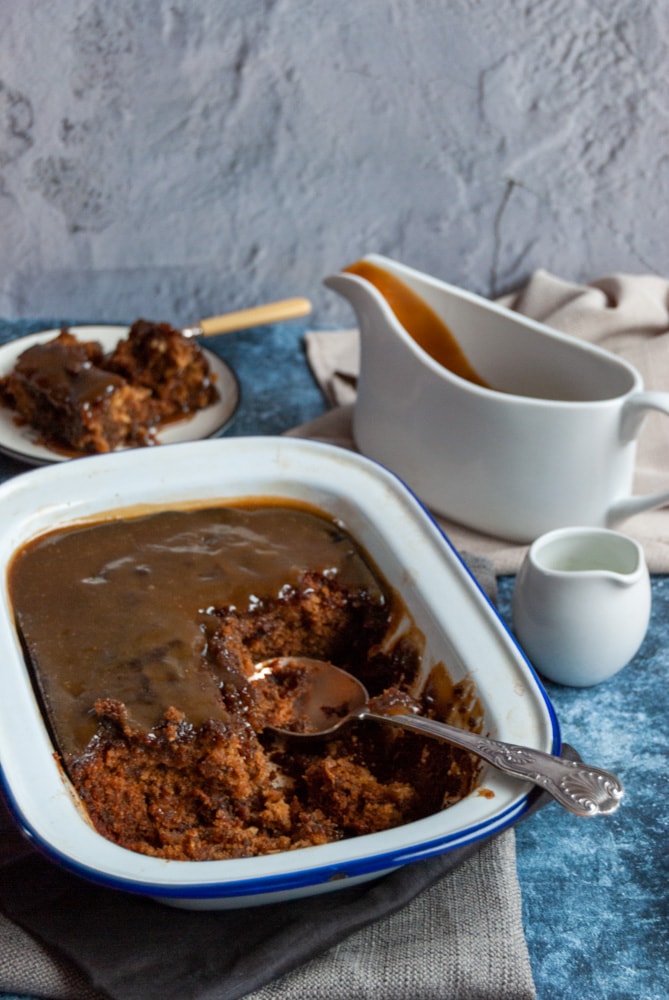 What does sticky toffee pudding taste like?
Quite literally, heavenly! If you've never eaten one before, think of a light, moist brown sugar sponge cake covered in a sweet, sticky toffee sauce. Although the sponge itself is light, the dates also add a sticky, slightly chewy toffee like texture.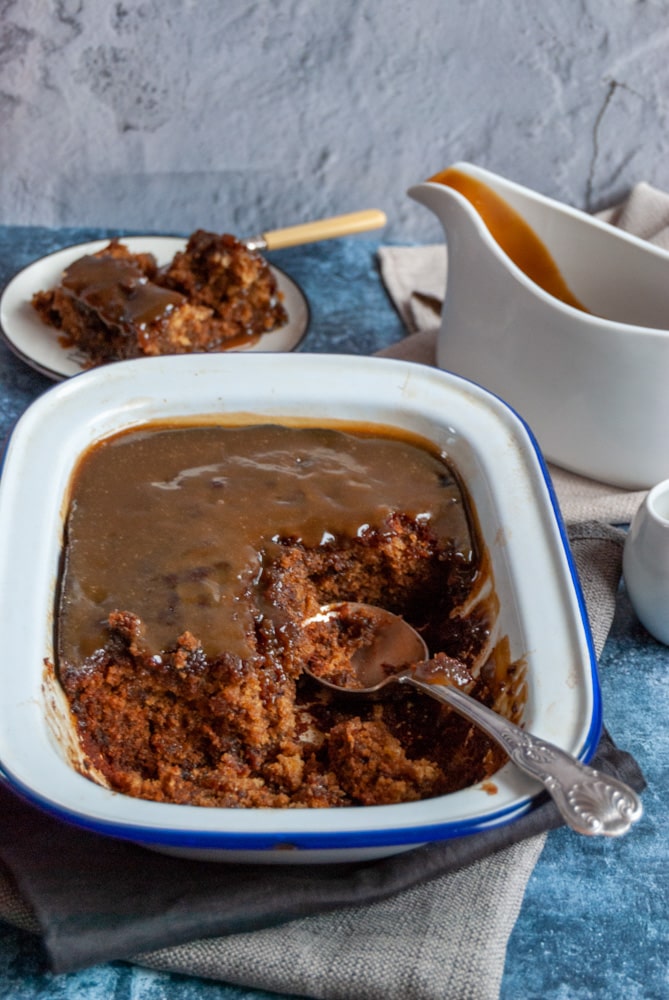 but I don't like dates!
Don't worry, you won't actually notice the dates – they melt into the sponge, giving that distinctive toffee like texture. My kids hate them, but it doesn't put them off eating this!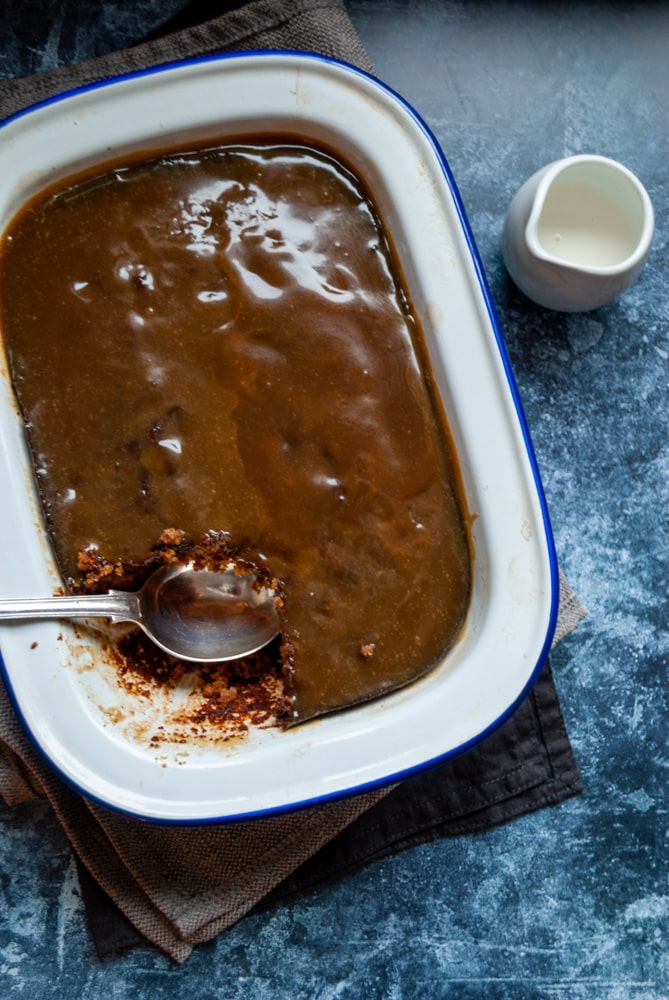 Do i need to add DATES?
In my view, yes. A quick online search will bring up a few recipes for sticky toffee pudding without dates, but I believe they are a pretty essential ingredient. Dates give the pudding a moist, sticky texture. Without them, it's really just a brown sugar cake with toffee sauce.   
If you don't like dates, please don't let it put you off making this pudding. If you mash the dates up finely enough, you won't detect them.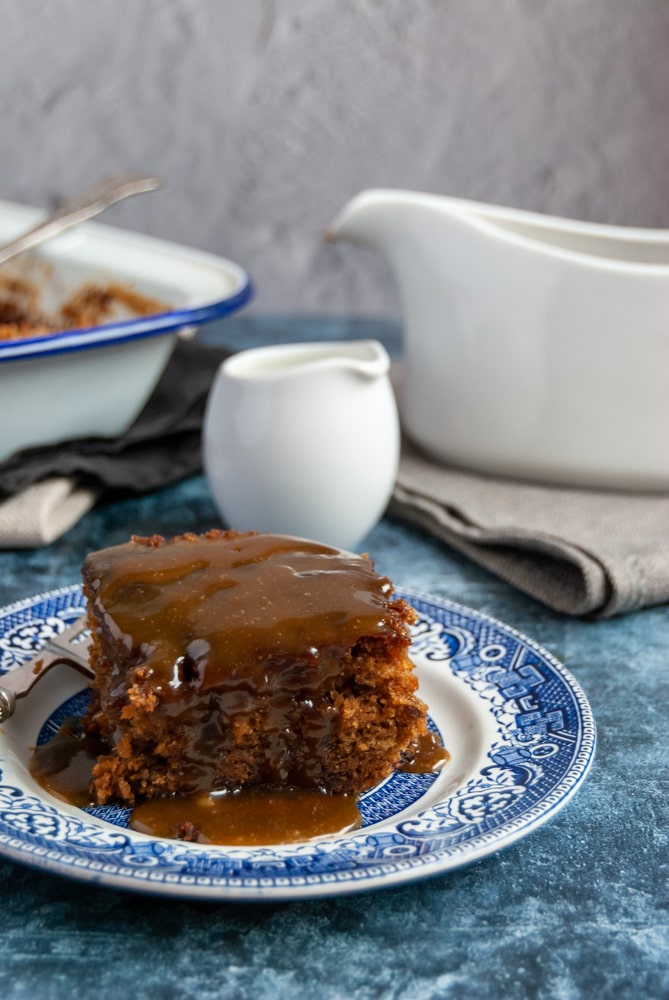 reheating instructions
The sponge can be either reheated in the oven at 160C for about 20-25 minutes until piping hot or reheat slices in the microwave for 30-60 seconds (or according to manufacturer instructions.)
Do bear in mind that the pudding will be at its best on the day of baking. It does tend to dry out a little on reheating.
It's best to reheat the sauce separately in a saucepan over a low heat so it doesn't overheat or burn.
Storage instructions
Store the sponge and sauce separately in the fridge for up to 5 days.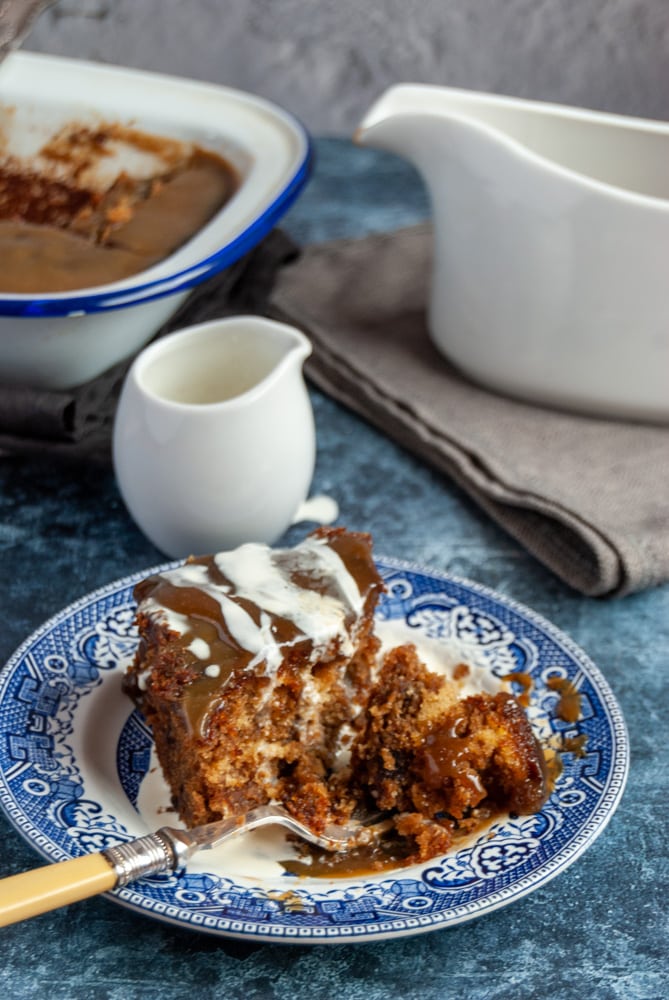 SERVing suggestions
My favourite accompaniment with this rich pudding is vanilla ice cream, but it's also amazing with double (pouring) cream or for a real indulgent treat, clotted cream!
Some people love STP with custard, but personally I prefer the contrast between the warm, sticky sponge and sauce and the cold ice cream. It's out of this world!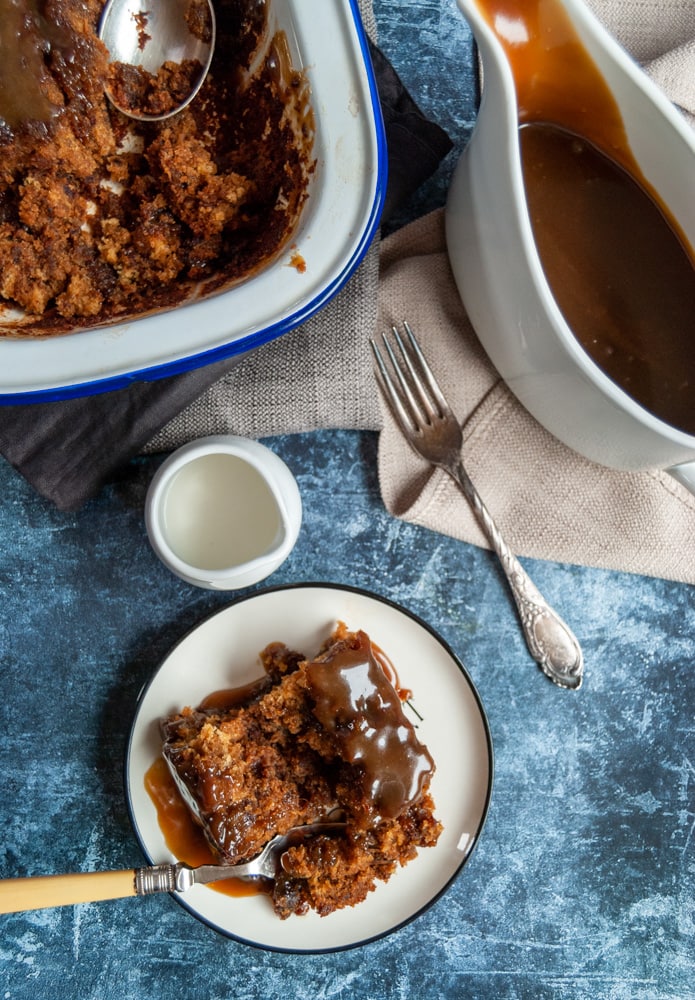 more desserts that are perfect for Winter Time
did you make this reciPe?
I hope you enjoyed it! Let me know what you thought of it by leaving a comment below and rate the recipe by clicking on the stars in the recipe card.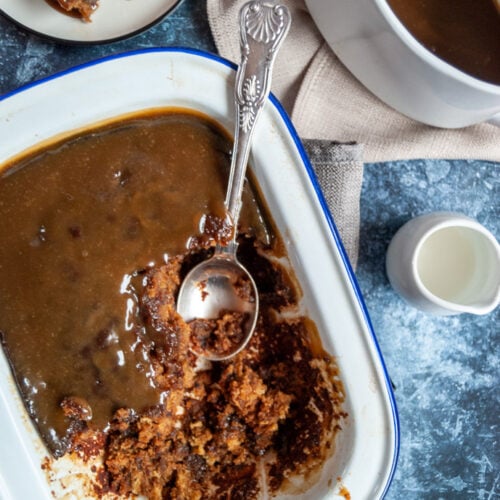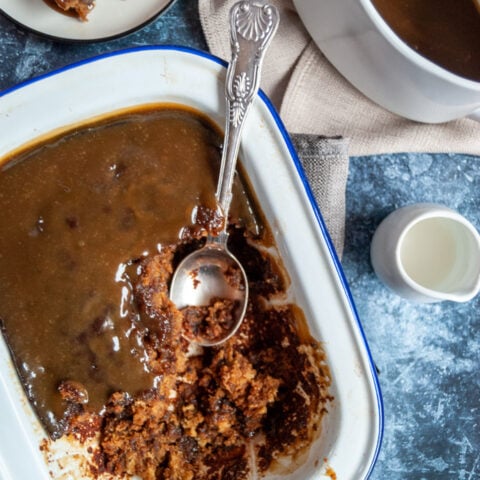 Sticky Toffee Pudding
Additional Time:
30 minutes
Total Time:
1 hour
40 minutes
Sticky toffee pudding is a classic British dessert that is quite simply heaven on a plate - a sticky, date studded sponge cake drenched in rich toffee sauce. Serve with ice cream, double cream or clotted cream for an indulgent treat!
Ingredients
180g soft dates
1 teaspoon bicarbonate soda
150ml boiling water
100g soft butter
150g light brown muscovado sugar
2 large eggs, beaten
1 teaspoon vanilla extract
1 tablespoon treacle
1 tablespoon golden syrup
175g self raising flour
100ml whole milk
FOR THE STICKY TOFFEE SAUCE
250g light or dark muscovado sugar (the dark brown sugar results in a rich, darker sauce)
100g butter
1 tablespoon treacle
280ml double cream
Instructions
Grease a fairly deep 1.2 Litre baking dish with butter. Place the dates in a heatproof bowl with the bicarbonate of soda and stir. Pour over the boiling water, cover the bowl with cling film and leave the dates to soak for around 30 minutes before mashing the dates with a fork to a pulp. Set aside while you make the sponge. Preheat the oven to 180C/160Fan/350F/Gas mark 4.
Using an electric mixer or wooden spoon, cream the soft butter and sugar together for about 5 minutes or until very light and fluffy. Beat in the eggs, a little at a time, waiting until they are fully incorporated before adding the rest. Beat in the vanilla extract, treacle and golden syrup.
Fold in half the flour, folding lightly until no streaks of flour can be seen. Fold in half the milk, then repeat with the remaining flour and milk. Stir the mashed dates and any remaining liquid into the batter until smooth. The batter will look like a curdled mess at this point, but don't worry.
Pour the batter into the greased tin and bake for 40-50 minutes or until the pudding has risen, is springy to the touch and a skewer inserted in the middle of the cake emerges with no raw batter clinging to it. A little stickiness is fine!
While the sponge is baking, make the sauce. Melt the sugar, butter and treacle in a large saucepan over a low heat. Once the butter has melted and the sugar has dissolved, stir in the cream. Turn the heat up slightly and when the sauce is bubbling remove from the heat. Cover to keep warm.
As soon as the pudding is out of the oven, skewer it all over with a cocktail stick or cake tester and pour over about half of the sauce, allowing it to soak into the sponge. Using a spatula, spread the sauce to the edges so the entire sponge is covered in the sauce.
Leave the pudding to stand for about 30 minutes before serving with ice cream, double cream and the remaining toffee sauce.
Nutrition Information:
Yield:

8
Serving Size:

1
Amount Per Serving:
Calories:

684
Total Fat:

36g
Saturated Fat:

22g
Trans Fat:

1g
Unsaturated Fat:

11g
Cholesterol:

143mg
Sodium:

532mg
Carbohydrates:

89g
Fiber:

3g
Sugar:

69g
Protein:

6g
Calories and nutritional information are provided by a third party application and should be viewed as indicative figures only.