This Baileys chocolate brioche pudding is totally heavenly. Fluffy, sweet brioche baked in a chocolate flecked Baileys custard.
It's total indulgence!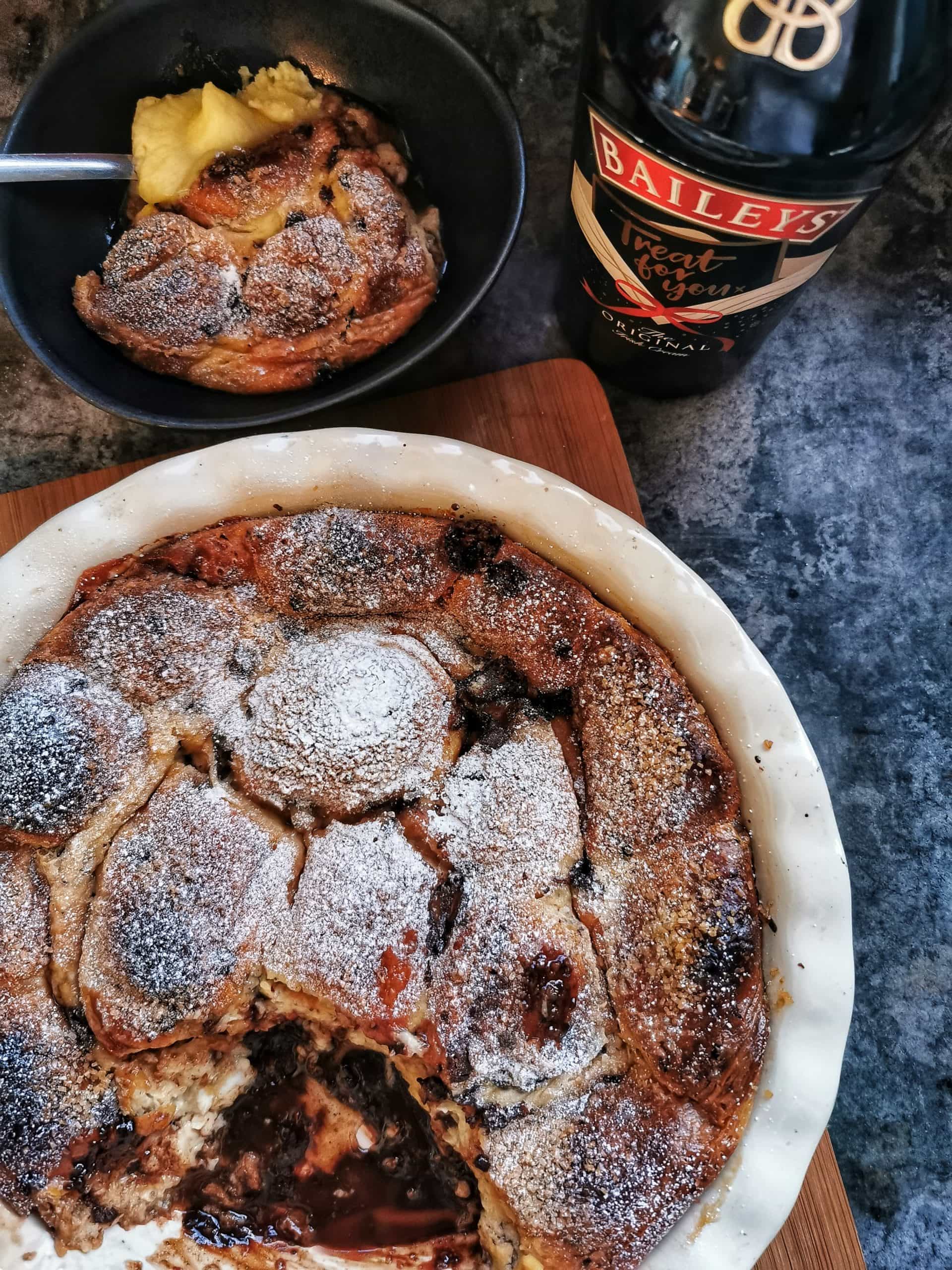 You know how it is. Once Christmas has been and gone, we always end up with half packets and bottles of this and that to use up.
Yes, we could simply just eat them to get them out of the way, but I go one step further…I love to make indulgent desserts from my Christmas leftovers.
I can't think of a better way to kick off the year than with a dessert that involves Baileys, chocolate and brioche, can you?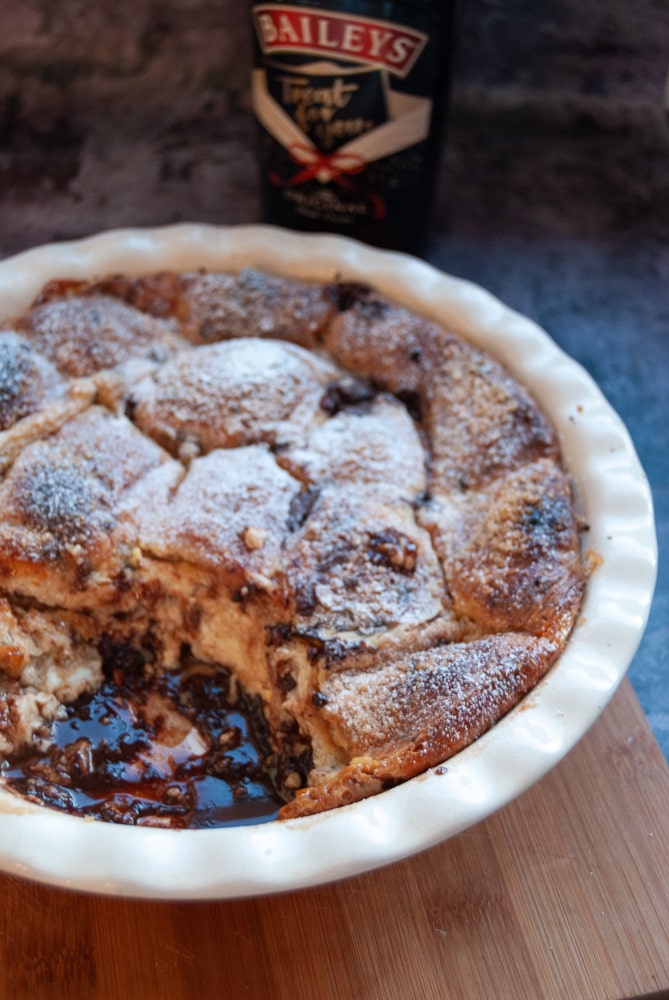 Once the brioche pudding is baked and you dig a spoon in, you will find a pool of gooey chocolate sauce on the bottom.
Once you've assembled the pudding, leave it to stand for about 30-60 minutes before baking. The brioche will soak in the Baileys-vanilla infused custard, giving you an oh so fluffy, quivering, softly centered inside just like any good bread pudding should have.
Have I convinced you yet?
Make this pudding, serve yourself a big spoonful with cream or ice cream if you fancy and curl up on the sofa. January isn't so bad after all, really…
Baileys chocolate brioche pudding 
Ingredient list
A Brioche loaf or rolls, torn into pieces
Dark Chocolate chips, or a bar broken into small pieces
Eggs
Vanilla Extract
Caster Sugar
Whole Milk
Double cream
Baileys Irish Cream Liqueur
Demerara sugar for sprinkling over the top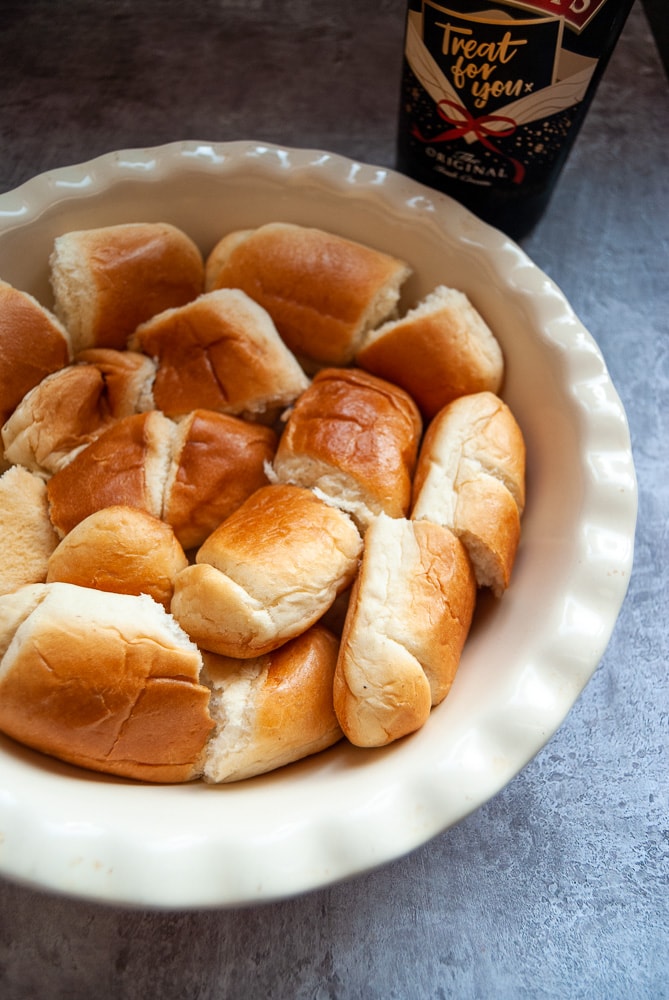 Arrange the brioche pieces in a deep dish bowl. It doesn't really matter if it's a round or square dish – but it must be deep enough to hold all the liquid.
Scatter over the chocolate chips.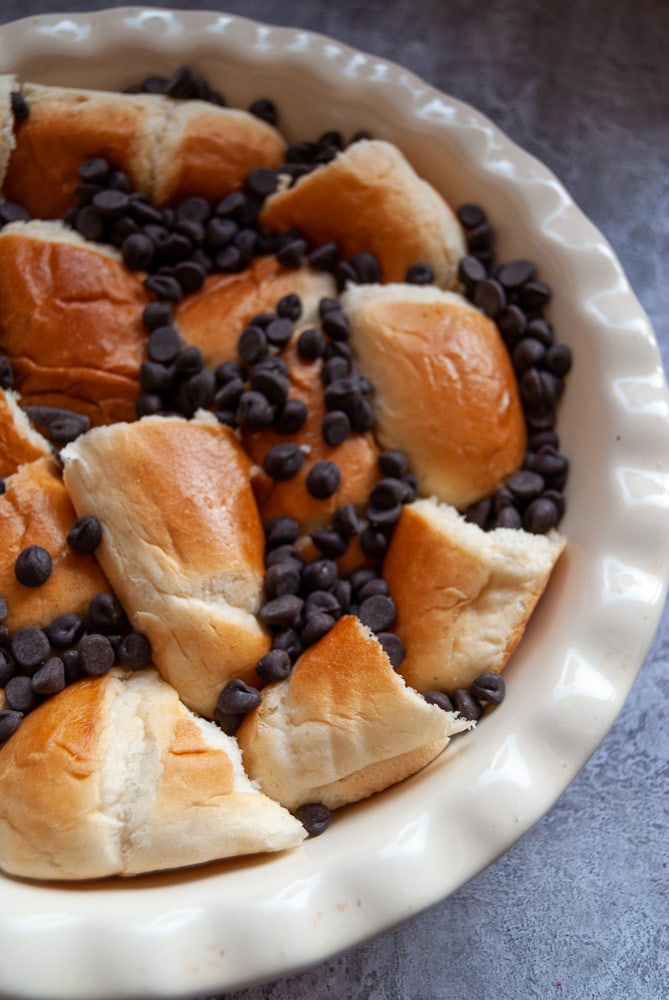 In a large measuring jug, whisk together the eggs, caster sugar, vanilla extract, milk, Baileys and double cream until very smooth.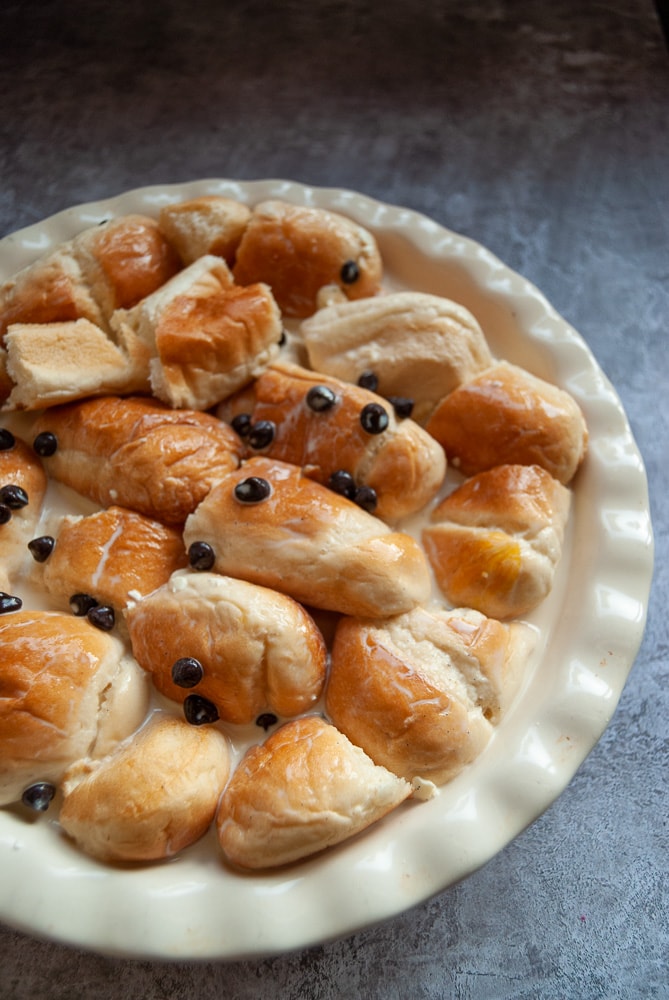 Slowly pour this over the brioche pieces. Cover the pudding and leave to one side for about 30-60 minutes to allow the liquid to soak into the bread.
When you're ready to bake the pudding, sprinkle over the demerara sugar and bake at 180C/160Fan/350F for 45-50 minutes or until the pudding is puffed up, golden brown on top and the filling is set.
It will have a slight wobble in the middle but that's ok – the pudding will set fully as it cools.
This pudding isn't much of a looker I know, but trust me – the taste more than makes up for it!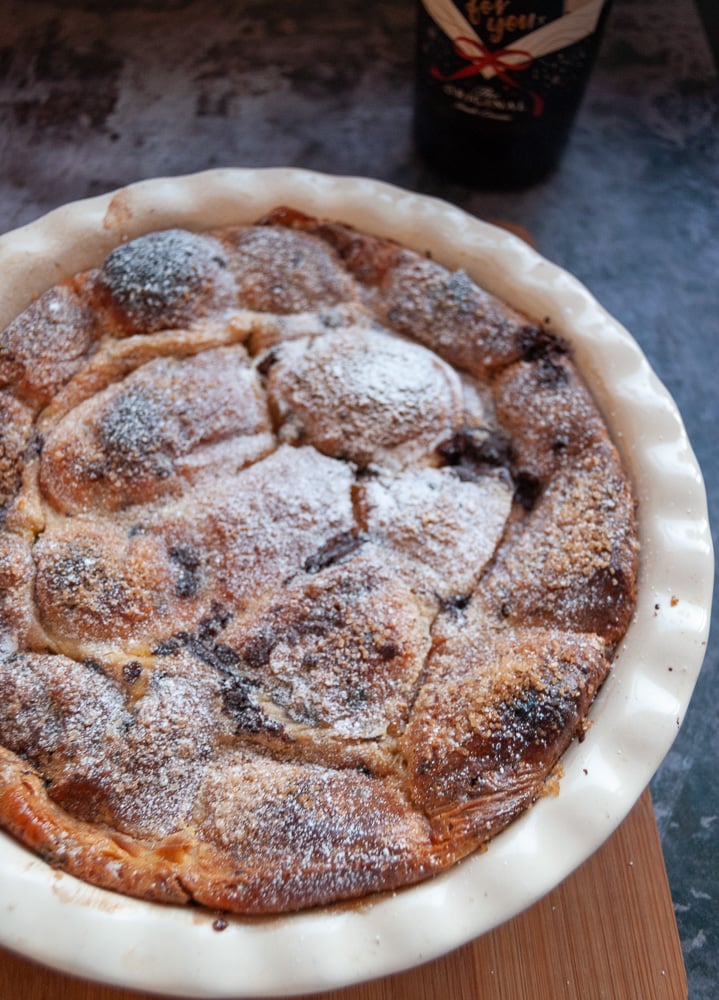 servIng SugGestions
This brioche pudding is absolutely delicious served with thick double (heavy) cream, vanilla ice cream or if you want to be really over the top indulgent, serve with a small glass of Baileys on the side!
More comforting desserts to try
Chocolate Orange Panettone Pudding
Chocolate Brownie Berry Trifle
No Bake Terry's chocolate orange cheesecake
Chocolate Magija Mousse with blackberries
No Churn Salted Caramel Rolo Ice Cream
Hot Cross Bun Bread and Butter Pudding
more recipes using baileys
Guinness Brownies with Salted Caramel Baileys Glaze
Chocolate Guinness Cupcakes with Baileys Buttercream
Did you make this recipe?

I hope you loved it! Let me know what you thought by leaving a comment below. 
If you could leave a rating by clicking on the stars in the recipe card, I would really appreciate it. Thanks and happy baking!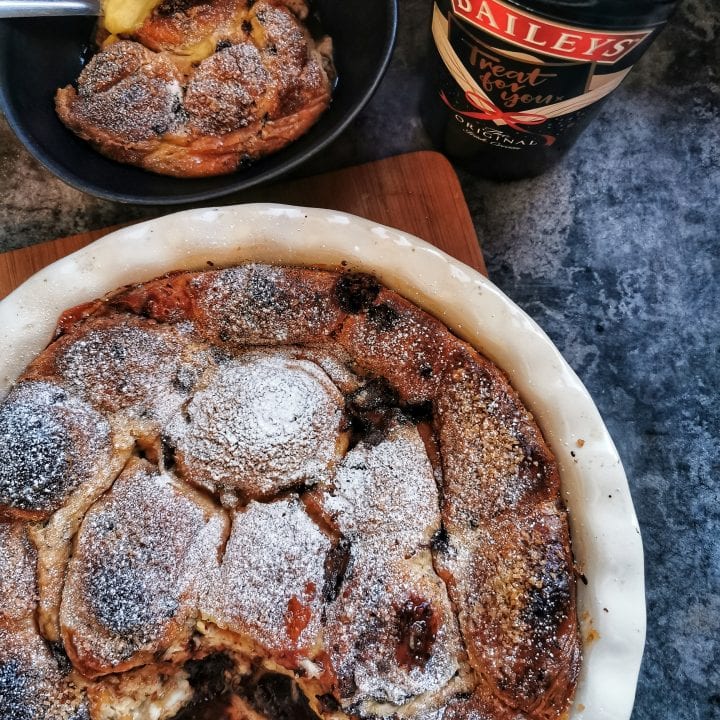 Baileys Chocolate Brioche Pudding
Total Time:
1 hour
25 minutes
This Baileys chocolate brioche pudding is totally heavenly. Fluffy, sweet brioche baked in a chocolate flecked Baileys custard. Total indulgence!
Ingredients
280G Brioche, torn into pieces
100g Dark chocolate chips, or one bar chopped into small pieces
3 Large Eggs
80g Caster Sugar
300ml Whole Milk
150ml Double Cream
100ml Baileys Irish Cream
1 Tablespoon Demerara Sugar
Instructions
Place the brioche pieces in a buttered deep ovenproof dish. Scatter over the chocolate chips.
Whisk together the eggs, milk, vanilla extract, caster sugar, Baileys and double cream until very smooth. Slowly pour the mixture over the brioche. Cover and leave for about 30 minutes or so to allow the liquid to soak into the bread. Preheat the oven to 180C/160Fan/350F.
Sprinkle the pudding with demerara sugar and bake for 40-45 minutes or until golden on top, puffed up and the custard is set. The pudding should still have a bit of a wobble in the middle - it will continue to cook and set after removing from the oven.
Leave for 5 minutes before dusting with icing sugar. Serve with thick cream or ice cream.
Nutrition Information:
Yield:

6
Serving Size:

1
Amount Per Serving:
Calories:

522
Total Fat:

26g
Saturated Fat:

15g
Trans Fat:

1g
Unsaturated Fat:

9g
Cholesterol:

191mg
Sodium:

243mg
Carbohydrates:

53g
Net Carbohydrates:

0g
Fiber:

2g
Sugar:

36g
Sugar Alcohols:

0g
Protein:

10g