This Cinnamon swirl pumpkin loaf cake is incredibly easy to make and is totally delicious. A soft, moist pumpkin cake with an irresistible cinnamon sugar swirl. You'll be making this all through the cold Winter months!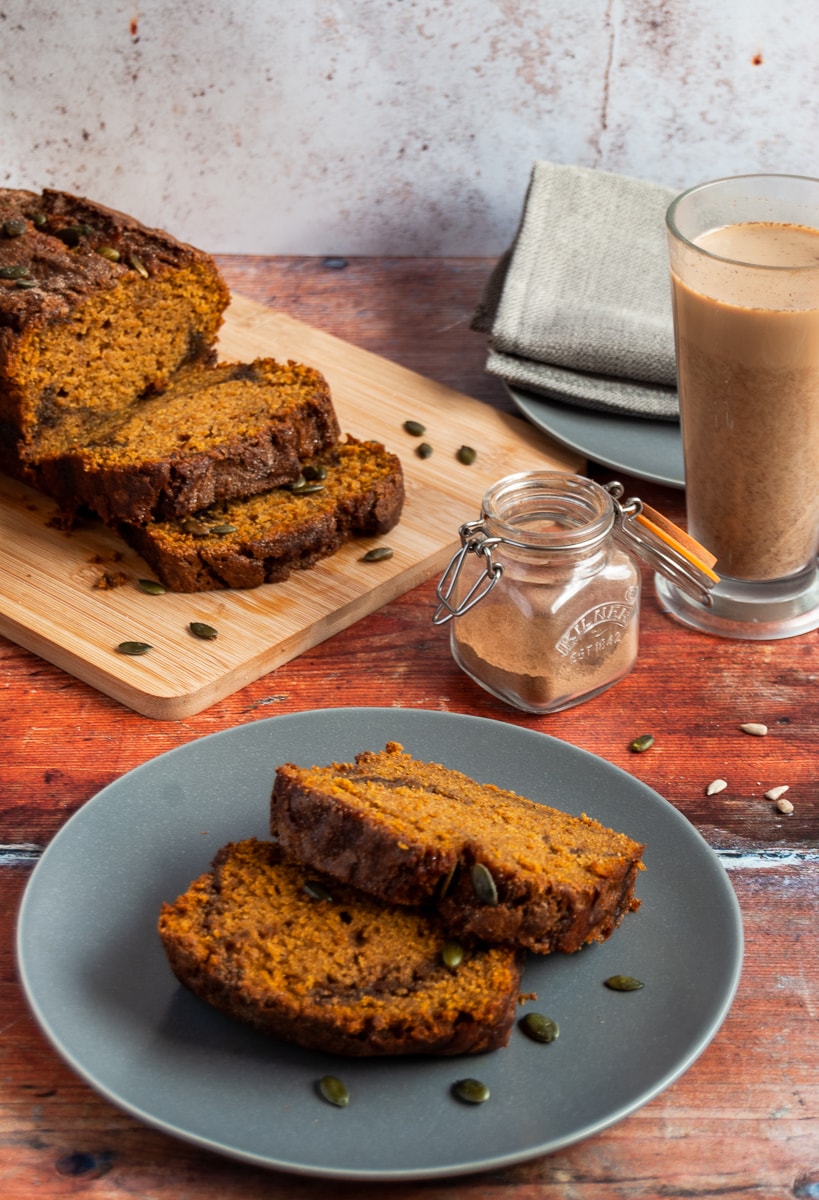 Hello! As I'm typing this I honestly can't believe we are just about to say goodbye to September already. It went by so fast! I feel like I blinked and missed it somehow.
I've waxed lyrical about my love for this wonderful time of year many times here before (see my pumpkin spice muffins post), so I'll refrain from listing all the reasons why I love Autumn (or Fall if you're in the USA!)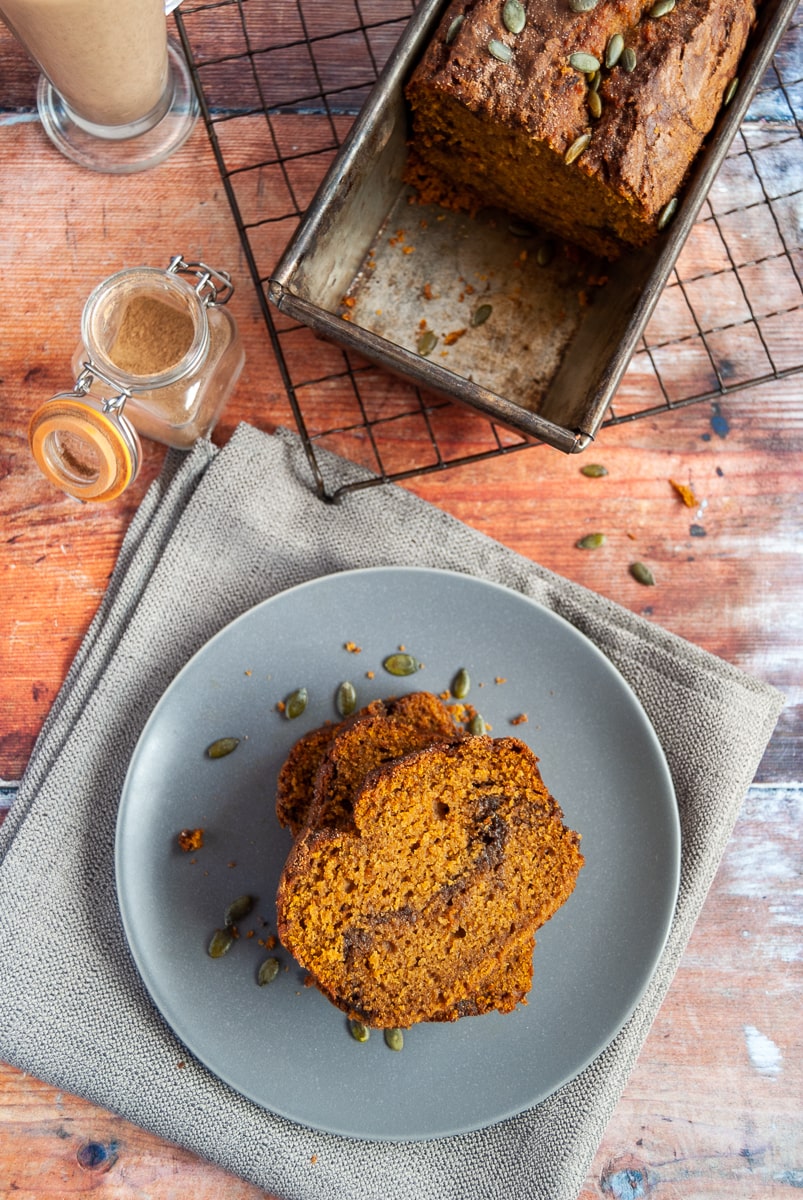 One of my very favourite things of this time of year is having an excuse to hunker down and make cosy comfort food.
I shut myself in my kitchen, switch on the radio and make slow cooked casseroles, vegetable soups and fruit crumbles. 

It's how I unwind and switch off from the outside world. The knowledge that my family will enjoy the fruits of my labour is very rewarding too.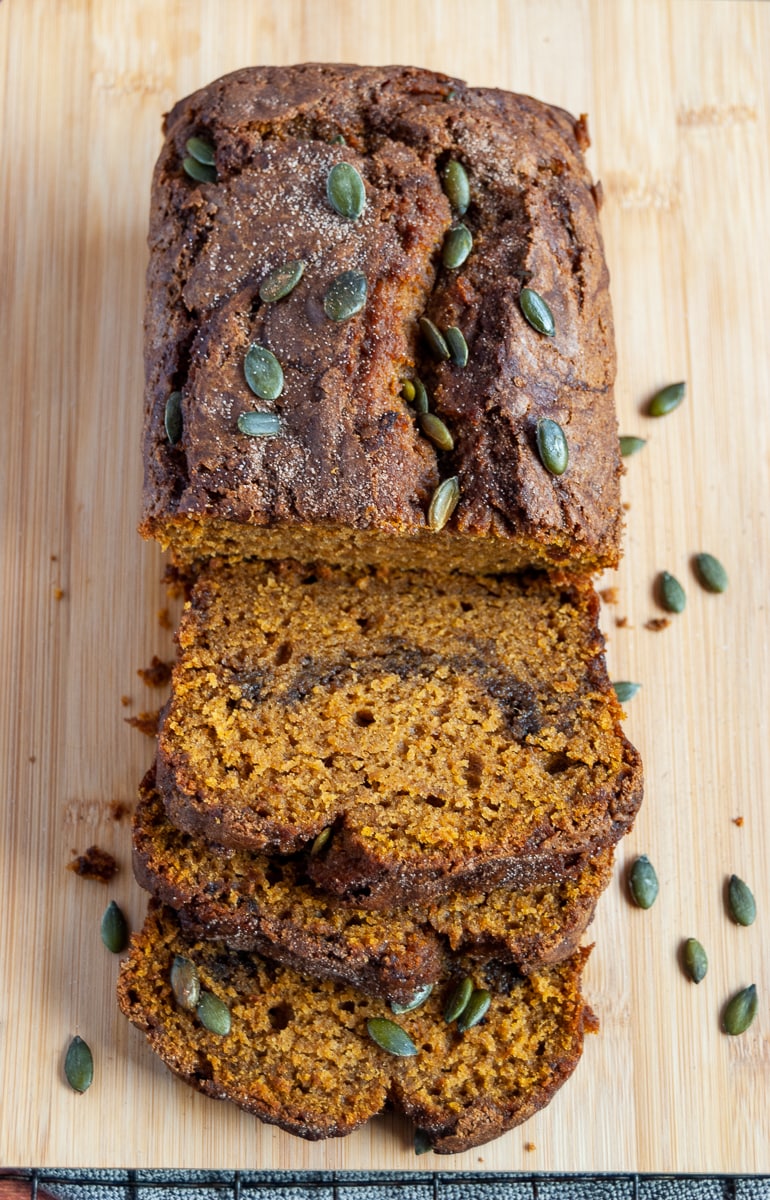 I have to admit to being pretty partial to a slice of Starbucks pumpkin spice loaf and this is my homemade version. I've added a little twist of my own – a cinnamon sugar swirl filling!
In my opinion a cinnamon swirl improves pretty much any home baked good on the planet, but if you aren't a cinnamon fan you can just leave it out.
This pumpkin loaf is incredibly moist, soft and full of the flavours we all associate with Autumn – ground ginger, nutmeg, cinnamon and that spice more commonly linked to Christmas time, cloves.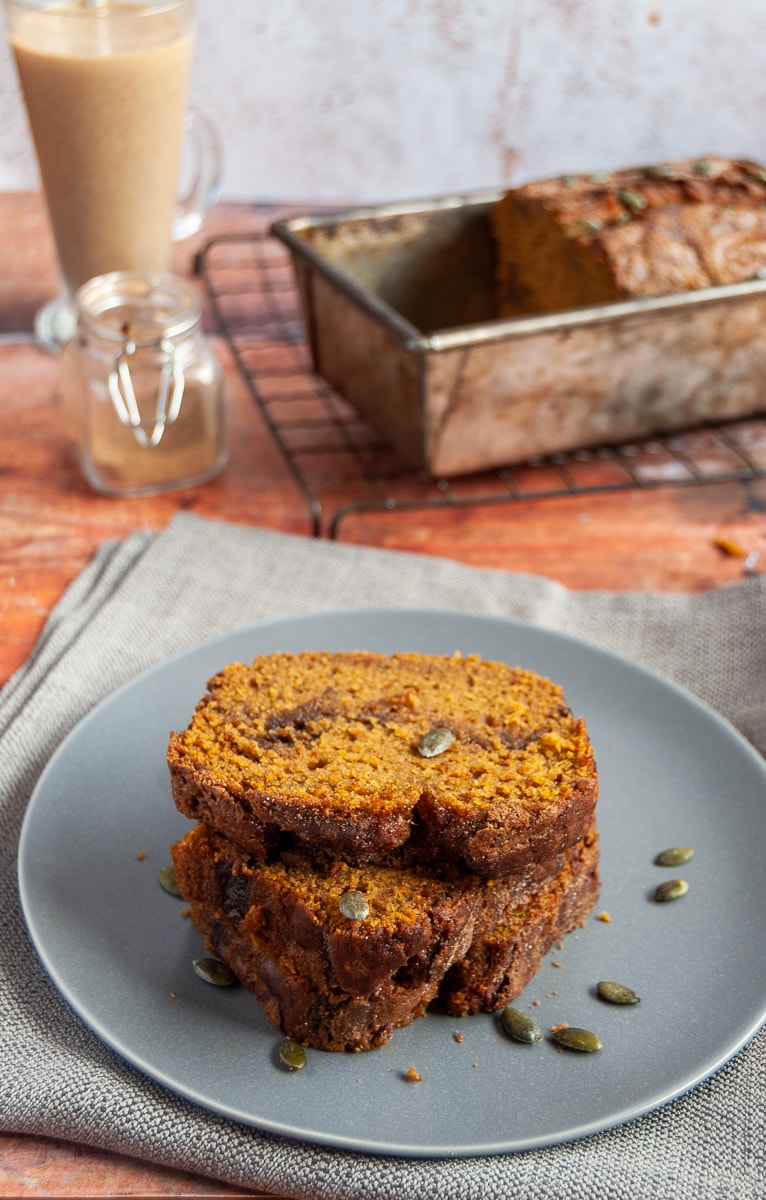 In America, this kind of loaf cake is called a "quick bread", which is basically a not too sweet cake made in a loaf tin that contain raising agents such as baking powder and baking soda.

They are often served at breakfast time, but this spiced pumpkin loaf cake makes a perfect snack for any time of the day.  
I highly recommend serving this pumpkin cake with my homemade pumpkin spice latte – who needs overpriced coffee houses when you can have the same experience in the comfort of your own home? Plus you can wear your cosy pyjamas and curl up with your favourite box set – an added bonus!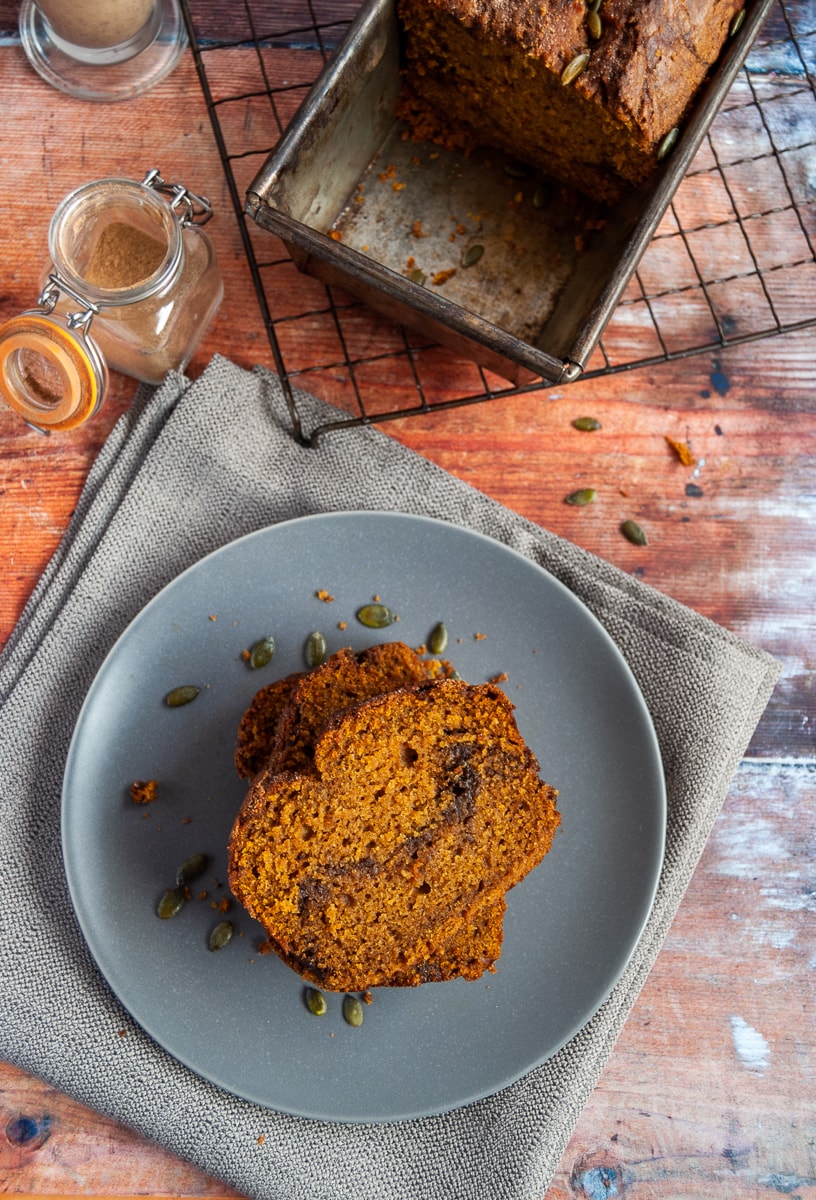 ingredient list
(Scroll to the bottom of this post to find printable recipe card with ingredient amounts and instructions)
Plain (all-purpose) Flour
Bicarbonate of Soda (Baking Soda)
Salt
Baking Powder
Ground Cinnamon
Ground Ginger
Ground Nutmeg
Ground Cloves
Ground Cardamom
Soft Light Brown Sugar
Large Eggs
Vanilla Extract
Unsweetened Pumpkin Puree – I use canned, but you could use homemade
Vegetable or Sunflower Oil
Pumpkin seeds to sprinkle on top of the cake, optional
for the cinnamon swirl:
Caster Sugar
Ground Cinnamon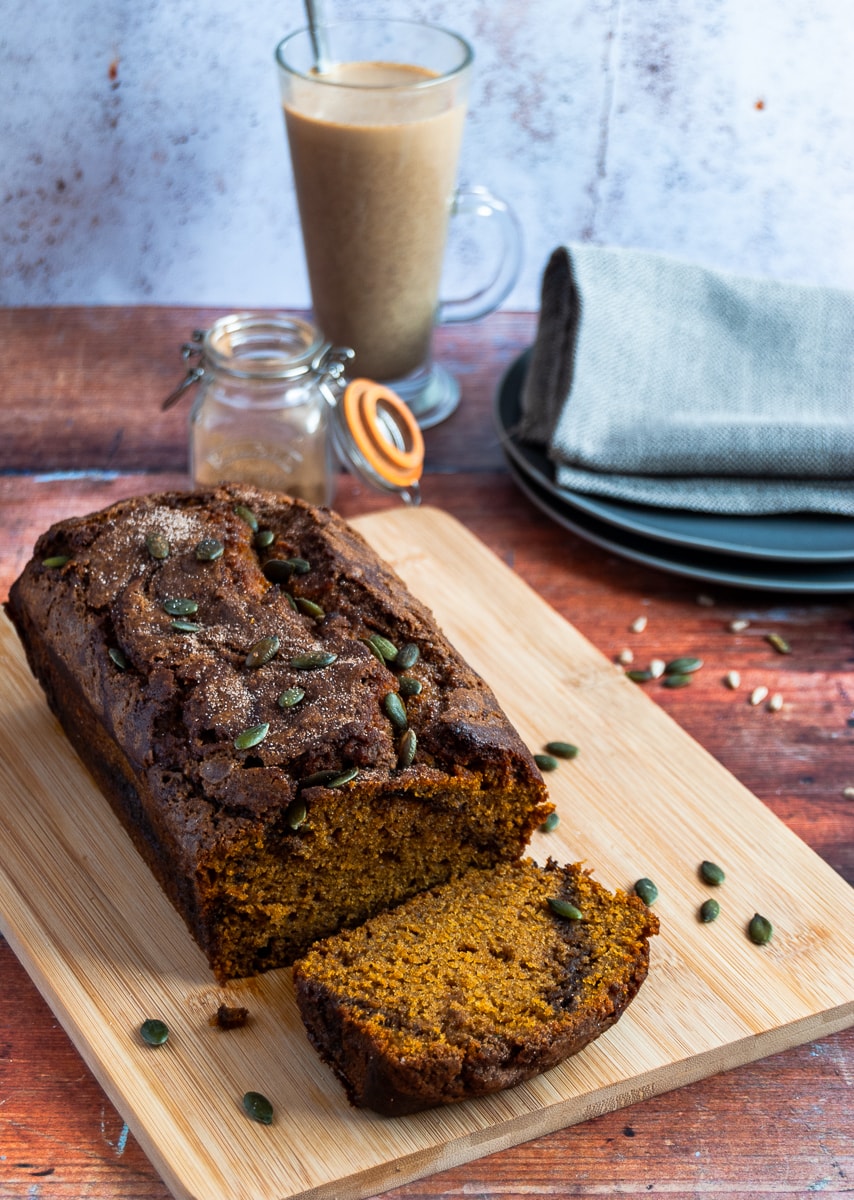 tips for making this cinnamon swirl pumpkin bread
Don't overmix the batter.  You just need to lightly stir the wet and dry ingredients together until they are just combined, otherwise you risk ending up with a cake with a very dense, tough texture.
Try not to overbake the loaf cake.  To test if the loaf cake is ready, insert a skewer in the middle of the cake.  If the skewer emerges pretty much clean apart from a few sticky crumbs, the cake is ready.  What you don't want to see is raw batter – so if you do, get that cake back in the oven and check it every 3-4 minutes.
If the cake springs back when you lightly press it, it should be ready.  However, it's always more reliable to do the skewer test.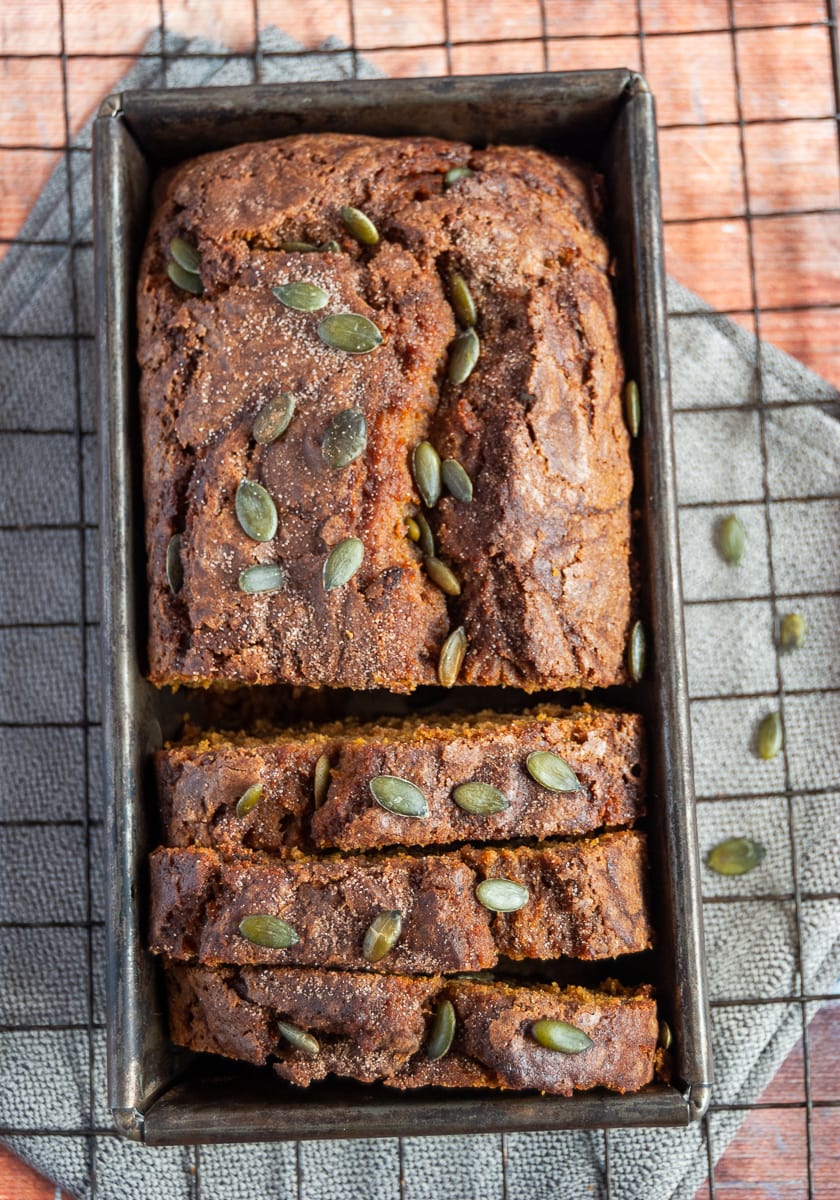 Can you make pumpkin purée from scratch?
A lot of you have told me you've been having difficulty finding pumpkin purée this year. The good news is you can make your own!
See my post on how to make pumpkin purée
how long does pumpkin loaf cake keep and how should it be stored?
Due to the oil content, this pumpkin cake keeps really well.  If you can resist cutting into it for a day or two after baking, the flavours of the spices and the pumpkin will have developed and your patience will be rewarded.

The trouble is, once you smell the warm pumpkin-cinnamon flavours while the cake is in the oven, you won't be able to resist slicing and eating it straight away!
 Wrap any leftover pumpkin cake in baking parchment and store in an airtight container for up to 3 days.  
If you live in a very hot Country, it might be wise to store the cake in the fridge to keep it fresh.
commonly asked questions and troubleshooting tips
can i use butter instead of oil?
If you wish, cooled melted butter can be substituted for the oil. Do bear in mind though that oil based cakes generally tend to keep better (but if you're planning to eat the cake within a couple of days it's not really an issue).
why did my pumpkin loaf cake sink in the middle?
Loaf cakes are especially prone to sinking in the middle.  The biggest causes are –
Measuring the raising agents incorrectly – they should all be measured as a level teaspoon
Opening the oven door too early/too often while the cake is baking. Don't be tempted to open the oven door until the baking time is almost over – the sudden change in temperature can cause the cake to deflate. 
If the cake looks like it is ready before the baking time is up, carefully open the oven door and do the skewer test – if there is raw looking batter on the skewer, close the door immediately and give it another 5 minutes or so.
Removing the cake from the oven before it has fully baked – if in doubt, leave it in for a few extra minutes.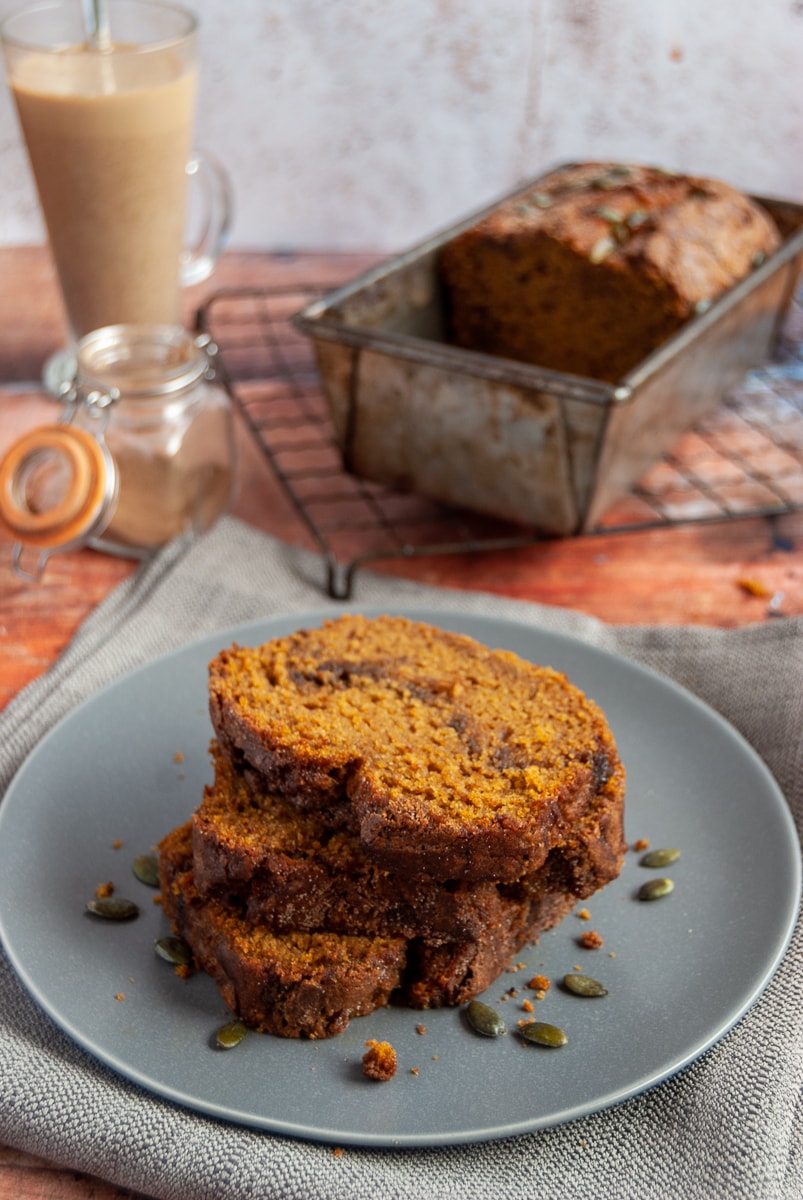 want to see more autumnal pumpkin recipes?
did you make this ReCipe?
I hope you enjoyed it! Let me know what you thought of it by leaving a comment below and please rate the recipe out of 5 by clicking on the stars in the recipe card below.  
If you would like to share a photo of your pumpkin loaf, don't forget to tag me on Instagram!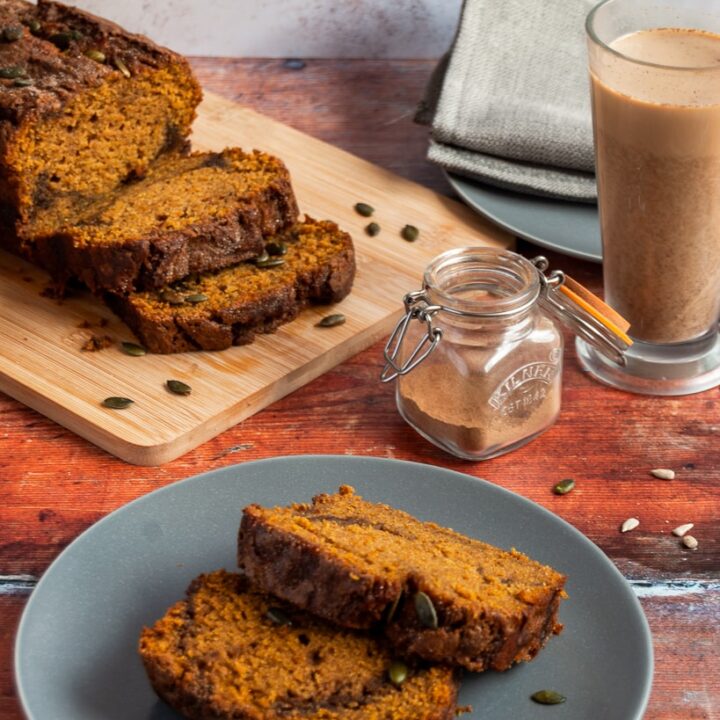 Cinnamon Swirl Pumpkin Loaf Cake
Cook Time:
1 hour
10 minutes
Total Time:
1 hour
25 minutes
This Cinnamon swirl pumpkin loaf cake is incredibly easy to make and is absolutely delicious.  A soft, moist pumpkin cake with an irresistible cinnamon sugar swirl. 
Ingredients
200g Plain (all-purpose) Flour
1 tsp bicarbonate of soda (baking soda)
1/4 tsp baking powder
1 tsp fine salt
1 tsp ground cinnamon
1 tsp ground ginger
1/4 tsp ground cloves
1/2 tsp ground nutmeg
1/4 tsp ground cardamom
250g soft light brown sugar
325g pumpkin puree
180ml vegetable or sunflower oil
2 Large eggs
1 tsp vanilla extract
FOR THE CINNAMON SWIRL:
50g caster sugar
1 1/2 tsp ground cinnamon
25g pumpkin seeds for sprinkling on top of the cake, optional
Instructions
Preheat the oven to 180C/160Fan/350F/Gas mark 4. Grease and line a 9 x 5 inch loaf tin.
Place the flour, bicarbonate of soda, baking powder, salt, cinnamon, ginger, cloves, nutmeg and cardamom in a large mixing bowl. Whisk the ingredients together.
In another large bowl, whisk together the brown sugar, pumpkin puree, oil, eggs and vanillla.
Add the dry ingredients to the pumpkin mixture and using a rubber spatula or wooden spoon, stir until just combined and no pockets of flour remain.
Pour half the mixture into the tin, then sprinkle the cinnamon sugar all over the top, keeping back two teaspoons worth for sprinkling over the top. Using a knife, gently swirl the sugar and pumpkin batter together, creating a pretty swirly pattern. Spoon the remaining batter on the top. Sprinkle with the remaining 2 teaspoons cinnamon sugar and the pumpkin seeds, if using.
Bake for 60-70 minutes or until a skewer inserted in the middle of the cake emerges clean. Let the pumpkin bread cool completely in the pan on a wire rack before slicing.
Notes
This pumpkin bread will keep for 3-4 days in an airtight container.
If you can bear to wait until the day after baking the bread to slice into it, the flavours will have more time to develop and will taste even better.
This bread is delicious just as it is or spread with butter.
Nutrition Information:
Yield:

10
Serving Size:

1
Amount Per Serving:
Calories:

198
Total Fat:

4g
Saturated Fat:

1g
Trans Fat:

0g
Unsaturated Fat:

3g
Cholesterol:

42mg
Sodium:

290mg
Carbohydrates:

39g
Fiber:

2g
Sugar:

34g
Protein:

3g
Calories and Nutritional information are provided by a third party application and should be used as indicative figures only