Soft and tender coffee-house style muffins full of pumpkin, cranberries, warming spices and topped with a maple syrup glaze, these Pumpkin Spice Muffins are perfect for cosy, Autumnal baking days. Make them and you will be rewarded with the scent of pumpkin spice wafting through your home!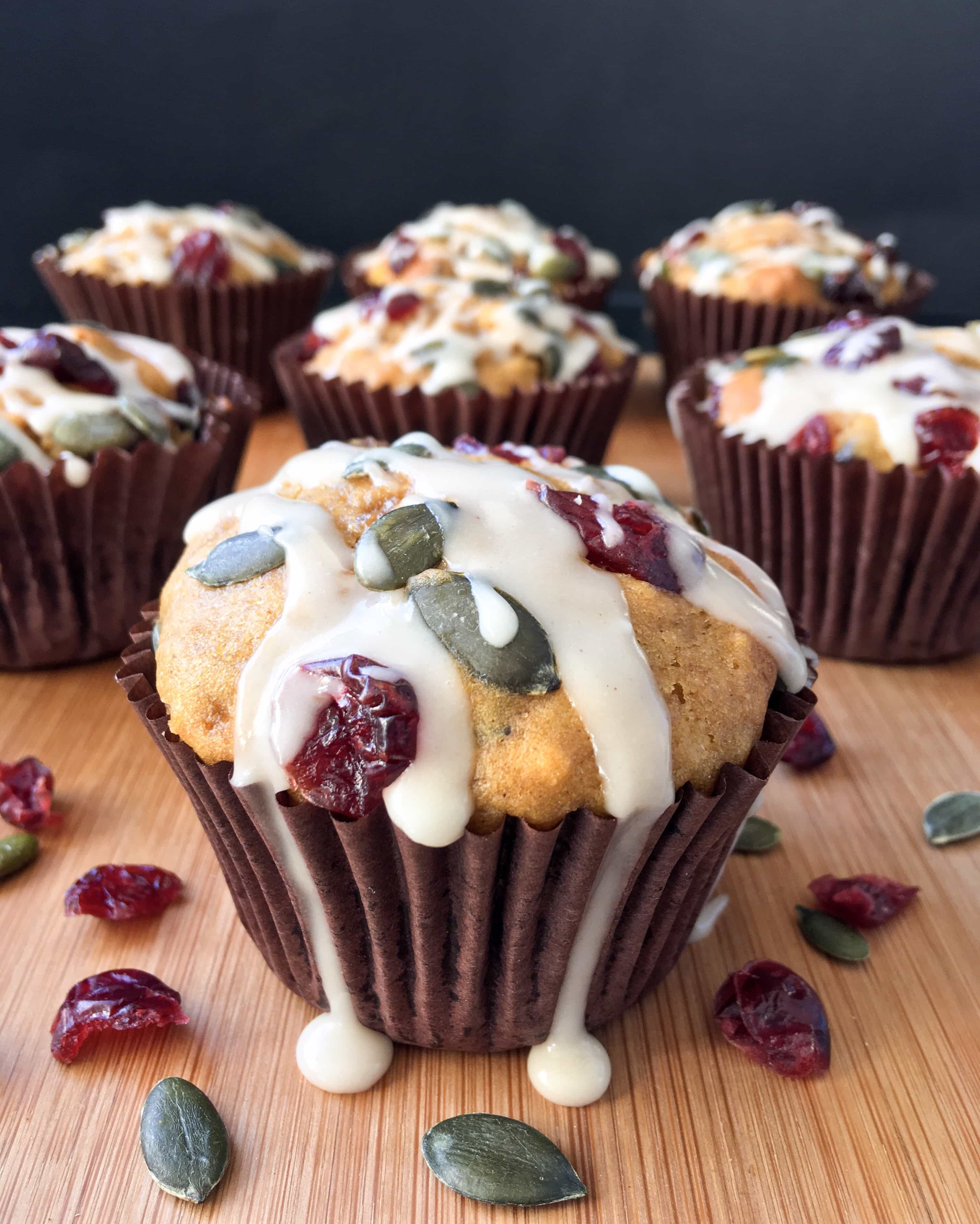 Autumn is my absolute favourite season for many reasons. Everything just looks so pretty at this time of year. As much as I try, I'm really not a Summer person. I just can't function all that well in very hot weather. I get irritable and cranky. I'm a much nicer person altogether when the weather is cooler.
My favourite things about Autumn?
Snuggling underneath fluffy blankets on rainy days, binge watching box sets.
Pumpkin spice and gingerbread lattes.
Halloween! I love Halloween – you wouldn't find me putting out my lights and pretending I'm not home. I'm a big kid and get right into the spirit of it all. If I could get away with it, I would decorate the entire house. Not even kidding.
But for me, the best part about Autumn is the FOOD. It's all about serious comfort food, right? It's getting chilly, so we need soups, stews, casseroles and lots of cake.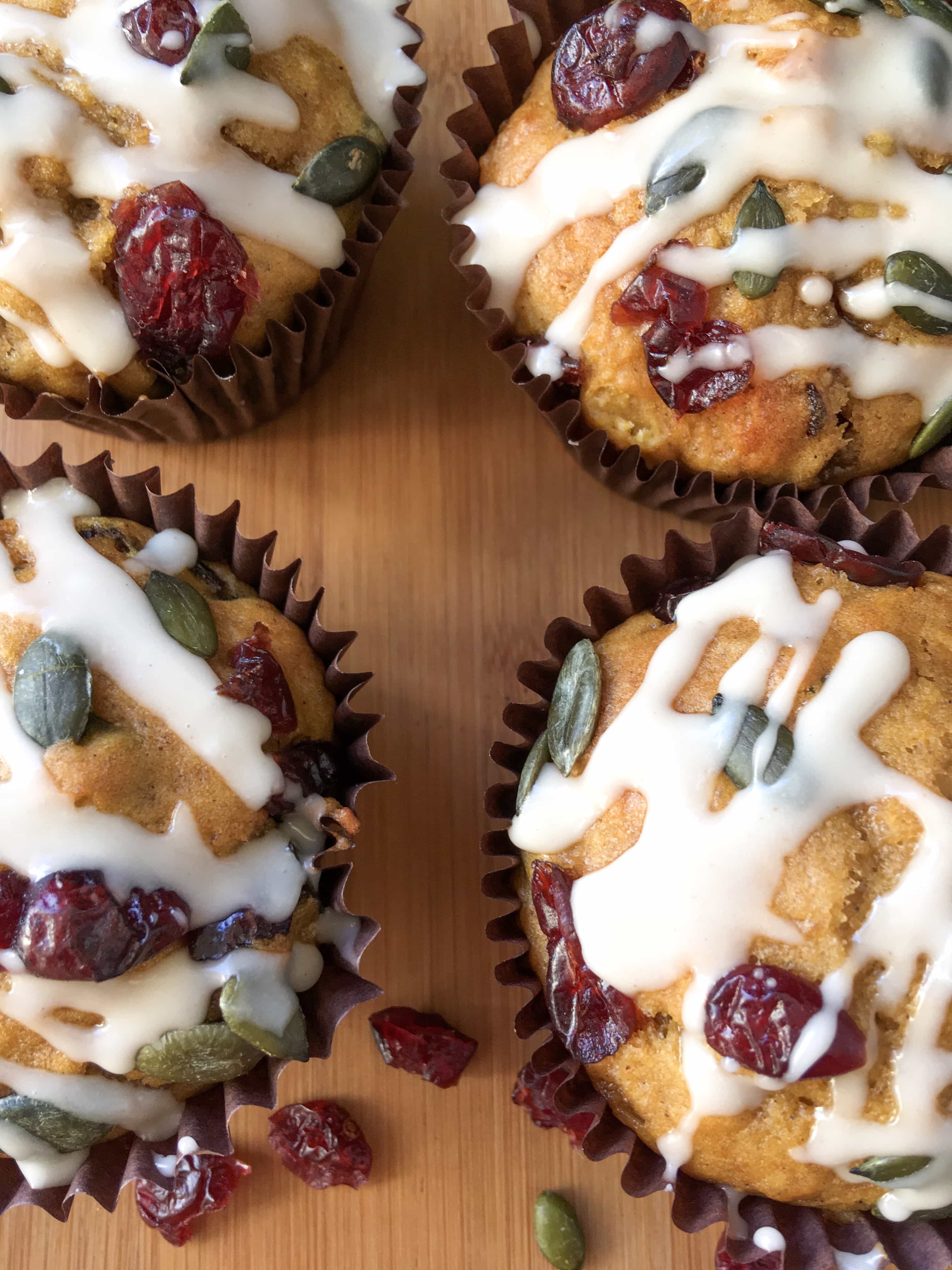 When the weather starts to turn cold and the evenings start getting dark much earlier, my mind definitely turns to cosy, comforting warming food like macaroni cheese, pumpkin spice lattes, gingerbread and pumpkin bakes just like these pumpkin spice muffins.
ingredients you'll need to make pumpkin spice muffins
These muffins are jam packed with all the flavours that are associated with Autumn –
pumpkin puree – I use the tinned pumpkin that thankfully, is now a lot easier to find in UK supermarkets.
pumpkin seeds for crunch
ground ginger, cinnamon, nutmeg and a little ground all spice
dried cranberries
chopped pecans, or use walnuts if you prefer
And if that's not enough, I've drizzled the muffins with an addictive maple syrup glaze. So good!
They make a lovely snack any time of the day. Now I'm not claiming them to be a health food, but they do make a great on the run breakfast and it almost feels like they are doing you good!
looking for more recipes using pumpkin?
Marshmallow Meringue Pumpkin Pie
Roasted Pumpkin Macaroni Cheese
Pumpkin Spice Chocolate Chip Granola
looking for more muffin recipes? Check these out
Nutella Chocolate Chip Banana Muffins
Strawberry and White Chocolate Muffins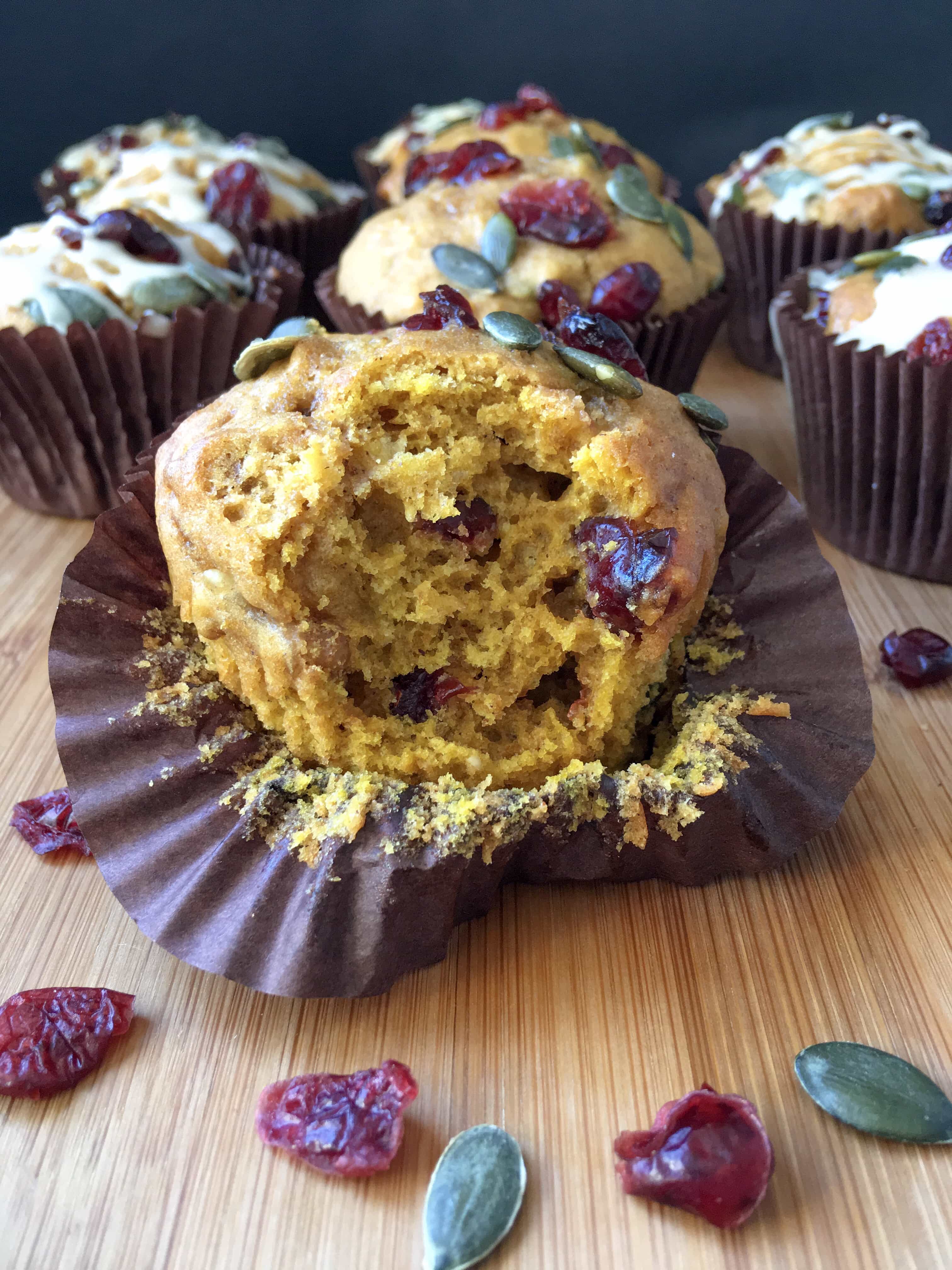 Pin these pumpkin muffins for later!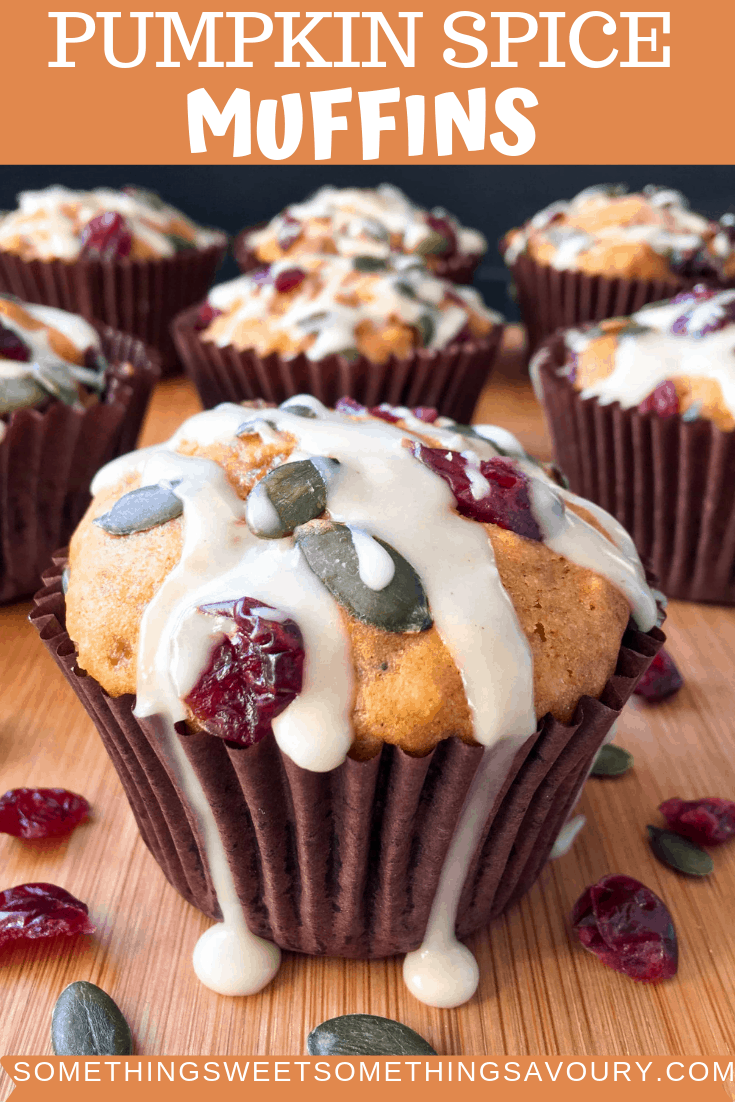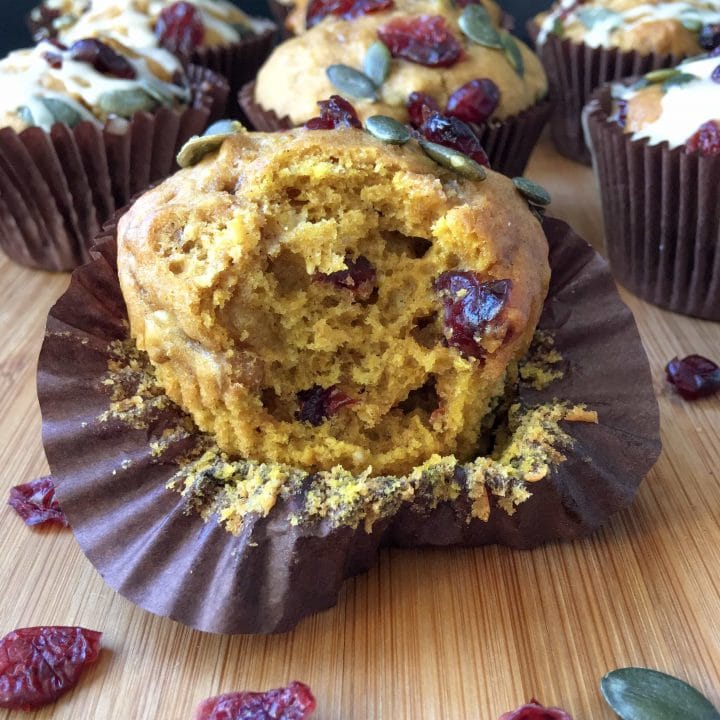 Pumpkin Spice Muffins
Who needs to go to that expensive coffee house? Make these Pumpkin Spice Muffins from the comfort of your own home! Soft, delicious muffins with pumpkin puree, pumpkin spice, cranberries, pecans and an addictive maple glaze topping!
Ingredients
275 g Plain flour
2 tsp Baking powder
1/4 tsp Bicarbonate of soda
1 tsp ground Cinnamon
1/2 tsp ground ginger
1/4 tsp ground all spice
A pinch ground nutmeg
100 g soft butter
200 g light brown sugar
2 Large Eggs, beaten
1/2 tsp vanilla extract or vanilla bean paste
180 ml Pumpkin puree
60 ml buttermilk or plain yoghurt
75 g Dried cranberries
50 g chopped pecans or walnuts
25 g pumpkin seeds, plus a few extra for sprinkling on top
For the Maple glaze
150 g Icing sugar
5 tbsp Maple syrup
Instructions
In a medium bowl, sift together the plain flour, bicarbonate of soda, baking powder, ginger, cinnamon and nutmeg. Preheat the oven to 200C/180C/400F and line a 12 hole muffin tin with liners.
Melt the butter in a small saucepan. Once melted remove from the heat and beat in the eggs, brown sugar, pumpkin puree and vanilla extract.
Fold in the dry ingredients very lightly until only just combined, taking care not to overmix. Don't worry if there are a few pockets of flour at this stage.
Quickly fold in the buttermilk/yoghurt, cranberries, pecans or walnuts and pumpkin seeds, reserving a few seeds for sprinkling over the top.
Spoon the mixture into the muffin tin and sprinkle the reserved pumpkin seeds over the top. Bake for 20-25 minutes until well risen and golden. Transfer to a wire rack and allow to cool.
Mix the icing sugar and maple syrup together until you have a fairly runny icing but is still thick enough to coat the back of a spoon. If it seems a little too thick you can add a few drops of water. Messily drizzle over the waiting muffins or dip the tops of the muffins in the icing for a thicker coating.
Notes
Allergic to nuts? No problem - just leave them out!
Tinned pumpkin puree used to be very difficult to find in the UK, but it's now available in many of the larger supermarkets.  I use the Libby brand.
Add 50g dark chocolate chips for an even more indulgent muffin!
Nutrition Information
Yield

12
Serving Size

1
Amount Per Serving
Calories

365
Total Fat

12g
Saturated Fat

5g
Trans Fat

0g
Unsaturated Fat

6g
Cholesterol

50mg
Sodium

174mg
Carbohydrates

62g
Fiber

2g
Sugar

40g
Protein

5g