Soft, fluffy, sticky cinnamon rolls filled with pumpkin purée, pumpkin spice and topped with a maple cinnamon glaze – these amazing pumpkin cinnamon rolls have to be THE ultimate Autumn comfort food!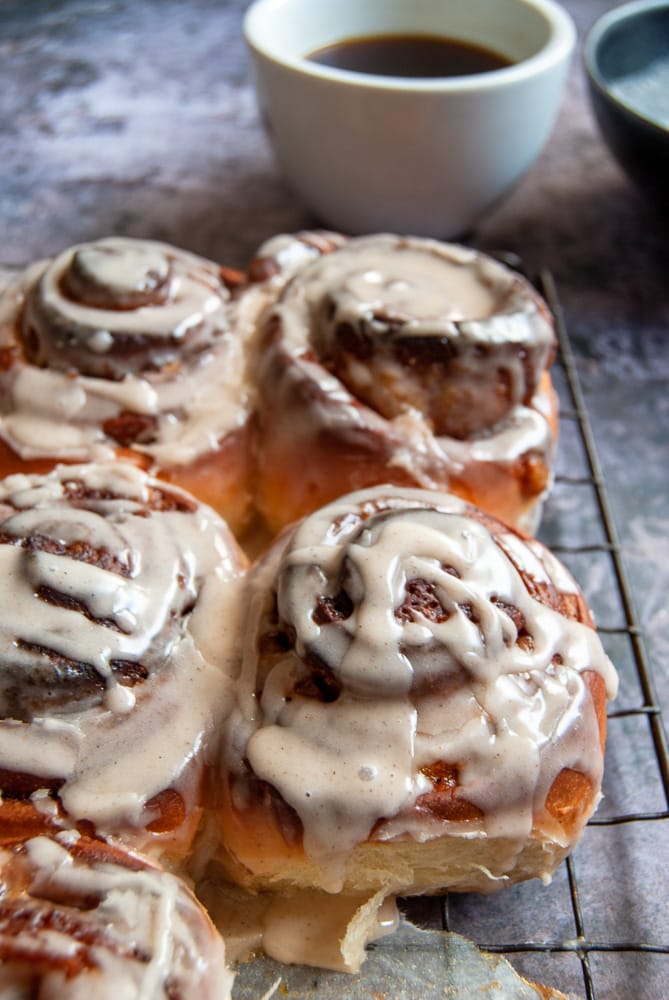 My name is Nickki and I am a cinnamon roll addict.
I believe I'm a pretty strong willed person, but put a plate of sweet, sticky cinnamon rolls in front of me and all my willpower goes out the window.
I just can't resist them.
Back in January while I was doing my usual food shop, I spotted tins of pumpkin purée reduced down to 20p so I bought 10 of them. My husband asked me "what was I thinking buying all that pumpkin?"
But at 20p a tin how could I not?
I stored it away for Autumn, dreaming of making pumpkin pies, Nigella's amazing pumpkin bundt cake and my favourite pumpkin spice chocolate chip granola and pumpkin spice muffins.
I've seen a few pumpkin cinnamon rolls online and I knew I just had to try them. I think I actually prefer them over regular cinnamon rolls now.
I used my homemade pumpkin pie spice in this recipe and I highly recommend it – the combination of ginger, cinnamon, nutmeg and ground allspice is just wonderful and will fill your house with the most amazing scent while they are baking.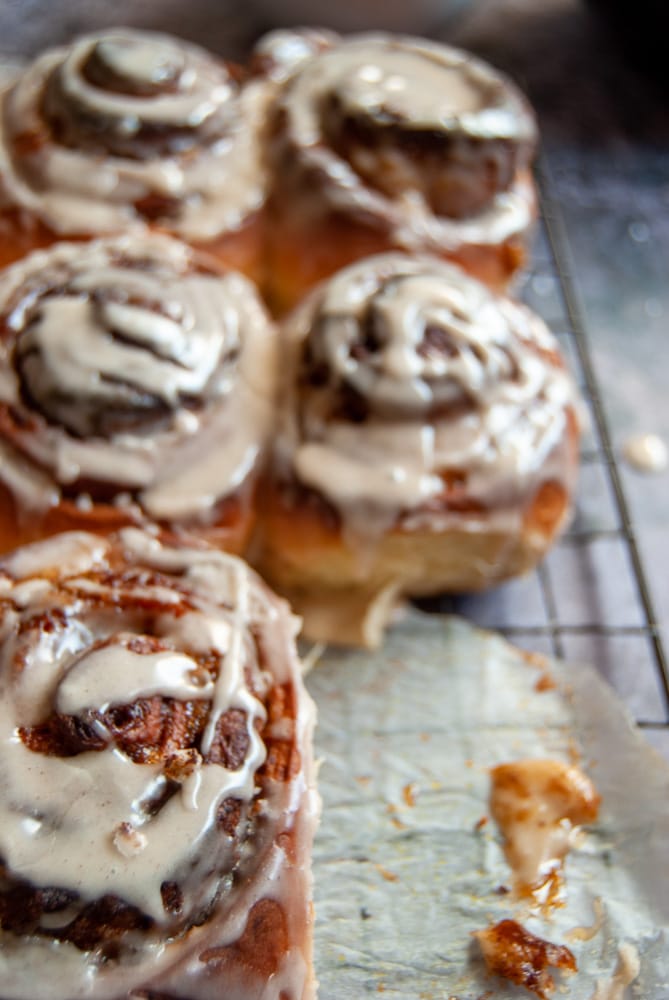 When you uncoil the sweet, fluffy dough, the sticky pumpkin spice filling gets all over your fingers.
Pouring the maple cinnamon icing all over the warm rolls is just pure heaven. You have to try one warm, while the brown sugar spice filling is still gooey.
It's a messy experience, but aren't all the best things in life??
Trust me – you need these cinnamon rolls in your life this Autumn….preferably with a pumpkin spice latte to wash it down! I love this time of year…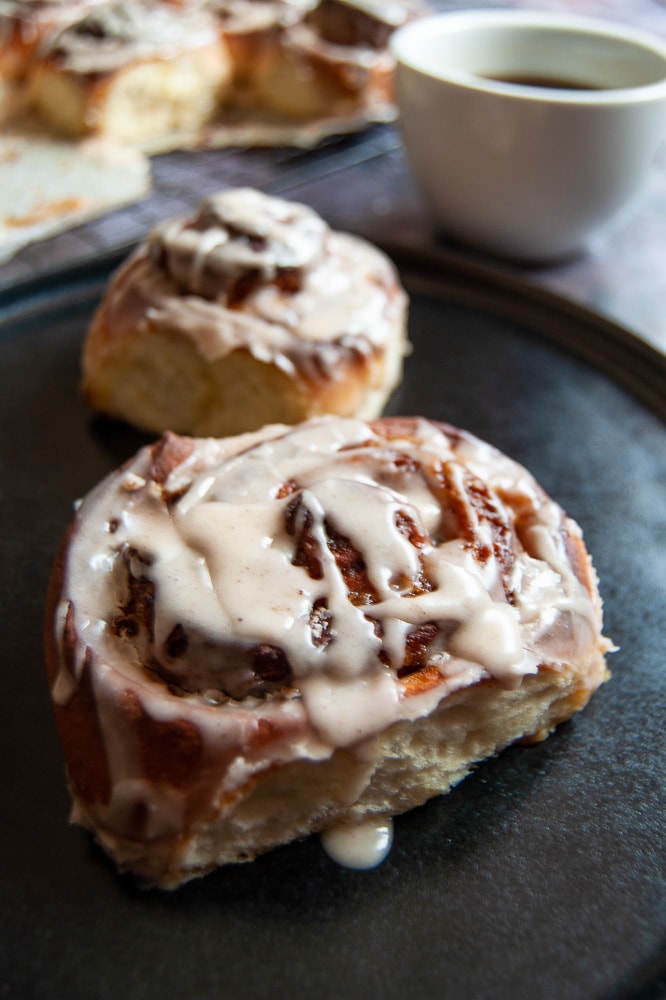 how to make pumpkin cinnamon rolls
You start off by making the dough (you'll find detailed instructions and ingredient amounts in the recipe card at the bottom of the post.)
When the dough has rested for an hour or two and doubled in size, you roll it out into a large rectangle (about 17×12 inches)
Mix tinned pumpkin puree (if you can't find any I have a handy post telling you how make pumpkin purée) and soft butter until you have a smooth mixture, then spread this all over the dough.
Mix soft light brown sugar, pumpkin spice and ground cinnamon together and sprinkle all over the dough.
Starting from one of the long edges, start to roll the dough up as tightly as you can (doing this will ensure the buns won't unravel and they'll have a nice swirl)
Cut the ends off the long piece of dough. Cut into 10 equal sized pieces. Place on a greased and lined baking tray, leaving a little space in between each one to allow for spreading.
Cover and leave until the rolls have risen, around 30-45 minutes. Place in the oven (180C/160Fan/350F) and bake for 25-30 minutes or until golden brown and smelling incredible.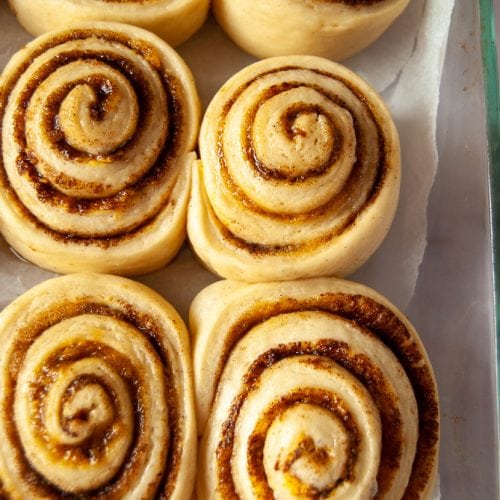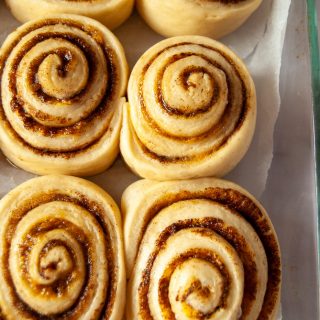 Make an icing glaze by mixing icing sugar, maple syrup and a pinch of ground cinnamon together.
Pour the glaze all over the warm buns. And now it's time to reward yourself for all the hard work you've done – dive right in!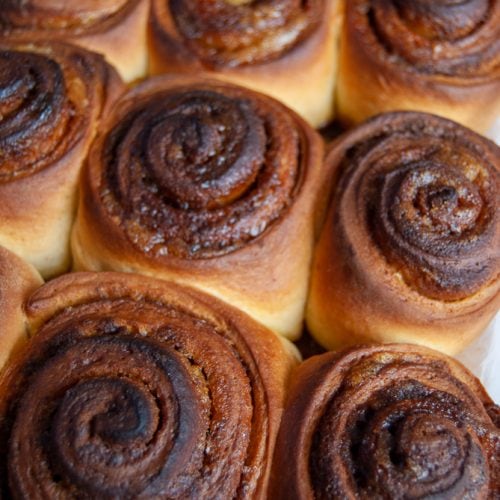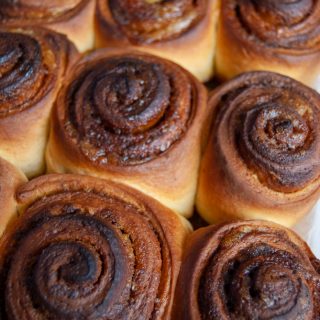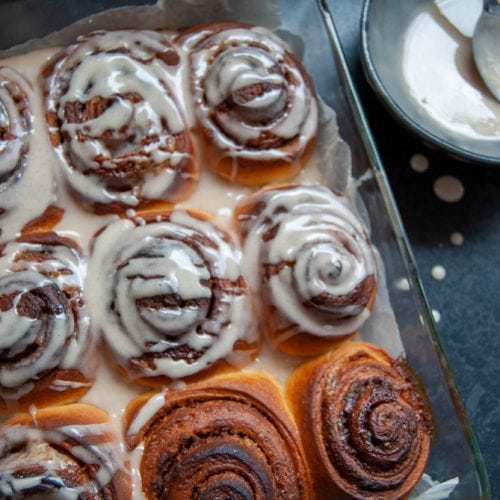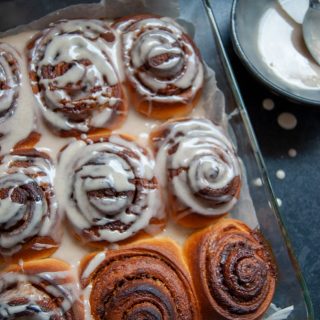 MORE PUMPKIN RECIPES for you to try
Marshmallow Meringue Pumpkin Pie
Roasted Pumpkin Mac And Cheese
Pin this recipe for later!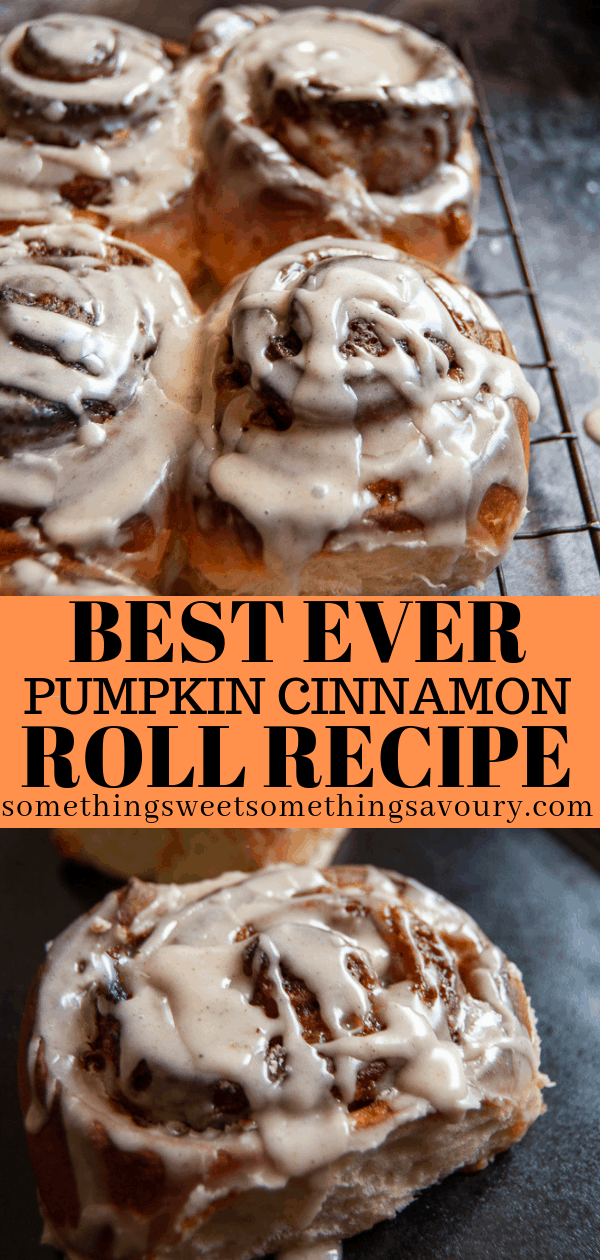 Did you make these pumpkin cinnamon rolls?
Let me know what you thought of the recipe by leaving a comment below and rate the recipe out of five by clicking on the stars in the recipe card.
Want to share a picture of your cinnamon rolls with me? Tag me on Instagram #sweetsavouryblog and I'll share it on my stories!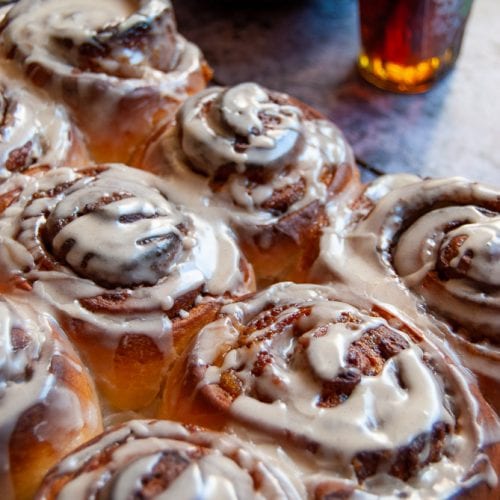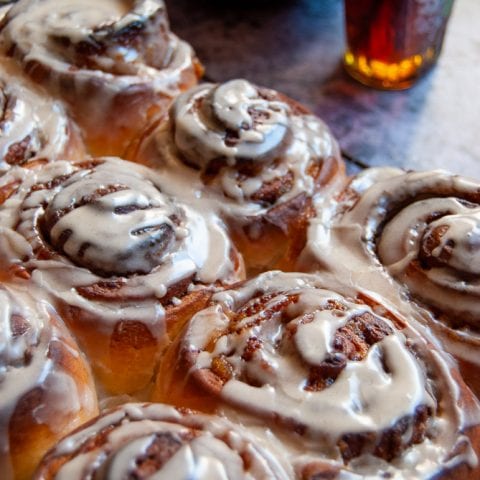 Pumpkin Cinnamon Rolls
Total Time:
3 hours
25 minutes
Soft, fluffy, sticky cinnamon rolls filled with pumpkin purée, pumpkin spice, cinnamon and topped with a mouthwatering maple glaze - these pumpkin cinnamon rolls are THE ultimate cold weather comfort food!
Ingredients
For the dough:
350 g strong white flour
14g (2x7g sachets) fast action dried yeast
1 tsp salt
50 g caster sugar
One large egg
1 tsp vanilla extract or vanilla bean paste
125 ml milk
50 g butter
For the filling:
50 g very soft butter
25 g pumpkin purée
1 tbsp pumpkin pie spice
1 tsp ground cinnamon
75 g soft light brown sugar
For the maple-cinnamon glaze:
200g icing/confectioners sugar,
60 ml maple syrup
1/4 tsp ground cinnamon
Instructions
Place the flour, yeast, salt and sugar in the bowl of a stand mixer, keeping the yeast and salt separate because salt can kill yeast.
If you don't have a stand mixer, you can still make these - but be prepared for a little muscle work!
Place the milk and butter in a small pan and place over the hob on a gentle heat, stirring until the butter has almost melted. Take off the heat and stir until the butter has melted completely. Set aside for a moment before cracking in the egg and vanilla. Stir well to combine.
Check the temperature of the milk by dipping your finger in - it needs to be only just warm when you add it to the flour. When the milk is ready, pour it over the flour and knead for about 5 minutes in a stand mixer using the dough hook attachment or 10 minutes (phew!) by hand.
When the dough feels smooth, silky and bouncy, place in a lightly greased bowl, cover with a lid or tea towel and leave for 1-2 hours or until roughly doubled in size*SEE NOTE BELOW*
On a floured surface, roll the dough out into a rectangle, about 17-18 inches long and 10-11 inches wide.
Mix the soft butter and pumpkin purée together until smooth and spread all over the dough. Mix together the brown sugar, pumpkin pie spice and cinnamon and sprinkle all over the rolled out dough.
Starting at one of the longer ends, roll the dough up as tightly as you can. Cut into 10 equal pieces and arrange in a lined tin, allowing a little space between each roll to allow for rising.
Cover and leave in a warm place for 45 minutes-1 hour, or until the rolls have noticeably puffed up and risen.
Preheat the oven the 180c/350F/160Fan. Bake the rolls for 25-30 minutes or until golden.
Mix the icing sugar, maple syrup and cinnamon together, thinning it down with a little milk if it seems too thick. Pour all over the warm rolls.
All that's left to do now is dive in!
Notes
*Enriched doughs can take longer to rise because of the sugar and butter, so if your dough doesn't look like it's doing anything don't panic - it probably just needs more time. If you're making these in the Winter and your house is on the chilly side, it could take significantly longer for the dough to rise*
If you aren't a fan of pumpkin, make classic cinnamon rolls instead. Omit the pumpkin puree and swap the 1 tbsp pumpkin spice for ground cinnamon.
Nutrition Information:
Yield:

10
Serving Size:

10 rolls
Amount Per Serving:
Calories:

470