Perfect, made from scratch cinnamon rolls – soft, fluffy buns with rippled with cinnamon swirls and topped with a sweet vanilla cream cheese icing glaze. They are nothing short of heavenly!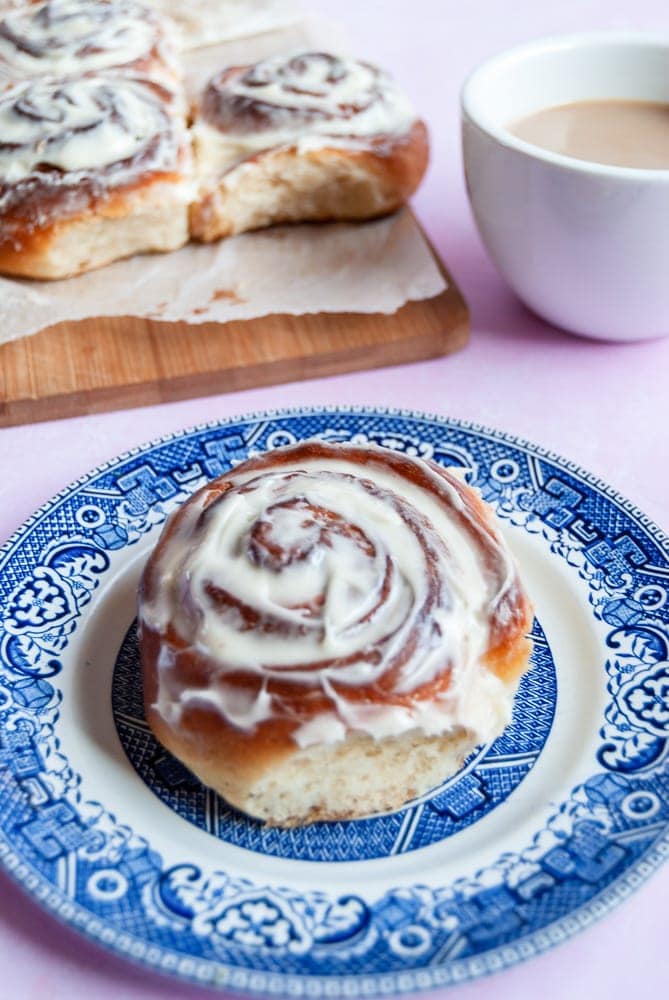 Lately I've had this huge thing for cinnamon rolls. Right now there's nothing I'd rather eat for weekend breakfast. Sweet vanilla scented fluffy dough, with spirals of maple syrup, cinnamon and brown sugar, topped with a vanilla cream cheese icing.
Sadly, I would never get away with eating such decadent treats for breakfast every weekend, so I save them for a special treat or when I know I'll have a housefull of people to help me eat them. I have ZERO self control over a batch of fluffy, soft cinnamon scented rolls. Sigh.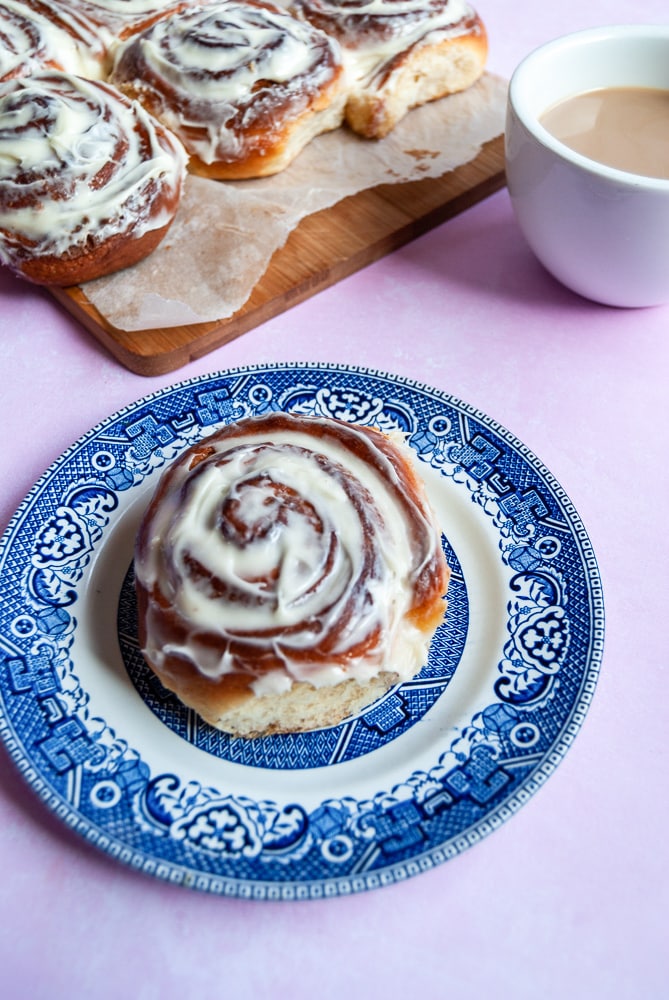 They are soft, fluffy and an absolute dream to eat. I've never had an American Cinnabon, but I'm led to believe these are the home made version. This recipe is also very, very close to the cinnamon rolls you find in Starbucks all over the UK. Only these are much, much cheaper!
Home made cinnamon rolls do take a few hours to make, but they aren't difficult and most of the time involves waiting for the dough to rise. They are a great recipe to make when you're having a lazy weekend in the house. Plus your family will love you for it!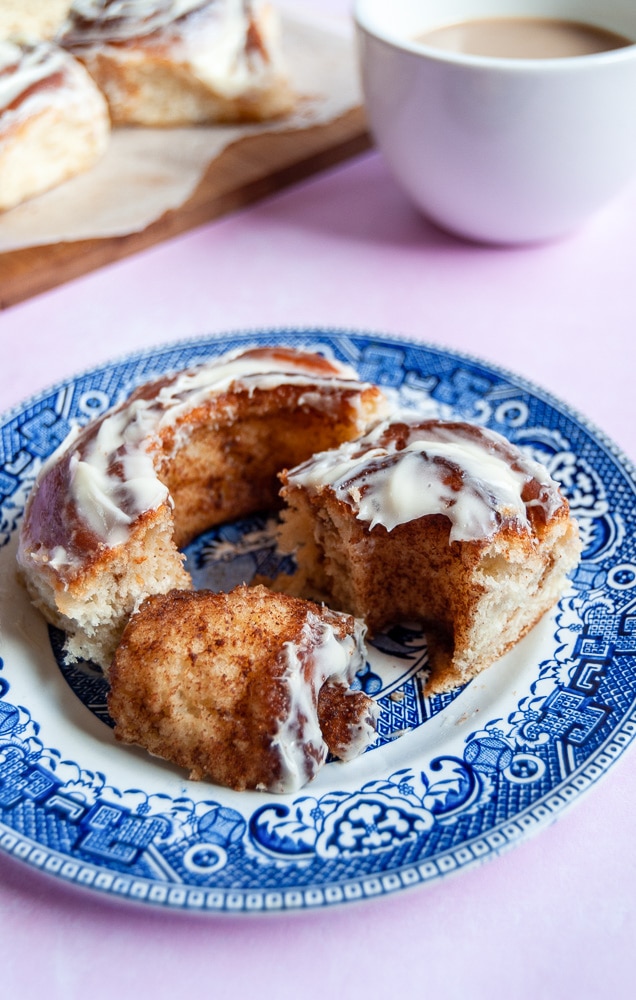 how do you make cinnamon rolls from scratch?
(ingredient amounts and detailed instructions are in the recipe card at the bottom of the post but there's important information here before you scroll)
Combine strong white flour, yeast, sugar and salt (keep the salt and yeast at separate ends of the bowl – placing salt directly on top of yeast can kill the yeast, which will stop the dough from rising)

Warm butter and milk in a small saucepan over a low heat. You don't want the liquid hot – just lukewarm. When the butter has just about melted, remove from the heat and stir. Add vanilla extract and a medium egg to the milk/butter mixture and stir well.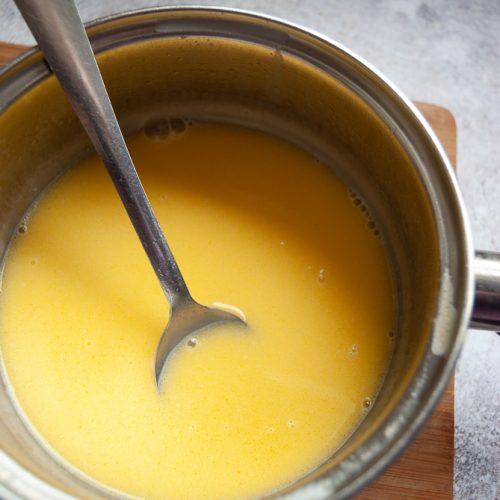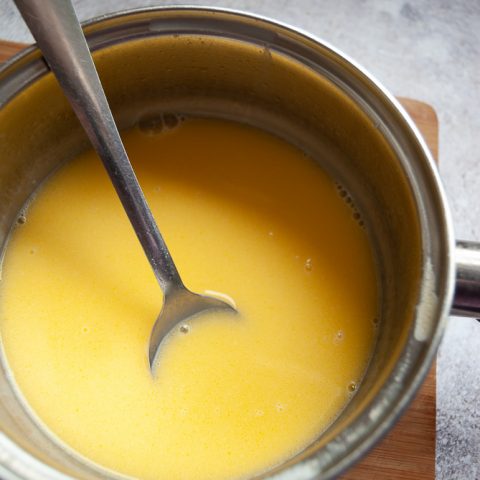 Add the liquid to the flour mixture, and stir well. The mixture will be quite runny at this stage but don't be tempted to add more flour.
Knead the mixture (a stand mixer really takes the hard work out of it!) for 5 minutes if using an electric mixer and 10 minutes by hand (If you're kneading by hand you deserve two cinnamon rolls – phew!)
When the dough is bouncy, smooth and elastic, cover the bowl and rest for 1-2 hours or until the dough has doubled in size.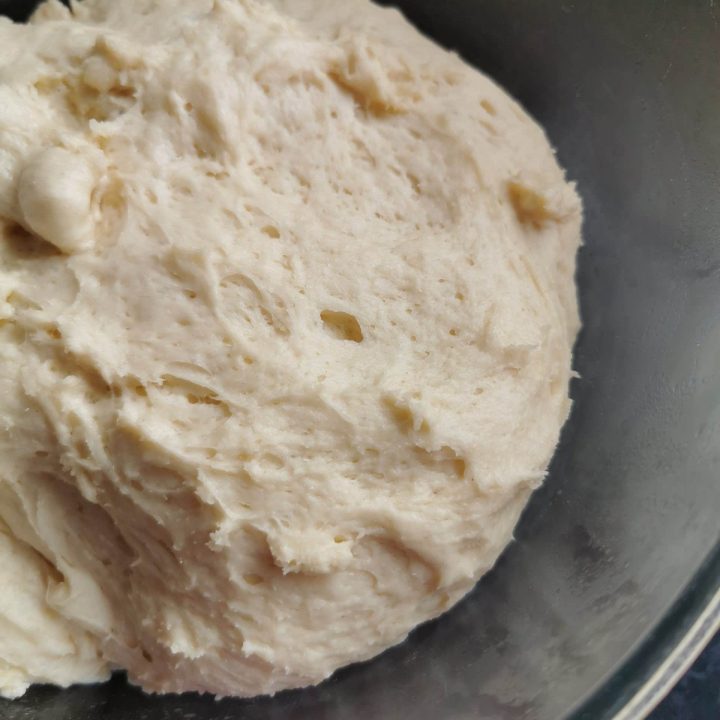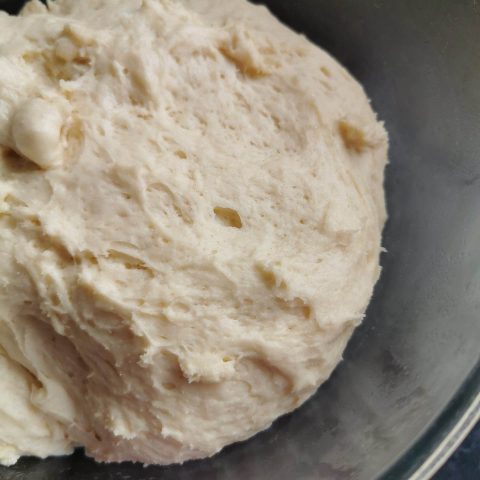 In the meantime, mix together soft light brown sugar and ground cinnamon.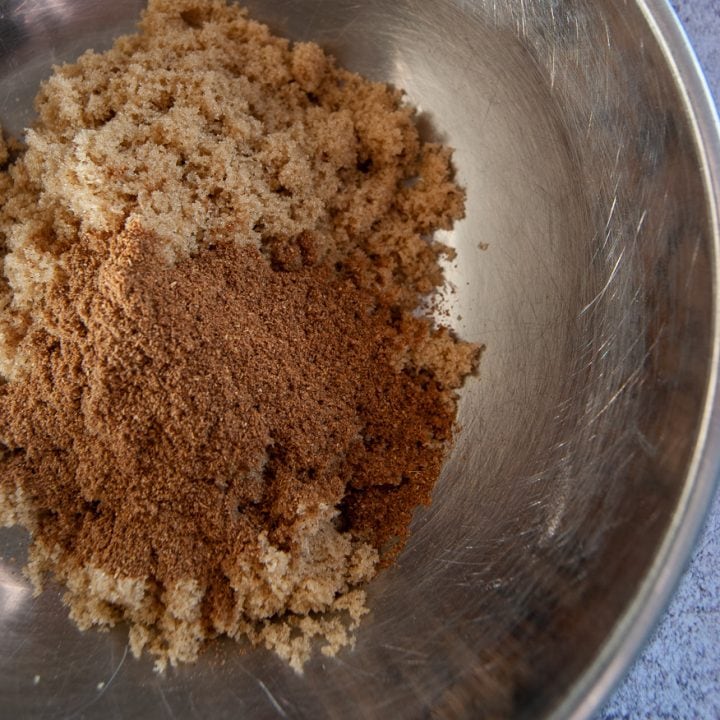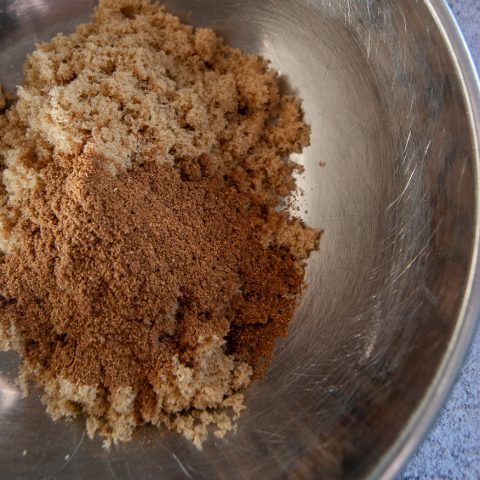 Roll the dough out into a rough rectangle on a lightly floured work surface, approximately 17-18×11-12 inches.
If the dough seems "tight" and won't roll out easily, allow it to relax for a few minutes before trying again.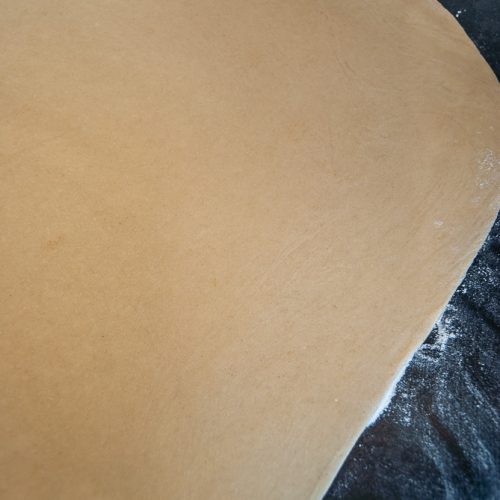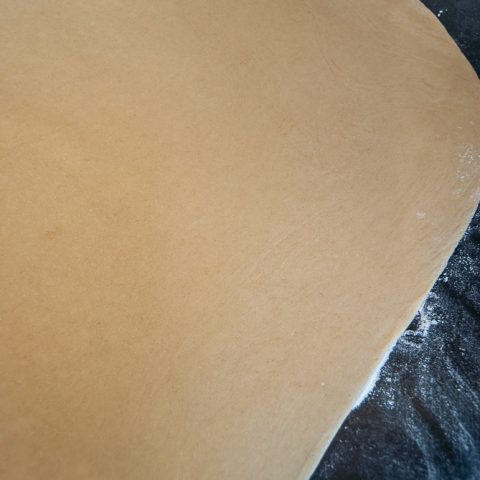 Spread very soft butter all over the surface of the dough. Sprinkle with the cinnamon sugar mixture.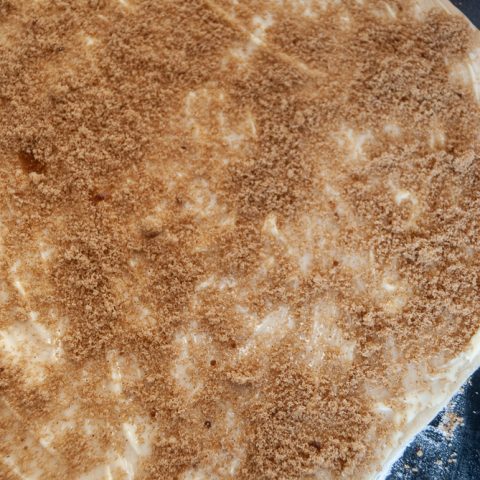 Starting from the long end nearest to you, roll up the dough as neatly and tightly as you can.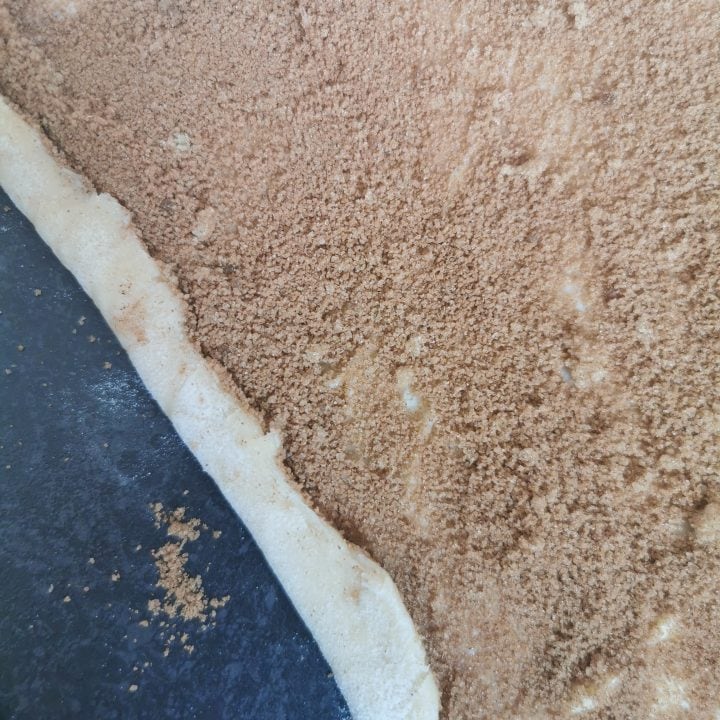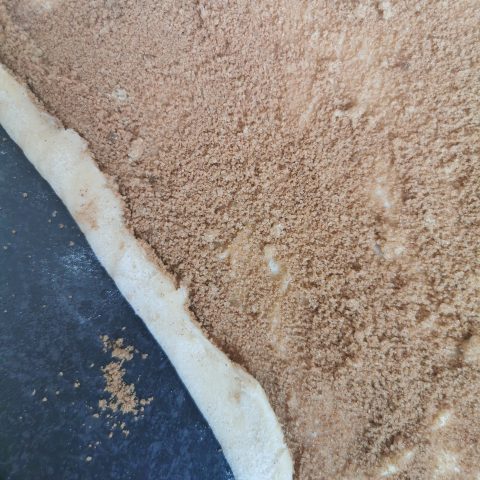 Using a very sharp knife, cut the uneven pieces of dough from each end of the dough.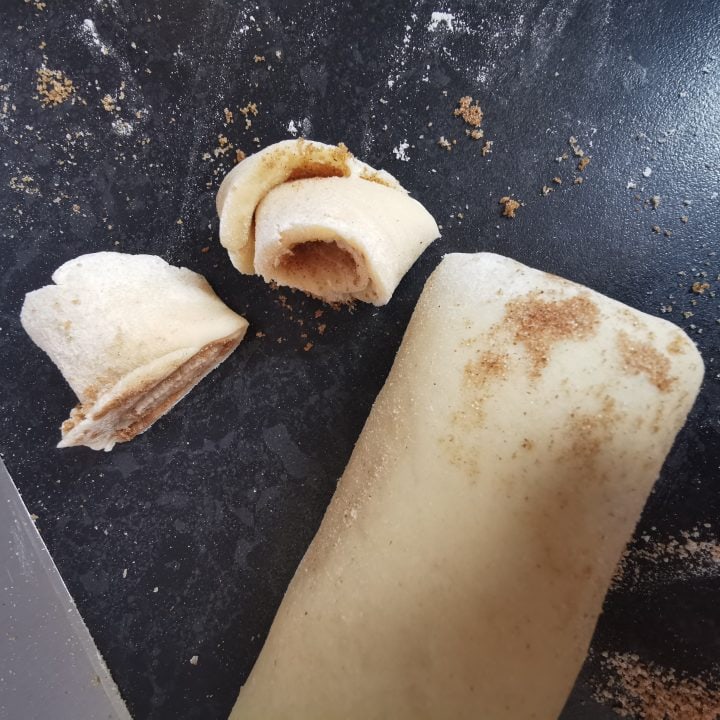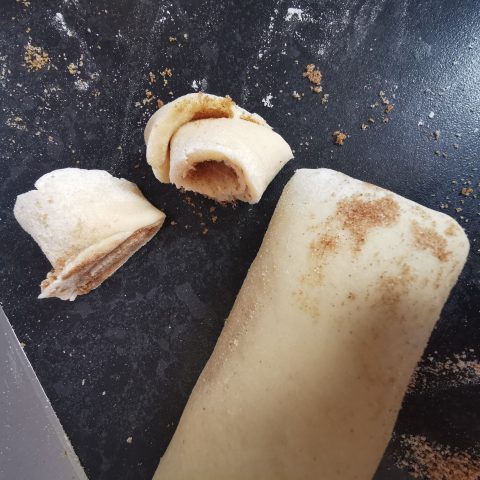 Cut the dough into 10 evenly size pieces and place on a greased and lined large baking or roasting tin measuring approximately 13×9 inches.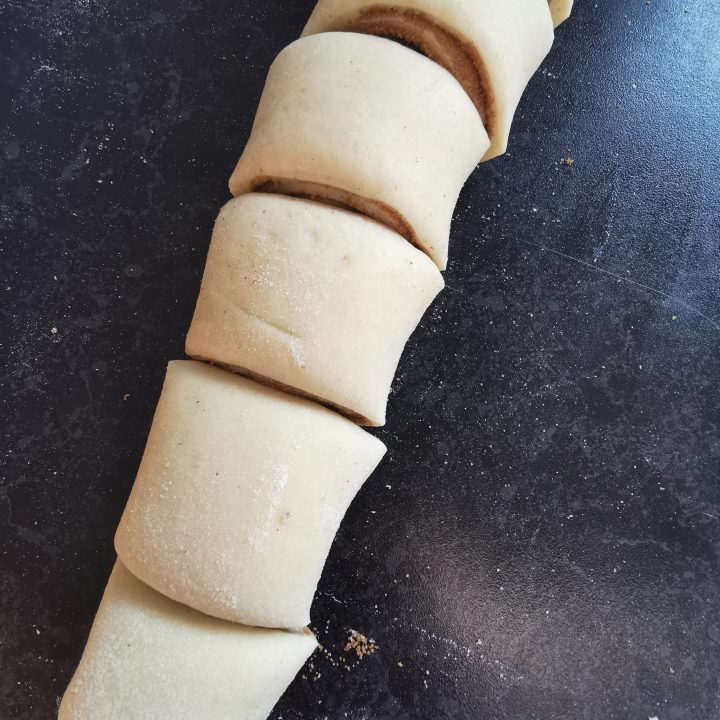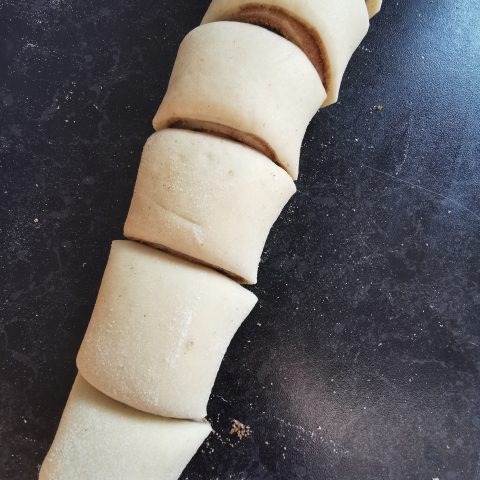 Make sure you leave about 1/2 inch of space between each piece of dough to allow for spreading.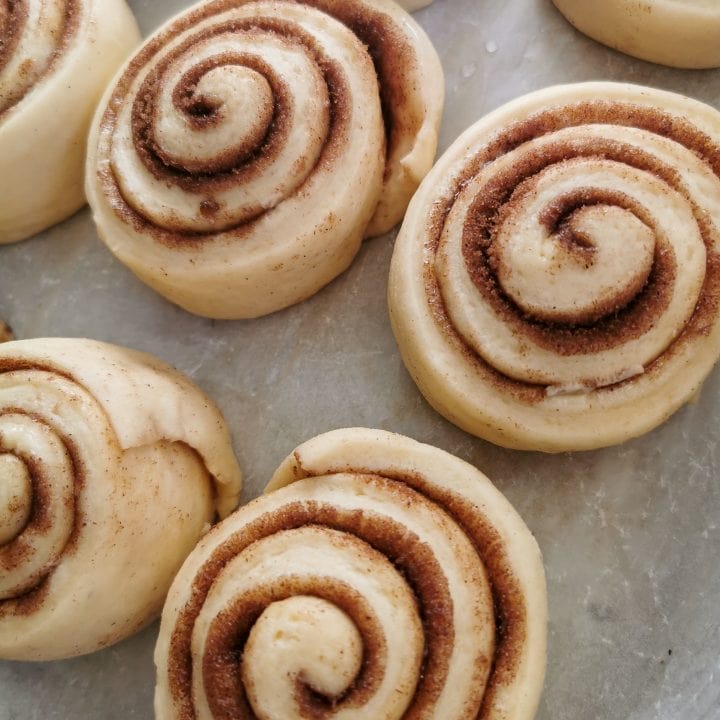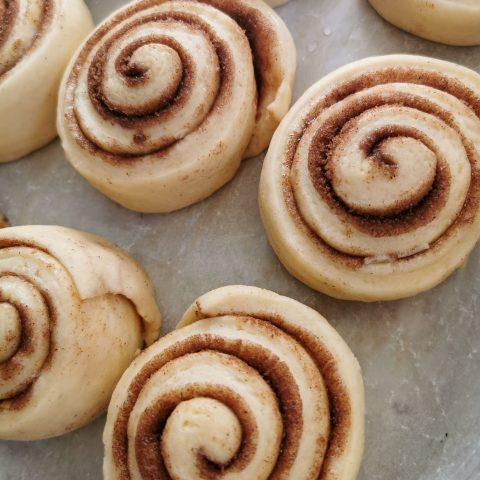 Loosely cover the tray with lightly oiled cling film or a warm tea towel. Leave the dough to rise for 45-60 minutes or until the rolls have risen to about twice their original size and are just about touching.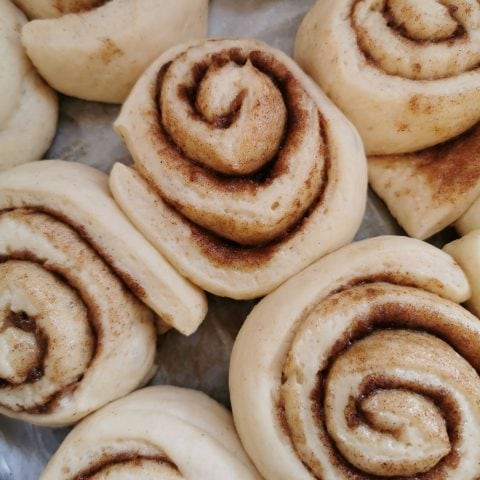 Bake in a preheated oven (200C/180Fan/Gas Mark 4) for 20-25 minutes or until the rolls are golden brown.
While the buns are still warm, pour over a simple vanilla glaze or cream cheese frosting (recipes for both are in the recipe card at the bottom of this post.)
All that's left do is now is DIG IN AND ENJOY!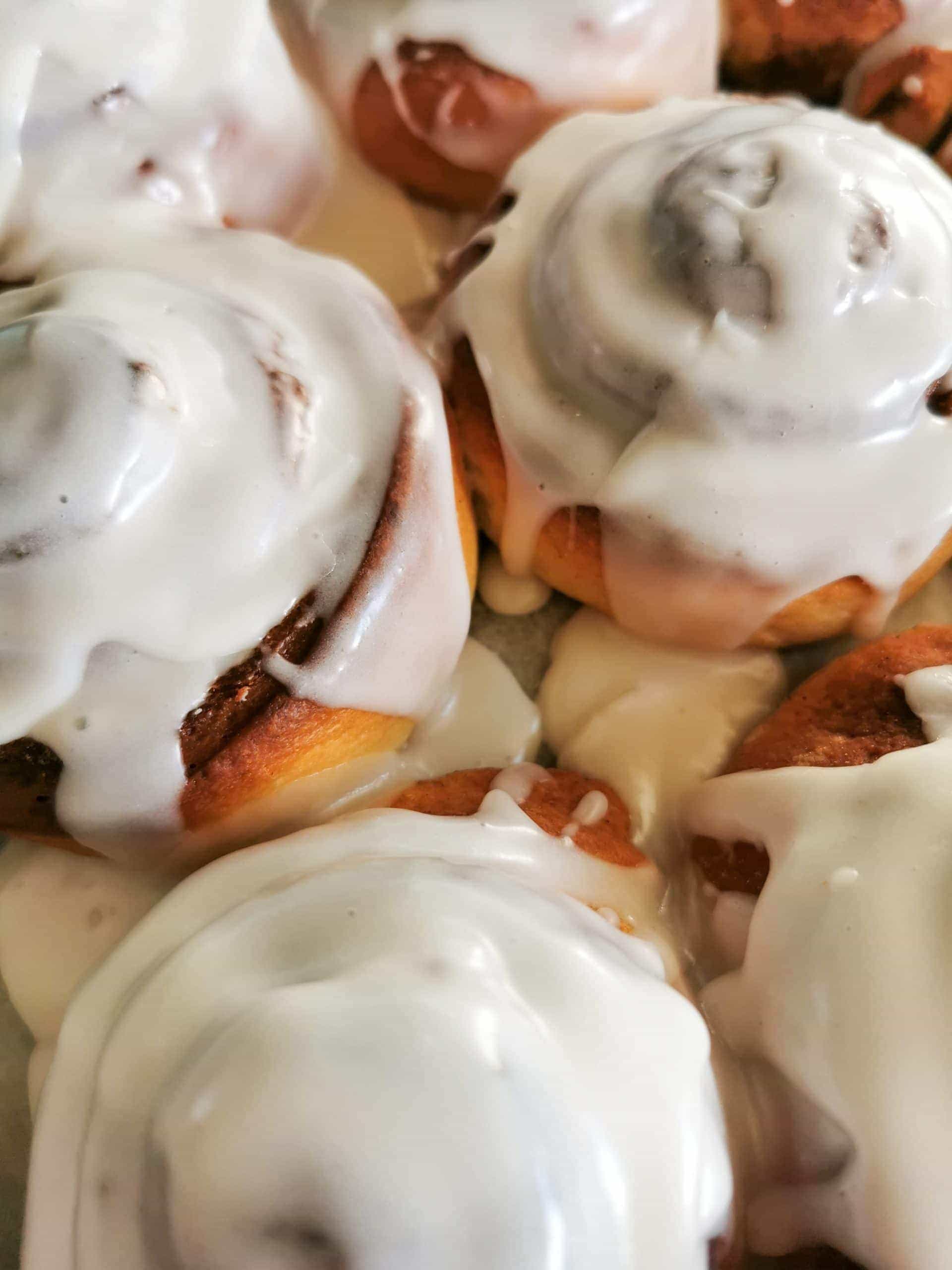 want to see more sweet bread recipes?
Chocolate Orange Hot Cross Buns
Orange, cranberry and white chocolate hot cross buns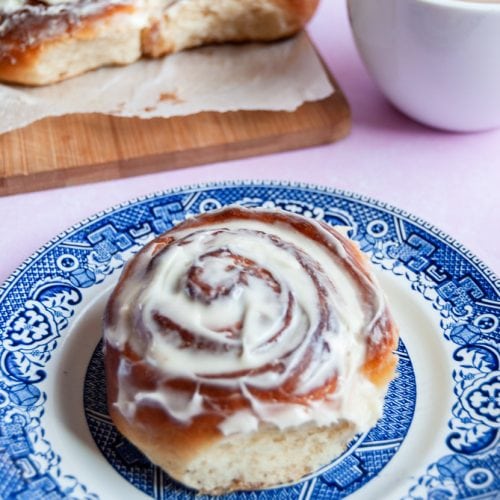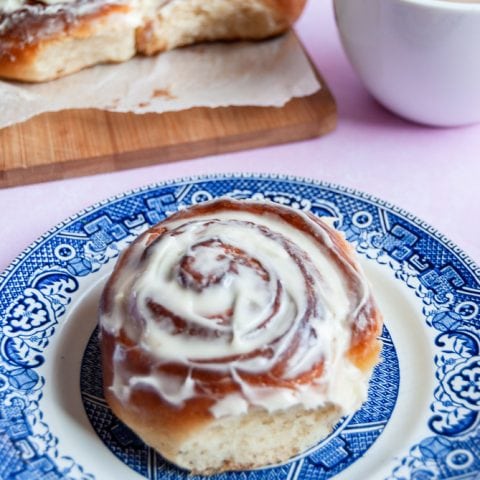 Cinnamon Rolls
Yield:
Makes 10 cinnamon rolls
Total Time:
2 hours
50 minutes
Perfect, made from scratch cinnamon rolls - soft, fluffy buns with rippled with cinnamon swirls and topped with a sweet icing glaze. Heavenly!
Ingredients
350g strong white bread flour
14g (2x7g sachets) sachet fast action yeast
1  tsp fine (table) salt
50g caster (super fine) sugar
One medium egg, beaten
1 tsp vanilla extract or vanilla bean paste
200ml milk
50g butter
FOR THE FILLING:
50g very soft butter
75g soft light brown sugar
1 tbsp cinnamon
FOR THE CREAM CHEESE ICING GLAZE:
50g soft unsalted butter
150g icing (confectioner's) sugar
1/2 tsp vanilla extract
75g full fat cream cheese, at room temperature 
Instructions
Place the flour, yeast, sugar and salt in a large mixing bowl. Don't place the yeast directly on or beside the salt - this could kill the yeast.
Place the milk and butter in a small pan and place on the hob over a gentle heat, stirring until the butter has almost melted. Take off the heat and leave for a minute, then stir in the egg and vanilla. Check the temperature of the milk by dipping a finger in - it needs to be only just warm before
adding it to the flour.
When the milk is ready, pour over the flour and knead for at least 5 minutes in a mixer with the dough hook attachment or 10 minutes by hand.
When the dough feels smooth, silky and shiny place in a lightly greased bowl, cover with cling film and leave for 1-2 hours* or until risen. **Enriched doughs can take much longer to rise due to the butter and sugar, so if your dough doesn't look like it's doing anything, don't panic - it probably just needs more time. The only way you can really muck this recipe up is if you end up boiling the milk and mixing it with the dry ingredients while it's still hot - killing the yeast in the process. Yeast can be a fickle beast at times. If you're making these in the Winter and your house is on the chilly side, it could take significantly longer for the dough to rise.**
Mix the soft light brown sugar and cinnamon together in a small bowl. On a clean, floured surface, roll the dough out to a neat rectangle, about 17-18 inches long and 10-11 inches wide.
Spread the soft butter all over the dough and sprinkle over the cinnamon sugar. Lightly press the sugar into the dough.
Starting from one of the long ends, roll up the dough as tightly as you can. Cut the dough into 10 equal pieces and arrange in a greased and lined tin (I use a 13x9 inch roasting tin), making sure there is a little space between each piece of dough to allow for rising. Cover with a warm tea towel and leave to prove until noticeably risen, about 45 minutes -1 hour.
Preheat the oven to 200C/180Fan/400F. When the
rolls have risen and have puffed up nicely, pop in the oven and bake for 25-30 minutes or until golden. Remove the cinnamon rolls from the oven but leave them in the tin.
For the cream cheese icing, beat together the soft butter, icing sugar and the vanilla extract in a medium sized bowl until light and fluffy. Add the cream cheese and lightly beat until the icing is combined and smooth.
Spread the icing over the rolls while they are still warm. Take and deep breath....and dive in!
Notes
If you don't have or want cream cheese icing, you could make a vanilla glaze instead.
Just beat together 125g sieved icing sugar, 1 tsp vanilla extract and a tablespoon of milk until you have a smooth, not too runny icing. Pour over the rolls while they are still warm.
Nutrition Information:
Yield:

10
Serving Size:

1
Amount Per Serving:
Calories:

317
Total Fat:

18g
Saturated Fat:

11g
Trans Fat:

0g
Unsaturated Fat:

6g
Cholesterol:

65mg
Sodium:

470mg
Carbohydrates:

32g
Fiber:

1g
Sugar:

5g
Protein:

6g