This Scottish shortbread recipe is very easy to follow and so delicious – follow all my tips and tricks for making the perfect buttery, crumbly shortbread that melts in your mouth.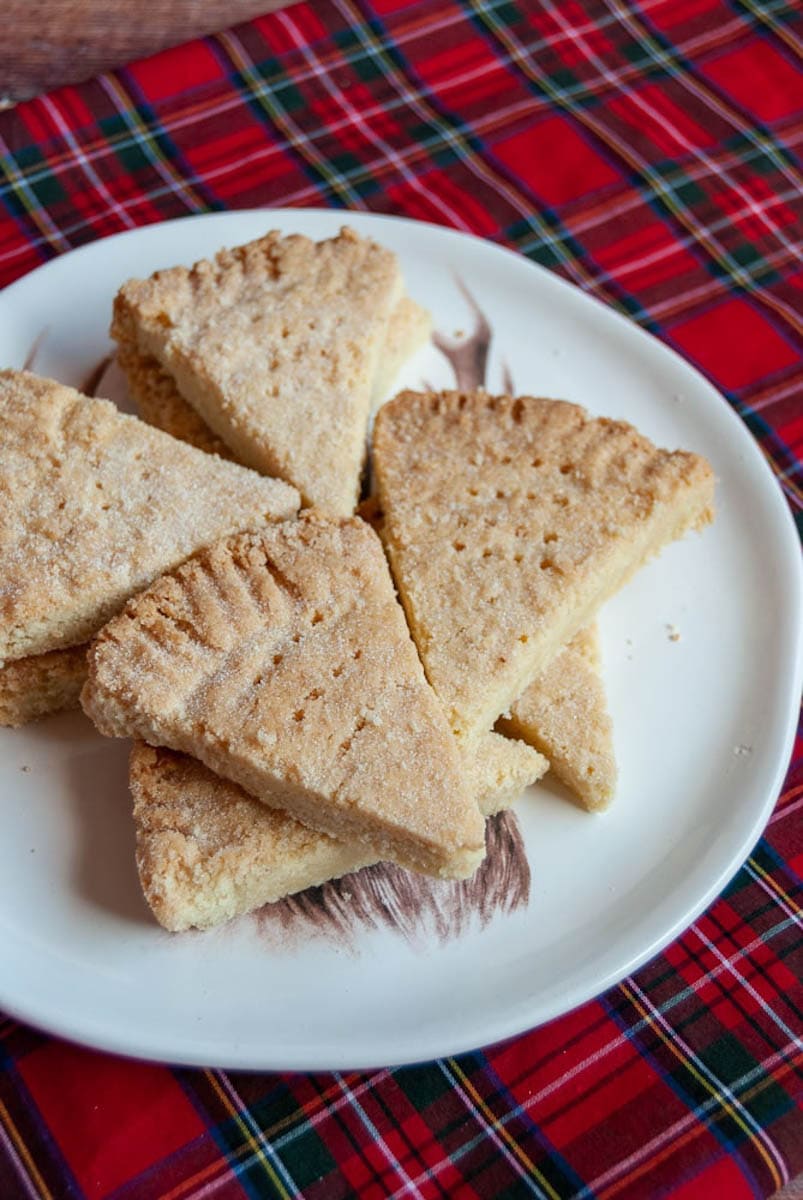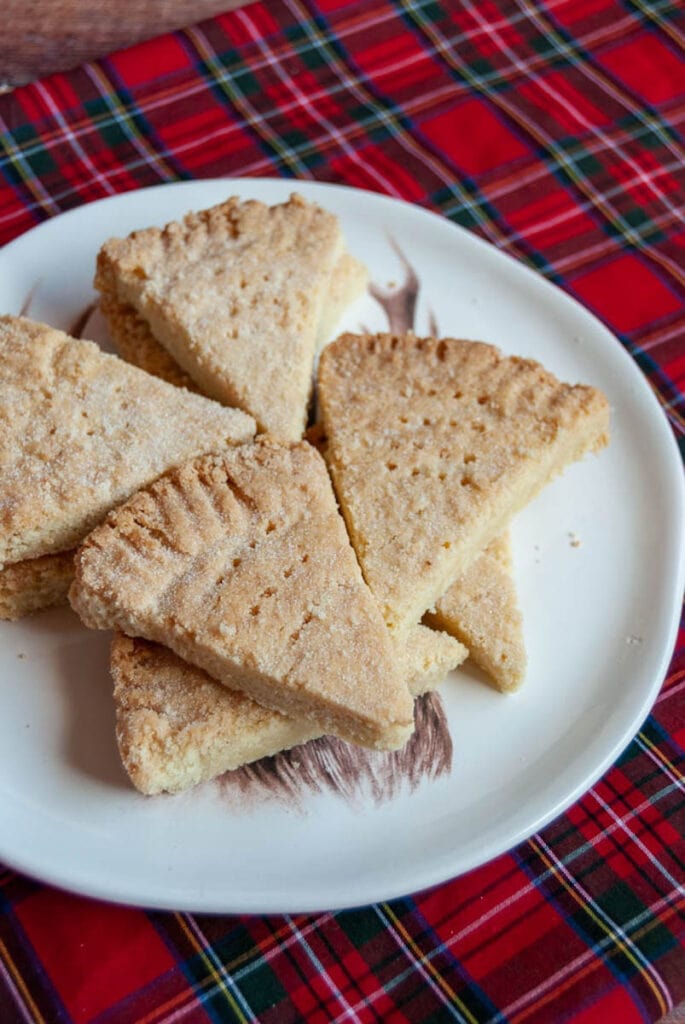 I have always loved shortbread but I didn't attempt to make it myself until my late twenties.
I always felt that I didn't need to make it when I could buy Walker's delectable shortbread (which I still adore!) But when I started to bake properly I was determined to master the art of making good shortbread.
After all, my Grandmother and Great Grandmother were both known for making delicious Scottish shortbread and my Mother's signature bake is shortbread, so I couldn't let the side down!
It took me a while to achieve that perfect balance of light yet crumbly and crisp shortbread that melts in your mouth when you take a bite. I'm now pleased to say I've found a keeper recipe that I'm happy to share with you!
This is old fashioned home baking that will never go out of style.
More old fashioned Scottish baking
I am very passionate about "old school" Scottish baking – and I'm definitely not the only one!
I also have recipes for Empire biscuits, Dundee cake, treacle scones, gingerbread loaf cake and drop scones (Scotch pancakes.)
If you have a very sweet tooth, you might want to check out my Scottish tablet recipe!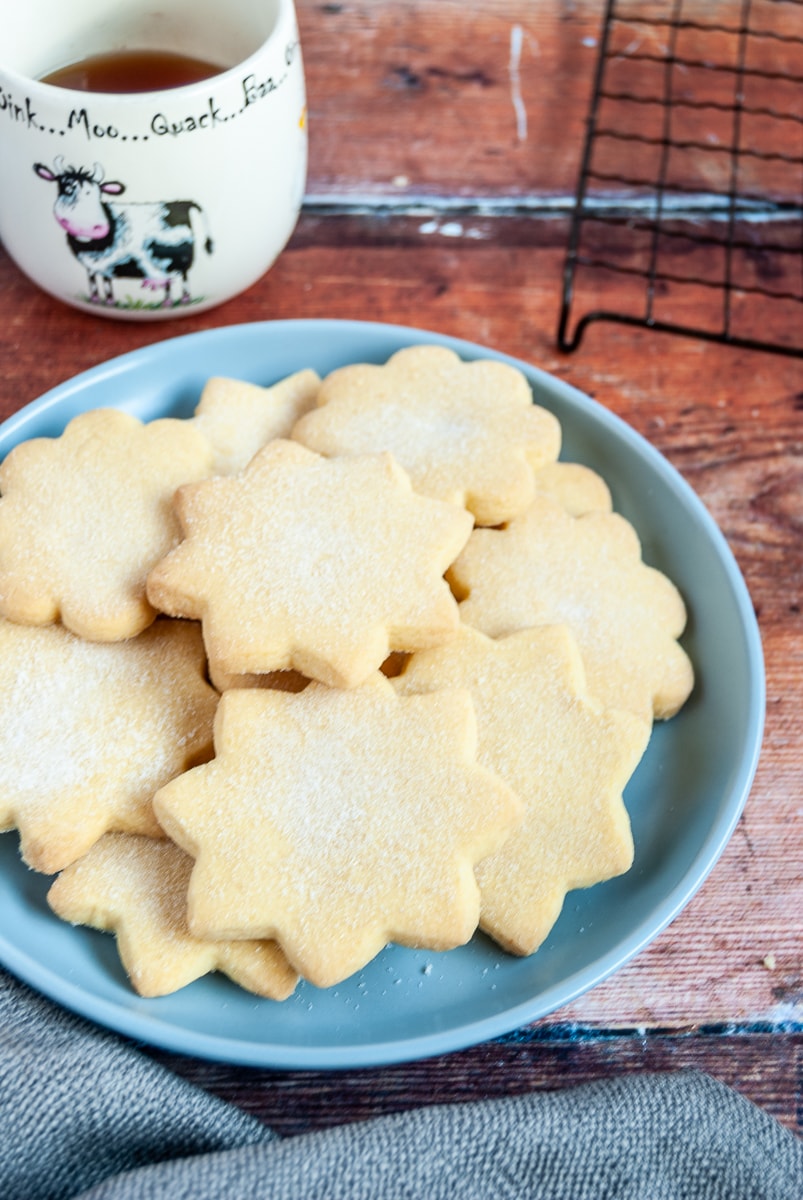 While the method of making shortbread always remains the same, using different ingredients will give you slightly different results. I'm going to take you through all the options!
cornflour and icing sugar
Some shortbread recipes use cornflour and icing sugar to make a feather-light melt in the mouth shortbread.
Cornflour isn't actually a traditional ingredient in Scottish Shortbread, but it does make a lovely light, melting texture. Plus my Mum has always used cornflour, so I do the same!
rice flour or semolina
Other shortbread recipes use a small amount of rice flour, ground rice or semolina for a slightly coarser, crumbly textured shortbread.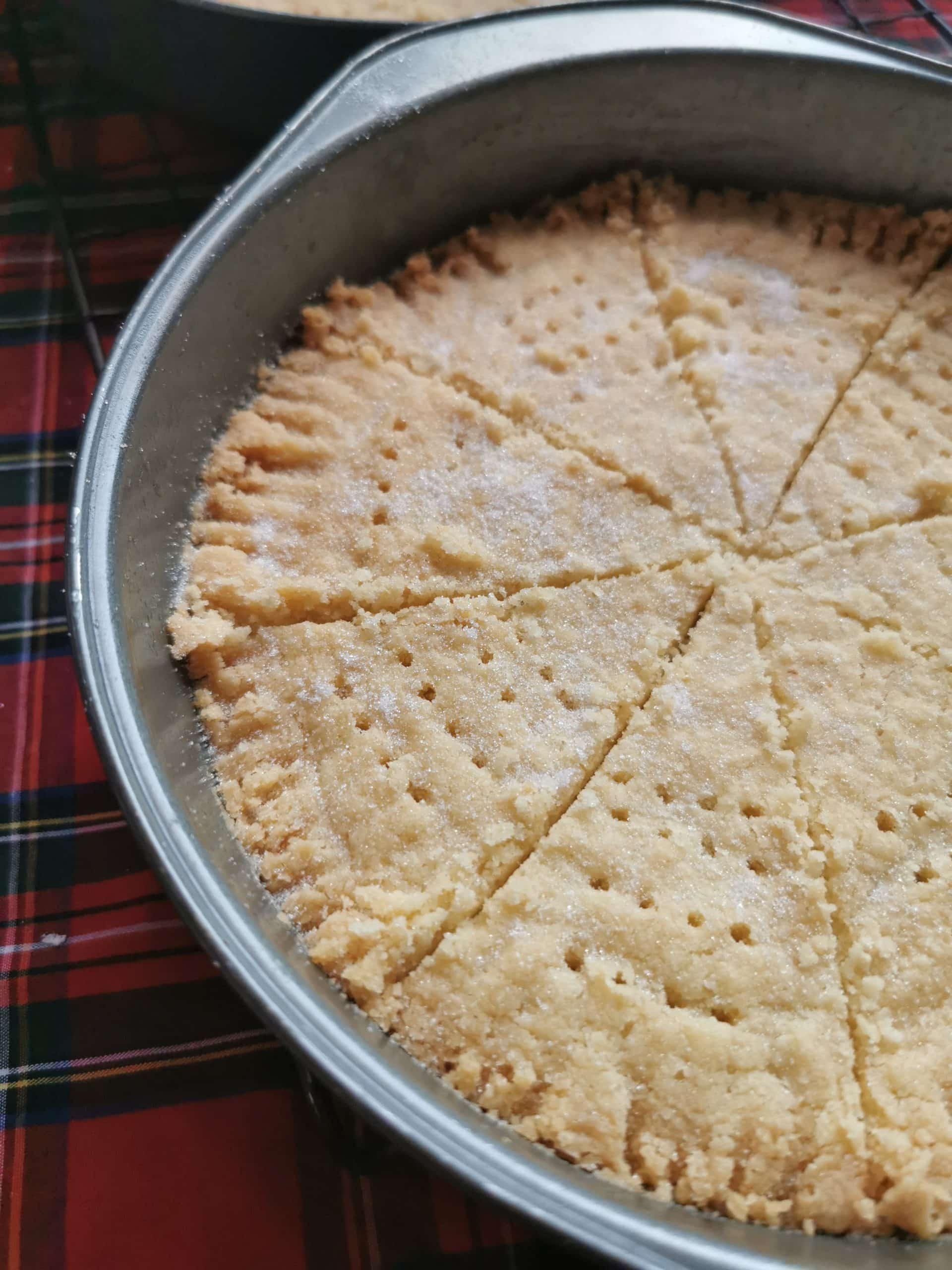 There is no right or wrong way here – use whatever ingredients you prefer or have on hand.
petticoat tails
I love both kinds of shortbread, but if I'm making short bread fingers or Queen Mary of Scots favourite (allegedly!) petticoat tails, I tend to use rice flour for that slightly grainy, crumbly texture.
If I'm using cornflour/icing sugar, I prefer to roll out the dough and cut it into shapes. This is just my personal preference.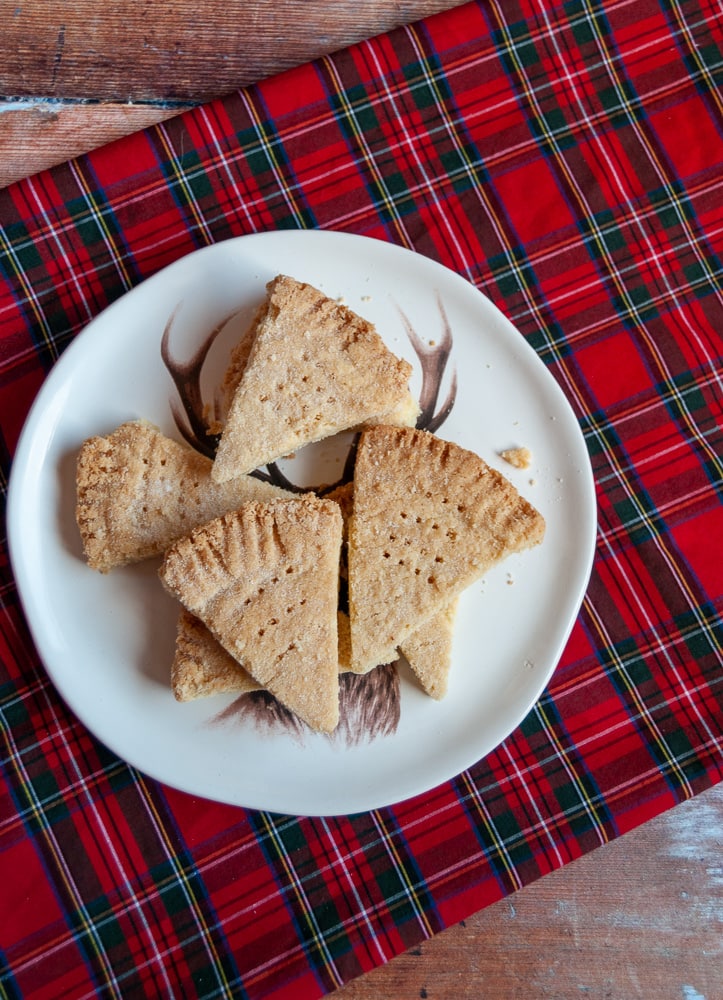 ingredient list
Plain (all purpose) Flour. Don't substitute with self raising flour- the raising agents in the self raising flour will make your shortbread puff up and mess with the texture.
Caster Sugar or Icing Sugar. While using caster sugar is more traditional, the icing sugar will give it a slightly lighter, soft texture. I'll leave it up to you to decide which one to use!
Rice Flour or Corn Flour (corn starch) Using rice flour will give you a slightly grainy, crunchy shortbread.
Corn Flour will give the shortbread a soft, melt in the mouth texture. Both are delicious!
Salted Butter. I'm not a fan of using unsalted butter in shortbread – I really think you need the salt to give the shortbread a "lift" in taste.
In addition to using salted butter, I also add a pinch of salt to the dry ingredients. If you would rather not add extra salt, its fine to leave it out.
How TO MAKE Scottish Shortbread
(Ingredient amounts and detailed instructions are in the printable recipe card at the bottom of this post!)
Place the flour, sugar, rice flour or cornflour and a pinch of salt in a large bowl.
Using a wooden spoon or your hands (I find it easier to use my hands if I'm honest) work the butter into the dry ingredients until the mixture turns into a dough.
Place the dough in a greased and lined 23cm Square tin. Using your hands, press the dough into the tin, trying to make it as even as possible.
Using the tip of a sharp knife, lightly mark out 20 squares of shortbread, then using a fork, prick the dough all over, making sure you go right through the dough.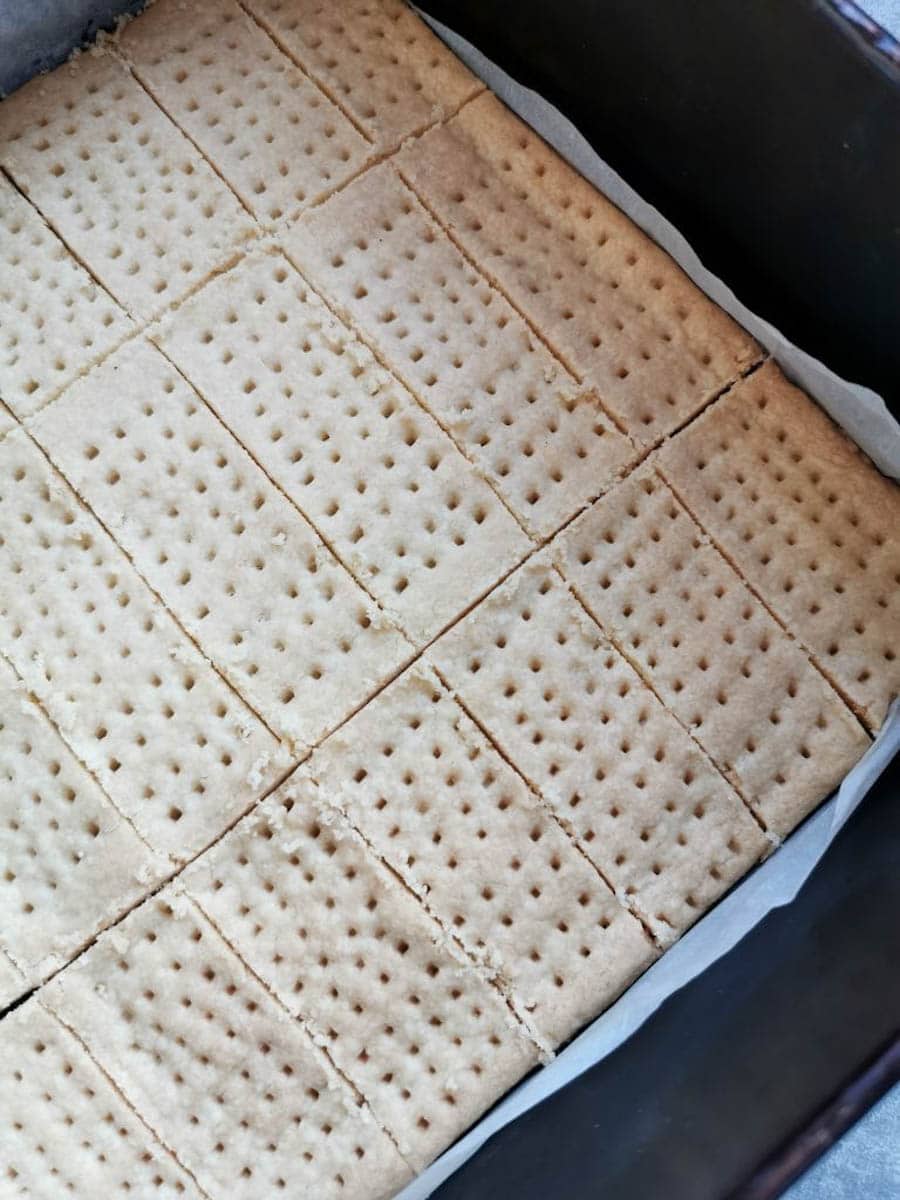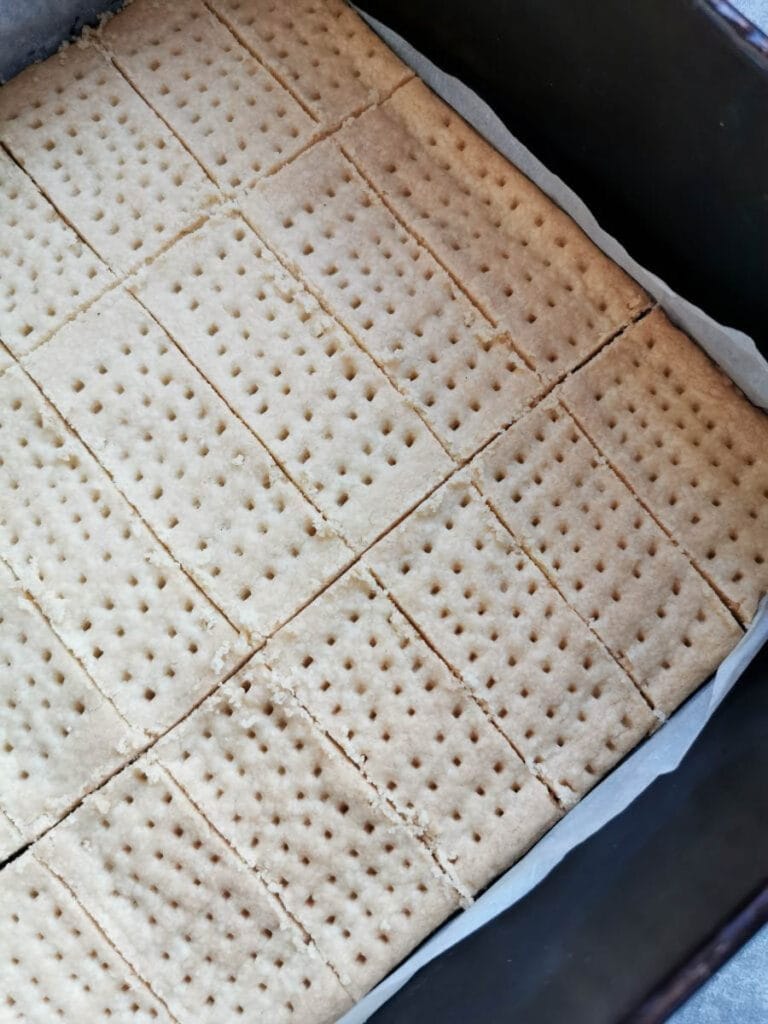 Bake at 160C/140Fan/320F for 35-40 minutes or until the shortbread is beginning to turn a very pale golden around the edges. When it's ready, you will smell it!
Remove the shortbread from the oven and sprinkle with caster (superfine) sugar. Leave the shortbread in the tin – if you attempt to remove it it will crumble and break into small pieces.
After about 20 minutes, cut the shortbread into fingers, using the lines you made as a guide.
Variations
You could also bake the Shortbread in two 18cm round tins to make "petticoat tails" , just like the picture below!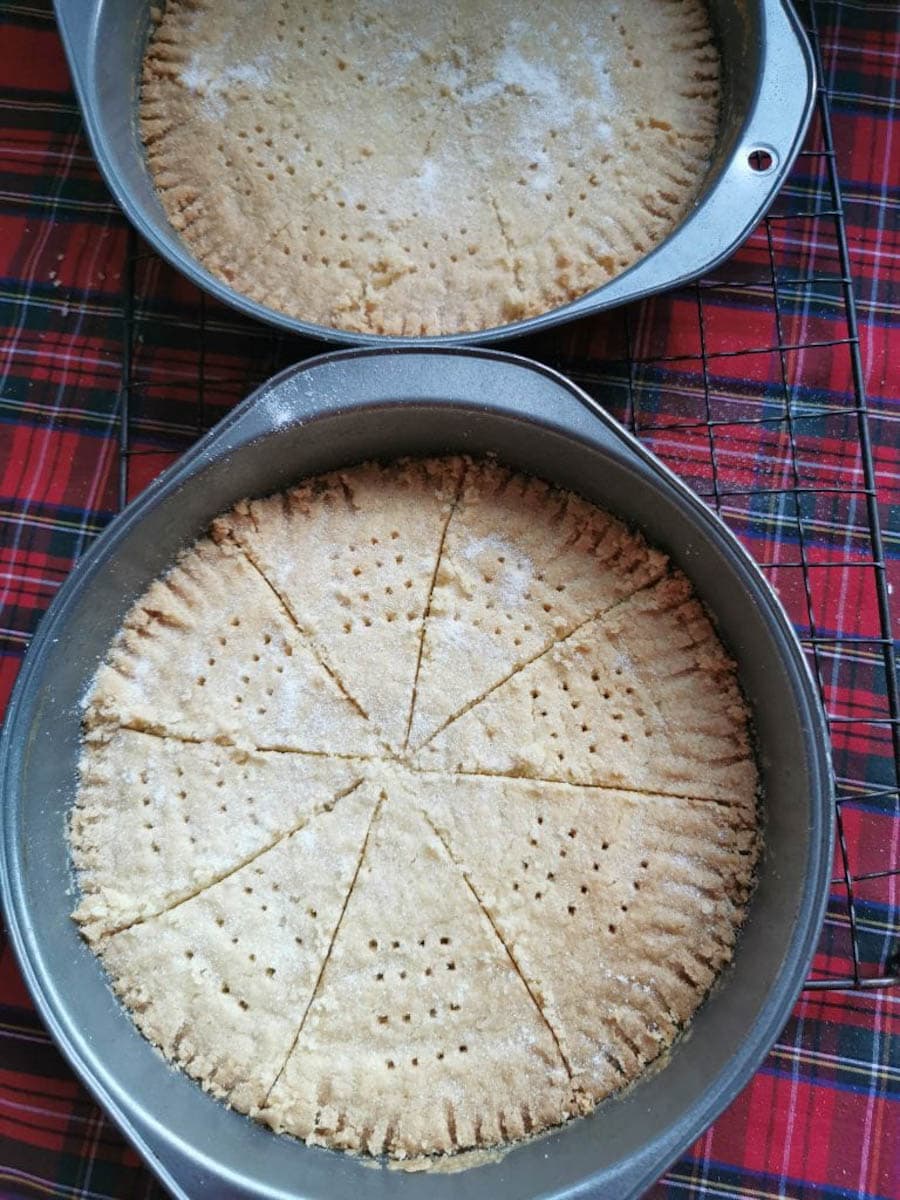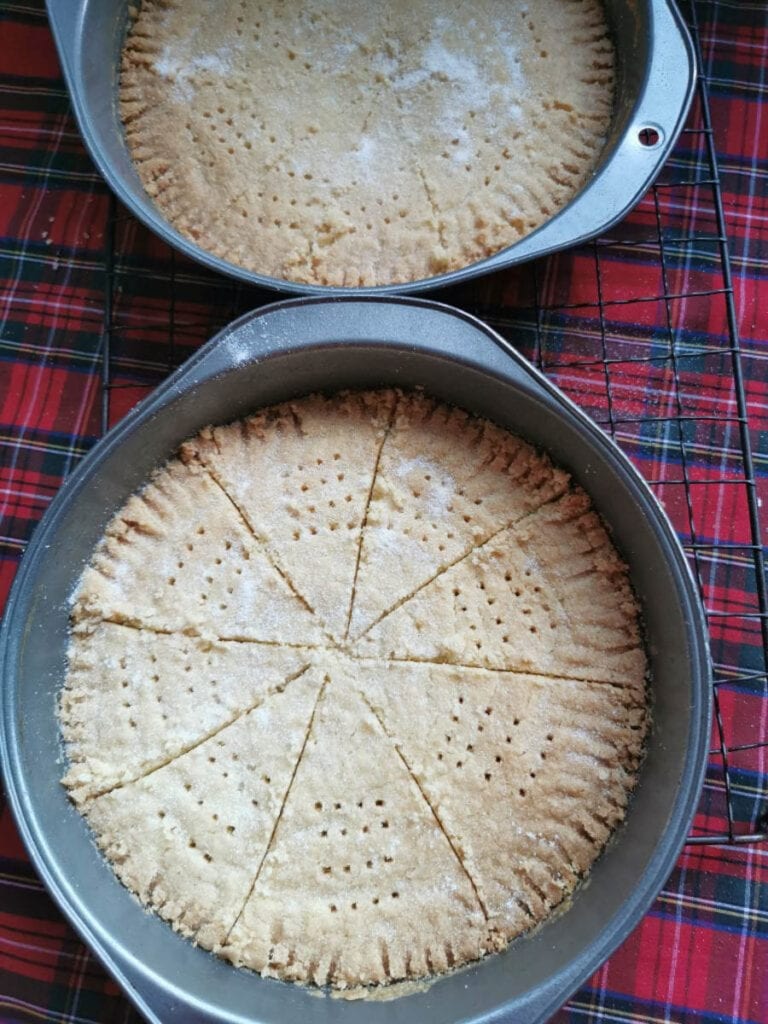 If you prefer, you could also roll out the dough and cut it into shapes of your choice.
However, please keep in mind that the baking time will differ depending on the size of your cookie cutters. As as rough guide, I would check your shortbead shapes after 15-20 minutes.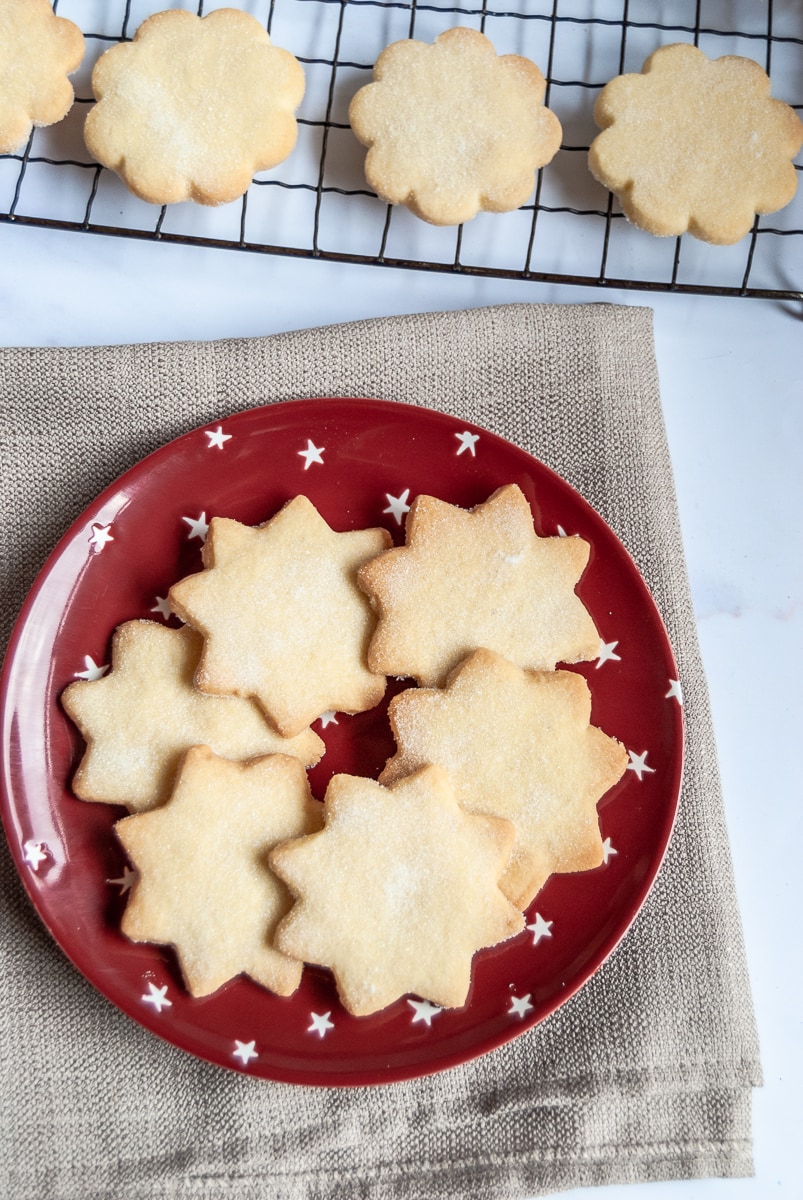 recipe notes
A simple recipe like this needs the best quality ingredients you can find – if you use good butter and flour, you will be able to taste it in the shortbread.
I wouldn't recommend swapping the caster caster for granulated. Granulated sugar crystals are too large and won't cream with the butter properly.
It's important that the butter is the correct consistency – it must be at room temperature.
You definitely don't want the butter fridge cold or so soft that it is beginning to melt. It should be soft enough to just spread on a piece of bread without tearing it, but certainly not so soft that it's oily.
Please don't overwork the mixture – if you do then this will activate the gluten in the flour and your shortbread will be tough. 
Initially, it will seem like the dough isn't going to come together – it does take a few minutes for the butter to absorb all the dry ingredients, especially if you are making the shortbread by hand. But trust me, it will.
Cut the shortbread into fingers while it is still a little warm, but don't attempt to lift it from the tray until it is completely cold.
Don't worry if your shortbread crumbles and breaks a little – mine often does! The taste is what really matters – and this is home baking, it's not meant to look like it's been made in a factory!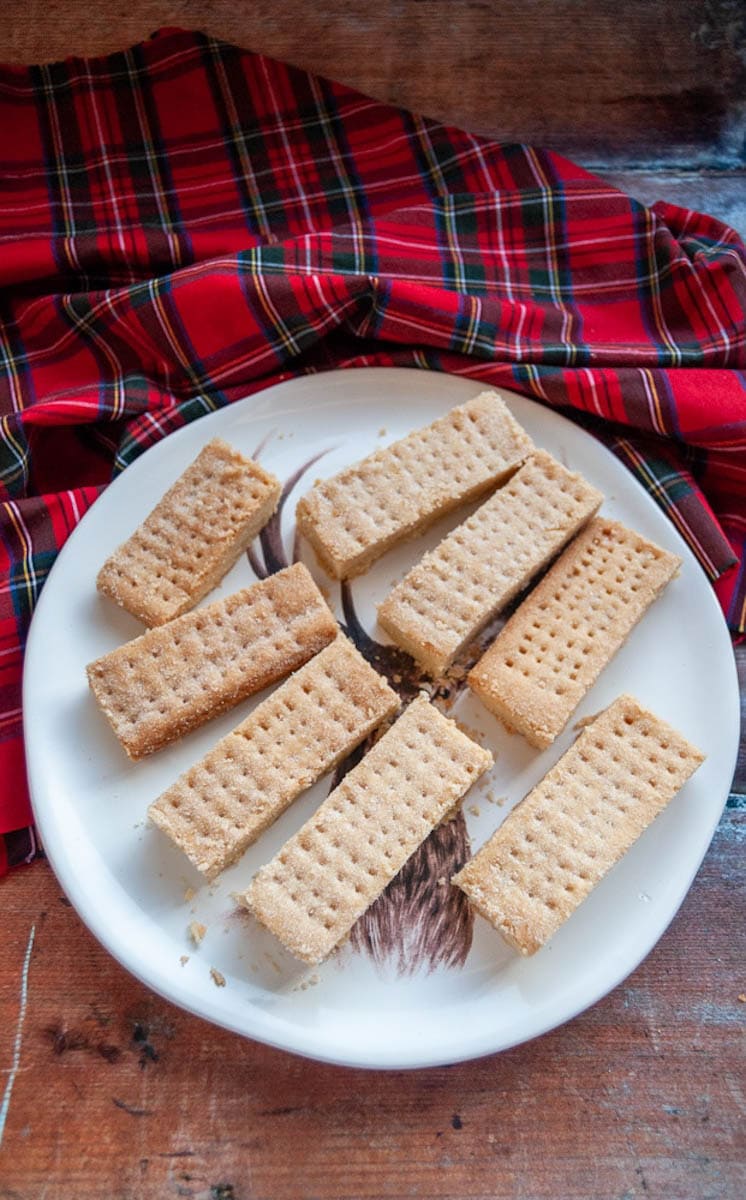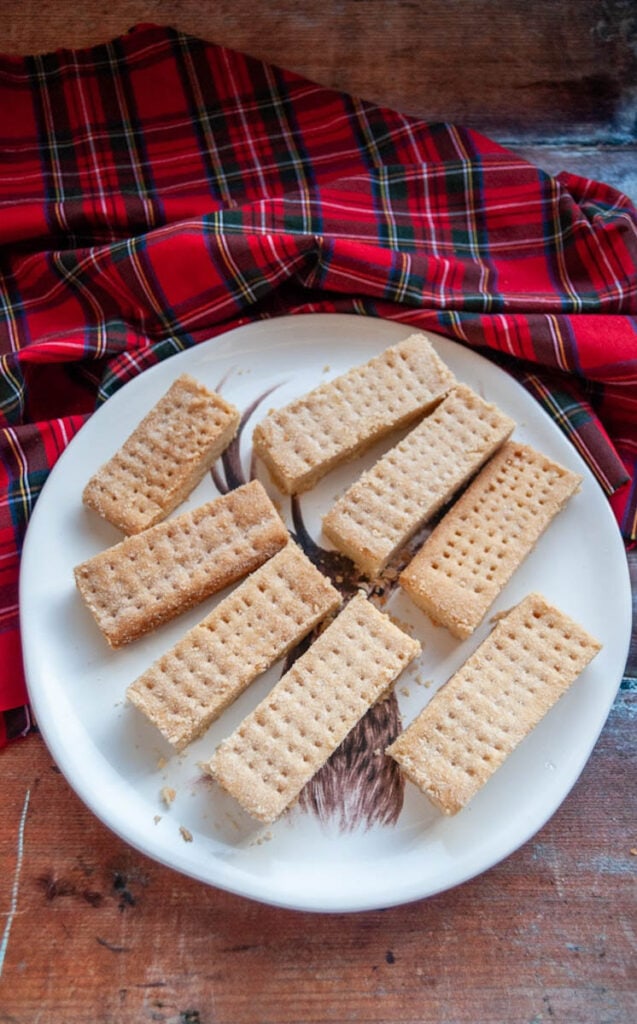 If you love Scottish Shortbread and caramel, then you simply have to try this indulgent Millionaire's Shortbread Recipe. It's amazing!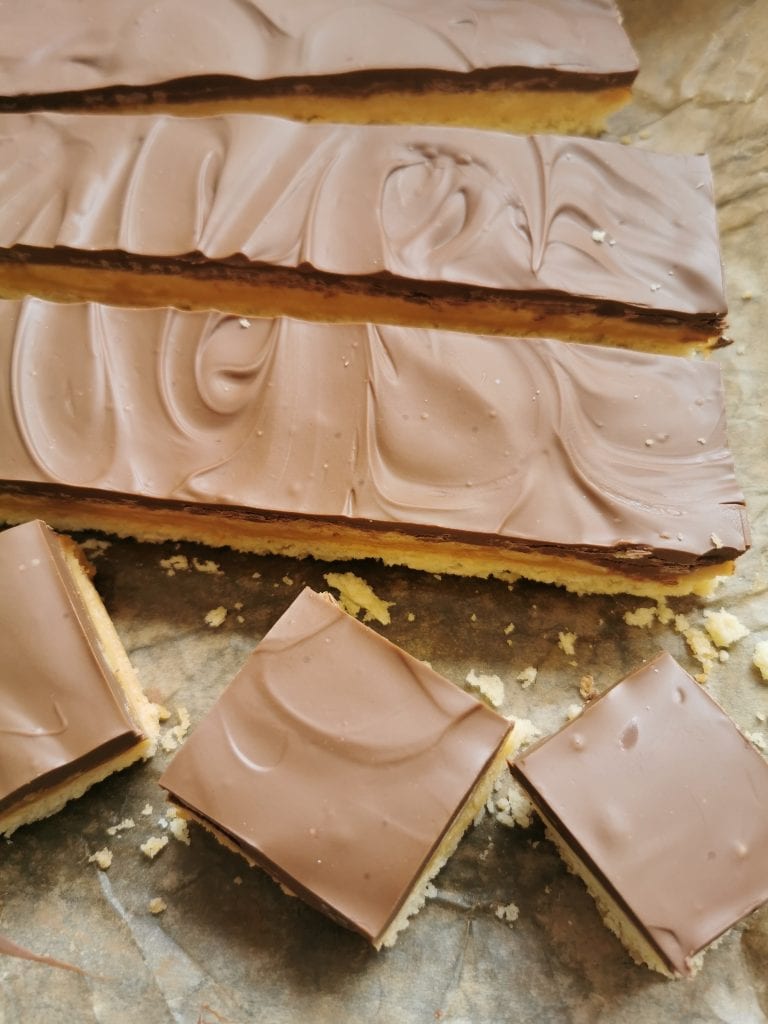 How to store shortbread biscuits
Shortbread is best kept in an airtight tin at room temperature. It will keep for up to a week, but it doesn't tend to last that long in our house.
Can you freeze shortbread?
If stored correctly, shortbread can be frozen for up to three months. Wrap in baking parchment and tin foil or store in freezer bags.
Defrost the shortbread at room temperature. If you like, shortbread can be warmed up in a low oven for a few minutes before serving.
Scottish Shortbread makes such a lovely present – my Mother makes a few batches every Christmas to pop in gift bags. It's always much appreciated!
want to see more scottish recipes?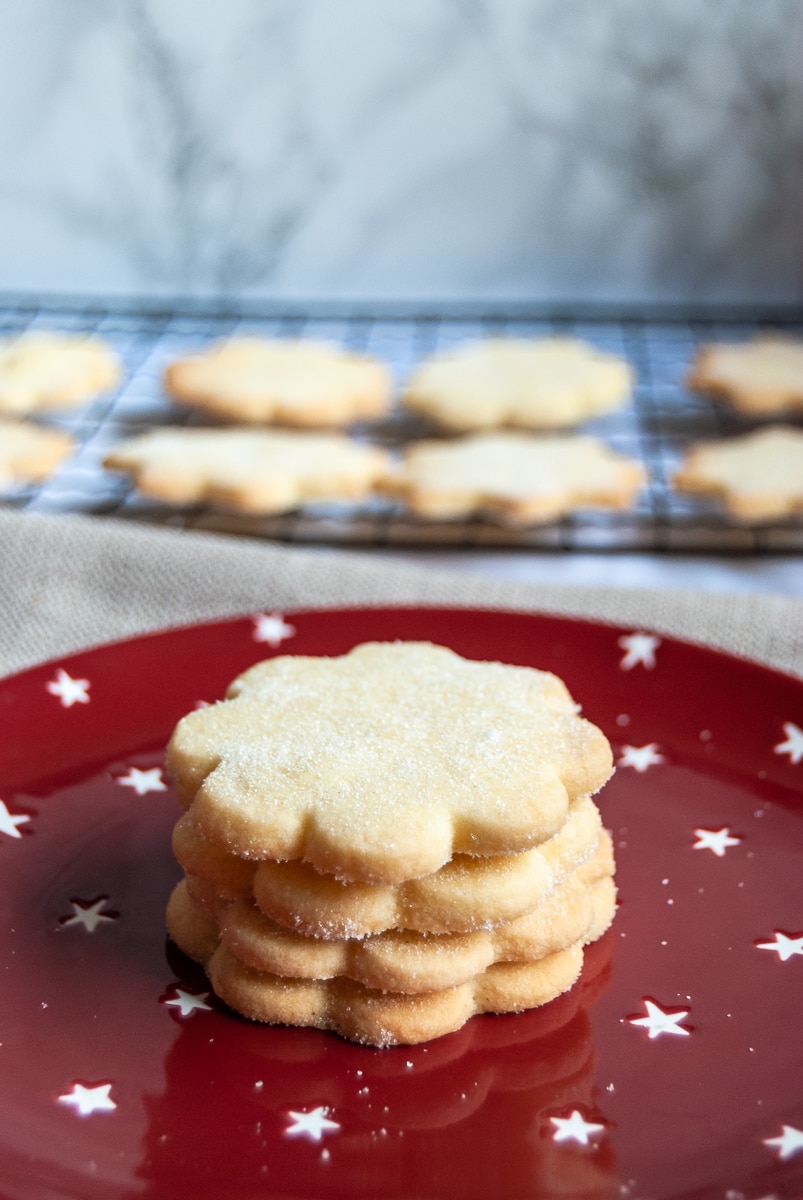 Did you make this recipe?
Leave a comment and let me know how you got on with it, or if you have any questions or need help, don't hesitate to get in touch.
If you would be so kind to give the recipe a rating by clicking on the stars in the recipe card, I would really appreciate it. Thank you!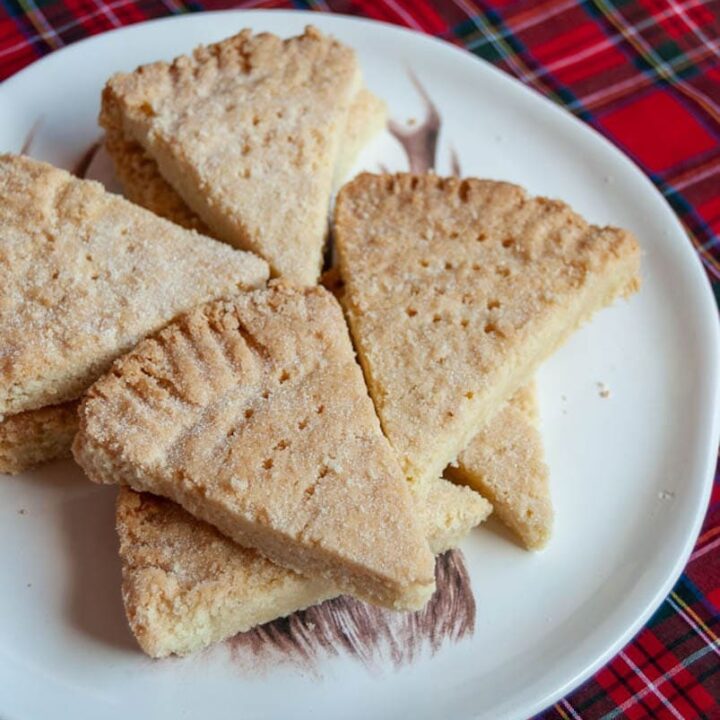 Scottish Shortbread
Yield:
Makes 20 shortbread fingers
Total Time:
1 hour
50 minutes
This homemade Scottish Shortbread Recipe is so much better than anything you can buy in the shops. It's buttery, crumbly, light and absolutely delicious with a cup of tea. This is simple home baking at its best.
Ingredients
250g Plain Flour
100g Rice Flour or Corn Flour (See Recipe notes below)
100g Caster (super fine) Sugar or Icing Sugar (See Recipe Notes Below)
225g Salted Butter, at Room Temperature (See recipe notes below)
Pinch of Salt (optional)
Instructions
Preheat the oven to 160C/140Fan/350F/Gas Mark 3. Grease and line a square 23cm tin, making sure the baking paper comes above the tin by a couple of centimetres so it's easy to lift out of the tin later. If you're making cut out shortbread, grease and line and couple of baking sheets.
In a large mixing bowl, stir together the flour, rice flour or corn flour and caster sugar or icing sugar.
Using a wooden spoon or your hands, work the butter into the flour mixture until you have a smooth dough. It might take a little while to come together, but it will eventually - so keep going! However, please try not to overwork or knead the dough or your shortbread will be tough, not meltingly light!
Press the dough in the lined baking tin, coaxing it into the corners and trying to make it an even thickness all over. Using the tip of a sharp knife, lightly mark out twenty even sized pieces. Prick the shortbread all over with a fork, making sure you go right through the dough. Alternatively, you can roll the shortbread out on a lightly floured surface and cut into shapes.
Place the shortbread in the oven and bake for 35-40 minutes or until the shortbread is lightly tinged golden around the edges. If you're making shortbread biscuits, they take about 20 minutes to bake depending on their size. When the shortbread is ready, you'll smell it! Remove from the oven and sprinkle with caster sugar. Leave for 20-30 minutes before carefully cutting the shortbread into fingers, using the lines you marked out as a guide (if you cut the shortbread when it is very cold it will shatter and crumble very easily.) Leave the shortbread to cool completely before placing in an airtight tin.
Notes
For the best shortbread, the butter should be at room temperature before beating into the butter. It should be soft but not too soft!
Using icing sugar instead of caster sugar will result in a slighty finer textured shortbread. Both ways are delicious! There's no right or wrong here - why not try the recipe both ways to see which one you prefer?
Rice flour will give the shortbread a slightly crunchy texture. Cornflour will give soft, melt in your mouth shortbread, Again, both ways are divine!
I use salted butter and I also add a small pinch of salt to the dough, but you can omit the extra salt if you prefer.
If you are cutting the dough into shapes, please note that the shortbread will take less time to bake - around 15-20 minutes.
Nutrition Information:
Yield:

20
Serving Size:

1
Amount Per Serving:
Calories:

187
Total Fat:

10g
Saturated Fat:

6g
Trans Fat:

0g
Unsaturated Fat:

3g
Cholesterol:

24mg
Sodium:

80mg
Carbohydrates:

23g
Fiber:

1g
Sugar:

6g
Protein:

2g
Calories and nutritional information are provided by a third party application and should be viewed as indicative figures only.