This easy stovetop granola is so delicious and is ready in just 15 minutes!
Serve with plain yoghurt and fresh fruit for a perfect, healthy breakfast.

I've long been a fan of granola. It's in my top five favourite breakfasts of all time.
Crunchy oat clusters with nuts, dried fruit and a dollop of Greek yoghurt alongside some fresh fruit is my idea of breakfast heaven.
Reasons for making your own granola
I always make my own granola because shop bought is so expensive! It's often £3-4 for a small box that would barely last a week.
If you don't have most of the ingredients in to make homemade granola, then it would cost a fair bit to buy all of the ingredients, I give you that.
But since you will be able to make several batches of granola from a big bag of oats, it works out so much cheaper in the long run.
Next time you're in the supermarket I recommend having a look in the World Food section if there is one – they often have large bags of nuts, seeds and spices at bargain prices.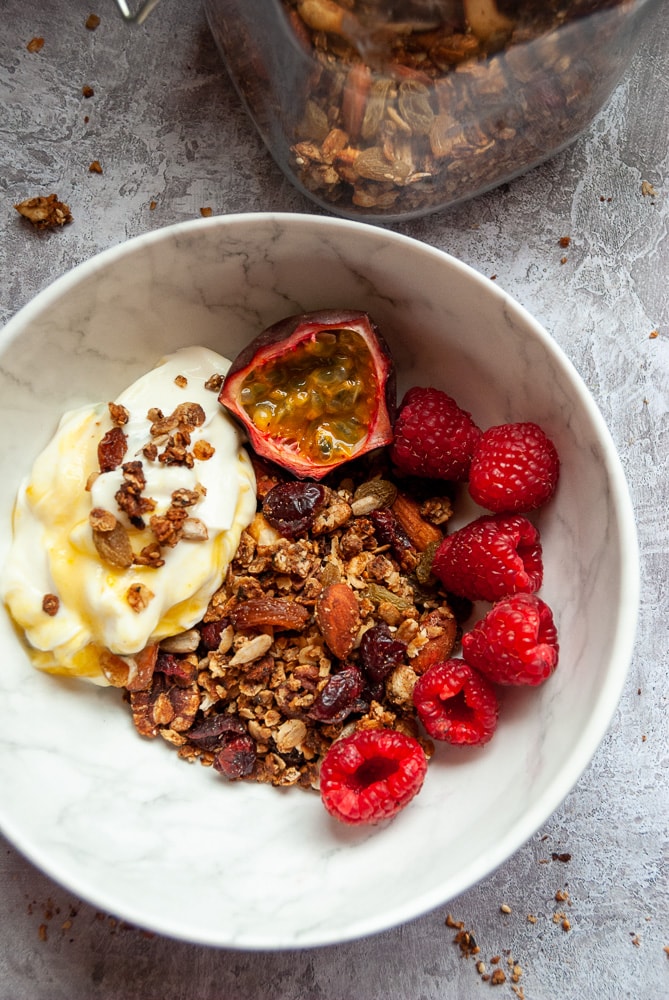 It's much cheaper to make your own and you can control what goes into it – no hidden sugar or nasties!
When I was a teenager, sugar laden, calorific breakfasts were my idea of heaven. While that's still ok as a once in a blue moon treat, now I'm getting older I find I don't have the same sweet tooth or metabolism (due to Thyroid issues annoyingly!)
This granola recipe contains no refined sugar – just a little honey. You could use maple syrup if you prefer.
Convenience!
Ever since I realised that you can made granola on the hob, I've been eating a lot more of it.
I make a big batch on Sunday night and that's breakfast sorted for the week ahead.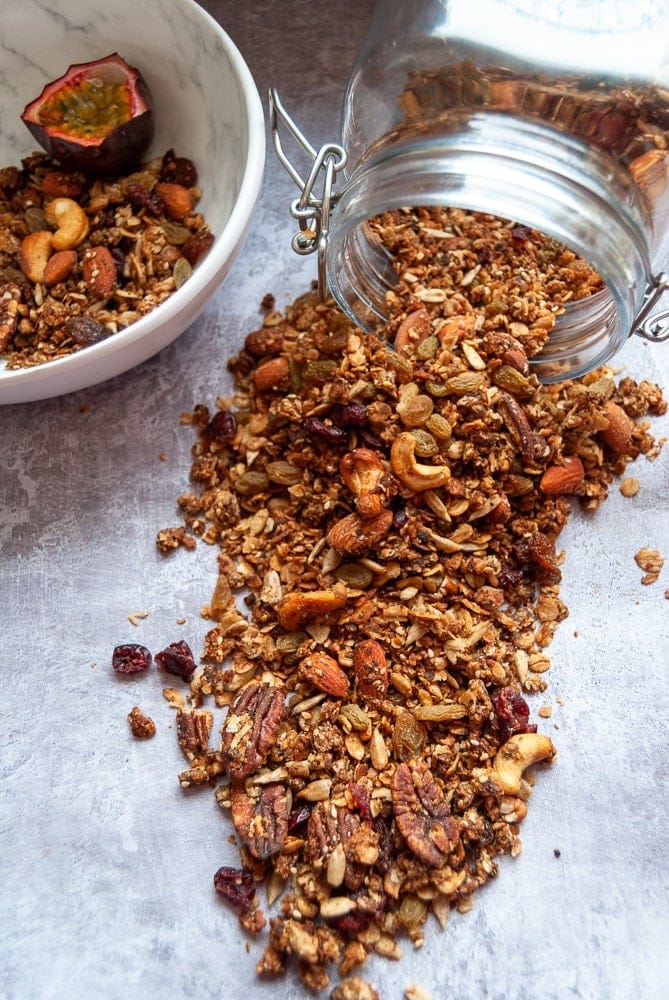 How to make granola without an oven
(recipe amounts and detailed instructions are in the recipe card at the bottom of the post!)
Heat some olive oil in a large saucepan over medium heat. Don't have the heat too high or the oats will burn.
Add rolled oats (I use a mixture of jumbo and medium oats), mixed nuts, sunflower and sesame seeds.
Stirring frequently, cook on a low to medium heat until the nuts and oats are beginning to toast.
Stir in some honey and continue to cook for 5-7 minutes, or until the oats are crisp.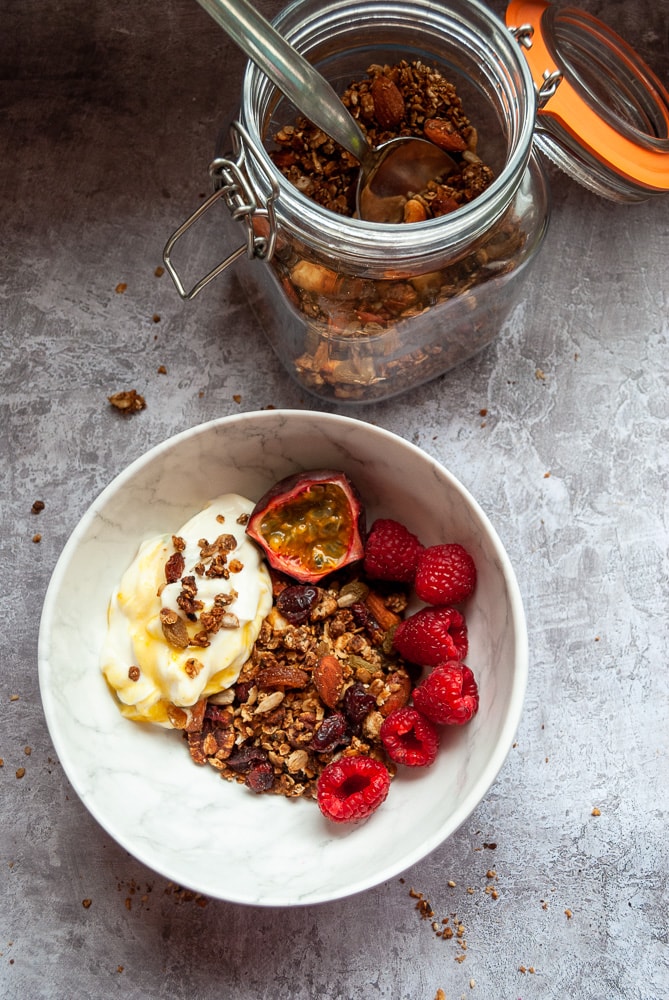 What to serve with stovetop granola
I love my granola with thick Greek yoghurt and fresh fruit or a fruit compote.
But It's also delicious simply served with cold milk.
It might sound strange, but I like to sprinkle a small amount of granola over porridge – don't knock it until you've tried it, it is delicious!
How long does stovetop granola keep For?
The granola will keep in an airtight tin or a jar for up to two weeks.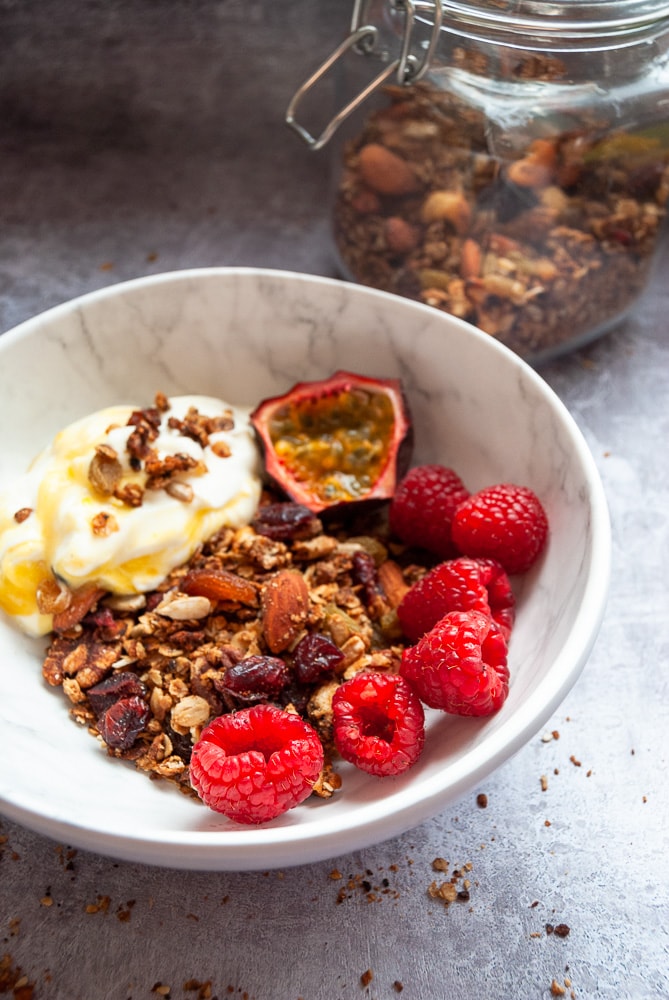 Want to see More delicious breakfast Ideas?
Sugar free banana and blueberry pancakes
Sticky Toffee Pudding Pancakes
The best fluffy American pancake recipe
Buttermilk Waffles with vanilla apples
Roasted Rhubarb with Greek yogurt and Pistachios
Did you make this stovetop granola? Let me know what you thought of the recipe by leaving a comment below.
If you would rate the recipe out of 5 by clicking on the stars in the recipe card, I would really appreciate it. Thank you!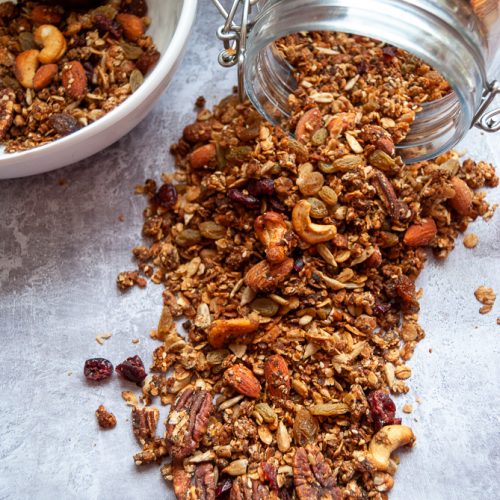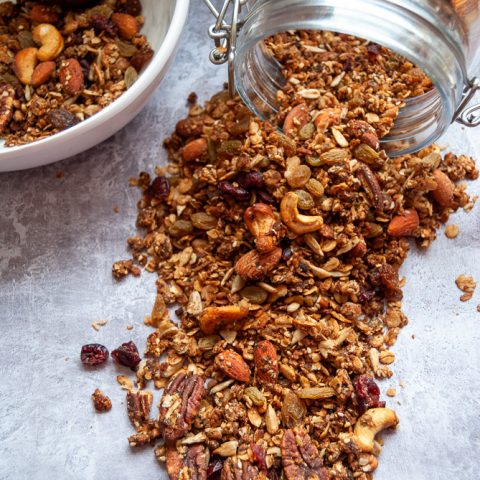 Stovetop Granola
This easy stovetop granola is so delicious and is ready in just 15 minutes!
Serve with plain yoghurt and fresh fruit for a perfect, healthy breakfast that will set you up nicely for the day ahead.
Ingredients
3 Tablespoons Olive Oil
250G Rolled Oats
1/4 Teaspoon of Salt
1 Teaspoon Ground Ginger
1 Teaspoon Ground Cinnamon
75G mixed Nuts
1 Tablespoon sunflower seeds
1 Tablespoon Sesame Seeds
80Ml (1/3 Cup) Honey or Maple Syrup
50G mixed dried fruit such as raisins, sultanas, chopped apricots, dried cranberries, etc.
Instructions
Heat the olive oil over a medium heat. Add the rolled oats, salt, nuts, seeds and spices. Cook for about 10 minutes, stirring all the time. The oats and nuts can burn easily, so keep the heat on low-medium.
When the oats and nuts are nicely toasted, pour in the honey or maple syrup. Continue to cook, stirring often for another 5 minutes or until the granola is crispy.
Remove from the heat and add the dried fruit. Leave to cool for a little while before serving. Any leftovers can be stored in an airtight jar for up to two weeks.
Nutrition Information:
Yield:

6
Serving Size:

1
Amount Per Serving:
Calories:

456
Total Fat:

17g
Saturated Fat:

2g
Trans Fat:

0g
Unsaturated Fat:

14g
Cholesterol:

0mg
Sodium:

221mg
Carbohydrates:

71g
Fiber:

8g
Sugar:

31g
Protein:

10g