Crustless Quiche – an easy, low effort pastry free quiche that you can adapt according to your own taste – add your favourite ingredients or whatever you have in the fridge!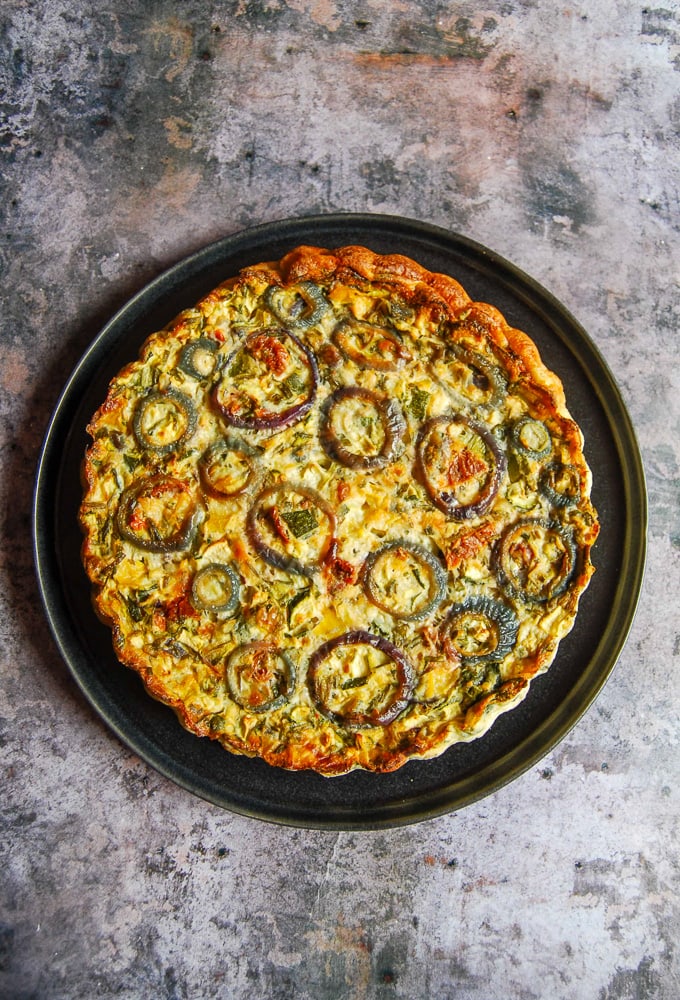 I've been making this crustless quiche for years. I was convinced I'd posted the recipe a long time ago, but when I went to search for it last week I couldn't find it.
Much to my relief I found the hastily scribbled instructions in my old recipe notebook which sadly, has long been dumped for Pinterest.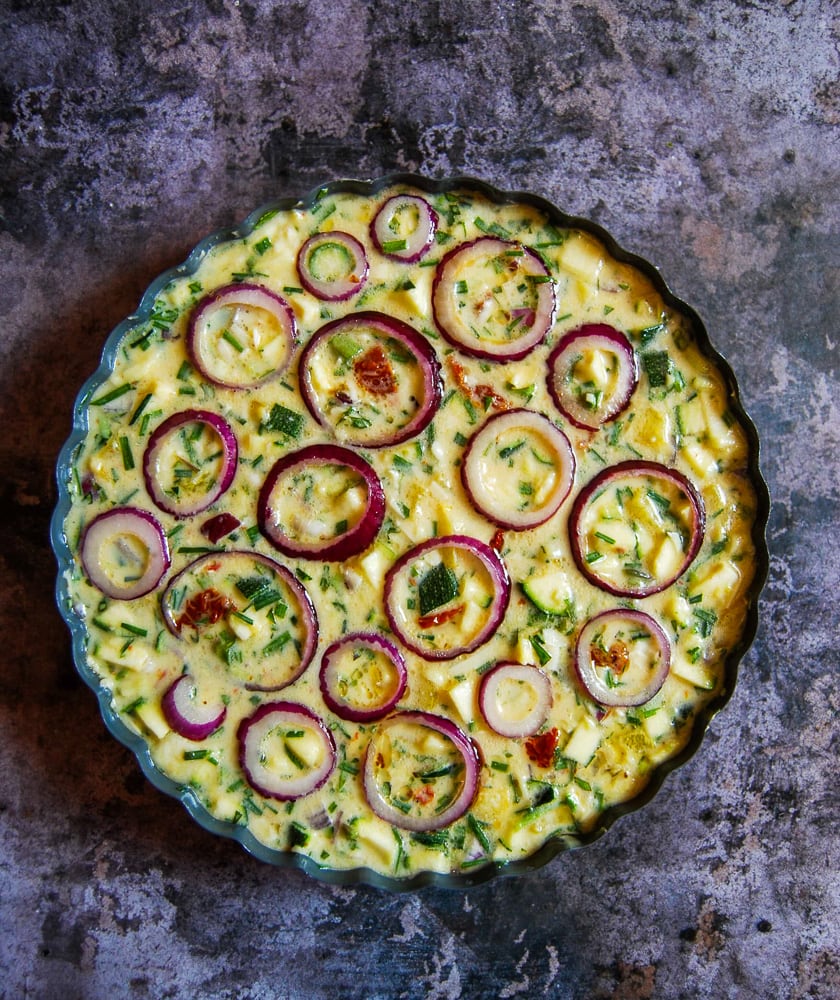 I guess it's all part of the digital age we're living in, but I feel an urge to go old school and start scrapbooking recipes like I used to do.
Not that I'm breaking up with Pinterest – I use that app more than anything else on my phone. It's kind of addictive (and I'll admit, a huge time suck for me!)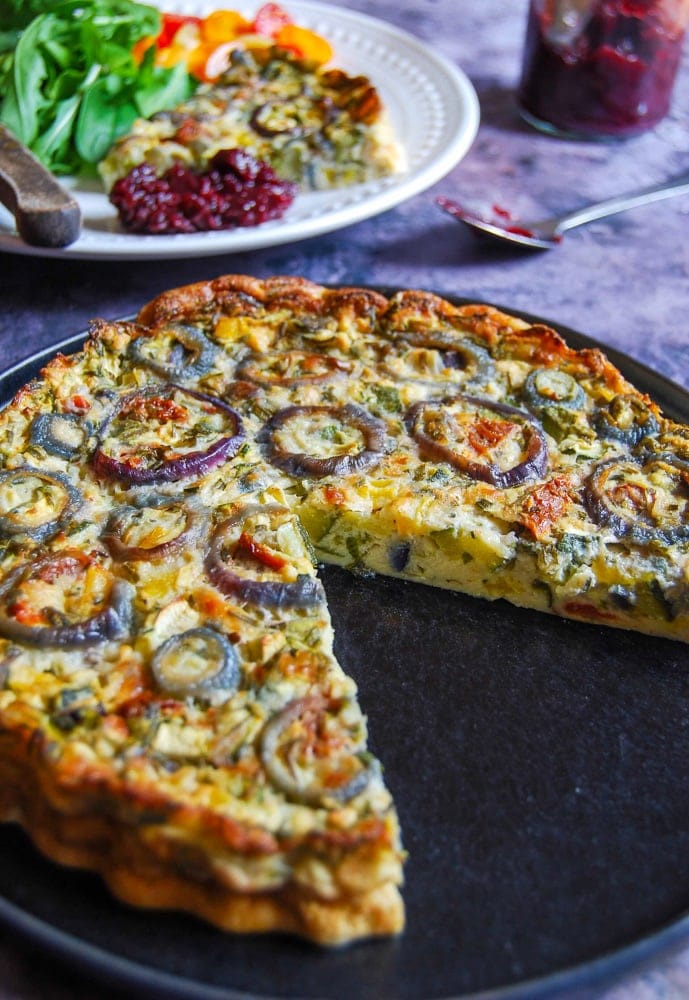 Crustless quiche, or also known as Impossible quiche, is a great recipe for doing a fridge clean up – add any veg, cold meat, salad or herbs that need using up!
Seriously, add whatever floats your boat – swap cheddar cheese for feta or grated mozzarella, use dill instead of basil, add a Snickers bar….kidding.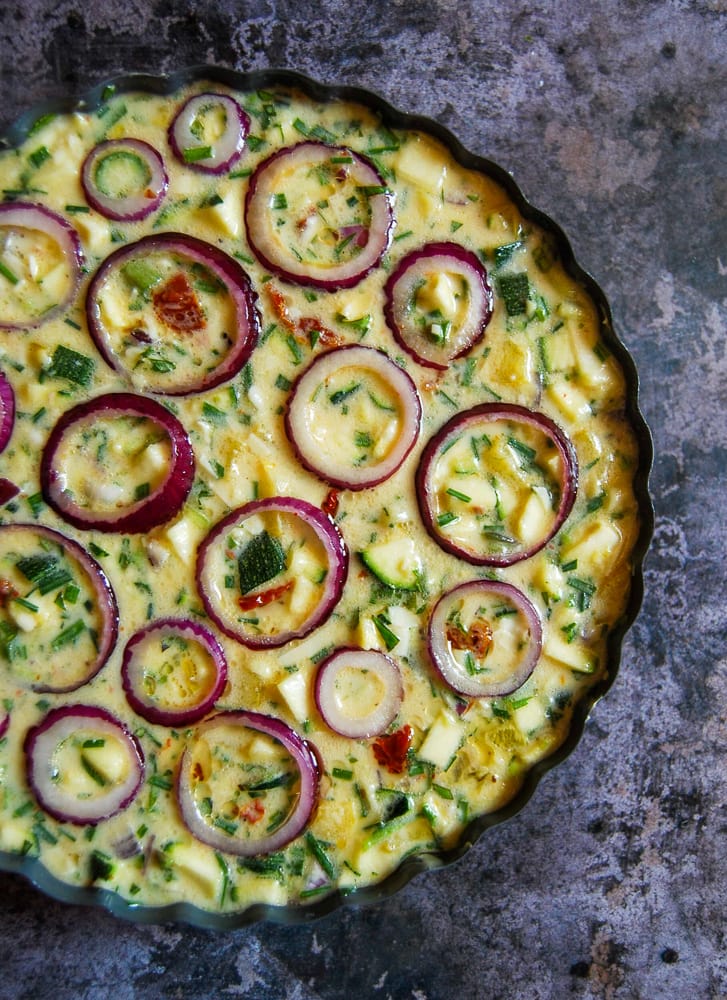 Plus the really great thing is, it can be anything you want it to be. If you aren't catering for vegetarians, throw in a few cooked chopped bacon rashers, ham chunks or cooked chicken.
Need it to be gluten free or on a low carb diet? You can make it without flour. It's incredibly versatile. Make the recipe your own!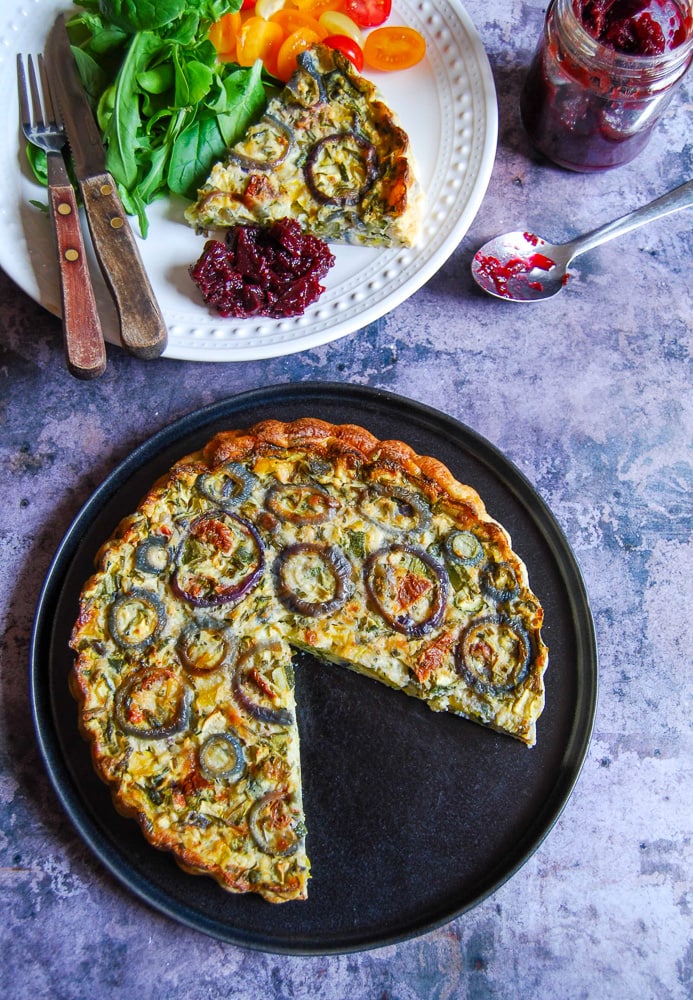 It's lovely served warm or cold with salad, new potatoes and chutney or with baked beans for a special weekend Brunch.
If you make individual sized quiches in a muffin tin, they are the perfect size for little hands and lunchboxes! So versatile.
If you're thinking about making a salad to serve alongside the quiche, this naturally gluten free Cauliflower Cous Cous Salad would be a great accompaniment. This New Potato Salad with asparagus and radishes would also be perfect.
If you want to serve the quiche with a vegetarian side dish, these Spring greens with lemon and mustard dressing would be ideal.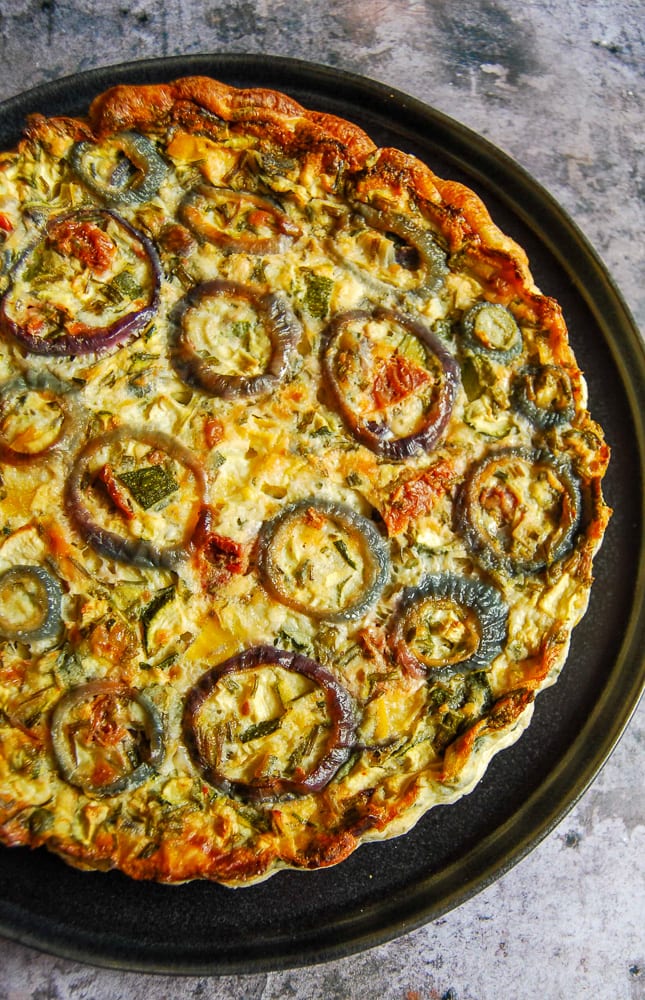 What ingredients can you use in a Crustless Quiche?
It would probably be easier to list what you couldn't add!
Honestly, you can use any vegetables you have in the fridge – sweetcorn, cooked potatoes, spinach, mushrooms, broccoli, peppers, tomatoes, anything goes.
You could also add any cooked meat or fish – cooked ham, chicken or salmon would work great.
Can I make this crustless quiche gluten free?
Yes! For a gluten free/low carb quiche, omit the flour and add an extra 2 eggs. The texture won't be as firm if you don't use flour – it will be more like a frittata – but it's still delicious.

What kind of dish do I need to use to make a crustless quiche?
You can make the quiche in any kind of pie or casserole dish – as long as it isn't loose bottomed or the filling will leak all over your oven!
The quiche does puff up a little while baking, so do make sure your dish is deep enough. The filling should fill the dish no more than two-thirds up the side.
You can also make individual quiches in a regular muffin tin – this recipe would make around 24 mini quiches.
How long does a Crustless Quiche keep?
It will keep in the fridge for up to 3 days.
Can you freeze a Crustless Quiche?
Yes! Wrap the quiche in several layers of cling film and wrap tightly in foil before freezing. It will keep well for up to 3 months.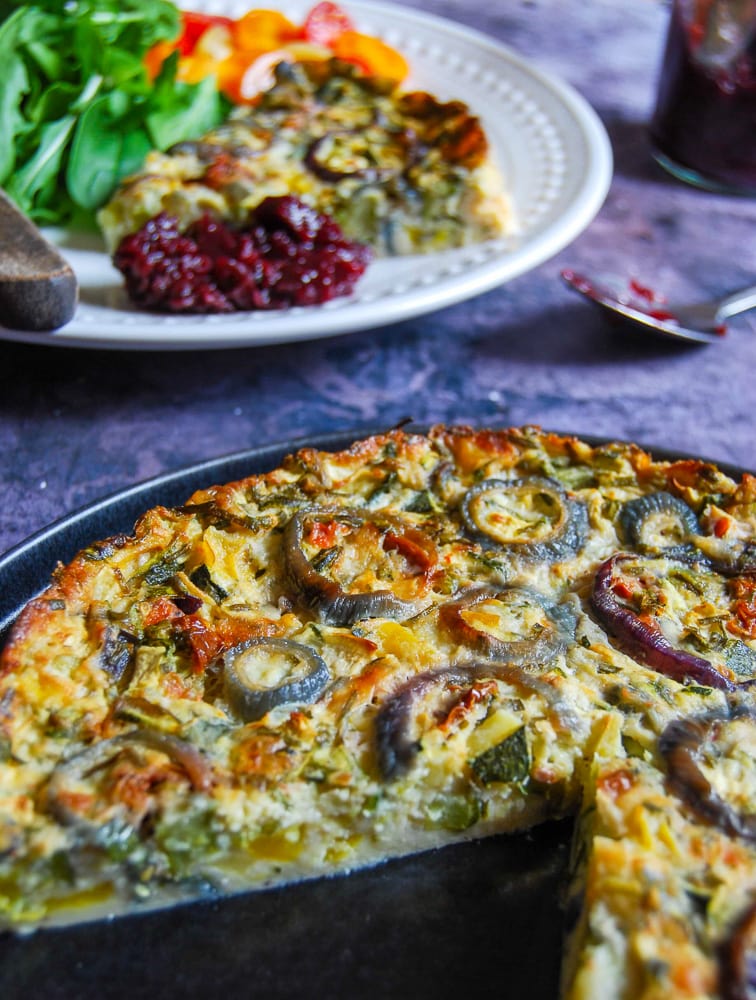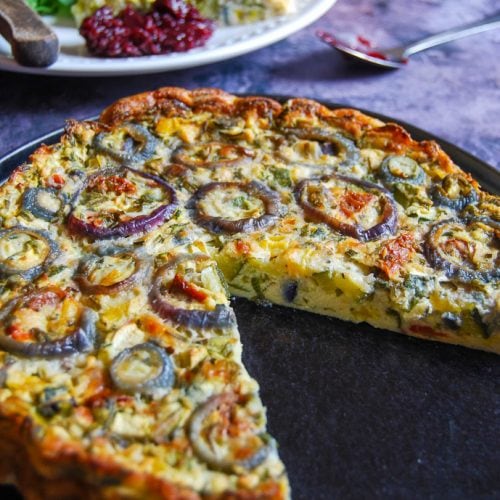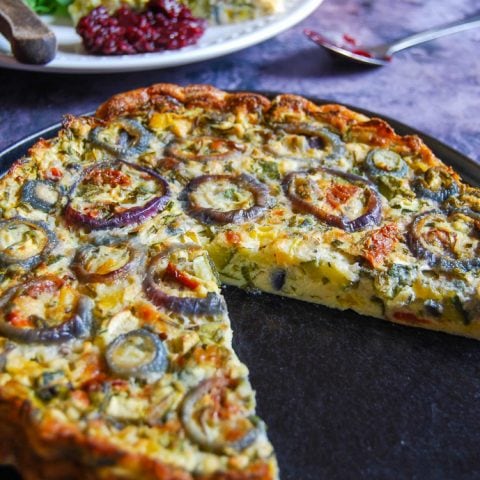 Crustless Quiche
Total Time:
1 hour
5 minutes
This Crustless quiche recipe is very easy to make and incredibly versatile - make it vegetarian or throw in any leftover meat or fish that needs using up.
Ingredients
1/2 tbsp butter, for greasing the dish
85 g Self Raising Flour
4 Large Eggs
360 ml Milk
1 Tsp Salt
1/2 Tsp Freshly ground black pepper
50 g Grated Cheese
1 Courgette/Zucchini, Grated
1 Onion, Chopped
50 g Chopped Cooked Bacon, Ham, Chicken or Salmon OR
75 g Chopped veggies of your choice, such as Bell Peppers, Mushrooms, Broccoli, Asparagus, Radishes, Spinach or Sun Dried Tomatoes
25 g Chopped fresh Basil or Parsley
Instructions
Generously butter your dish.
Preheat the oven to 200C/180Fan/400F.
Place the flour in a large bowl. Make a well in the centre and add the eggs and the milk. Whisk very well until the mixture is smooth and lump free. Add the salt and pepper. Alternatively, if you have a large bowl with a tight fitting lid, you can simply place all the ingredients in the bowl and shake like mad for a minute or two! Kids LOVE doing this. Well, mine did at least.
Swap your whisk for a large spoon and stir in the cheese, meat (if using), veggies and herbs.
Pour the mixture into the greased dish and bake for 40-45 minutes or until puffed up and golden. Remove from the oven and allow to cool for 10-15 minutes before slicing and serving.
Nutrition Information:
Yield:

10
Serving Size:

1
Amount Per Serving:
Calories:

236
Total Fat:

12g
Saturated Fat:

4g
Trans Fat:

0g
Unsaturated Fat:

6g
Cholesterol:

120mg
Sodium:

674mg
Carbohydrates:

14g
Net Carbohydrates:

0g
Fiber:

2g
Sugar:

2g
Sugar Alcohols:

0g
Protein:

19g