This lighter creamy coleslaw recipe has both mayo and yoghurt for a slightly lighter take on the classic recipe. The essential side dish for BBQ's, parties and much more!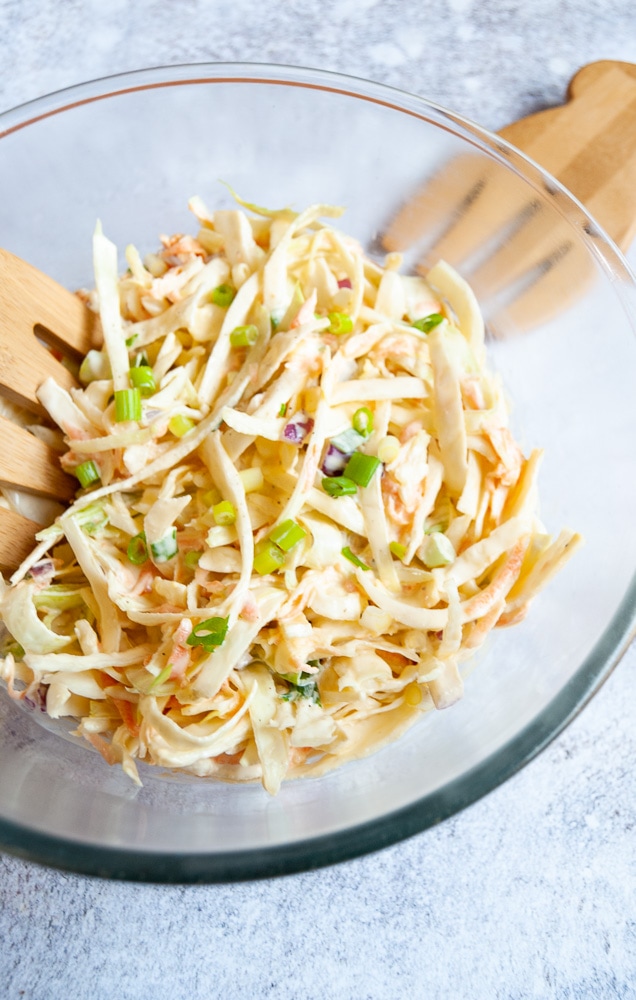 ingredient list for lighter creamy coleslaw
1 small white cabbage – you could use red if you prefer
3-4 carrots
red onion
FOR THE DRESSING
mayonnaise
Plain yoghurt
salt and pepper
cider or white wine vinegar
dijon or wholegrain mustard
apricot jam or maple syrup. Apricot jam might sound strange in coleslaw, but it really adds a subtle sweetness. I tried it one day when I was out of maple syrup and it worked perfectly. But if the idea is appalling to you, feel free to use maple syrup instead!
If you have no apricot jam or maple syrup, add 1/2 teaspoon of white caster sugar when adding the salt and pepper to the shredded cabbage.
making the coleslaw
Shred the cabbage as finely as you can.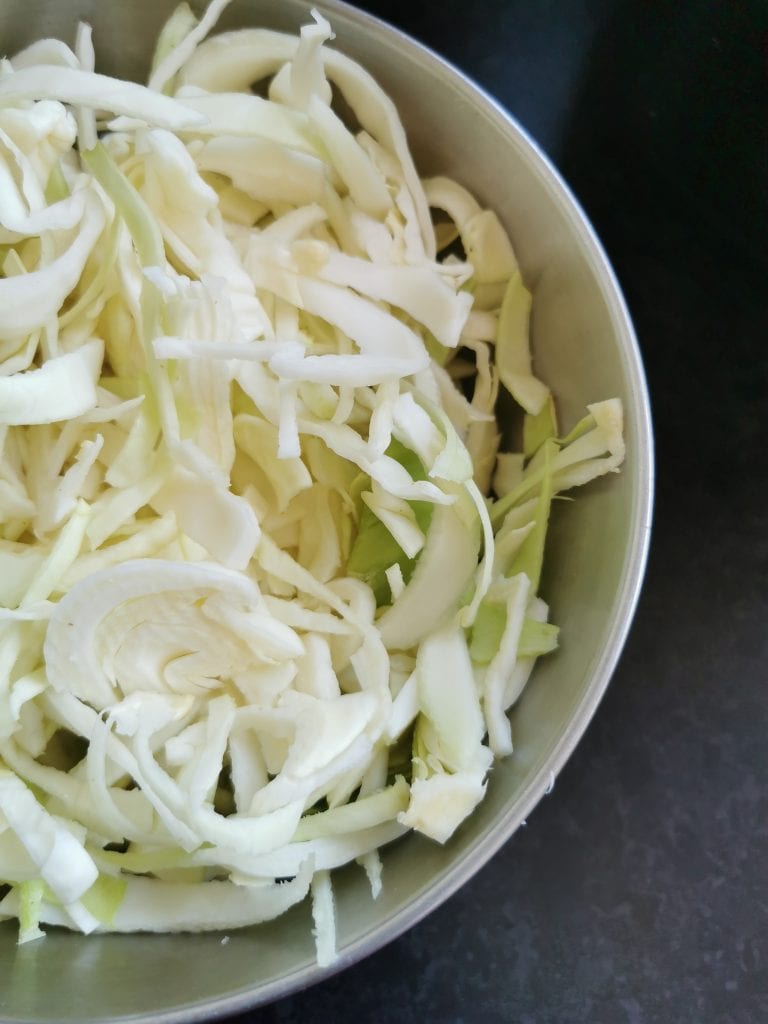 Coarsely grate the carrots and chop the red onion into small dice. Add 1 teaspoon of salt and a generous grinding of black pepper.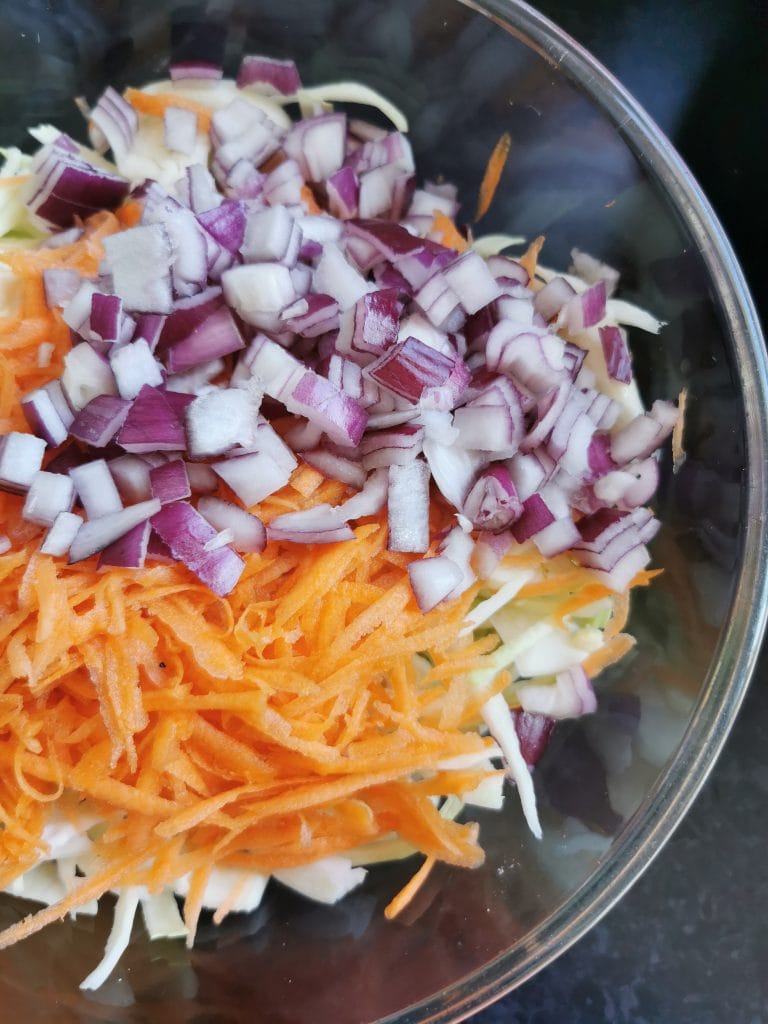 Whisk the dressing ingredients together until smooth. Pour over the vegetables.
toss everything together well to combine. Season to taste. Top with sliced spring onions or freshly chopped chives.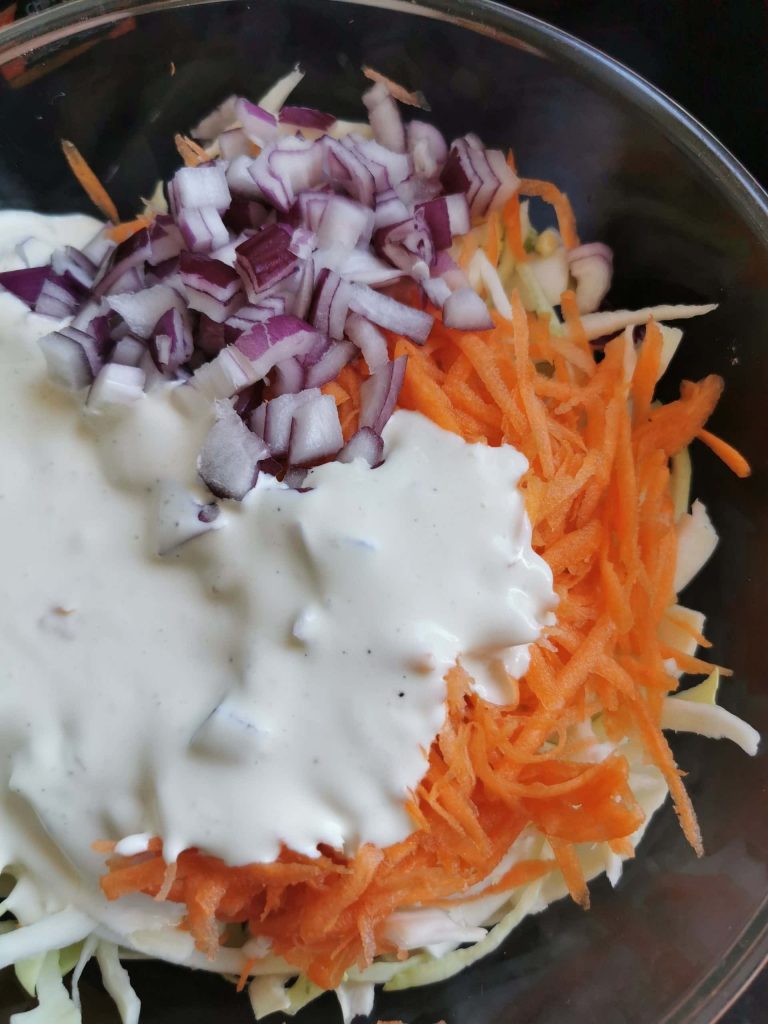 variations
For a slightly richer coleslaw, swap the natural yoghurt for sour cream.
Feel free to swap the red onion for spring onions if you prefer. I like to sprinkle the finished coleslaw with chopped spring onions or chives, but it's not essential.
For extra crunch, stir in some chopped walnuts. You could also add some diced celery.
Stir in a chopped apple for a delicious fruity twist.
how long will this homemade coleslaw keep for?
The coleslaw will keep in the fridge for 4-5 days.
can you freeze coleslaw?
I wouldn't recommend freezing this coleslaw. Mayo tends to separate after being frozen, so you would end up with a rather unappetizing, watery coleslaw.

what to serve with this lighter creamy coleslaw
This creamy coleslaw would be perfect with my Southern fried chicken or piled in a brioche burger bun with my slow cooker pulled pork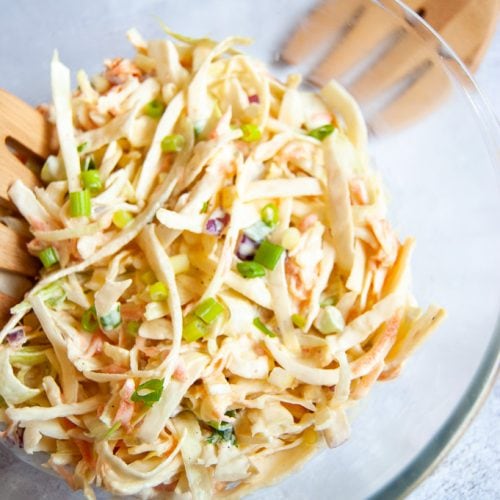 Lighter Creamy Coleslaw
Everyone loves classic creamy coleslaw. This recipe has both mayo and yoghurt for a slightly lighter take on the classic recipe.
Ingredients
1 small white cabbage, cored and finely shredded
4 carrots, peeled and grated
1 red onion, peeled and finely diced OR 3-4 spring onions, finely sliced
Salt and Freshly ground black pepper to taste
200g mayonnaise
100g plain (natural) yoghurt
2 tsp white wine or cider vinegar
2 tbsp apricot jam OR maple syrup (if you don't have either, add 1/2 tsp caster sugar when you add the salt and pepper)
100g chopped walnuts (optional)
Finely sliced spring onions to garnish, optional
Instructions
Place the shredded cabbage, grated carrots and red onion in a large bowl. Season with salt and freshly ground black pepper.
Whisk together the mayo, yoghurt, vinegar, apricot jam or maple syrup. Pour this over the shredded vegetables and toss coat.
Season and stir through the chopped walnuts, if using. Top with finely sliced spring onions, if using.
Notes
This coleslaw is best made a few hours ahead of time if possible.
It will keep in the fridge for up to 5 days.
For a slightly richer coleslaw, swap the plain yoghurt for sour cream.
Nutrition Information:
Yield:

10
Serving Size:

1
Amount Per Serving:
Calories:

240
Total Fat:

22g
Saturated Fat:

3g
Trans Fat:

0g
Unsaturated Fat:

18g
Cholesterol:

9mg
Sodium:

179mg
Carbohydrates:

10g
Fiber:

2g
Sugar:

6g
Protein:

3g