These white chocolate macadamia nut cookies are soft, chewy and irresistible!
Buttery, vanilla scented cookies with crunchy macadamias and creamy white chocolate chips.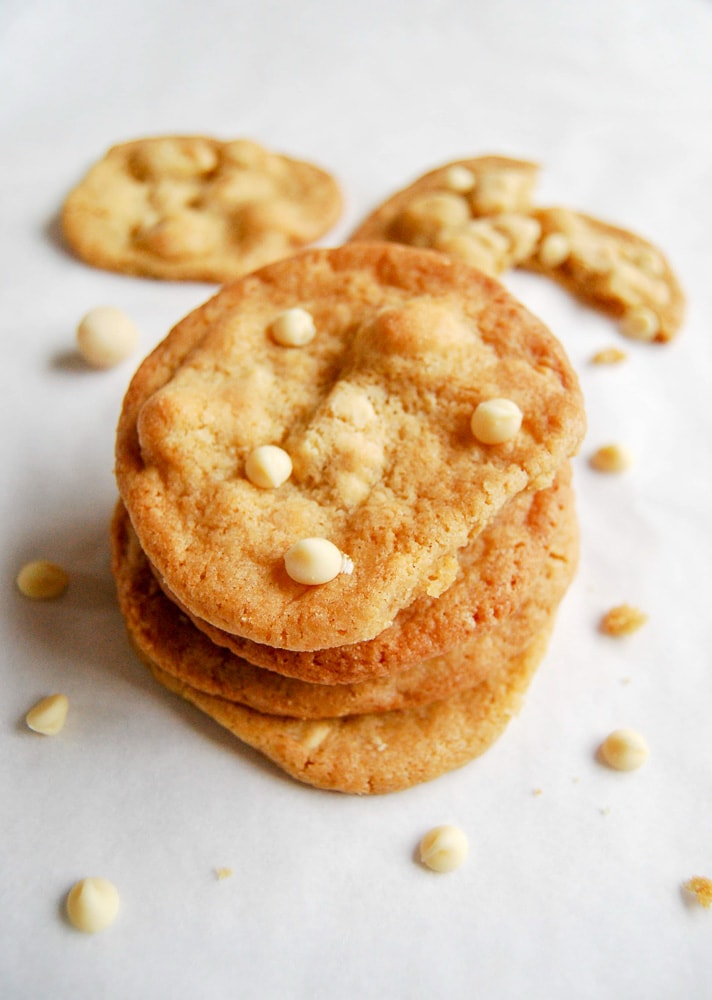 White chocolate and macadamia nuts are such a great combination. The creamy white chocolate pairs perfectly with the slightly waxy, crunchy texture of the nuts.
These cookies aren't exactly the prettiest cookies you'll ever see.
They are a little bumpy and lumpy, but their taste more than makes up for it.
My Tips for making The best white chocolate macadamia nut cookies
Don't be tempted to use margarine or baking spread – real butter all the way! If you use anything else, the texture of the cookies will be…weird. Plus butter makes everything taste good.
I use a mixture of soft light brown sugar and granulated sugar in this recipe.
Soft light brown sugar is brilliant for cookies – it adds moisture and adds a caramel, butterscotch taste.
There's no need for caster sugar – good old granulated sugar works just fine here.
Try to avoid overmixing the cookie batter. You just need to mix until the flour has disappeared into the batter and there are no streaks of flour.
If you beat the living daylights out of the dough, your cookies will be tough and hard. Sad times!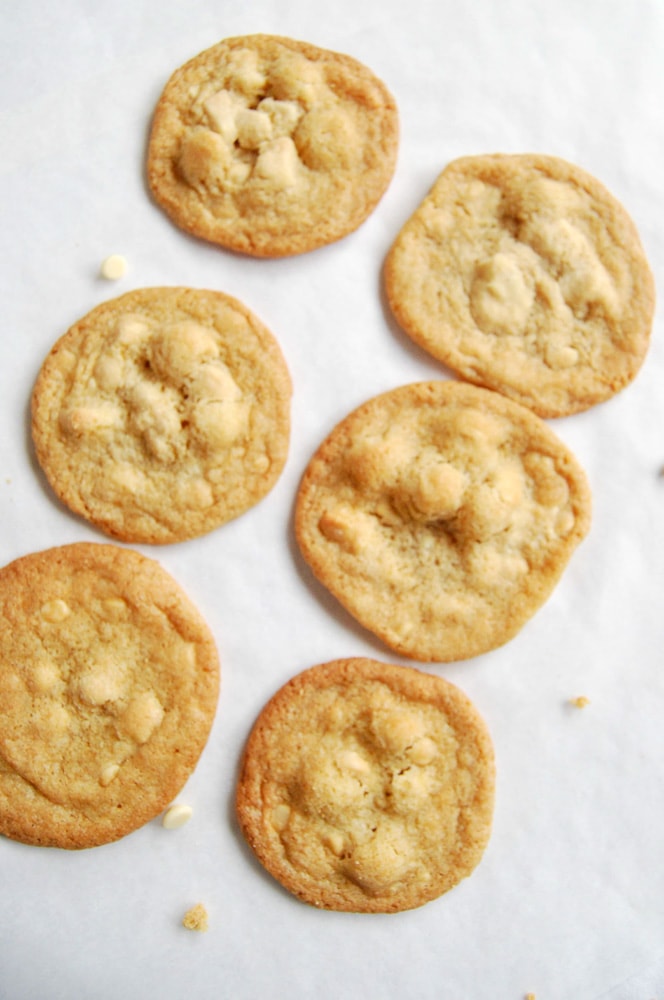 Many cookie recipes require you to chill the dough in the fridge. It's generally a good idea to do this as it prevents the cookies from spreading out in the oven.
I've discovered that using a fridge cold egg actually does the same job. It doesn't work for all cookie recipes, but it really does the trick here.
While we're on the subject of cookies spreading, never place cookie dough on warm baking sheets unless you want them to spread out into one giant cookie!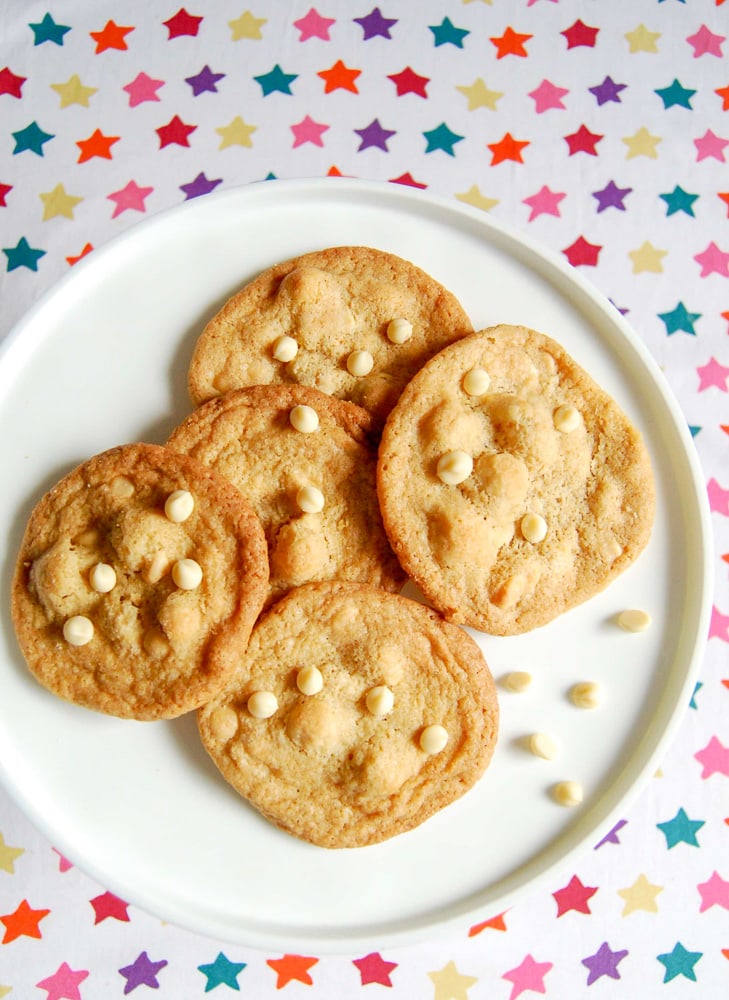 Naturally, the better quality white chocolate you use in this recipe the better your cookies are going to taste.
I love Callebaut chocolate chips – ordering a big bag works out about the same price as the little bags you can buy in the supermarket and they keep well for several months.
You can also use a chopped up white chocolate bar if you prefer, but I like those cute little chocolate chips for this particular recipe.
I add a little salt to the cookie dough to balance out all that sweetness. Salt is a crucial ingredient in baking that's often overlooked.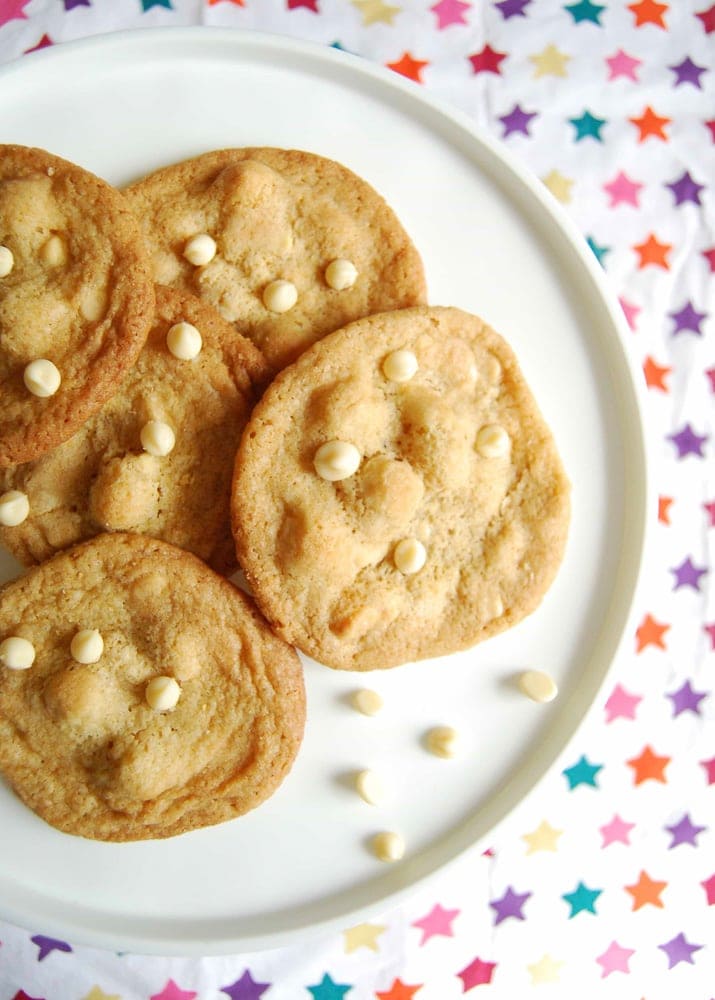 playing around…
For a fruity twist, add 50g dried cranberries to the batter along with the chocolate chips.
Instead of macadamias, you could use pecans or walnuts instead.
want to see more cookie recipes?
Classic chocolate chip cookies
White chocolate, orange and cranberry cookies
Double chocolate Malteser cookies
Leftover chocolate Easter cookies
Cadbury creme egg chocolate brownie cookies
Pin this recipe for later….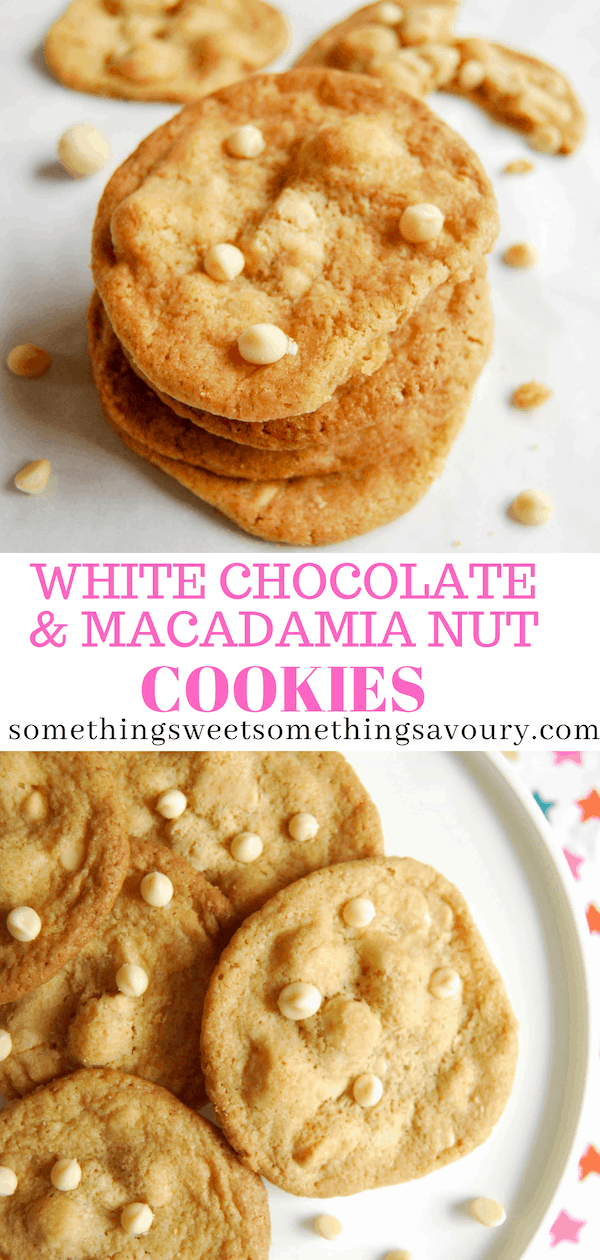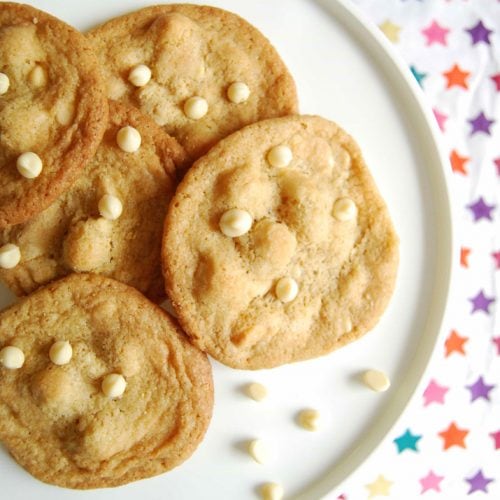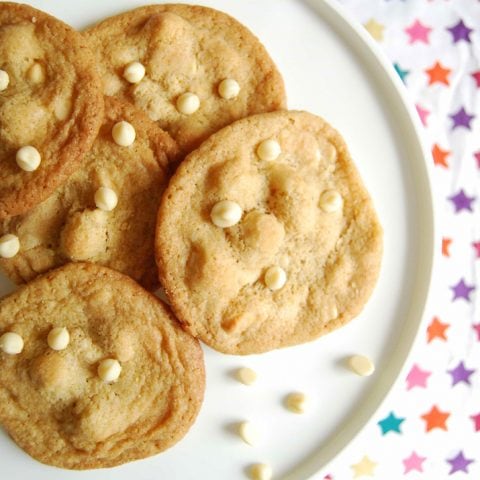 White Chocolate Macadamia Nut Cookies
These white chocolate macadamia nut cookies are soft, chewy and so delicious!
Ingredients
150 g soft butter
100 g caster sugar
75 g soft light brown sugar
1 tsp vanilla extract
1 medium fridge cold egg, beaten
160 g plain flour
1/2 tsp salt
1/2 tsp bicarbonate of soda
150 g white chocolate chunks or chips
50 g macadamia nuts
Instructions
Preheat the oven to 180C/160Fan/350F. Grease and line a large baking tray.
In a large bowl, cream the butter and both sugars together until light and creamy. Add the egg and vanilla extract and beat well.
Stir together the flour, salt and the bicarbonate of soda. Gradually add the the dry ingredients until just combined and no pockets of flour are visible.
Gently stir in the white chocolate and macadamia nuts.
Roll tablespoons of dough, place on your baking sheet and bake for 8-10 minutes or until the edges are light golden brown.
The cookies should still feel a little soft in the middle and will be pretty fragile, so leave them on the baking tray for 5-10 minutes before tranferring to a wire rack to cool completely.
Nutrition Information:
Yield:

14
Serving Size:

1
Amount Per Serving:
Calories:

266
Total Fat:

16g
Saturated Fat:

8g
Trans Fat:

0g
Unsaturated Fat:

7g
Cholesterol:

37mg
Sodium:

179mg
Carbohydrates:

29g
Fiber:

1g
Sugar:

19g
Protein:

3g
Any nutritional information shown is the estimated nutritional information per serving.