It's very easy to make bakery style chocolate chip cookies – follow my step by step guide to make the best soft and chewy chocolate chip cookies ever!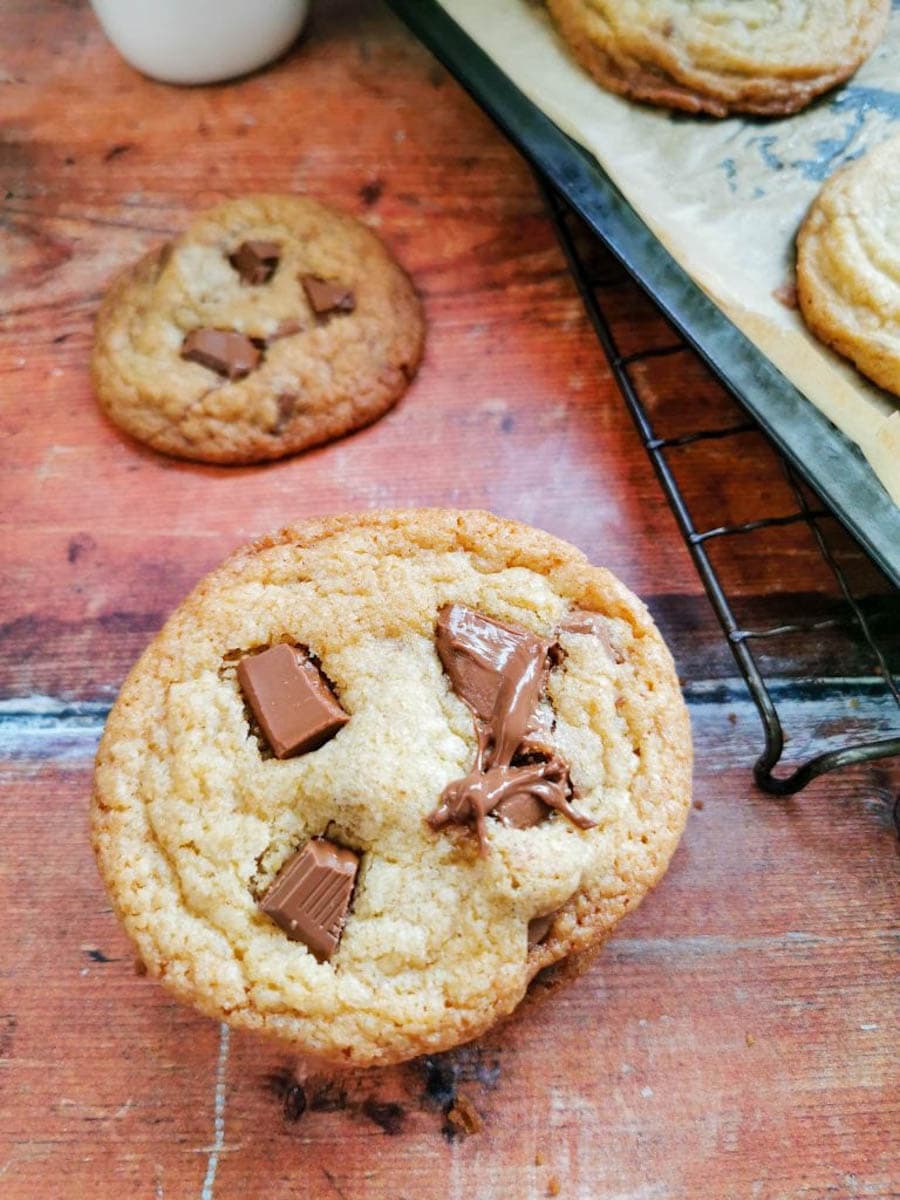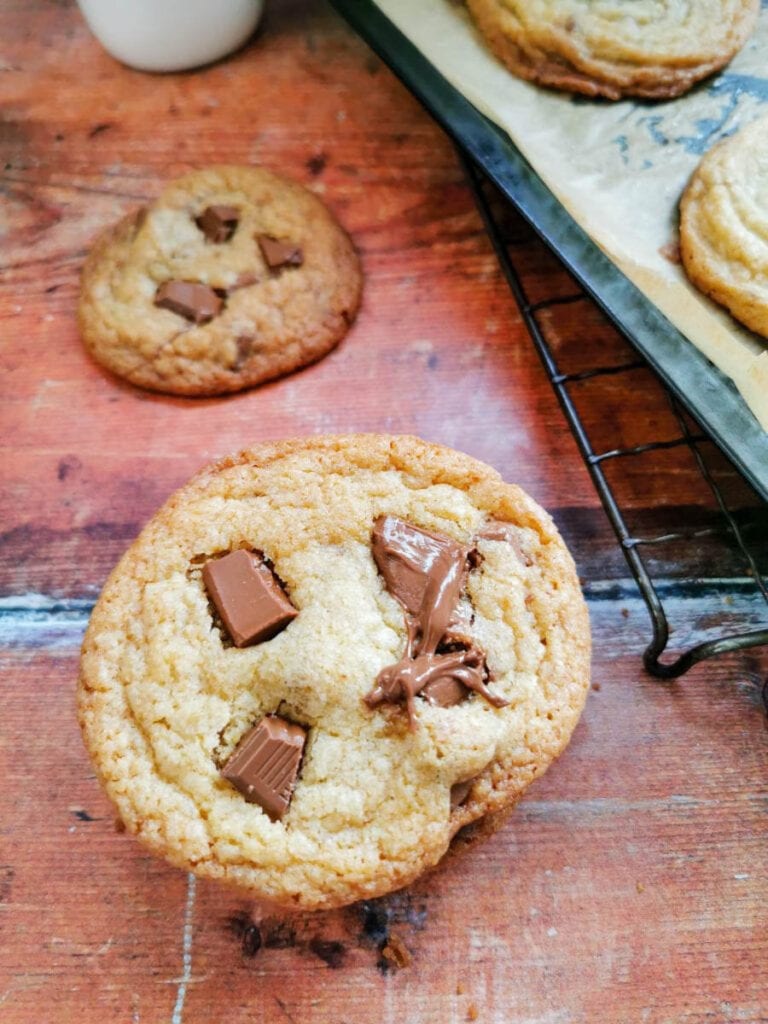 Everyone loves a classic chocolate chip cookie! This recipe is for those American bakery style cookies – slightly crisp, golden and caramelised on the outside and soft and chewy on the inside. If you love this type of cookie, then this recipe is for you.
They are absolutely delicious – they never last very long in my house!
More soft and chewy cookie recipes
If you can't get enough a soft, chewy cookies then take a look at my recipes for white chocolate and raspberry cookies, oat and raisin cookies, white chocolate and macadamia nut cookies, white chocolate and cranberry cookies , spiced ginger cookies and chocolate chunk pretzel cookies.
This recipe for Biscoff stuffed Cookies is also soft and chewy with a gooey Lotus Spread "Biscoff" filling – they are amazing!
ingredient list
Plain (all-purpose) flour
fine salt. Don't be tempted to skip the salt in cookie recipes – even just a small amount really lifts the flavours and brings out the flavour of the chocolate.
bicarbonate of soda (baking soda) makes cookies puff up and spread out a little. This is an essential ingredient if you want soft, chewy cookies. Recipes that use baking powder only will give you a cakier type of cookie.
unsalted butter You can use salted butter if you like, but if you do I would reduce the salt to 1/4 teaspoon
granulated (regular white) sugar
soft light brown (packed) sugar – essential for that gorgeous caramel flavour in a chocolate chip cookie. It also adds moisture and a lovely golden colour!
1 large egg and 1 whole egg yolk (for extra chewiness)
vanilla extract – use the best quality possible. Your cookies will taste all the better for it.
milk or plain chocolate chips or chunks.  I prefer to take a big bar of chocolate and chop it into chunks myself – I don't tend to keep them all the same size because I like the irregularity of biting into different sized chocolate chunks – it makes the cookie more interesting – to me, at least!  Use the chocolate you love to eat the most and you really can't go wrong.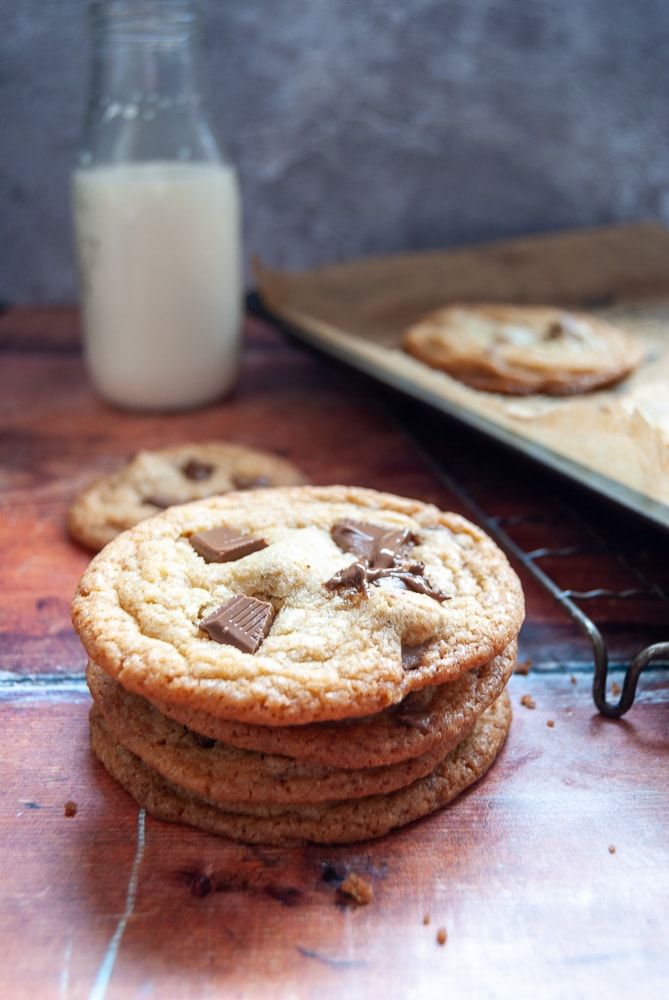 equipment list
A large baking tray greased and lined with baking parchment
A wooden spoon or spatula
An ice cream scoop for measuring out the cookies – I use this scoop from Lakeland for perfectly uniform cookies.
if you don't have a scoop, you can use a spoon or just roll them into balls with your hands.
tips for making soft and chewy chocolate chip cookies
Use melted butter for the chewiest cookies.  BUT don't let the butter become too hot – if you over melt it can make your cookies oily. 
Melt the butter on a low heat and remove from the stove before it has completely melted.  The residual heat will completely melt the butter in a matter of minutes.
Add a whole egg yolk to the mixture. Adding more fat to a cookie recipe will certainly help give you that chewy texture you crave. I started doing this years ago and haven't looked back.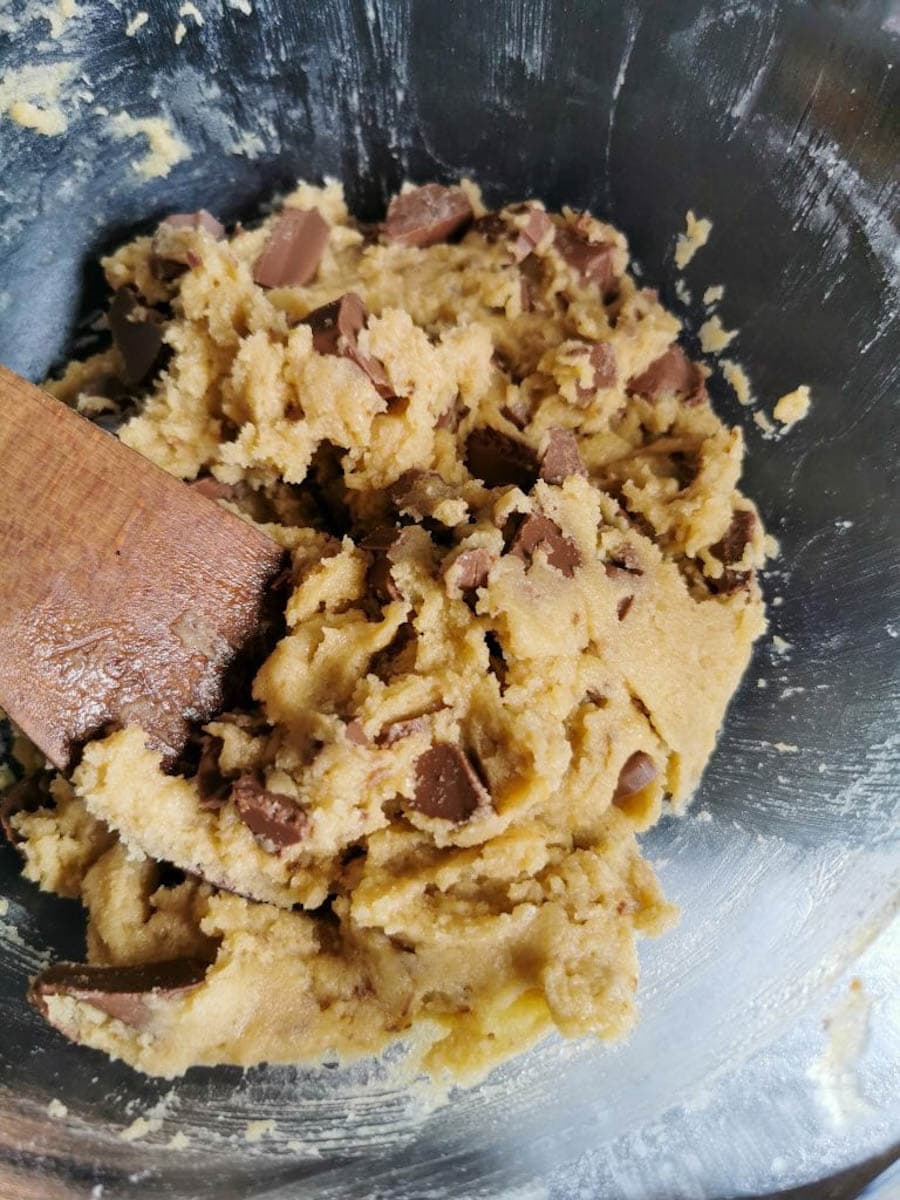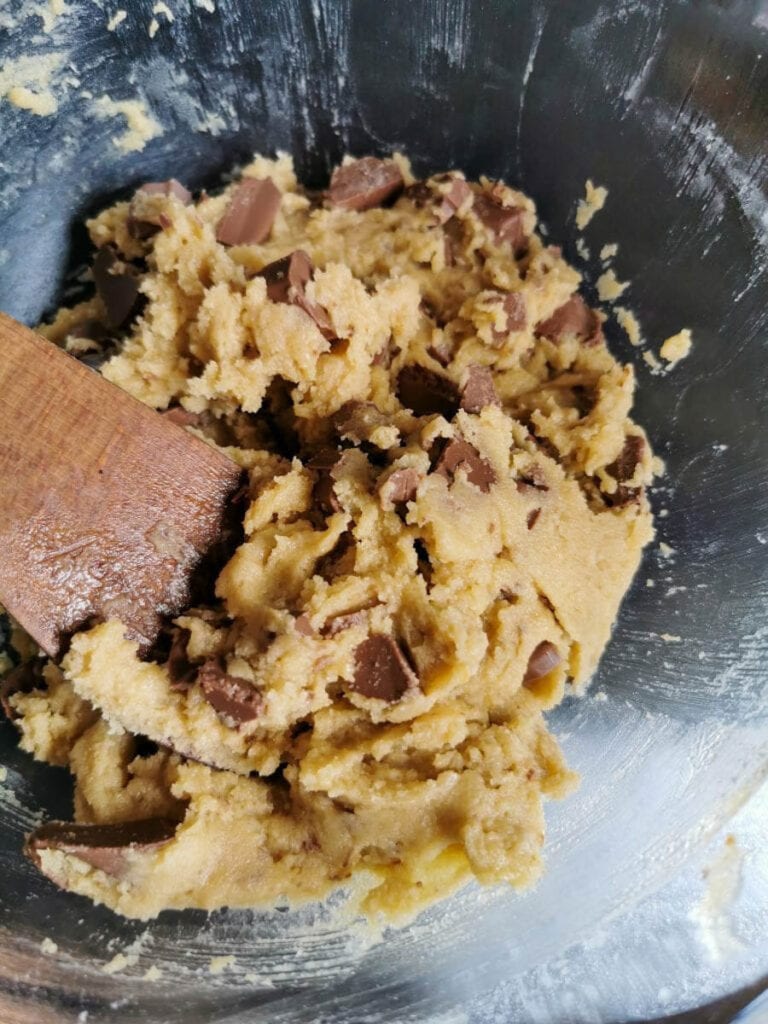 When adding the flour mixture to the melted butter/eggs, don't over-mix or you'll end up with tough cookies. Stop mixing as soon as the flour is incorporated.
do i need to rest chocolate chip cookie dough overnight?
In an ideal world, yes, If you have the time. Chilling the dough for a few hours or overnight will improve the flavour and texture of the cookies.
BUT they will still taste great if you bake them straight away, so if you don't have time it's not absolutely crucial to the success of the recipe. If you have the time and the patience, chill the dough for at least a few hours.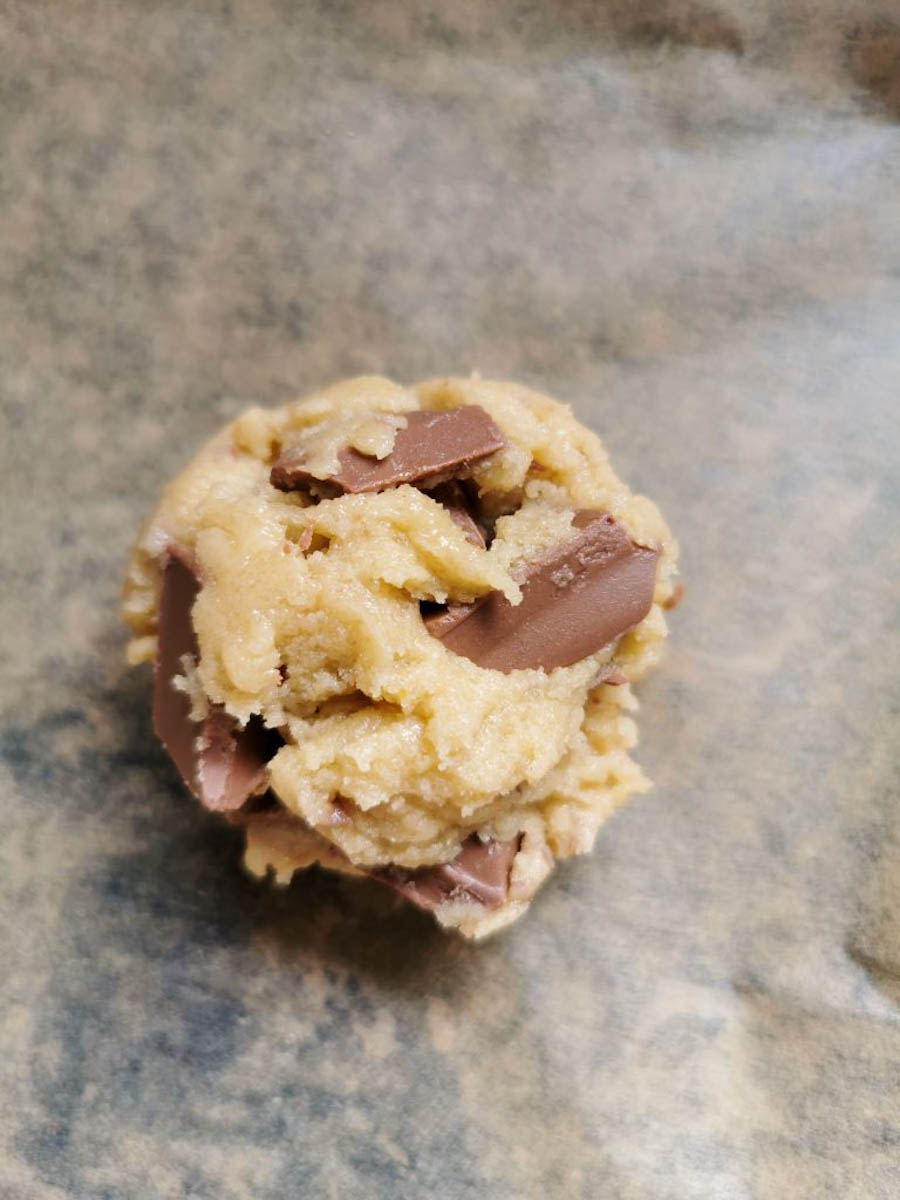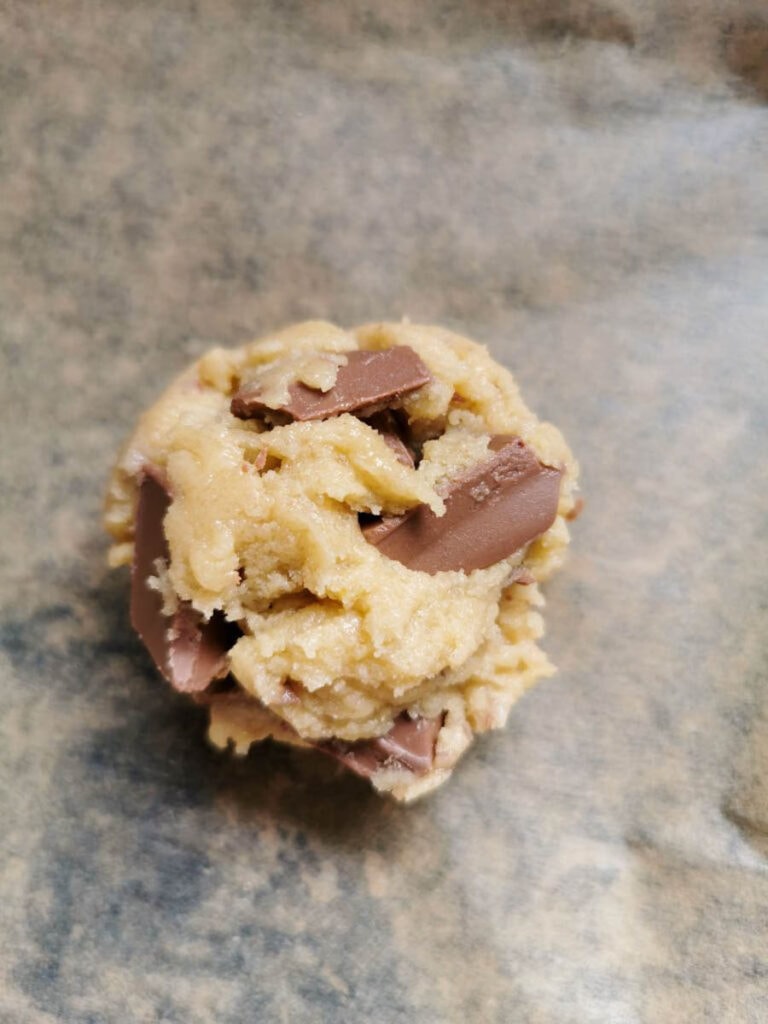 Don't over bake the cookies. You might take them out after the baking time is up and think they are still pretty soft in the middle, but that's how you want them!
Leave the cookies on the baking sheet for 5 minutes before transferring to a wire rack – if you try and remove them immediately after taking out of the oven they will probably break.
If you're a fan, a handful of chopped pecans or walnuts would be a lovely addition to these cookies.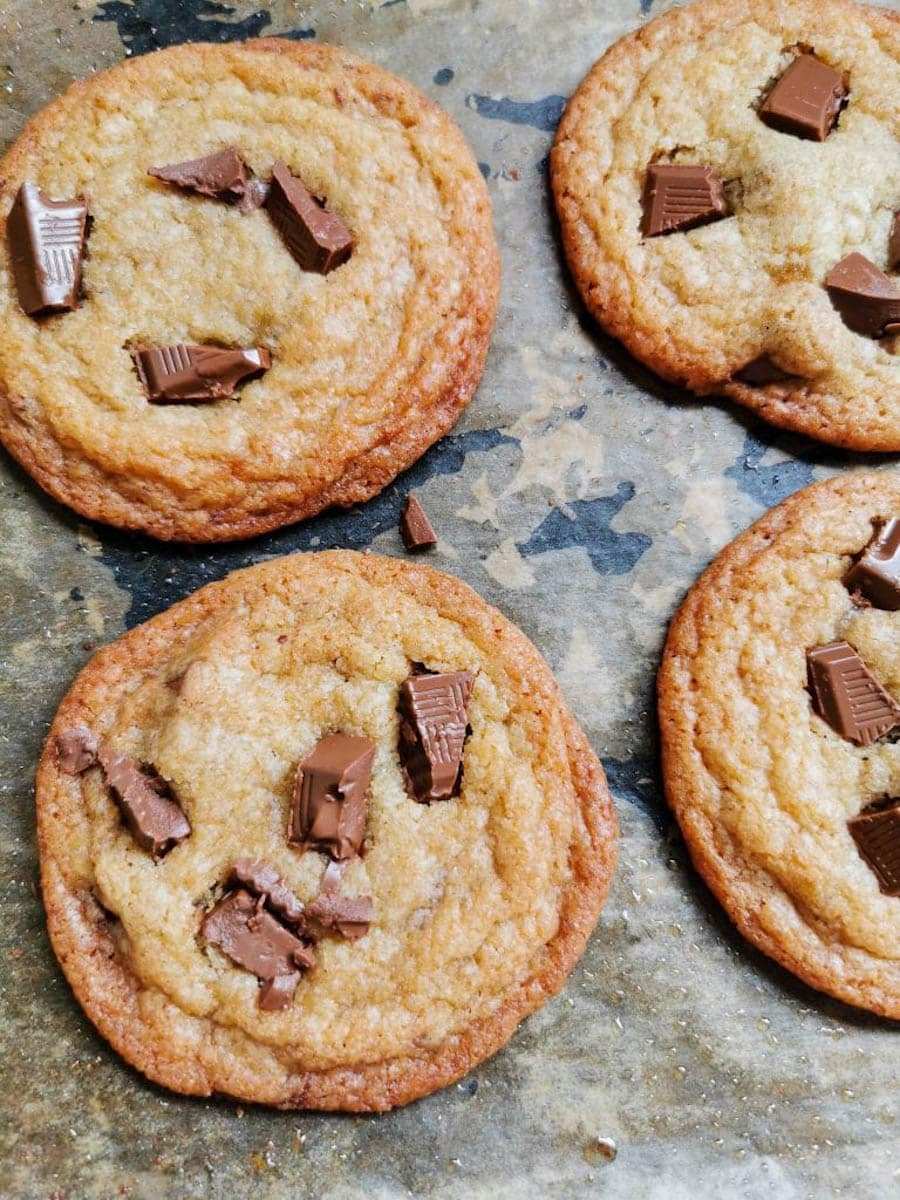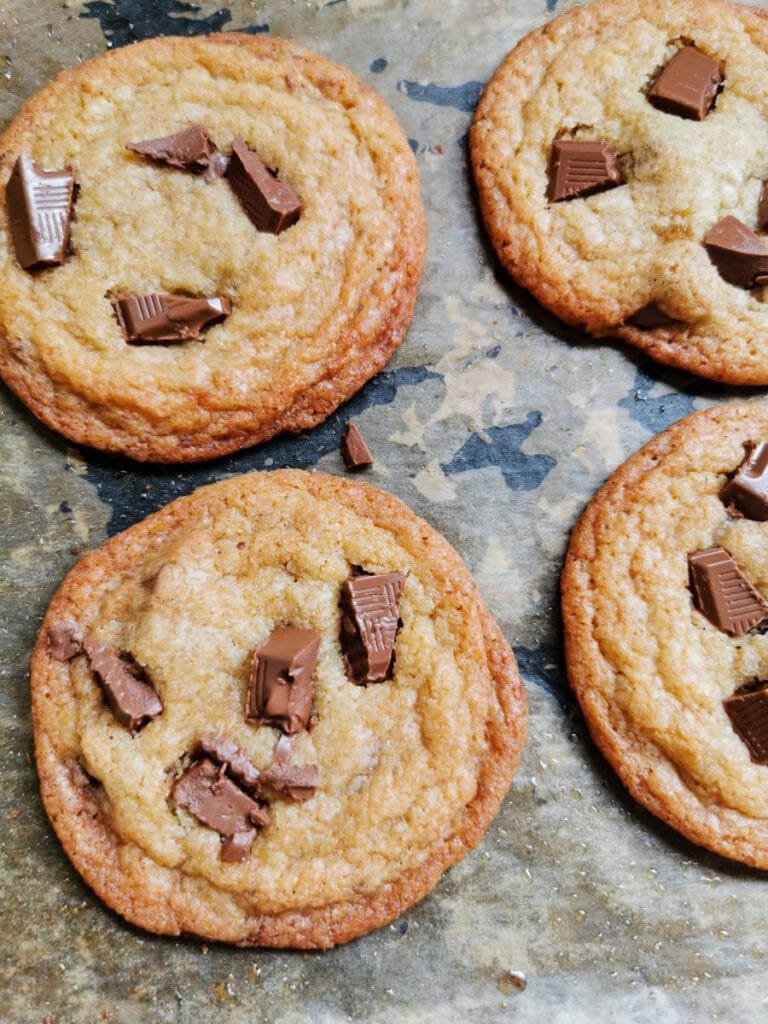 can you freeze cookie dough?
Yes you can. If you don't want to bake all of the cookies straight away, you can freeze them for another time.
Chill the unbaked cookie dough first to firm it up, then pop them in freezer bags or airtight containers. The dough will keep for up to 3 months.
can you bake cookie dough from frozen?
Yes, the cookie dough can be baked from frozen – no need to thaw. Simply place the frozen cookie dough on a lined baking sheet and bake for a couple of minutes longer.
did you try this recipe?
I hope you try these chocolate chip cookies and love them! If you have any questions about the recipe, please don't hesitate to get in touch. If you made this recipe, don't forget to rate it by clicking on the stars in the recipe card below!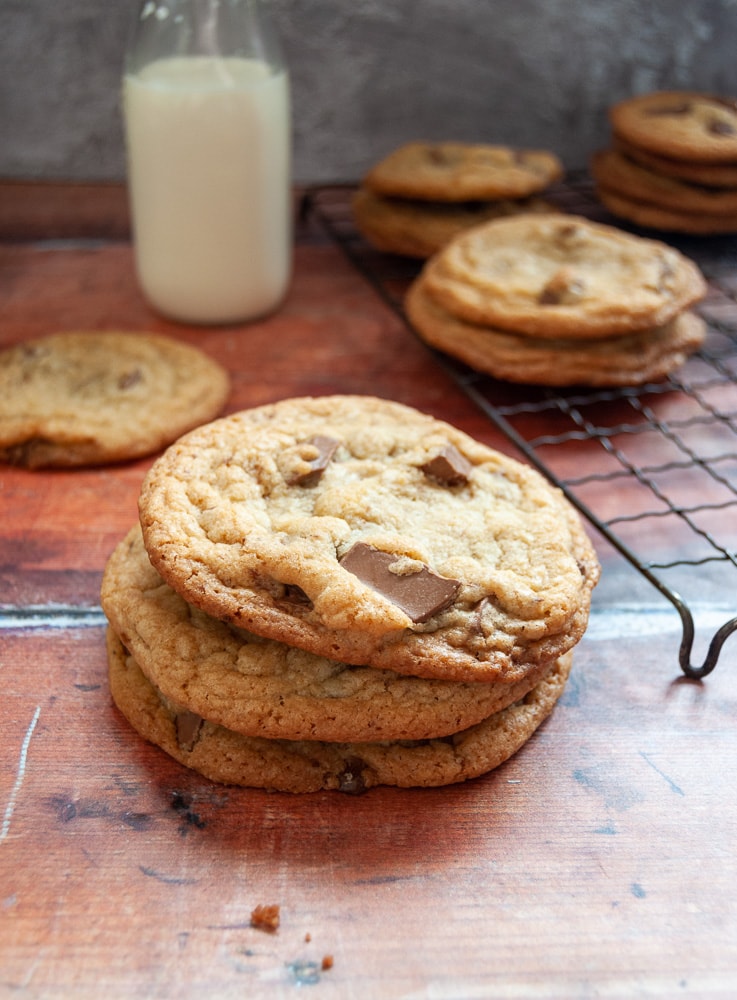 Looking for more cookie recipes?
Double chocolate Malteser cookies
Leftover Easter chocolate cookies
Cadbury Creme Egg chocolate brownie cookies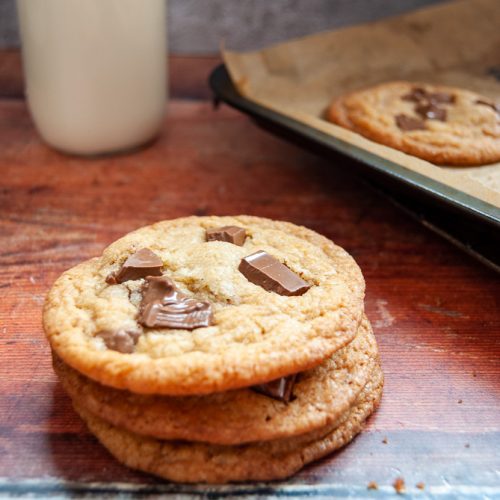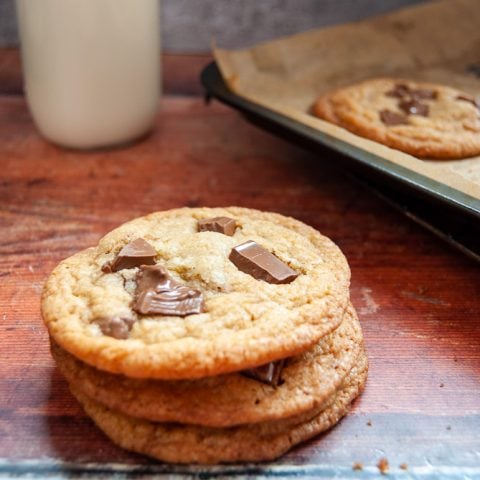 Soft and Chewy Chocolate Chip Cookies
Total Time:
8 hours
27 minutes
It's very easy to make bakery style soft and chewy chocolate chip cookies - follow my step by step guide to make the best chocolate chip cookies ever! 
Ingredients
250g (1 1/2 cups) all-purpose (plain) flour
1 tsp fine salt
1/2 tsp baking soda (bicarbonate of soda)
170g (1 1/2 sticks) unsalted softened butter
100g (1/2 cup) granulated sugar
120g (1/2 cup packed) soft light brown sugar
1 tsp vanilla extract
1 large egg
1 large egg yolk
250g (1 1/2 cups) chopped chocolate chunks or chips (milk or dark)
Instructions
Preheat the oven to 180C/160fan/350F. Grease and line 2 large baking sheets with baking parchment.
Melt the butter in a small saucepan over a low heat. Don't let the butter get too hot or it could make the cookies greasy. The second the butter has almost completely melted, remove from the heat and pour into a large mixing bowl. Stir to make sure all of the butter is melted, then set aside for about 5-10 minutes to cool down.
In a large bowl, whisk together the flour, salt and bicarbonate of soda.
Add both of the sugars to the bowl of melted butter and stir well. Add the vanilla extract, egg and egg yolk and beat until just combined. The mixture should be smooth and quite shiny.
Add the flour mixture and lightly stir until just combined. Finally, stir in the chocolate chunks or chips, taking care not to over-mix.
Drop heaped tablespoons (I always use an ice cream scoop) of the dough about 2-2 1/2 inches apart on the baking tray. You can also use your hands to roll the cookie dough into balls. Bake for 10-12 minutes or until the edges are golden. The centre of the cookies will be quite pale and soft, but will firm up slightly on cooling.
Remove the cookies from the oven and leave them on the baking sheets for about 5 minutes before transferring to a wire rack to cool.
Notes
If using salted butter, reduce the salt to 1/4 tsp.
I would not recommend using margarine or spreads to make these cookies.
Chilling the dough overnight will give you the very best results, but you can make the cookies straight away if you're short on time.
Nutrition Information:
Yield:

16
Serving Size:

1
Amount Per Serving:
Calories:

233
Total Fat:

2g
Saturated Fat:

1g
Trans Fat:

0g
Unsaturated Fat:

1g
Cholesterol:

37mg
Sodium:

209mg
Carbohydrates:

2g
Fiber:

0g
Sugar:

1g
Protein:

1g