Got no yeast? Not a problem, you can still have homemade bread! This delicious oaty Cheddar Cheese soda bread is ready to eat in just under an hour.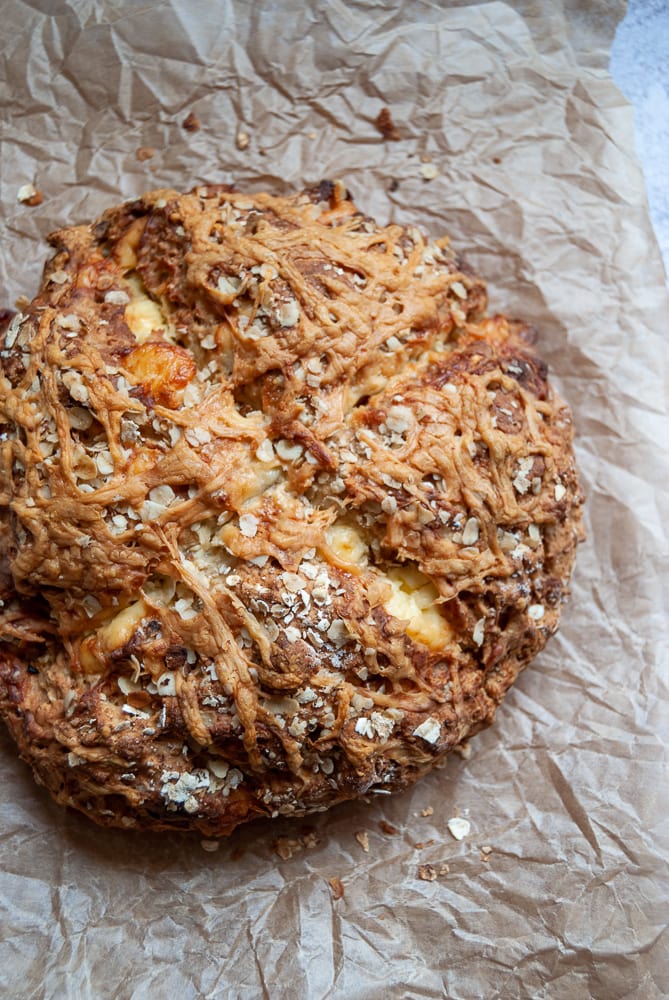 Looking for a simple and easy bread recipe that doesn't take hours to make? SODA BREAD is the answer!
does soda bread have yeast?
No – you don't need yeast to make soda bread. Therefore there is no kneading and no waiting around for dough to rise! All it takes is a quick mix of all the ingredients and you're good to go.
ingredients you will need to make this cheese soda bread
A mixture of plain (all purpose) and wholemeal flour – you can use plain flour if you like, but I wouldn't use all wholemeal as the loaf might turn out a little heavy.
Salt
Bicarbonate of soda
English mustard Powder – if you don't have this don't worry, but it really enhances the cheese flavour
Buttermilk
Honey
Oats
Mature Cheddar cheese
We ate this bread spread with lots of salted butter and bowls of butternut squash soup. It would also be really fantastic accompaniment alongside a ploughmans lunch.
trouble shooting tips….
help! my soda bread is raw in the middle
If you cut into your bread and realise it's still doughy and wet in the middle, simply pop it back in the oven (200C) and keep checking every 5-10 minutes. You might have to cover the top of the bread to prevent it from getting too brown. Baking time can differ depending on your oven.
my soda bread was heavy
There are usually two main causes of soda bread turning out heavy and dense.
Number one – over mixing the dough
Number two – letting the dough sit for a while before putting it in the oven. The raising agents in the baking soda will activate as soon you mix the ingredients together, so you must get it in the oven as quickly as possible.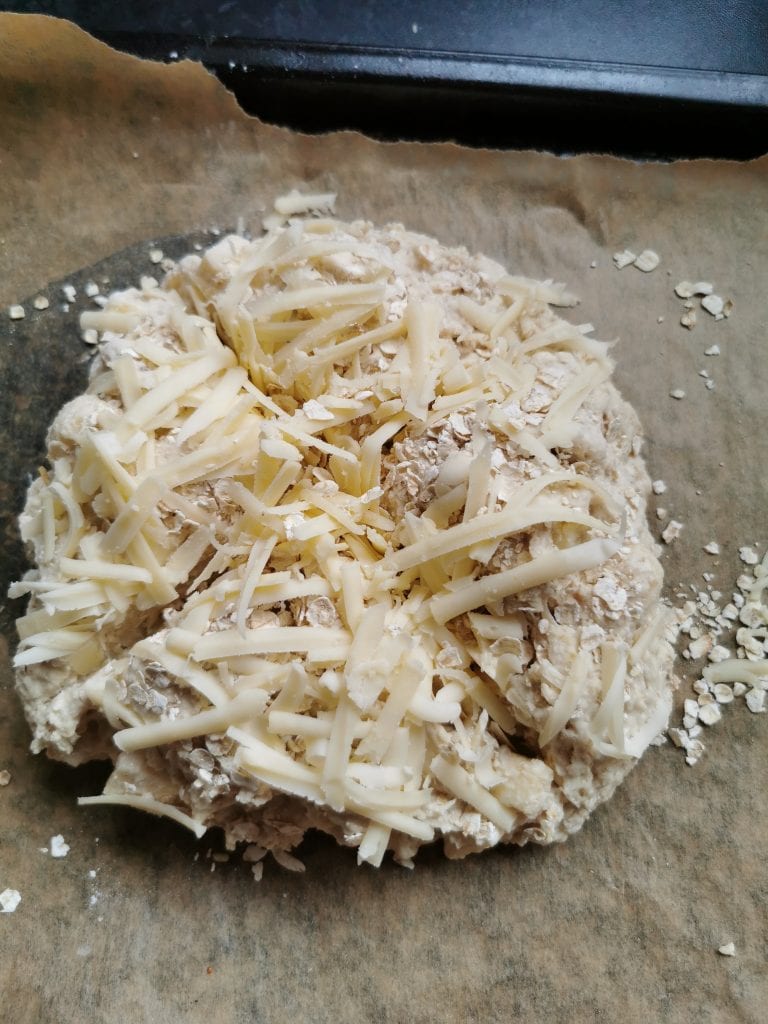 how long does soda bread keep?
Soda bread stales quickly, so it is best eaten fresh on the day it is made. Any leftovers can be toasted and enjoyed the next day.
Want to see more bread recipes?
Easy Focaccia bread with cherry tomatoes and thyme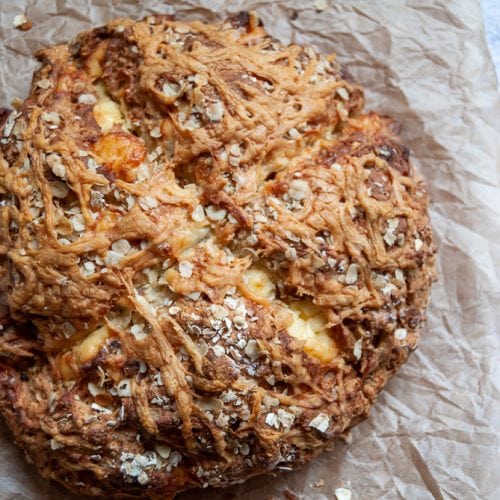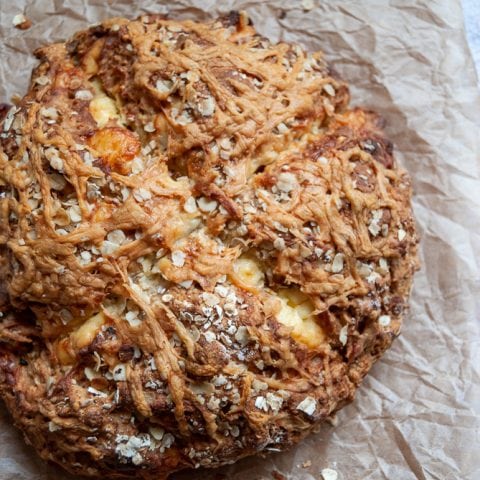 Cheese Soda Bread
No yeast? Not a problem, you can still make bread! This delicious oaty Cheddar cheese soda bread is ready to eat in just under an hour.
Ingredients
125g plain (all-purpose) flour
125g wholemeal flour
50g oats, plus a small handful for sprinkling over the top
1 tsp fine salt
1 tsp English mustard powder (optional)
1 tsp bicarbonate of soda (baking soda)
2 tsp runny honey
250ml buttermilk (if you don't have any buttermilk, you can make your own by squeezing half a lemon into 250ml whole milk, leave for 5 mins and stir)
100g mature cheddar cheese, cubed plus about 25g more grated for sprinkling over the top.
Instructions
Place the flours into a large bowl. Stir in the salt, bicarbonate of soda, honey, buttermilk and cheese cubes.
Make a "claw" shape with your hand over the bowl and bring the ingredients together. You should have a soft, slightly sticky dough that isn't too wet. If it's too dry add a little more buttermilk.
Place the dough on a baking tray lined with baking parchment and form it into a ball shape, not worrying if it doesn't look too perfect! Rustic is good here. Using a sharp, floured knife, cut a deep cross in the top.
Sprinkle a small handful of oats and grated cheese over the top.Bake at 220C for 10 minutes, then turn the oven to 200C and bake for a further 30-35 minutes or until the loaf is golden brown, crunchy and makes a hollow sound when you tap the bottom.
Notes
If you don't have wholemeal flour, you can use all plain (all purpose)
Nutrition Information:
Yield:

6
Serving Size:

1
Amount Per Serving:
Calories:

194
Total Fat:

7g
Saturated Fat:

4g
Trans Fat:

0g
Unsaturated Fat:

3g
Cholesterol:

18mg
Sodium:

579mg
Carbohydrates:

25g
Fiber:

3g
Sugar:

4g
Protein:

9g