These zesty lemon drizzle cupcakes are absolutely divine – soft, tender sponge with a jam filling and a crunchy, sugary topping!
My lemon drizzle cake has without a doubt been the most popular recipe on my site for the past 12 months – you guys love it!
A few people have asked me if they can convert the recipe into cupcakes. I gave it a try and it doesn't turn out quite as well as cupcakes, but after a few trial and errors I came up with this recipe. It is a total winner!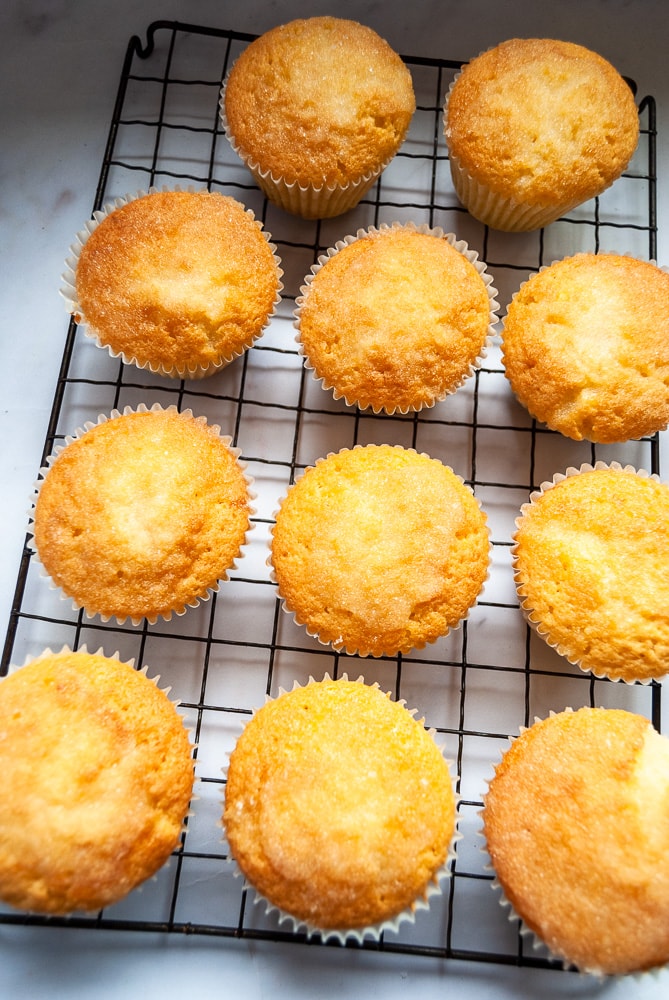 I've given the cupcakes a little extra something to make them even more special – a jam or lemon curd filling!
It adds an extra fruity tang and makes the cupcakes even more delicious, but if you don't want to add jam, the cupcakes will still work just fine without it.
Fruity bakes are my absolute favourite – and I can never say no to a cupcake! My most popular cupcake recipes are these amazing raspberry and lemon cupcakes, Eton Mess cupcakes, strawberries and cream cupcakes and white chocolate and strawberry cupcakes.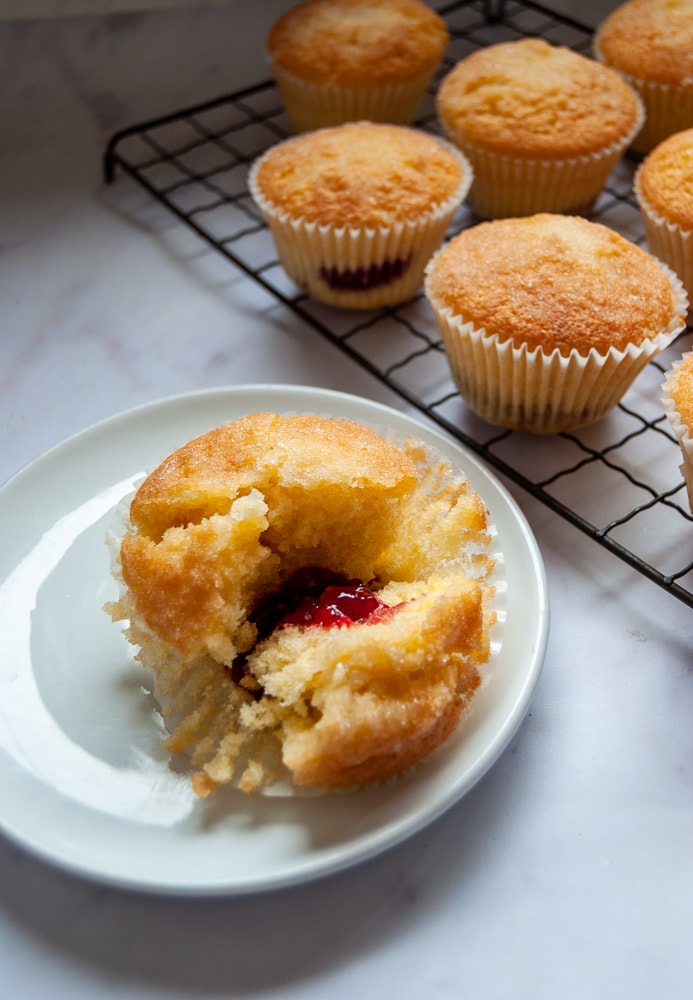 If you like jam, I strongly recommend you give it a go just once! I think raspberry jam goes particularly well with the lemon cakes, but if you love lemon as much as I do, you might prefer the lemon curd.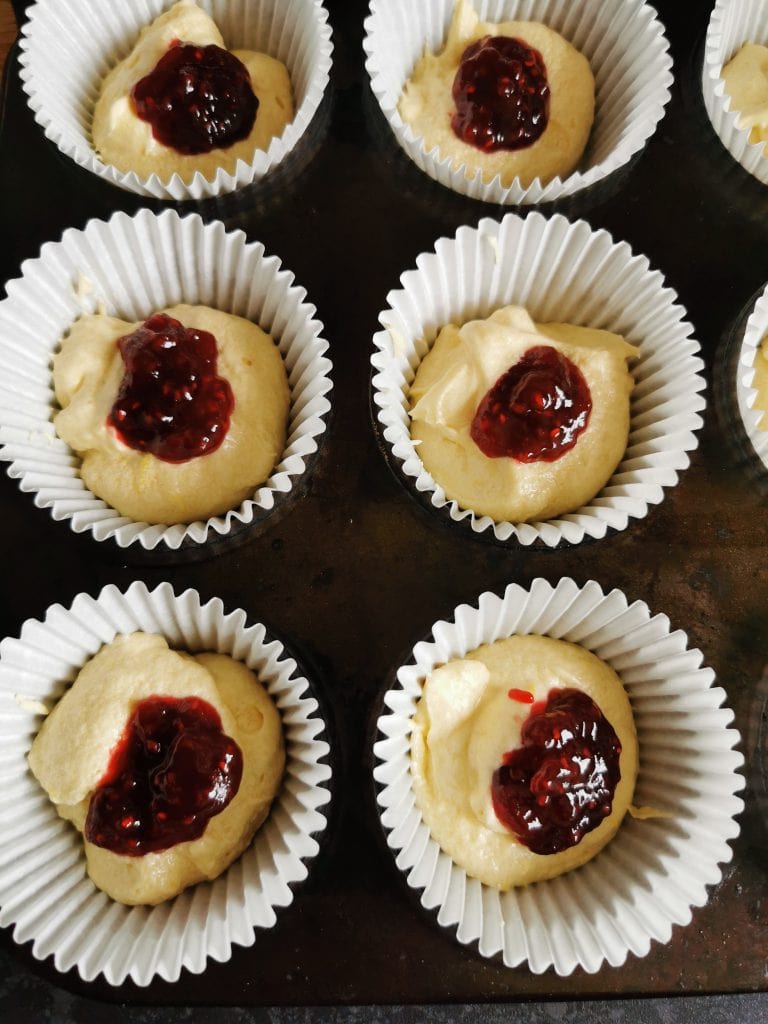 Equipment needed to make lemon Drizzle cupcakes
A 12 hole muffin tin
Muffin cases.
Why am I using muffin cases and not cupcake ones? Because I prefer the muffin cases!
The cupcake cases you tend to find in the UK supermarkets are a little bit small, so I always use the muffin cases for cupcakes. I have seen larger American style cupcake cases for sale now and again in places like TK Maxx, but not very often.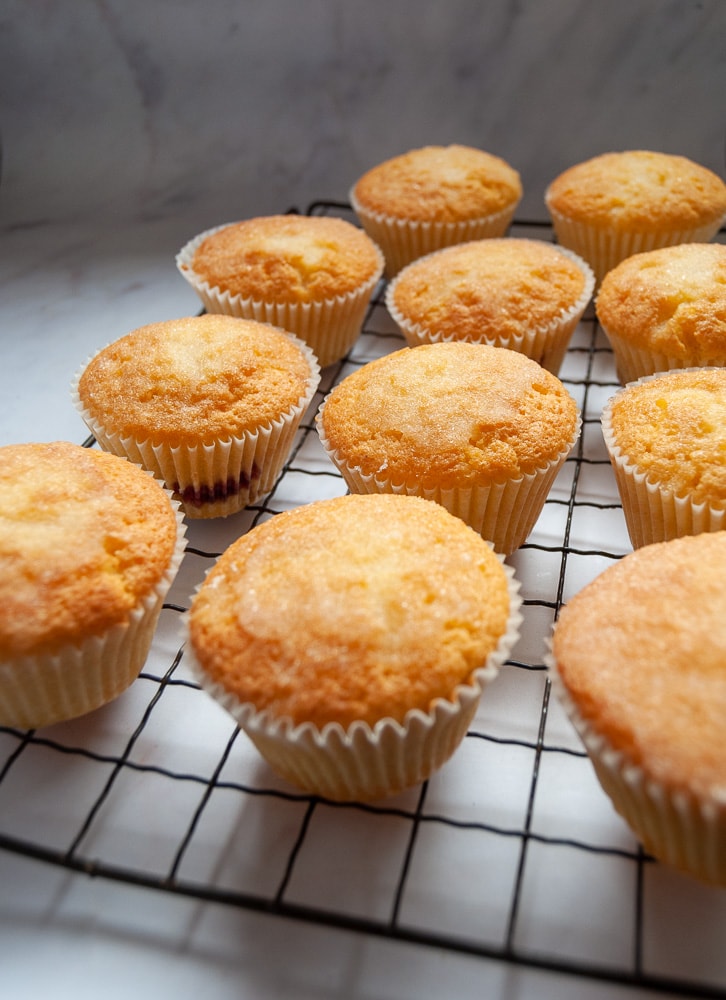 baking Tips and advice
This recipe uses the all in one method, so it's very easy, quick and straightforward to make.
Try not to over beat the cupcake mixture or you'll develop the gluten in the flour and your cupcakes will be tough instead of soft and fluffy.
Make sure the butter is soft before you start baking. It shouldn't be so soft it is collapsing in an oily puddle though – it just needs to be soft enough to combine with the rest of the ingredients. You could also use baking margarine like Stork.
When the cupcakes are baked, poke little holes all over the surface using a cake tester (I use a piece of spaghetti!) Pour the lemony sugar topping over the cupcakes just as soon as they come out of the oven.
Sometimes the jam will end up at the bottom of the cake. If this happens, don't worry – it doesn't taste any less good!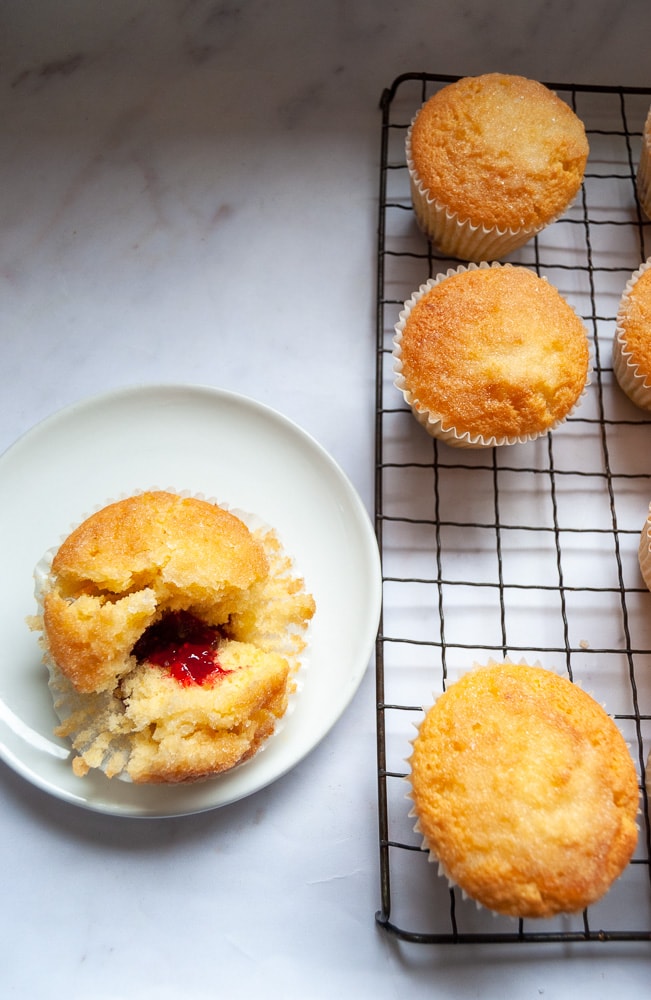 how long will the cupcakes keep for?
They will keep well in an airtight tin for about 4-5 days – but they never usually last that long!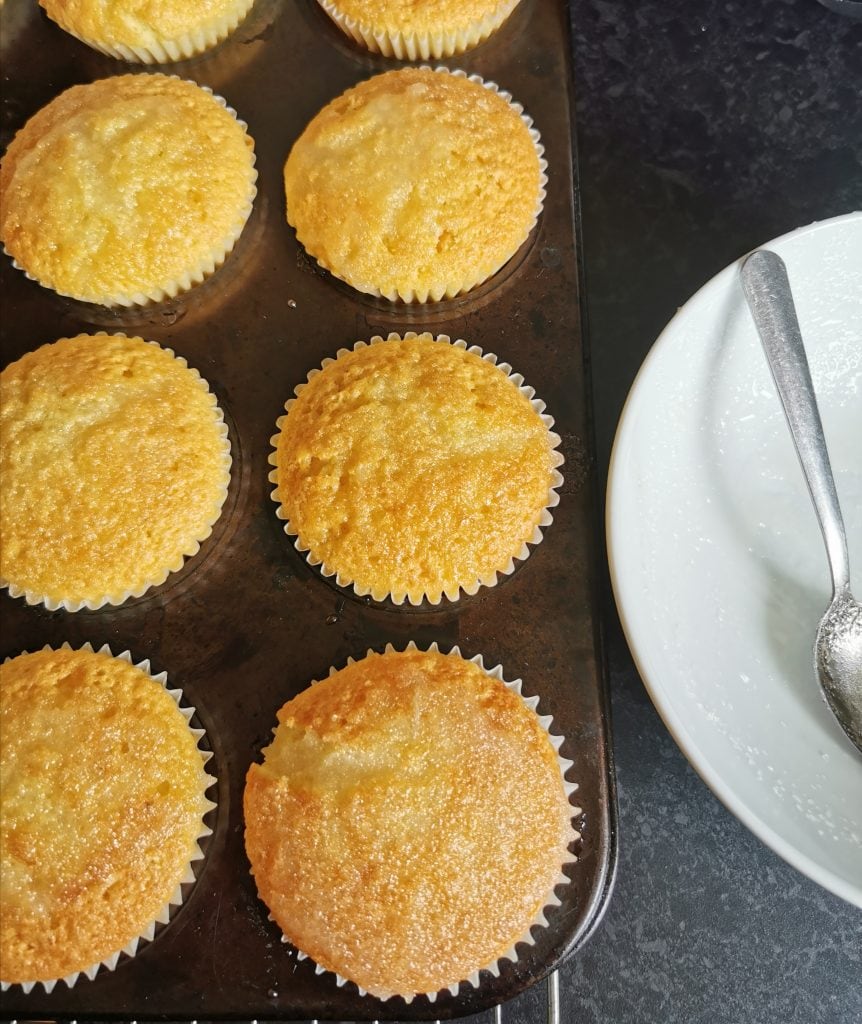 more lemon bakes for you to try
Lemon and blueberry muffins with poppy seeds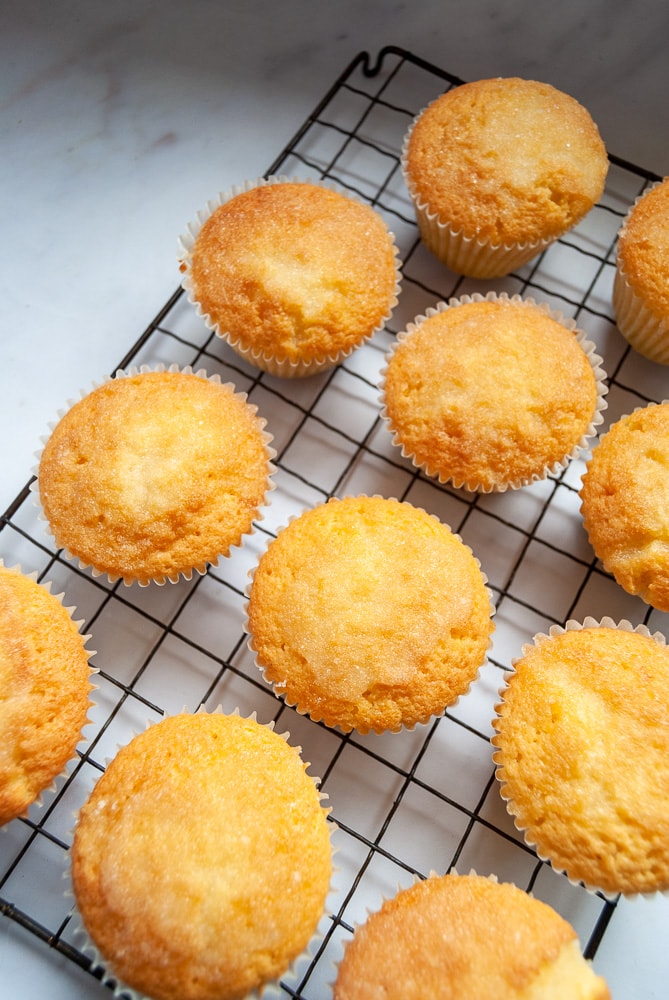 did you make this recipe?
I hope you loved these zesty lemon drizzle cupcakes! Let me know what you thought by leaving a comment below and please rate the recipe out of five by clicking on the stars in the recipe card.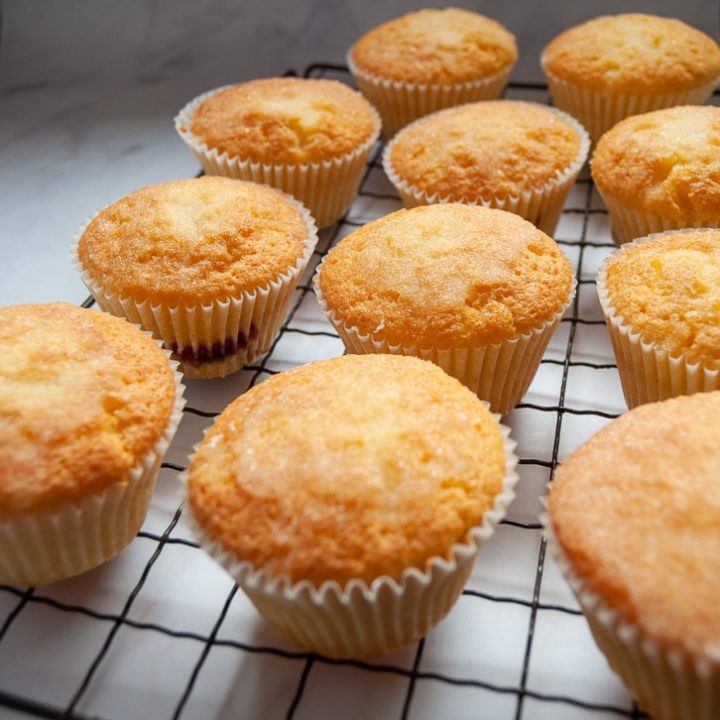 Lemon Drizzle Cupcakes
These zesty lemon drizzle cupcakes are absolutely divine - soft, tender sponge with a jam filling and a crunchy, sugary topping! 
Ingredients
225g soft butter
Finely grated zest of two lemons and juice of one
225g caster sugar
4 large eggs
225g self raising flour
2 tsp baking powder
12 heaped tsp of raspberry jam or lemon curd
FOR THE DRIZZLE
100g granulated sugar
Juice of two lemons
Instructions
Preheat the oven to 180C/160fan/350fan/Gas mark 4. Line a 12 hole muffin tin with liners.
In a large bowl using an electric whisk or stand mixer, mix together the soft butter, caster sugar, eggs, flour, baking powder and lemon juice until you have a smooth batter that drops easily from a spoon.
Spoon a spoonful of the mixture into the cases, just under half way, then add a teaspoon of raspberry jam or lemon curd. Top with another spoonful of the cake batter, making sure the jam or curd is concealed.
Bake the cupcakes for 20-25 minutes or until they are golden, risen and spring back when lightly pressed.
To make the drizzle, mix the granulated sugar and lemon together in a small bowl.
A couple of minutes after you remove the cakes from the oven, make little holes all over the surface using a piece of spaghetti or a cake tester. Slowly pour the drizzle all over the cakes. Transfer the cakes to a wire rack and let them cool completely.
Nutrition Information:
Yield:

12
Serving Size:

1
Amount Per Serving:
Calories:

441
Total Fat:

20g
Saturated Fat:

12g
Trans Fat:

1g
Unsaturated Fat:

7g
Cholesterol:

130mg
Sodium:

513mg
Carbohydrates:

62g
Fiber:

1g
Sugar:

44g
Protein:

5g