This Sour Cream Lemon Bundt Cake is light, fluffy and full of zesty lemon flavour! If you're a fan of lemon desserts, you will fall in love with this recipe!
Calling all lemon fans! This zesty lemon bundt cake is nothing short of magnificent. Sour cream and oil keep the cake so incredibly moist and light and every single bite is bursting with mouthwatering citrus flavour!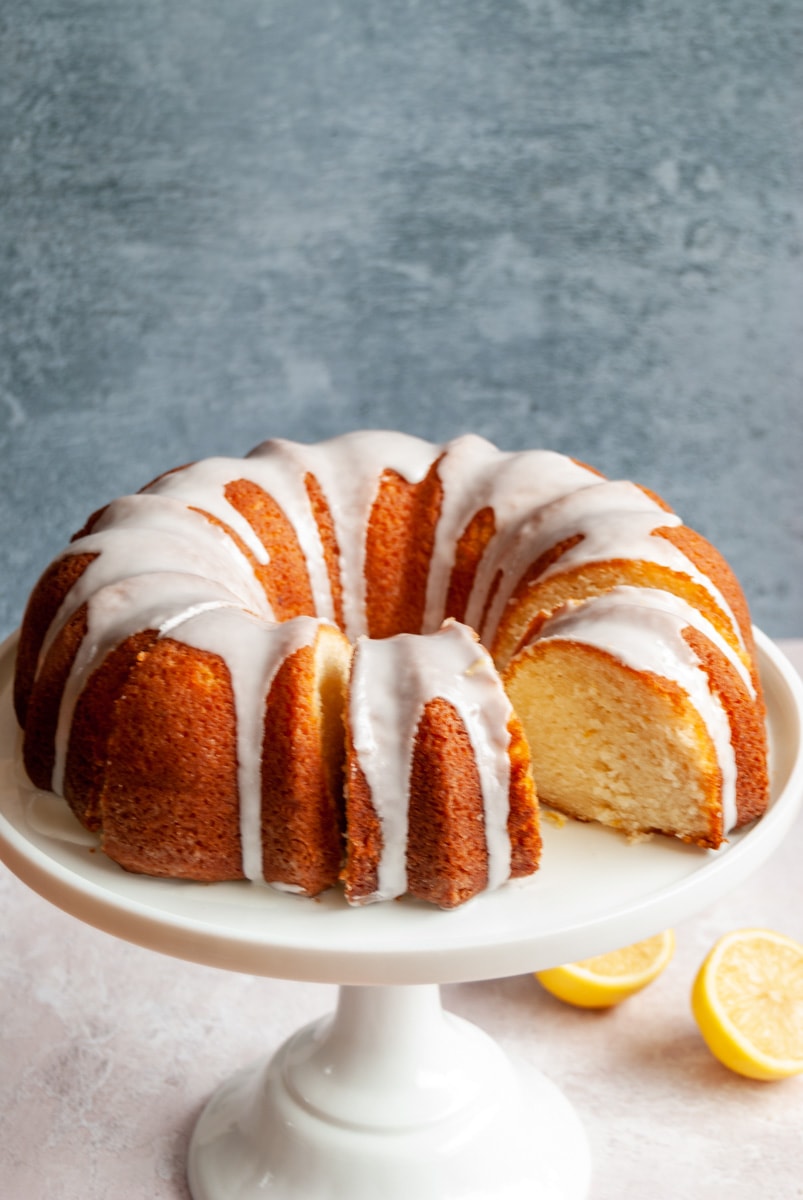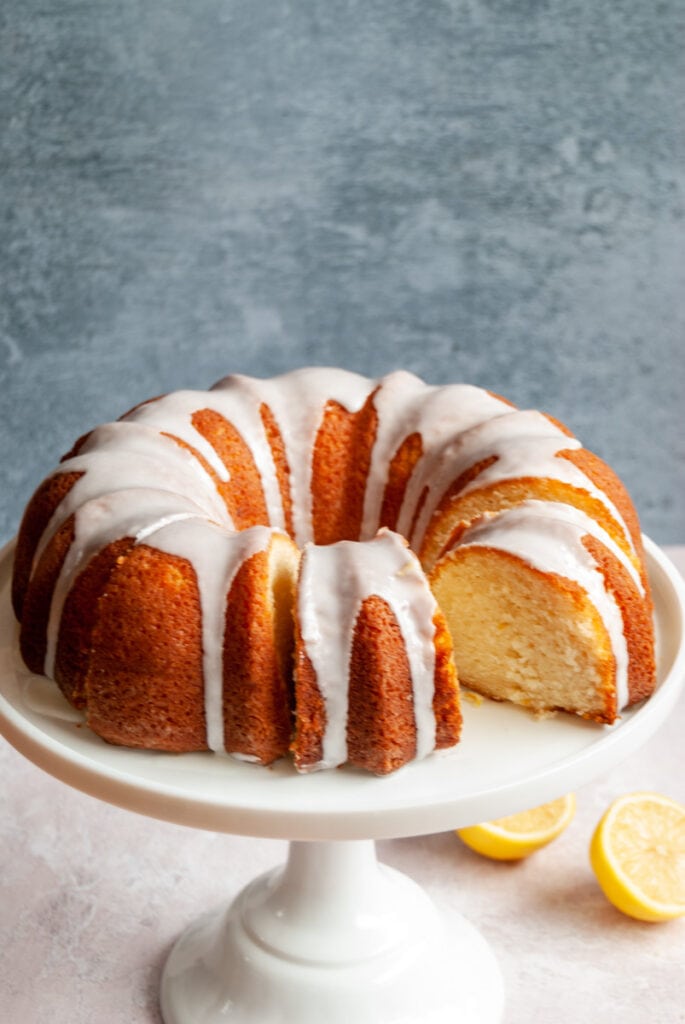 I just love a Bundt cake. They look special enough to grace any occasion – and they are just so easy! You don't have to worry if you feel your cake decorating skills aren't up to scratch – the tin does all the work for you.
All you need to do is drizzle a simple icing glaze over the cake and it will look spectacular. Job done!
Want to see more bundt cakes?
Check out this stunning caramel apple bundt cake, banana bundt cake and this gorgeous pumpkin bundt cake which is perfect for a Thanksgiving or Christmas celebration!
My absolute favourite bundt tins are by Nordic Ware – yes they are very expensive, but if you bake a lot they are 100% worth putting on your wish list. They are excellent quailty and come with a lifetime guarantee. I have five Nordic Ware tins and they really are the best.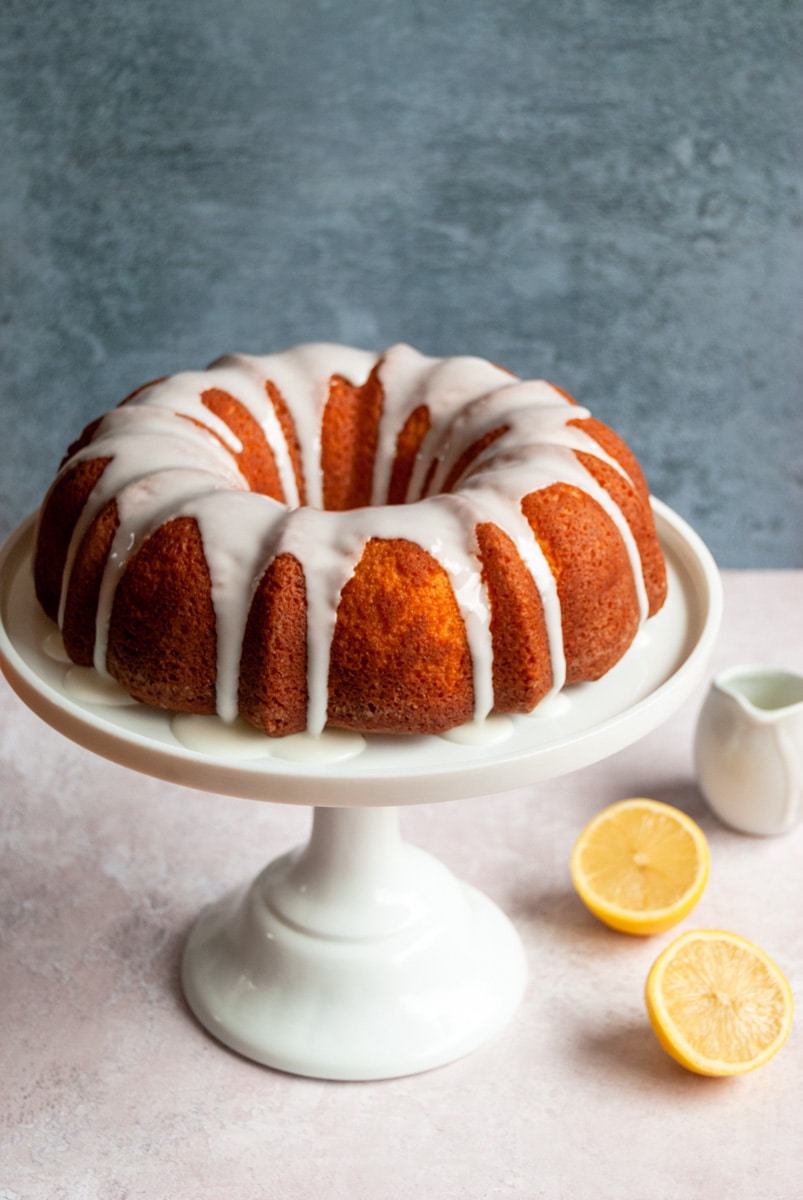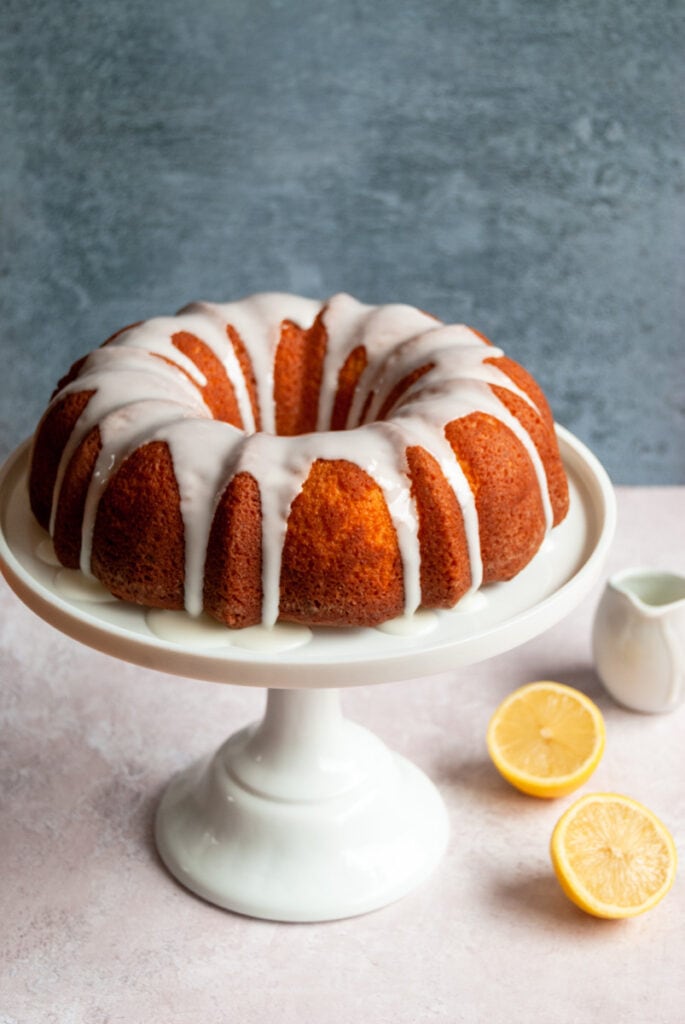 why you should try this recipe
So simple and quick to make
It's a crowd pleaser – everyone loves a classic lemon cake
It's the perfect afternoon pick me up with a cup of tea
I used to be all about the chocolate, but these days I will always choose a lemon flavoured dessert over anything else. If you feel the same, take a look at my recipes for Easy Lemon drizzle cake, lemon drizzle traybake, Lemon Meringue Pie and Lemon drizzle cupcakes!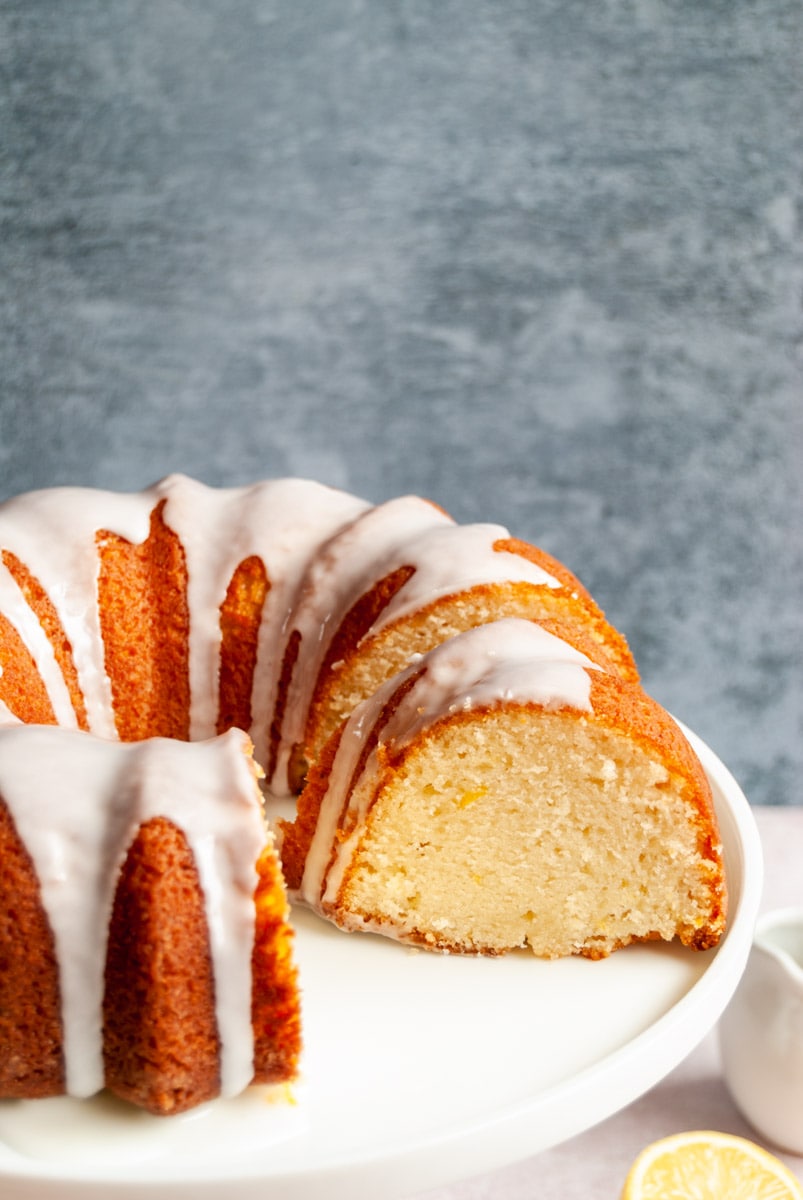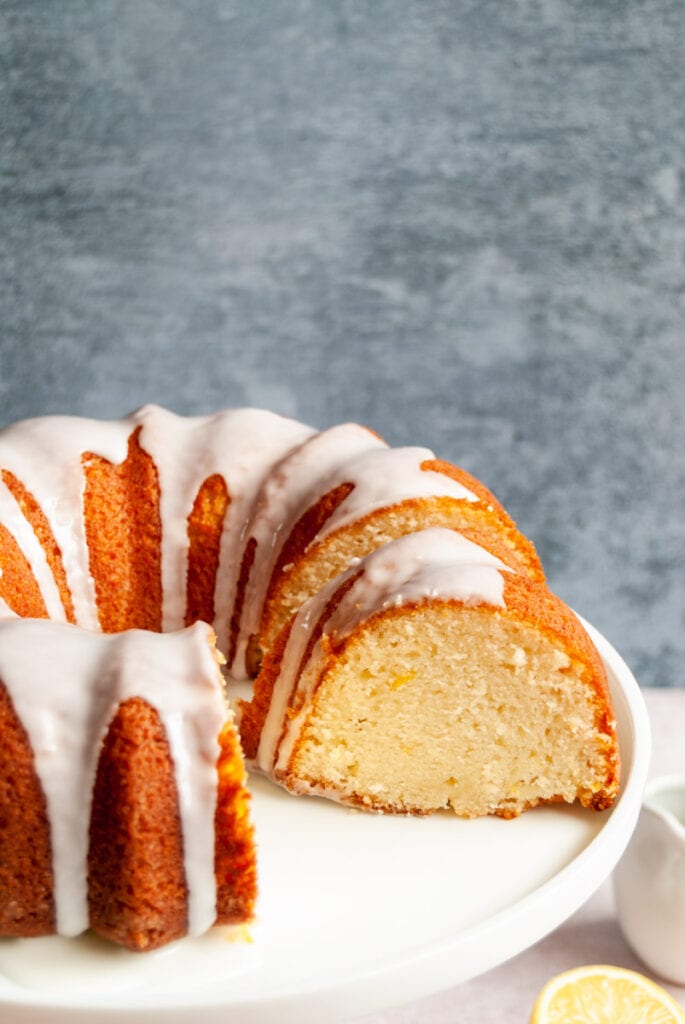 ingredient list for sour cream lemon bundt cake
A flavourless oil such as vegetable or sunflower oil
Caster sugar. You can use granulated if you don't have any caster sugar.
Lemon zest and juice makes the cake super zingy!
Sour cream adds moisture and gives the cake an amazingly fluffy texture. I find sour cream is great for baking with – I try and keep a tub in the fridge at all times. My strawberry and white chocolate muffin recipe also uses sour cream.
Eggs. You'll need two large eggs at room temperature.
Vanilla extract gives the cake a gorgeous flavour.
For an extra citrus hit, add a little lemon extract. Just a tiny bit though – you don't want too much! If you don't have any, it's fine to leave it out.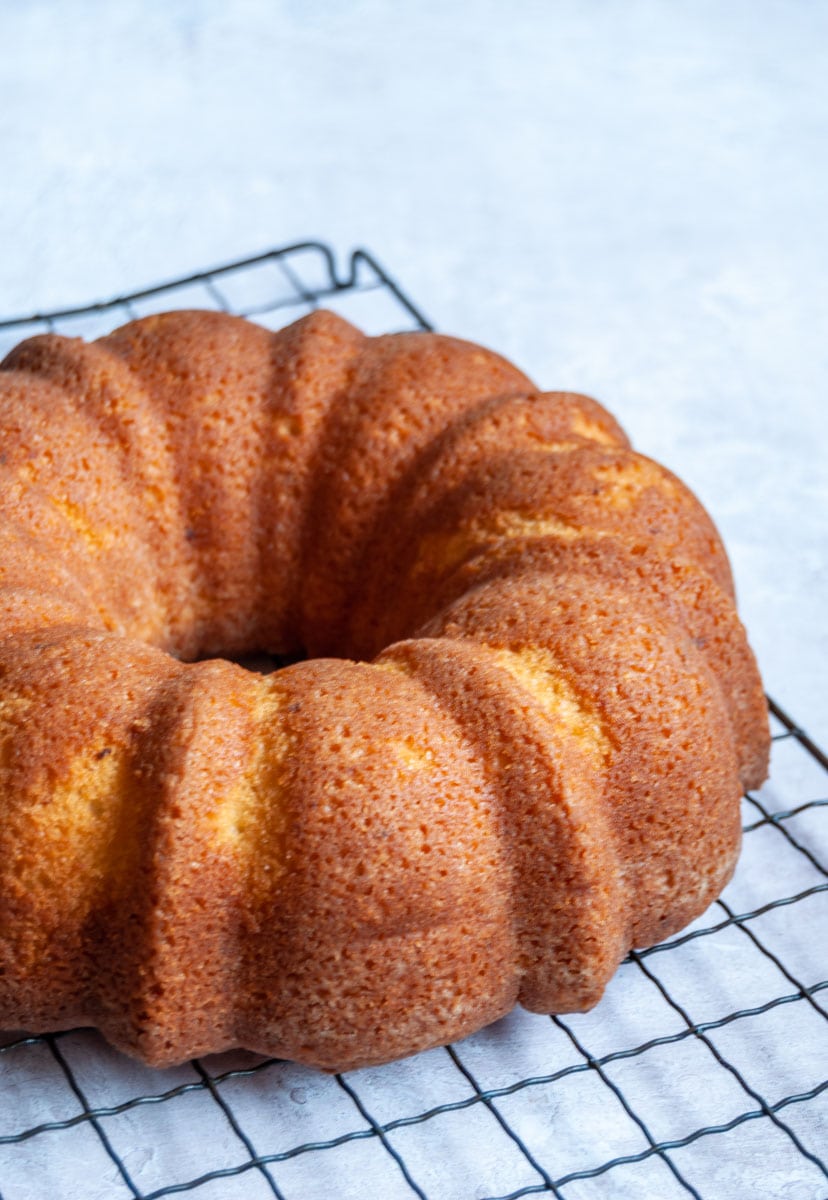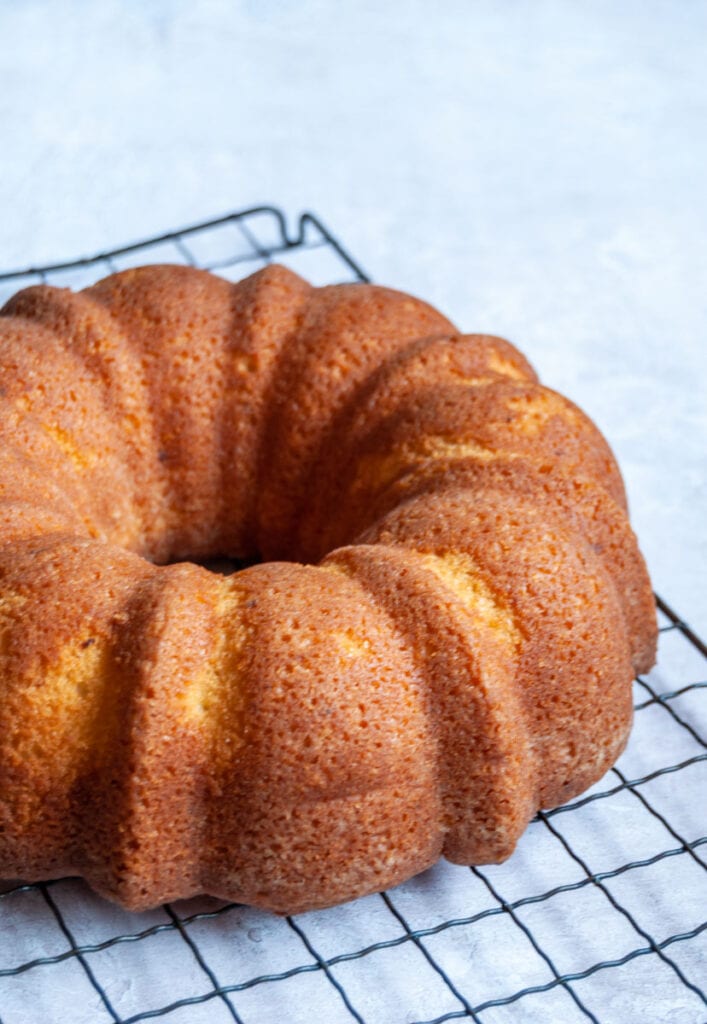 step by step instructions
Scroll to the bottom of the post to find printable recipe card
Place the caster sugar and grated lemon zest in a large bowl. Using your fingers, rub the zest into the sugar until the fragrance of lemon is strong.
Whisk in the oil, lemon juice, eggs, extracts and sour cream until the batter is smooth and shiny.
Whisk in the flour and fold into the batter, taking care not to over mix.
Pour into the prepared bundt tin and bake for 45-50 minutes or until the cake is golden, risen and a skewer inserted in the middle of the cake comes out clean with no raw batter.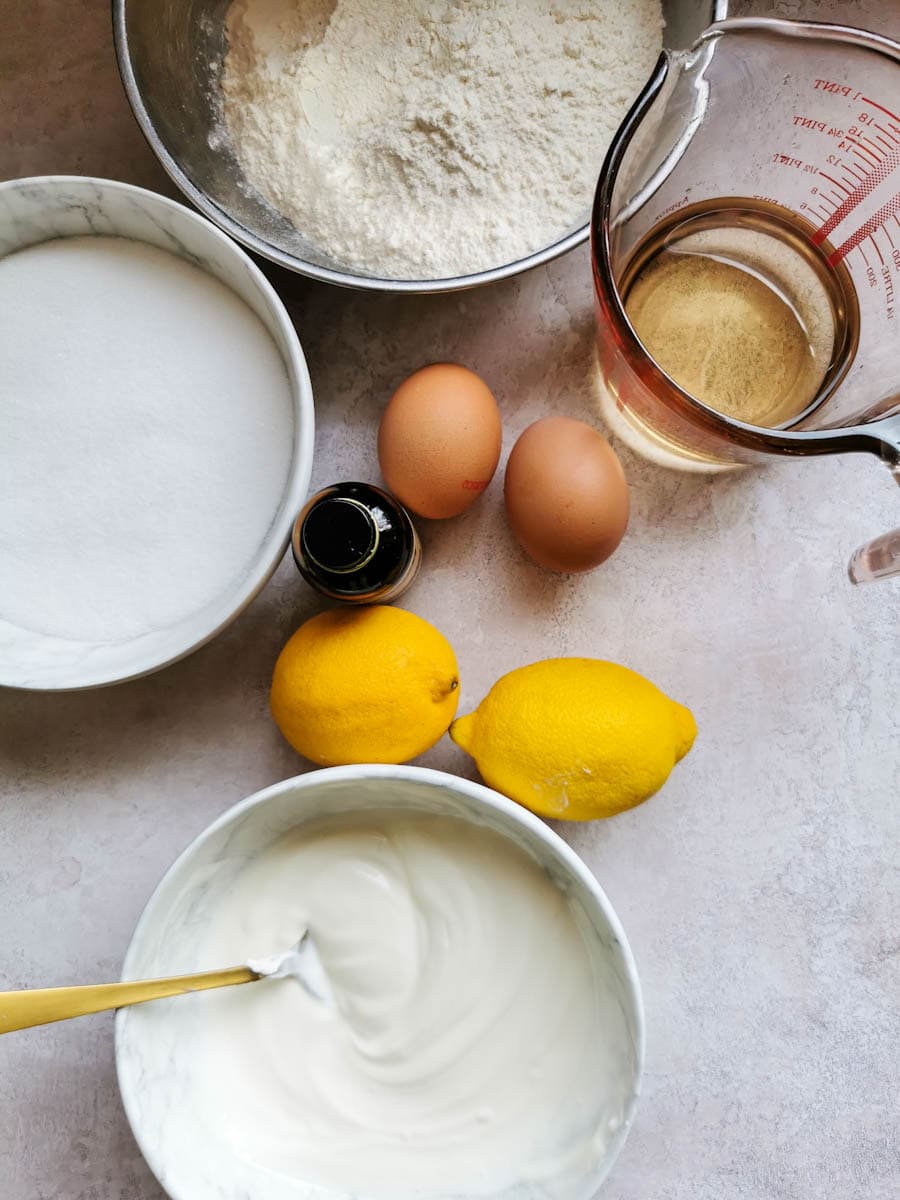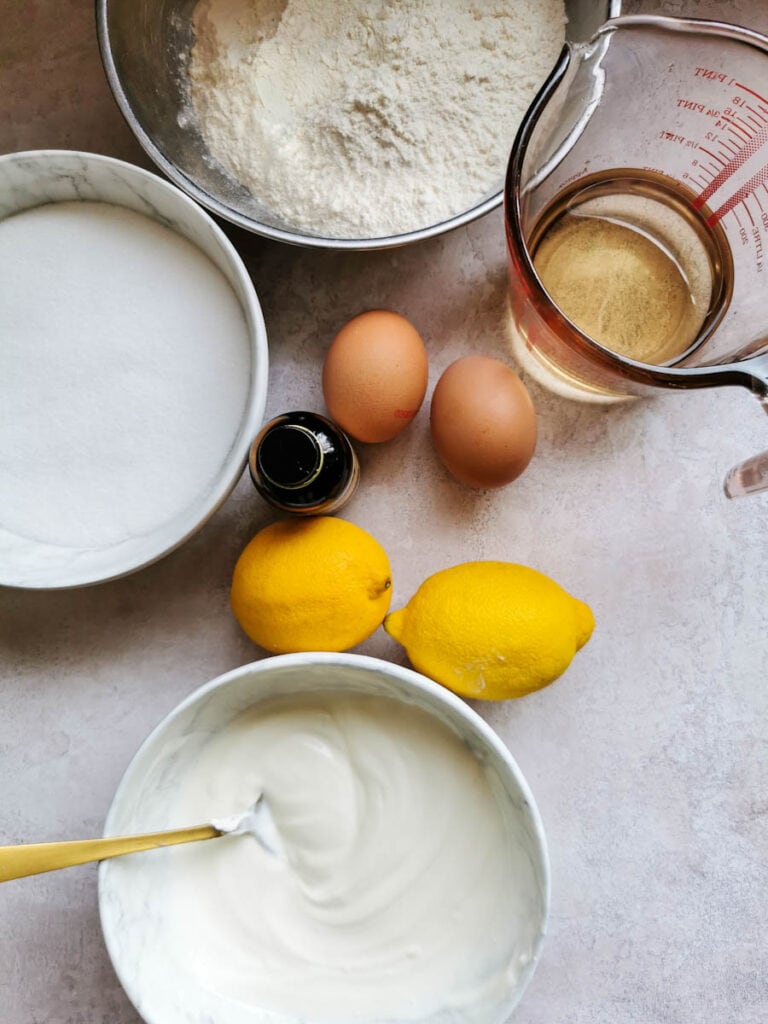 how to grease a bundt tin
I have tried SO many methods – and also had many a disaster! It's a crying shame when you spend time lovingly baking a cake, only for the darn thing to stubbornly refuse to unmold itself from the tin.
But if you use I am Baker's fabulous cake Goop, you don't have to worry about that happening! It's cheap, easy to make and works every. single. time. I've been using this for over years and it hasn't failed me yet.
It's basically equal quantities of flour, oil and vegetable shortening (I use Trex.) You simply mix them all together to make a smooth "goop" or paste.
Using a pastry brush, I paint the paste all over the bundt tin. It's better than any cake release spray I've ever tried. I've also heard people call this "lining paste" online. Whatever you like to call it, it works like a charm!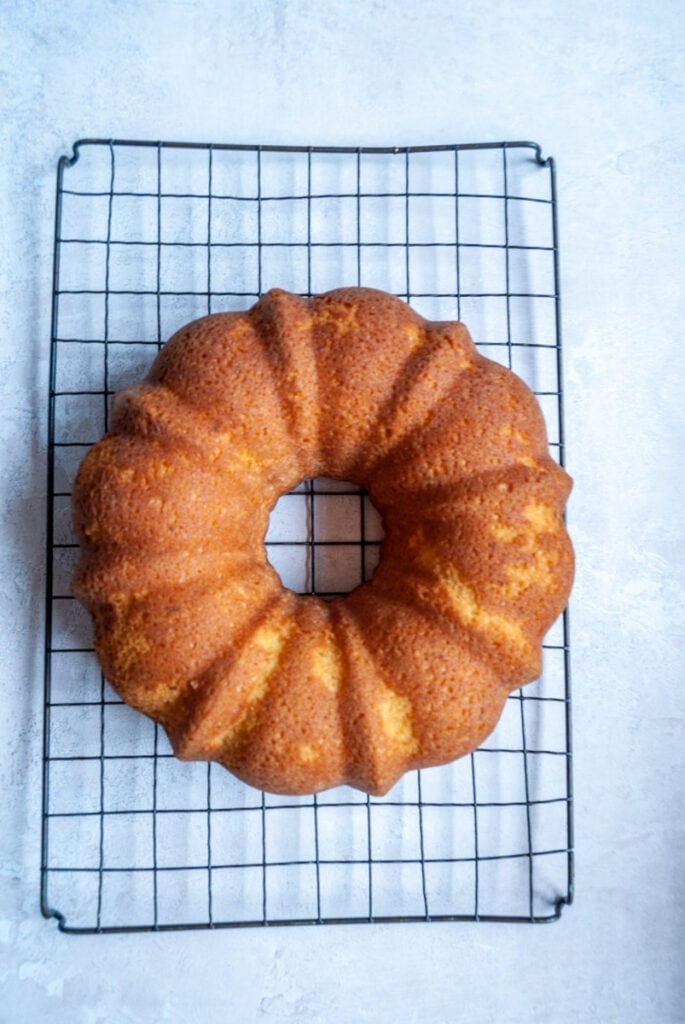 how to remove a bundt cake from the tin in one piece
Since I've had many bundt tin disasters in the past, I'm sharing my tried and tested works every time method to remove a bundt cake from the tin!
When the cake has baked, place the tin on a wire cooling rack and leave for exactly 10 minutes. While you're waiting, soak a tea towel under a hot tap until it's steaming. Wring the tea towel out – you need it damp, not soaking wet.
Place the hot tea towel right over the bundt tin. Once the 10 minutes are up, carefully invert the tin to remove the cake. It should hopefully slip right out. If it feels like the cake is sticking in some places, repeat the hot towel method again and leave for a further 10 minutes before trying again.
storage instructions
This lemon bundt cake will keep for up to five days in an airtight container. The (uniced) cake can also be frozen for up to three months. Wrap slices in cling film and store in a freezer suitable container.
You could also freeze the entire cake instead of slices if you like.
I hope you enjoy making (and eating) this lemon bundt cake as much as we do!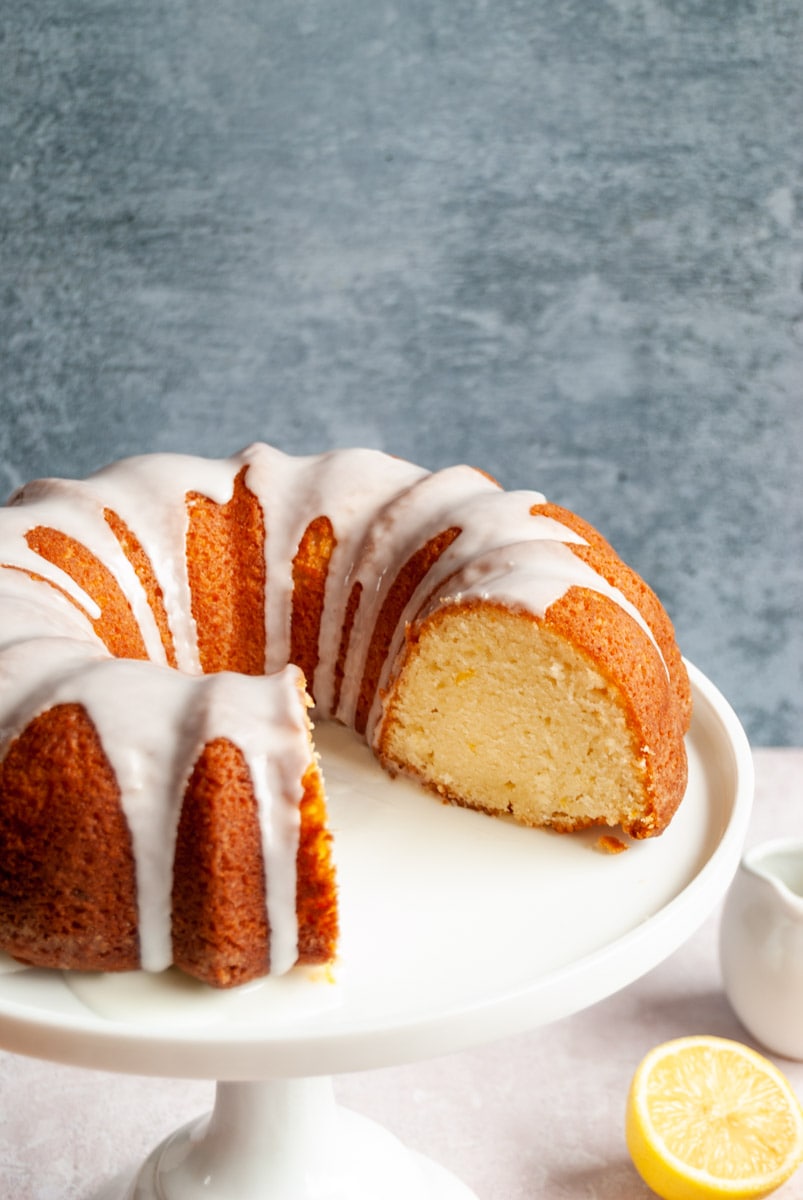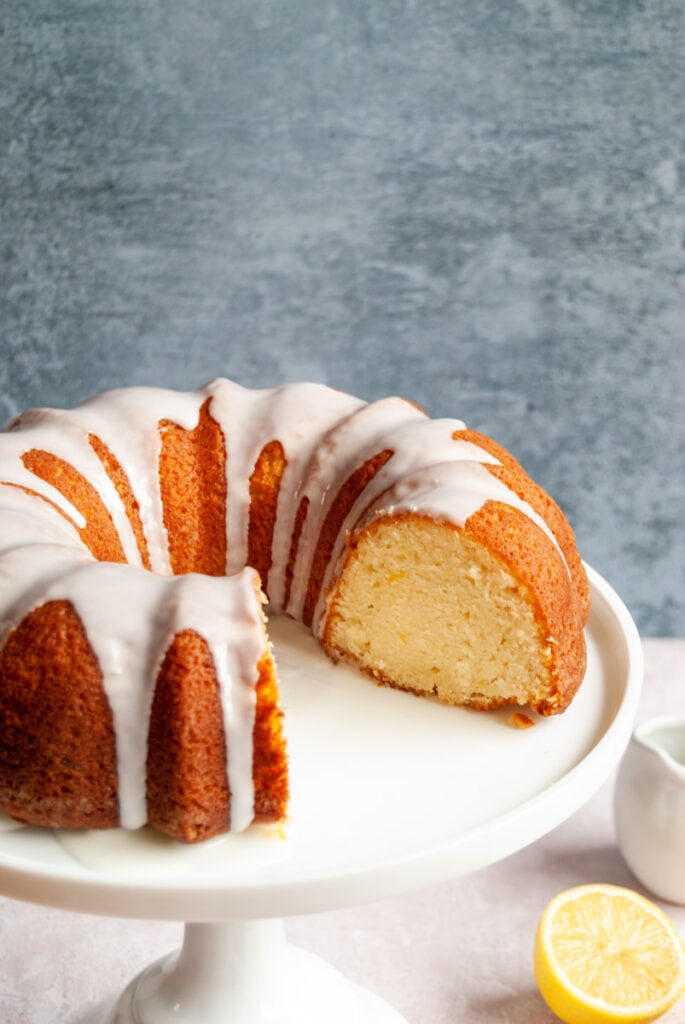 more lemon desserts to try
Lemon blueberry poppy seed muffins
Did you make this recipe?
I really hope you loved it! Let me know by leaving a comment below – and please rate the recipe by clicking on the stars in the recipe card.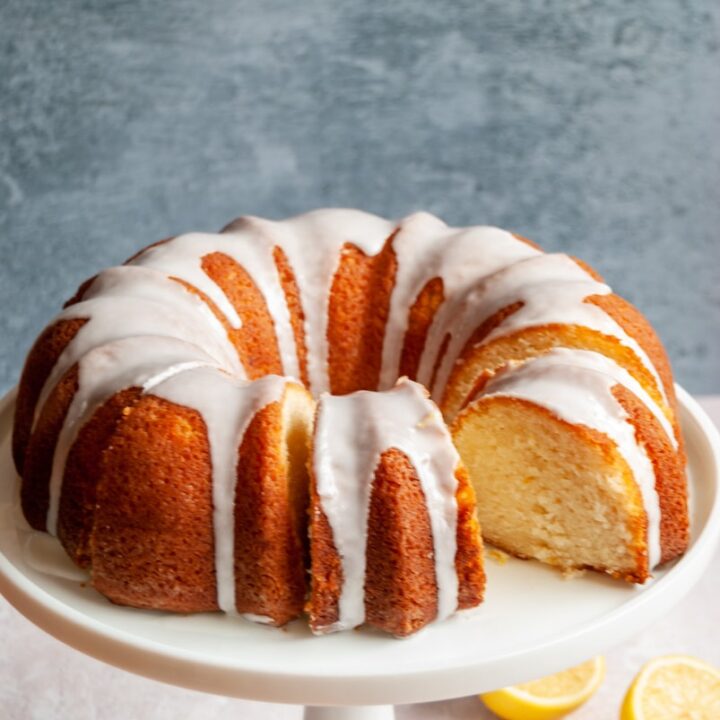 Sour Cream Lemon Bundt Cake
Total Time:
1 hour
5 minutes
This sour cream lemon bundt cake is super simple to make and looks beautiful enough to grace the finest occasion. It's light, fluffy and full of zingy lemon flavour!
Ingredients
1 tablespoon finely grated lemon zest (about 2 regular sized lemons)
350g (1 3/4 cups) caster (super fine) sugar
180ml (3/4 cup) vegetable or sunflower oil (or any flavourless oil)
2 Large eggs, at room temperature
60ml (1/4 cup) fresh lemon juice
1/2 teaspoon vanilla extract
1/4 teaspoon lemon extract (optional)
250g (1 cup) sour cream
300g (2 cups) self raising flour
FOR THE LEMON ICING GLAZE
160g (1 cup) icing (powdered) sugar, sifted
2 or 3 tablespoons fresh lemon juice
1/2 tablespoon boiling water, if the icing is too thick
Instructions
Preheat the oven to 180C/160Fan/350F. Generously grease a 2.5 litre Bundt tin. See the main post for my tips on greasing a bundt tin.
Place the caster sugar in a large mixing bowl. Add the lemon zest and using your fingers, rub the zest into the sugar until the fragrance of lemon is strong.
Add the eggs, oil, lemon juice, vanilla extract, lemon extract if using and sour cream. Whisk everything together until well combined.
Sift in the flour and using a whisk or a large metal spoon, fold in until you have a smooth batter, scraping down the sides of the bowl once or twice to make sure the ingredients are fully incorporated. Pour the batter into the greased bundt tin and bake for 45-50 minutes or until a skewer inserted in the middle of the cake emerges clean.
Remove the cake from the oven and allow to cool in the tin for exactly 10 minutes before turning out onto a wire rack. If the cake doesn't slide out of the tin easily, run a tea towel under a hot tap to completely soak it, wring it out and place over the tin. Leave for 15 minutes before attempting to turn the cake out. Leave to cool completely.
To make the lemon icing, mix together the sieved icing sugar and lemon juice. If the icing is too thick, stir in the boiling water. Drizzle the icing over the cold cake and leave to set before slicing.
Nutrition Information:
Yield:

10
Serving Size:

1
Amount Per Serving:
Calories:

231
Total Fat:

5g
Saturated Fat:

2g
Trans Fat:

0g
Unsaturated Fat:

3g
Cholesterol:

41mg
Sodium:

31mg
Carbohydrates:

19g
Fiber:

1g
Sugar:

8g
Protein:

3g
Calories and nutritional information are provided by a third party application and should be viewed as indicative figures only.