This chicken and chorizo pasta recipe is a winner! It's ready to eat in under 40 minutes, making it a great choice for a comforting midweek meal.
With tender chicken chunks and chorizo sausage in a creamy tomato based sauce, this recipe is so delicious yet simple to make.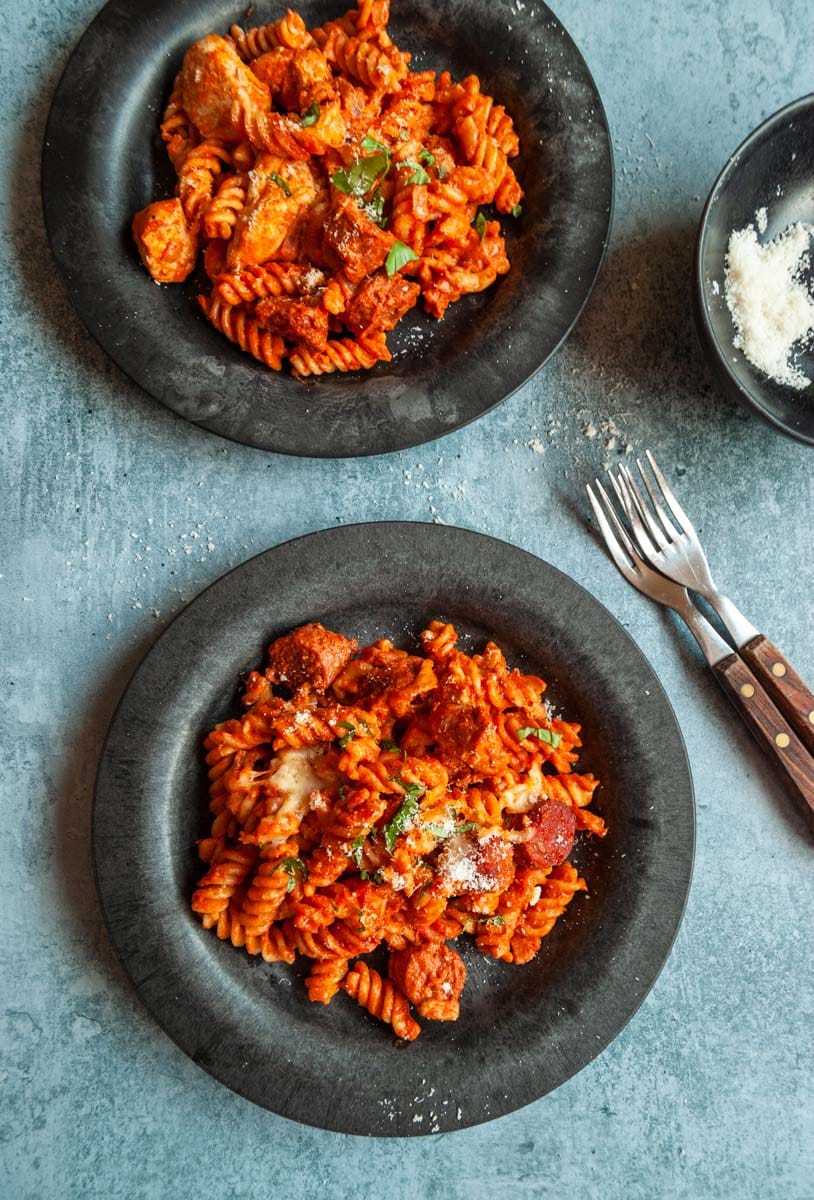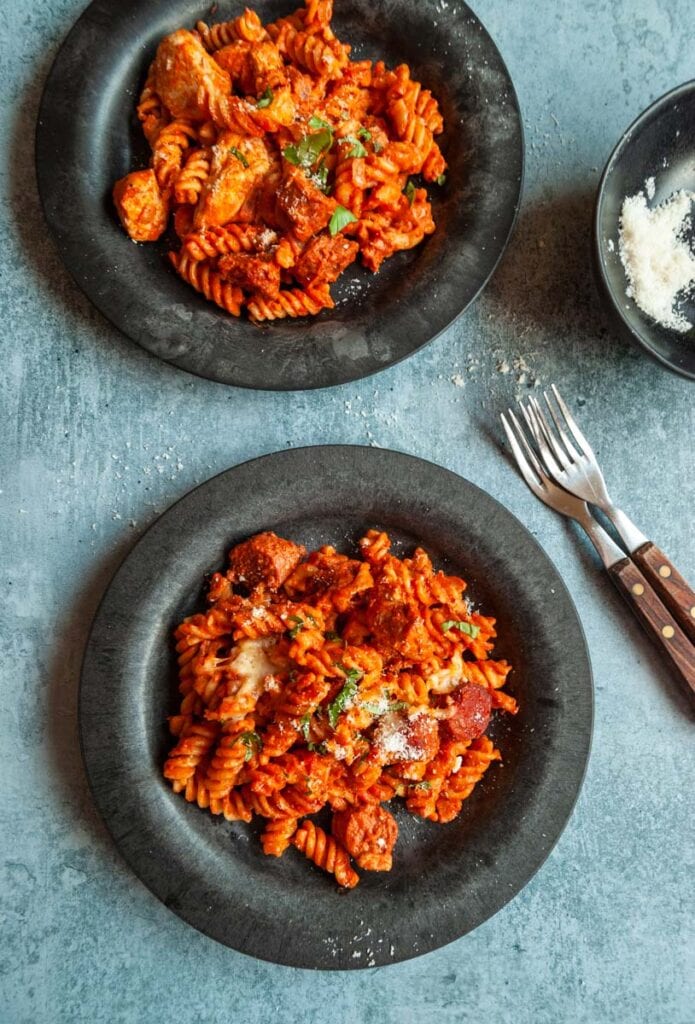 Creamy Chicken and Chorizo pasta
I just can't get enough of simple but delicious pasta dishes. Always have, always will.
I've been sitting on this recipe for a long time and I felt it was about time I shared it with you! I know I'm not the only one who is constantly on the lookout for new easy pasta dishes.
More family favourite pasta recipes I've shared in the past include pea and pancetta pasta, creamy chicken Fajita pasta, sweet chilli pasta with salmon and peas and this super easy slow cooker macaroni cheese recipe which is perfect for chilly Autumn days.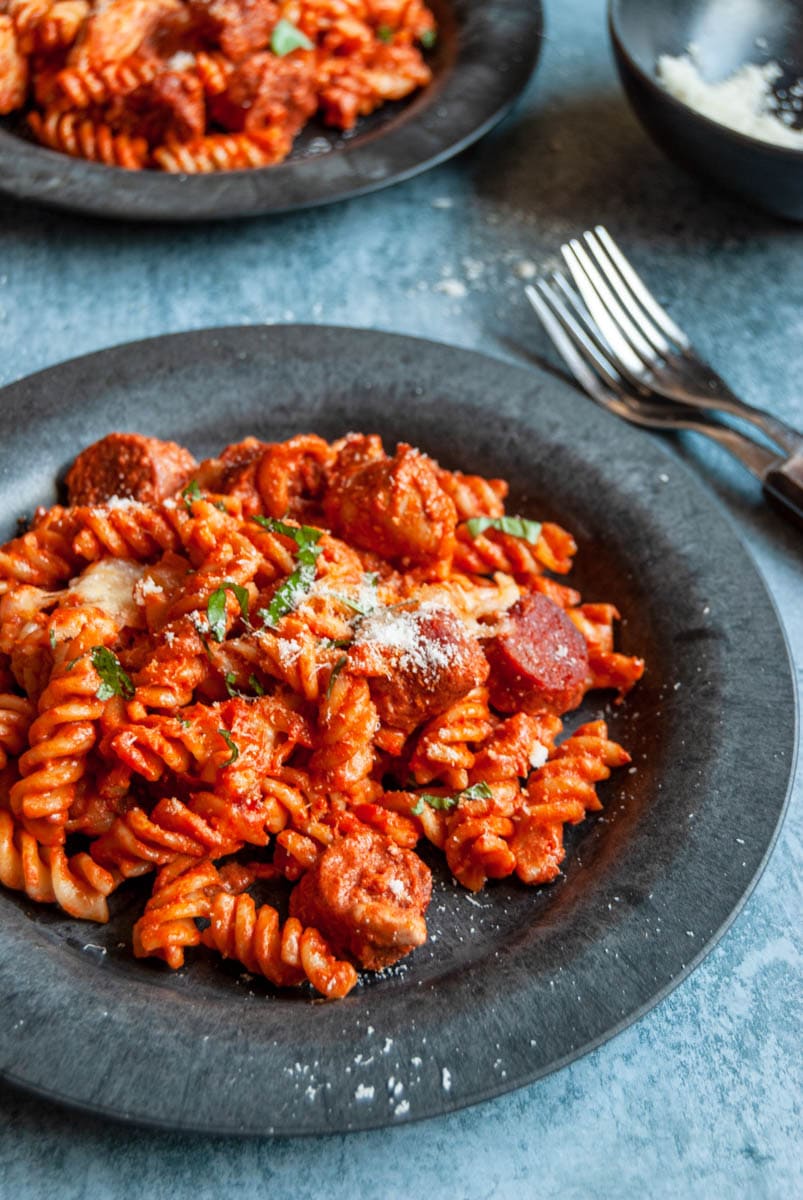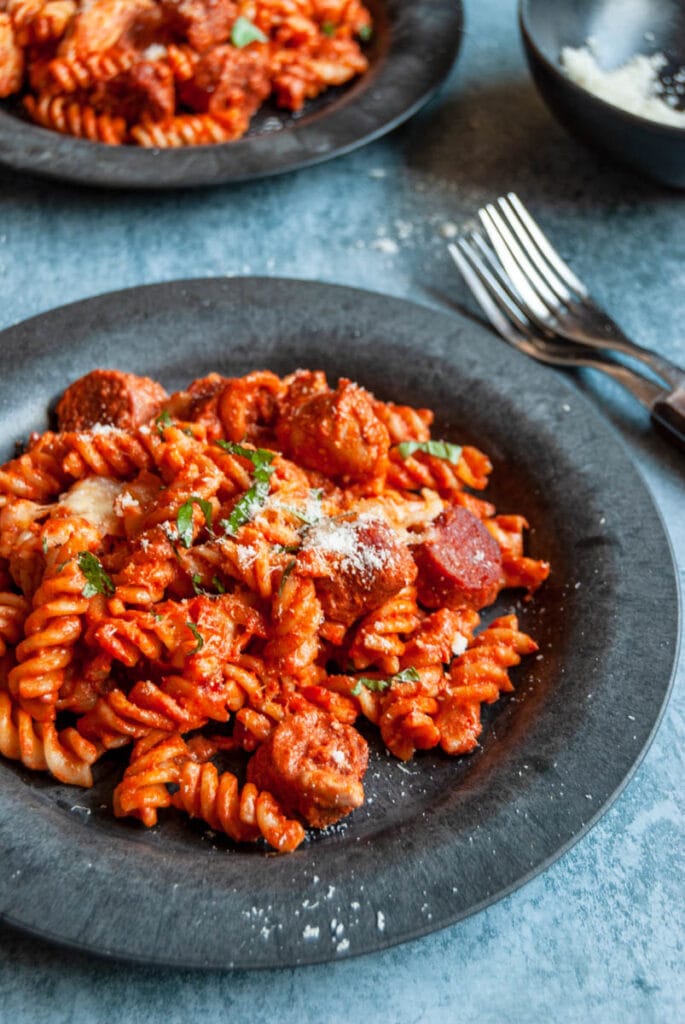 This pasta recipe is absolutely packed full of flavour. The star ingredient is chorizo sausage. Chorizo adds such bold, vibrant flavour to any dish. It's one of my favourite ingredients – I honestly don't know what I would do without it!
Some of my most popular recipes that have chorizo are this gorgeous slow cooker beef and chorizo casserole, meatball mozzarella pasta bake, mozzarella stuffed chorizo and beef meatballs and this easy store cupboard one pot chorizo and pepper rice.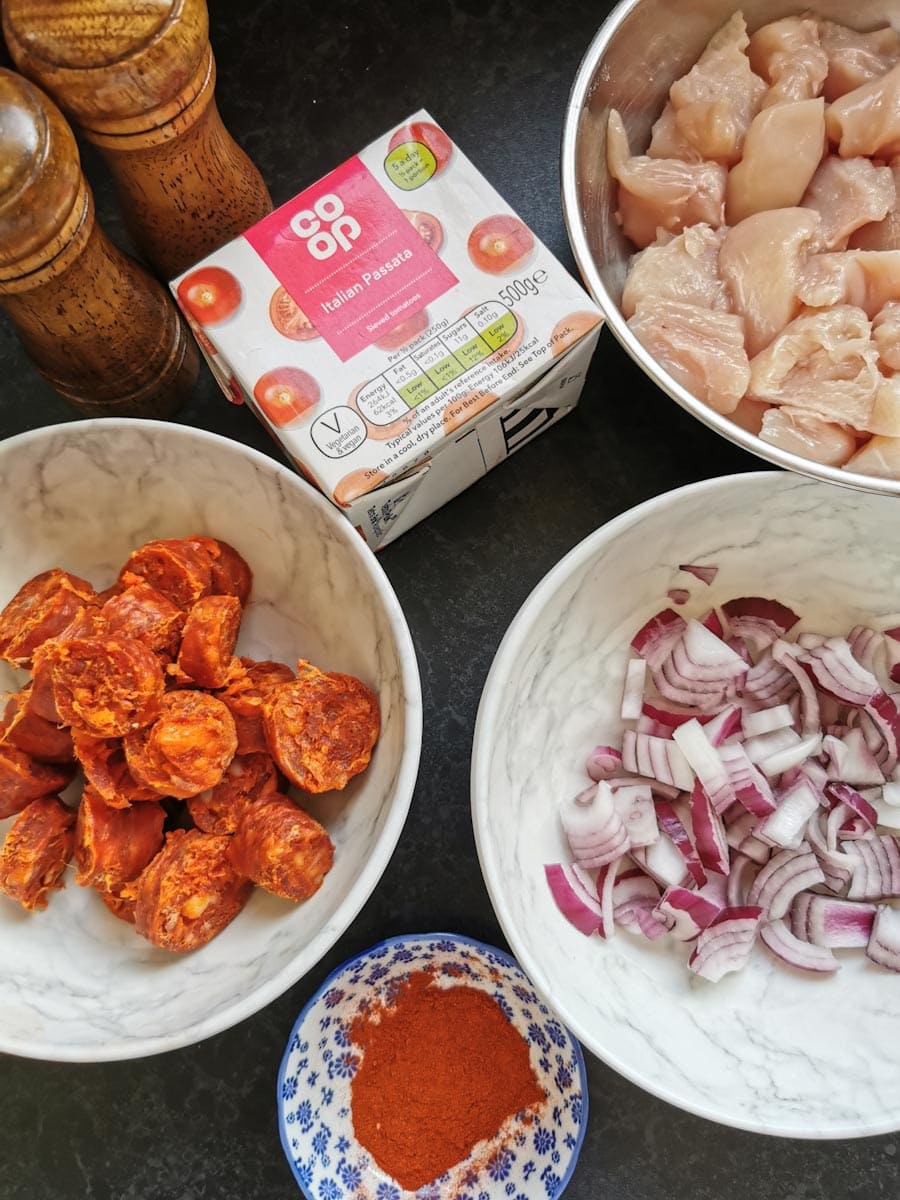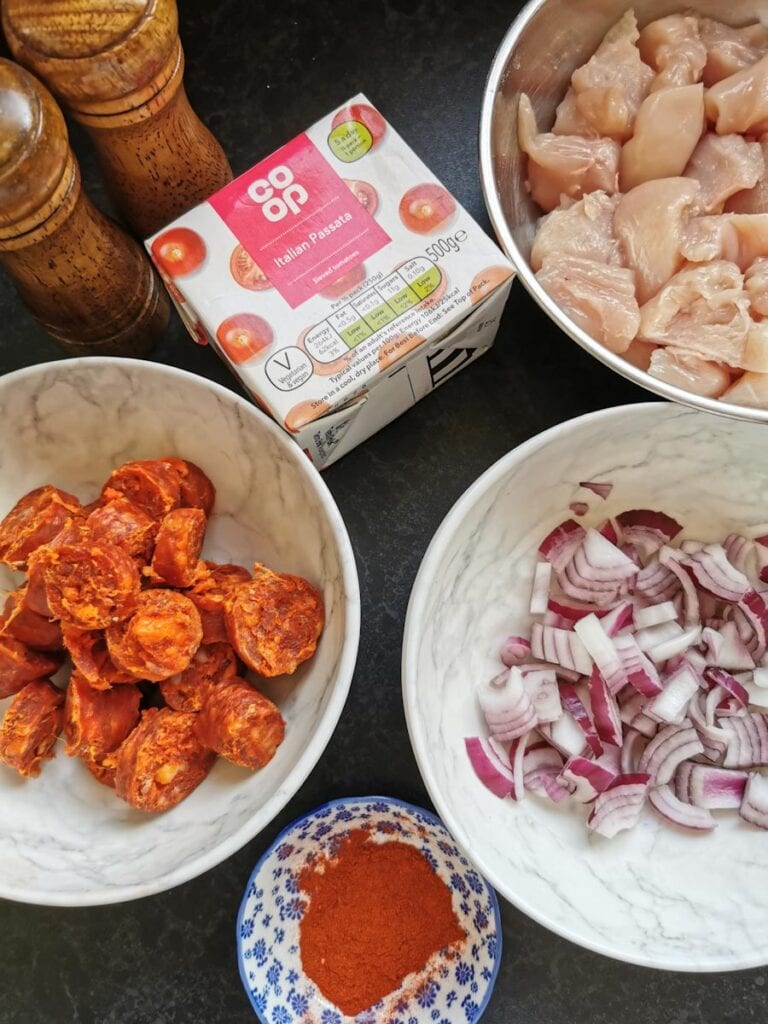 INGREDIENT LIST
Dried Pasta. I mostly use Fusilli and Penne for this recipe. Use whatever pasta you like!
Onion provides the base of the sauce. I like red onions for their slight sweetness, but a good old brown onion will do the job just fine.
Fresh Garlic adds flavour and depth to the sauce. If you have no fresh garlic, garlic puree works too! I must admit I always keep jars of garlic and ginger puree in my fridge – they are so handy when you're short on time.
Diced chicken breast. You could also use chopped skinless boneless chicken thighs instead, but bear in mind they take slightly longer to cook through.
Sliced chorizo sausage. I use the cured variety here. I like to peel the skin off a chorizo before cooking – it can be quite chewy and tough. Cooking chorizo sausage would also work.
Smoked paprika enhances the flavour of the chorizo and gives a lovely smoky flavour to the sauce.
Tomato passata gives a lovely smooth textured sauce. You could also use a can of chopped tomatoes for a chunkier sauce.
A little white sugar helps to balance the acidity of the tomato passata.
Salt and freshly ground black pepper to season your sauce.
Double (heavy) cream gives a beautifully rich sauce. You could also use cream cheese or mascarpone.
Grated Parmesan cheese – both in the sauce and for sprinkling on top of the pasta.
Grated mozzarella cheese for a lovely gooey topping. You could use cheddar cheese instead if you like.
Freshly chopped basil leaves. Fresh basil and tomatoes are the perfect pairing!
THE PASTA
I like to use Fusilli or Penne for this recipe, but Rigatoni or any type of pasta shells would also work really well.
Cook the pasta about one minute less than the packet states. You'll be adding the drained pasta to the sauce later, so this will prevent the pasta from becoming overcooked.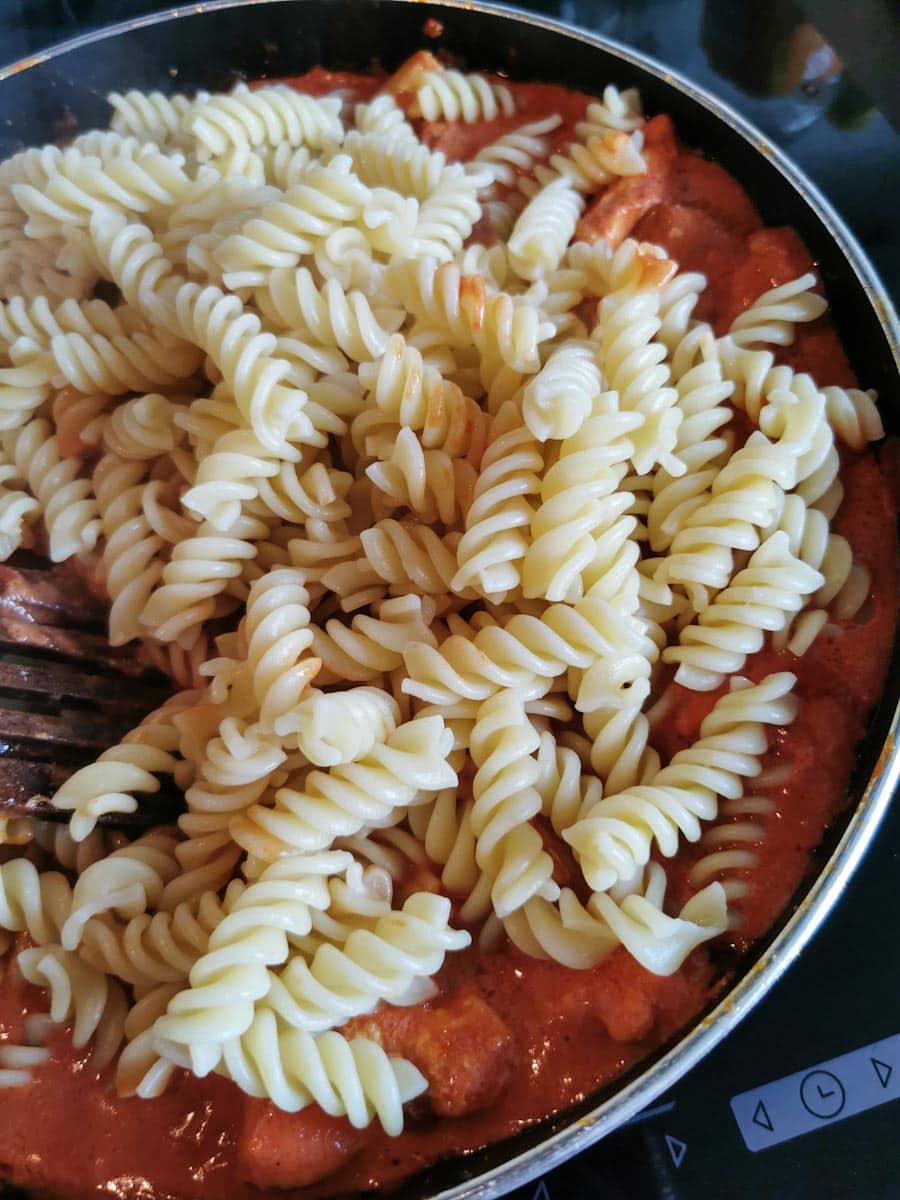 It's always a good idea to save a small cup of the water when you're draining the pasta. If the sauce is too thick or claggy, just stir in a little of the water and it will give you a beautifully smooth sauce. You might not need it, but at least it's on hand if you do.
THE tomato SAUCE
The creamy tomato sauce is SO good! The oils from the chorizo give the sauce such an amazing depth of flavour.
Like any good sauce recipe, you start off by slowly cooking sliced onions on a low heat until they are soft and translucent, followed by garlic. Next we add the smoked paprika (always fry spices – it releases the flavours in a way that simply adding them to a sauce could never do) followed by the sliced chorizo.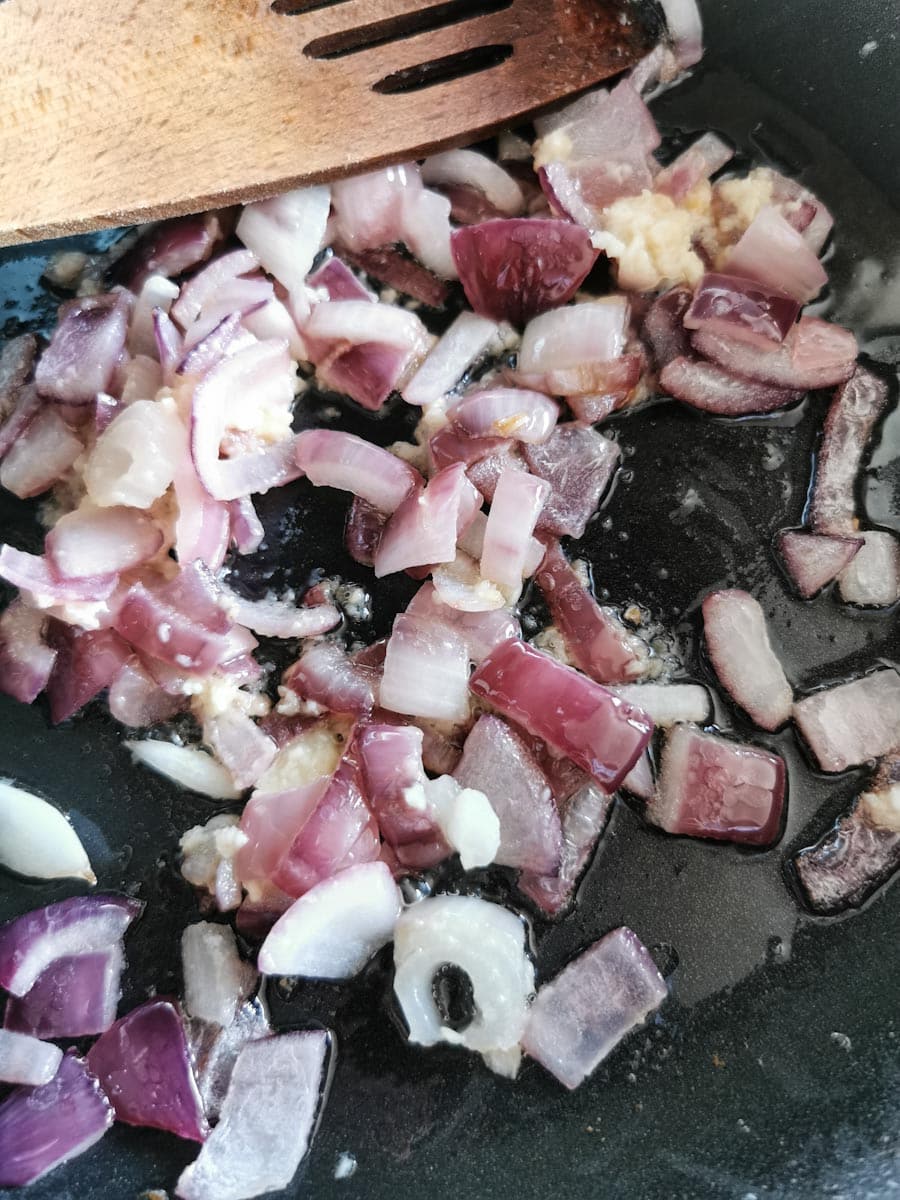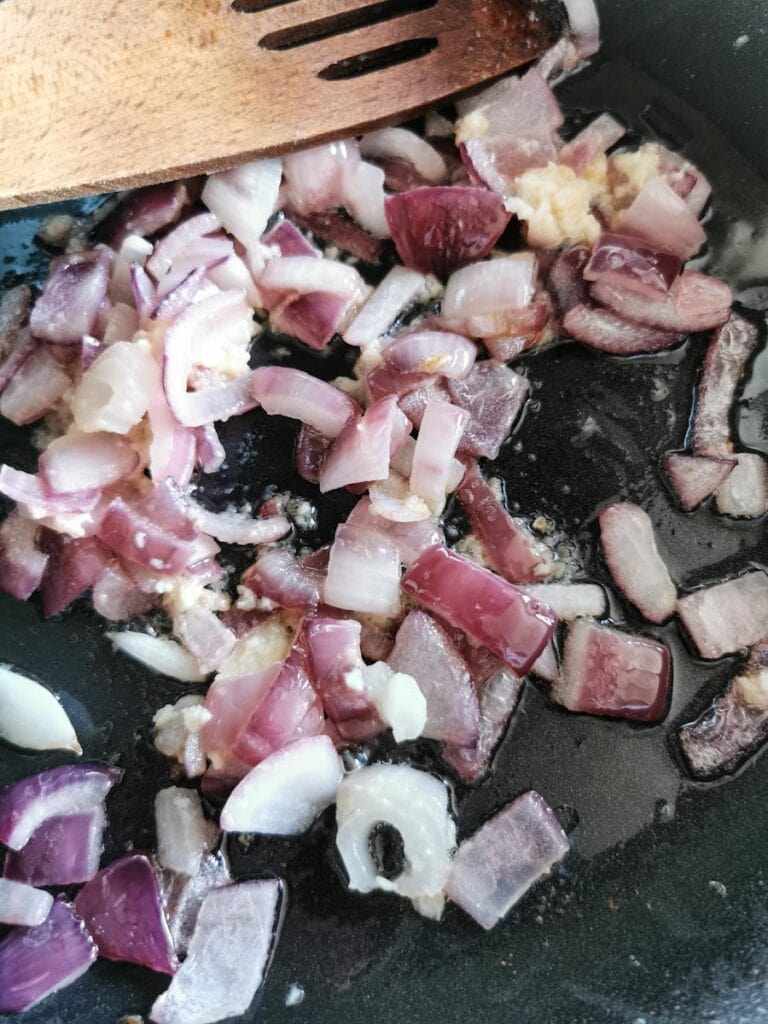 Next we fry the sliced chicken in that wonderful chorizo oil until golden and cooked through.
Then the tomato passata is added along with a little sugar to balance the acidity and a grinding of salt (not too much since you'll be adding parmesan) and freshly ground black pepper.
Stir in the double cream and parmesan cheese for a rich, creamy, sumptuous sauce. Add the chopped basil leaves if using. Taste to check the seasoning.
Add the pasta to the sauce
For many years, I plated pasta up, then poured the sauce over the pasta. I don't recommend you do that! It's much better to stir the cooked drained pasta to the sauce in the pan. I promise!
Stir the pasta to the sauce, stirring well so the pasta soaks up all that lovely flavourful sauce. It's a basic little trick, but it makes such a difference. This also applies when you make spaghetti bolognese.
If necessary, thin the sauce with a little of the reserved pasta water. You don't always need to do this with tomato based sauces, but I always keep a little cup aside just in case.
GRILL UNTIL BUBBLY
Place the pasta in an ovenproof dish. Top with the grated mozzarella cheese and place under a hot grill for about 5 minutes to melt the cheese.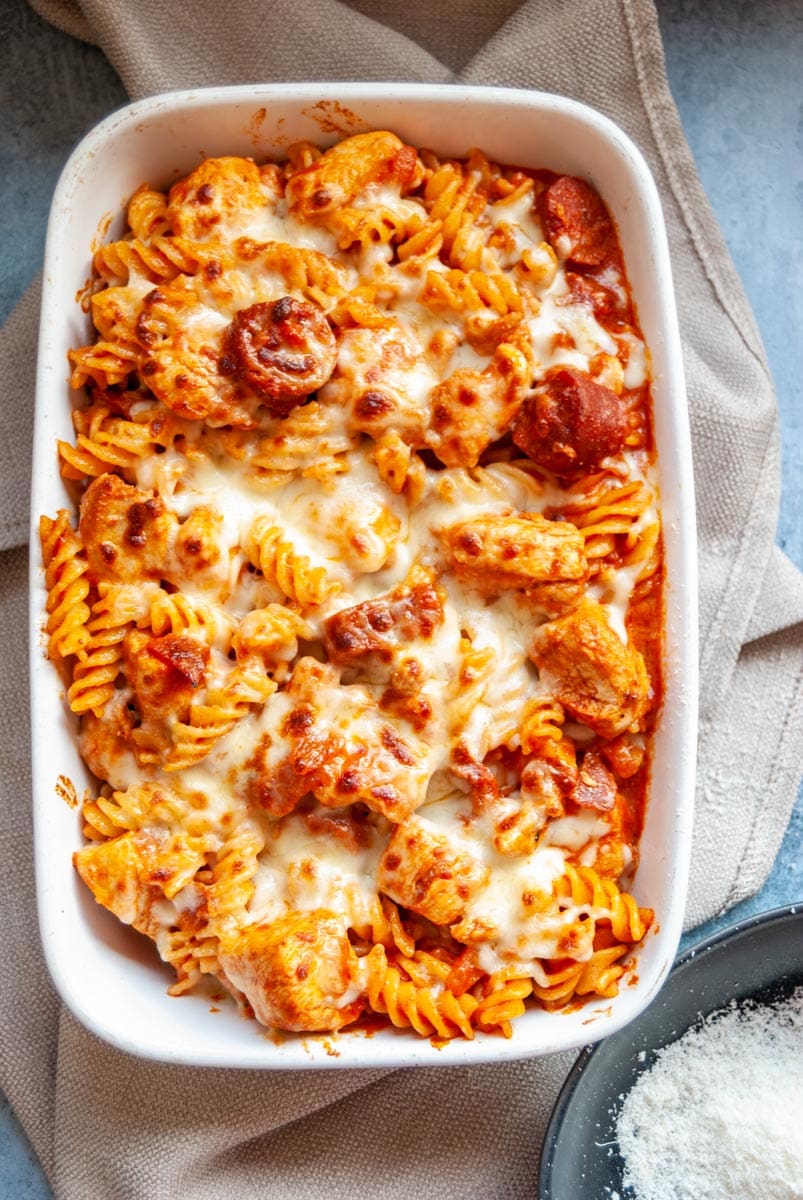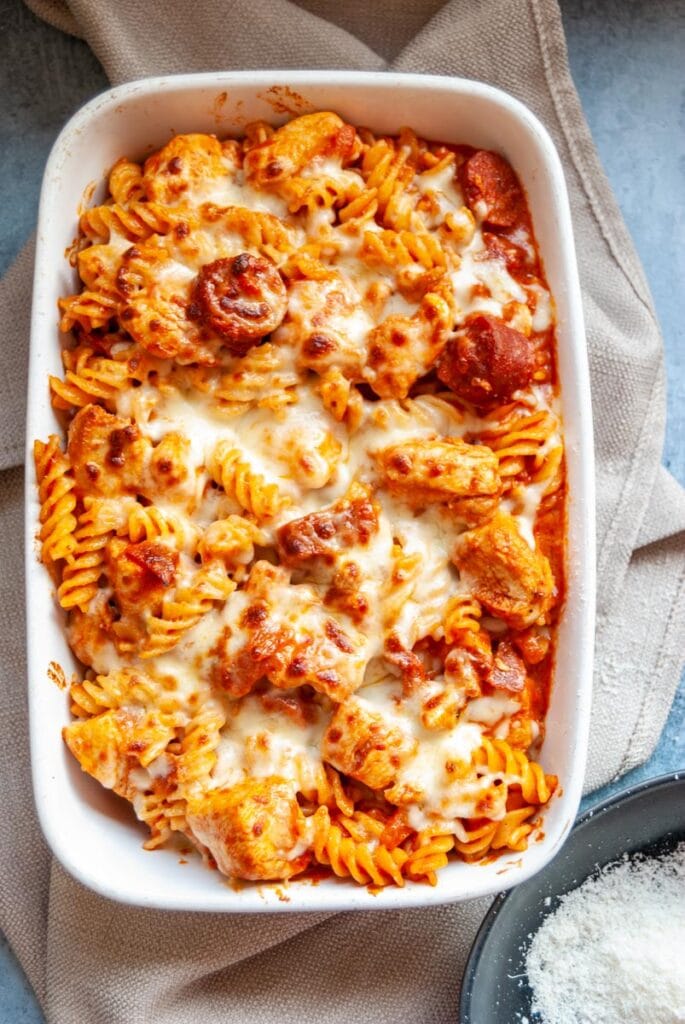 SERVE!
Serve the pasta with extra grated parmesan cheese, garlic bread and a green salad if you like. It's going to be a big hit!
VARIATIONS
Add extra veg if you like – chopped peppers, mushrooms or diced courgette work well in this recipe.
Sometimes I thrown in a good handful of fresh chopped spinach just before I add the pasta to the sauce – any excuse to sneak in some greens!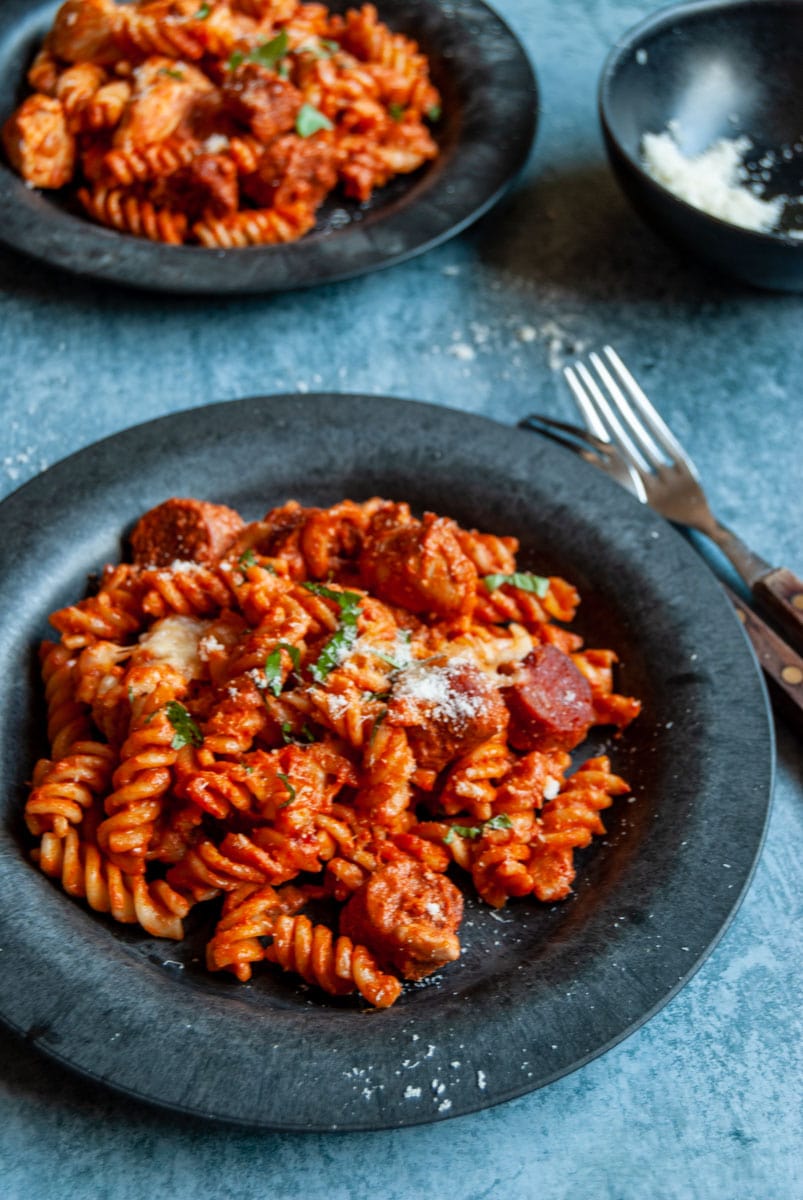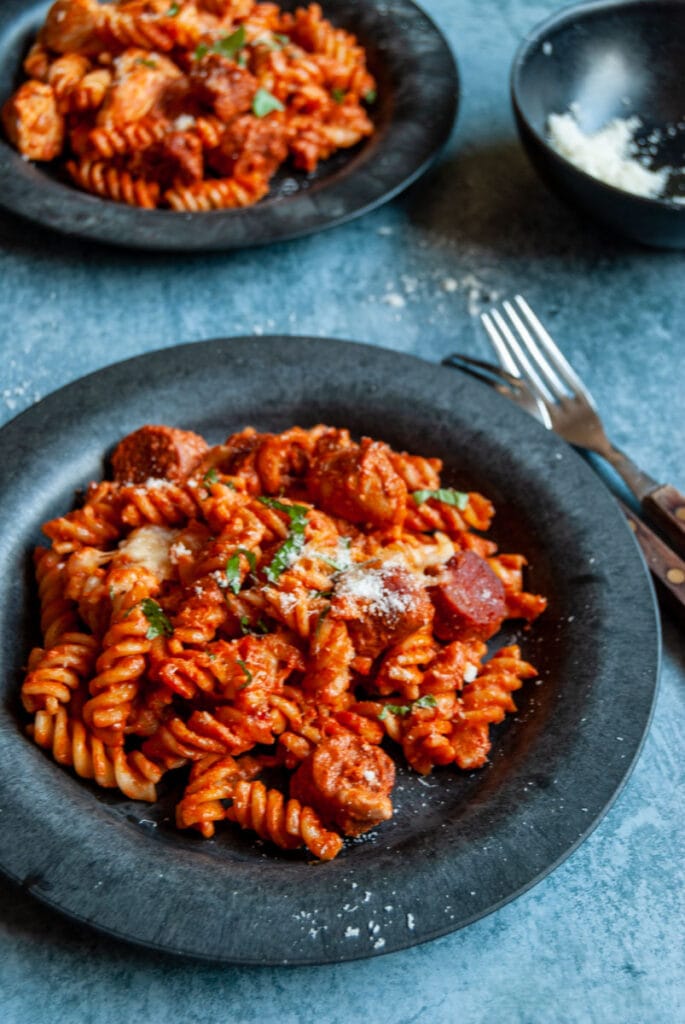 Did you make this recipe?
I hope you enjoyed it! Let me know what you thought by leaving a comment below and rate the recipe by clicking on the stars in the recipe card.
I've linked this recipe up to #CookBlogShare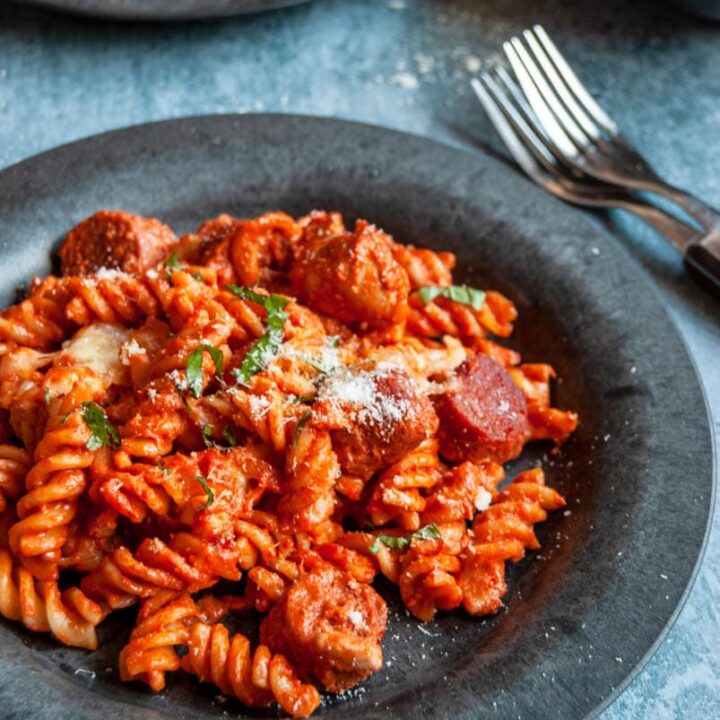 Chicken and Chorizo Pasta
With tender pan fried chicken chunks and spicy chorizo sausage in a creamy tomato sauce, this Chicken and Chorizo Pasta is both comforting and delicious.
Ingredients
350g pasta
1 tablespoon olive oil
1 red onion,finely sliced or chopped
2 cloves garlic, peeled and crushed
2 teaspoons smoked paprika
225g cured (or cooking) chorizo sausage, sliced (I like to peel the skin off the cured variety)
600g diced chicken breast
500g tomato passata
½ teaspoon white sugar
Salt and freshly ground black pepper
100ml double cream
2 tablespoons freshly grated Parmesan cheese
75g grated mozzarella cheese
1 tablespoon freshly chopped basil leaves (optional)
Instructions
Place a large pan of water on the boil for your pasta. Heat the olive oil in a large, fairly deep frying pan. Add the sliced onion. Turn the heat to low-medium and cook the onions for 5-8 minutes, stirring occasionally until soft and translucent. Add the garlic and cook for two minutes.
Stir in the smoked paprika and cook for one minute. Add the sliced chorizo sausage and gently fry for a few minutes until golden and starting to crisp around the edges.
Once the water is boiling, add a decent amount of salt and add the pasta. Cook about one minute less than what the packet states.
Remove the onion-garlic-chorizo mixture from the pan but leave the chorizo oil in the pan. Add the diced chicken and fry on a medium-high heat for about 8-10 minutes or until golden and just cooked through (it will finish cooking properly in the sauce). Meanwhile, drain the pasta and set aside, keeping a small cup of the pasta cooking water.
Return the onion and chorizo mixture to the pan with the chicken. Add the tomato passata, sugar and season with a little salt (do bear in mind you'll be adding parmesan which is salty) and freshly ground black pepper. Cover with a lid and simmer gently for about 10 minutes. Stir in the cream, 1 tablespoon of the parmesan cheese and the chopped basil leaves if using. Taste to chieck if you want to add more salt and pepper.
Stir the hot drained pasta into the sauce,adding a little of the reserved pasta water if the sauce seems a bit dry. Spoon the pasta into a gratin or casserole dish, top with the mozzarella cheese and place under a hot grill for about 2-3 minutes until the cheese has melted.
TIP! If you're in a hurry, you can skip this part and simply serve the pasta straight from the pan. Serve the pasta sprinkled with the remaining parmesan cheese. Serve with a green salad and garlic bread for a perfect family meal.
Nutrition Information:
Yield:

4
Serving Size:

1
Amount Per Serving:
Calories:

774
Total Fat:

40g
Saturated Fat:

16g
Trans Fat:

0g
Unsaturated Fat:

19g
Cholesterol:

208mg
Sodium:

833mg
Carbohydrates:

36g
Fiber:

4g
Sugar:

6g
Protein:

65g
Calories and nutritional information are provided by a third party application and should be viewed as indicative figures only.