Love pepperoni pizza? Then you must try this easy pepperoni pizza pasta! All the flavours of a pepperoni pizza in a rich, gooey pasta bake.
It's very easy to make and ready to eat in just 30 minutes. Delicious served with a green salad and garlic bread!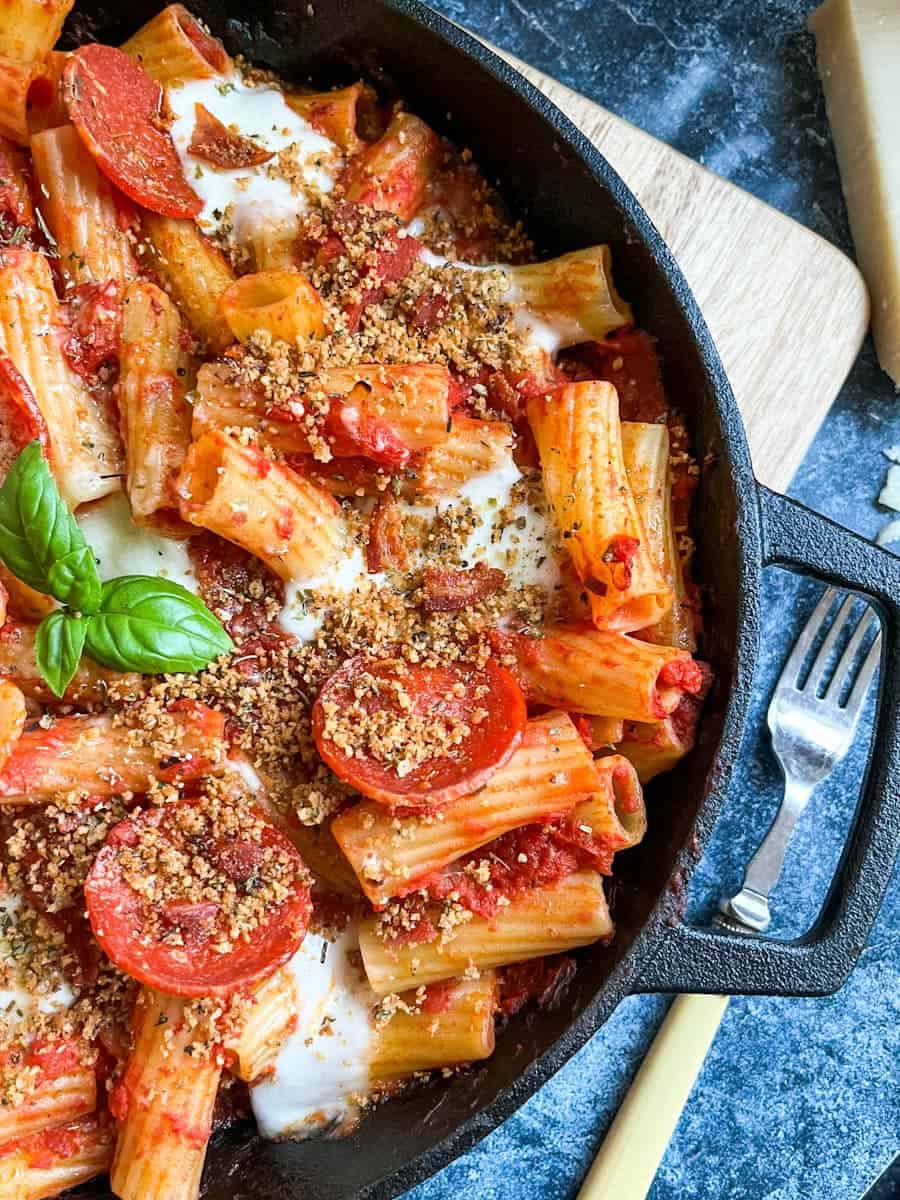 Calling all pepperoni pizza fans! I have a feeling you're going to LOVE this recipe. It's such a fun pasta recipe that takes just 30 minutes to make, meaning it's not too complicated for busy week nights.
This pasta recipe is packed with flavour from plenty of herbs, rich tomato sauce, pepperoni slices, parmesan cheese, gooey mozzarella….and if that's not enough, I've topped the pasta with crunchy pizza flavoured breadcrumbs. SO GOOD.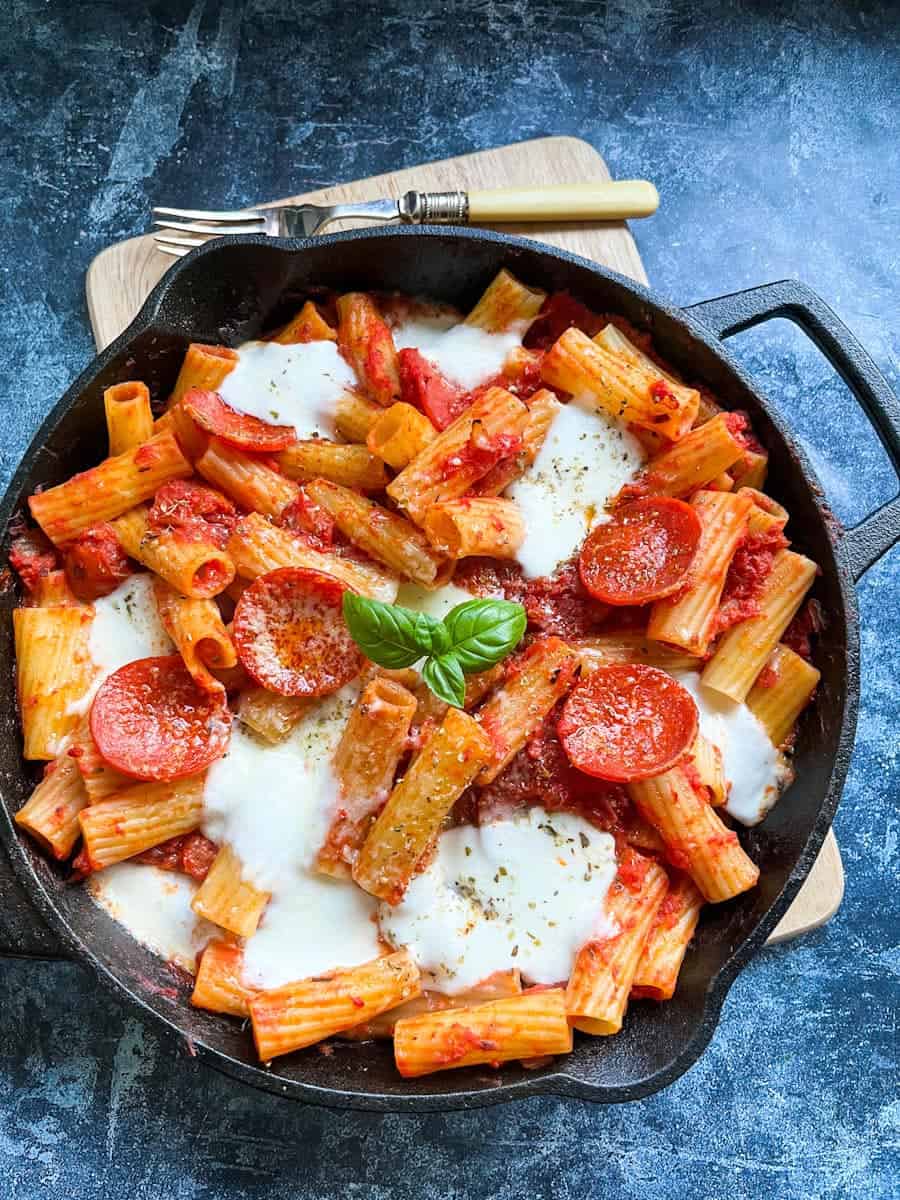 I used to make a slightly simpler version of this pasta recipe years ago when my older boys were little. This was in the days where my blog was merely a food diary of sorts. I could kick myself for deleting the recipe now, but you live and learn.
My boys are all grown up now but they still love this recipe and ask for it on the regular. I thought it was about time I re-published the recipe!
ingredient list
Here's what you'll need to make this recipe… (keep scrolling to the end of the post to find printable recipe card!)
Dried Pasta. I think a chunky pasta works best here. I used Rigatoni, but you could also use Penne or Fusilli.
one onion, peeled and finely diced.
two cloves of garlic, peeled and crushed. For an faster option, you could use garlic paste from a jar or tube.
dried Italian herbs and dried oregano
dried chilli flakes. If you aren't a fan of chilli or can't eat it, you can leave it out.
sea salt and freshly ground black pepper
two 400g tins of chopped tomatoes. I have recently discovered Mutti tomatoes and LOVE them. I buy them in bulk on Amazon which saves a little money.
a 125g packet of pepperoni slices (save a few slices for the pepperoni breadcrumbs)
freshly grated parmesan cheese
mozzarella cheese. You can use either "pizza mozzarella" – the kind that comes in a block for grating, ready grated mozarella or a mozzarella ball. They will all work here!
for the crunchy pepperoni breadcrumbs:
dried breadcrumbs – and they must be dried, fresh will not work the same. Panko would be perfect.
dried Italian herbs and dried oregano
a little salt and freshly ground black pepper to season the breadcrumbs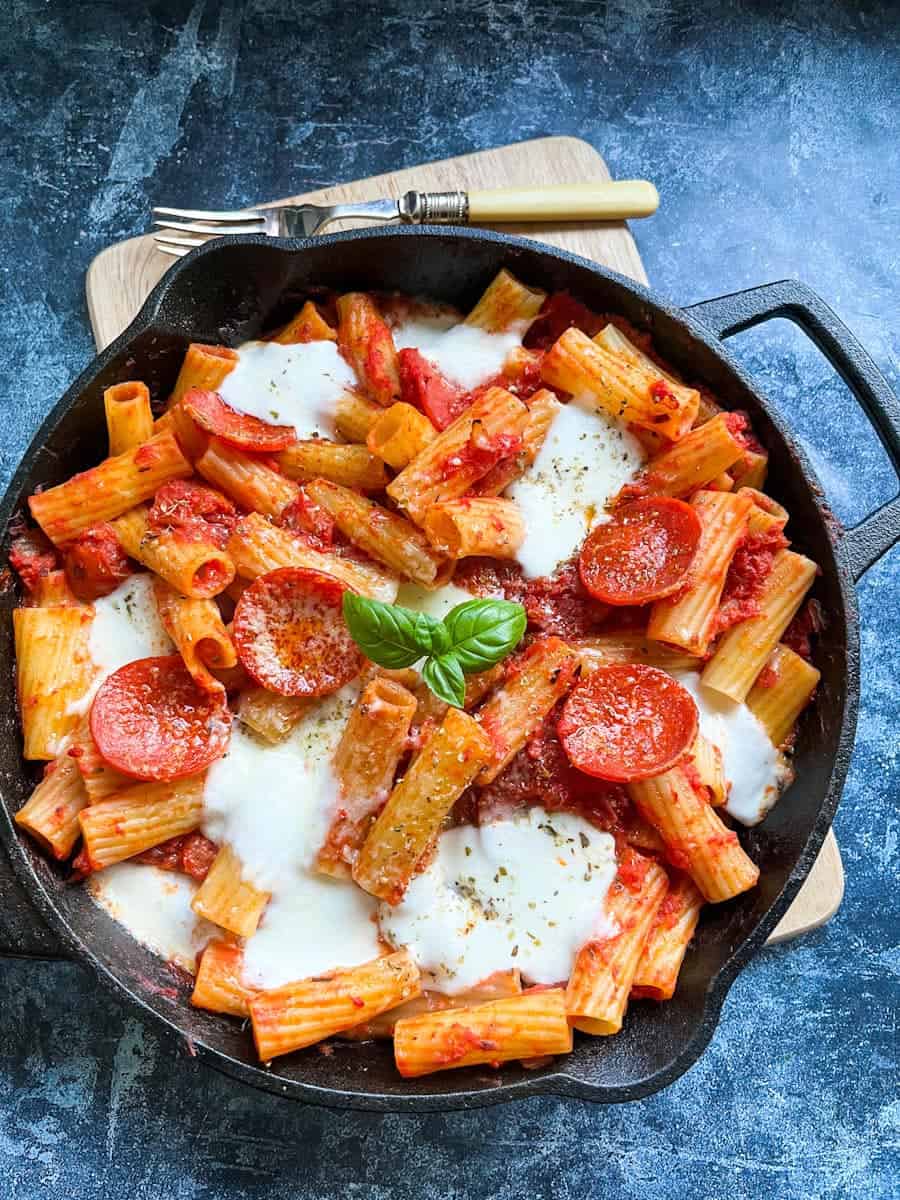 How to make pepperoni pizza pasta
make the tomato sauce
The first step to making the sauce is cooking the onions, dried herbs and garlic down in a little olive oil. This takes about 8-10 minutes. You don't want to brown the onions, so keep the heat nice and low. They should be soft and translucent.
Next, add two cans of chopped tomatoes to the pan along with a pinch of sugar, salt and freshly ground black pepper. Turn the heat to low, cover with a lid and cook for about 10 minutes or until the sauce has slightly thickened.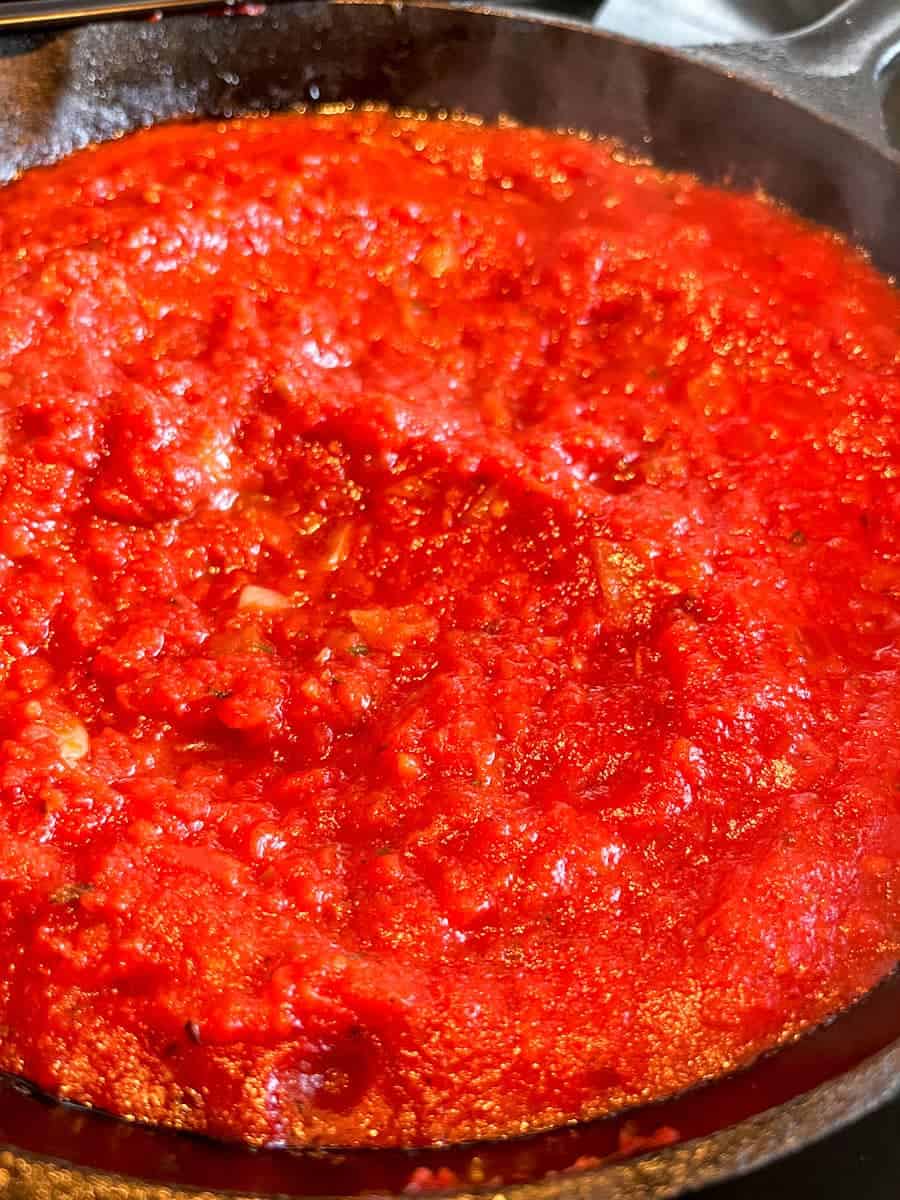 cook the pasta
While you're waiting for the sauce to thicken, cook the pasta and make the pepperoni breadcrumbs.
When the sauce has thickened, stir in the pepperoni slices and heat through for a couple of minutes before stirring in your drained pasta. Finally, top with the parmesan cheese and mozzarella.
grill until hot and bubbly
Place the pasta under a hot grill until the mozzarella has melted. Sprinkle with the crunchy pizza flavoured breadcrumbs before serving.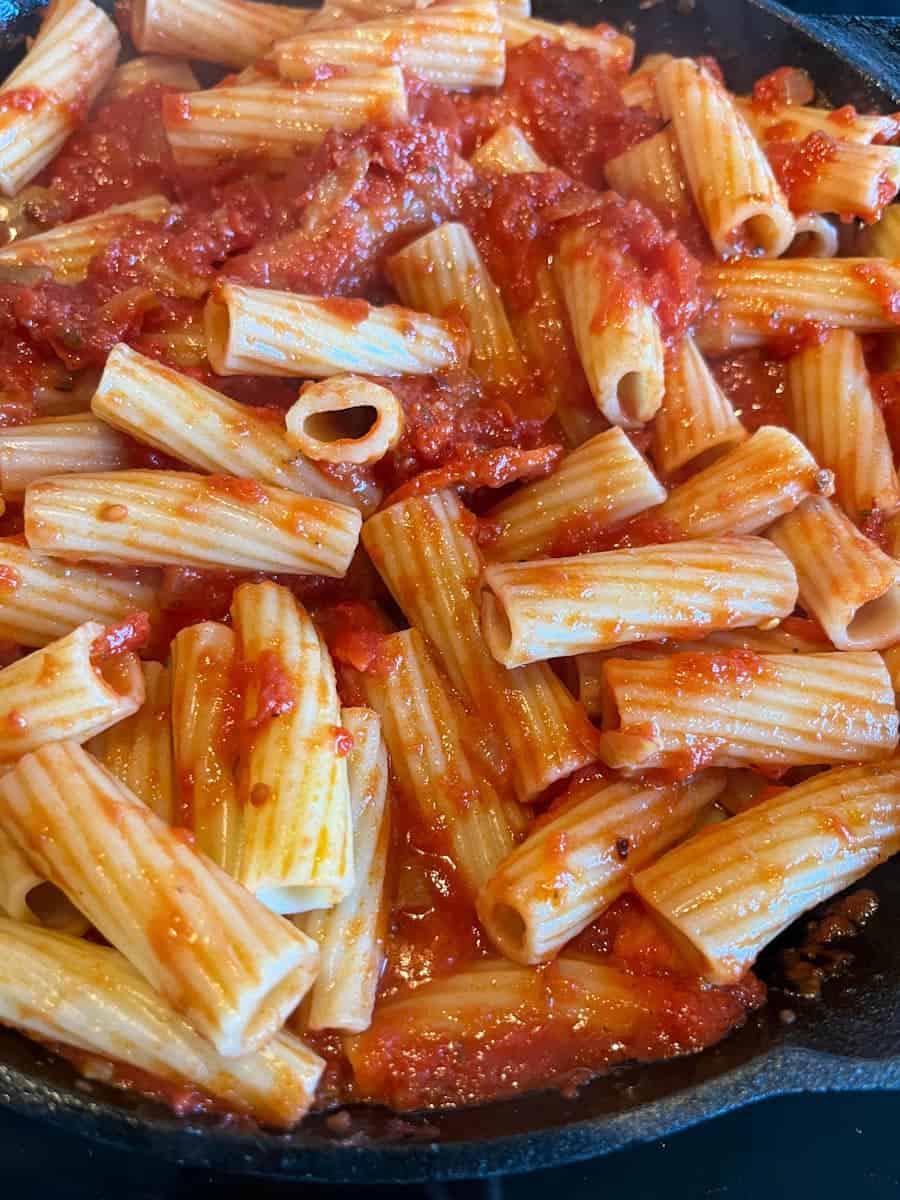 serving suggestions
This pasta is just fabulous served on its own, but I love to serve it with a green salad dressed with balsamic dressing and lots of hot garlic bread.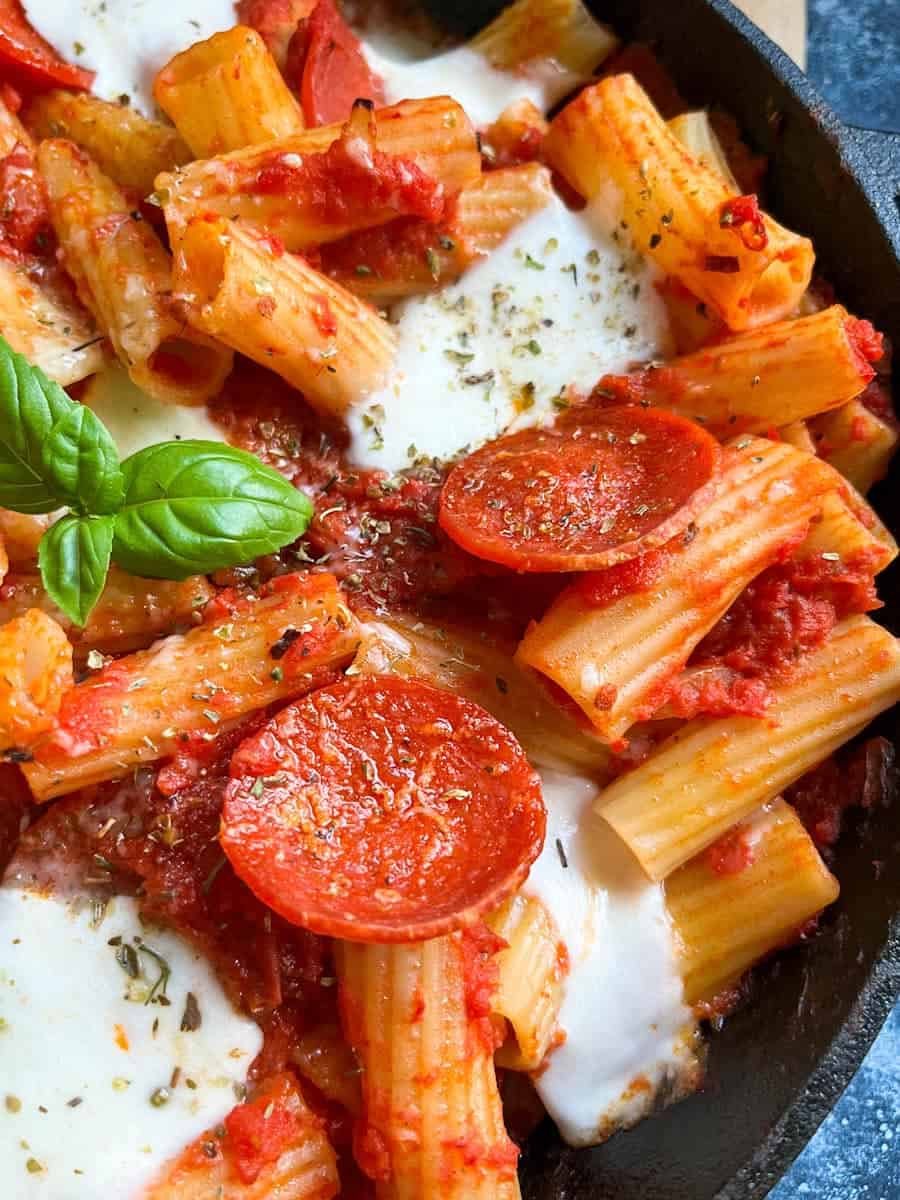 recipe notes
I cannot take the credit for the quite frankly, genius addition of crunchy pizza flavoured breadcrumbs. I took inspiration from the pizza pasta recipe from "Half baked harvest Everyday". I didn't use the same recipe as Tieghan's – I kind of played about the the flavours/herb/spice quantities until I was happy with it.
If you like, you can skip the crunchy breadcrumbs. The recipe works perfectly fine without them. But I do urge you to give them a go – they really add another level of flavour to the dish!
need to reheat at a later date?
No problem. Pack up any (completely cold) leftovers in a tupperware box and keep in the fridge for up to three days.
When you're ready to reheat, place in an oven proof dish, top with a fresh layer of mozzarella cheese (I've also used good old cheddar in the past if I have no mozzarella left) and bake in the oven for about 20 minutes or until very hot.
You can also reheat in a saucepan on the hob – just keep an eye on it and stir often to make sure the pasta doesn't stick to the bottom of the pan.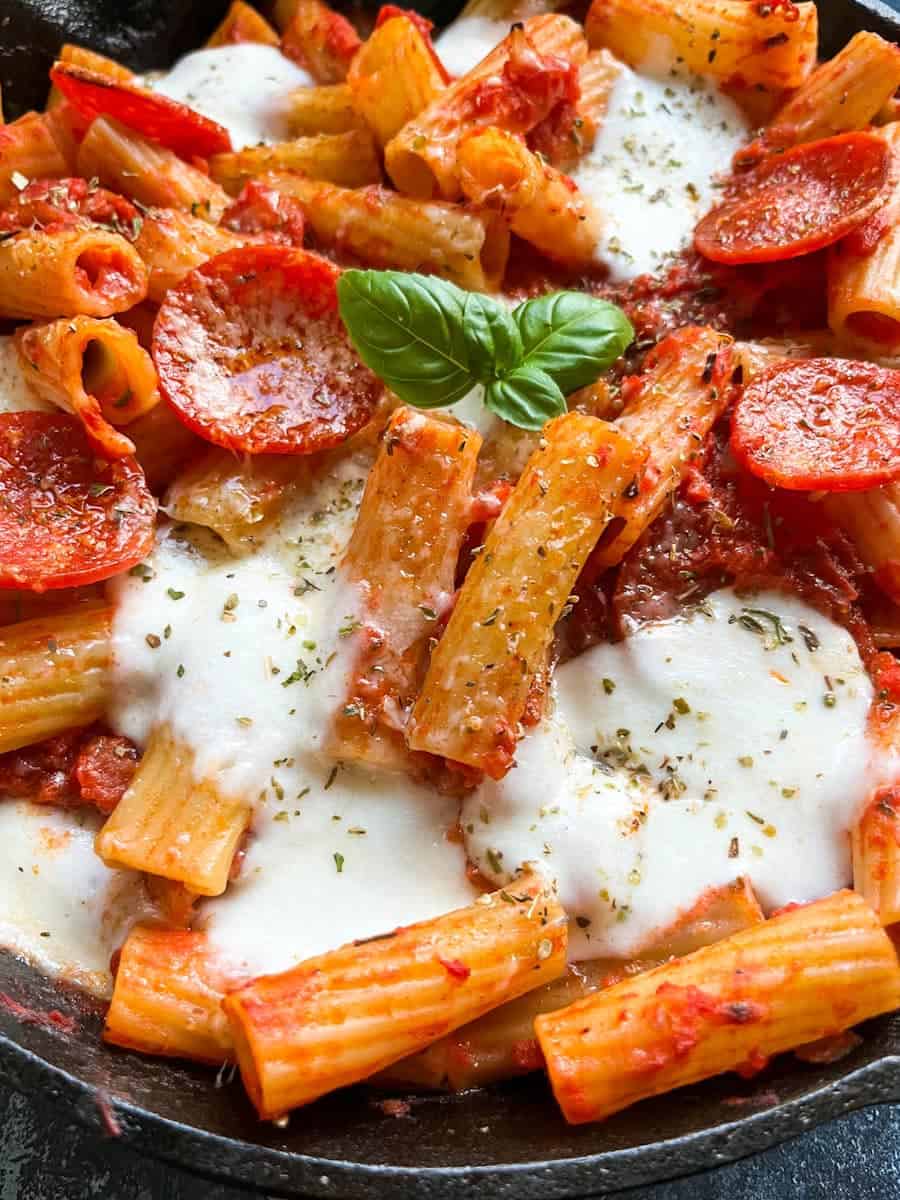 can you freeze this recipe?
Yes – although there is a catch. Frozen and thawed mozzarella cheese tends to go a bit rubbery, unfortunately. For this reason, I tend to not freeze this recipe.
However, if you really want to by all means do so. I would recommend adding a fresh layer of cheese when you go to reheat the pasta. This will hopefully help disguise the slightly rubbery texture of the defrosted mozzarella. I wouldn't keep this pasta in the freezer for longer than two months.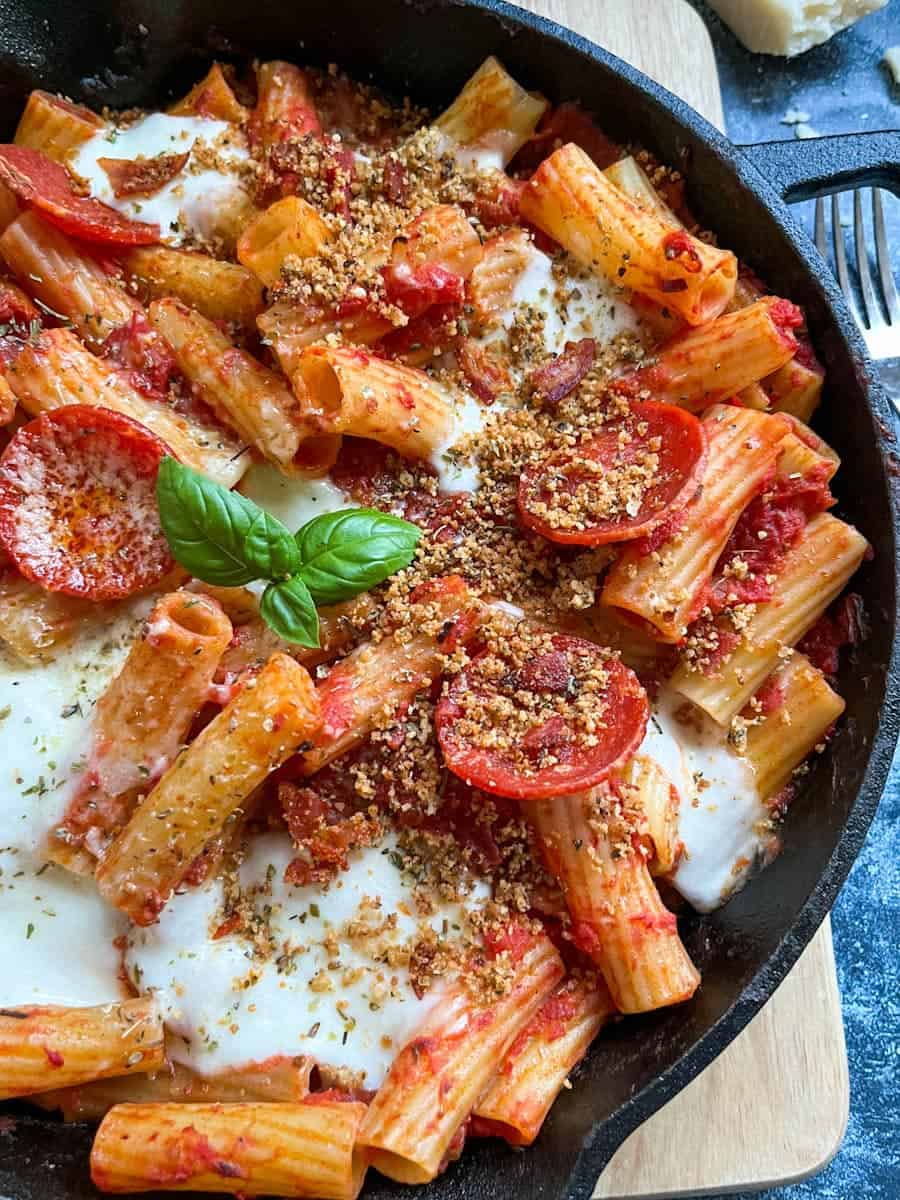 more easy pasta recipes to try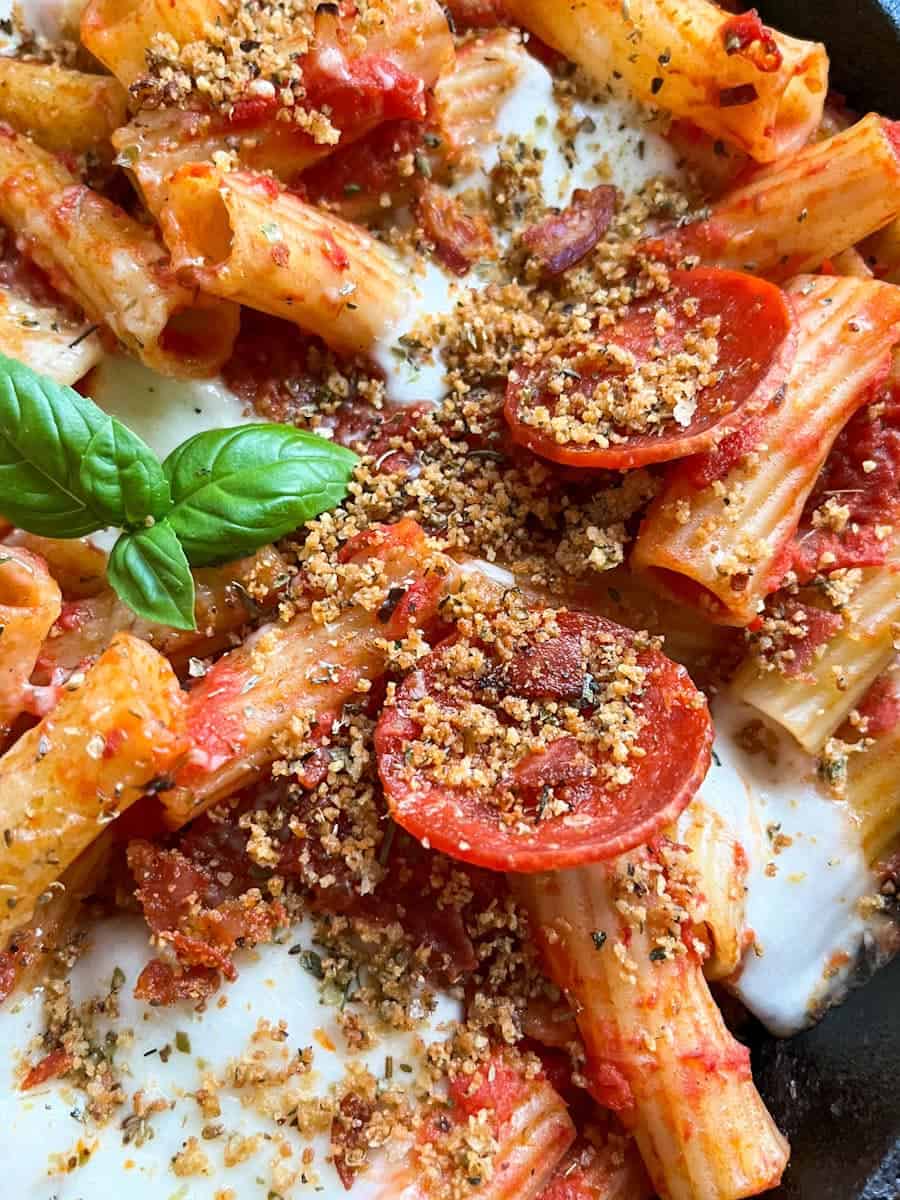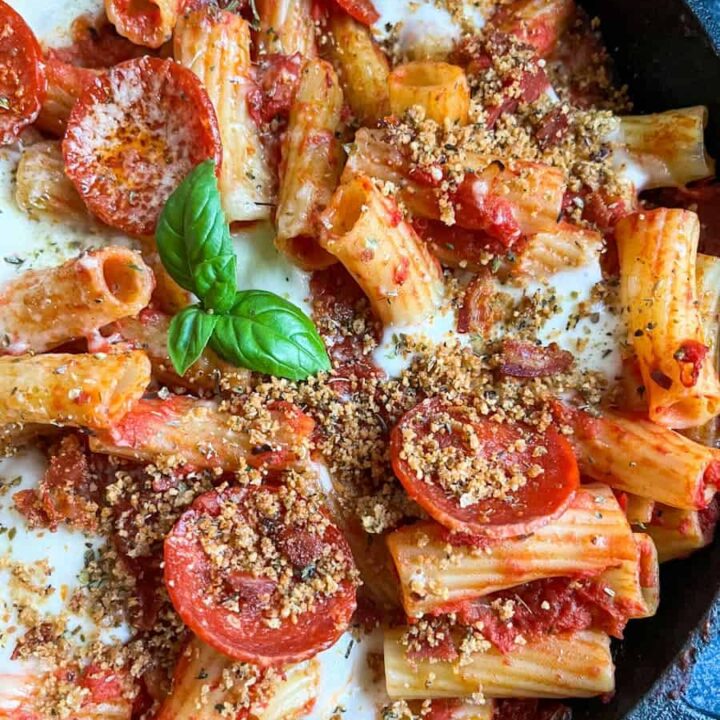 Pepperoni Pizza Pasta
If you like pepperoni pizza then this pepperoni pizza pasta recipe will be right up your street. Chunky pasta in a spicy tomato sauce with gooey mozarella, sliced pepperoni and crunchy pizza flavoured breadcrumbs. Total heaven!
Ingredients
350g chunky dried pasta such as rigatoni, Penne or Fusilli
one onion, peeled and finely diced
2 garlic cloves, crushed (or use garlic paste/puree from a jar or tube)
1/4 teaspoon crushed dried chilli flakes (optional, if you like a little heat)
1 teaspoon dried mixed Italian herbs
1 teaspoon dried oregano
2x400g cans of chopped tomatoes
125g packet of pepperoni slices
50g freshly grated parmesan cheese
150g mozzarella cheese
FOR THE CRUNCHY PEPPERONI BREADCRUMBS
1/2 tablespoon olive oil
4 slices pepperoni, cut up into little pieces
75g dried breadcrumbs
1 teaspoon dried oregano
1 teaspoon dried Italian herbs
1/8 teaspoon onion salt
1 teaspoon garlic granules
1 1/2 tablespoons freshly grated parmesan cheese
sea salt and freshly ground black pepper
fresh basil leaves, torn (optional)
Instructions
Place a large pan of water on to boil for the pasta. Heat the oil in a large, fairly deep saucepan (I use my trusty skillet which has enough room for the pasta - meaning I can pop the whole dish under the grill to melt the cheese).
SAUTÉ THE ONIONS. Add the diced onion, sprinkle with a little salt and cook on a low-medium heat for about 8 minutes or until the onion is soft and translucent. Stir in the crushed garlic, dried oregano, Italian herbs and chilli flakes if using and cook for a further two minutes.
COOK THE PASTA. While you're waiting for the onions to soften, add the pasta to the water once it comes to the boil, remembering to salt the water just before you add the pasta. Cook according to the packet instructions, then drain in a colander and set aside.
MAKE THE CRUNCHY PEPPERONI BREADCRUMBS. Heat the olive oil in a small saucepan. Add the pepperoni pieces to the pan and cook for 2-3 minutes or until slightly crispy. Stir in the dried breadcrumbs and cook for 3-4 minutes or until crispy, stirring all the time. They burn very fast, so keep a close eye on them If they seem dry, add a little more olive oil. Remove from the heat and stir in the garlic salt, onion powder, dried oregano, Italian seasoning and sea salt and black pepper to taste. Set aside.
MAKE THE TOMATO SAUCE . Pour in the cans of chopped tomatoes. Add ½ tsp salt, 1/4 tsp of freshly ground black pepper and ½ tsp of white sugar. Pop a lid on and cook on a low heat for about 10 minutes or until the sauce has slightly thickened.
ADD THE PEPPERONI. Stir in most of the pepperoni slices to the sauce, reserving a few slices for the top. Stir the pasta into the sauce. Top with the Parmesan, mozzarella cheese and the remaining pepperoni slices.
GRILL UNTIL BUBBLY. Place the pan under a preheated grill and heat for a few minutes or until the cheese has melted. Just before serving, top with the crunchy pepperoni breadcrumbs. Serve while hot.
Nutrition Information:
Yield:

4
Serving Size:

1
Amount Per Serving:
Calories:

794
Total Fat:

31g
Saturated Fat:

14g
Trans Fat:

1g
Unsaturated Fat:

14g
Cholesterol:

73mg
Sodium:

1408mg
Carbohydrates:

91g
Fiber:

6g
Sugar:

6g
Protein:

35g
Calories and nutritional information are provided by a third party application and should be viewed as indicative figures only.