This Marmite Spaghetti recipe is definitely a love or hate thing – if you're a fan of Marmite, run don't walk to the kitchen and make it now!
This super easy Marmite pasta recipe is packed full of rich umami flavour and takes just 10 minutes to make! Ideal for nights when you're hungry but don't want to spend much time in the kitchen.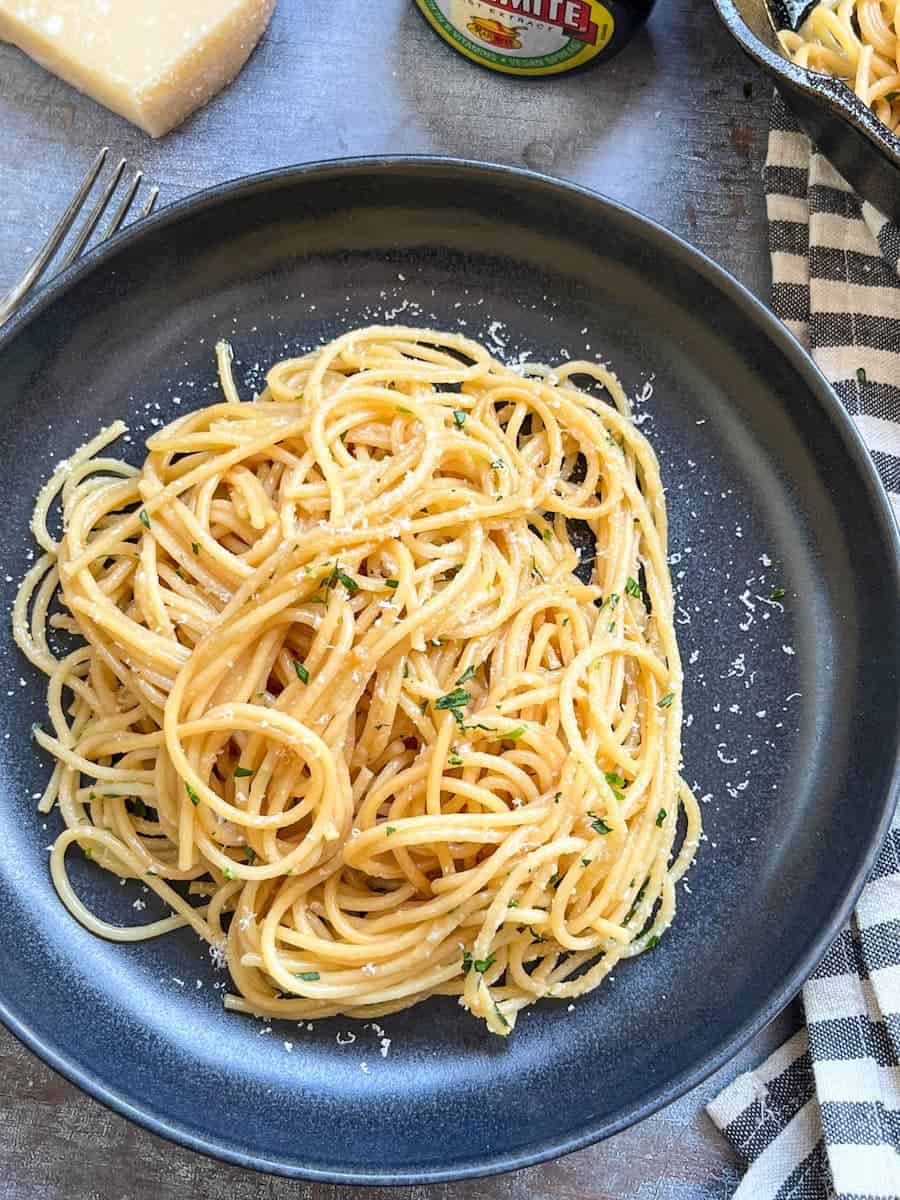 marmite spaghetti recipe
I'm well aware this recipe will cause a little controversy….all I can say is, don't knock it 'till you've tried it. Even if you're not a marmite fan, I urge you to give it a try anyway.
You either love marmite or you hate it with a passion. There is no in between. I am firmly in the love camp. I never used to be, but I developed a taste for it over the years. Have you ever tried marmite on a warm cheese scone? My idea of heaven, quite frankly.
I served this to my little boy last weekend and he loved it. But then again, he's been eating butter whipped with a little bit of marmite on toast since he was two years old, so it wouldn't have been a completely alien taste to him.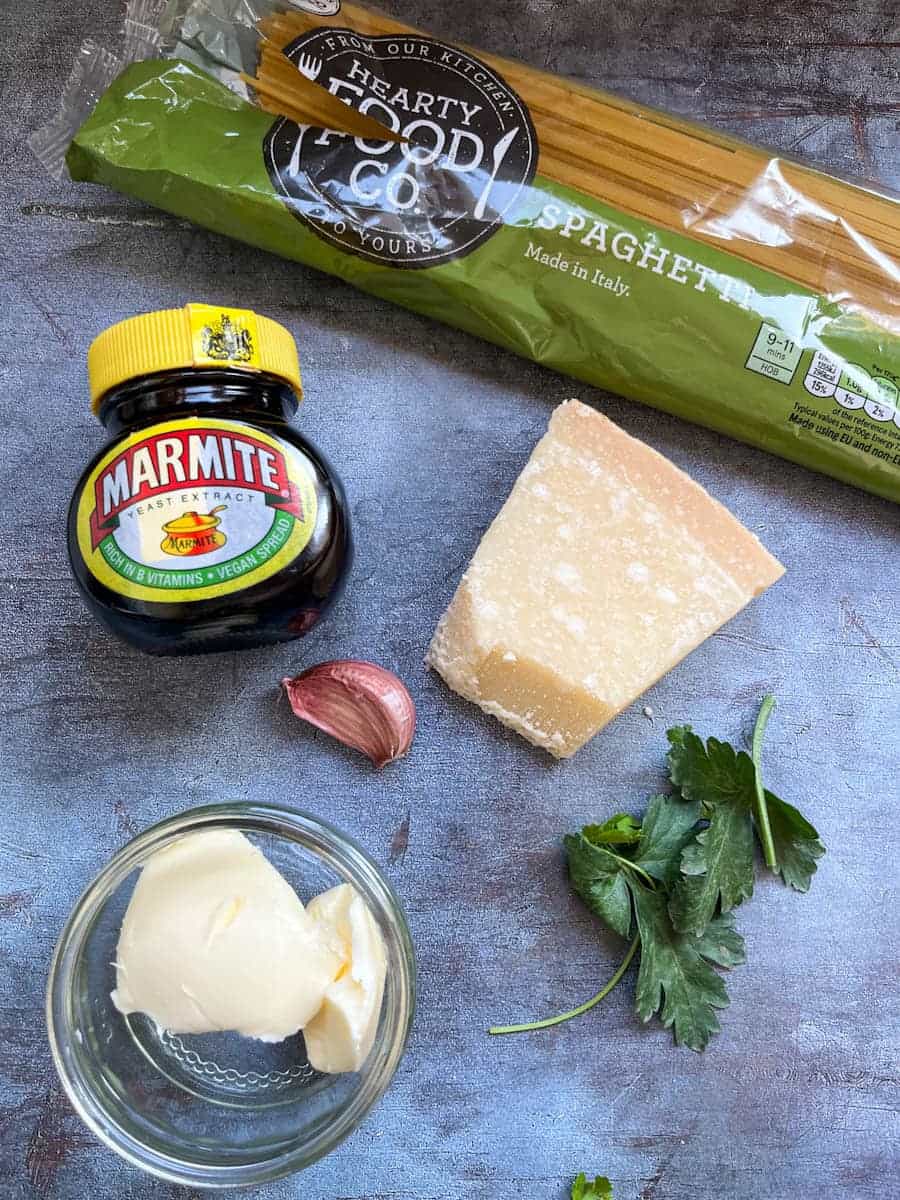 ingredient list
Scroll to the bottom of the post to find printable recipe card with ingredient amounts and instructions. Please have a read of the step by step and recipe notes before attempting this recipe!
Spaghetti – you can use any other pasta you like, but I think spaghetti or Linguine works best for this recipe.
Butter – unsalted butter is the best choice because there's already a lot of salty flavours going on here.
a garlic clove adds extra flavour. Don't like garlic? Feel free to skip it.
Marmite. A little of this stuff goes a long way! Unless you're a seasoned marmite fan and used to strong tastes, you probably won't need more than 1 -11/2 teaspoons.
Parmesan cheese. You don't need me to tell you that parmesan and pasta are the best of friends. Please use the real deal and not the awful dried stuff that comes in tubs. They are worlds apart in quality. Grana Padano or Pecorino Romano would also work.
You won't need any salt in this recipe – there are enough salty ingredients as it is! I like to add some freshly ground black pepper instead.
Freshly chopped parsley, if you have it, adds a nice final touch to the dish. But if you have little (or big) people who don't like green bits in their dinner, you can skip it!
An ingredient you don't need to actually buy in but is KEY in making the recipe a success is some of the pasta water. If you just threw butter and marmite into pasta, it would be pretty dry. A little bit of the pasta water lubricates the strands of spaghetti and creates a light, glossy sauce.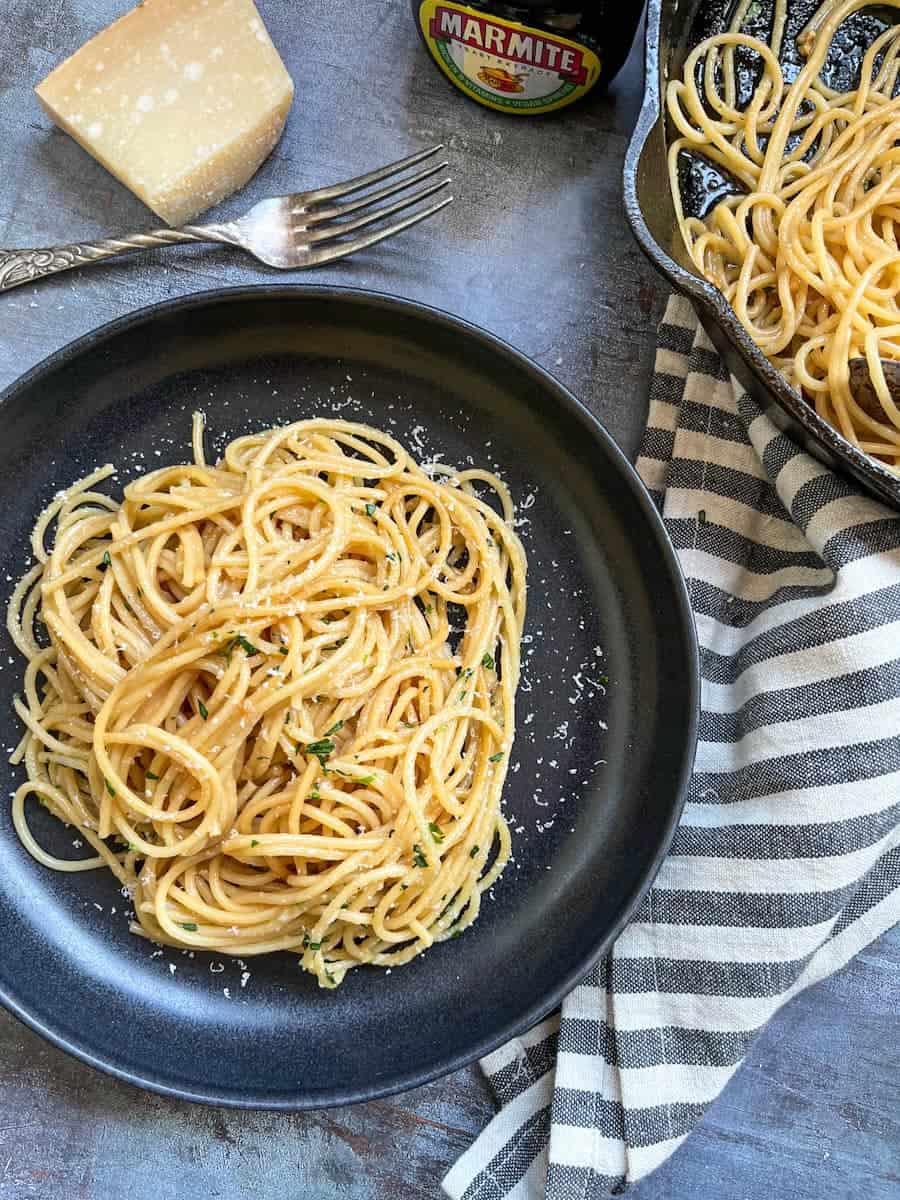 how to make marmite spaghetti
Step one – cook the spaghetti according to the packet instructions in lots of boiling, salted water.
Step two – Melt the butter in a large, wide saucepan over a low heat. Gently cook the crushed garlic for about 3-4 minutes, making sure it doesn't turn brown.
Step three – Stir the marmite into the buttery garlic until you have a smooth mixture that looks a little like gravy.
Step four – Drain the pasta, reserving about 60ml (1/4 cup) of the starchy cooking water. I place a small cup in the sink so it collects the water. You probably won't need all of it, but I always think it's better to have too much than not enough. You would only be throwing it down the sink anyway. But please don't skip this part – it's the key to creating a silky smooth pasta sauce!
Step five – Add the drained, hot spaghetti to the pan, stirring it well so every single strand is coated in marmite butter. Quickly add some of the cooking water, a tablespoon at a time, until the pasta is coated in a thin, silky sauce.
Step six – stir through one tablespoon of grated Parmesan, then transfer to bowls or plates and sprinkle with the chopped parsley, if using, the remaining Parmesan and a grinding of freshly ground black pepper. Serve immediately.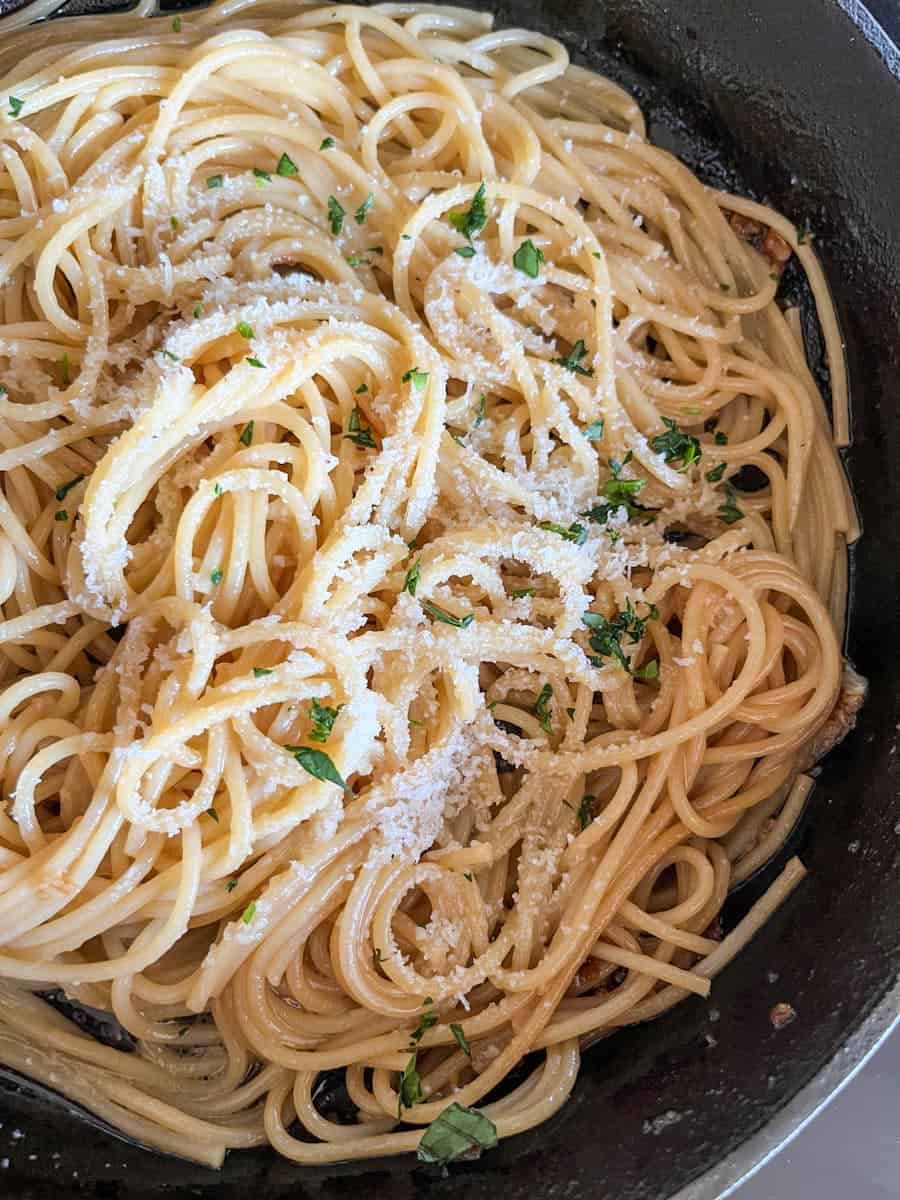 can i use vegmite instead?
If you're in Australia or New Zealand, this must be going through your mind! The answer is absolutely yes, you can swap the marmite for Vegemite.
serving suggestions
It's pretty crucial to serve the pasta right away – if left to stand, the light sauce will thicken and your pasta will turn a little stodgy.
It's best to take your bowls out of the cupboard, grate your Parmesan cheese and chop the parsley at the beginning – this recipe takes no more than 10 minutes to make so it's best to be prepared.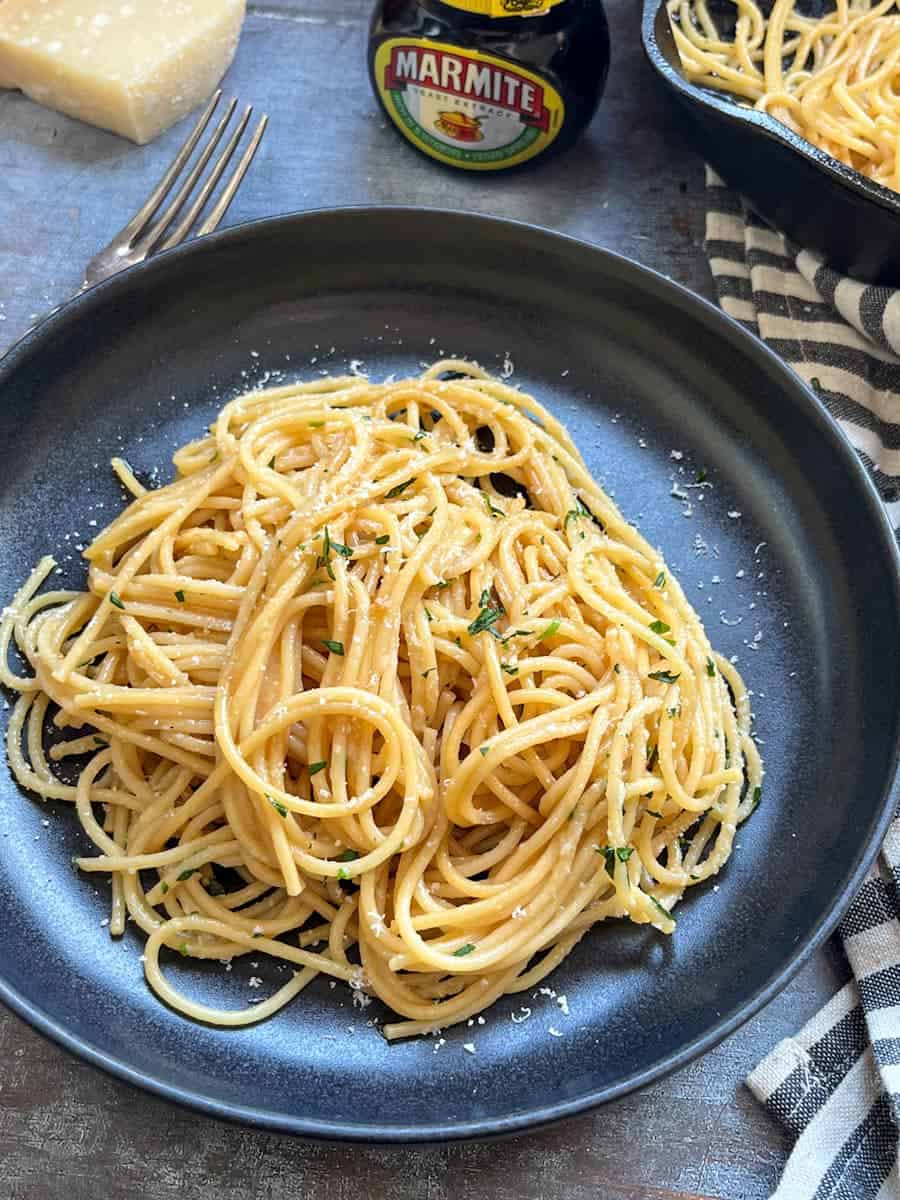 more easy pasta recipes to try
Did you make this recipe? Let me know what you thought by leaving your comments below, or if you have any questions please just ask. I would really appreciate it if you would leave a star rating by clicking on the stars in the recipe card! You can also find me on Instagram and Facebook.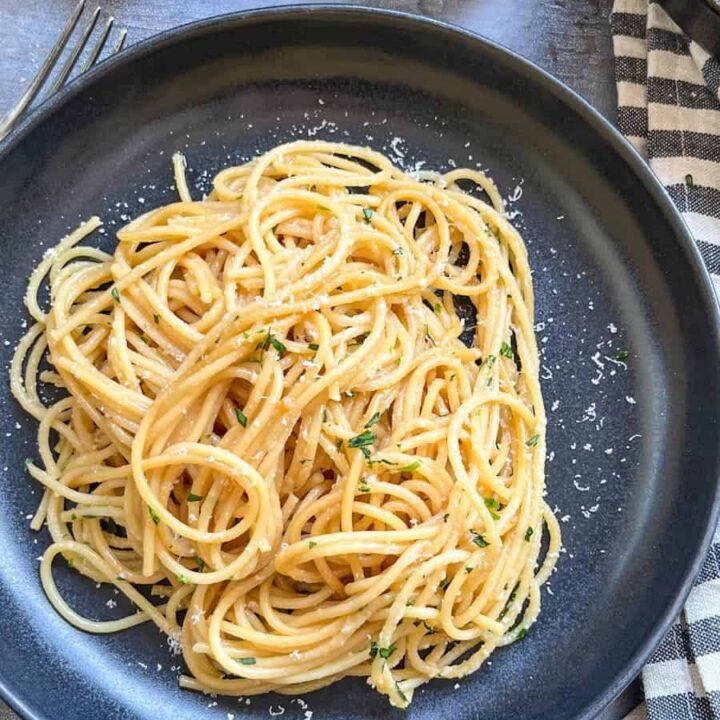 Marmite Spaghetti
Marmite Spaghetti is one of the easiest and fastest suppers you could ever make - in just 10 minutes you'll have a delicious, economical meal made with just a small handful of storecupboard ingredients.
Ingredients
400g spaghetti
50g unsalted butter
one garlic clove, crushed
1 (or 1 1/2) teaspoons marmite
2 tablespoons freshly grated parmesan cheese
freshly ground black pepper, to taste
2 tablespoons freshly chopped parsley (optional)
Instructions
Cook the spaghetti in boiling salted water according to packet instructions. I always set a timer in case I overcook it!
While the pasta is cooking, melt the butter in a shallow, fairly wide pan (large enough to hold the spaghetti) and gently fry the crushed garlic over a low heat for 3-4 minutes. Keep the heat low - you don't want it to burn and become bitter.
Stir the marmite into the pan with the butter and garlic until well combined.
Drain the spaghetti, keeping back a small cup (you won't need very much, but as a general rule of thumb I keep back a scant 60ml/1/4 cup of water just in case) of the starchy cooking water Using tongs, stir the drained pasta through the buttery, garlicky marmite mixture, making sure every single strand is coated. Add some of the reserved pasta water - a tablespoon or two should do - to make a sauce. Stir in one tablespoon of the Parmesan cheese.
Serve immediately with a grinding of black pepper, the remaining Parmesan and some freshly chopped parsley, if using.
Notes
Recipe notes:
Do remember to keep back some the cooking water when draining the pasta - this starchy water will help create a sauce with the buttery marmite juices.
This recipe doesn't need any salt - there's salt in the cooking water and of course, Marmite and Parmesan are both salty ingredients. I like to top the pasta with a generous grinding of freshly ground black pepper.
Just like many other quick pasta recipes, this dish is best eaten immediately so it isn't suitable for making in advance.
Nutrition Information:
Yield:

4
Serving Size:

1
Amount Per Serving:
Calories:

258
Total Fat:

12g
Saturated Fat:

7g
Trans Fat:

0g
Unsaturated Fat:

4g
Cholesterol:

29mg
Sodium:

109mg
Carbohydrates:

32g
Fiber:

2g
Sugar:

1g
Protein:

7g
Calories and nutritional information are provided by a third party application and should be viewed as indicative figures only.