This meatball mozzarella pasta bake is a definite crowd pleaser – layers of pasta in a smoky tomato sauce with beef meatballs, chorizo sausage and a gooey, melting mozzarella topping!
There's nothing more inviting than a hot, bubbling pasta bake, don't you agree? Layers of al dente pasta bound in a rich sauce topped with gooey mozzarella cheese….it's pretty dreamy stuff.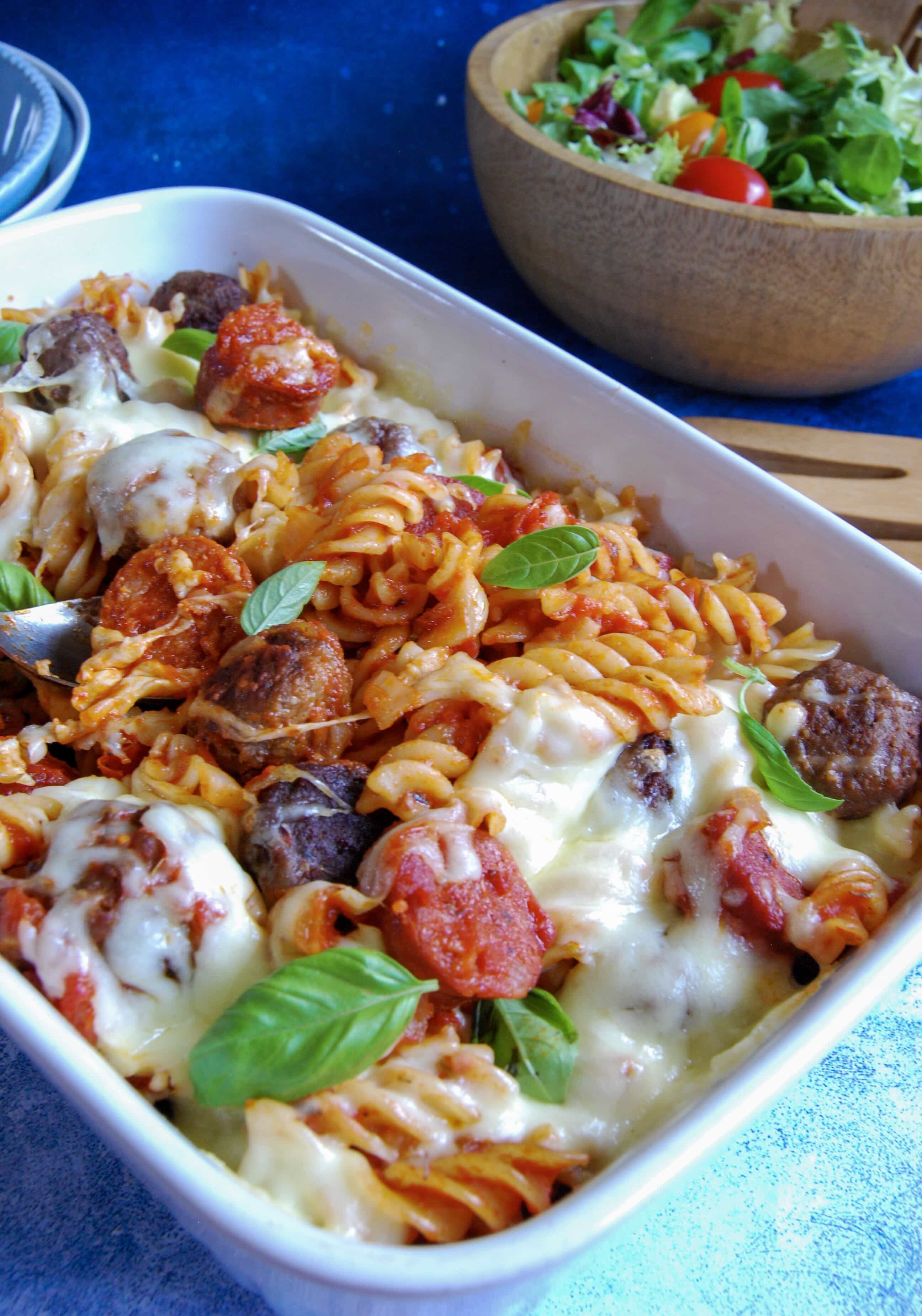 Adding beef meatballs and spicy chorizo only takes that dreaminess to the next level.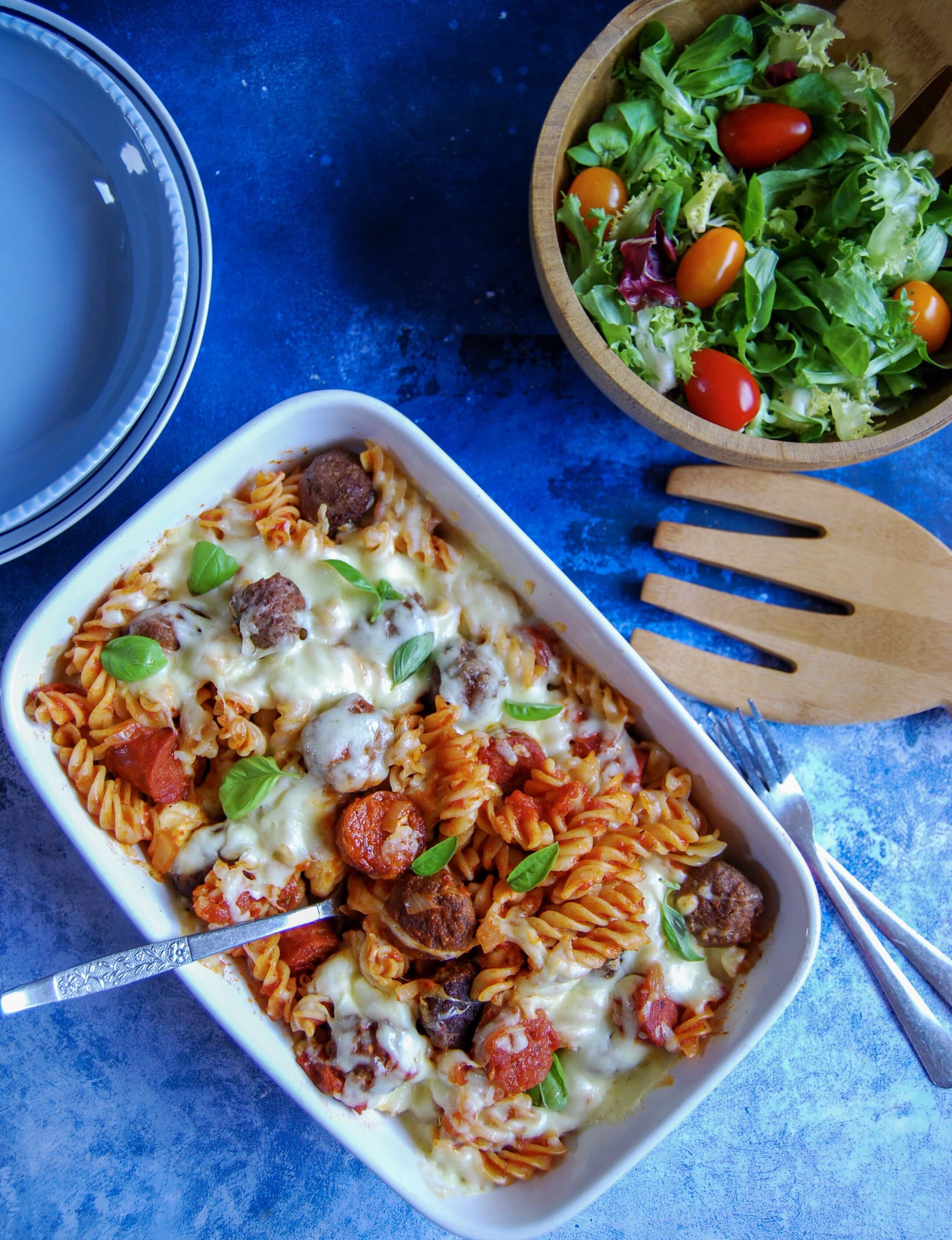 It's PROPER comfort food and perfect for this time of year.
If you're like me and believe that there is no such thing as too much chorizo, you could use my smoky mozzarella stuffed beef and chorizo meatballs for a double hit of that smoky chorizo flavour.
If you need a speedy weeknight dinner that you can get on the table in around 30 minutes, I use a packet of readymade fresh beef meatballs. Then all you need to do is sear the meatballs, make the sauce, cook the pasta then put it all together! So easy and hassle free.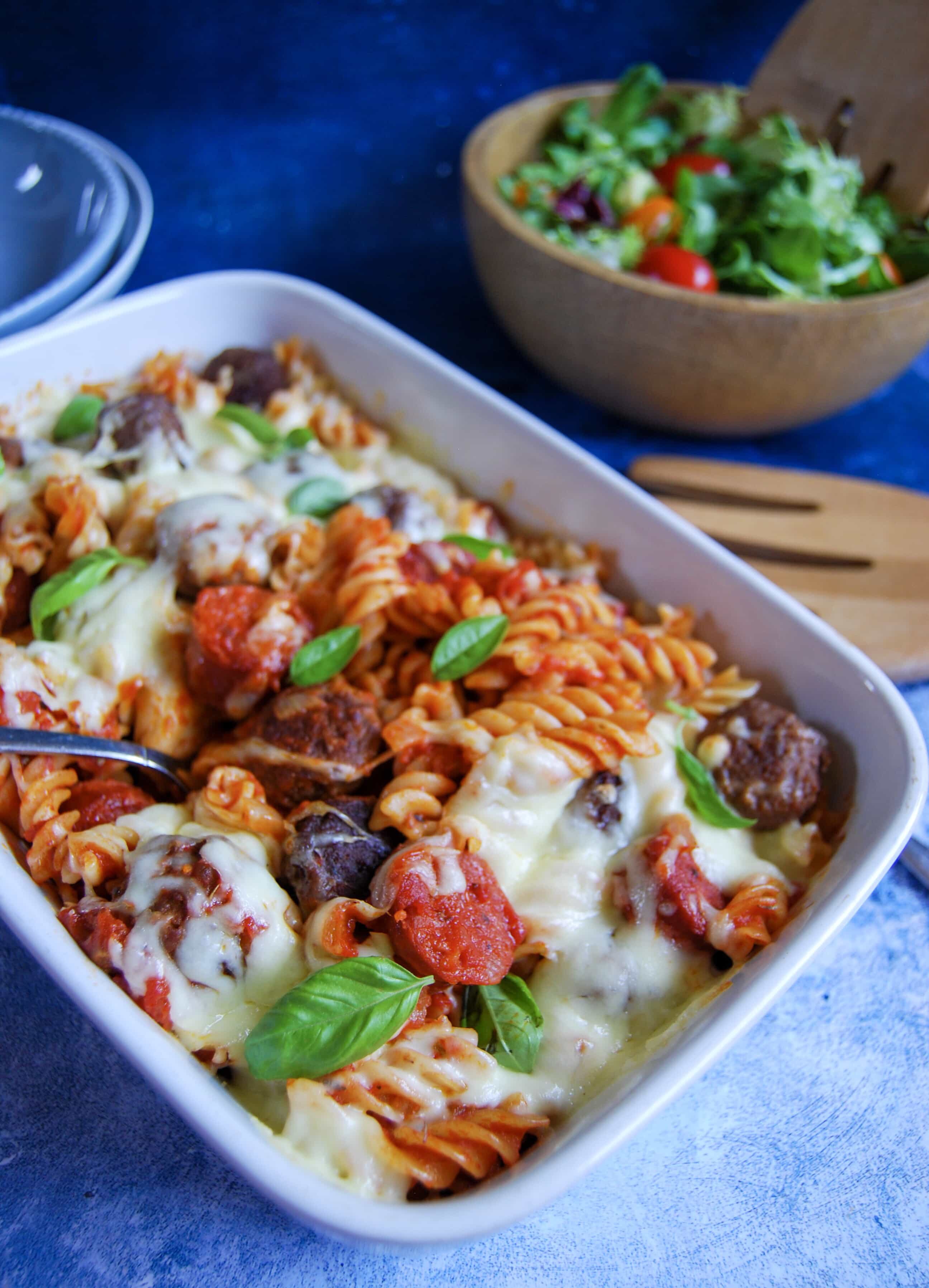 If you've got time on your hands and you're in the mood for a bit of a cooking session, then I highly recommend you try it with my homemade meatballs. BUT if you do go down the homemade route, I advise you to cut the smoked paprika to 1/2 tablespoon. Sometimes you can have too much of a good thing!
One thing you can count on is when you bring that piping hot bubbling dish to the table with its melted cheesy topping, everyone will be desperate to dive right in!
Looking for more dinner inspiration? Check these recipes out
Slow Cooker Butter Chicken Curry
Aubergine, mushroom and lentil chilli
Instant Pot Salmon With Lime and Chilli Butter
Quick Red Thai Prawn and Spinach Curry
Chicken Milanese with Spaghetti
Pin this recipe for later
I'm linking up this meatball mozzarella pasta bake to #CookBlogShare, hosted this week by FlippedOutFood.com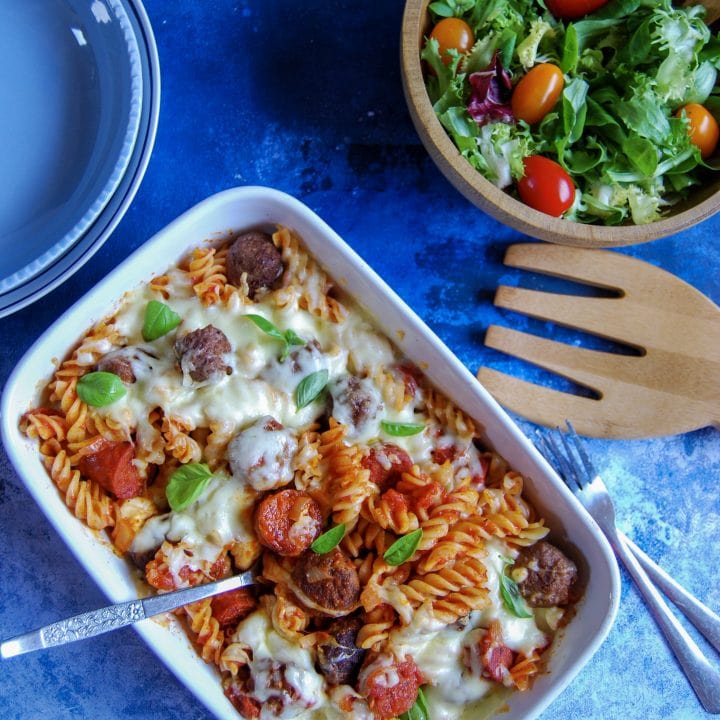 Meatball Mozzarella Pasta Bake
A cheesy, bubbling pasta bake with a smoky tomato sauce, beef meatballs and chunks of spicy chorizo sausage - this meatball mozzarella pasta bake is pure comfort food.
Ingredients
1 tbsp olive oil
12-16 mini beef meatballs
One onion, diced
2 cloves garlic, crushed
2x400 g cans chopped tomatoes
A few shakes of Worcestershire sauce
Salt and pepper
Squirt of tomato ketchup
1 tbsp smoked paprika
2 tsp dried oregano
200 g chorizo sausage, sliced into chunks
300 g pasta - Fusilli, Farfalle or Penne would work well
150 g ball of Mozzarella
25 g cheddar cheese, grated (optional)
Chopped fresh parsley for scattering over (optional)
Instructions
Place a large pan of water on to boil. Heat the olive oil in a large saucepan and cook the meatballs for 5 minutes to brown them, stirring frequently.
Once the meatballs have browned, remove from the pan and place on a plate.
Add a little more olive oil to the pan and add the chopped onion. Sprinkle with a little salt, turn the heat to medium low and cook for 5 minutes, or until the onions have softened.
Add the crushed garlic and cook for another few minutes. Add the chopped chorizo and cook for a couple of minutes.
Pour in the chopped tomatoes, Worcestershire sauce, tomato ketchup, smoked paprika, oregano and some salt and pepper.
Return the meatballs to the pan, reduce the heat to low-medium and simmer for 20 minutes.
While the sauce is simmering, cook the pasta according to the packet instructions and drain.
Once the 20 minutes is up and the pasta is ready, pour the drained pasta into the meatball sauce and stir to combine. Tip into a large heatproof baking dish and place the mozzarella on top. You could also add some grated cheddar cheese if you like, because when is more cheese ever a bad idea?
Pop under a pre-heated grill for about 5 minutes until golden and the cheese has melted. Scatter with chopped fresh parsley, if using.
Notes
Leftovers can be stored in an airtight container in the fridge for up to 2 days. Re-heat thoroughly before serving. 
The pasta bake can be made in advance and frozen for up to 3 months.
Nutrition Information:
Yield:

6
Serving Size:

1
Amount Per Serving:
Calories:

687
Total Fat:

32g
Saturated Fat:

13g
Trans Fat:

0g
Unsaturated Fat:

16g
Cholesterol:

94mg
Sodium:

1032mg
Carbohydrates:

70g
Fiber:

5g
Sugar:

28g
Protein:

32g