These beef and chorizo meatballs have a little surprise inside – a gooey, oozing mozzarella middle! Once you've tried them they will become a family favourite!
I've been meaning to write this recipe up for ages! I've been making these mozzarella stuffed beef ahd chorizo meatballs for several months, slightly tweaking the recipe each time I cooked them, adding notes along the way of what I would definitely do again and what I wouldn't bother repeating. They have now become a regular dinner here.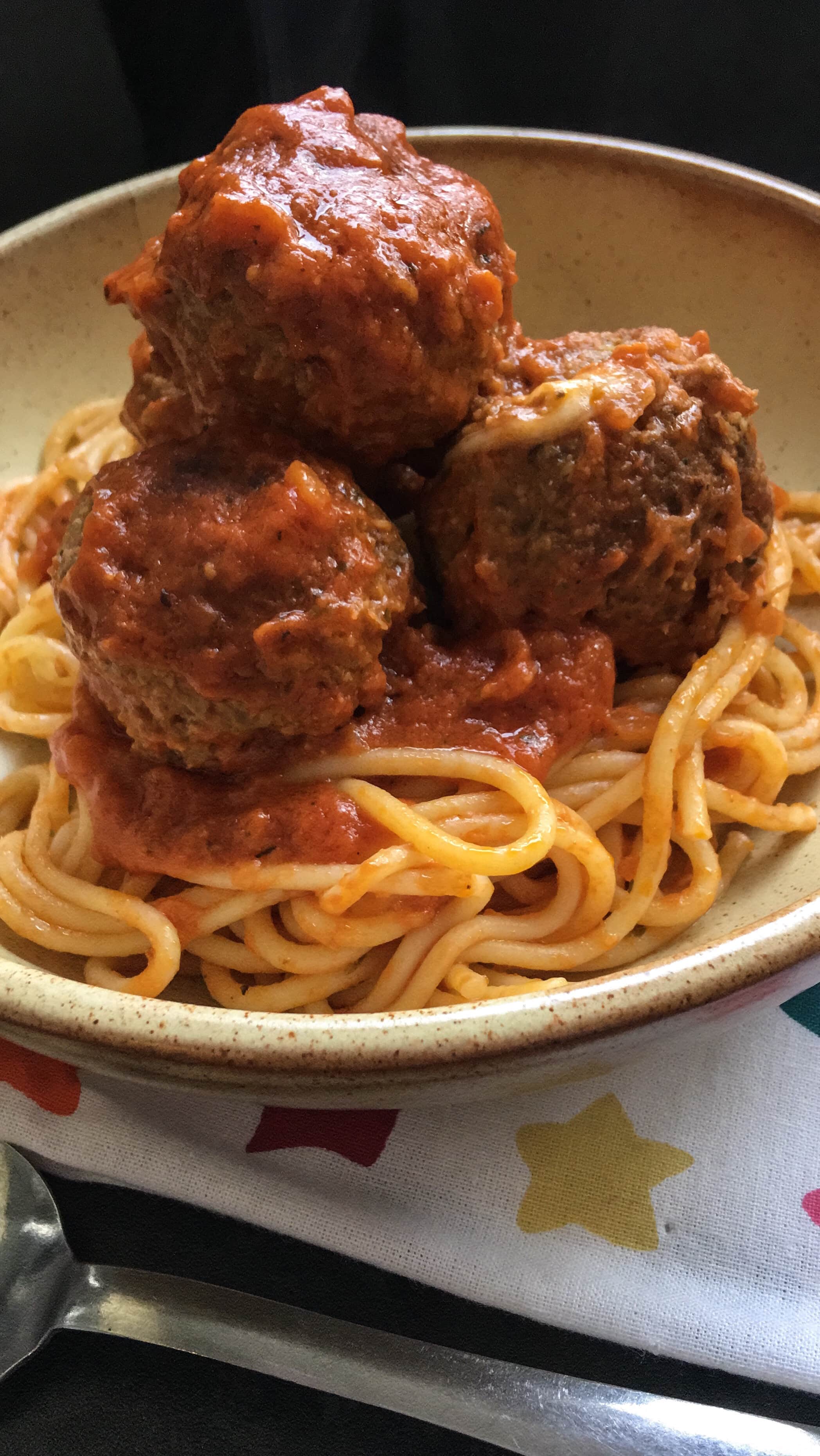 recipe inspiration
My meatball recipe is based on a recipe I found (don't laugh) in the "Friends" cookbook. Yes, Friends the beloved 90's tv show.
It's a book full of many hidden gems such as Pheobe's "elusive" Tollhouse oatmeal and raisin cookies, Marcel the monkey's banana bread, mashed potatoes for the broken hearted and Monica's onion tartlets. Rather disappointingly, there is no recipe for Rachel's English trifle with sautéed beef, mashed potato, jam, custard, cake, peas and onions, in case you're wondering.
But back to the meatballs! I've adapted the recipe from "Joey's callback spaghetti and meatballs" from the Friends cookbook. I've fiddled with the recipe so much that it barely resembles the original, if I'm honest.
I'm not sure Joey's Italian Mother and sisters would agree with the addition of chorizo (I'm pretty sure they might be a little outraged) but I still think Joey would love them all the same!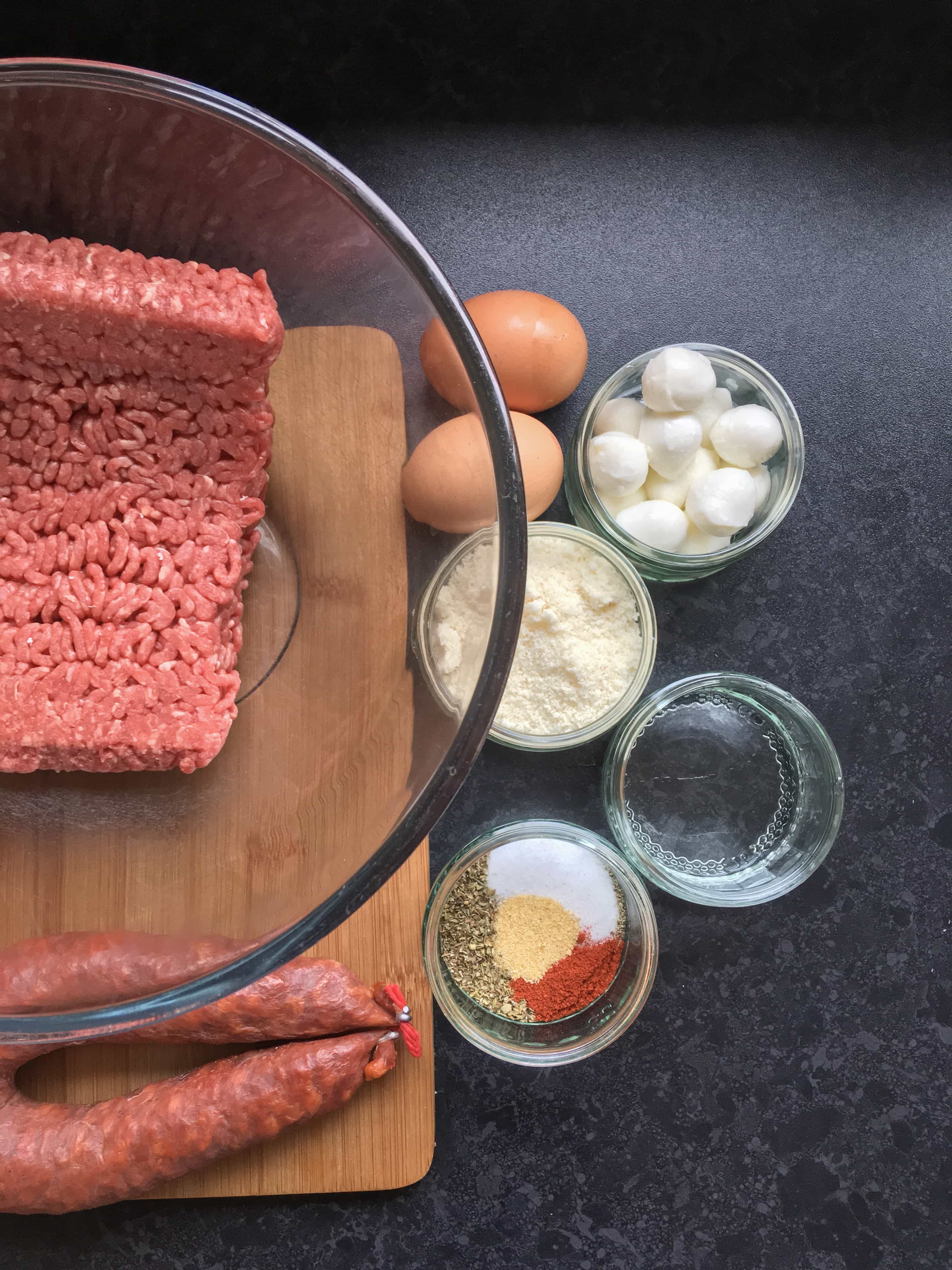 Beef and chorizo meatballs recipe
I absolutely love the smoky flavour of these chorizo meatballs combined with the creamy, milky mozzarella middle – it's just divine. To me, this is pure comfort food.
more chorizo recipes
Chorizo adds such great flavour to so many dishes – I always try and keep some in the fridge. If you're also a chorizo fan, you might like to try chicken and chorizo pasta, slow cooker beef and chorizo casserole and this easy store cupboard meal one pot chorizo and red pepper rice.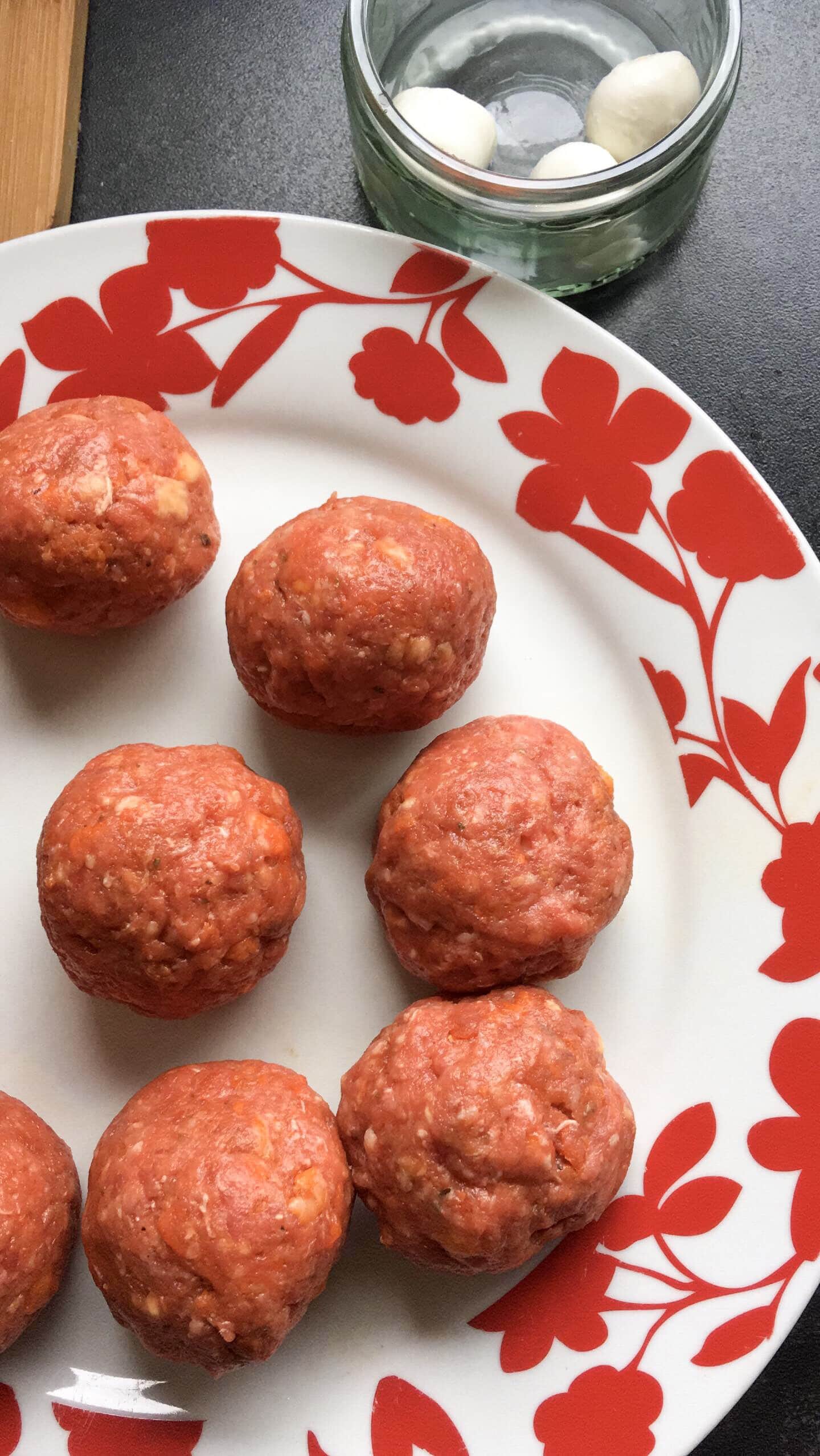 recipe tips
I use mini mozzarella pearls to stuff these meatballs – they are just the right size for stuffing inside the meatballs. If you can't find them, just cut a 250g sized ball of mozzarella into small pieces.
I prefer to sear the meatballs until golden brown in a frying pan before adding them to the sauce. It just gives them a nice colour and I do think it adds to the flavour.
Use your favourite tomato sauce in this recipe – whether it's homemade or from a jar! It's absolutely fine, I cheat from time to time as well! I don't feel bad about it and neither should you.
For this amount of meatballs, you will need two supermarket sized jars of sauce which are usually 370-500g. If you would prefer to make the sauce yourself, I usually turn to this recipe by Nigella and add lots of freshly chopped basil.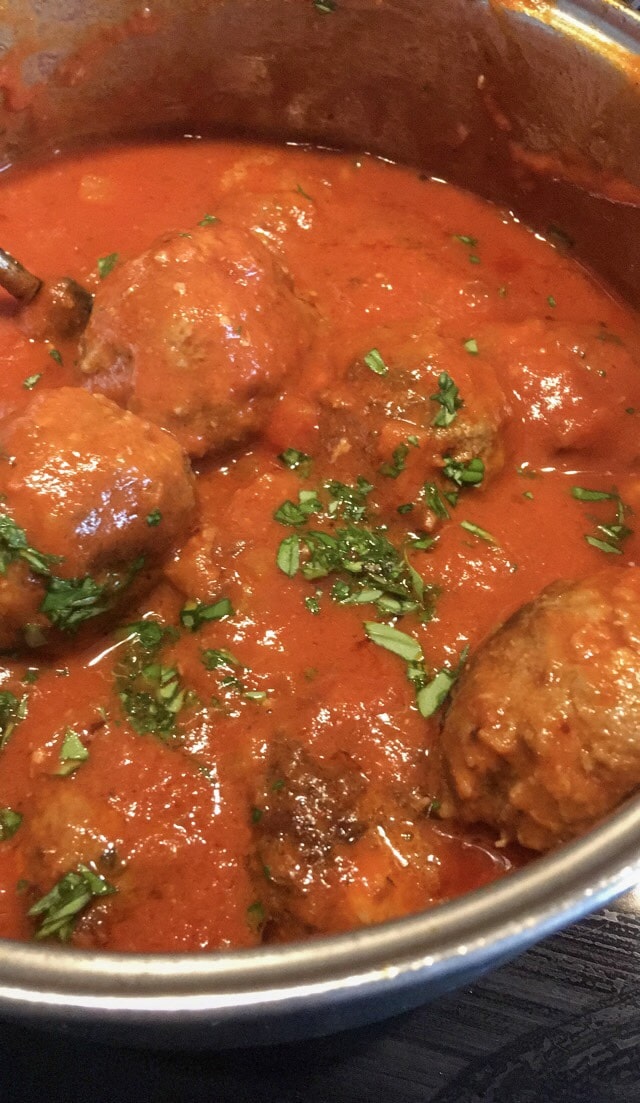 make it in advance
You can make the meatballs and chill them for up to a day in advance if you want to get ahead. Store the prepared meatballs in the fridge in an airtight container until you're ready to cook them.
freezing instructions
Once the meatballs and sauce are completely cold, store in freezer suitable containers or zip lock bags for up to three months.
Defrost the frozen meatballs in the fridge overnight and reheat in the oven or in a pan with the sauce until piping hot.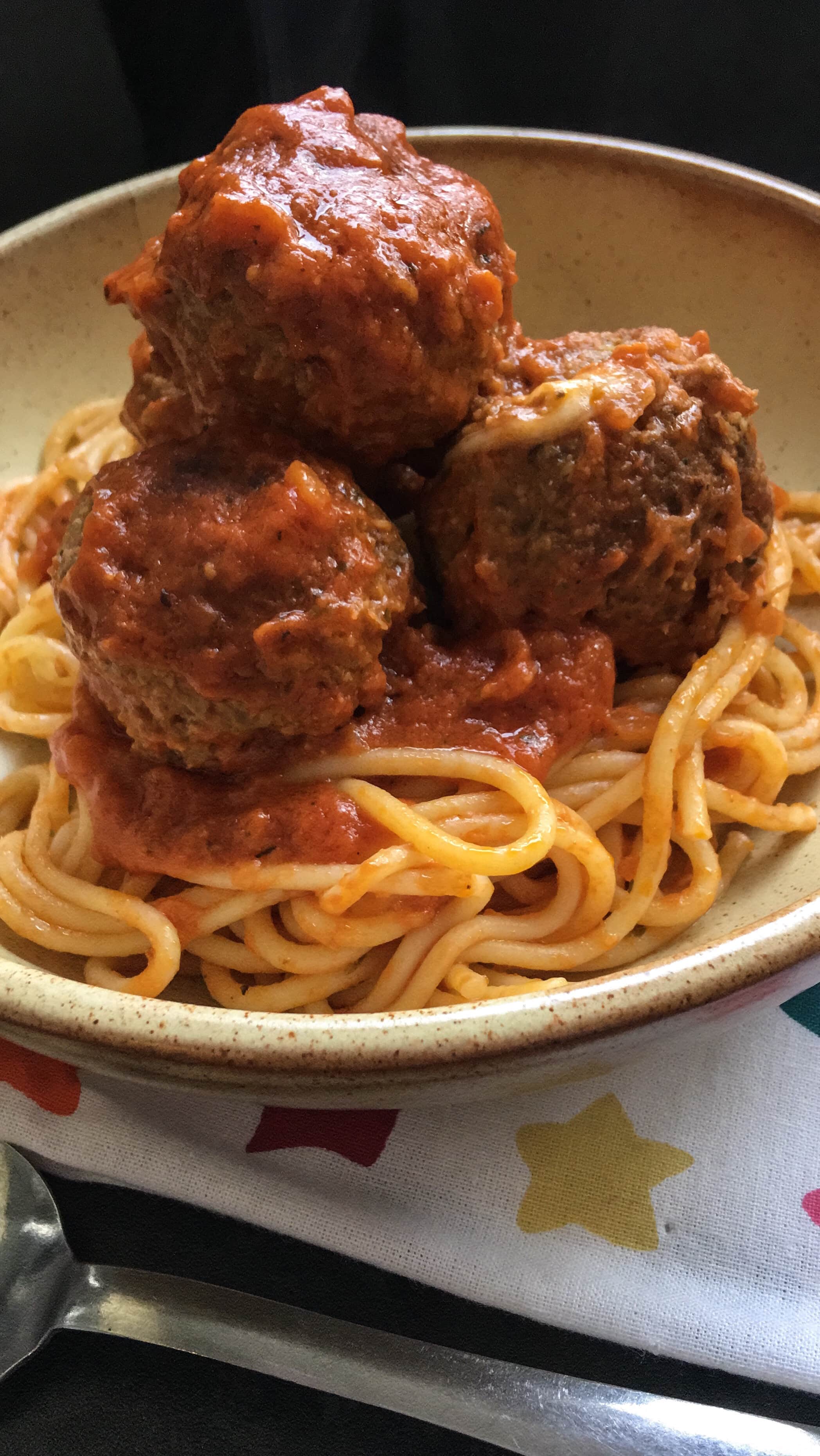 serving suggestions
I love to serve meatballs the classic way – with spaghetti and a mountain of freshly grated parmesan cheese! You could use any pasta you like or they also go well with rice.
I can also confirm that these meatballs and the tomato sauce are absolutely off the scale delicious stuffed in a soft "Sub" style roll. It's one of the best lunches you could ever have!
make a pasta bake
Instead of serving these meatballs with spaghetti, add them to this Meatball Mozzarella Pasta Bake! I promise you will love it.
PIN THis RECIPE FOR LATER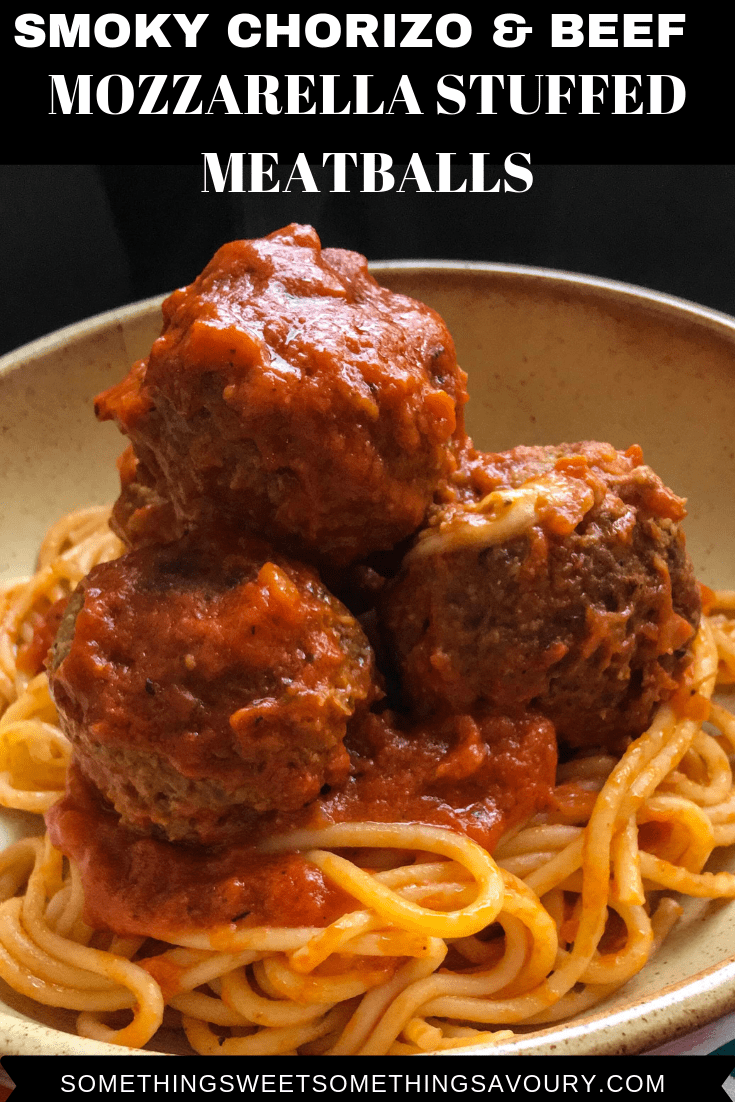 more family friendly meals to try
Chicken Milanese with Spaghetti
Aubergine, Mushroom and Lentil Chilli
Slow Cooker Butter Chicken Curry
did you try this recipe?
Hope you loved it as much as we do! Let me know what you thought by leaving a comment below and rate the recipe by clicking on the stars in the recipe card.
Any questions about the recipe?
Leave a comment or message me on any of my social media channels and I'll do my best to help!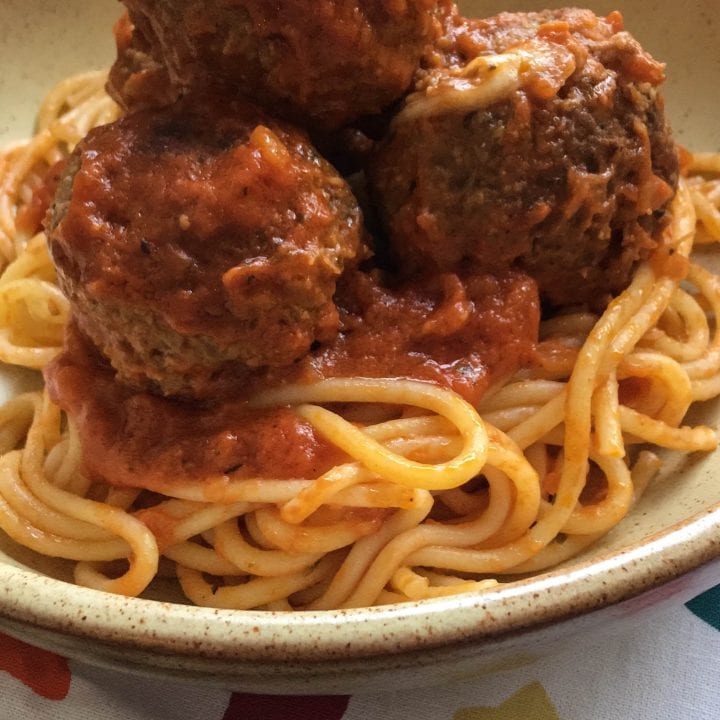 Smoky chorizo and beef mozzarella meatballs
These Delicious minced beef and chorizo meatballs with a gooey, oozing mozzarella middle are pure comfort food. Once you've tried them they will become a family favourite!
Ingredients
500g pack of minced beef
150g chorizo sausage, skinned, cut into small chunks and minced finely in a food processor (I use my mini chopper)
25g Parmesan cheese, finely grated
50g breadcrumbs
1 teaspoon dried oregano
1/2 Tsp Garlic Granules
1 teaspoon salt
1/2 teaspoon freshly ground black pepper
1/2 teaspoon smoked paprika
2 medium eggs
1 tablespoon water
One pot of mozzarella pearls, I buy mine from Sainsbury's or 1 ball of mozzarella, cut into small pieces
1 tablespoon olive oil for cooking the meatballs
Spaghetti and your favourite tomato sauce for serving
Grated Parmesan or mozzarella for serving
Instructions
Place all of the ingredients for the meatballs apart from the mozzarella in a large bowl. Using your hands, combine very well.
Roll the meat mixture into balls then flatten each meatball out, add a mozzarella pearl then shape the meat mixture around the cheese, shaping into a ball and making sure the mozzarella is sealed inside each one.
Heat the olive oil in a large frying pan and place your tomato sauce in a large saucepan over a low to medium heat. Cook the meatballs in batches. You don't need them fully cooked through at this stage because you'll be cooking them fully in the sauce. You're just looking to get them nice and brown. This usually takes about 5 minutes.
When your tomato sauce is simmering, pop the seared meatballs in. Partially cover with a lid and cook for 30-35 minutes, stirring occasionally but taking care not to break the meatballs. Sometime the inevitable happens and some of the cheese oozes out, but it doesn't make it any less delicious!
Cook your spaghetti while the meatballs are simmering in the sauce. Drain the spaghetti, return to the saucepan and toss a couple of spoonfuls of the tomato sauce through it. Divide the spaghetti onto your plates, top with the meatballs and pour over the sauce. Top with Parmesan cheese or grated mozzarella and serve.
Nutrition Information:
Yield:

5
Serving Size:

1
Amount Per Serving:
Calories:

688
Total Fat:

45g
Saturated Fat:

17g
Trans Fat:

1g
Unsaturated Fat:

23g
Cholesterol:

214mg
Sodium:

1467mg
Carbohydrates:

21g
Fiber:

2g
Sugar:

3g
Protein:

48g
Calories and nutritional information are provided by a third party application and should be viewed as indicative figures only.