This slow cooked Bolognese sauce is meltingly tender, rich and delicious. Serve with spaghetti or use as the base for an amazing homemade Lasagne.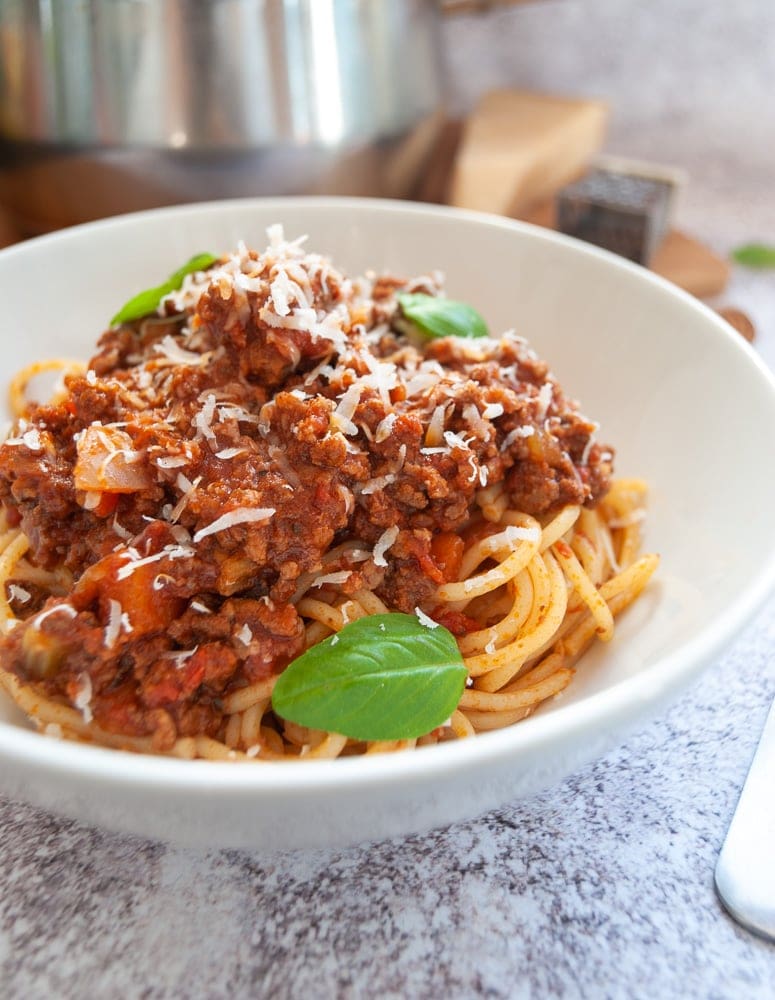 I do love a rich, slow cooked Bolognese sauce. There are many times when I turn to the quick 30 minute version (I promise I'll share that recipe with you soon!) for a quick and easy dinner, but as tasty as it is, it just doesn't come close to a bolognese that's sloooowly bubbled and blipped away for a good 3 hours on the stove.
It's so worth it.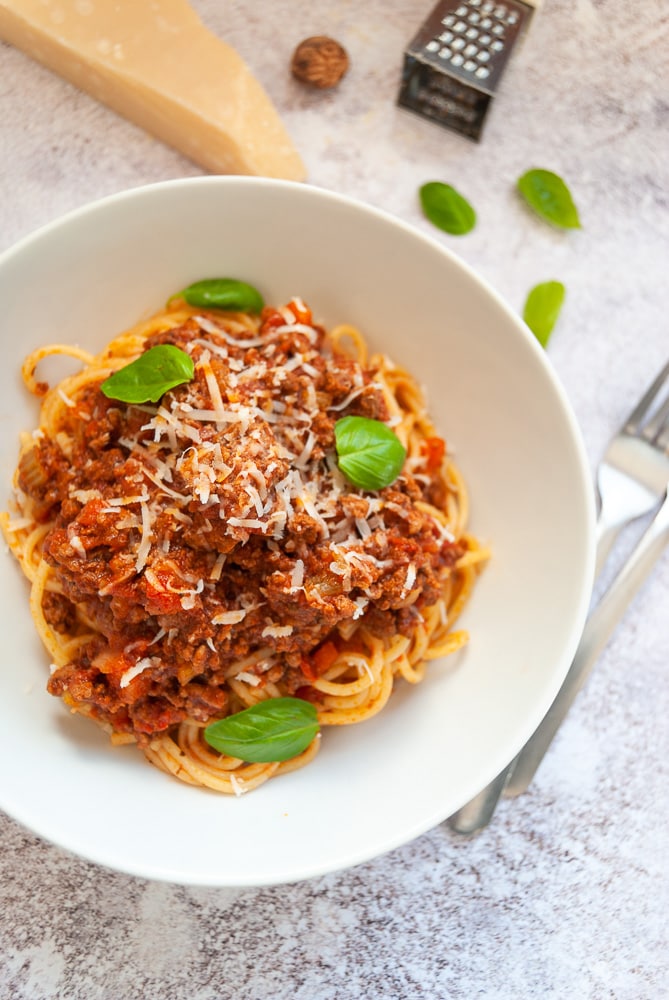 ingredient list
(scroll to the bottom of the post to find printable recipe card with ingredient amounts and detailed instructions)
Minced Beef. You could use a mixture of minced beef and pork if you like.
Onion
Celery
Carrot
Garlic
Dried Oregano
two cans chopped Tomatoes
Tomato Puree – I use quite a lot for a rich, concentrated tomato flavour.
Red Wine – or you could use White Wine. Yes, white wine is great in a Bolognese sauce! I actually use Vermouth most of the time because it keeps in the cupboard for ages and is great for cooking.
Whole Milk – I know it sounds a bit weird, but adding a little milk to the sauce mellows the flavours. I started doing this years ago and haven't looked back since.
a couple of bay leaves
Sugar to balance the acidity of the tomatoes – not too much though, there's nothing worse than a sweet bolognese!
Salt and Freshly Ground Black Pepper.
how to make bolognese sauce
(Ingredient amounts and detailed instructions are in the recipe card at the bottom of the post!)
Start by gently frying onion, garlic, carrot, celery and dried oregano in olive oil. Take away the garlic and oregano and you basically have what Italians call "Soffritto" which is slowly cooked onion, celery and carrot.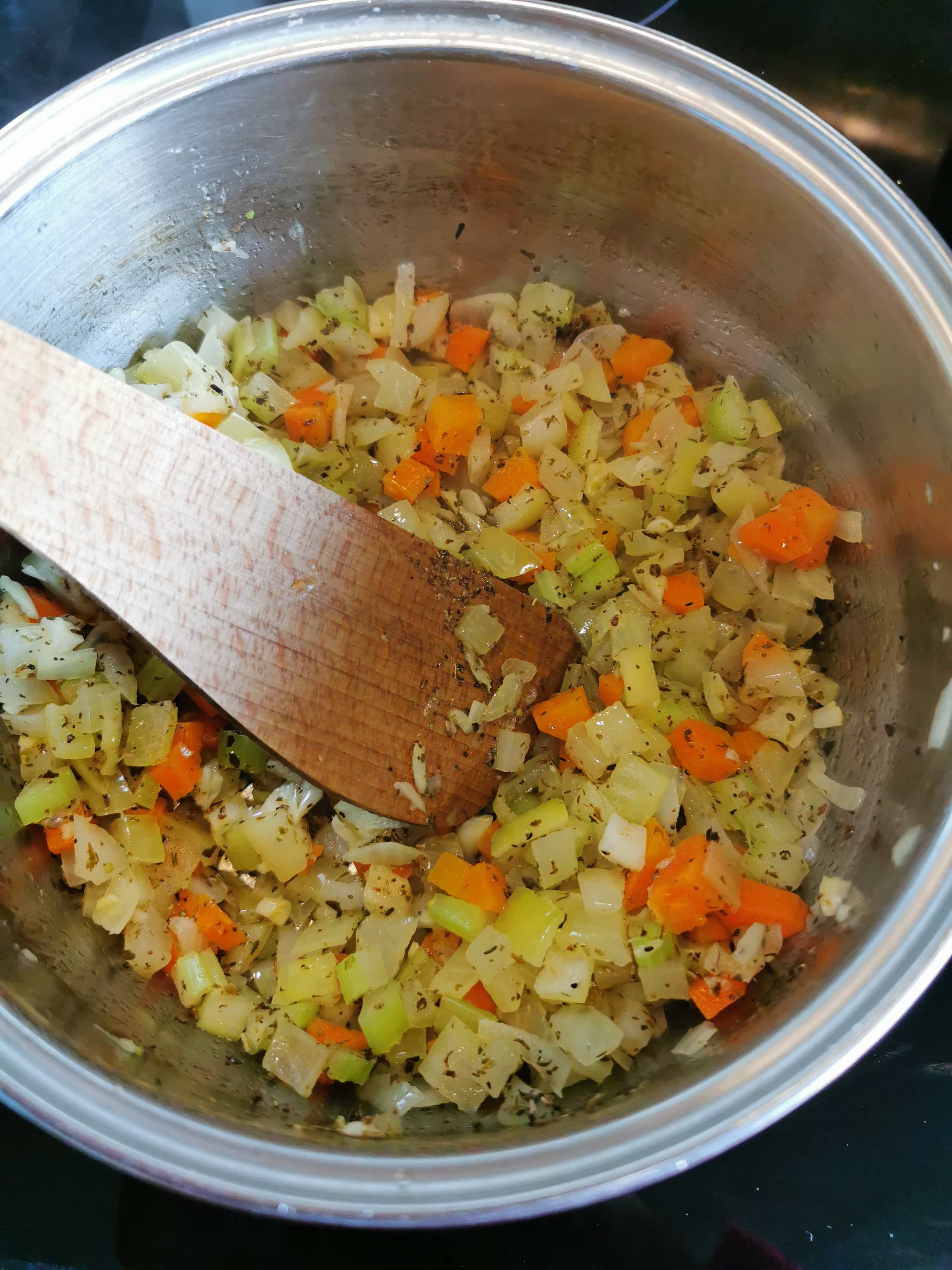 I also add the tomato puree at this stage – it's much better if you fry the tomato puree with the herbs and the vegetables. It seems to take away the sharp edge of the puree, making it a little less acidic.
When the vegetables have softened, turn up the heat and add the minced beef, breaking it up with a fork so you don't end up with large clumps of meat. Season lightly with salt and pepper.
Once the meat has browned, add the wine or Vermouth if using and let it bubble and reduce for a couple of minutes before adding the chopped tomatoes, milk, bay leaves, sugar and salt and pepper.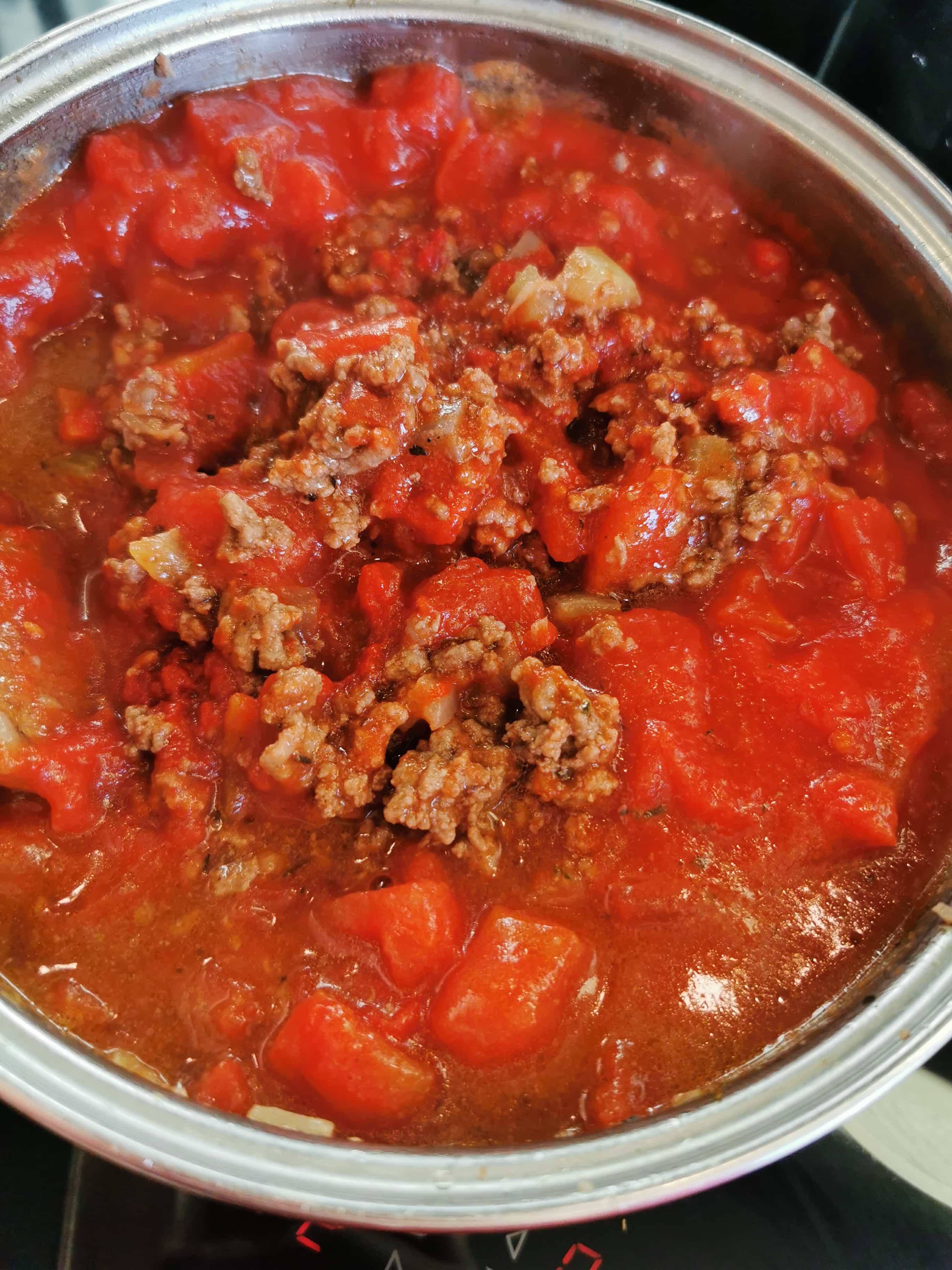 Turn the heat down as low as possible and slowly simmer for at least 2-3 hours – you can leave it for longer if you like. Stir the Bolognese every now and then to make sure it isn't sticking to the bottom of the pan.
Serve with Spaghetti or your favourite pasta, or use it as the base for a fabulous homemade Lasagne.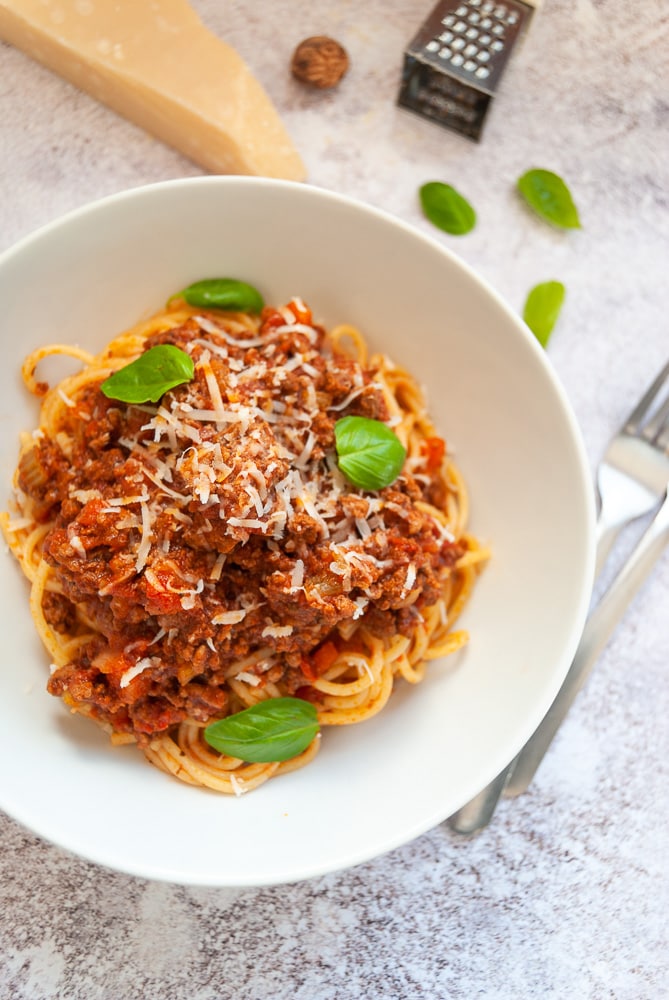 can you make bolognese sauce in the slow cooker?
Yes you can use your slow cooker to make this recipe – cook your onion, garlic, carrot, celery and oregano on the hob, add the mince and cook until nicely browned. Tip this mixture into the slow cooker, add all the other ingredients and cook on Low for 7-8 hours.
Can you freeze bolognese sauce?
Yes. Place the cold sauce in airtight containers or heavy dury freezer bags and freeze for up to 4 months. Defrost the sauce overnight in the fridge before re-heating.
can you add other ingredients to bolognese?
Absolutely. You could add panetta cubes or chopped bacon when you're frying the vegetables, or you could also add sliced mushrooms. Sometimes I throw in a handful of red lentils – it's a really economical way of stretching the bolognese out if you're feeding a crowd.
want to see More slow cooked/slow cooker recipes?
did you make this recipe?
Let us know what you thought by leaving a comment below and if you would rate the recipe out of 5 by clicking on the stars in the recipe card, I would really appreciate it. Thanks!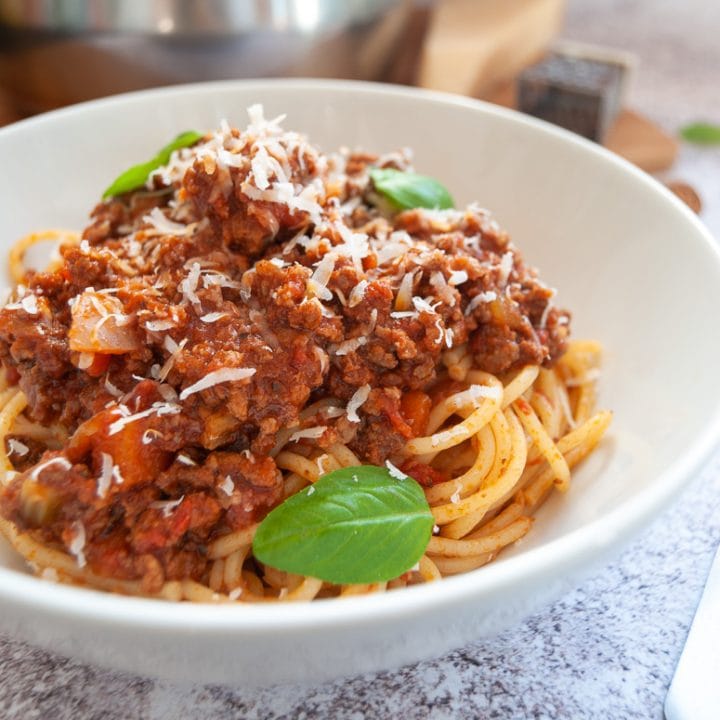 Slow Cooked Bolognese Sauce
Cook Time:
2 hours
4 seconds
Total Time:
2 hours
20 minutes
4 seconds
This Slow Cooked Bolognese Sauce is simmered for several hours on a low heat for a rich, delicious flavour! Serve with Spaghetti or use as a base for a delicious homemade Lasagne.
Ingredients
2 Tablespoons Olive Oil
1 Large Onion, diced finely
1 Large or 2 Medium Carrots, peeled and cut into small dice
3 Large Cloves of Garlic, Peeled and crushed
1 Stick of Celery, chopped into small dice
3 Tablespoons Tomato Puree/Paste
1 Tablespoon Dried Oregano
1KG Minced Beef, or 500g each Minced Beef and Minced Pork
120ml Red Wine or Vermouth
2 400G Tins Chopped Tomatoes
200ml Whole Milk
a couple of bay leaves
1/2 Teaspoon Sugar
1 Teaspoon of Fine Salt
1/2 Teaspoon Freshly Ground Black Pepper
Water or Beef Stock (if the Bolognese seems dry)
Instructions
Heat the oil in a large heavy bottomed saucepan. Add the onion, sprinkle over a little salt and cook for 5-10 minutes or until the onion is soft and translucent. Add the crushed garlic, chopped celery, carrot, tomato puree and dried oregano and cook on a low-medium heat for 10-15 minutes, or until the vegetables have softened
Turn the heat up and add the minced beef, breaking it up with a fork. Cook until the mince has browned (it will take a good 5-10 minutes for this amount of meat).
When the minced has browned nicely, pour in the wine or vermouth if using and let it bubble for 2-3 minutes. Add the chopped tomatoes, milk, bay leaves, sugar, salt and pepper. Turn the heat to low and simmer for at least 3 hours - the longer the better. Give the Bolognese a stir every now and then to make sure it's not sticking to the bottom of the pan. If it seems a little dry, you can add some water or beef stock.
Notes
This recipe really benefits from a long, slow cook - I usually let it simmer slowly for about 3 hours, but it will do absolutely no harm to leave it for longer. The only thing you have to watch out for is the bolognese sticking to the bottom of the pan, so give it a stir every now and then.
Nutrition Information:
Yield:

8
Serving Size:

1
Amount Per Serving:
Calories:

625
Total Fat:

38g
Saturated Fat:

13g
Trans Fat:

1g
Unsaturated Fat:

19g
Cholesterol:

176mg
Sodium:

523mg
Carbohydrates:

10g
Net Carbohydrates:

0g
Fiber:

2g
Sugar:

5g
Sugar Alcohols:

0g
Protein:

56g