A classic lasagne with a side salad and garlic bread is a fantastic meal that's so hard to beat.  This is my best homemade lasagne recipe – it takes a little effort to make, but it's so worth it!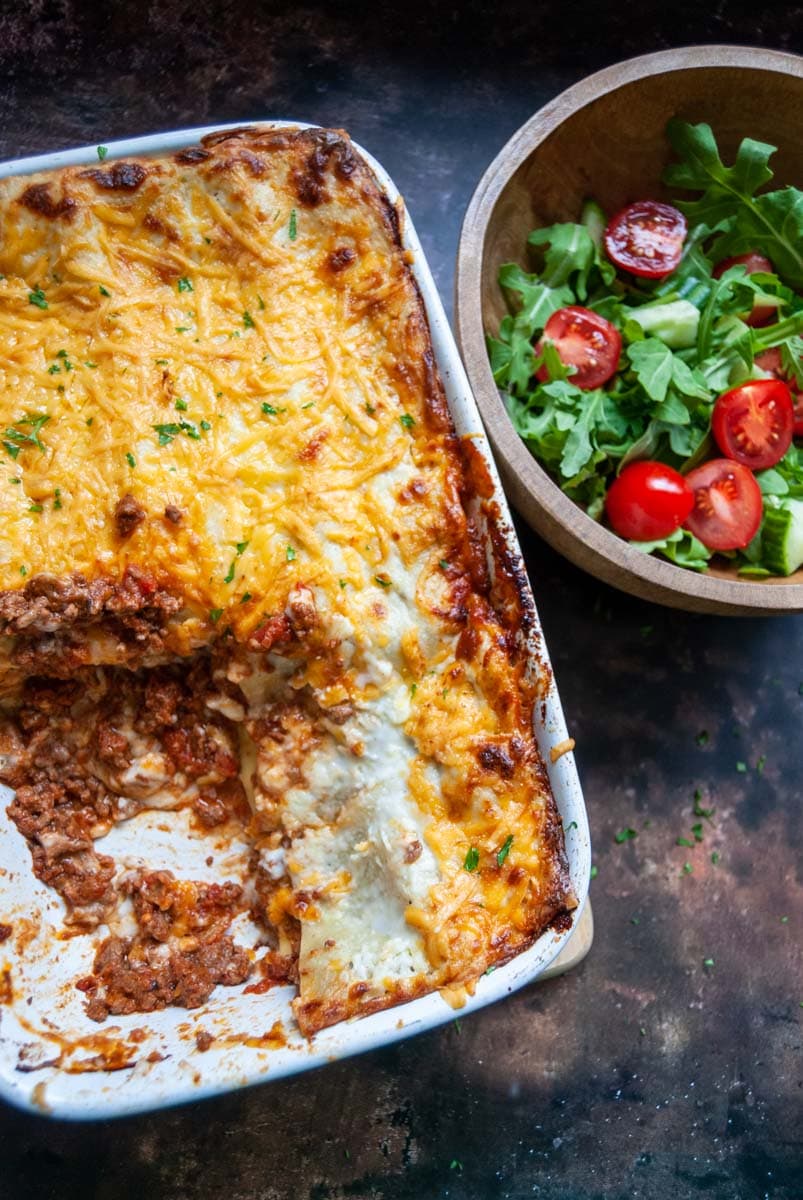 This best homemade lasagne recipe is simple but oh SO good – rich beef ragu, layers of pasta, bechamel sauce and gooey mozzarella and cheddar cheese.
It's my all time favourite. I love lasagne just as much as Garfield does. I love lasagne with a nice simple salad with balsamic dressing and crunchy, buttery garlic bread.
Bring. It. On.
I won't deny that lasagne is a really easy thing to make – it's a bit of a labour of love and is time consuming – but if you have the time, the end result is SO worth it.
HOw To maKE the best homemade lasagne
There are three steps to making lasagne from scratch. They are:
making the ragu
making the white (Bechamel) sauce
Assembling the lasagne
First of all we make the meat sauce (beef ragu). I always use this recipe. I often do this the night before to get ahead. For best results, let the ragu blip away for a good 2-3 hours on a low heat. Doing this will allow all the flavours to develop and your ragu will be all the better for it.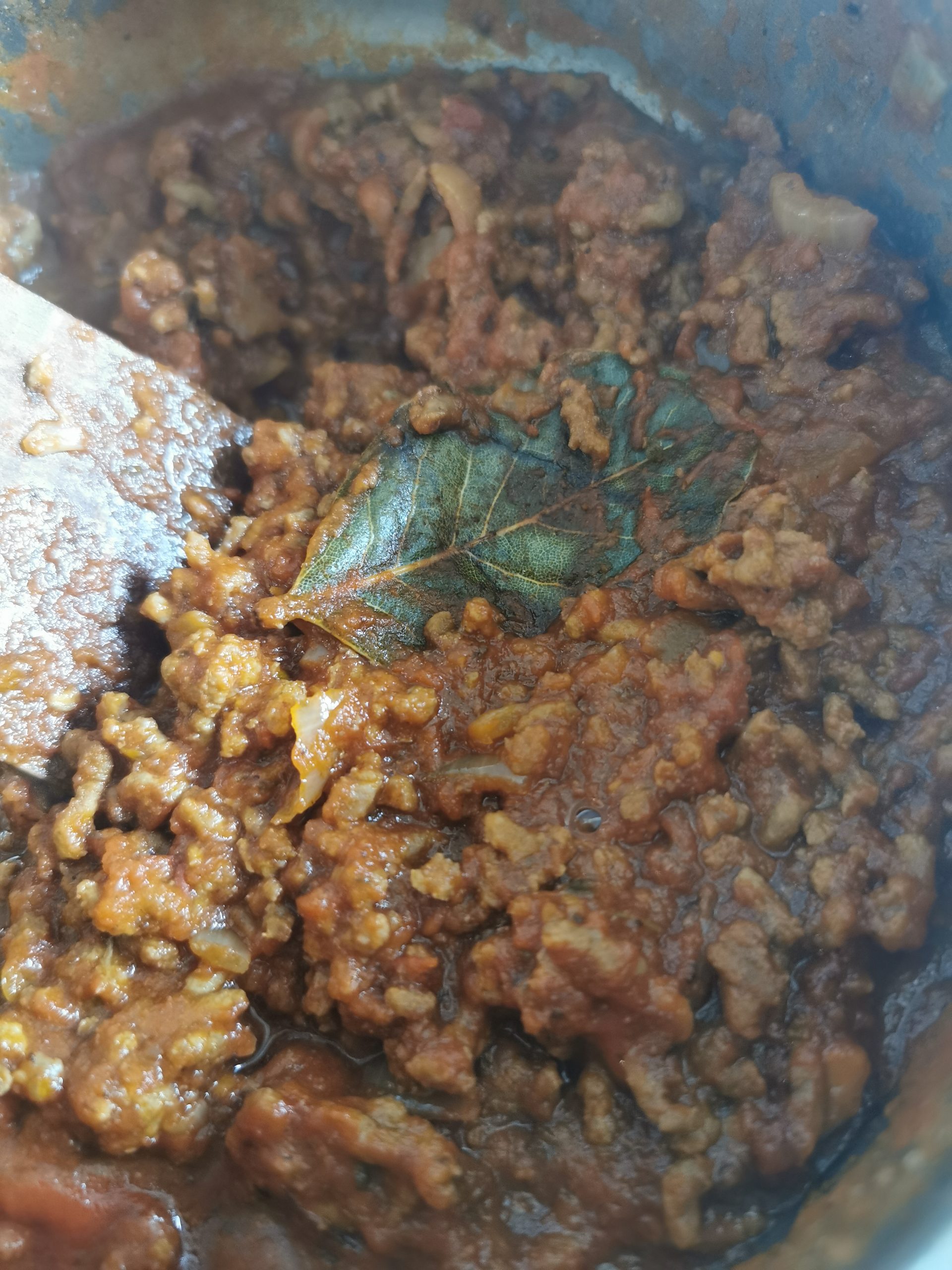 the bechamel sauce
Then we need to make the white (bechamel) sauce. I don't like to make the sauce too thick because it tends to disappear into the layers if it isn't a little runny. 
I like lots of white sauce in my lasagne so I don't skimp on it!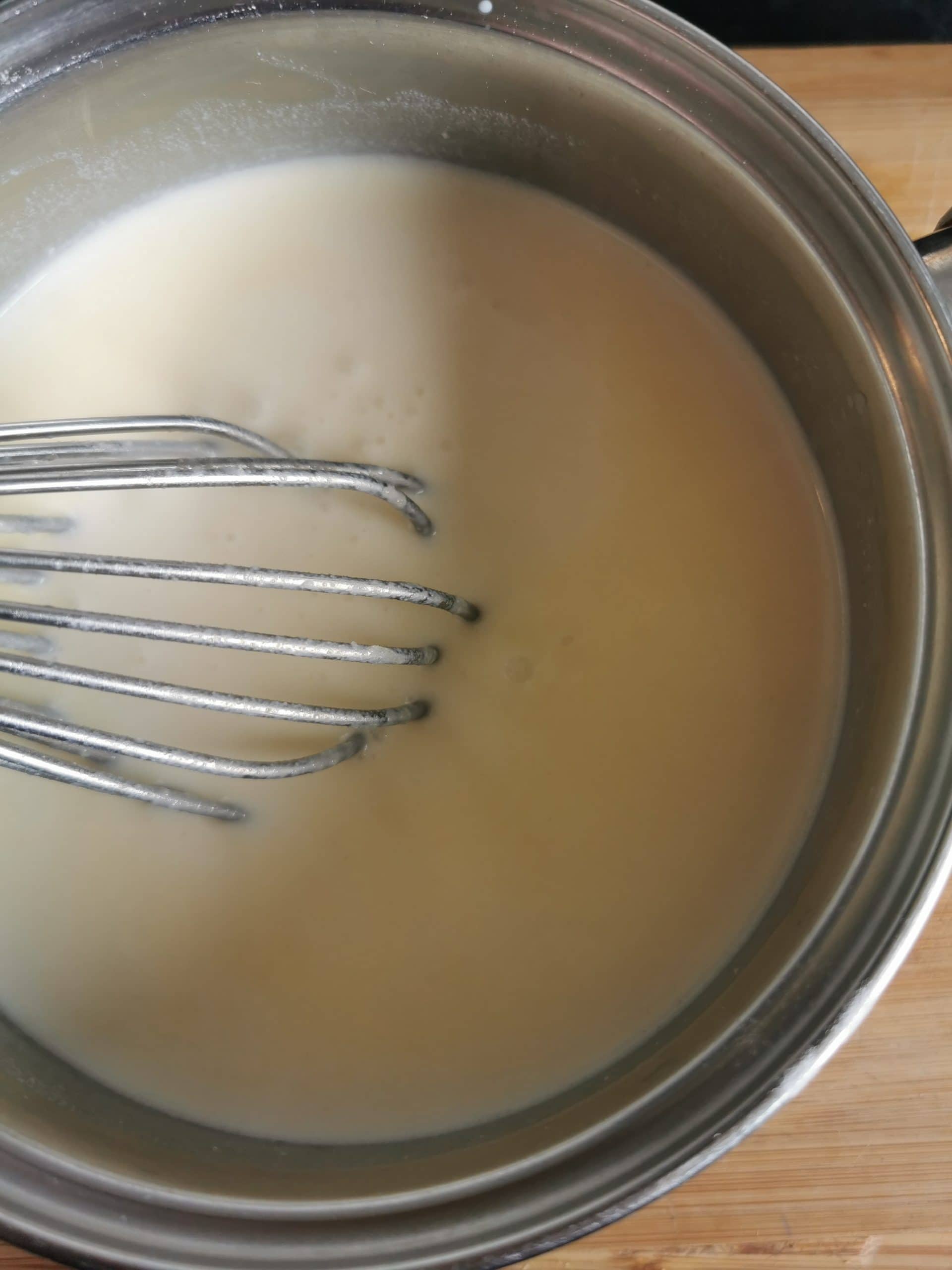 Layer it up!
Start with a thin layer of the ragu on the bottom of the dish. You don't need very much for this layer – you just need a little to stop the lasagne sheets from sticking to the bottom of the dish.
Top with lasagne sheets, slightly overlapping them, then add a little mozzarella followed by a layer of white sauce. Repeat the process, finishing with a layer of white sauce.
Scatter some grated cheddar cheese and a little dried oregano over the top.  
If you have time, leave the lasagne for up to an hour before baking – this allows the flavours to develop and the layers to settle into each other. If you are too busy for this and have a hungry family to feed, don't worry!
Bake for 40-50 minutes until the lasagne is golden and bubbling.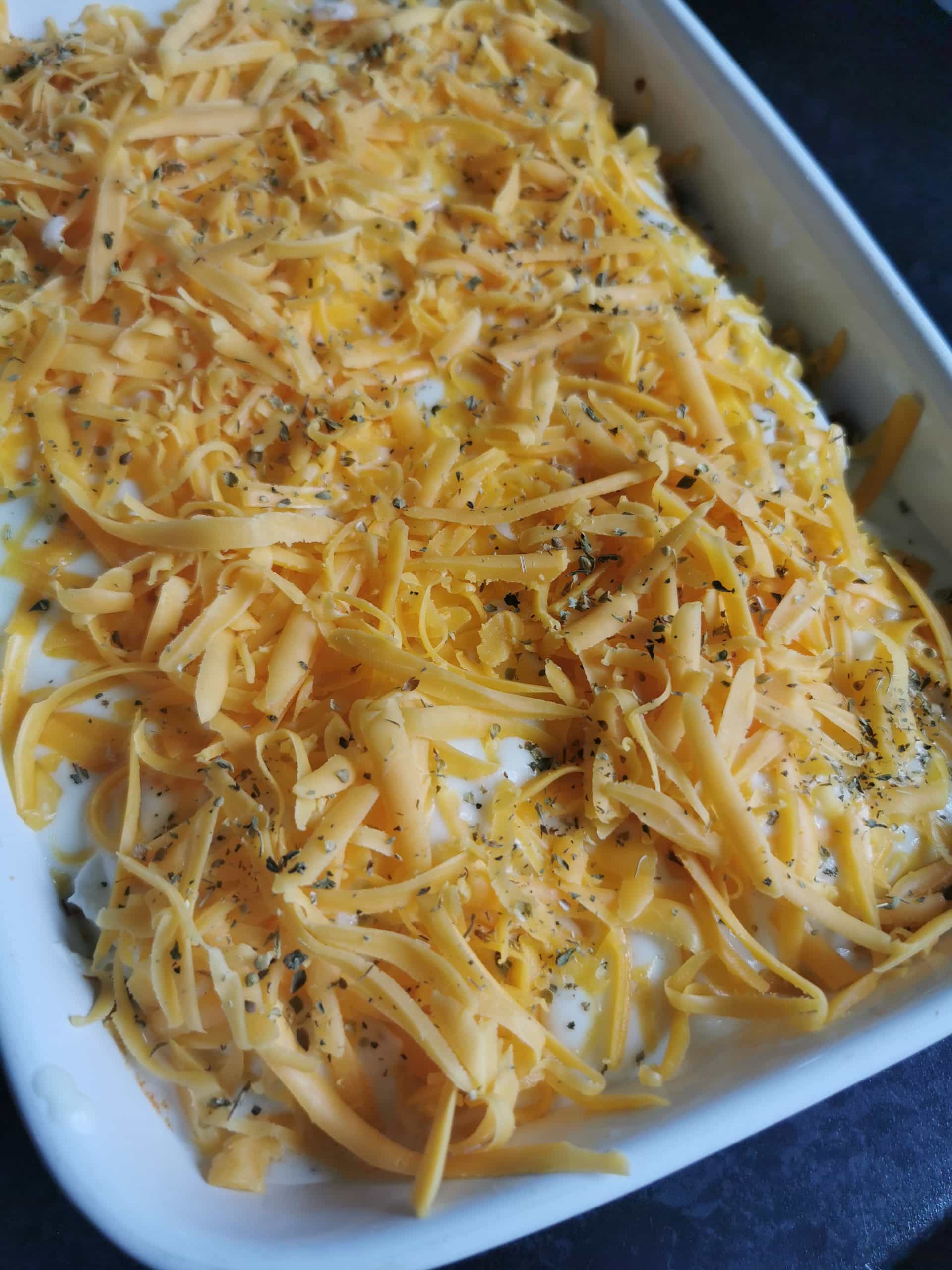 can you make lasagne in advance?
Yes – in fact it's actually better if you do.  Prepare as usual, allow to cool thoroughly then cover and place in the fridge.  Leave for up to 2 days before baking. Remove from the fridge and allow to come to room temperature (30 minutes – 1 hour) before baking.
do i need to cover lasagne while baking?
You don't have to cover the lasagne while it's in the oven, but if it's looking like the top is becoming dry or too crispy, you can cover with a piece of tin foil.
how many layers should lasagne have?
A good lasagne should have three or four layers. My preference is always three layers.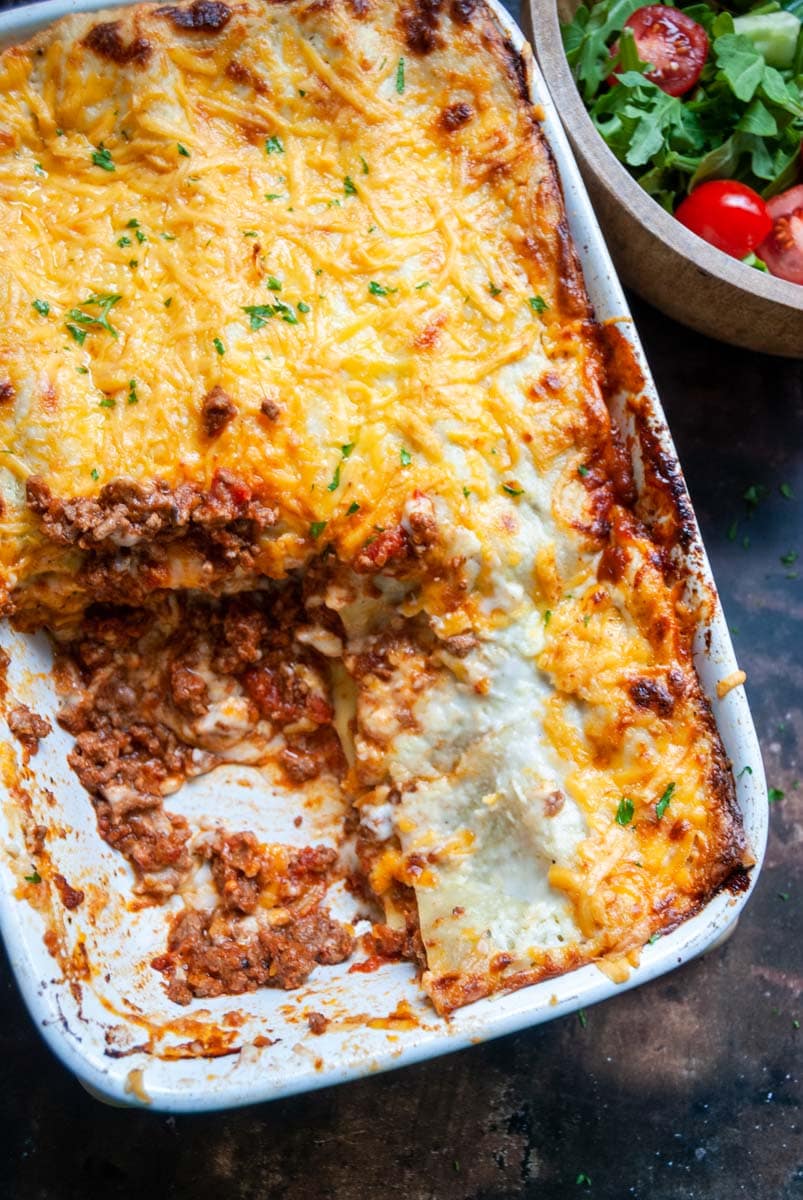 can i freeze homemade lasagne?
 Yes, lasagne can easily be frozen. Prepare the lasagne, cover with grated cheese and let it go completely cold.  Once the lasagne has cooled, wrap the whole thing (including the dish) tightly in plastic wrap (as close to the surface of the lasagne as possible) and a double layer of tin foil.  Freeze for up to 3 months.  
To defrost the lasagne, take it out of the freezer the day/night before you want to eat it and let it thaw in the fridge overnight.
When you're ready to bake it, remove the lasagne from the fridge and take off the wrapping. Preheat the oven to 180C/160Fan/350F and bake for around 50-60 minutes, until piping hot. If the top looks like it is browning too much, cover with a layer of foil.
more comfort food classics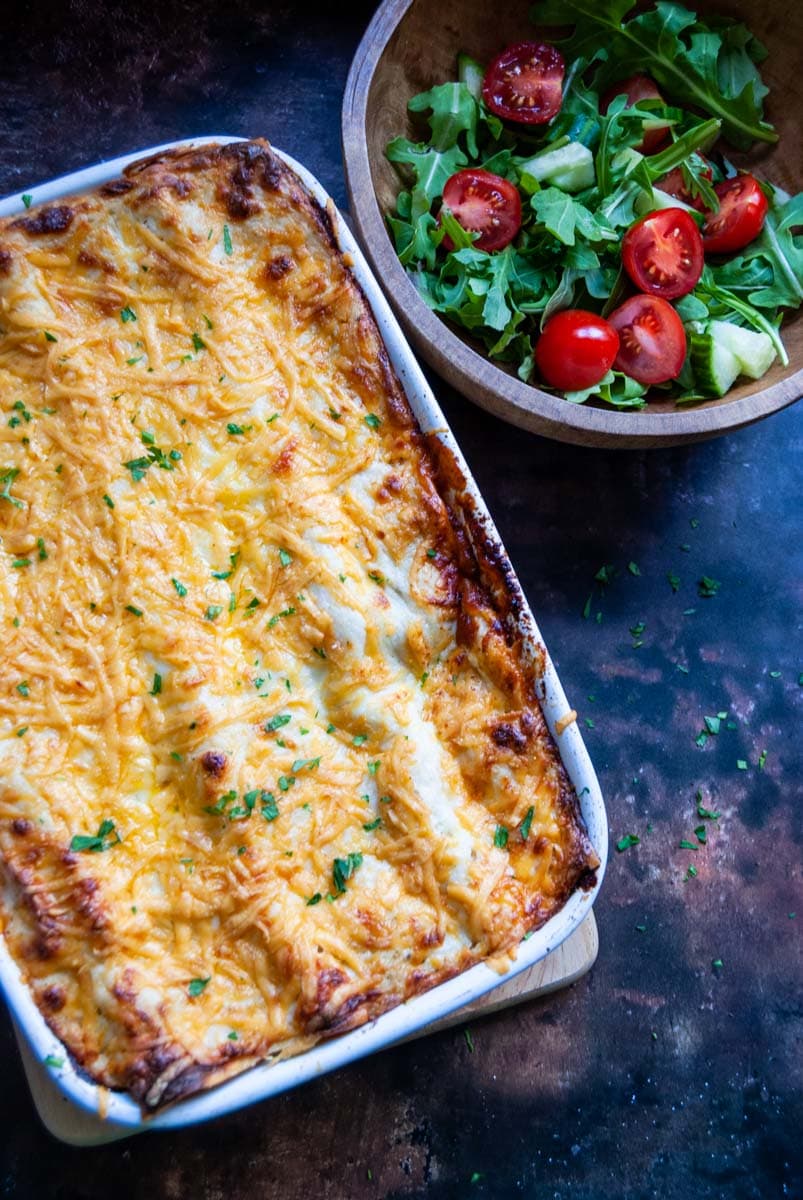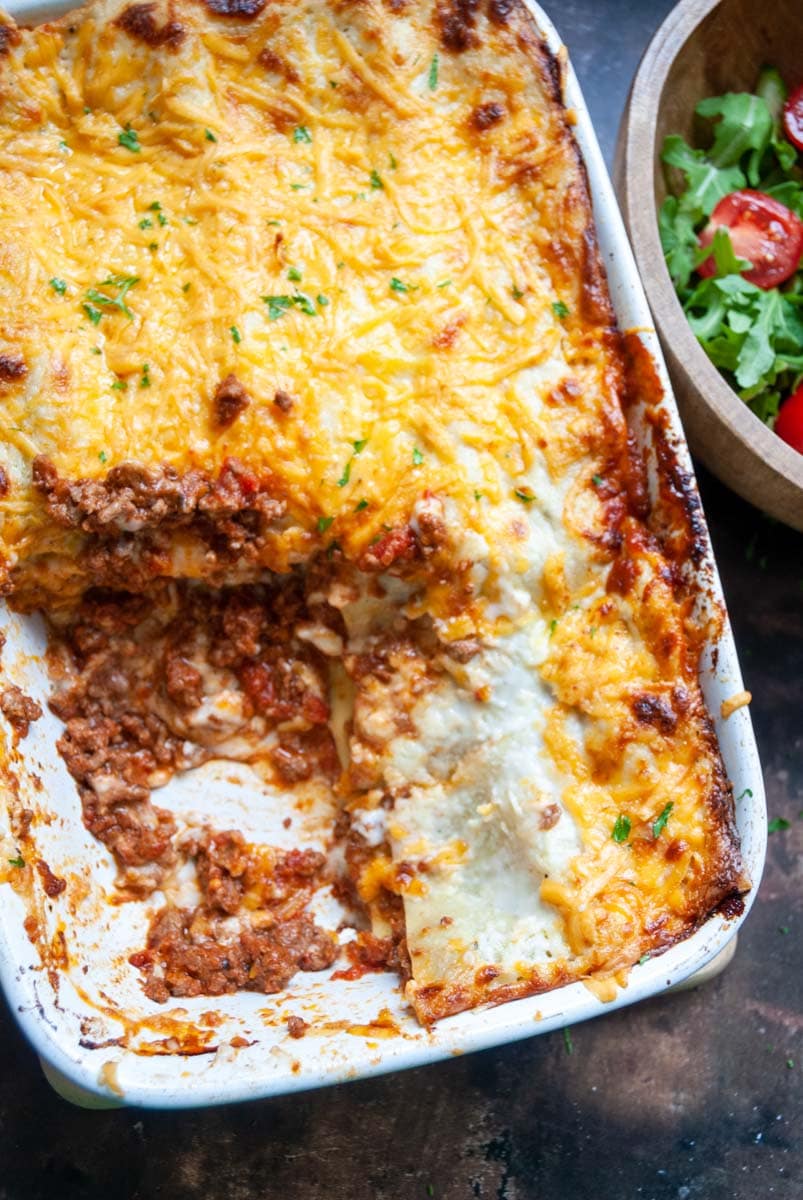 Homemade lasagne Recipe
Cook Time:
1 hour
5 minutes
Total Time:
3 hours
30 minutes
A classic lasagne with a salad and garlic bread is a fantastic meal that's so hard to beat!  Follow my guide on how to make the best homemade lasagne recipe from scratch. 
Ingredients
CLICK ON ABOVE TEXT FOR THE RECIPE
FOR THE WHITE SAUCE
60g butter
60g plain flour
700ml whole milk
1 bay leaf
50g freshly grated parmesan cheese (optional)
Good grating of freshly grated nutmeg
Salt and freshly ground black pepper to taste
250g Lasagne sheets (fresh sheets are best but dried are also fine)
200-240g ball fresh Mozzarella, sliced into small rounds (you could also use the grated Mozzarella that comes in bags)
75g grated cheddar or parmesan cheese for the topping (sometimes I do a mixture of both)
1/2 tsp dried oregano
Instructions
Make the ragu (link to recipe in the ingredient box)
To make the white sauce, melt the butter in a medium sized pan over a low heat. Add the flour and stir for a few minutes. You should have a thick roux. Remove from the heat and gradually whisk in the milk, whisking very well to get rid of any lumps. Once all the milk has been incorporated, place the pan back on the heat, add the bay leaf and simmer gently on a low heat for 10-15 minutes. Once the sauce has thickened slightly, remove from the heat and stir in the cheese if using, a good grating of nutmeg and salt and pepper.
To assemble the Lasagne, spread a small amount of ragu sauce over the base of the baking dish (you don't need much) then cover with the lasagne sheets, slightly overlapping them. Add a layer of white sauce, followed by a few pieces of the mozzarella. Repeat until everything is used up, finishing with a layer of white sauce. Sprinkle with the grated cheese and dried oregano.
If you have time, let the Lasagne sit for around an hour before you bake it - this will give the flavours a chance to intensify.
When you're ready to bake, heat the oven to 200C/180Fan/350F/Gas mark 6. Bake the Lasagne for 40-50 minutes until golden and bubbling. Remove from the oven and allow to rest for 10 minutes before slicing.
Nutrition Information:
Yield:

6
Serving Size:

1
Amount Per Serving:
Calories:

570
Calories and Nutrition information is provided by a third party application and is intended as a rough guide only.