You say Chili, I say Chilli! No matter what you call it, everybody loves a classic Chilli Con Carne – it's a perfect recipe to feed a crowd and tastes even better if made ahead of time.
With its rich combination of tender beef, warming spices and beans, I really believe that this is the best Chilli Con Carne recipe in the world! It's so good everyone will ask for a second bowl.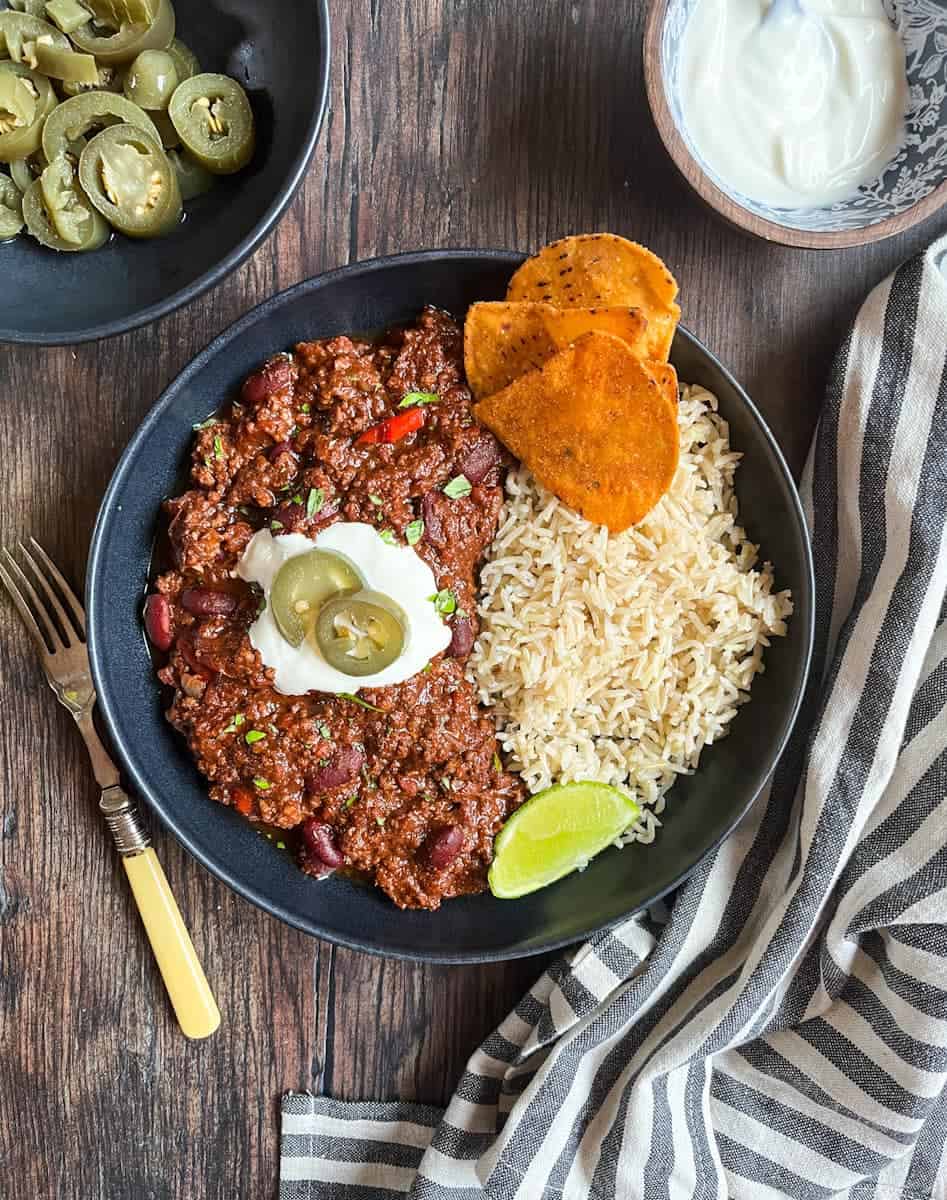 I have converted life long Chilli haters with this recipe. It's that good! I made a large batch at least once a month. My teenage lads really love it.
I always end up craving Chilli Con Carne in the colder weather so when the craving strikes, I usually order two packs of minced beef in my food shop – one for chilli and the other is reserved for a favourite with everyone in my house – mince and tatties.
The recipe I'm sharing with you today is the best chilli con carne recipe I've ever made.
Now I'm not claiming it's a completely authentic Chilli recipe, but I've been playing about with this recipe over the past few years and I think I'm finally happy with it.
It has a spicy kick with a deep, smoky background from the smoked paprika and dried chipotle chillies. It's deeply savoury and so comforting to eat. If your family loves chilli, I urge you to try this recipe. I don't think you'll look back.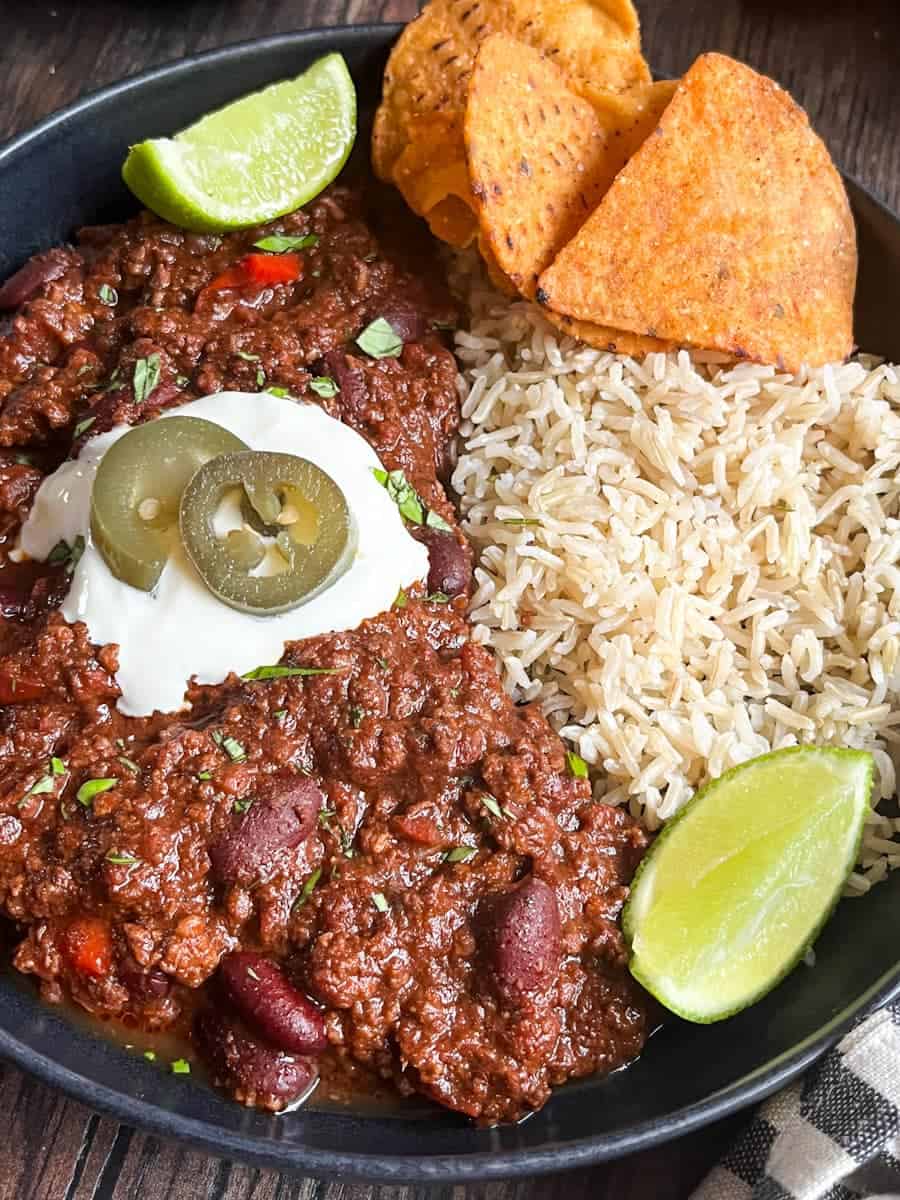 ingredient list
Ingredient amounts and full instructions are in the printable recipe card at the bottom of the post!
Minced Beef – Or you can use stewing/braising steak if you prefer for a chunkier texture.
onions, garlic, and red bell Pepper
Spices – ground cumin, ground coriander, mild or hot chilli powder (depending on your level of chilli tolerance), smoked paprika, dried oregano and dried chipotle chillies.
I like to add two dried chipotle chillies, but everyone's chilli tolerance is different so you might want to use just one.
TIP If you can't get or don't want to use chipotle chillies, you don't have to – the recipe still works very well with either chilli flakes or chilli powder.
cocoa powder adds a real depth of flavour to the chilli – don't worry, you won't taste it at all! It does make sense when you think about it though – dark chocolate and chilli really complement each other. Give it a try and you'll see what I mean! Make sure it's proper cocoa powder though – drinking chocolate would not have the same effect at all!
chopped tomatoes, tomato puree and a squirt of tomato ketchup. I hear you – ketchup in a chilli? Yes! It adds a nice tang – don't knock it until you've tried it! The sugar and vinegar in the ketchup is a lovely balance to the heat of the chilli. If you don't have ketchup, you could add a teaspoon each of sugar and red wine vinegar instead.
A tin of Kidney beans, drained and rinsed.
Worcestershire sauce and a beef stock cube
a few shakes of Tabasco Sauce
Salt and freshly ground black pepper to season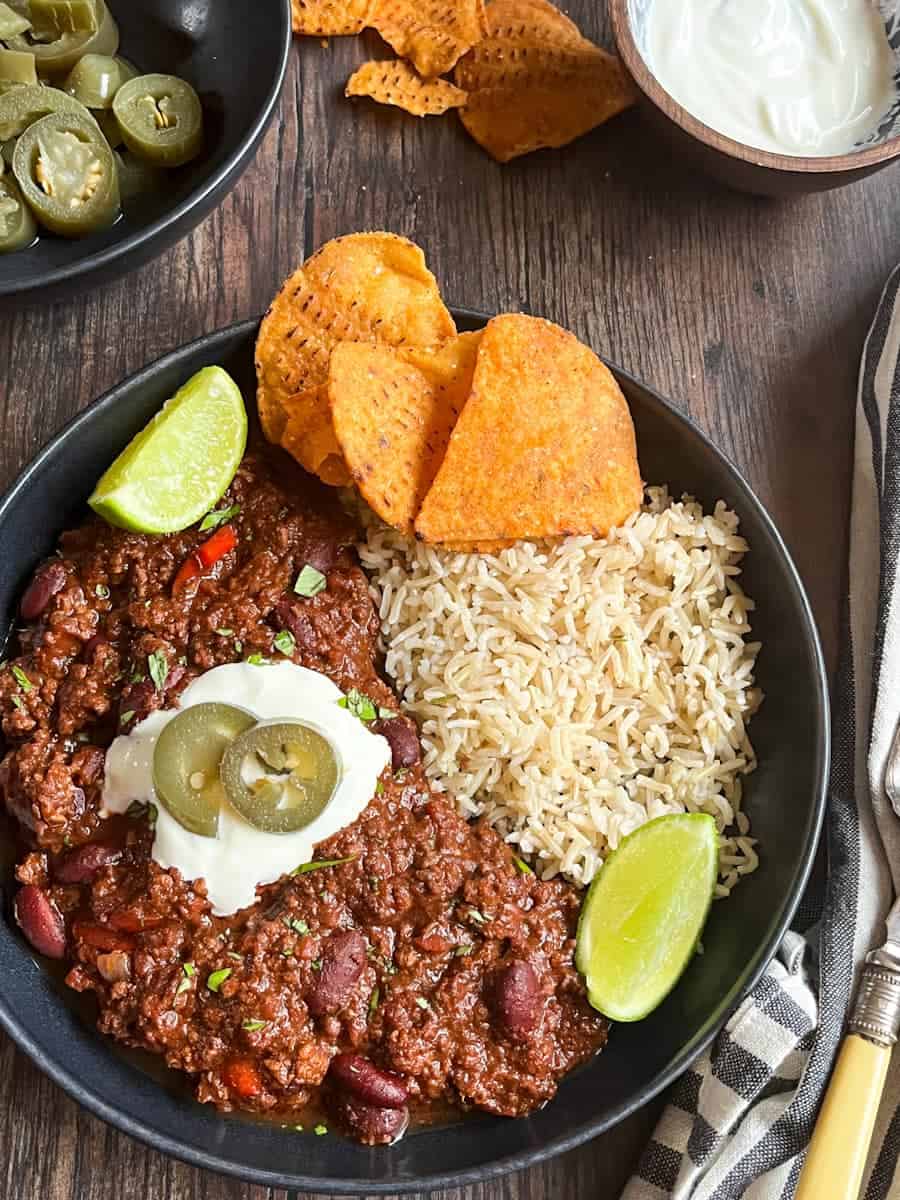 how to make HOMEMADE chilli con carne
Keep scrolling to the bottom of the post to find printable recipe card with ingredient amounts and detailed instructions.
Step one – cook the onions, garlic and red pepper in some oil for about 10 minutes, or until the vegetables have softened but not coloured.
Step two – Add the spices, cook for a couple of minutes to release the aromas, add the minced beef and beef stock cube and brown the mince over a high heat, stirring to break it up.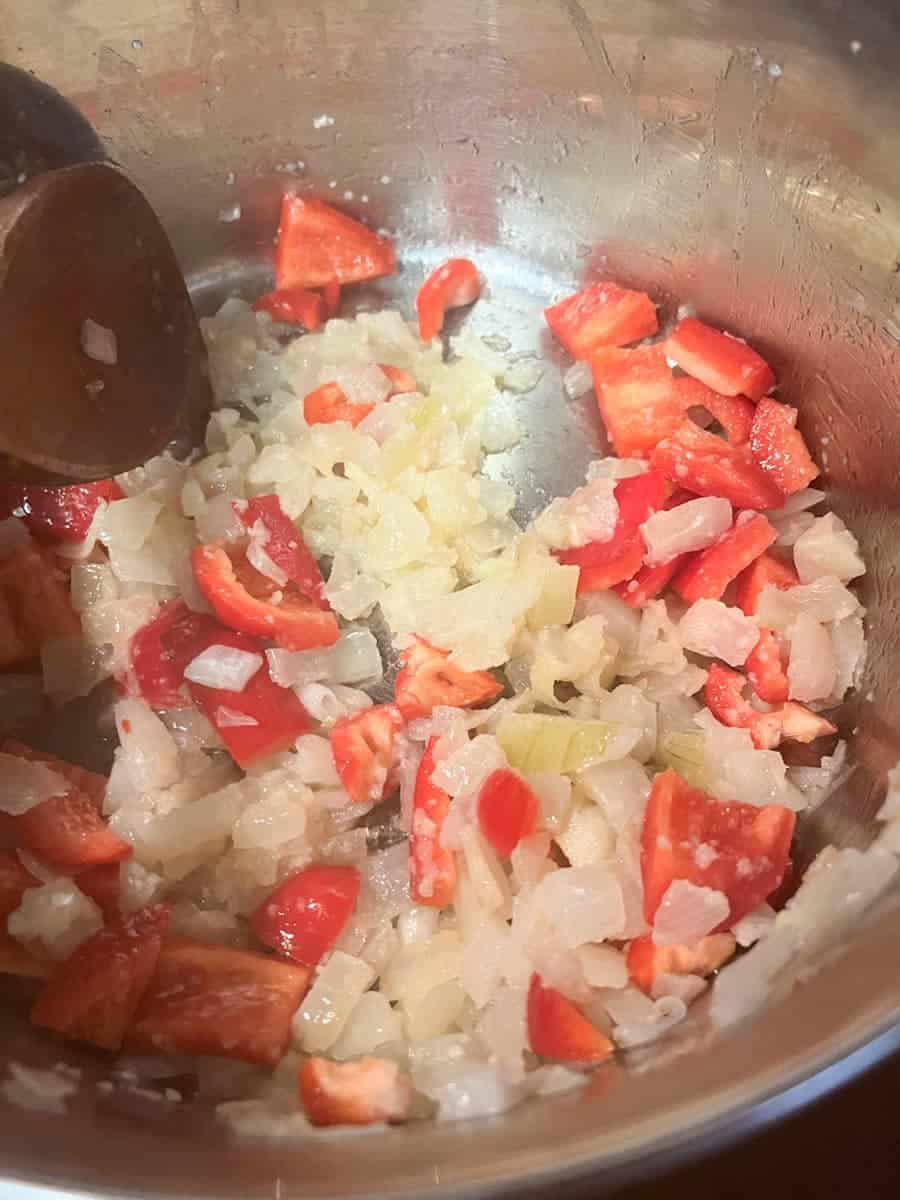 Step three – Add the tomato puree and cook for two minutes, then add the chopped tomatoes, tomato ketchup, Worcestershire sauce, the chipotle chillies (if using), cocoa powder or dark chocolate, tabasco sauce, kidney beans and a teaspoon of salt.
Step four – Half fill one of the empty cans of tomatoes with water and pour into the pan. Bring to a simmer, then cover the pan with a lid, turn down the heat to LOW and leave it to SLOWLY simmer and blip away for two or three hours. Think of two hours as the absolute minimum.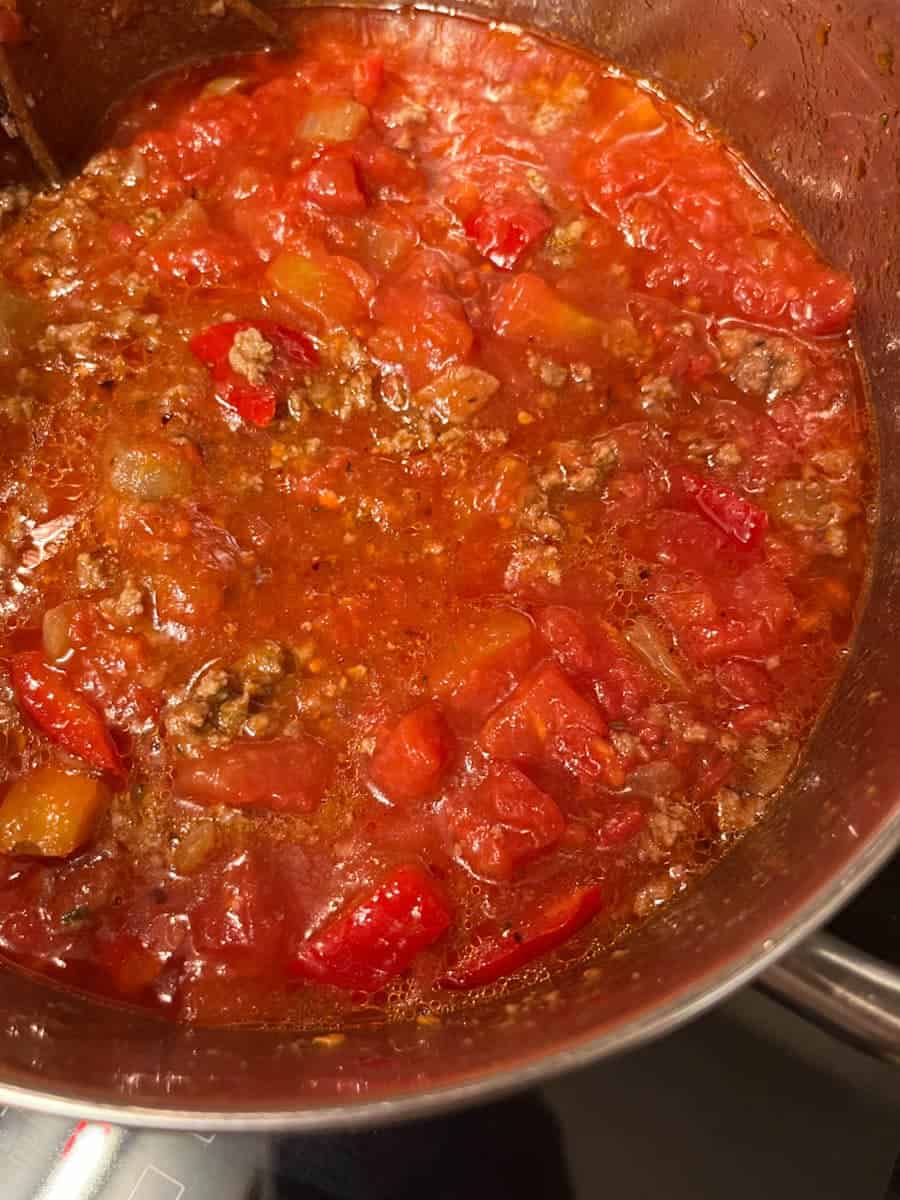 commonly asked questions
What fat percentage of minced beef is best for chilli?
You need minced beef with a decent amount of fat – I try to go for about 12-15% when cooking dishes such as chilli, mince or bolognese.
The fat also bastes the meat as it cooks and adds flavour to the sauce, so don't drain it away. You could go for a fat content of 20%, but I personally find it a little bit too oily.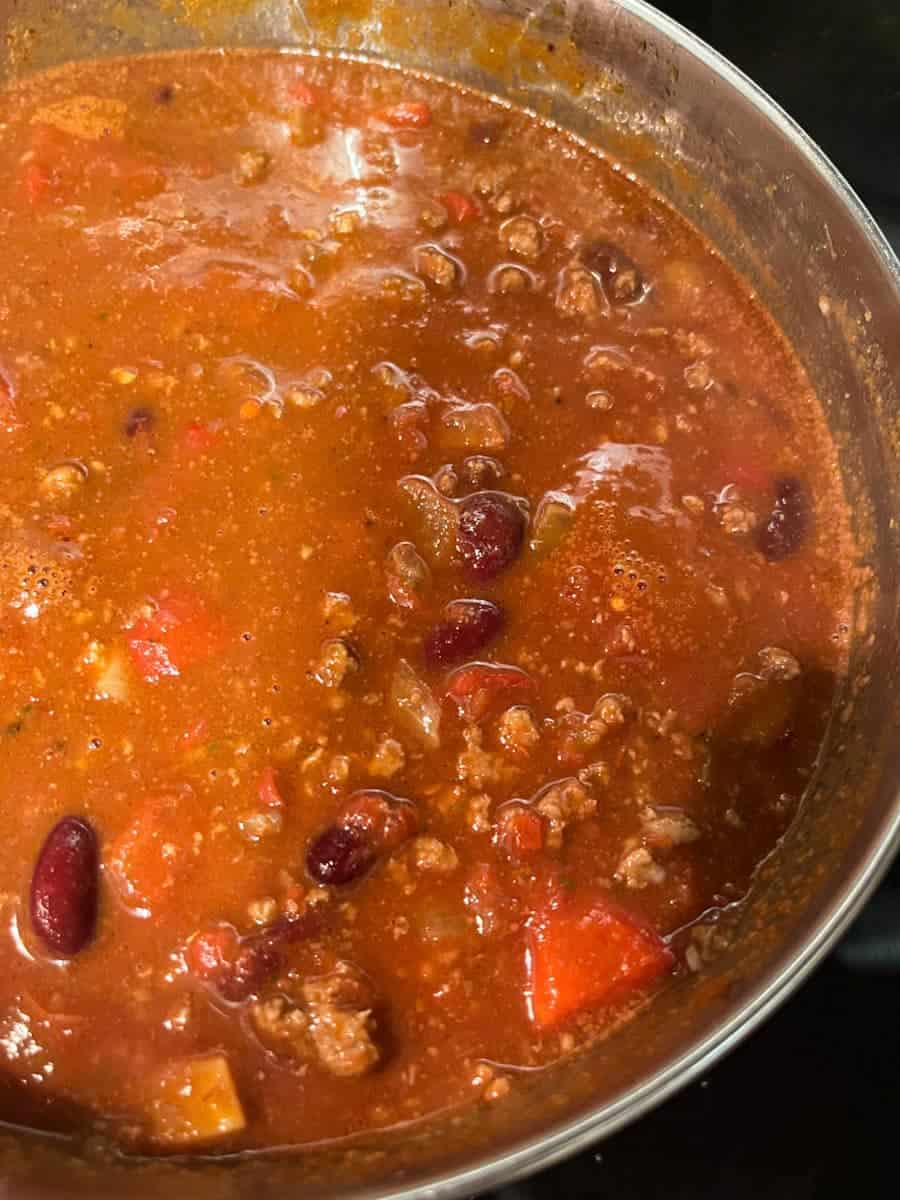 Is it better to make chilli the night before?
Yes. If possible, it's best to make Chilli Con Carne a day or two before you're going to eat it. The flavour will improve as it sits in the fridge overnight.
servIng suggestions
I like to serve chilli the classic way with grated cheese, sour cream, avocado slices or chunky guacamole and crunchy tortilla chips.
I also love to spoon chilli over a fluffy baked potato and top with lots of grated cheddar cheese. One of my favourite lunches!
Stuff Bell Peppers with Chilli, top with cheese and bake until the peppers are soft. Delicious!
Make Chilli Nachos – spoon leftover Chilli and grated cheddar over Tortilla chips. Heat until the cheese has melted and serve with sour cream and sliced jalapenos.
Make Chilli Cheese Dogs! Fill hot dog buns with hot chilli and grated cheese. Place the buns under a hot grill to melt the cheese. Serve with fries or potato wedges.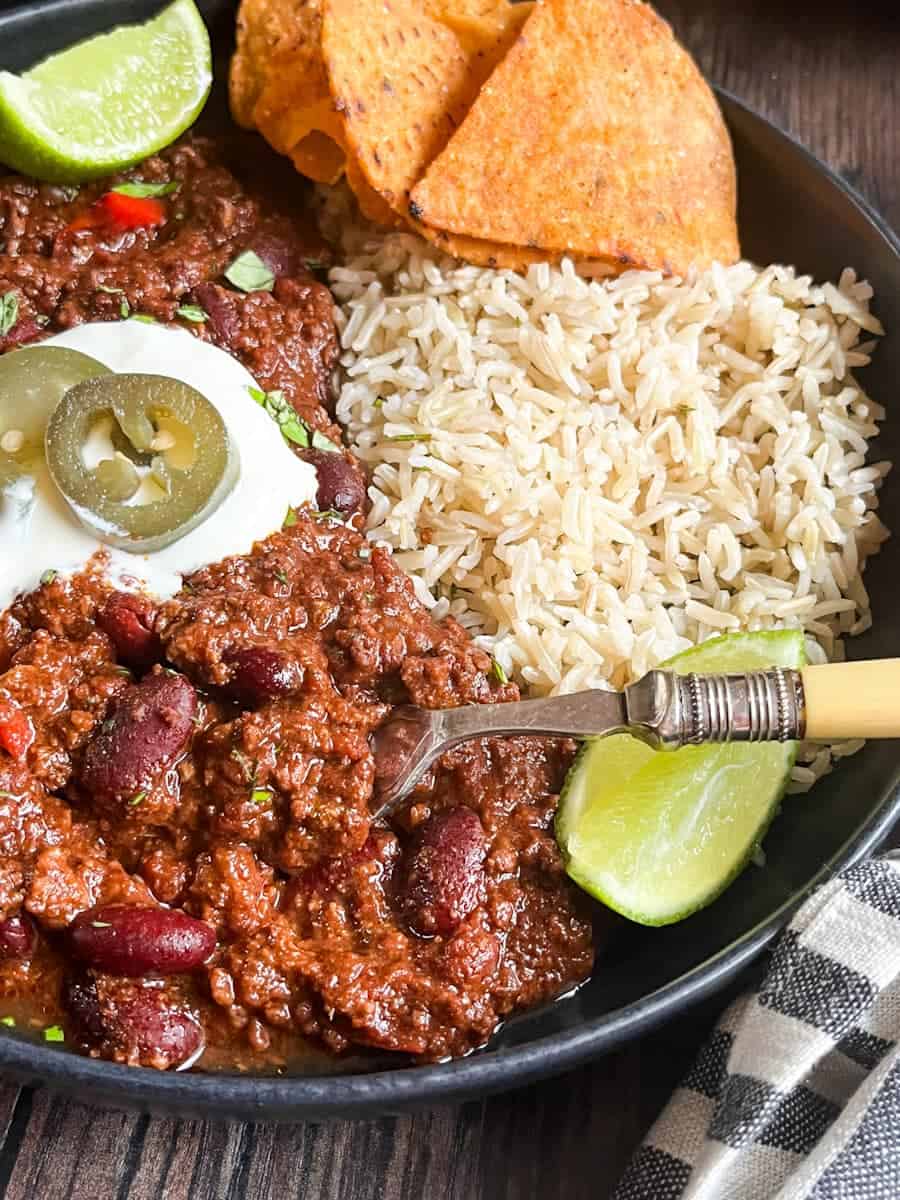 Troubleshooting
My chilli is too thin!
To thicken the sauce, simmer the chilli on a low-medium heat with the lid off for a while to reduce it down. Don't forget to give it a stir to prevent it from sticking to the pan.
My Chill is too thick!
In my opinion, a thick chilli is so much better than a thin, watery one. But if it's looking a little too thick, you can add a little bit of beef stock.
Chilli CON CARNE tastes bitter
If you think the chilli tastes a little bitter, add 1/2-1 tsp of brown sugar.
Why doesn't my chilli have enough flavour?
If you follow this recipe to the letter, you will definitely not end up with a flavourless chilli. One important thing though – check your spices are fresh.
The longer they have been stored, the less flavour they will have. So if they've been sitting in the cupboard for years, do yourself a favour and treat yourself to some new ones. The difference will be unbelievable.
I'm having a few friends over – can I double the recipe?
Definitely! You can easily double or even triple this chilli recipe without any problems.
Can I make it ahead of time?
Absolutely! I do it all the time. It's actually better if you do – making the chilli a day or two before you need it will allow all the flavours to develop. Just make sure to keep chilli in the fridge in an airtight lidded container and re-heat until piping hot.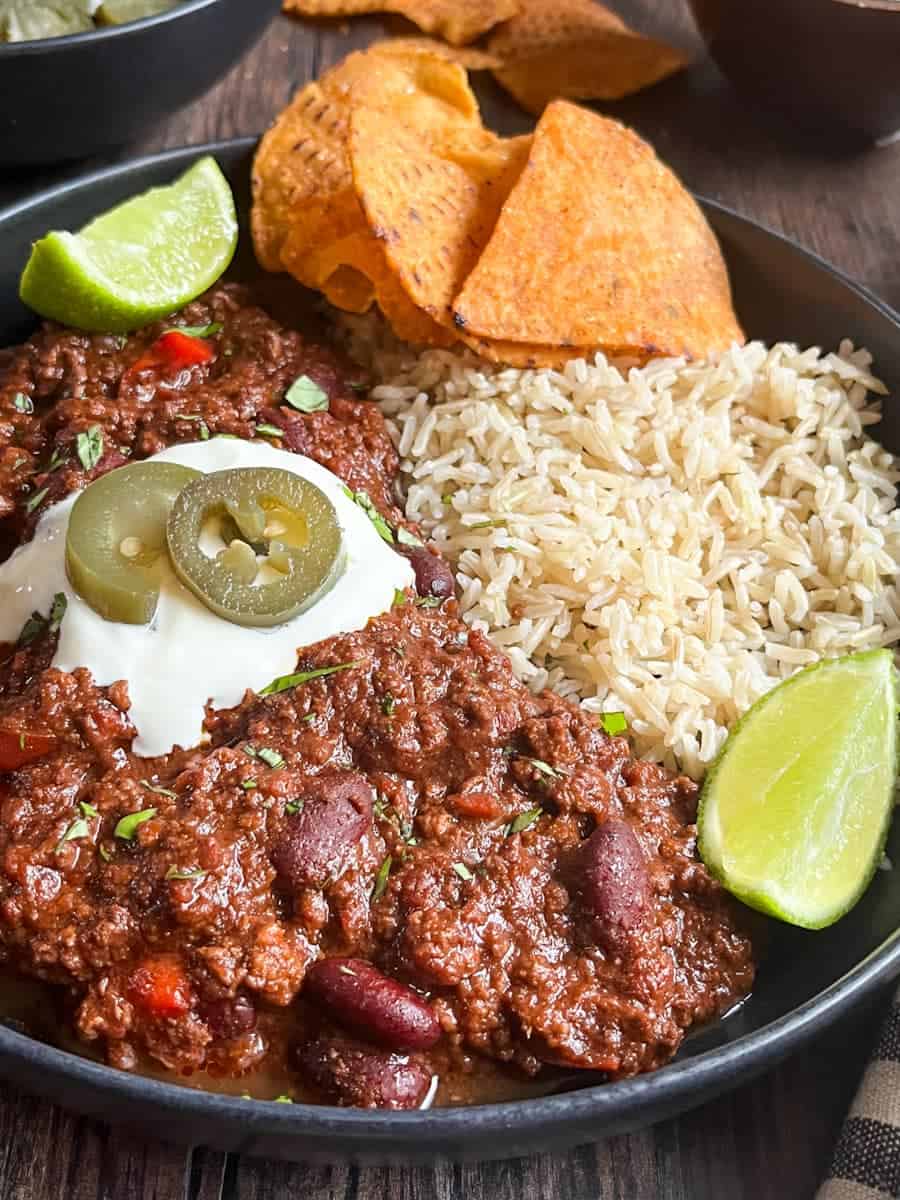 reheating instructions
When reheating the chilli, partially cover the saucepan with a lid and simmer slowly, stirring every now and then until piping hot. If it seems a little dry, you'll need to add a small amount of water or stock.
Can I freeze Chilli Con Carne?
Yes – once the chill has been cooked, allow to cool completely, then divide into portions and freeze. Defrost in the fridge overnight then reheat until piping hot. I often make a big batch of this chilli to freeze for future meals.
Need a vegan chilli recipe instead?
For a vegetarian/vegan option, take a look at these recipes for vegan Aubergine, mushroom and lentil chilli or this sweet potato and black bean chilli.
in a hurry?
Try my 30 minute chilli recipe – designed for busy weeknights!
if you like this recipe….
You might also like to try…….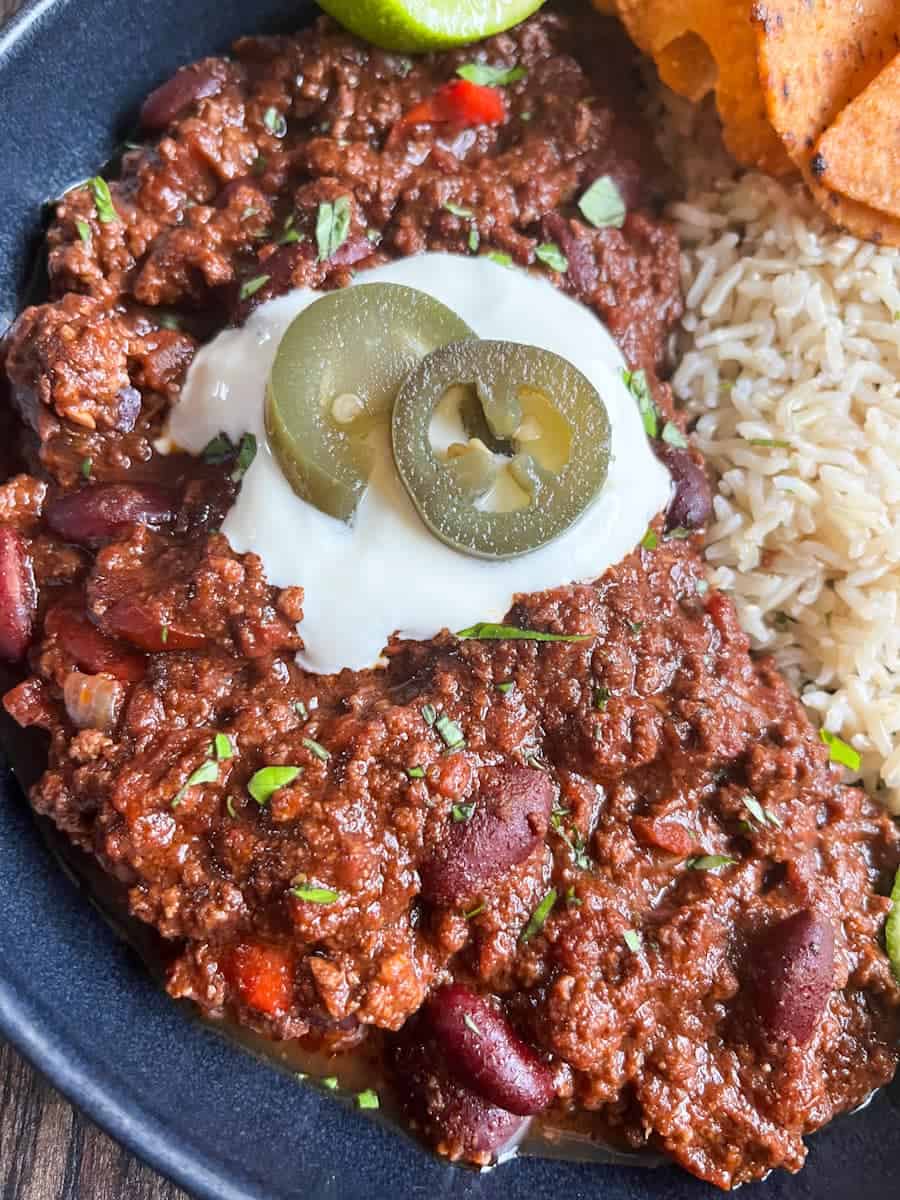 did you make this reciPe?
I hope you enjoyed it! Let me know what you thought of it by leaving a comment below and rate the recipe by clicking on the stars in the recipe card.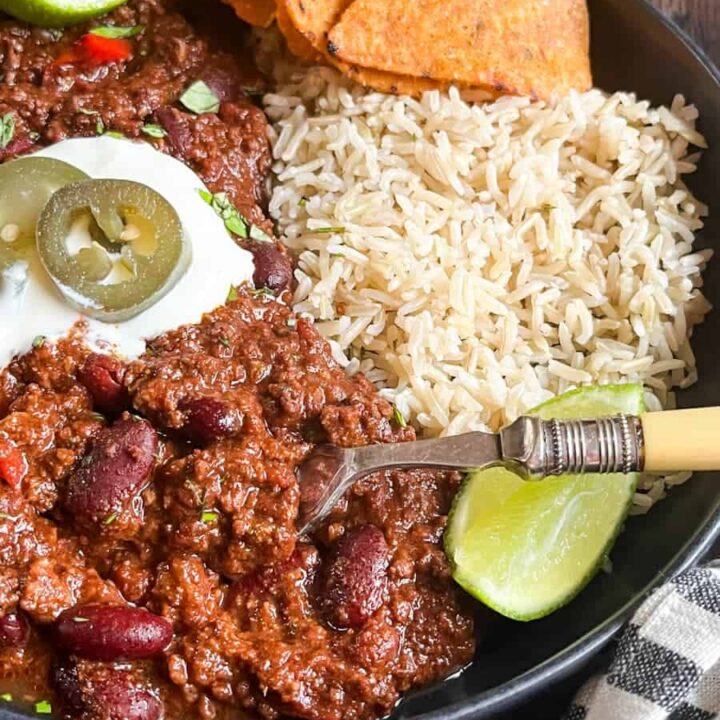 Chilli Con Carne
Total Time:
3 hours
20 minutes
My take on the classic Chilli Con Carne is full of rich, smoky flavour from dried chipotle chillies and smoked paprika. This chilli is best made in advance to allow the flavours to develop.
Ingredients
One tablespoon vegetable oil
One large or two medium onions, finely chopped
4 cloves garlic, crushed
One red bell pepper, deseeded and diced
3 teaspoons ground cumin
2 teaspoons ground coriander
2 teaspoons smoked paprika
1 teaspoon dried oregano
1/2 teaspoon Freshly ground black pepper
4 tablespoons tomato puree
500g Minced Beef
One beef stock cube
One or two dried chipotle chillies, rehydrated in boiling water for 15 minutes then finely chopped (or 1/2-1 teaspoon of dried chilli flakes or chilli powder)
Two 400g cans chopped tomatoes
4 tablespoons tomato ketchup
25g cocoa power - NOT drinking chocolate! OR 25g dark chocolate (optional but adds a lovely depth of flavour to the chilli), 70% cocoa solids
200g can kidney beans, drained and rinsed
1 tablespoon Worcestershire sauce
a few shakes of Tabasco sauce (optional)
1 teaspoon fine salt
Instructions
Heat the oil in a large pan and add the chopped onion. Cook on a low to medium heat for 10 minutes until soft and transculent, then add the crushed garlic, diced red pepper, all the spices including the black pepper and the tomato puree.
Cook for another few minutes to release the flavours, then turn up the heat and add the minced beef and the stock cube, breaking the mince up with a fork as it browns.
When the mince has browned, add the chopped tomatoes, tomato ketchup, cocoa powder, Worcestershire sauce, the chipotle chillies if using, the kidney beans, Tabasco sauce if using and the salt.
Half fill one of the empty can of chopped tomatoes with water and pour it into the pan. Turn the heat right down to low, cover with a lid and very gently simmer for 2-3 hours (the longer the better), stirring occasionally.
Notes
This chilli is definitely worth making in advance - it tastes even better after a day in the fridge.  
Not a fan of minced beef? Use stewing steak instead!  
Nutrition Information:
Yield:

6
Serving Size:

1
Amount Per Serving:
Calories:

607
Total Fat:

28g
Saturated Fat:

10g
Trans Fat:

1g
Unsaturated Fat:

13g
Cholesterol:

100mg
Sodium:

1117mg
Carbohydrates:

52g
Fiber:

8g
Sugar:

28g
Protein:

38g
Calories and nutritional information are provided by a third party application and should be viewed as indicative figures only.