Homemade chicken and chorizo Enchiladas made from scratch – no packet spice mixes or box kits required!
All the flavours of classic chicken Enchiladas with the kick of spicy chorizo sausage!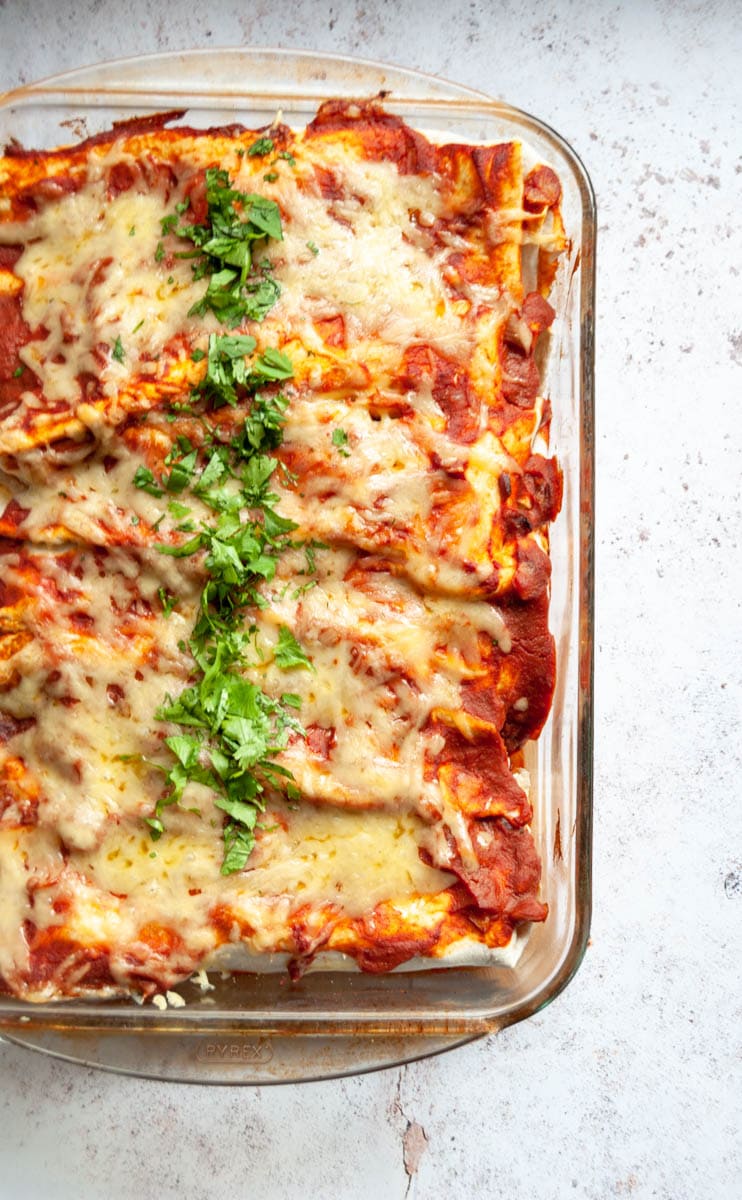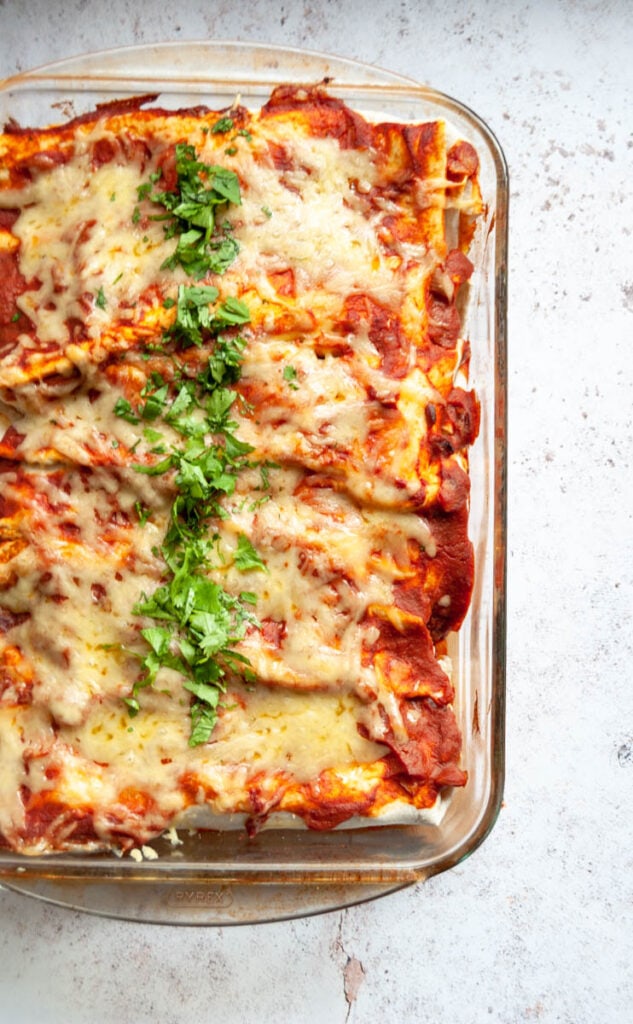 This chicken and chorizo Enchilada recipe has been a family favourite in our house for quite some time now. I intended to post the recipe long before now, but every time I made it was demolished so quickly I never got a chance to take any photographs!
The chorizo adds such a delicious spicy kick to the recipe – we love it! If you aren't a fan of chorizo, feel free to leave it out. The Enchiladas are still so good without it!
more recipes with chorizo
I must admit, I do love adding chorizo to recipes – it's such a versatile ingredient that perks up so many different dishes. Check out my recipes for chicken and chorizo pasta, mozzarella stuffed beef and chorizo meatballs, slow cooker beef and chorizo casserole and this one pot chorizo and pepper rice.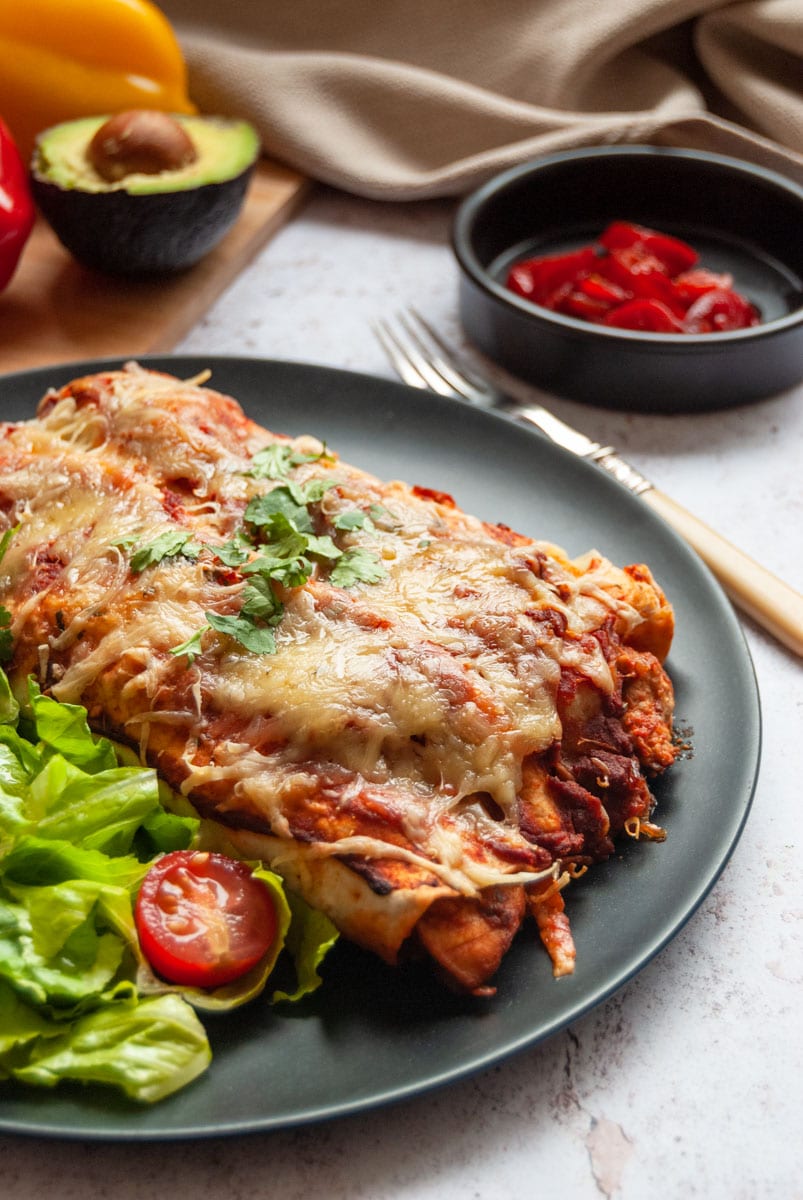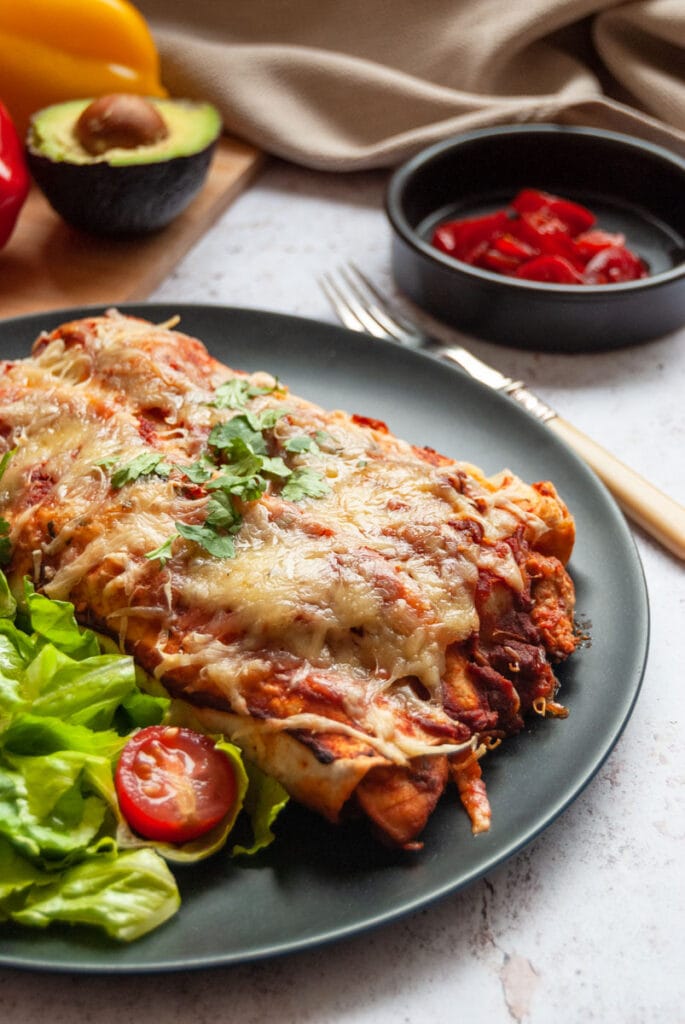 why you should try this recipe
Can easily be adapted with different ingredients – see recipe notes below for some suggestions on how to change it up
If you like Enchiladas but have only made the box kits with the spice sachets and sauces, give this homemade from scratch recipe a go – you won't go back to the boxes, I promise you! There is simply no comparison.
You can adapt the spices – make it mild or as spicy as you like. This recipe isn't super hot – I've served it to kids aged 5-18 with no complaints at all. If you love a bit of heat, you could add a little more chilli powder.
Ingredient list
Chicken breast fillets. You could use boneless thigh fillets if you prefer.
chorizo sausage. I've used cured and the cooking chorizo in this recipe and both work just fine. If you're using the cured chorizo, it's often a good idea to peel the skin off as it can be quite chewy. Since there is already chilli powder in this recipe, I don't use a spicy chorizo. But if you like a bit of extra heat, go for it!
Pineapple chunks in juice. Wait! Please don't leave in disgust – if the idea of fruit and meat turns you off, please feel free to omit it. BUT – the sweetness of the pineapple really works with the chicken, chorizo and the spicy flavours in the sauce. Honestly, it's SO good! I got this wonderful idea from Shivi Ramoutar, while watching Saturday Kitchen one morning.
onion, garlic and sliced red (or any colour you like!) pepper.
for the homemade enchilada sauce
Peeled and finely chopped onions – you can use a red or a regular brown onion
Tomato passata (sieved tomatoes)
garlic granules, onion salt, smoked paprika, dried oregano, ground cumin and chilli powder
brown sugar to reduce the acidity in the tomato passata.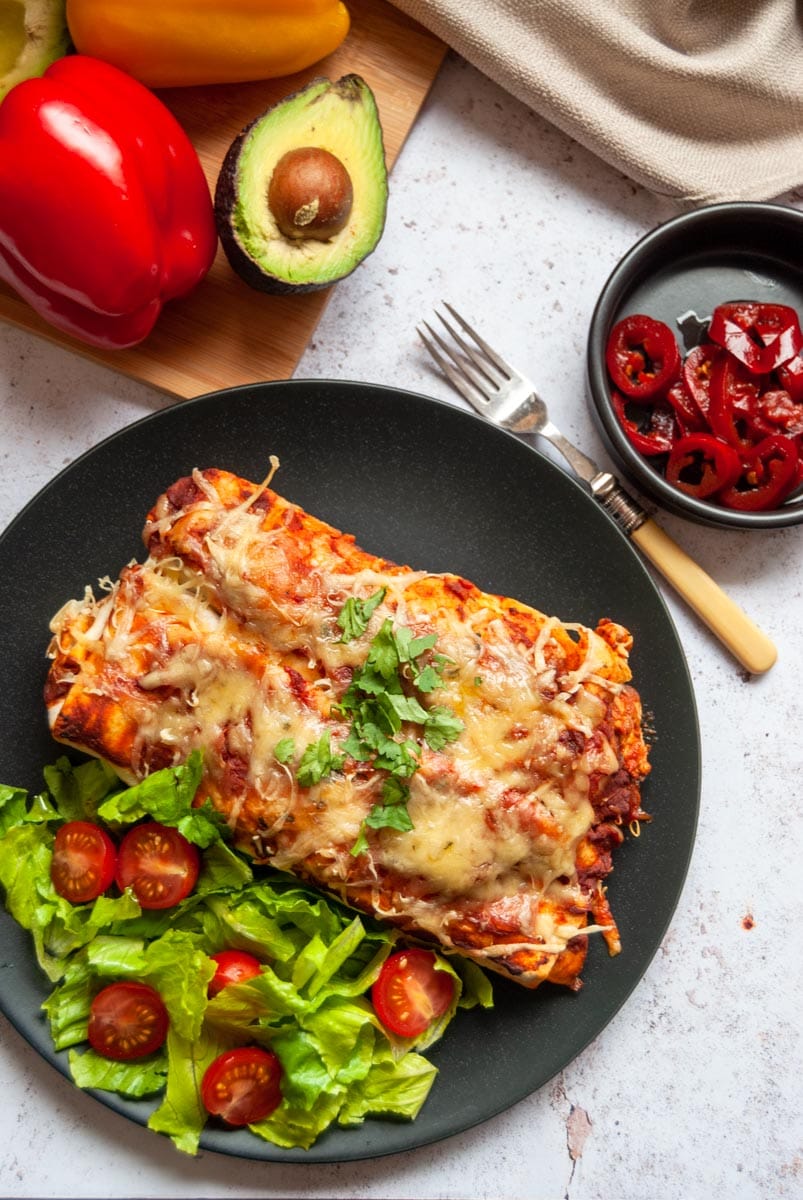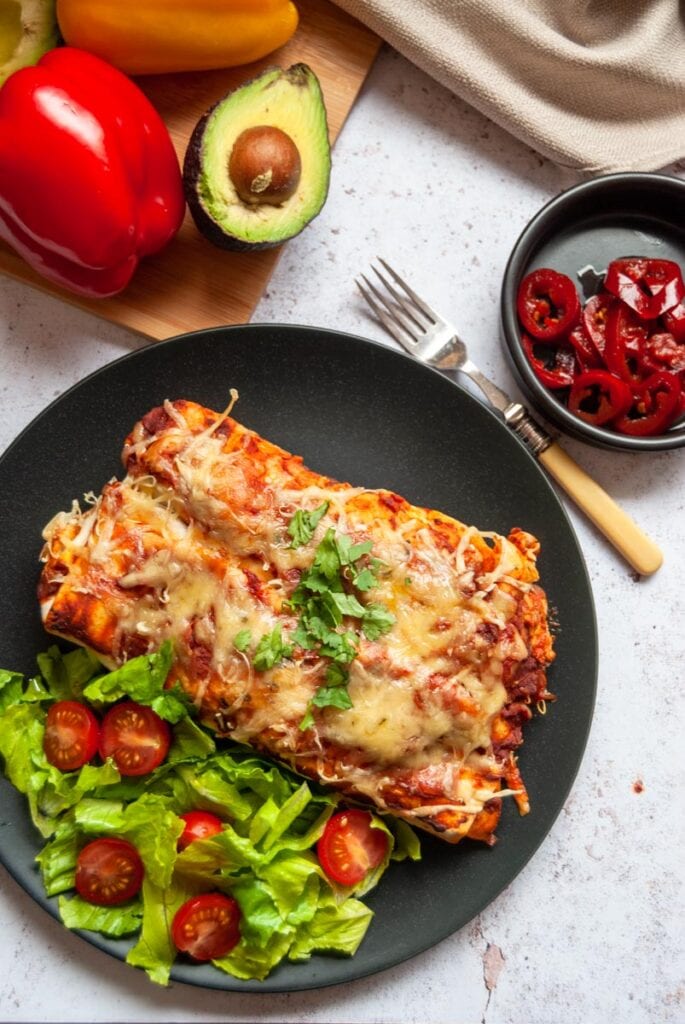 how to make chicken and chorizo Enchiladas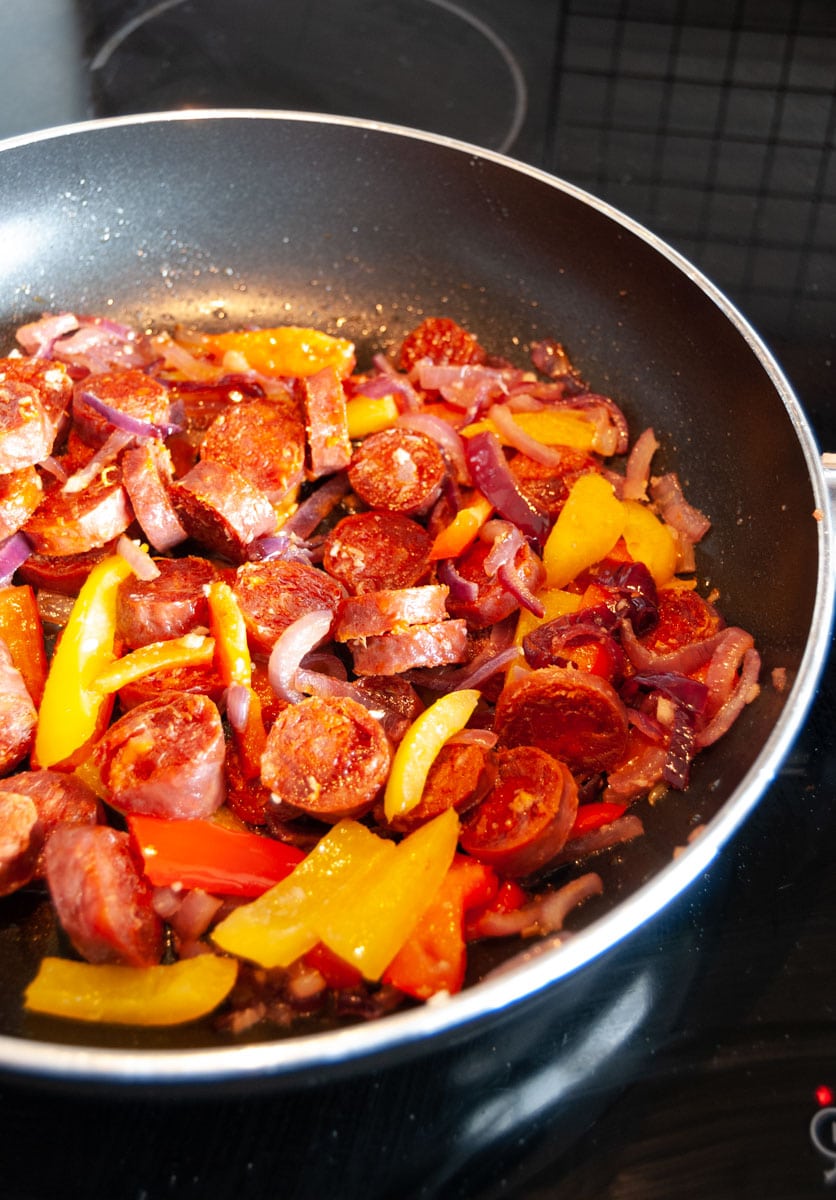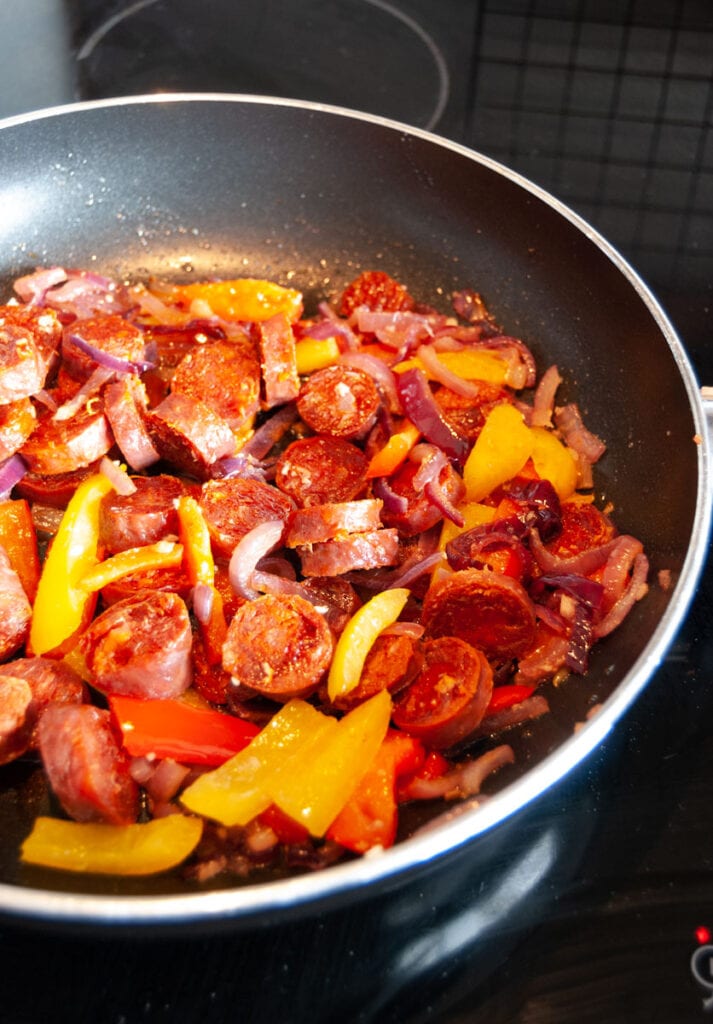 recipe notes
How to make homemade Enchilada sauce
Homemade Enchilada sauce usually contains tomato sauce and some kind of stock or broth. My quick version doesn't include stock – just tomato passata and spices. It might be quick to make, but it's full of flavour and tastes so much nicer than bottled sauce.
To make the Enchilada sauce you start off by gently frying onions and garlic, then add the spices. TOP TIP! Frying the spices for a couple of minutes releases the aromas and will infuse your sauce with more more flavour.
Add your tomato passata, a pinch of sugar and season with salt and pepper. Simmer on a low heat for around 10 minutes or until slightly thickened.
can you make chicken and chorizo enchiladas in advance?
Yes! Prepare the Enchiladas but don't sprinkle the cheese on top. Cover the dish with cling film and chill for up to 24 hours before cooking. You'll need to cook the Enchiladas for about 15 minutes longer to ensure they are piping hot in the middle.
recipe add ins
You could add all sorts of bits and pieces in this recipe – here are just a few ideas –
A tin of refried beans adds great flavour (and also goes great with chilli, so I'm reliably informed)
Diced courgette or sliced mushrooms
sweet potato, chopped into small dice
a handful of fresh spinach (add one minute before the end of cooking time)
did you make this recipe?
I hope you enjoyed it as much as we did! Let me know what you thought by leaving a comment below – and please rate the recipe by clicking on the stars in the recipe card.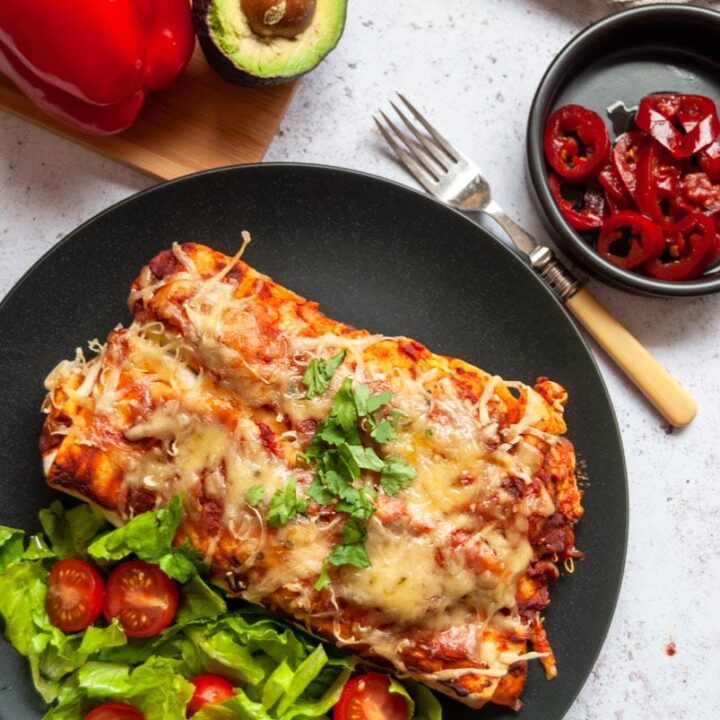 Chicken and chorizo Enchiladas
Total Time:
1 hour
30 minutes
These homemade chicken and chorizo Enchiladas are a perfect family dinner that can easily be adapted in so many different ways. I add Spanish chorizo sausage for a smoky, spicy kick that goes perfectly with the Enchilada sauce.
Ingredients
FOR THE ENCHILADA SAUCE
1 tablespoon olive oil
one small onion, peeled and finely diced
1 teaspoon garlic granules
1 teaspoon onion salt
1 ½ teaspoons smoked paprika
1 teaspoon dried oregano
½ teaspoon ground cumin
1 teaspoon chilli powder
sea salt and freshly ground black pepper
500g tomato passata
½ tablespoon brown sugar
FOR THE ENCHILADA FILLING
1 tablespoon olive oil
one large onion, peeled and finely sliced
one large red, yellow or orange bell pepper, cored, deseeded and sliced into strips
225g cured (or cooking) chorizo sausage, skin removed and sliced into small chunks
500g chicken breasts, sliced into thin strips
225g can of pineapple chunks in juice, drained (optional, but so good!)
8 flour or corn soft Tortilla wraps
50g grated cheddar or red Leicester cheese
Sour cream and Guacamole to serve
Instructions
Start by making the Enchilada sauce. Heat the oil in a large saucepan over a medium heat, then add the onions. Turn the heat down to low and gently fry them, stirring every now and then until they have softened, about 10 minutes. You don't want to brown them - you want them soft and translucent.
Add the garlic granules, onion salt, smoked paprika, dried oregano, ground cumin, chilli powder and a grinding of black pepper. Cook for a couple of minutes to release the aromas, then pour in the tomato passata. Stir in the brown sugar. Bring the sauce to a simmer, cover partially with a lid and cook on a low-medium heat for about 10 minutes. Taste the sauce to check if you want to add any more salt and pepper. Remove from the heat and set aside while you make the Enchilada filling.
For the Enchilada filling, heat the olive oil in a large, deep frying pan or saucepan over a medium-high heat. Add the sliced onions and peppers and gently fry, stirring regularly until softened, about 10 minutes. When the vegetables have softened, add the chorizo sausage and gently fry for about 4-5 minutes or until the chorizo has started to crisp up a little and release the spicy oil. Remove the onions, peppers and chorizo from the pan with a slotted spoon and transfer to a bowl.
Turn up the heat to medium high and fry the chicken in the chorizo oil, stirring all the time until the chicken is golden brown, about 8-10 minutes. Return the onions, peppers and chorizo to the pan and stir to mix. Pour in around half of the Enchilada sauce and give another stir to mix everything together. Stir in the drained pineapple chunks, if using and gently simmer on a low heat for about 10 minutes. Preheat the oven to 180C/160Fan/350F/Gas mark 4.
To prepare your Enchiladas, get your dish and spoon a little of the sauce on the bottom. This will stop the tortillas from sticking to the bottom of the dish. Divide the mixture between the tortilla wraps and roll the wraps up and fold the edges to seal them. Place the filled wraps in the dish.
Pour the remaining Enchilada sauce over the filled wraps, sprinkle with the grated cheese and bake in the oven for about 15-20 minutes or until bubbling and golden. Serve the Enchiladas with sour cream, Guacamole, pickled jalepenos and a side salad if desired.
Nutrition Information:
Yield:

8
Serving Size:

1
Amount Per Serving:
Calories:

868
Total Fat:

22g
Saturated Fat:

7g
Trans Fat:

0g
Unsaturated Fat:

12g
Cholesterol:

85mg
Sodium:

841mg
Carbohydrates:

124g
Fiber:

7g
Sugar:

14g
Protein:

42g
Calories and nutritional information are provided by a third party application and should be viewed as indicative figures only.