Slutty Brownies are made up of three decadent layers – chocolate chip cookie dough, Oreo cookies and chocolate fudge brownie! Why choose between a chocolate chip cookie, an Oreo or a brownie when you can have them all at the same time?
These oreo stuffed cookie dough brownies might be ridiculously outrageous and completely over the top, but they are definitely worth trying even just once!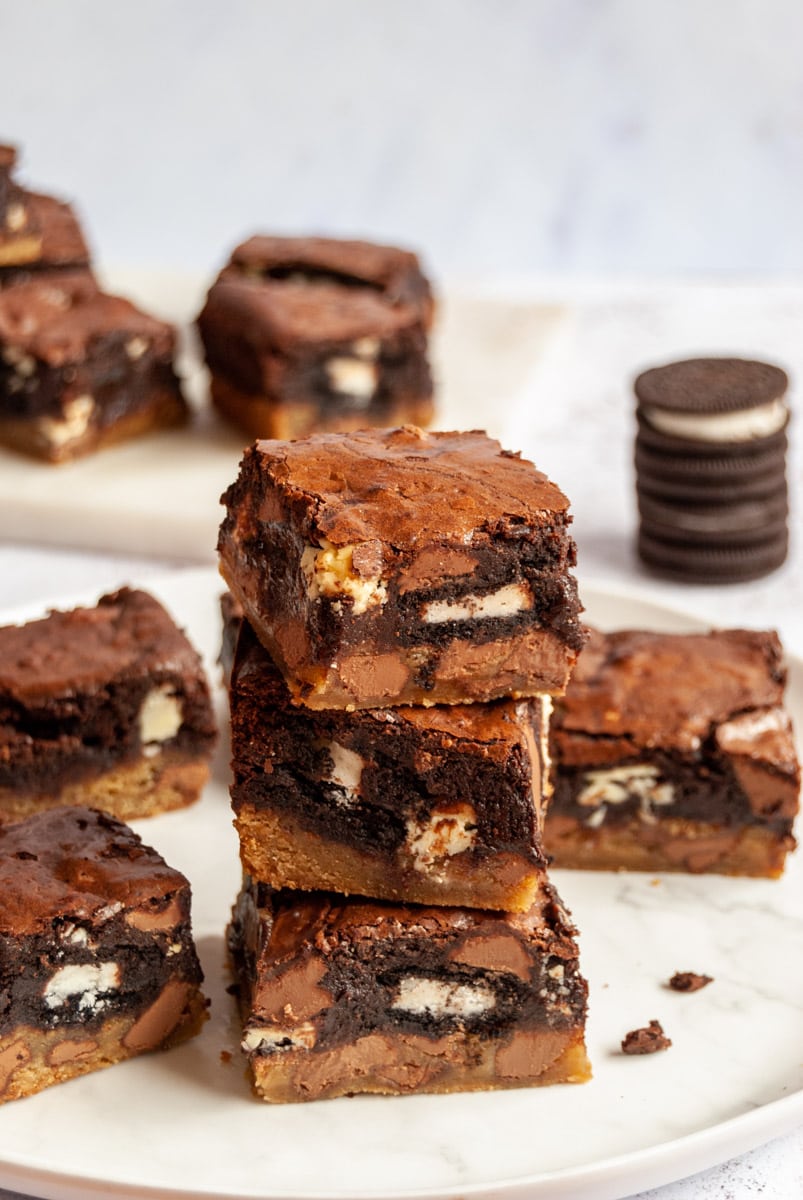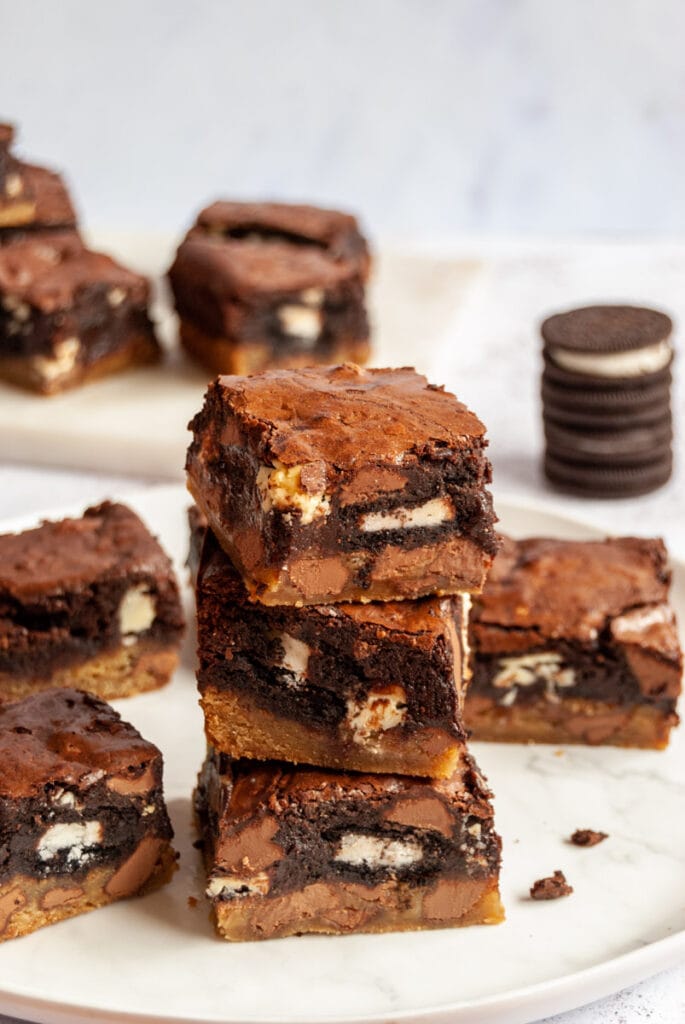 Just to be clear…I did not come up with the name for these crazy brownies! If you Google "slutty brownies" you'll come up with all kinds of variations on the recipe.
As far as I am aware, the website Kevin and Amanda originally came up with the idea of an Oreo stuffed cookie dough brownie recipe, but they didn't give them the now famous and slightly controversial name. They were actually christened "Slutty Brownies" by The Londoner. They are now an Internet sensation.
I just want to put it out there that I am NO big fan of the name of these brownies, but this recipe is just too good and naughty not to share!
I have tons of different brownie recipes – salted caramel brownies, Nutella brownies, cherry brandy pecan brownies, white chocolate and raspberry brownies, Creme egg brownies and even Guinness brownies with salted caramel Baileys sauce, but these definitely rate the highest score on the decadent scale….well, they are certainly up there with the Guinness brownies!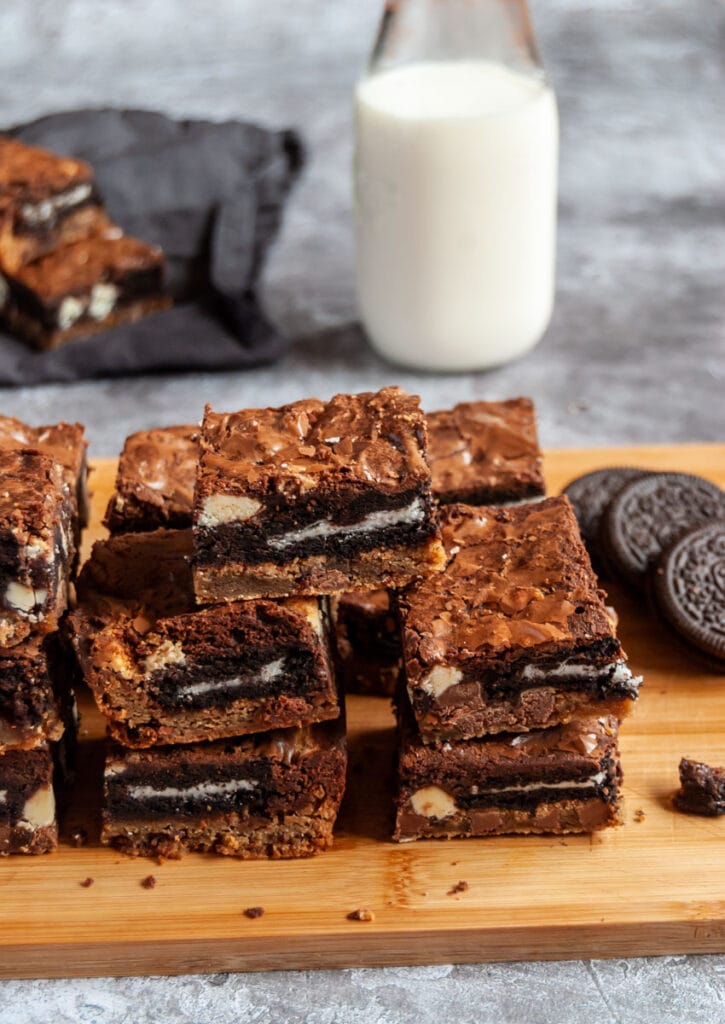 WHAT are slutty brownies?
Slutty brownies are made up of three parts.
Oreo cookie in the middle
Chocolate Fudge brownie on top
Slutty brownies are often made with boxed cookie dough and chocolate brownie mixes for ease and convenience, but I'm going to show you how to make them from scratch.
I do realise that doing this is rather contradictory to the name of these brownies, but I never use box mixes. It just ain't my thing. But I'm sure they would still be super delicious made from box mixes! Let's be real – cookie dough – Oreos – fudge brownies – how can you possibly go wrong??
ingredient list
FOR THE CHOCOLATE CHIP COOKIE LAYER
Plain (all purpose) flour
granulated sugar and soft light brown sugar
1 large egg and 1 large egg yolk
milk chocolate chunks or chips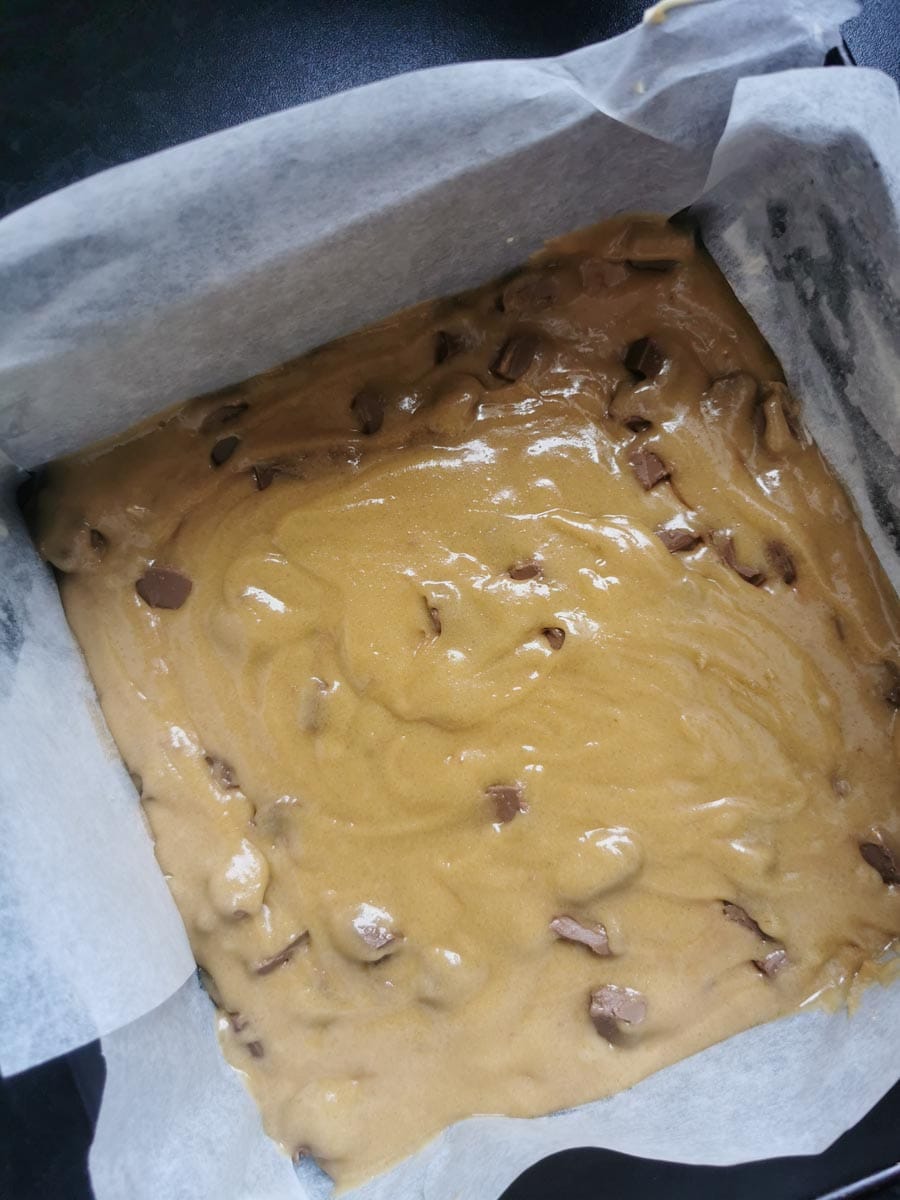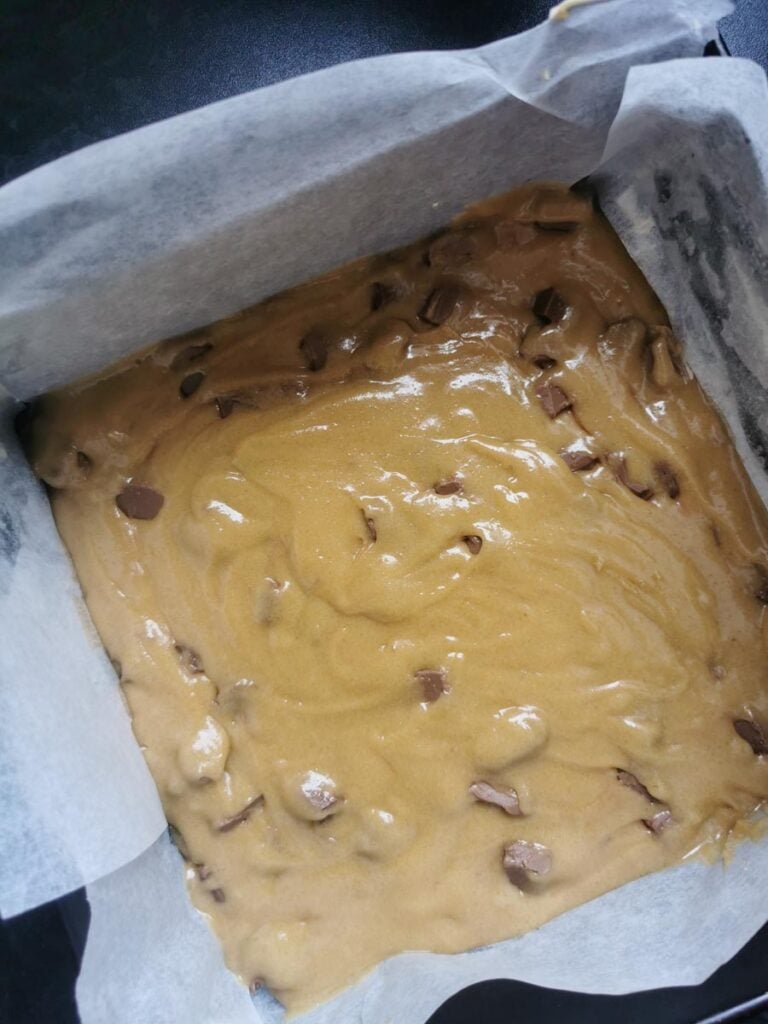 the fudge brownie layer
White or milk chocolate chips (or chunks) If the mood strikes you, use both white and milk chocolate to make a triple chocolate brownie! I mean why not completely push the boat out??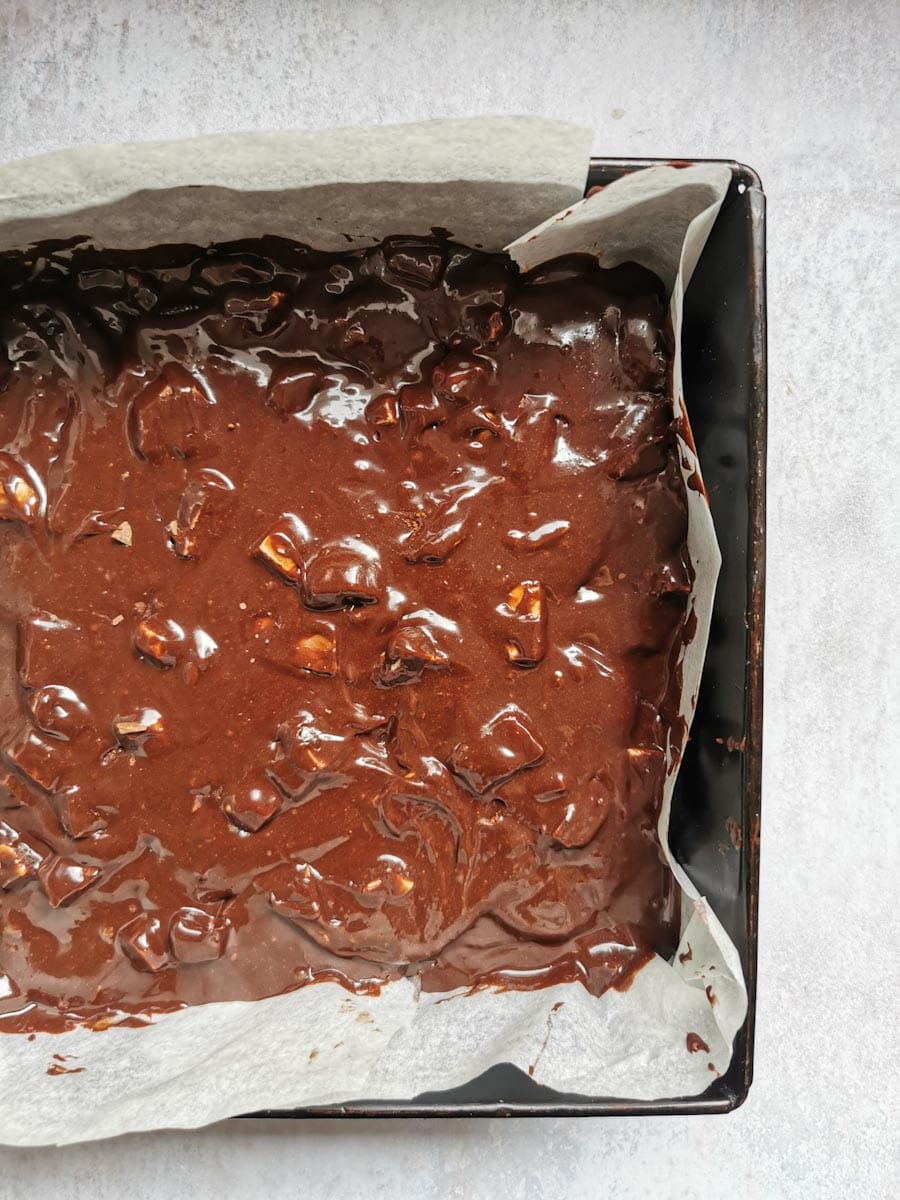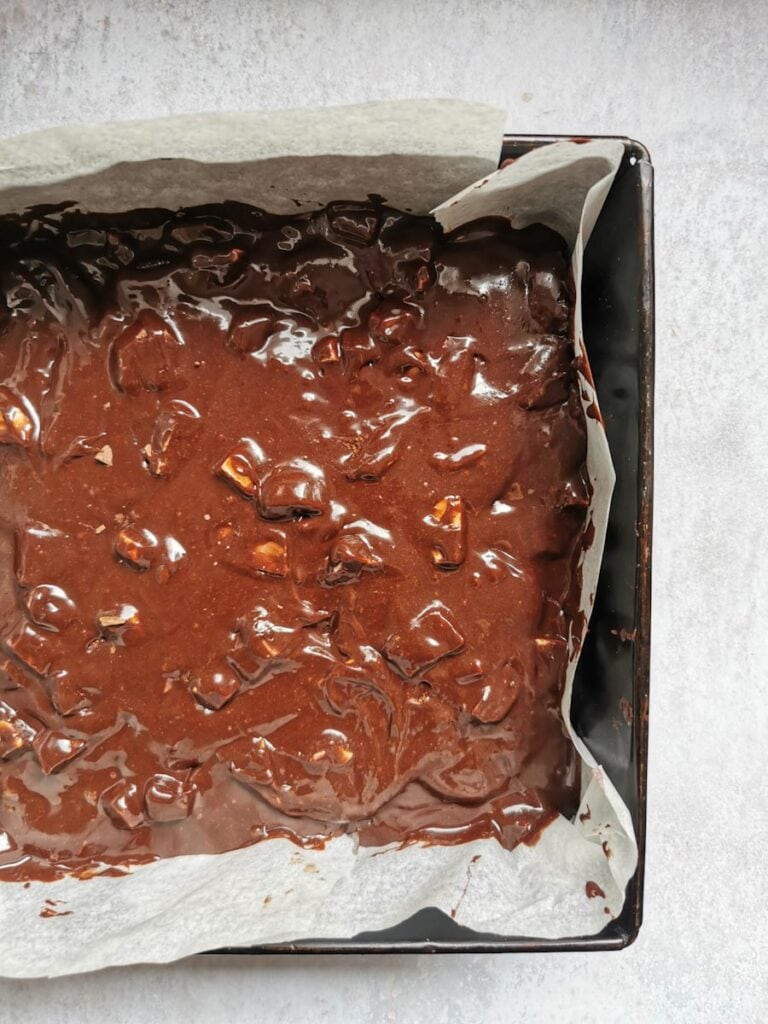 the cookie layer
you'll need 16 Oreo cookies – double stuffed Oreos are even better! Or experiment with the different Oreo flavours available….I'll leave it up to you!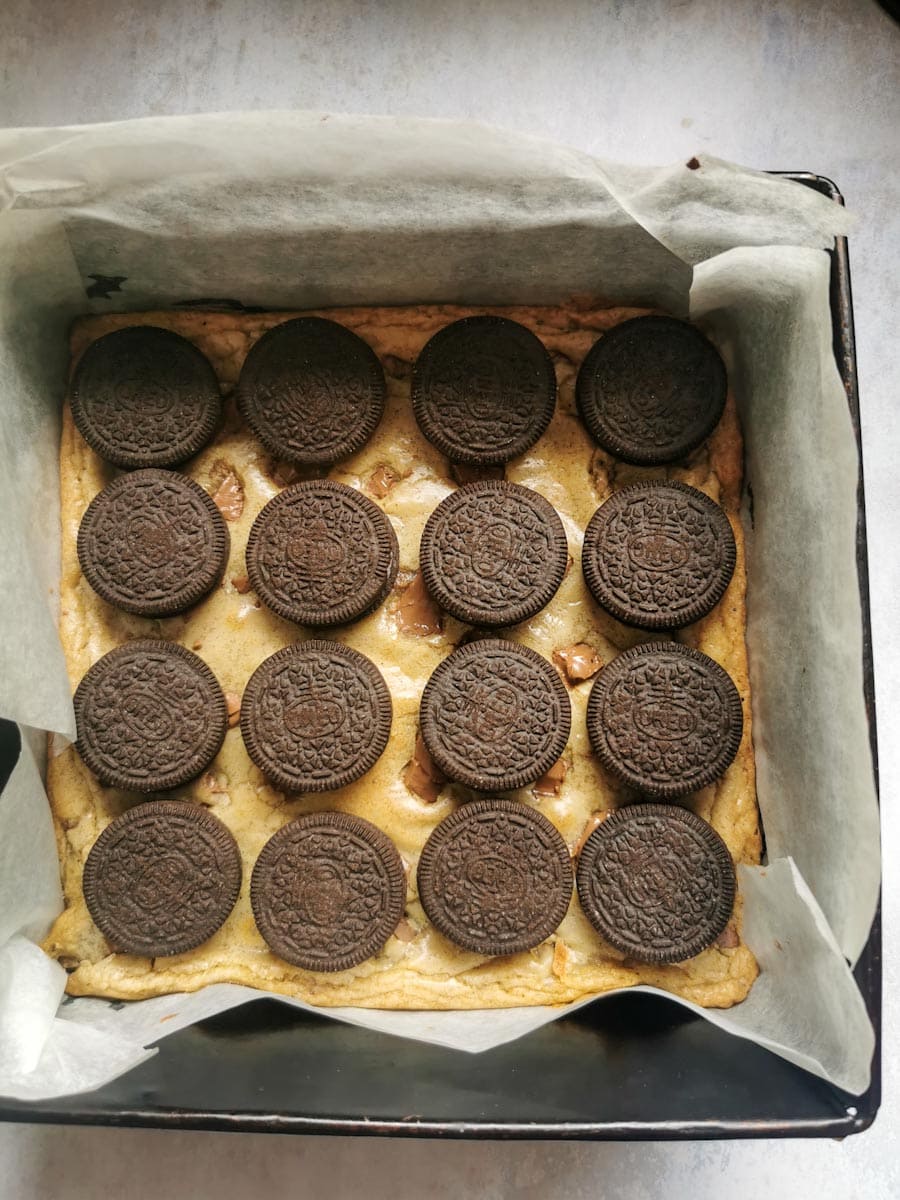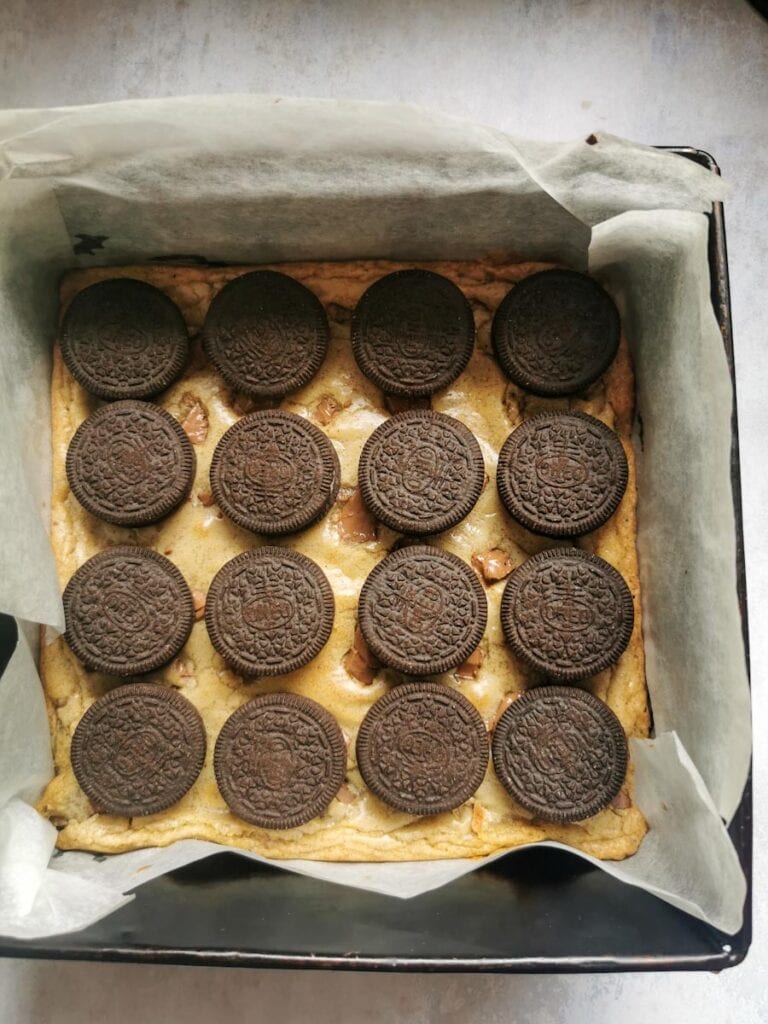 recipe notes
I used my soft and chewy chocolate chip cookie recipe for the cookie layer. This recipe worked really well – when they are baked all in one pan, the edges of the cookie go chewy and crispy and the middle stays a little bit gooey – best of both worlds, if you ask me!
You need to partially bake the cookie layer for about 15-20 minutes – this will give you a nice soft and chewy base with just a little goo in the middle. I tried chilling the dough instead of pre-baking it, but I much preferred the results of giving it that first initial bake.
Be sure to let your brownies rest for a good few hours before cutting them – I always leave them overnight. I find them much easier to cut that way!
If you're baking these brownies and kids happen to be around, you could always change the name….since they are sort of like brookies, (a mash up between a cookie dough and a chocolate brownie) you could call them brookios! That might avoid any awkward conversations…or simply cookie dough Oreo brownies!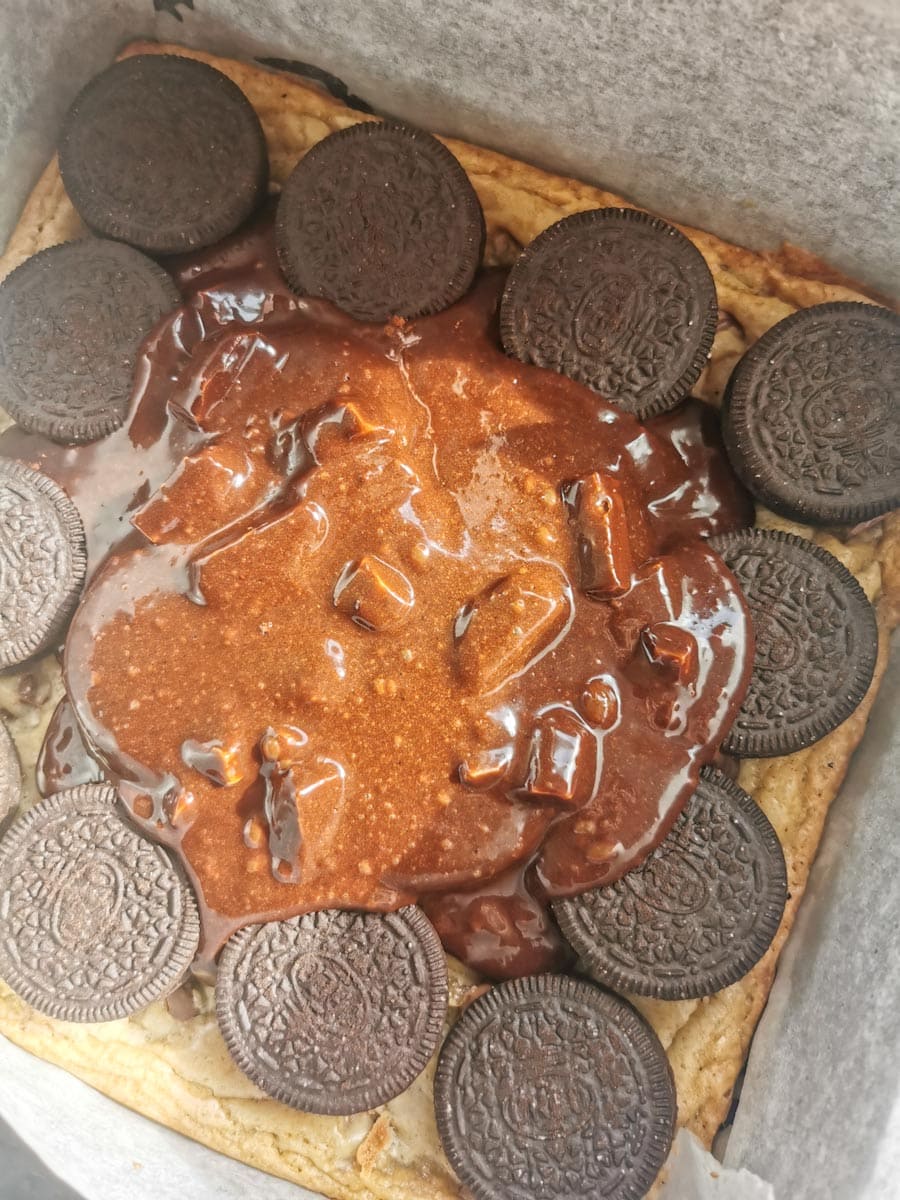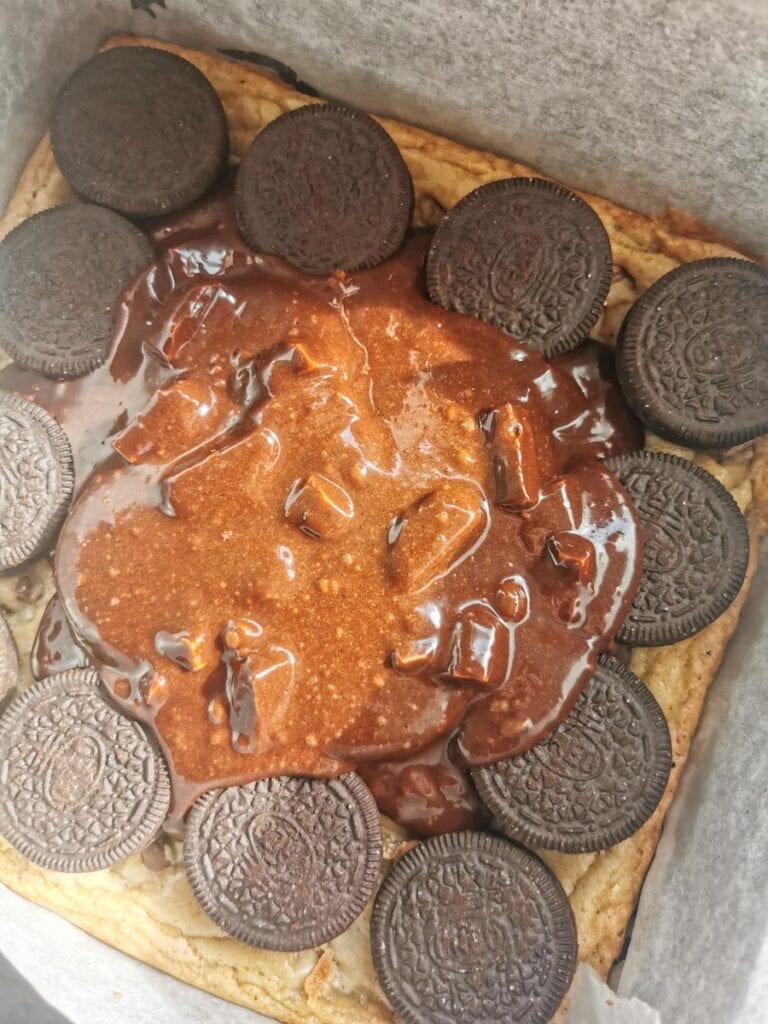 storage instructions
The brownies will keep in an airtight tin for up to three or four days. While they are still fine to eat for up to a week of making them, they will start to dry out after day four.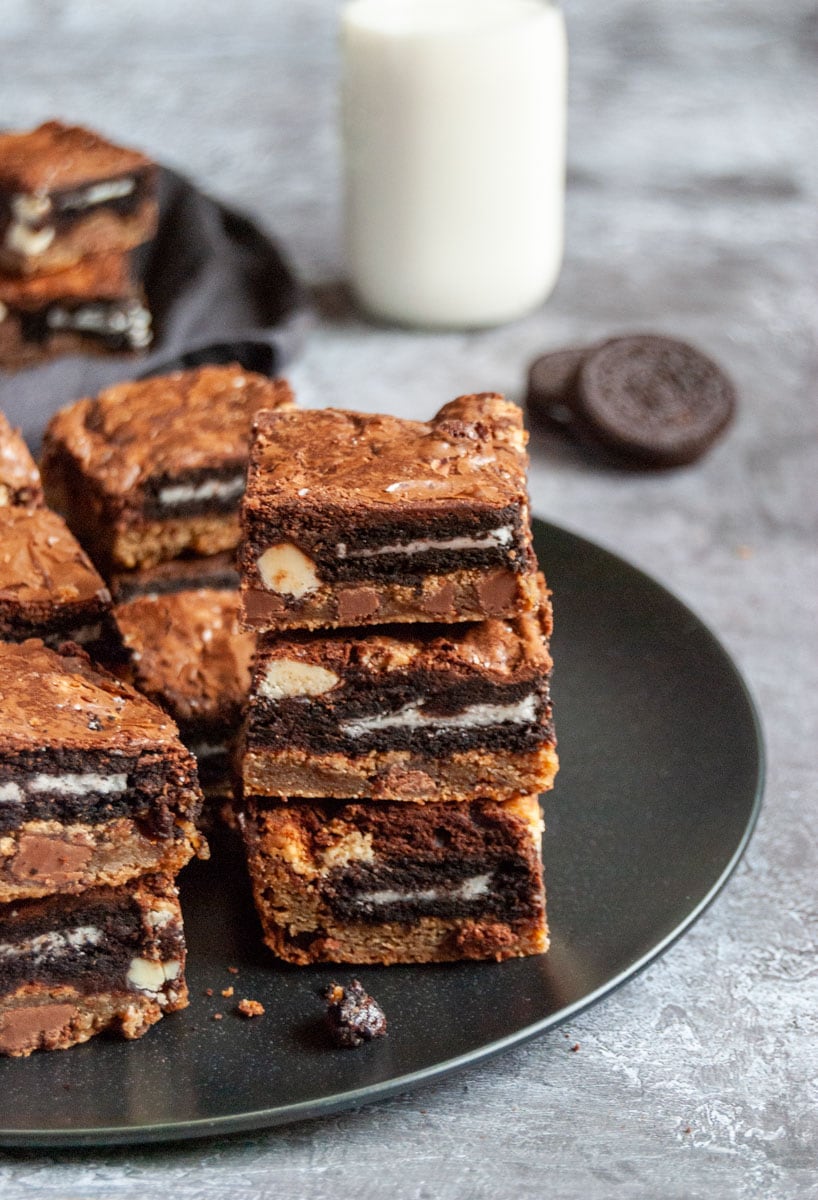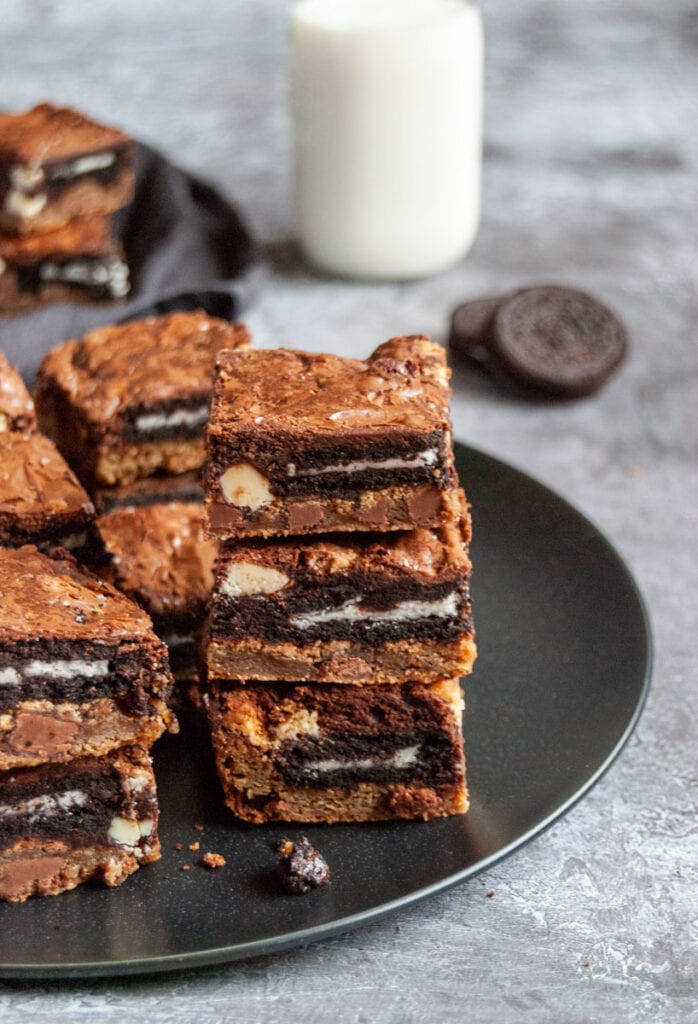 Did you make this recipe?
I hope you enjoy it! Let me know what you thought by leaving a comment below and please rate the recipe by clicking on the stars in the recipe card.
Any questions?
If you have any questions about the recipe, don't hesitate to get in touch – leave a comment or message me on any of my social media channels.
more brownie recipes to try
Terry's chocolate orange brownies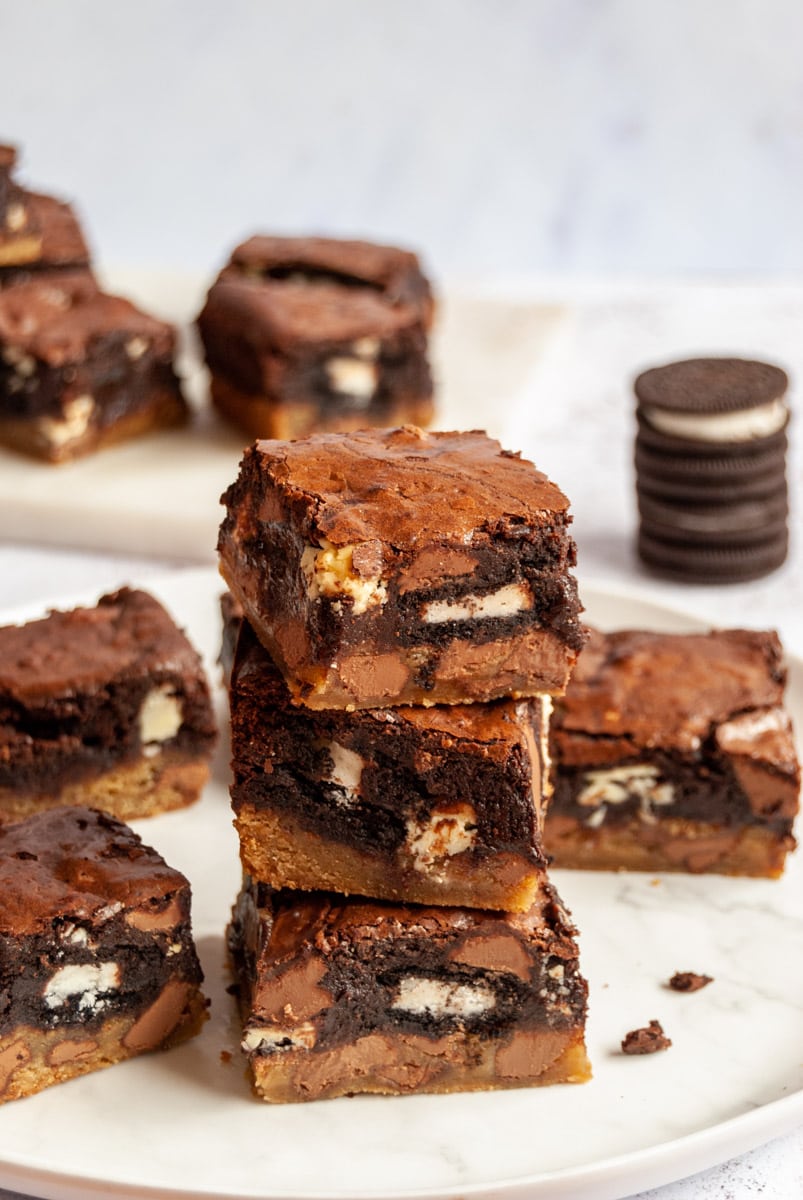 Slutty Brownies
Total Time:
1 hour
20 minutes
Why choose between chocolate brownie or a chocolate chip cookie when you can have both? Meet Slutty Brownies - a layer of chocolate chip cookie and chocolate fudge brownie with an Oreo cookie in the middle!
Ingredients
FOR THE COOKIE LAYER
225g plain (all purpose) flour
½ teaspoon bicarbonate of soda (baking soda)
½ teaspoon fine salt
175g soft unsalted butter
100g granulated sugar
125g soft light brown sugar
1 teaspoon vanilla extract
1 large egg
1 large egg yolk
200g milk chocolate chunks or chips
FOR THE MIDDLE
16 Oreo cookies
FOR THE CHOCOLATE FUDGE BROWNIE LAYER
60g plain (all purpose) flour
1/4 teaspoon fine salt
25g cocoa powder
125g unsalted butter
150g caster sugar
2 large eggs
100g dark chocolate, at least 52% cocoa solids
1 teaspoon vanilla extract
80g milk or white (or a mixture of both) chocolate chips or chunks
Instructions
Preheat the oven to 180C/160Fan/350F/Gas mark 4. Grease and line a 22cm square tin, letting the baking paper hang over the edge by a few centimetres.
For the cookie layer, place the flour, salt and bicarbonate of soda in a medium bowl and stir to mix everything together. Set aside.
Using an electric mixer (or a wooden spoon) cream the soft butter and both sugars together until light and creamy - take will take 2-3 minutes using a mixer and at least 5 minutes by hand.
Beat in the eggs, one at a time until you have a smooth batter. Stir in the vanilla extract. Using a mixer, metal spoon or large, sturdy spatula, fold in the dry ingredients. Stop mixing as soon as there is no flour streaks. Finally stir in the chopped chocolate or chips.
Spoon the cookie dough into the lined tin and level the top using a small angled palette knife. Bake the cookie layer for about 15 minutes, or until just beginning to set and colour very lightly (see my photo in the post for an idea of what it should look like.) It might need an extra 5 minutes, but no more.
Remove the tin from the oven and allow to cool a little for 5-10 minutes, then place the Oreo cookies on top,
To make the chocolate brownie, place the plain flour, cocoa powder and salt in a medium bowl and mix to combine.
Melt the butter slowly in a medium sized saucepan pan and once melted, turn off the heat and add the chocolate and vanilla extract, stirring occasionally to melt. Set aside to cool down a little.
Whisk the eggs and caster sugar together until very light, pale and doubled in volume, about 4-5 minutes. Fold in the melted chocolate mixture until you have a smooth batter, then fold in the flour mixture and chocolate chips or chunks.
Spoon the brownie batter over the Oreos in the tin, using a small spatula to spread the batter evenly around the tin. Make sure the cookie dough and Oreos are completely covered by the brownie batter.
Bake in the oven for 25-30 minutues or until the top of the brownie has set. The brownie will still be a little wobbly in the middle, but will set while cooling down. Leave the brownie to cool completely in the tin for several hours (ideally overnight) until slicing into squares with a very sharp knife.
Nutrition Information:
Yield:

16
Serving Size:

1
Amount Per Serving:
Calories:

454
Total Fat:

28g
Saturated Fat:

15g
Trans Fat:

0g
Unsaturated Fat:

9g
Cholesterol:

104mg
Sodium:

216mg
Carbohydrates:

49g
Fiber:

2g
Sugar:

38g
Protein:

5g
Calories and nutritional information are provided by a third party application and should be viewed as indicative figures only.