These M&M Brownies are a fun twist on a classic cocoa brownie recipe! Great for Birthday parties or an easy weekend bake.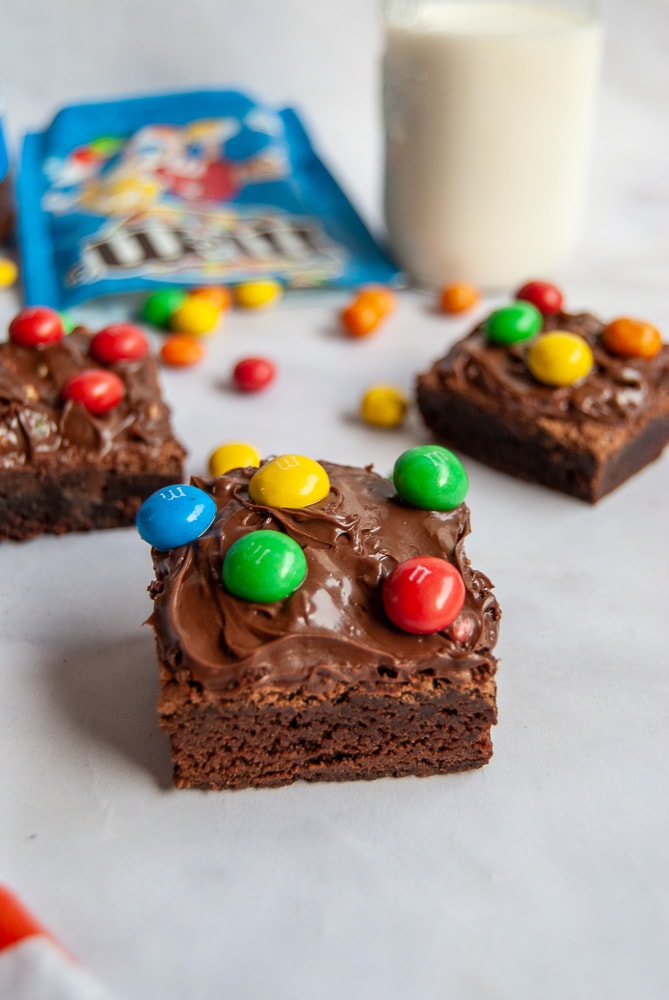 I honestly don't eat a heck of a lot of chocolate these days, but I can never say no to a packet of M&Ms. Especially the crispy ones!
There's just something so addictive about them. Do not leave a packet near me or they will be gone.
If you've been following this blog for a while, you'll already know that I'm pretty fond of taking my favourite treats and stuffing them in or on a brownie. I love making brownies!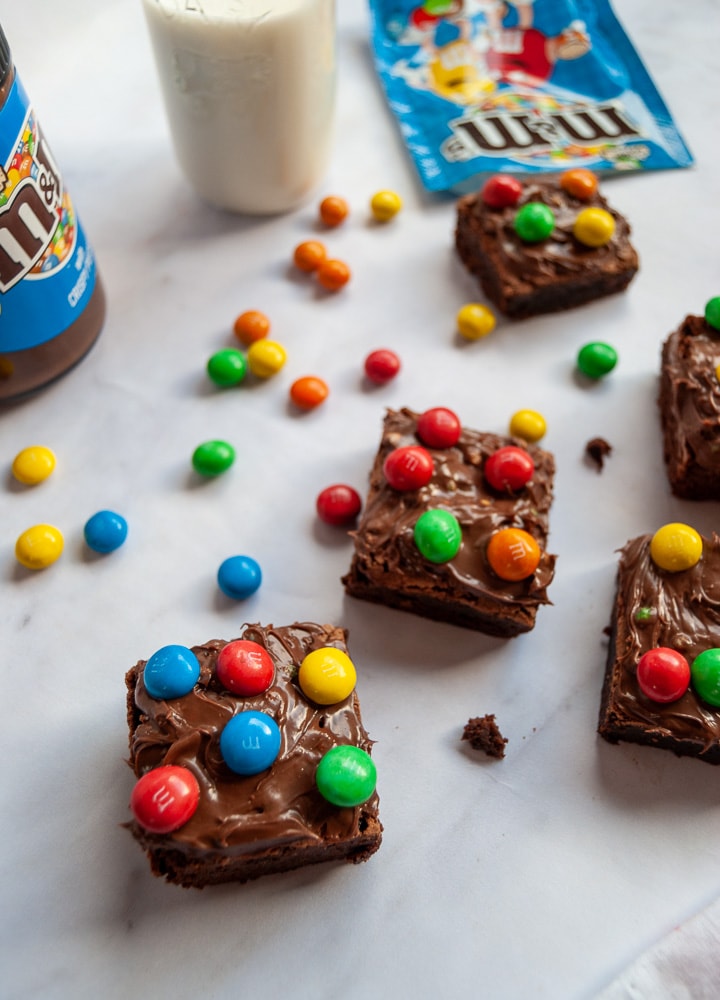 I've taken one of my favourite brownie recipes and topped it with M&M chocolate spread and scattered over a liberal amount of M&Ms.
SO easy.
Great for kids parties, bake sales or just for a weekend treat. Or midweek treat. To be honest, these M&M Brownies are perfect for any occasion.
I call these brownies my go to, storecupboard brownie recipe. It contains no chocolate – only cocoa powder.
The recipe comes from my friend Heather – I've adapted it very slightly over the years and it's the easiest brownie recipe you can make. I've made them so often I'm sure I could make them half asleep with my hands tied behind my back!
ingredients you'll need to make M&M brownies
1 22cm square baking tin
Butter
Cocoa Powder
White Sugar
Vanilla Extract
Plain Flour
Eggs
Pinch of Salt
M&M Chocolate Spread
M&Ms to decorate the brownies – I used the crispy ones, but use whatever flavour you like
how to make M&M Brownies
Melt the butter in a small saucepan. Whisk in the cocoa powder, whisking until the mixture is smooth. Stir in the vanilla extract.
Beat the eggs and sugar together until thick and pale. Fold in the cocoa powder mixture, stirring until the mixture is smooth and shiny
Stir in the flour and pinch of salt.
Pour into the baking tin and bake for 30-35 minutes. When the brownies have completely cooled, spread with the M&M spread and decorate with M&Ms.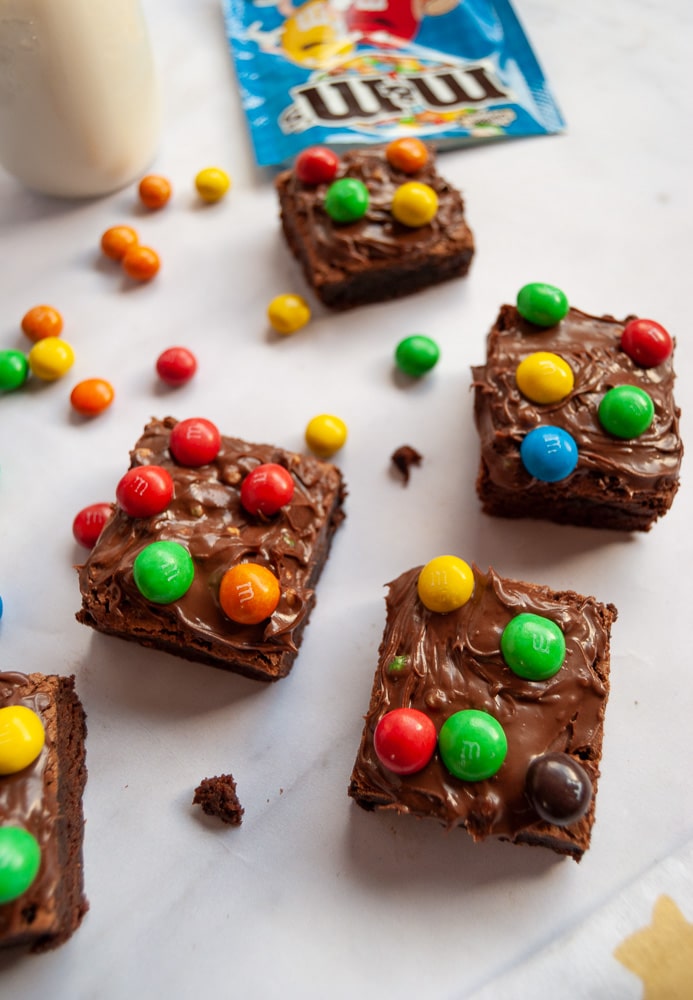 how do I know when my brownies are done?
There's a fine line between a perfect, chewy around the edges and gooey in the middle and an overbaked, dry brownie. The latter makes me sad. No-one wants a dry brownie.
Here are a few tips I've learned along the way:
Doing the skewer/cake tester test on a brownie is a waste of time. If you try this and your skewer emerges clean, then you've overbaked the brownie. A cake tester should always come out with brownie crumbs and chocolate goo anyway, so it's pretty hard to tell if they are baked to perfection with this method.
When ready, the top of the brownie will have formed a thin crust and the edges will look set. The brownie should have a little "jiggle" in the middle (not wobbly, just a mere jiggle if that makes sense!)
Do bear in mind that the brownies will keep cooking for a little while after you remove it from the oven. The longer you can leave the brownies, the better. I usually leave mine in the fridge overnight – it makes cutting them so much easier.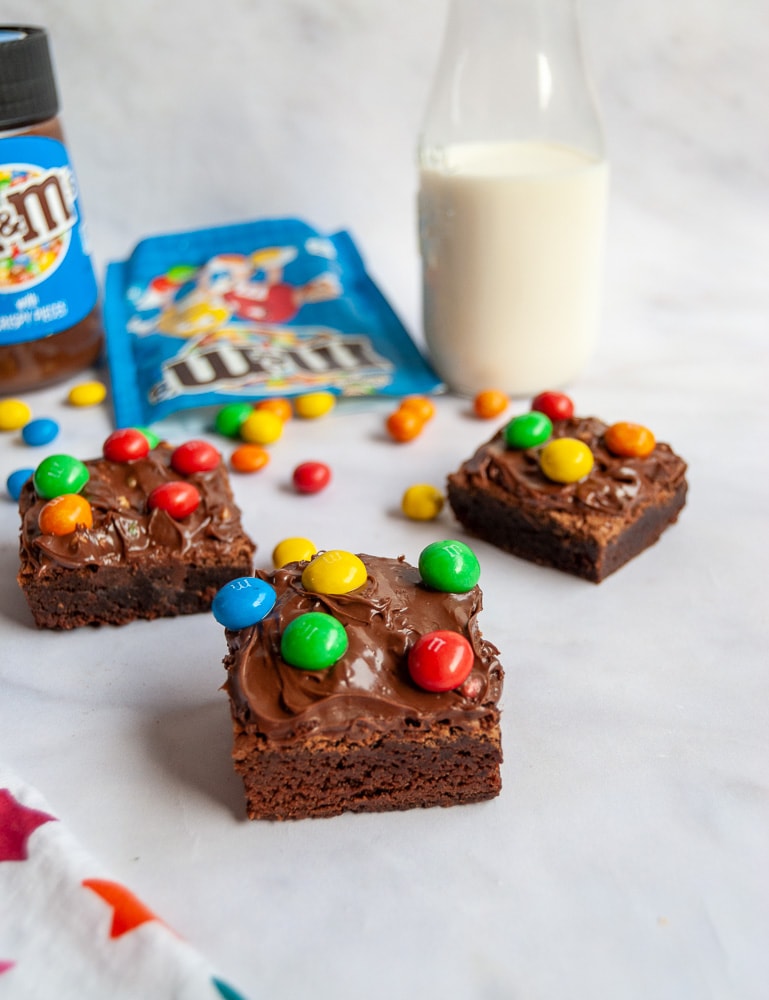 more brownie recipes you might enjoy
Slutty (cookie dough Oreo) brownies
Cherry Brandy and Pecan Brownies
Raspberry and White chocolate Brownies
Terry's Chocolate Orange Brownies
Guinness Brownies with Salted Caramel Bailey's Glaze
pIN THESE M&m bROWNIES FOR LATER!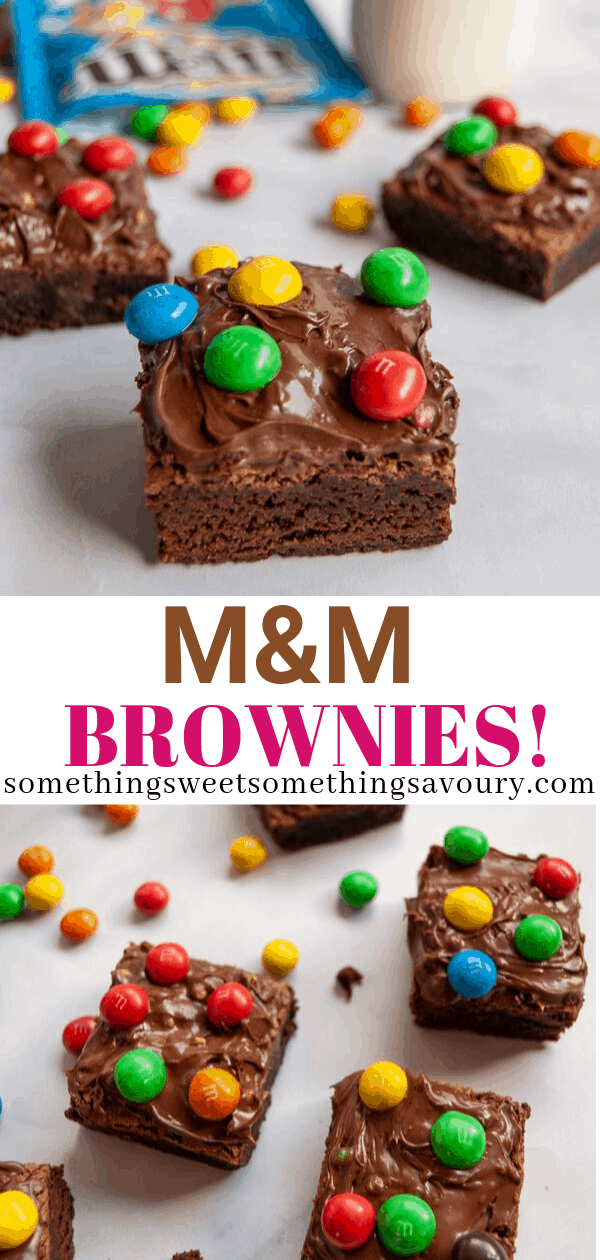 Did you make these M&M Brownies? Let me know what you thought of the recipe – leave a comment below and rate the recipe out of 5 by clicking on the stars in the recipe card.
Did you take a picture of your brownies? I would love to see! Tag me on Instagram #sweetsavouryblog and I'll share it on my stories!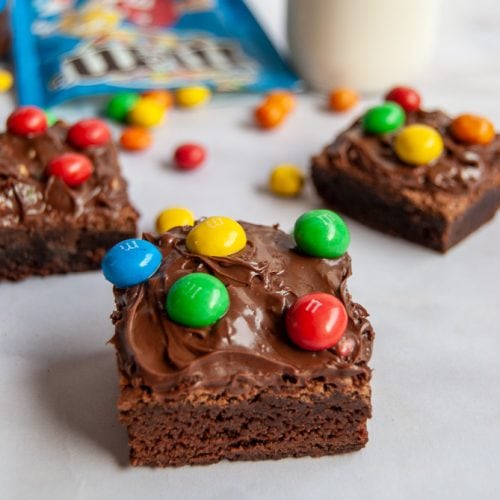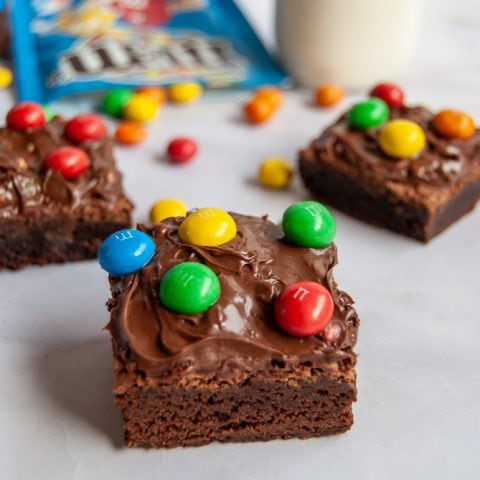 M&M Brownies
Fudgy chocolate brownies topped with Chocolate spread and M&Ms - these M&M Brownies are perfect for parties or an easy weekend bake!
Ingredients
200g Butter
50g Cocoa Powder
2 Tsp Vanilla Extract
4 Large eggs
300g White Sugar
100g Plain Flour
FOR THE TOPPPING:
Around half a jar of M&M OR Chocolate spread
1 98g packet of M&M sweets (whatever flavour you like!)
Instructions
Preheat the oven to 180C/160Fan/350F. Grease and Line a 22cm square tin with baking parchment.
Melt the butter in a small saucepan. Once the butter has melted, whisk in the cocoa powder, stirring well until there are no lumps. Stir in the vanilla extract.
Preferably using an electric mixer, beat the eggs and sugar together until the mixture is thick and creamy. Whisk the butter/cocoa powder mixture into the sugar and eggs, stirring well until the batter is smooth and shiny.
Add the flour and stir well again. The brownie batter should be smooth and shiny. Pour into the tin and bake for 30-40 minutes, or until the brownie is cooked. The top of the brownie should have a thin crust and the sides of the brownie will be pulling away slightly from the sides of the tin. Remove from the oven and allow to cool completely.
When the brownie is completely cold, (I like to leave them in the fridge overnight) apply a generous layer of the M&M/Chocolate spread. Decorate with as many M&Ms as you like!
Notes
I love using M&M crispy chocolate spread for this recipe, but you can use any chocolate spread you like.
The brownies will be much easier to cut if you cool the brownies for several hours before cutting - I often leave them overnight in the fridge.
Nutrition Information:
Yield:

14
Serving Size:

1
Amount Per Serving:
Calories:

305
Total Fat:

16g
Saturated Fat:

10g
Trans Fat:

0g
Unsaturated Fat:

5g
Cholesterol:

85mg
Sodium:

119mg
Carbohydrates:

37g
Net Carbohydrates:

0g
Fiber:

1g
Sugar:

29g
Sugar Alcohols:

0g
Protein:

4g