Craving a bowl of warming chilli but short on time? This hearty and flavourful quick chilli con carne recipe is ready in 30 minutes! A fast and easy minced beef chilli recipe that doesn't skimp on flavour.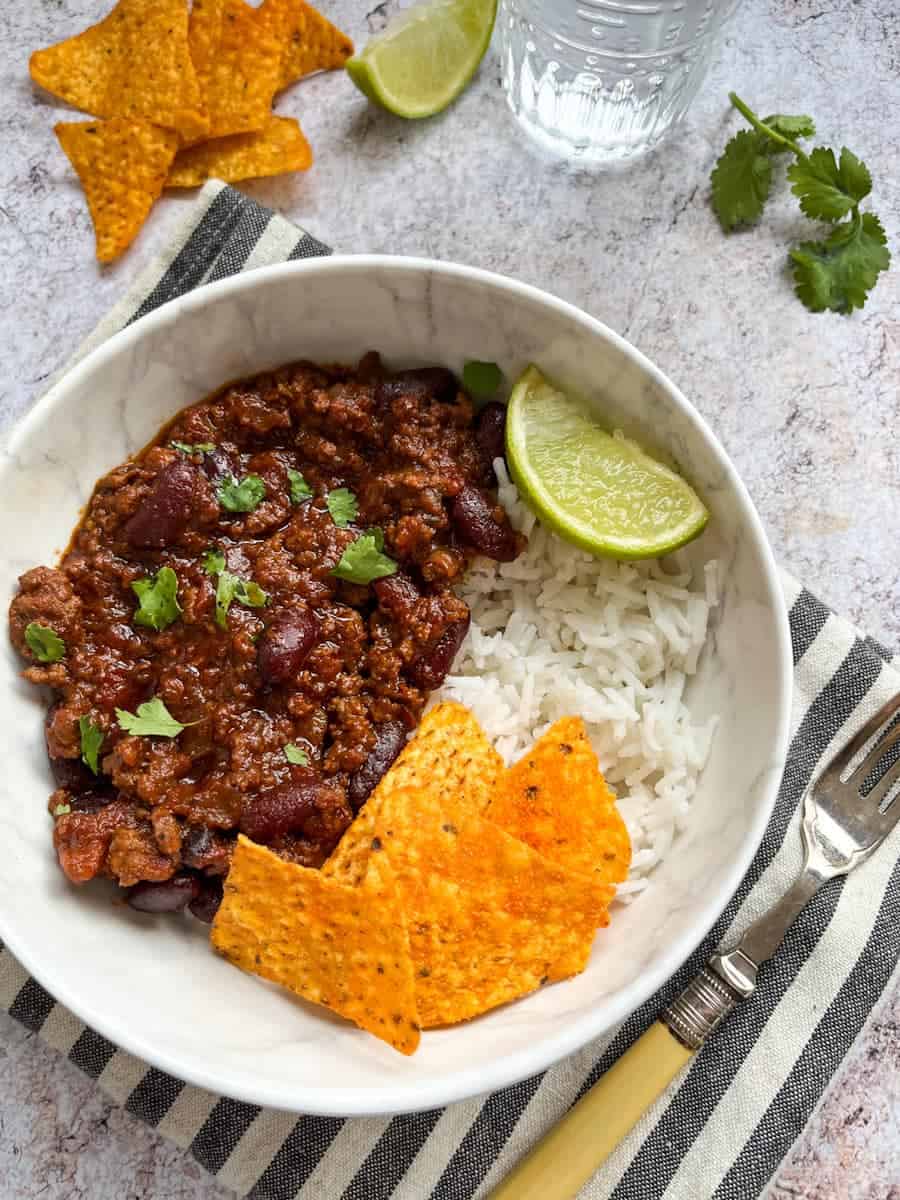 As much as I love a good slow cooked Chilli Con Carne, sometimes we need to get dinner on the table a little faster, right? That's where this handy recipe comes in.
I've been working on a fast chilli recipe for quite a long time. I'm finally ready to share it! It's so full of flavour that no-one will actually believe it was made so fast. Shhhhh, don't tell them – let them think it took much more effort than it really did 😉
My sons and I love a good chilli bowl. This recipe passed my taste testers with flying colours. When I told them how long it took to make they said they would never have guessed it took just half a hour to make. And you won't either, I'm sure of it!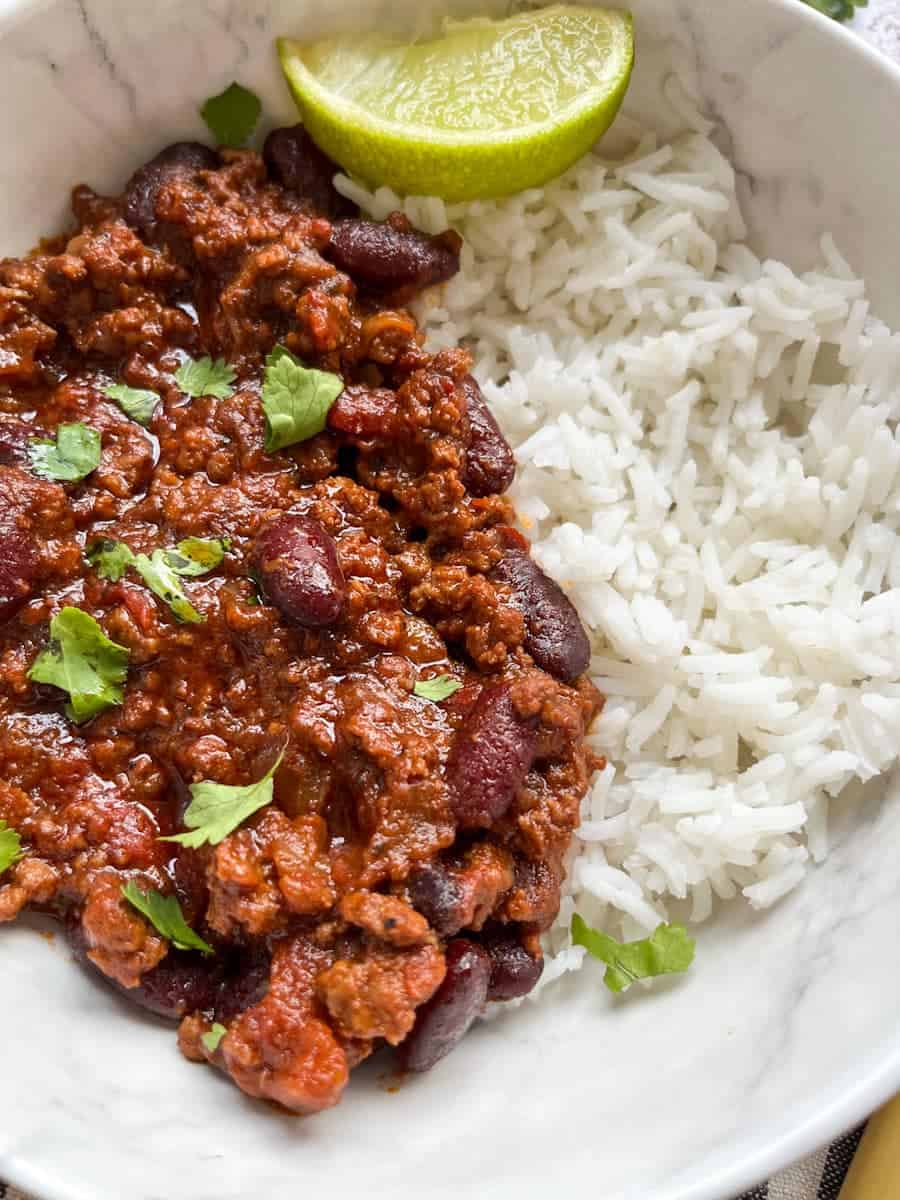 I've used a few of my favourite ingredients from my classic Chilli Con Carne recipe such as chipotle chilli, smoked paprika, Worcestershire sauce and dark chocolate to make a richly flavoured chilli that will leave you craving another bowl.
Missing a few of these ingredients? No worries – read the recipe notes below for ingredient swaps!
why you'll love this quick chilli con carne recipe
quick and easy – it's perfect for nights when time is against us – and in my case, that seems to be all the time!
adaptable – this chilli recipe can easily be adapted to suit your family's taste – see below for substitutions and ingredient swaps.
great for making ahead of time – want to get even more ahead of the game? Make this recipe in the morning, cool in down, then pop it in the fridge for reheating later on. Dinner sorted!
how to make a quick chilli con carne
Scroll to the bottom of the post to find a printable recipe card with ingredient amounts and detailed instructions. Please have a read of the recipe notes below before making the recipe!
step one – saute onions and garlic
Heat some olive or vegetable oil in a pan and cook the onion on a low-medium heat, stirring often until the onions have softened. If you chop the onion small enough, this should take about 5-8 minutes.
Add crushed garlic and cook for a further two minutes. I must admit that when I'm in a hurry, I use jarred garlic puree or paste. You'll find this in the world food section of most supermarkets.
step two – brown the mince
Add the minced beef to the pan and crumble in a beef stock cube. Increase the heat and cook until the mince has browned and there are no traces of pink meat. Use a wooden spoon to break the mince up while it browns.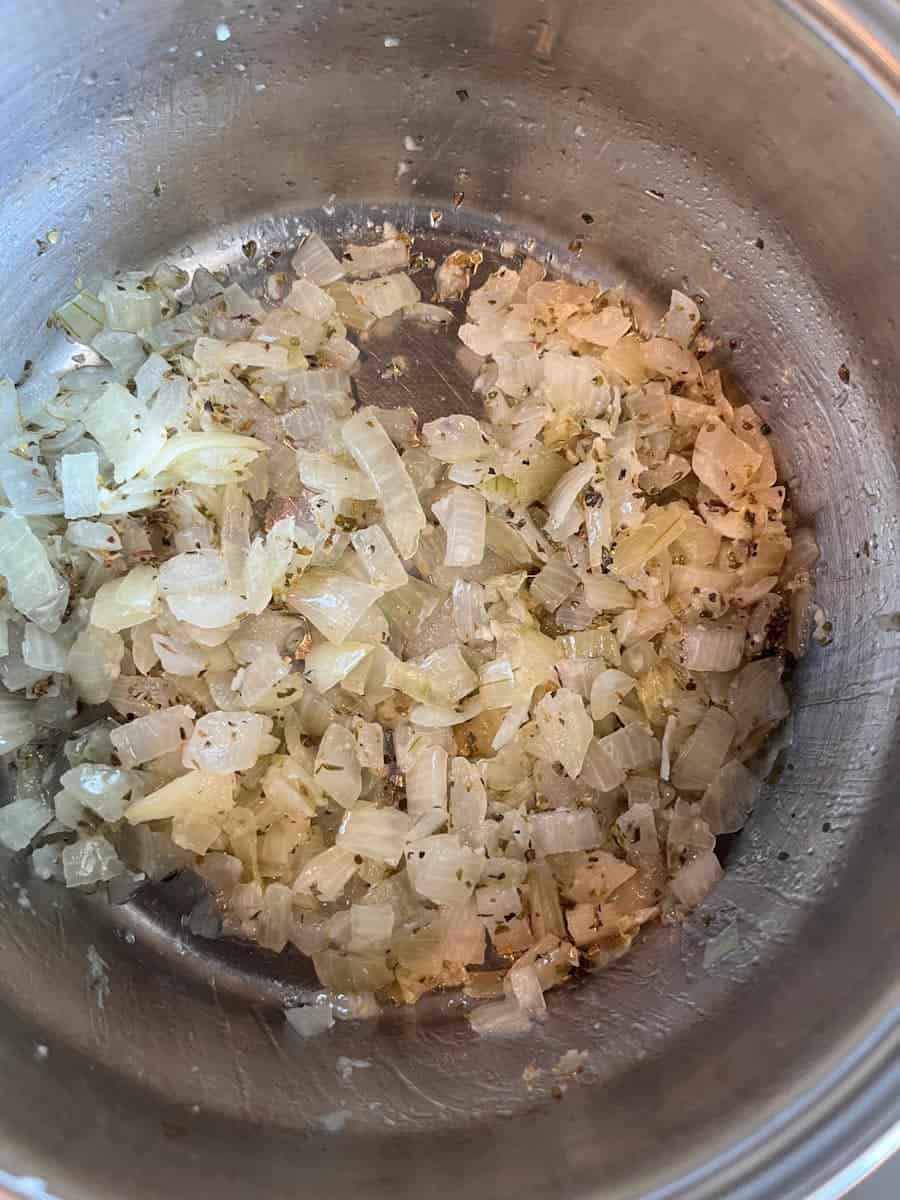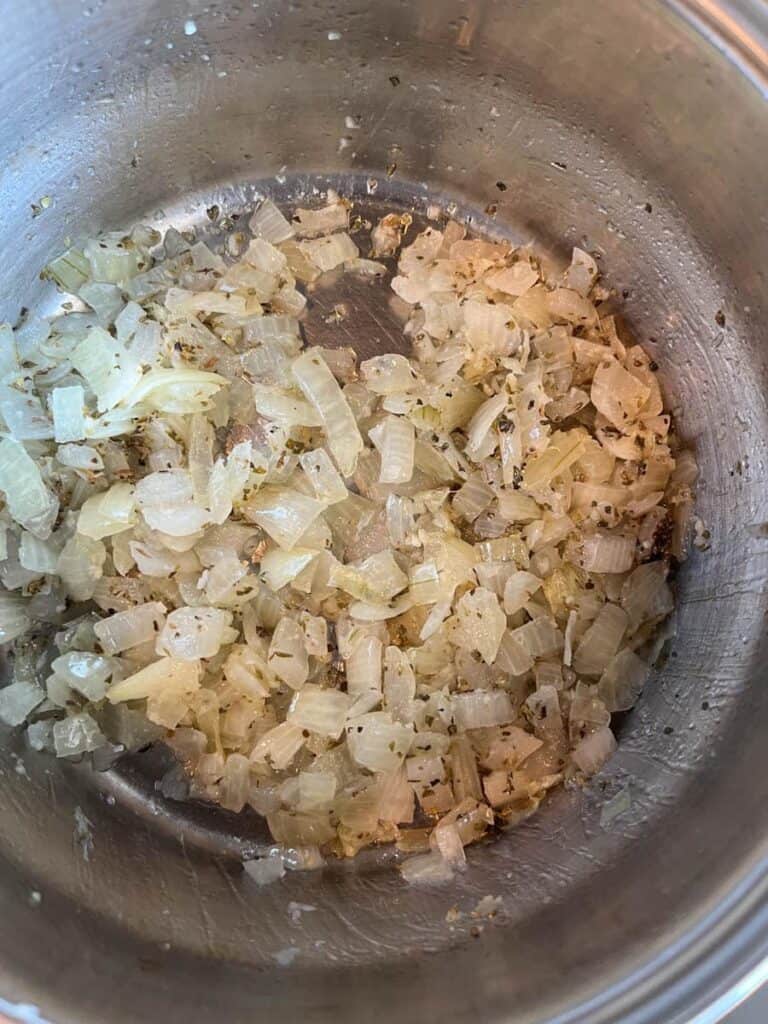 step three – add the spices, tomatoes and beans
When the mince has browned, stir in the ground cumin, chilli flakes, smoked paprika, freshly ground black pepper, dried oregano and tomato puree.
Cook for a minute or two, then add a can of chopped tomatoes, a can of drained and rinsed kidney beans, Worcestershire or dark soy sauce, a teaspoon of salt, dark chocolate and a few shakes of Tabasco sauce, if you like. Half-fill the empty can of tomatoes with cold water and add it to the pan.
Bring to a gentle boil, then turn down the heat to low-medium and simmer for 15-20 minutes. The beef should be nice and tender and coated in a thick, spicy sauce.
make it vegetarian
You could easily make a vegetarian chilli by swapping the minced beef for Quorn or another plant based alternative.
ingredient swaps
No smoked paprika? Use regular paprika instead. Or if you have liquid smoke in your cupboard, add a couple of teaspoons.
If you don't have any chipotle chilli flakes, you can use normal chilli flakes instead. Or just use chilli powder.
Out of chilli powder? Use cayenne pepper instead – but use 1/2 teaspoon less (cayenne has a real kick)
Swap the Tabasco sauce for another brand of hot sauce, or for a less spicy chilli just omit altogether.
If you don't have any dark chocolate, please don't use milk chocolate instead! That would not be good. You could use 2 teaspoons of cocoa powder (again – not chocolate drinking powder) instead or just leave it out.
TOP TIP – Before you make this recipe, make sure your spices aren't out of date. If they are out of date they will have lost their flavour. It will make such a difference if you use fresh spices!
toppings for chilli con carne
Chilli is not the same without the toppings! We love grated cheese, sour cream, pickled Jalapenos and tortilla chips. I'm also pretty fond of some sliced avocado on the side, with some lime wedges to squeeze over. If I have any, I would also sprinkle over a little fresh coriander.
I usually serve chilli with fluffy white rice, but it's also really good with potato wedges or piled on top of a baked potato. Chilli is of course also delicious in tacos!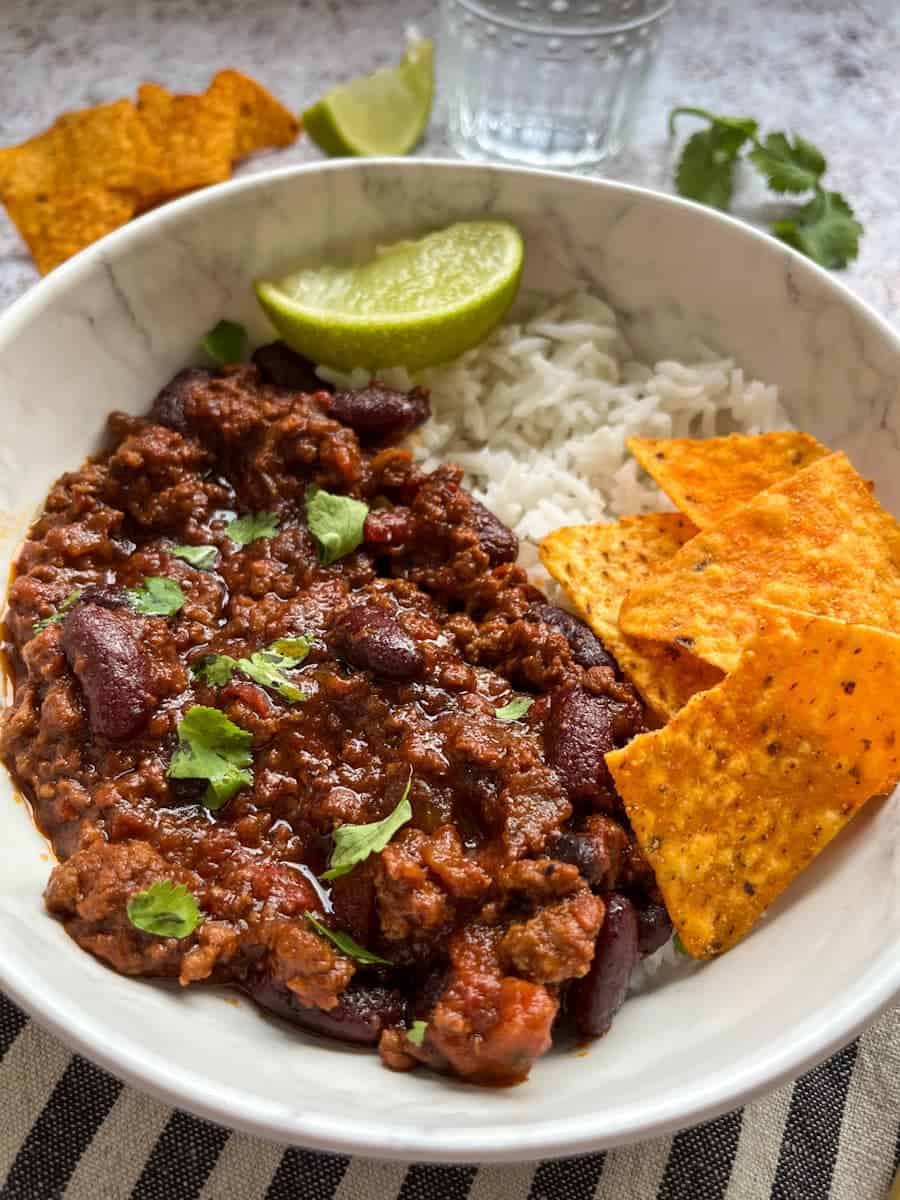 storing leftover chilli con carne
Once the chilli has completely cooled, place in a plastic lidded container and store in the fridge. It will keep for up to three days.
To reheat the chilli, place in a saucepan, add a little water and bring to a gentle boil. Turn the heat down to low-medium and simmer for about 10 minutes or until piping hot.
You can also reheat the chilli in the microwave until steaming hot.
enjoyed this recipe?
You might also like:
more minced beef recipes to try
did you make this recipe?
I hope you loved it! Let me know what you thought by leaving a comment below and please rate the recipe by clicking on the stars in the recipe card.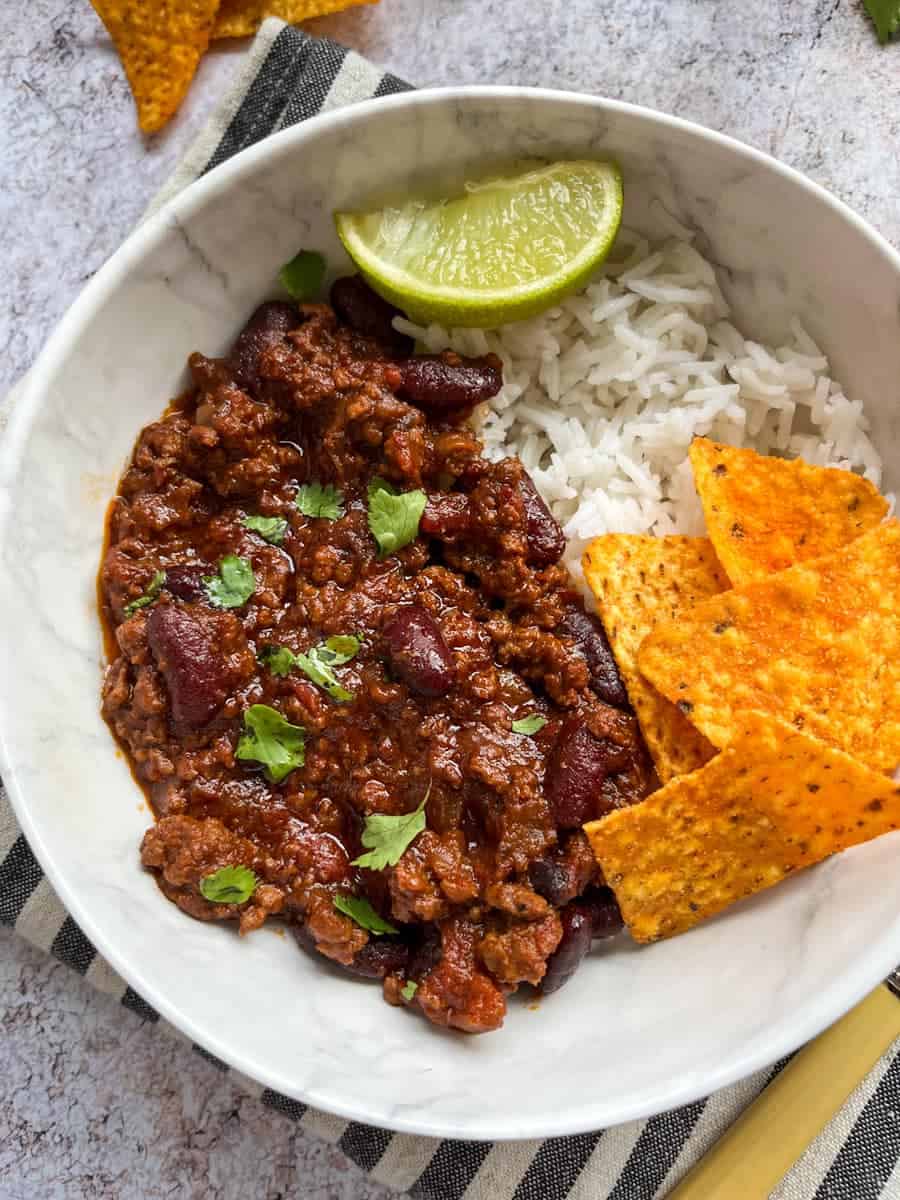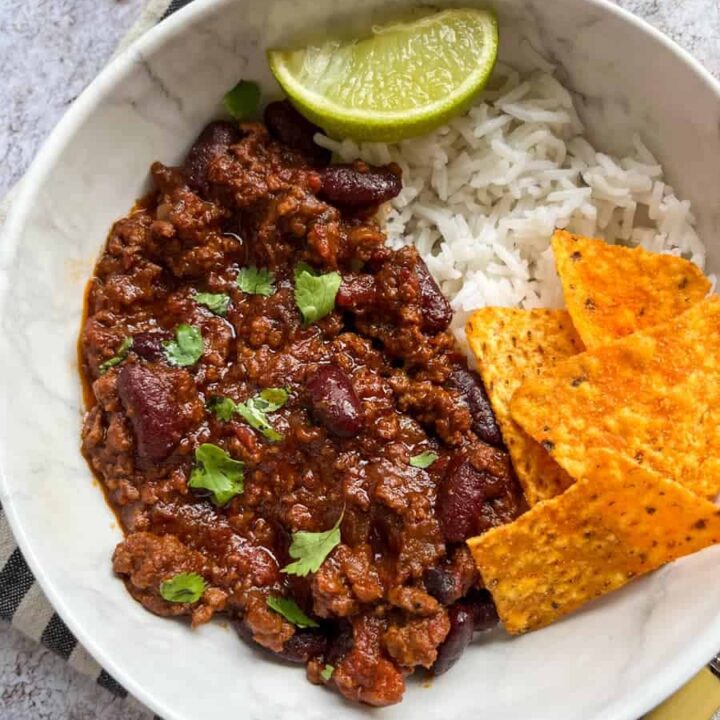 Quick Chilli Con Carne
This quick chilli Recipe is so full of flavour no-one will believe it took just 30 minutes to make! You can adjust the spice level to suit your family. Serve with rice and your favourite chilli toppings for a perfect speedy midweek meal.
Ingredients
1 tablespoon vegetable or olive oil
1 large onion, peeled and finely diced
2 cloves garlic, crushed (or garlic paste from a jar)
1 teaspoon dried oregano
500g minced (ground) beef, preferably with 10-15% fat
1 beef stock cube (I used an Oxo cube)
½ tablespoon ground cumin
1 heaped teaspoon chipotle chilli flakes (or chilli powder, see notes below)
2 teaspoons smoked paprika
½ teaspoon freshly ground black pepper
2 tablespoons tomato purée (paste)
400g can chopped tomatoes
400g can kidney beans, drained and rinsed under cold water
1 tablespoon dark soy sauce or Worcester sauce
1 teaspoon fine salt
a few shakes of Tabasco sauce (optional)
25g dark chocolate, chopped
Instructions
Heat the oil in a large, deep saucepan. Add the onion, sprinkle with a little salt and cook over a low-medium heat for about 5-8 minutes or until the onions have softened. Add the garlic and dried oregano and cook for a further 2 minutes.
Add the minced beef and crumble in the beef stock cube. Turn the heat up to high and using a wooden spoon, break the beef up as it browns. This should just take a few minutes.
Stir in the ground cumin, chipotle chilli flakes, smoked paprika, black pepper, tomato puree and stir well.
Add the chopped tomatoes to the pan, then half fill the empty can with water and pour this in along with the drained kidney beans, Worcestershire or soy sauce, salt, Tabasco sauce if using and the dark chocolate.
Give everything a quick stir, then bring to a gentle boil, immediately reduce the heat to low-medium, place a lid on the pan and simmer for about 15-20 minutes by which time the beef should be tender and the sauce should be thick and flavourful. Season to taste before serving with rice and your preferred chilli toppings.
Notes
If you can't find chipotle chilli flakes, normal chilli flakes or just regular chilli powder will work just fine.
You'll know your families chilli tolerance better than anyone, so adjust the amount of chilli as you see fit.
For an extra kick, you could use chopped tomatoes with chilli.
Nutrition Information:
Yield:

4
Serving Size:

1
Amount Per Serving:
Calories:

531
Total Fat:

18g
Saturated Fat:

6g
Trans Fat:

0g
Unsaturated Fat:

9g
Cholesterol:

38mg
Sodium:

1833mg
Carbohydrates:

71g
Fiber:

11g
Sugar:

34g
Protein:

25g
Calories and nutritional information are provided by a third party application and should be viewed as indicative figures only.