This brown sugar peach cobbler recipe is an easy, comforting dessert that takes less than one hour to make! It's the best way to bake with fresh peaches in the Summertime. Serve with ice cream, whipped cream or custard for a taste of heaven.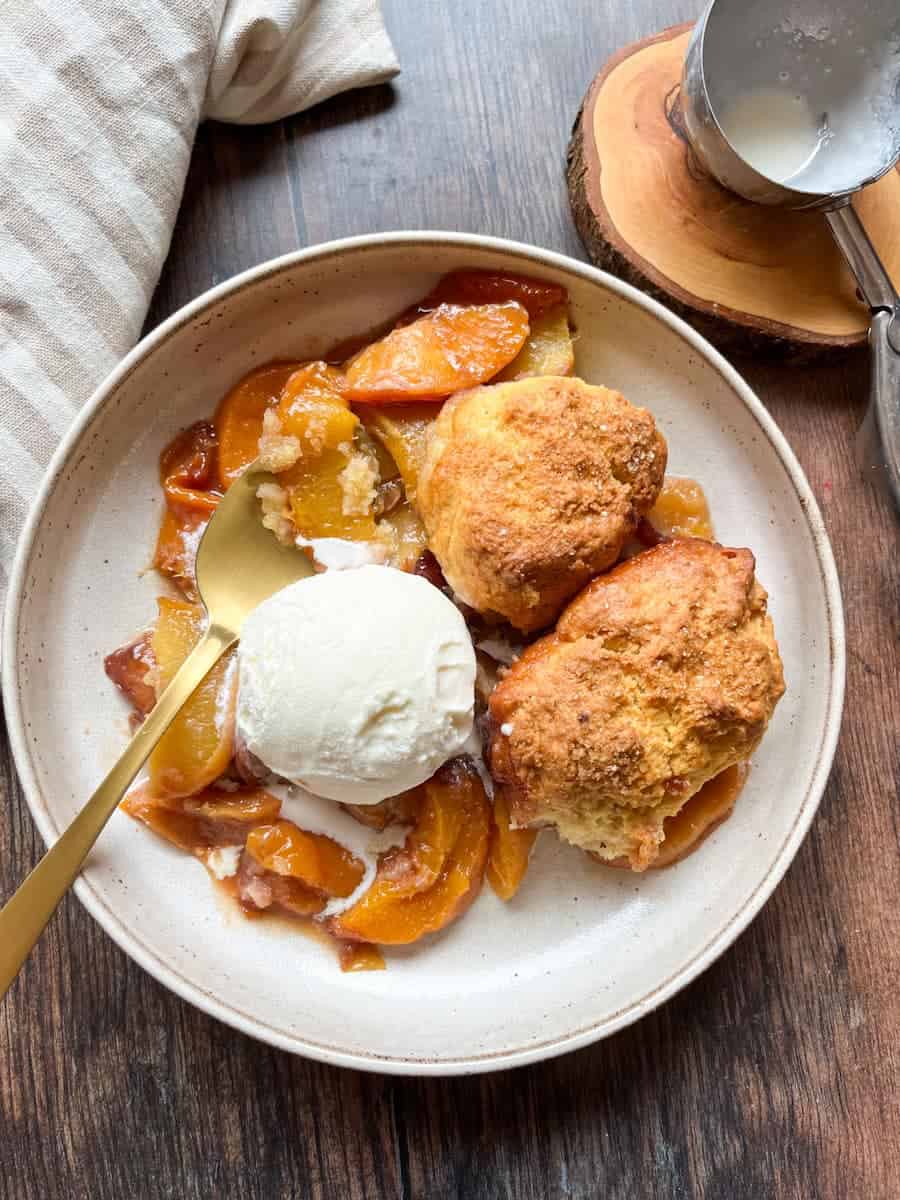 We've had quite a bit of erratic weather here in Scotland over the past few weeks. One day it's lovely and warm and I'm making easy, no cook meals such as this peach, grilled prosciutto and Burrata salad. Then come tomorrow, it's chilly and wet enough to be hankering for anything but salad. Welcome to Scotland in the Summertime.
I did not expect to be craving a hot pudding in the height of "Summer", but here we are. The weather dictates my eating pattern. But then again, I would happily eat peach cobbler any time, any place, anywhere. It's one of the most delicious desserts I've ever had.
brown sugar peach cobbler recipe
Do you ever sigh internally when you think of your favourite thing to eat? This peach cobbler has that effect on me. The combination of ripe, warm peaches, brown sugar, vanilla and butter is a match made in heaven. I didn't add any spices intentionally so I could really taste the peaches. A spritz of lemon juice helps enhance the flavour of the soft fruit, while the brown sugar adds caramel notes.
I made two peach cobblers, each with a slightly different topping. And guess what? The more rustic looking, less picture perfect cobbler was our favourite by far. A cobbler should look homemade anyway. I just love the way the fruit peeks out between the gaps in the crust…it's rather beautiful.
Got fresh strawberries to use up? Then take a look at my strawberry cobbler recipe!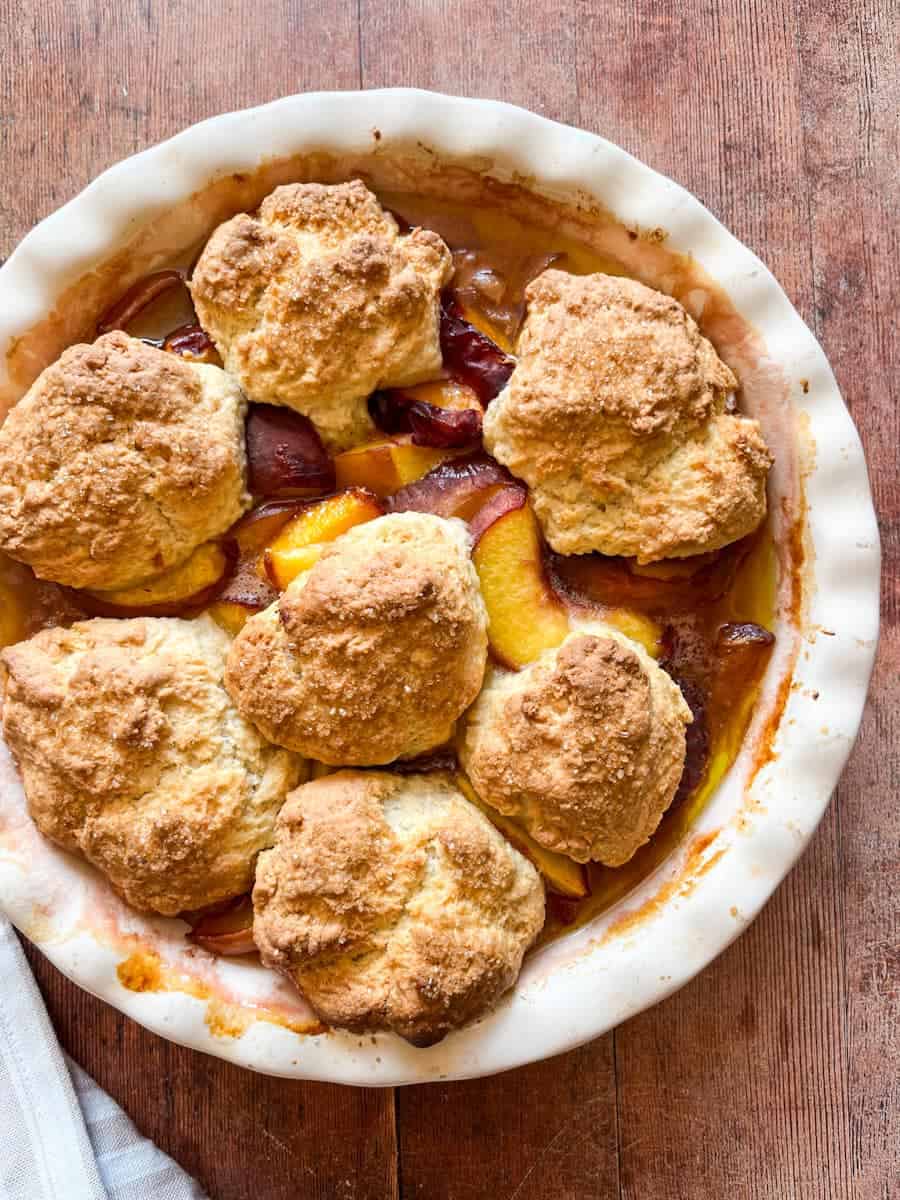 ingredient list
Here's a quick list of the ingredients you will need to make a peach cobbler. I bet you have most of them in your cupboard and fridge right now!
Please read the recipe notes a little further down this post for adding your own twist to the recipe!
Keep scrolling to the bottom of the post for the printable recipe card with ingredient amounts in grams/American cups and detailed instructions. Please have a read of the notes before attempting this recipe!
2lb fresh, ripe peaches, sliced
50g soft light brown sugar.
1 tsp vanilla extract
2 tsp cornflour (cornstarch)
juice of one small lemon or lime
60g butter
1 tablespoon demerara sugar, for sprinkling on top before baking
FOR THE TOPPING:
225g self raising flour
1/2 tsp baking powder
50g caster sugar
50g cold butter
125g milk, whole or semi skimmed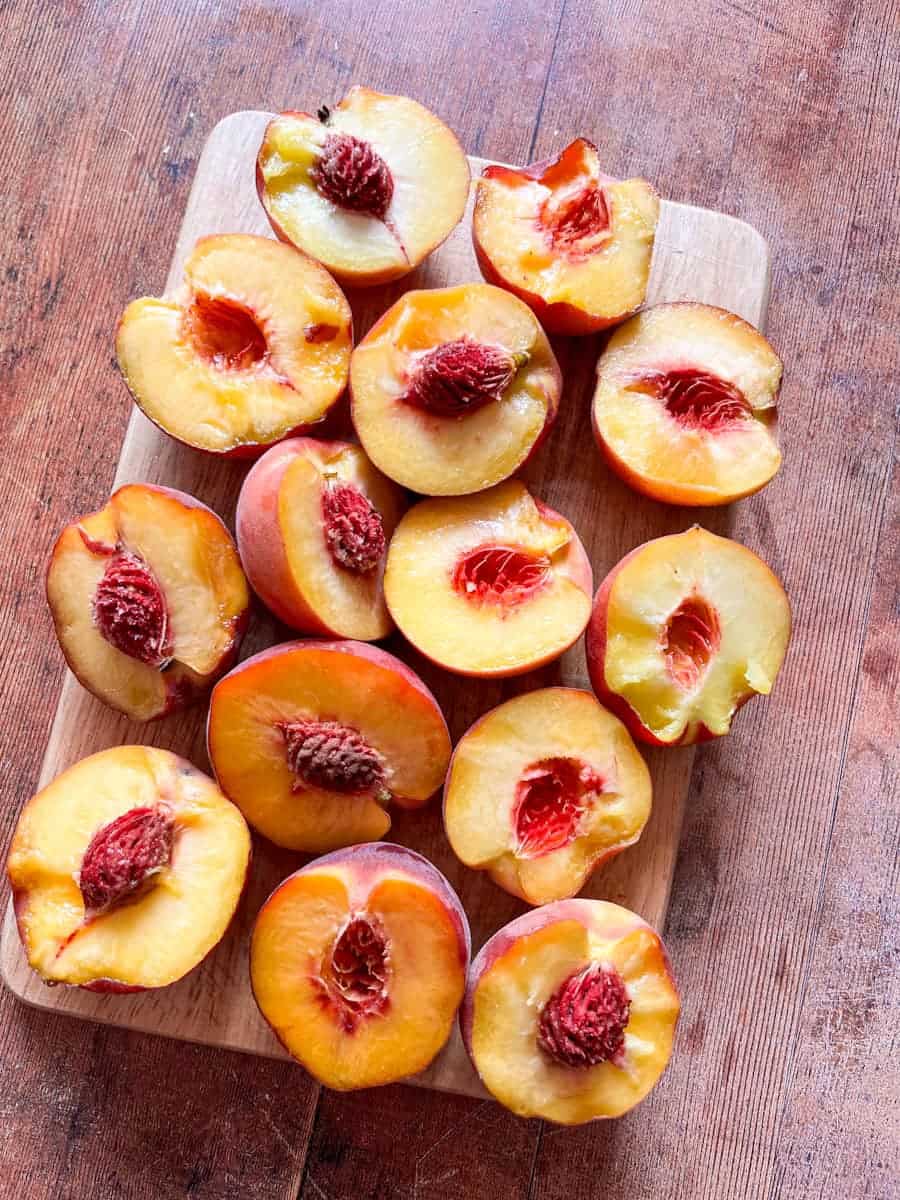 Equipment
You'll need a 9-inch deep pie plate to make this recipe. You could also use a 10 inch cast iron skillet or a similar-sized deep baking dish.
Is fruit cobbler the same as fruit crumble?
A fruit cobbler is very similar to a fruit crumble, in that they are both baked desserts with fresh fruit and a topping made with butter, sugar and flour.
A cobbler topping is usually softer and has a slightly more cake like texture than a crisp, buttery crumble topping.
The topping for a cobbler is quite literally "dropped" on top of the fruit, whereas a crumble topping is sprinkled over. Both are delicious served with pouring cream, ice cream or custard.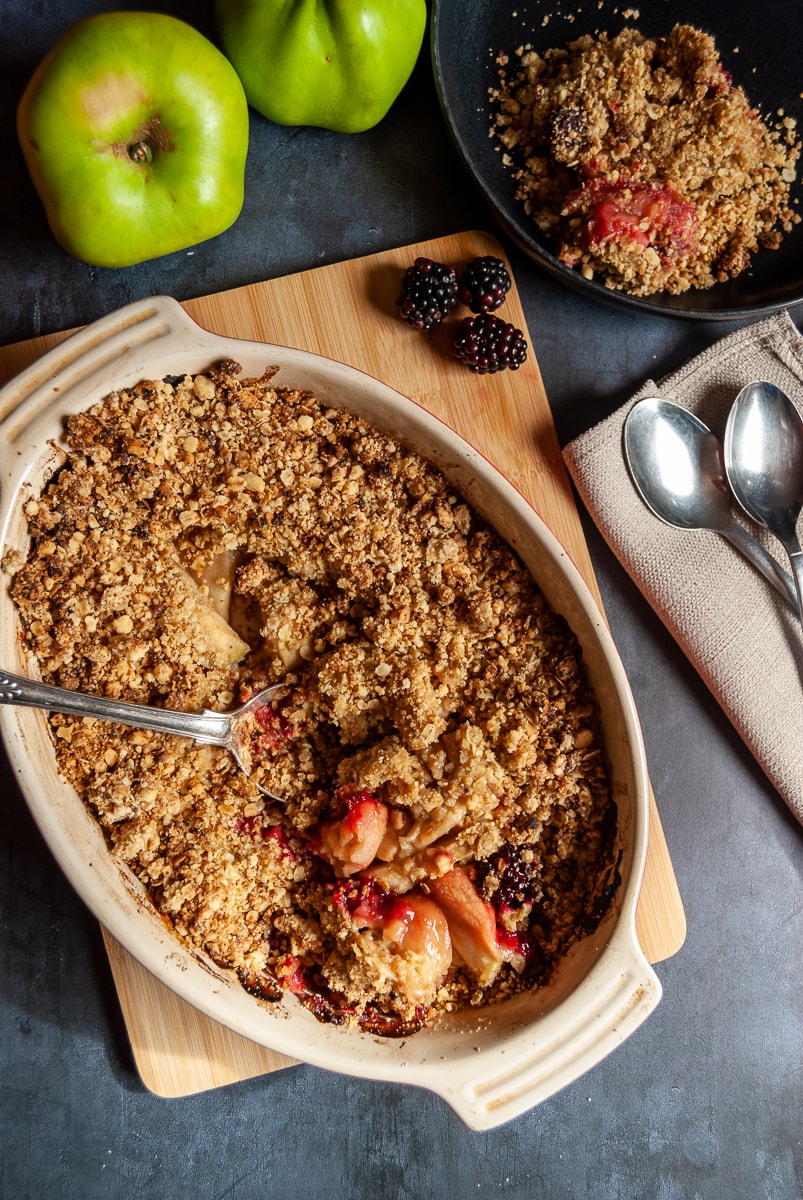 If you're interested in checking out some traditional British fruit crumble desserts, take a look at the following recipes:
Should I peel peaches for cobbler?
I personally don't peel the peaches. The skins don't bother me at all, but if you would rather peel them, cut a small "X" in the base of each peach. Place the peach in a bowl of boiling water from a kettle and leave for about 20 seconds.
Carefully lift the peaches out of the water using kitchen tongs. Transfer to a bowl of very cold water and leave for a minute or two before lifting out. The skin should now be very easy to peel – so easy you might not even need a knife.
can I use white sugar instead?
If you want to swap the brown sugar for white, then that's fine….but there's just something quite special about peaches and brown sugar together. If you use white sugar, the cobbler will still taste delicious.
Can I add spices to peach cobbler?
I like to really taste the peaches in this recipe, so I don't add any extra spices. But if you wanted to, you certainly could. Half a teaspoon of ground cinnamon, freshly grated nutmeg or even some fresh ginger would be lovely.
brown sugar peach cobbler with stem ginger
If the addition of ginger appeals to you, then I should also tell you that I've added a little twist to this cobbler the second time I made it. I finely chop up a ball of stem ginger (I adore the stuff) and add it to the filling with two tablespoons of the syrup from the jar. It was unbelievably good!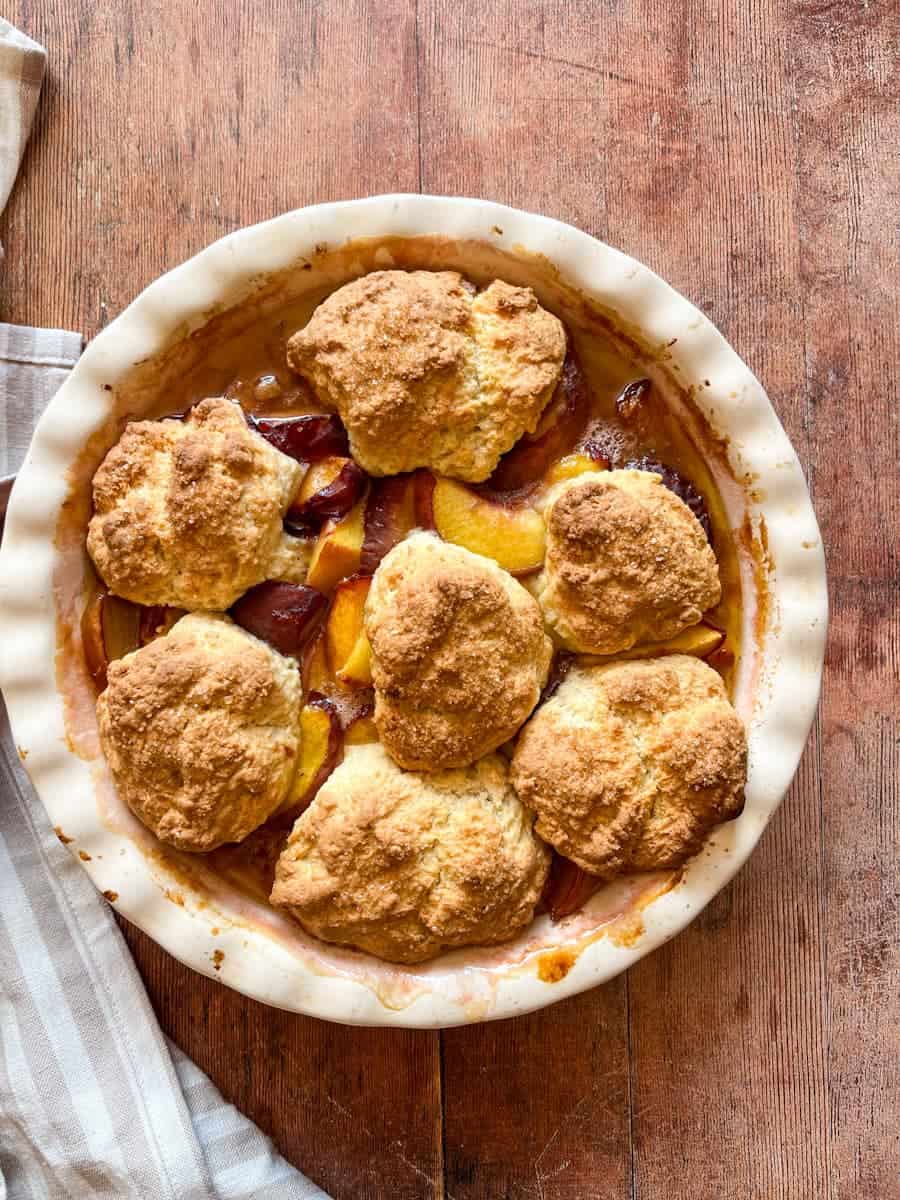 how to make it
We begin by slicing the peaches. As I've already said, I don't bother to peel them but it's up to you. Place them in your dish and sprinkle over the soft brown sugar, vanilla extract, lemon juice and cornflour.
Use a large spoon or your hands to gently toss everything together. Leave to one side for a couple of minutes.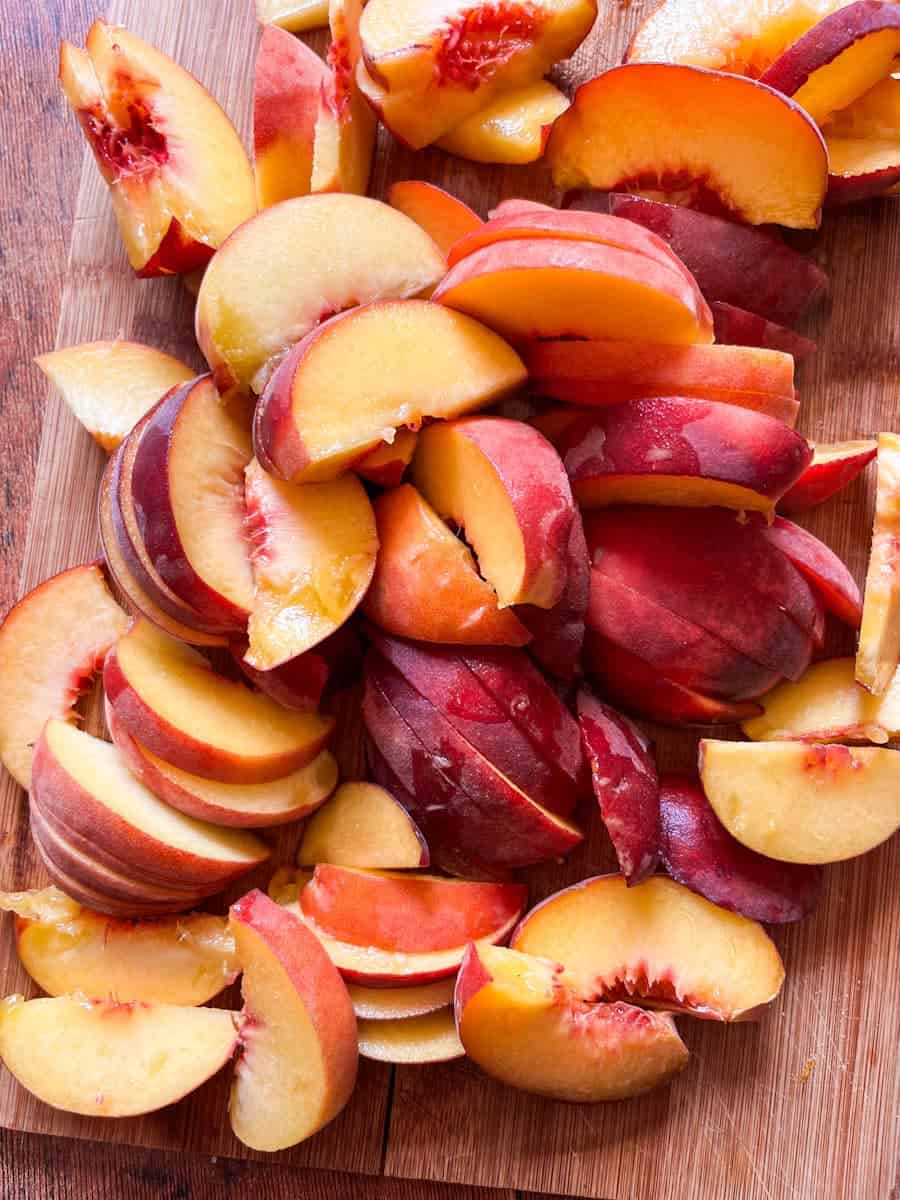 Place the diced butter on top of the peaches, then place in a preheated oven (180C/160Fan) for just a few minutes until the butter has melted. Remove from the oven and set aside while you make the topping.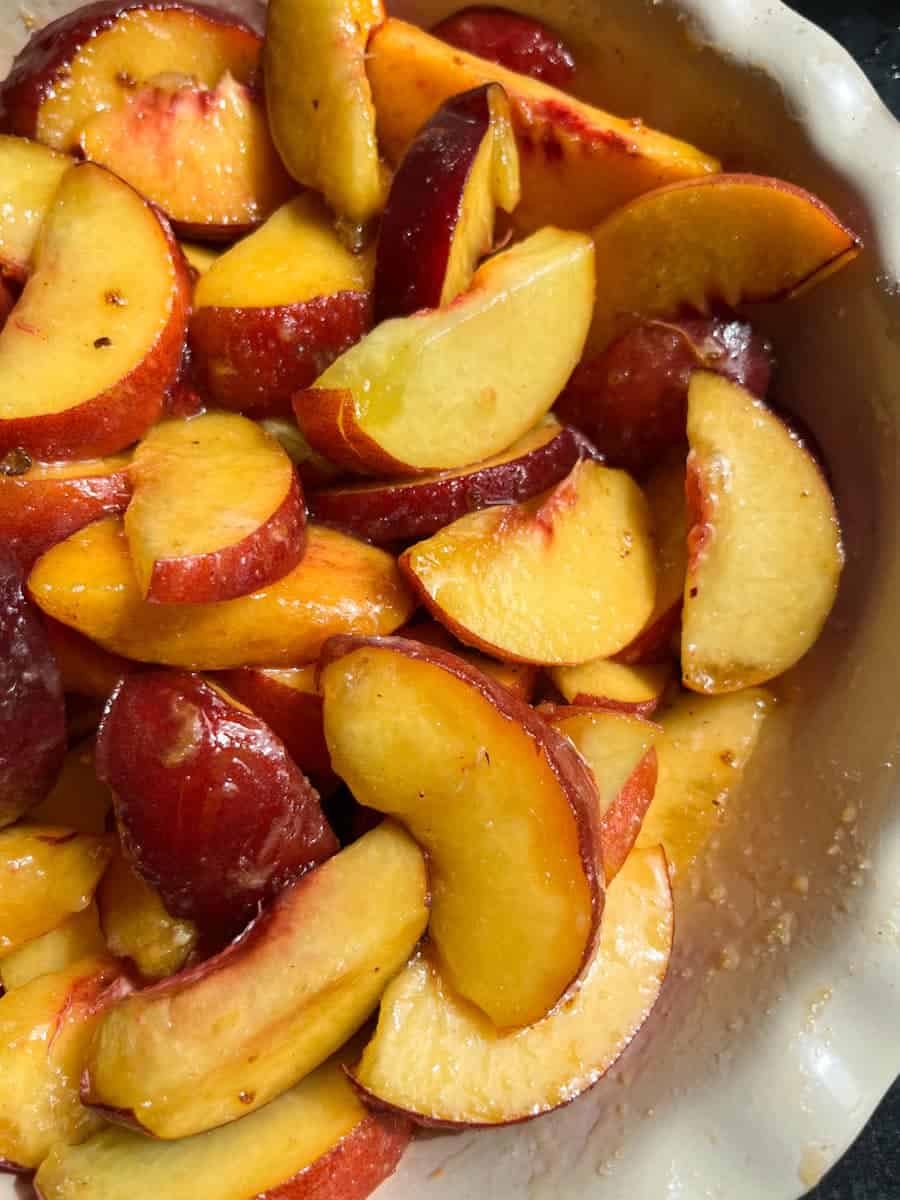 make the topping
Place the flour, baking powder and a 1/4 teaspoon of salt in a bowl. Add the cold, diced butter and using your fingertips, rub the butter into the flour until you have a mixture that looks like breadcrumbs.
Stir in the sugar, then pour in the milk and mix to a soft, slightly sticky dough. Place spoonfuls of the dough on top of the peaches. Don't worry about making it look perfect.
Sprinkle some demerara sugar on top before baking for about 40 minutes or until the fruit is hot and bubbling and the topping is risen and golden.
serving peach cobbler
Allow the cobbler to stand for at least 30 minutes before serving to allow the juices to thicken up slightly.
I love to serve the cobbler in bowls with vanilla ice cream and the fruit juices drizzled over the top. Some people prefer to serve it upside down, with the cobbler part on the bottom and the fruit on top. You can't go wrong either way!
American readers might disagree with me, but a peach cobbler is especially delicious with custard. Just try it and you'll see…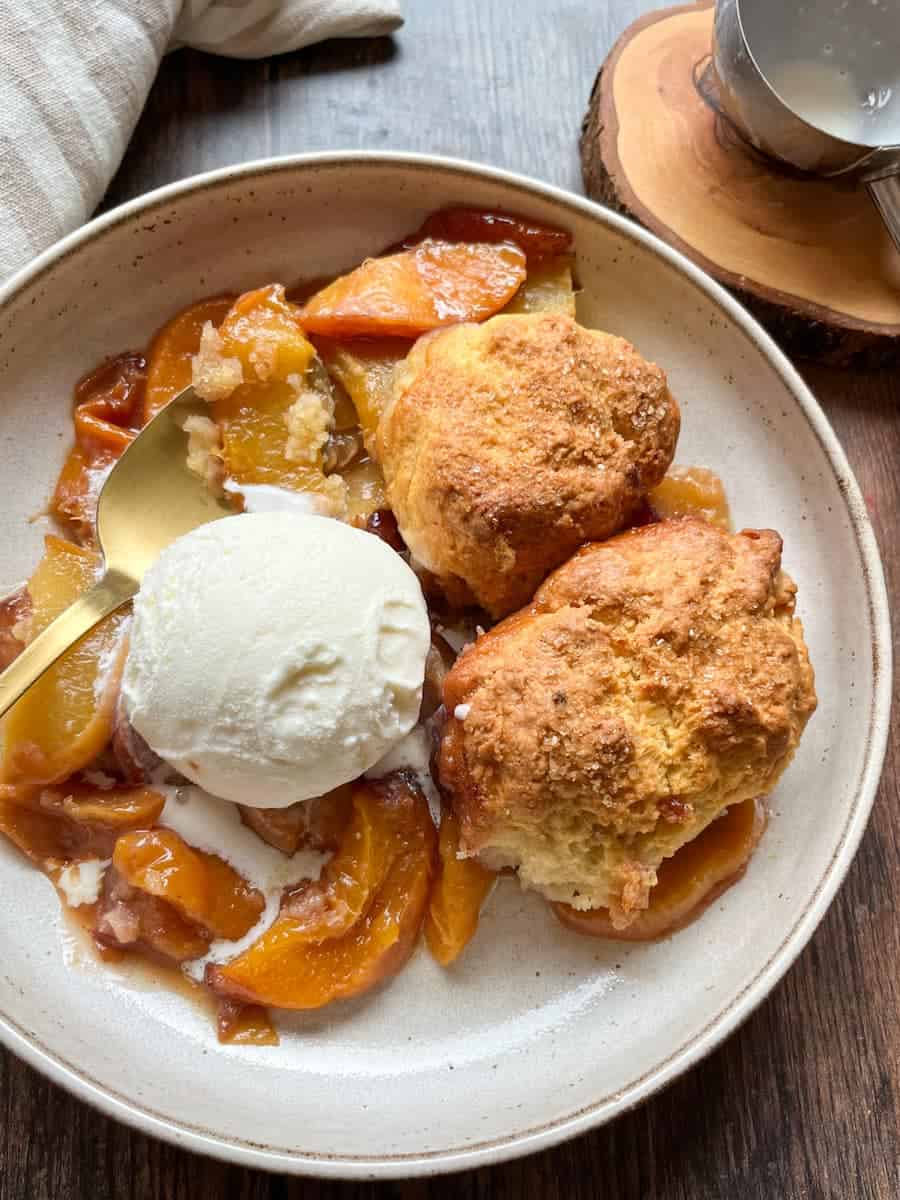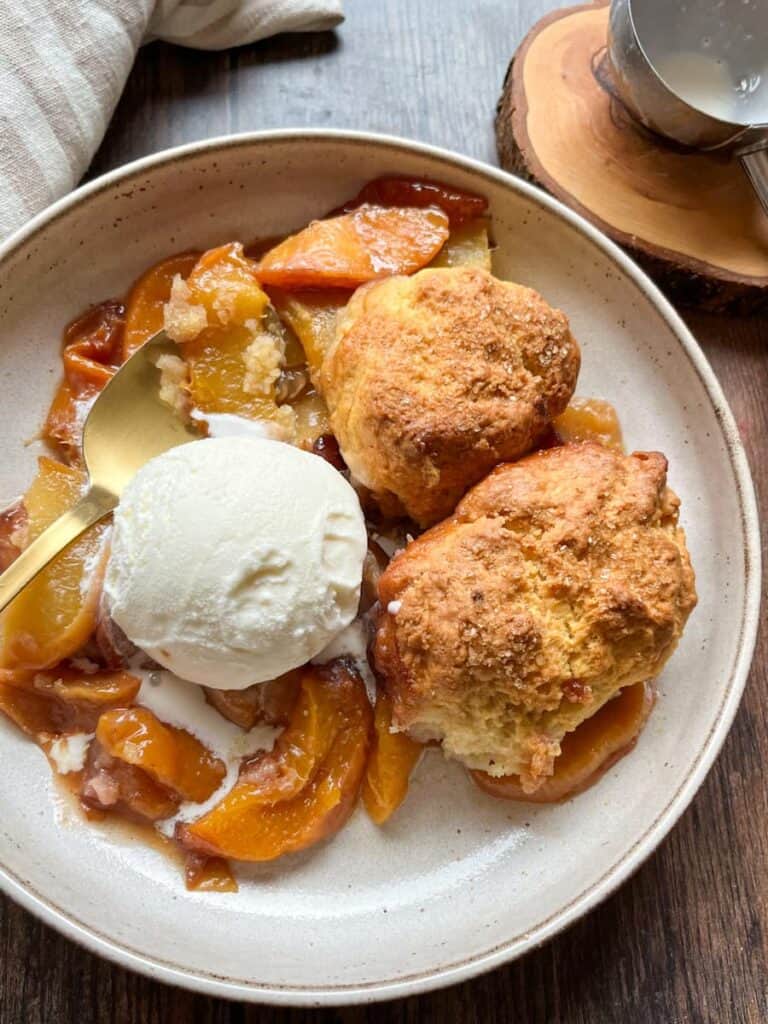 did you make this recipe?
I really hope you love it! Let me know by leaving a comment below and please rate the recipe by clicking on the stars in the recipe card.
more recipes to celebrate peach season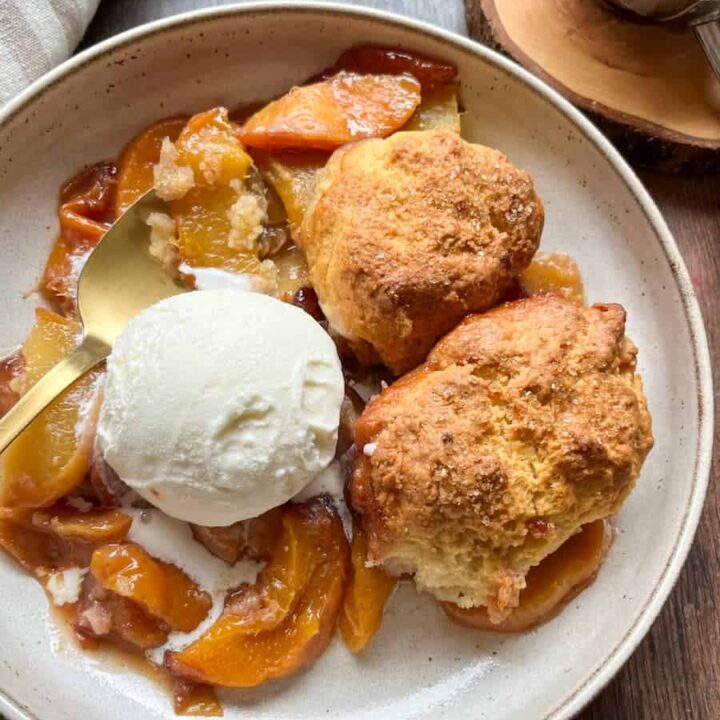 Brown Sugar Peach Cobbler
An easy and delicious peach cobbler recipe with brown sugar, vanilla and a light, fluffy topping. Serve with vanilla ice cream for a perfect late Summer dessert.
Ingredients
2lb (900g) peaches
50g (1/4 cup) soft light brown sugar
1 teaspoon vanilla extract
juice of one small lemon or lime juice
2 teaspoons cornstarch (cornflour)
60g (1/4 cup) diced butter
FOR THE COBBLER TOPPING:
225g (1 cup + 1/4 cup + 2 tbsp) Self raising flour
50g (1/4 cup) caster sugar
1/2 teaspoon Baking powder
1/4 teaspoon Fine Salt
50g (3 tbsp + 2 tsp) cold butter, diced
1 tablespoon demerara sugar, for sprinkling over the top
Instructions
Place a baking tray in the oven large enough for your baking dish to sit on. Preheat the oven to 180C/160Fan/350F.
Prepare the fruit: If you're peeling the peaches, cut a small X in the base of each peach. Drop the peaches in a bowl of boiling water from a kettle. Leave for about 20 seconds, then lift out and transfer to a bowl filled with ice cold water. Leave for a minute or so, then lift out the peaches and peel. The skins should come off very easily.
Cut the peaches into bite sized chunks or slices and plate in your dish. Sprinkle over the brown sugar, vanilla extract, lemon juice and cornflour. Using a large spoon or your hands, give everything a gentle mix. Place the butter cubes on top of the peaches. Place the Dish in the oven for 4-5 minutes, or until the butter has melted. Remove from the oven and set aside.
Make the cobbler topping: Place the flour, baking powder and salt in a large bowl. Rub the cold butter into the salt until the mixture looks like breadcrumbs.
Stir in the caster sugar, then pour in the milk. Use a butter knife to bring the mixture to a soft dough (don't overmix). Use your hands to form into a ball. Don't worry about making it too smooth - you don't want to overwork the dough.
Place spoonfuls or rounds of the dough on top of the fruit. Don't be concerned about gaps - you're supposed to see the fruit peeking through. Scatter over the demerara sugar.
Bake the cobbler for about 40 minutes or until the topping is golden and crisp and the fruit is bubbling and hot. Remove the cobbler from the oven. Allow to cool for at least 30 minutes to allow the juices to thicken slightly before serving with ice cream, whipped cream or custard and all those lovely peach juices.
Notes
Peach cobbler is best eaten the day it is made, but any leftovers can be stored in the fridge (covered) for up to two days. I quite like leftover cobbler for breakfast - I eat it cold with thick, creamy Greek yoghurt.
Don't forget to serve the cobbler with all those delicious peach juices.
Nutrition Information:
Yield:

6
Serving Size:

1
Amount Per Serving:
Calories:

417
Total Fat:

18g
Saturated Fat:

11g
Trans Fat:

1g
Unsaturated Fat:

5g
Cholesterol:

49mg
Sodium:

740mg
Carbohydrates:

61g
Fiber:

1g
Sugar:

29g
Protein:

5g
Calories and nutritional information are provided by a third party application and should be viewed as indicative figures only.