This peach, prosciutto and Burrata salad is my new favourite Summer salad! It's seriously impressive, delicious and takes just minutes to prepare. Take the time to savour the contrasting flavours and textures of this easy salad – crispy prosciutto slices, juicy ripe peaches, creamy Burrata, crunchy greens and fragrant herbs. It makes a great light dinner, lunch or take it to a Summer gathering!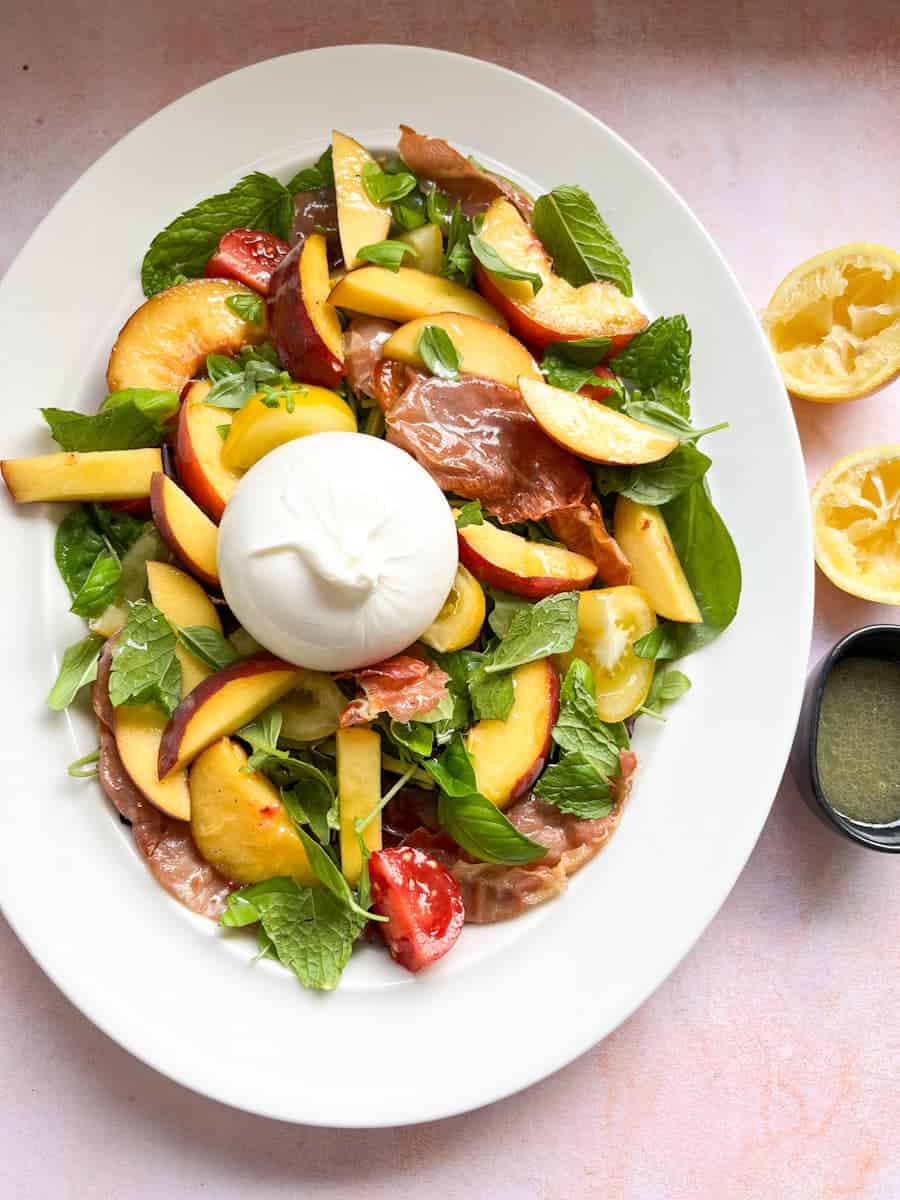 It can be quite difficult to find a really good, ripe juicy peach in the UK. They are so often disappointingly underripe and hard, but there are decent ones out there. It can be a hit or a miss. I lucked out last week and found some particularly nice ones in the co-op. They weren't particularly cheap at six for £3, but they were worth every penny.
If you're lucky enough to hit the peach lottery, I beg you to make this gorgeous peach salad with crispy sliced prosciutto and creamy Burrata cheese.
If you like a dessert with peaches, then you should take a look at my peach Melba pavlova recipe!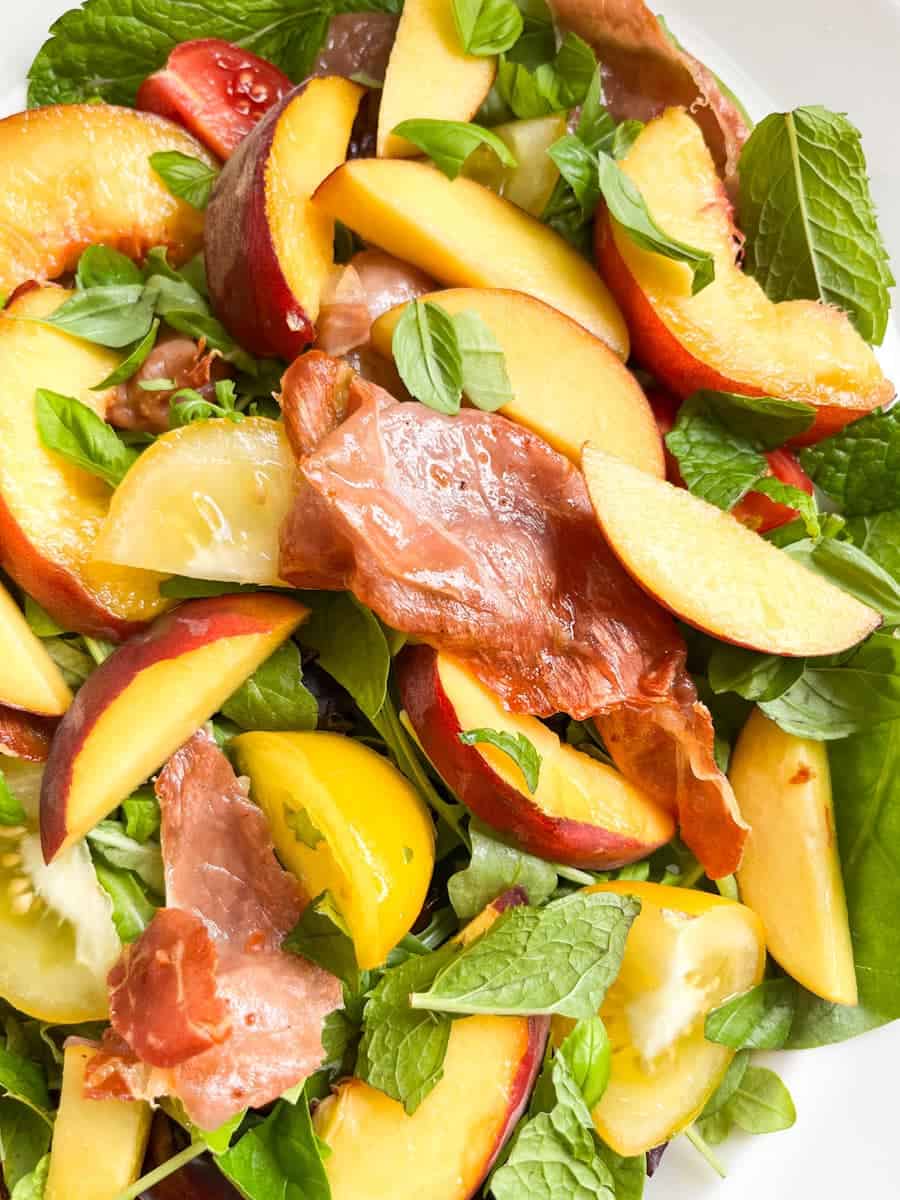 Peach, Prosciutto and Burrata Salad recipe
Is it possible to be in love with a salad? Because I might just be smitten! The combination of the crispy prosciutto, sweet juicy peaches and the creamy Burrata is simply mouthwatering.
I love a salad with lots of different textures and this recipe certainly delivers. I could seriously eat a whole plate of it all by myself.
The combination of the salty, crispy grilled prosciutto, juicy peaches, fresh herbs and gooey Burrata is mouthwatering. 
If you manage to get your hands on some lovely ripe peaches, the kind you dream about eating, this salad is a stunning way to make the most of them. RIGHT NOW is the best time to make the recipe while peaches are in season! So what are you waiting for?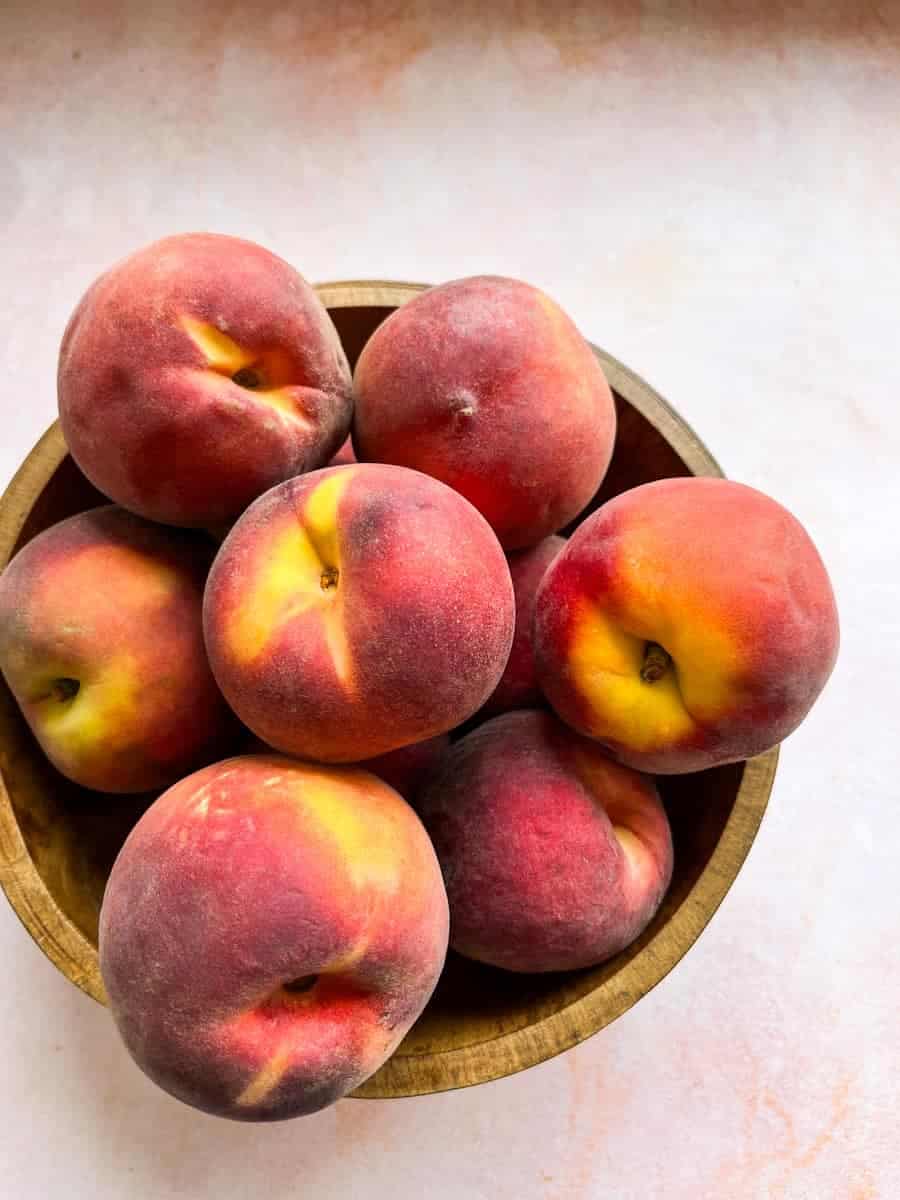 ingredients for peach prosciutto burrata salad
peaches. Choose the best, ripest peaches you can find. It will make all the difference. You could swap the peaches for nectarines.
Prosciutto – look for thinly sliced. It will crisp up beautifully when grilled for a few minutes. I used the grill function on my air fryer which was nice and easy.
Burrata. If you can't find any, you could use Buffalo mozzarella instead. But to be honest, Burrata is in a league of its own!
fresh tomatoes. The riper and sweeter, the better.
Salad greens. Any leafy greens will work. I used a mixture of spinach, watercress and rocket.
I love both fresh basil and mint in the salad, but you can just use one herb if you like.
A very simple lemon olive oil dressing. See my notes and recipe card below to find out how to make it.
Don't forget to season the salad to enhance all those fresh flavours. I like to use good quality sea salt flakes, such as Cornish sea salt, and freshly ground black pepper.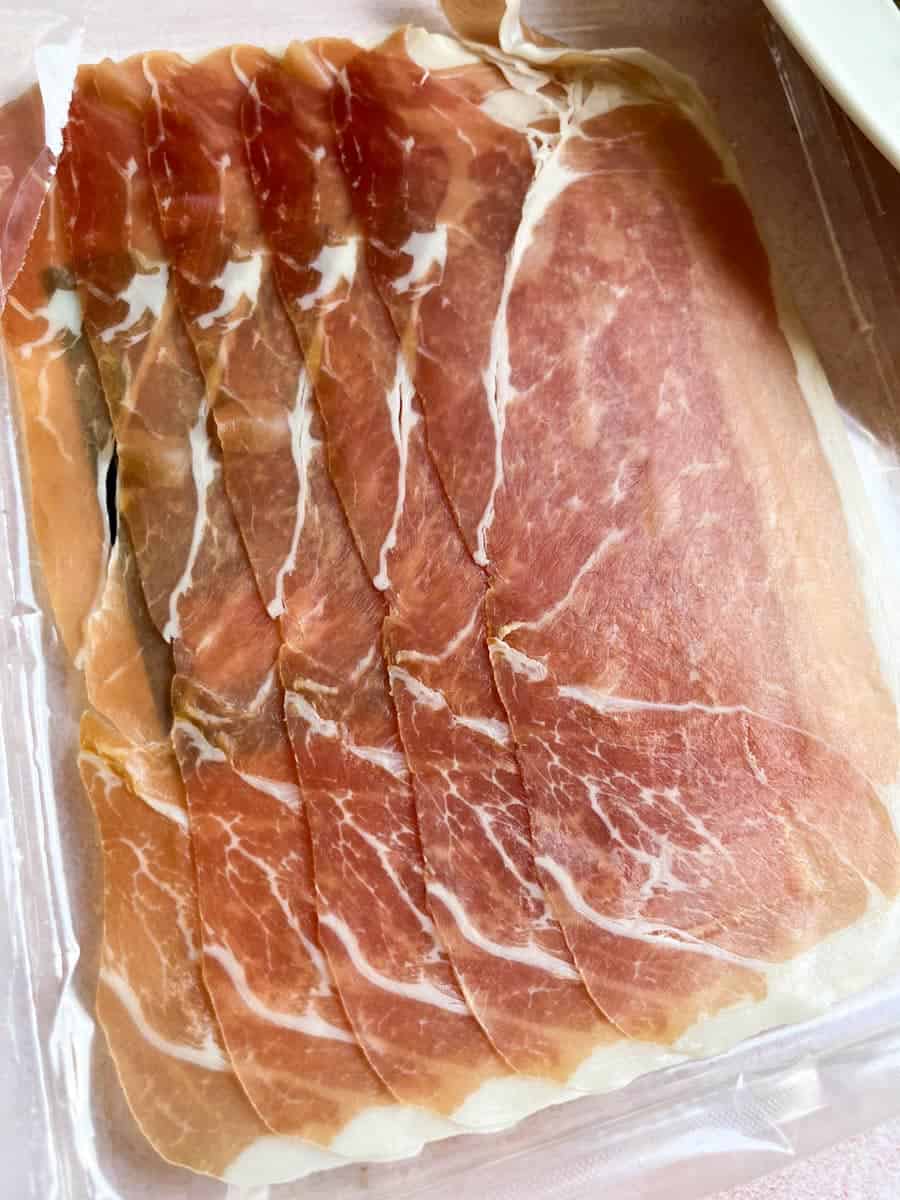 what is burrata?
Burrata is an Italian cheese made from cow's milk cheese. The outside is a thin shell of mozzarella. Break open this shell and the soft cheese curd and cream centre (the stracciatella) will be revealed. It is packaged in brine and needs to be gently patted dry before using. If you're a fan of mozzarella, you will LOVE burrata. It's a very decadent, special cheese that will really take your dish to the next level.
is there a substitute for burrata?
If you can't find Burrata, you could use fresh ricotta or a very good quality mozzarella, such as Buffalo. Neither of these cheeses have the soft, creamy interior of Burrata, but they would still work.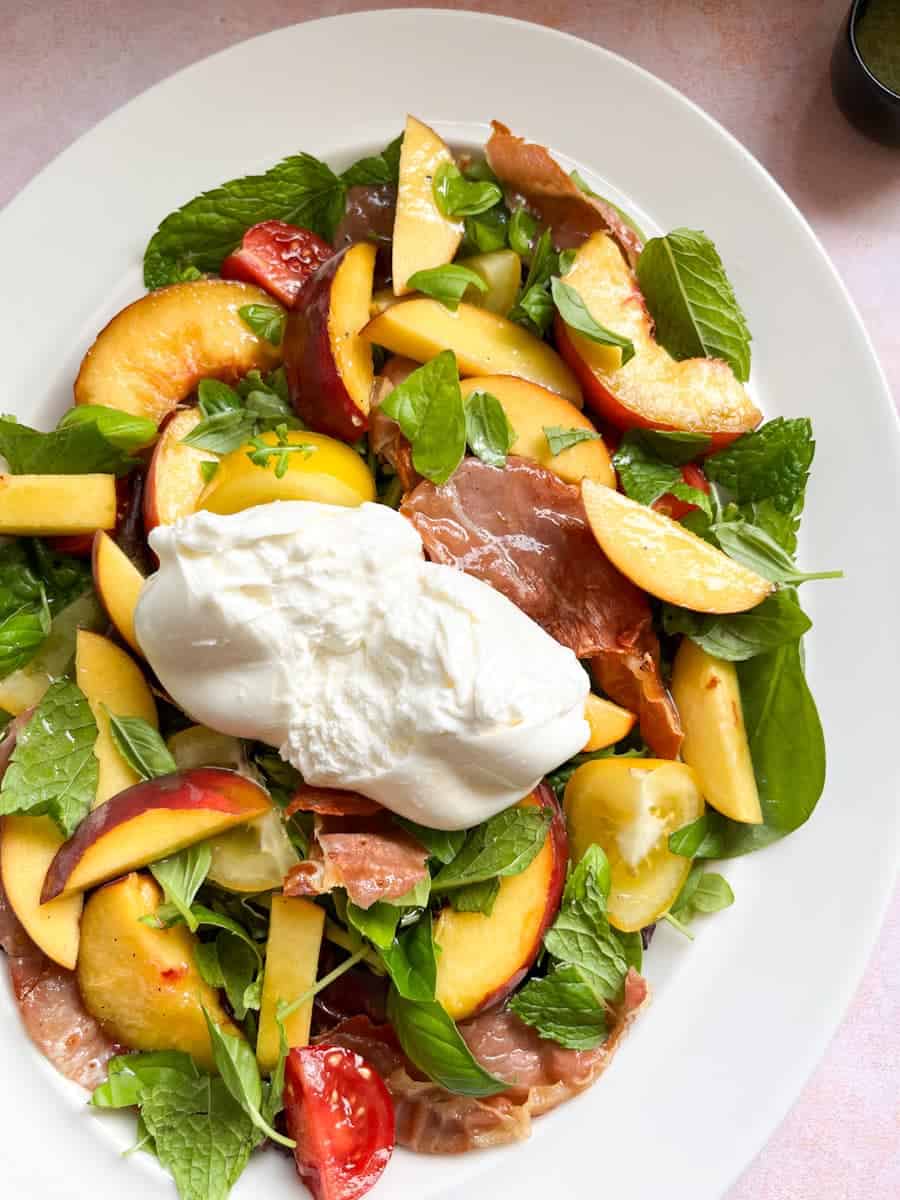 assembling peach and burrata salad
This salad is super simple to put together. The only cooking you need to do is grill the prosciutto until nice and crisp which takes no longer than a few minutes under a hot grill. I use the grill setting on my air fryer.
Next you place your salad greens on a large serving plate. Drizzle over a little of the lemon olive oil dressing, then arrange the sliced peaches, crispy prosciutto slices, tomatoes and fresh herbs on top.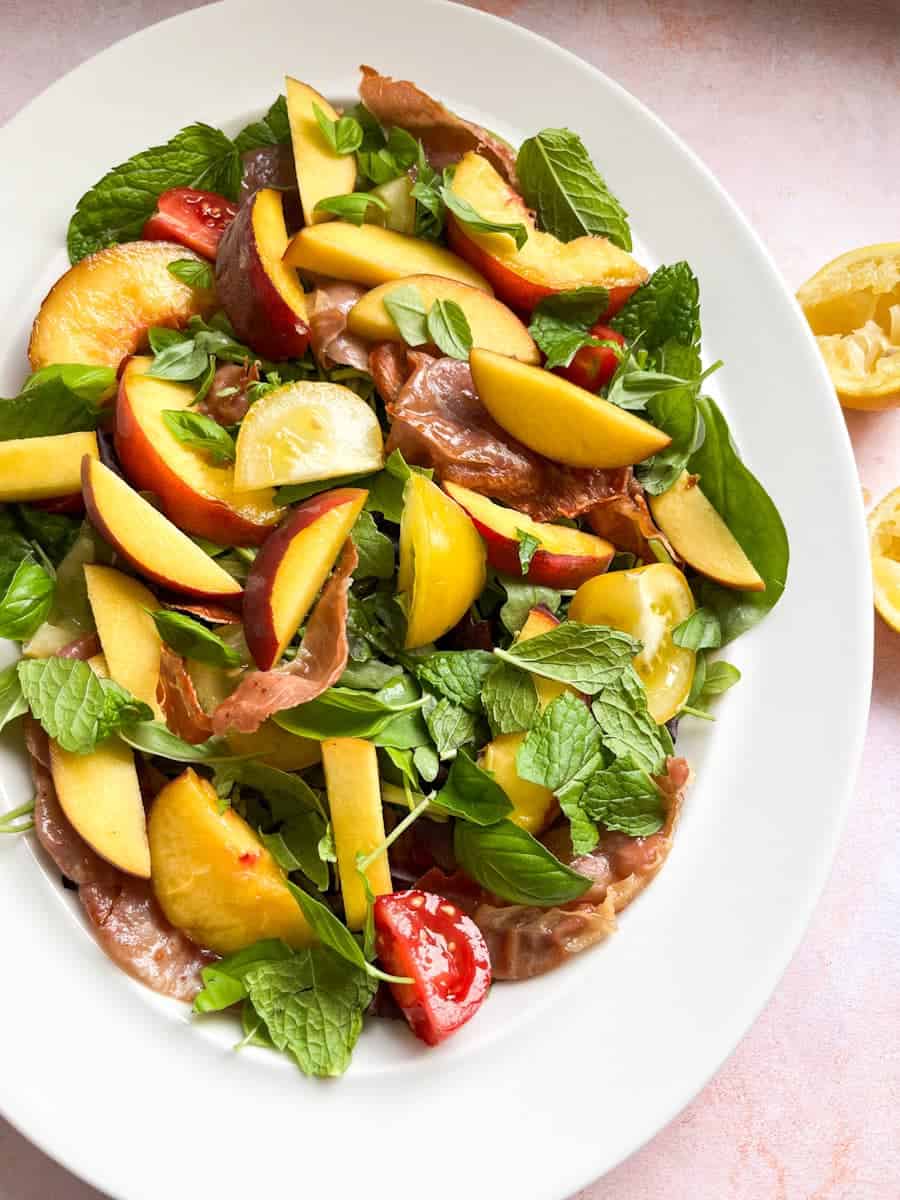 Now it's time to crown the salad with the star ingredient – the beautiful ball of Burrata. Right before you're ready to dive in, tear the Burrata into pieces. Drizzle over some more of the dressing, then finish off with some sea salt flakes and freshly ground black pepper. Heaven!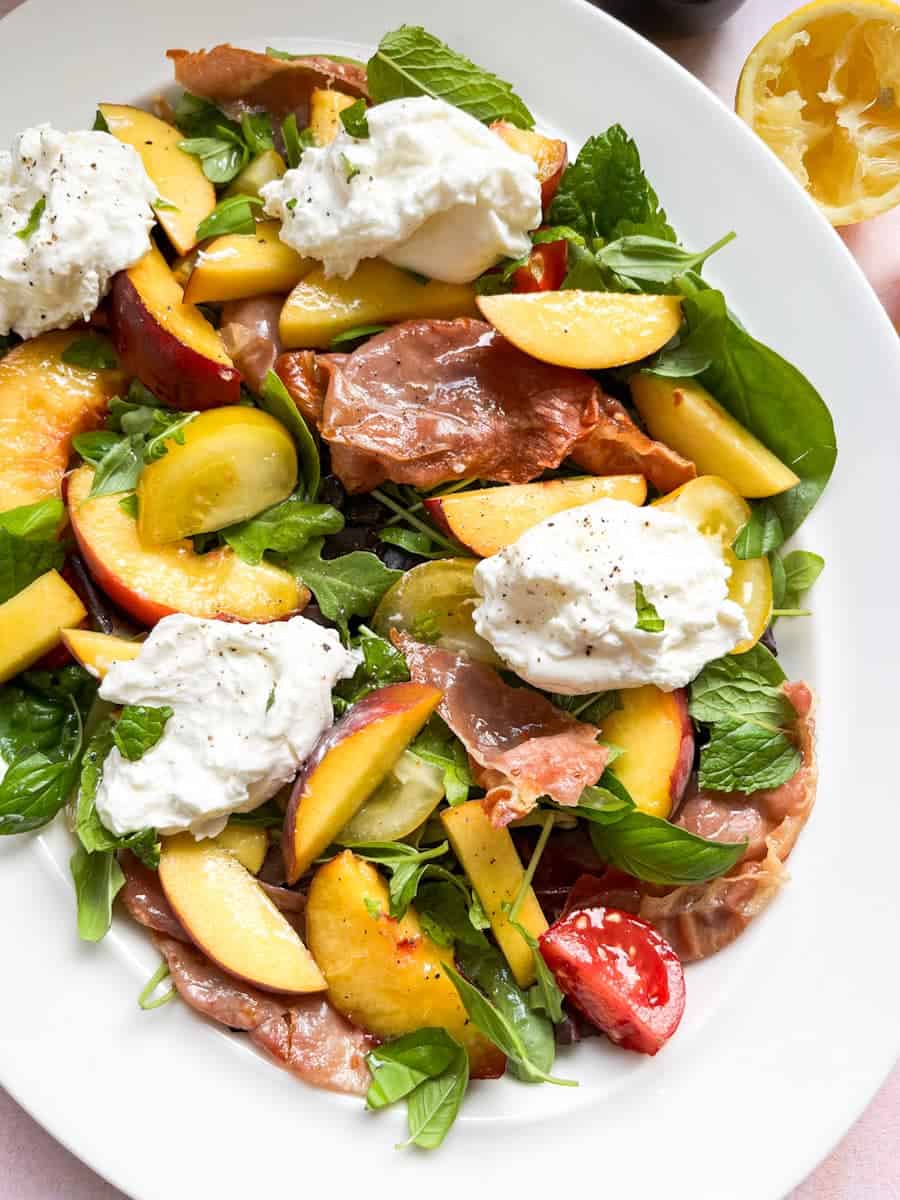 recipe notes
This is a fresh salad that is only as delicious as the individual ingredients. If you make sure to use the ripest, juiciest peaches and tomatoes, fresh vibrant greens and herbs and the best prosciutto available, you really can't go wrong!
Don't drown the salad in dressing – it doesn't need very much. The recipe I've given for the dressing makes just a small amount anyway.
If you like, you can swap the lemon dressing for a light sprinkling of white balsamic vinegar and extra virgin olive oil.
nectarines would be a lovely substitute for peaches.
can I make the salad in advance?
The short answer is no – it's not suitable for making ahead of time. It's much better eaten as soon as it's been assembled, but luckily it shouldn't take you more than 15 minutes from beginning to end – and that includes slicing the peaches and tomatoes.
looking for more Summer salad recipes?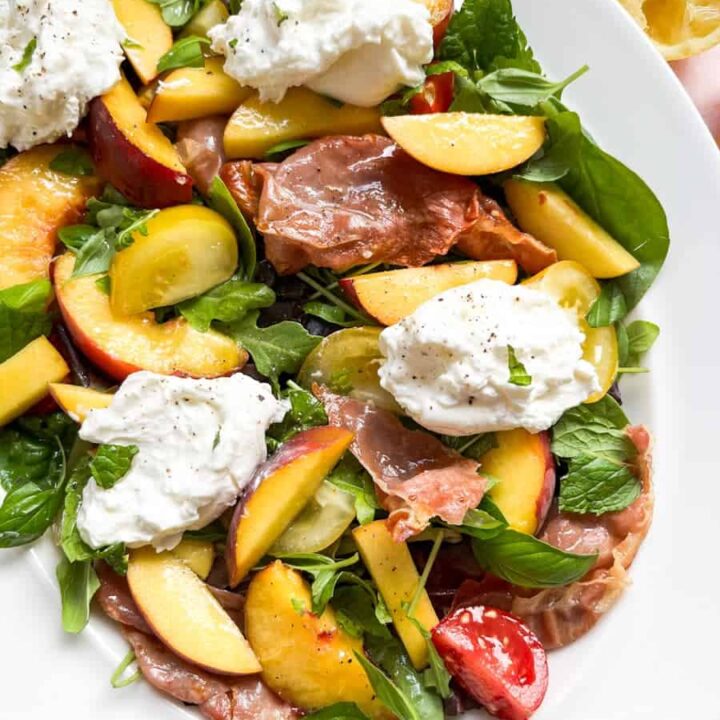 Peach, Prosciutto and Burrata Salad
Yield:
serves 2 generously
This peach, grilled prosciutto and burrata salad is beautiful to look at and tastes incredible. A simple yet impressive salad that's bursting with different textures and fresh flavours!
Ingredients
DRESSING
2 tablespoons olive oil
Juice of 1/2 lemon (you might need more)
1 teaspoon runny honey
sea salt and freshly ground black pepper
FOR THE SALAD
100g bag mixed salad leaves (I used rocket, spinach & baby leaf)
6 slices of prosciutto, thinly sliced
2 large, juicy, ripe peaches, halved and sliced
2 or 3 (depending on size) good quality tomatoes, cut into quarters
One Burrata (or buffalo mozzarella)
Small handful fresh herbs - I used basil and mint
sea salt & freshly ground black pepper to taste
Instructions
MAKE THE DRESSING: Place the oil, lemon juice and honey in a small jar. Add a little salt and pepper and shake, shake, shake. Taste to check the seasoning or if you want to add more lemon juice.
GRILL THE PROSCIUTTO: place the prosciutto under a hot grill (I used the grill setting on my air fryer) for roughly 3-4 minutes on each side until crispy. Remove from grill and set aside.
ASSEMBLE THE SALAD: Place the salad leaves on a serving plate and drizzle over a little bit of the dressing. You won't need that much. Top with the prosciutto, peach slices, tomatoes & scatter over the herbs (I don't chop them - I just tear them into pieces or leave whole if they're small enough). Now top with the beautiful ball of Burrata and tear it in the middle, exposing the creamy centre. Drizzle with a little more dressing and scatter over some sea salt and black pepper.
Nutrition Information:
Yield:

2
Serving Size:

1
Amount Per Serving:
Calories:

583
Total Fat:

31g
Saturated Fat:

7g
Trans Fat:

0g
Unsaturated Fat:

22g
Cholesterol:

75mg
Sodium:

2923mg
Carbohydrates:

47g
Fiber:

6g
Sugar:

38g
Protein:

32g
Calories and nutritional information are provided by a third party application and should be viewed as indicative figures only.