This Peach Melba Pavlova is a stunning showstopper of a dessert that tastes absolutely amazing – a soft, chewy on the inside meringue piled high with softly whipped cream, sliced peaches and raspberry sauce!
Let me show you how to make the perfect Pavlova with my simple tips.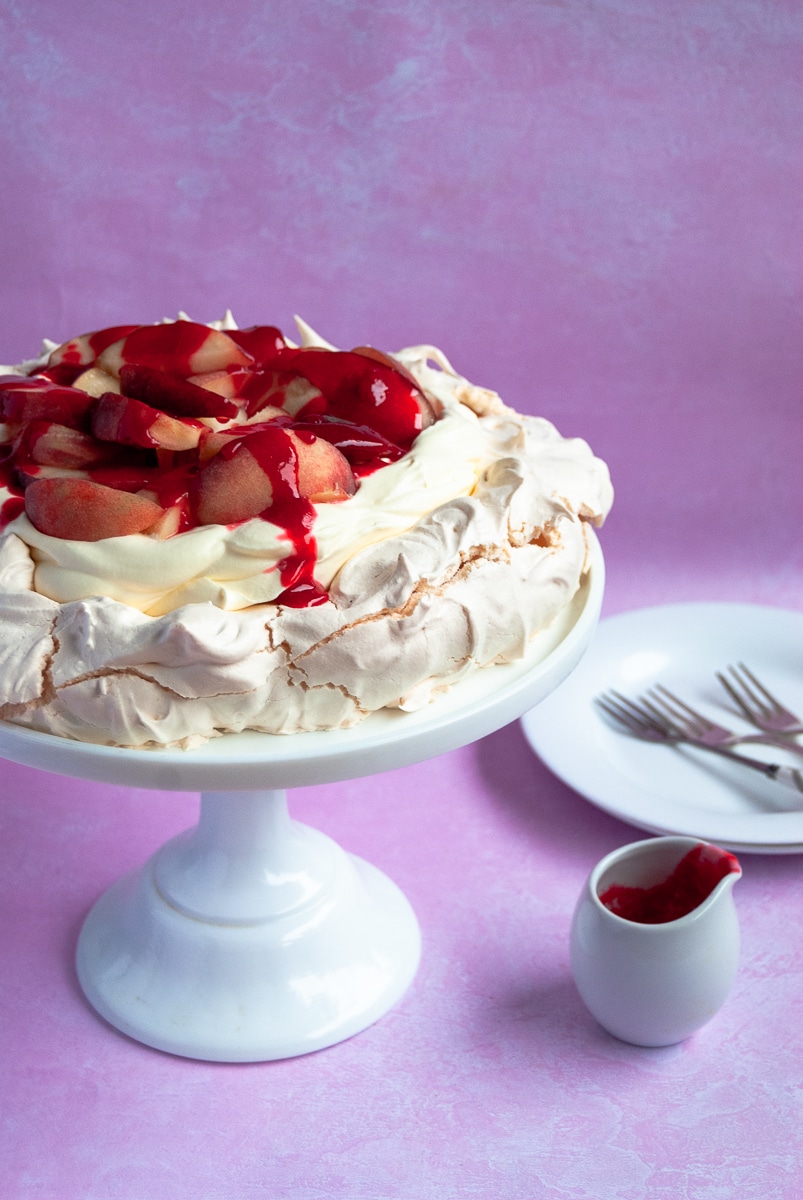 There's one thing about Summer I really love – all the beautiful seasonal fruit.
Strawberries, cherries, blackberries, peaches, raspberries. I adore them all.
In my mind, here is no finer way to showcase all that beautiful seasonal fruit than in a fruit topped Pavlova.
All that cream and fresh fruit piled on top of the sweet meringue, crisp on the outside and marshmallow-like softness inside. Is there anything more beautiful and dreamy to eat?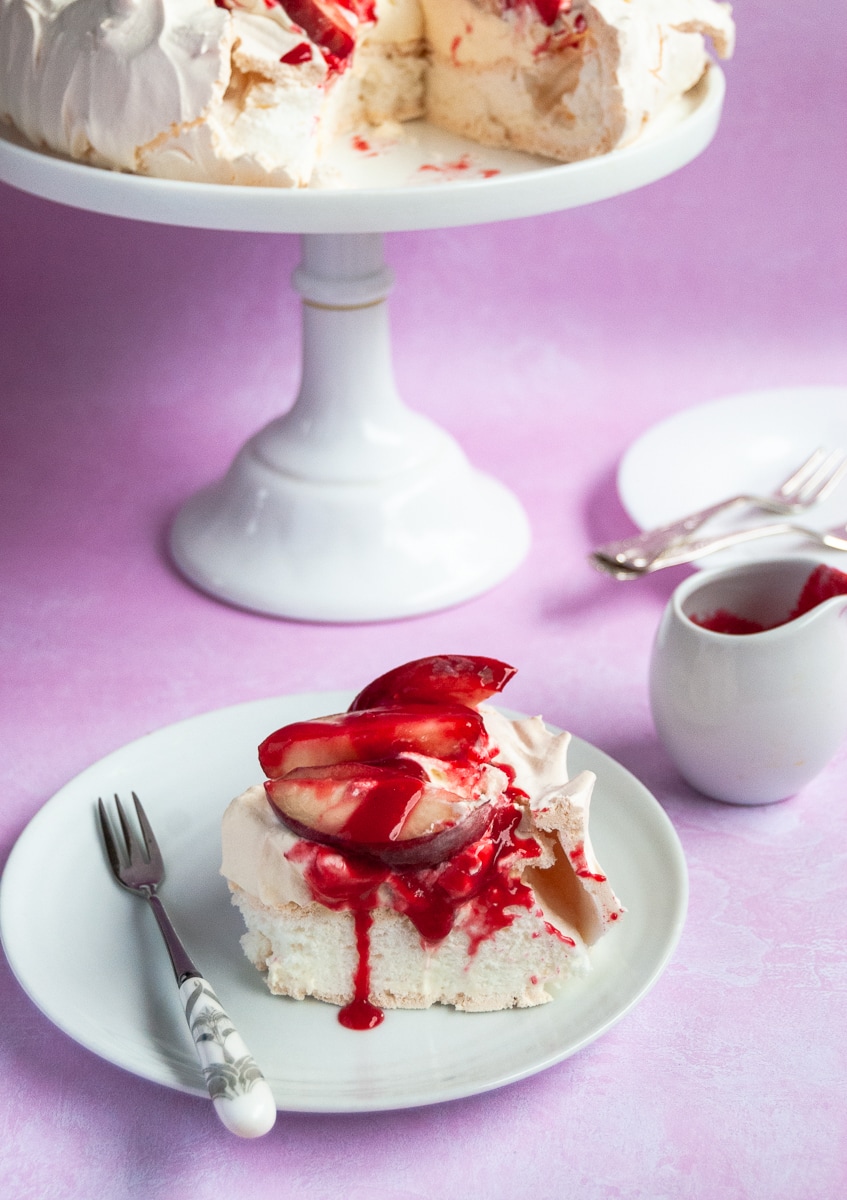 The combination of fresh, ripe peaches and raspberry sauce is a little bit different to the usual strawberry or raspberry pavlova and tastes absolutely gorgeous!
Making meringue isn't really difficult, but there are a few important rules you should follow to ensure success.
I will share my tips and tricks on how to make a pavlova to be proud of!
how to make the perfect pavlova
Separate the eggs carefully. You don't want any trace of egg yolk in the whites at all or your eggs will refuse to whip up. I learned this many years ago, on a very late in the day Christmas Eve!
Make sure your mixing bowl is scrupulously clean. Any trace of grease or residue washing up liquid will stop the eggs from whipping properly.

Use older egg whites – really fresh eggs won't whip up to the maximum volume as older eggs. Also make sure the eggs are at room temperature.
Whisk the eggs on medium speed. If you whisk the eggs and sugar together too quickly, the sugar won't have had a chance to dissolve which will lead to the meringue weeping. This has happened to me in the past due to my impatience!
Add some cornflour and white wine vinegar or lemon juice for that highly desirable squidgy, marshmallow like middle.
Adding an acid such as vinegar or lemon juice helps to stabilize the meringue and the cornflour helps to create that fluffy, soft interior.

Bake the pavlova on a low heat. A pavlova of this size takes around 60-75 minutes to cook through.
When the pavlova is ready, I turn off the oven but leave it in for several hours. This will make sure the middle is properly cooked inside.
This will also help prevent the pavlova from cracking due to a sudden temperature change.

I preheat the oven to 150C, then as soon as I place the pavlova in the oven I turn it right down to 120C.
The initial heat helps set the outside of the pavlova but turning down the oven by around 30C will ensure the meringue will be nice and chewy. This will also prevent the pavlova from browning.
This peach melba pavlova is the perfect Summer pudding – I really hope you love it as much as we do!
Of course, if you aren't a fan of peaches, feel free to use whatever fruit you like!
can i MAKE a PAVLOVA IN ADVANCE?
Yes, a pavlova base can be made up to two days in advance. Once the base is completely cold, store in an airtight container in a cool, dry place (not the fridge!)
The raspberry sauce can be made the day before and kept in the fridge until you're ready to serve.
Adding the cream and fruit at the last minute will ensure your pavlova looks picture perfect!
Any leftovers should be eaten within 24 hours.

Did you make this recipe?
Let me know what you thought of the recipe by leaving a comment below, and feel free to share your pictures of your creation with me on Instagram #sweetsavouryblog
Looking for more recipes to use up egg whites?
want to see more easy summer desserts?
No Churn Salted Caramel Rolo Ice Cream
No bake raspberry and white chocolate cheesecake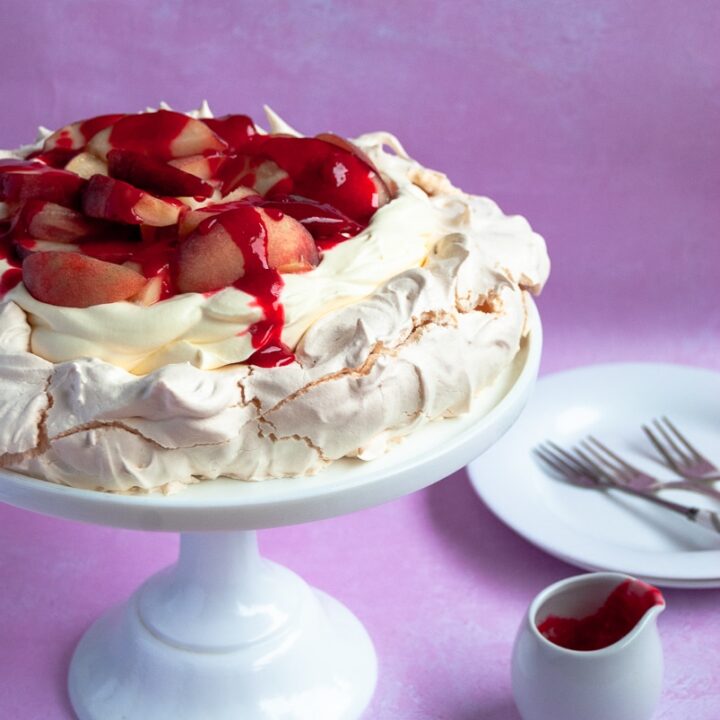 Peach Melba Pavlova
Cook Time:
1 hour
15 minutes
Total Time:
3 hours
30 minutes
This Peach Melba Pavlova is a stunning showstopper of a dessert that tastes absolutely amazing - a soft, chewy on the inside meringue piled high with softly whipped cream, sliced peaches and raspberry sauce!  Let me show you how to make the perfect Pavlova with my simple tips.
Ingredients
4 Large egg whites
230g Caster (superfine) Sugar
1/2 teaspoon vanilla extract
1 teaspoon cornflour
1 teaspoon white wine vinegar or lemon juice
FOR THE FILLING
350ml Double (heavy) cream
3 Ripe fresh peaches, sliced
FOR THE RASPBERRY SAUCE
150g fresh raspberries
75g icing (confectioners) sugar
Instructions
Preheat the oven to 150C/130Fan/300F/Gas mark 2. Line a large baking sheet with baking paper.
Place the egg whites in a large bowl. Using an electric whisk, (I use a stand mixer) whisk the egg whites on medium speed until soft peaks form. Slowly start to add the sugar, a tablespoonful at a time. Keep whisking on a medium-high speed until all the sugar has been incorporated. The meringue should be stiff, shiny and not fall on top of you when you place the bowl over your head! If you rub a piece of the mixture between your fingers it shouldn't feel grainy.
Stop mixing and grab a large metal spoon. Gently fold in the vanilla extract, cornflour and white wine vinegar or lemon juice. Take care not to knock the air out of the meringue.
Spoon the meringue onto the lined baking tray, making an indent in the middle. You can spend a bit of time here making the meringue swirly or as smooth as you wish - personally I love a swirly, rustic meringue.
Place in the oven and immediately reduce the temperature to 120C/100Fan/248F/Gas mark 1/2. Bake for 60-75 minutes. Once the time is up, turn off the oven and leave the meringue to cool completely in the oven for several hours if possible. This helps to prevent the meringue from cracking due to sudden temperature change.
Make the raspberry sauce by blitzing the raspberries and icing sugar together until smooth, then sieve to remove the seeds if desired. Taste the sauce if check if it's sweet enough - you could always add a little more icing sugar.
Just before you're ready to serve, whip the cream to soft, floppy peaks. Sit the meringue on a large serving plate, cover with a thick blanket of cream and top with the sliced peaches. Finally, drizzle over the raspberry sauce. If you like, you could also add some fresh raspberries. Serve immediately.
Notes
Once baked, the meringue will keep well in an airtight container for up to 2 days, but the pavlova itself should be assembled at the last minute.
Any leftovers should be refrigerated immediately and eaten within 24 hours.
Nutrition Information:
Yield:

6
Serving Size:

1
Amount Per Serving:
Calories:

86
Total Fat:

1g
Saturated Fat:

0g
Trans Fat:

0g
Unsaturated Fat:

0g
Cholesterol:

0mg
Sodium:

38mg
Carbohydrates:

18g
Fiber:

4g
Sugar:

13g
Protein:

4g
Calories and Nutritional information are provided by a third party application and should be used as a rough guide only.