Banoffee Pie is a simple but indulgent dessert that is universally loved!
This classic British recipe combines crushed biscuit base, toffee, sliced fresh bananas, softly whipped cream and grated chocolate. It's a perfect sweet treat for any occasion!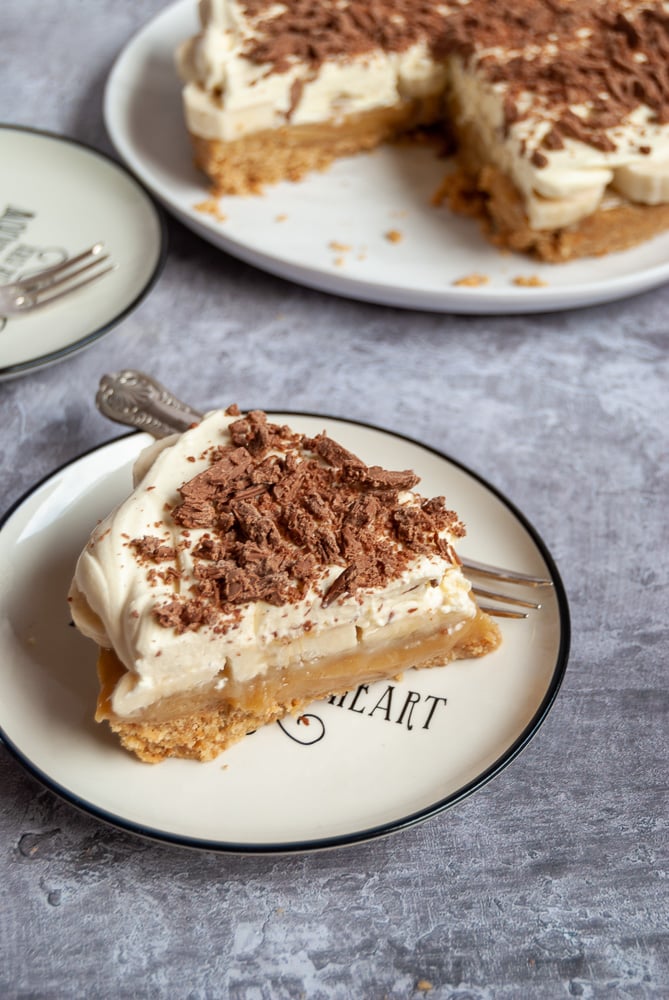 Banoffee pie is one of my all time favourite desserts. I've wanted to post the recipe on here for ages, but it always gets demolished the moment I make it!
Forget about taking any photos – it's gone before I have time to blink.
This weekend I managed to make one in secret and snapped a few quick pictures before my hungry teens discovered it!
Ingredient List
For the biscuit base:
Digestive Biscuits (known as Graham Crackers in America) you could also use ginger nuts for a different flavour or chocolate digestives
Butter
For the Toffee layer:
Butter
Soft light brown sugar
Condensed Milk (not to be confused with evaporated milk!)
I add a touch of sea salt to the toffee for a salted Caramel vibe, but this is entirely optional.
Fresh ripe Bananas that aren't mushy or black – keep those ones for banana bread!
Double (heavy) cream
A little icing sugar to sweeten the cream slightly (optional)
Vanilla extract
Crumbled Flake Bar or grated milk chocolate to sprinkle over the top. A bashed up Crunchie bar also works very well if you have a real sweet tooth.
There's nothing to stop you from using dark chocolate if you prefer, but I particularly like using milk chocolate here. Bananas, cream and milk chocolate is pure nursery food, am I right?
Equipment list
I make this pie in a springform 20cm round cake tin with a removable base. This makes it much easier to unmould the pie later on.
I have made banoffee pies in fluted tart tins in the past and while it works OK, I much prefer using the cake tin.
To remove the pie from the tin, I run a small round handled palette knife around the edges in case the toffee is sticking to the base. Then I unclip the spring and carefully remove the tin.
If you want to remove the pie from the base of the tin, take a long handled palette knife and run it underneath. The base should (hopefully!!) fall off without breaking the biscuit base.
Inevitably though, it does happen on the odd occasion. But to be honest, it's not really worth fretting about. When you're eating the pie you won't even notice!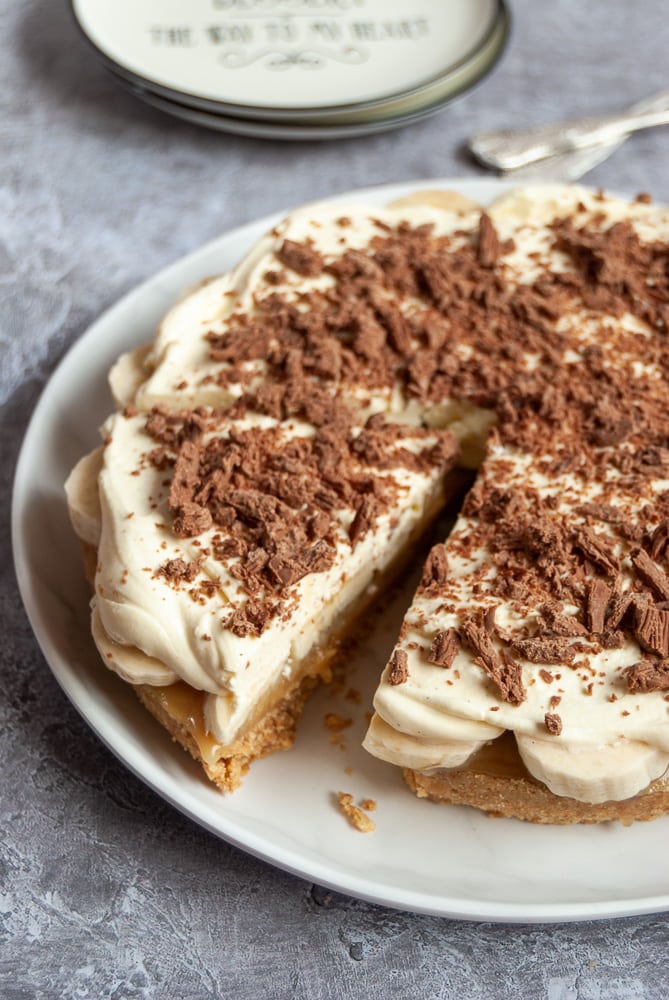 how long does banoffee pie take to set?
The biscuit base takes around 30 minutes to set and the toffee layer takes around 4 hours.
For a quicker and easier option, you could use a tin of Carnation Caramel instead of making your own. The pie won't set as firmly and you won't be able to cut neat slices, but it will still be delicious.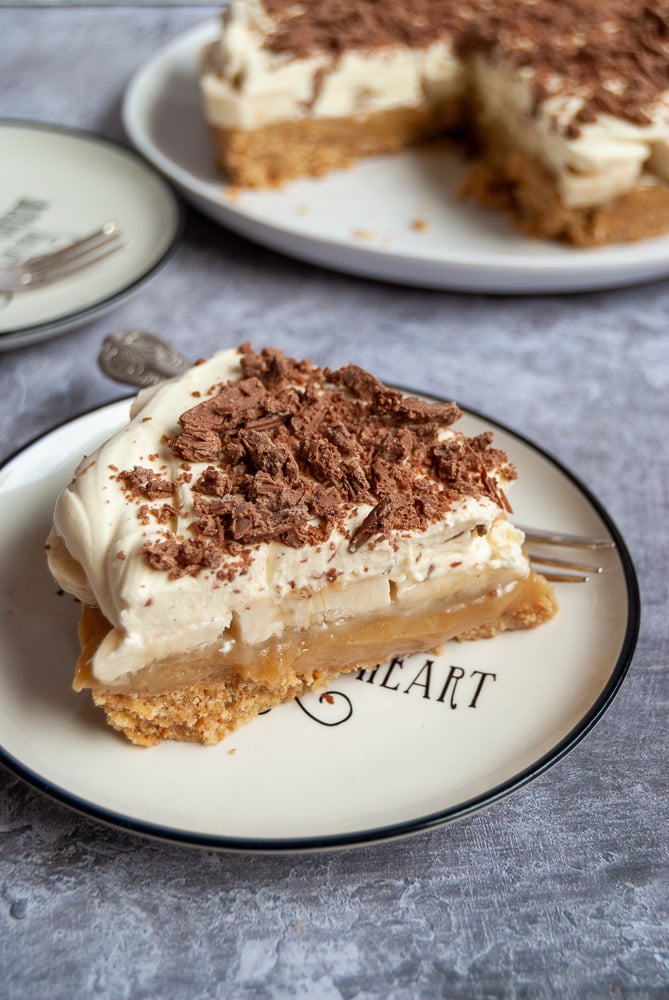 how far in advance can i make a banoffee pie?
You can make the biscuit and toffee layer up to 24 hours in advance. I wouldn't recommend adding the bananas and cream any earlier than a few hours before you intend to serve the pie.
can you freeze banoffee pie?
Sadly no. It doesn't freeze well at all – the bananas go mushy and weird (I'm talking from experience!)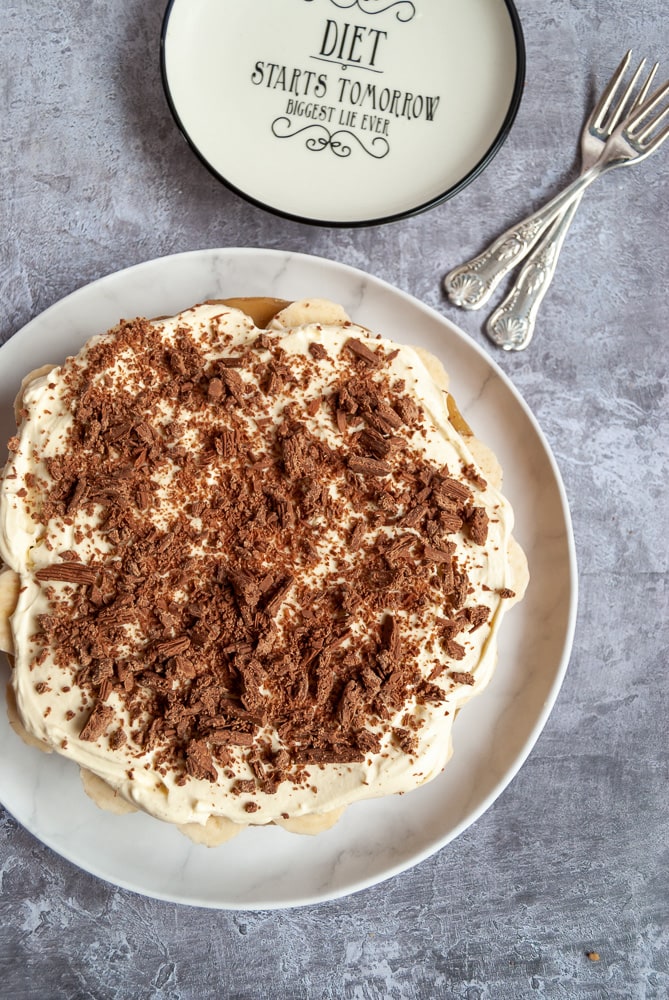 I hope you love this easy recipe as much as we do! If you have any comments or queries, please leave a comment below or send me an email.
looking for more easy dessert recipes?
No bake Malteser cheesecake for 2
No bake white chocolate and raspberry cheesecake
No bake chocolate orange cheesecake
No churn salted Caramel Rolo ice cream
Chocolate brownie berry trifle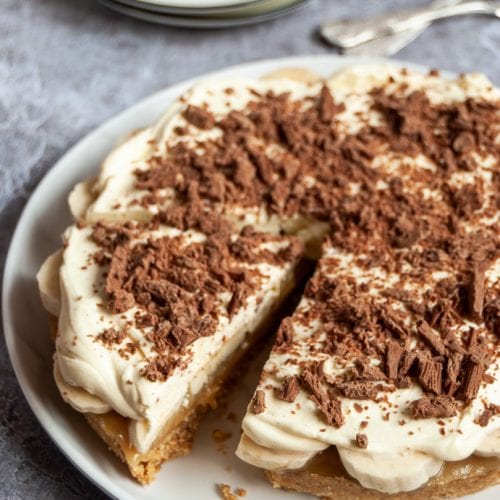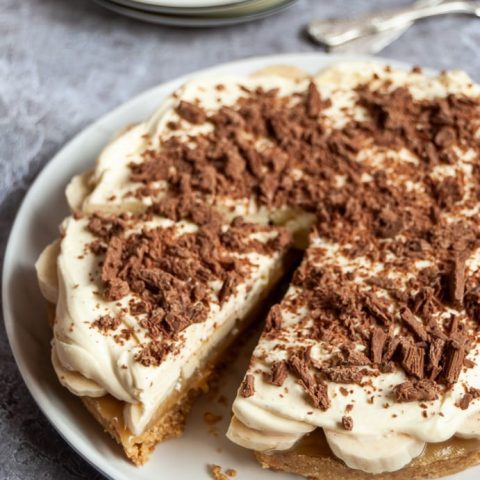 Banoffee Pie
Total Time:
4 hours
23 minutes
Banoffee Pie is a simple but indulgent dessert that is universally loved.  This classic British recipe combines crushed biscuit base, toffee, sliced fresh bananas, softly whipped cream and grated chocolate.
Ingredients
FOR THE BASE:
250g Digestive Biscuits
100g Butter, melted
FOR THE TOFFEE LAYER:
150g Butter
150g Soft light brown sugar
1x397g tin Condensed milk
1/4-1/2 tsp sea salt flakes (optional)
2-3 Large bananas
FOR THE TOPPING:
350ml Double (heavy) Cream
1 tbsp Icing Sugar (optional)
1/2 tsp Vanilla extract
1 45g bar Cadburys Flake, crumbled OR 50g grated Milk Chocolate of your choice (A chopped Cadbury Crunchie bar is also very good!)
Instructions
Crush the biscuits in a food processor or place in a food bag and bash with a rolling pin until you have fine crumbs. Place the biscuit crumbs in a bowl and pour over the melted butter. Stir until well combined and the mixture is the consistency of damp sand.
Tip the mixture into a round springform 20cm tin. Using a spoon, press the biscuits into the base evenly. Place in the fridge while you make the toffee layer.
Place the butter and the soft light brown sugar in a medium saucepan. Allow to melt over a low heat, making sure that all the sugar has completely dissolved. Stir in the tin of condensed milk. Turn up the heat to medium high and bring the mixture to the boil, stirring all the time (it will catch very easily!) When the mixture has darkened and is thicker (this will take about 5 minutes), remove from the heat and add the sea salt flakes if using.
Pour the toffee over the chilled base. Return to the fridge and allow to set for around 4 hours or overnight.
When you're ready to assemble the pie, slice the bananas and place on top of the caramel base.
In a large bowl, whip the double cream, icing sugar if using and the vanilla extract. Take care not to overwhip the cream - you just want it softly whipped.
Spoon the whipped cream over the pie, taking care not to disturb the bananas. Crumble over the Flake bar, Crunchie bar or grated chocolate.
If you aren't serving the pie straightaway, return to the fridge.

Notes
A Cadbury Crunchie bar is a very good substitute for the Flake bar - or just use 50g grated chocolate of your choice.
For a quicker and easier option, simply use a tin of Carnation Caramel instead of making your own. The pie won't set as firmly and it will be harder to cut into neat slices, but it's still delicious!
Banoffee pie is best eaten the day it is prepared. Any leftovers should be refrigerated straight away and eaten within two days.
Nutrition Information:
Yield:

10
Serving Size:

1
Amount Per Serving:
Calories:

438
Total Fat:

28g
Saturated Fat:

17g
Trans Fat:

1g
Unsaturated Fat:

9g
Cholesterol:

59mg
Sodium:

358mg
Carbohydrates:

47g
Fiber:

2g
Sugar:

35g
Protein:

3g
Calories and Nutrition are calculated by a third party application and is intented as a rough guide only.